Tom Colicchio, co-host of Bravo cooking reality show Top Chef and eight-time James Beard award recipient, just became an investor in a vegan seafood brand. The Plant Based Seafood Co. is a company founded by Shelly Van Cleve and Monica Talbert, a mother-and-daughter duo with 20 years of seafood industry experience under the Van Cleve Seafood Co. The duo ventured into vegan seafood to create shellfish alternatives that take pressure off the oceans and planet, without sacrificing flavor or texture, and their award-winning products have found a fan in Colicchio.
"I've worked with and tasted a lot of seafood in my career. I've been fishing my whole life. I was a little dubious when it came to alternative seafoods, but Plant Based Seafood Co. blew it out of the water, no pun intended," Colicchio said in a statement. "Their plant-based scallops tasted like scallops. The shrimp were delicious. The texture was spot on. And with their background, I was confident that Monica and Shelly really knew how to make good seafood."
Based on Gwynn's Island in the Chesapeake Bay in Virginia, The Plant Based Seafood Co. specializes in vegan alternatives to shrimp, scallops, oysters, crab, and lobster, all items that are also appealing to people with shellfish allergies. "We have a vision to replicate every seafood from the water that people like to eat, but with a plant-made version," Talbert said in a statement. "We make our food for sea-foodies, knowing that the most impact lies with them."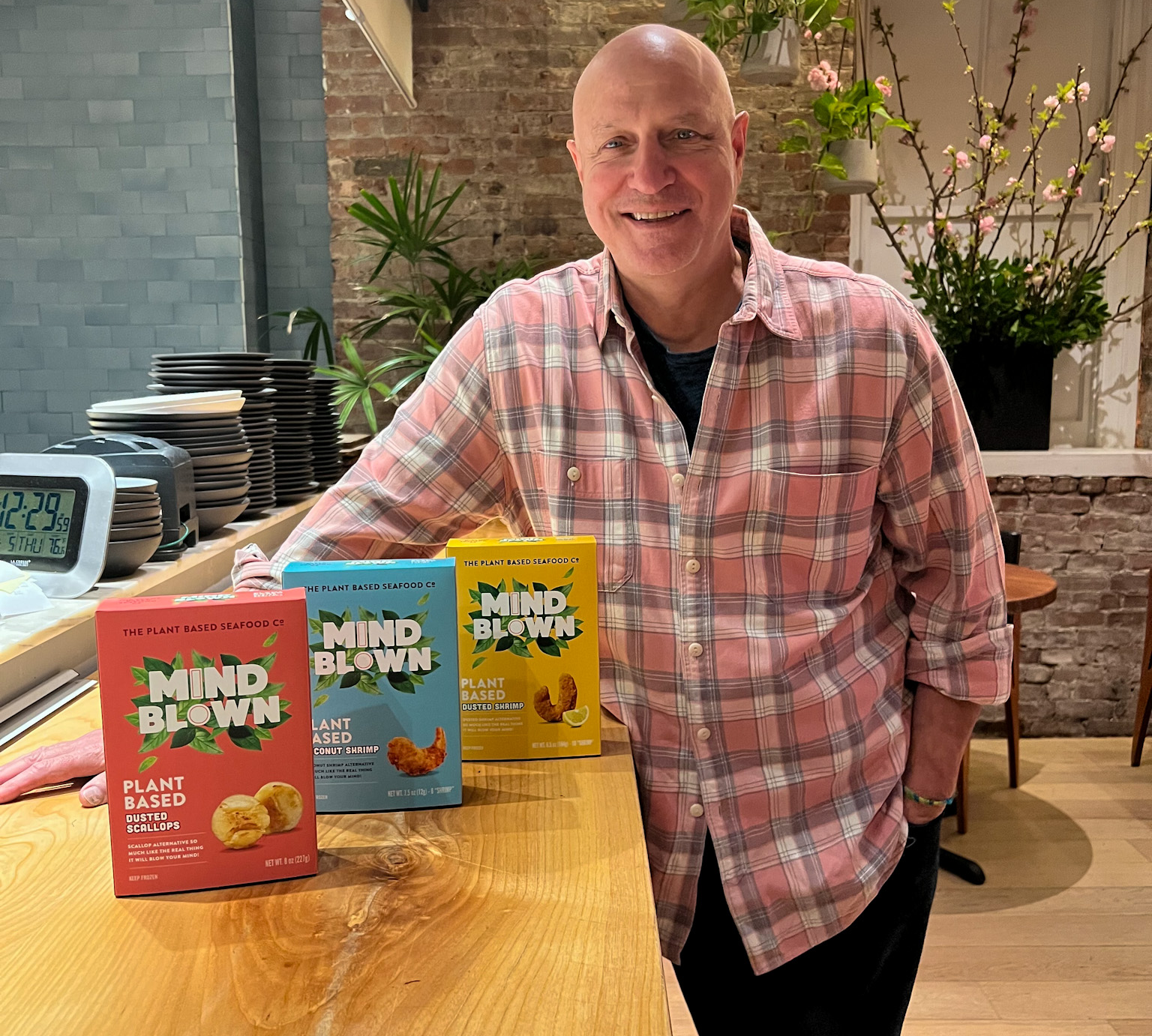 Plant Based Seafood Co.
Tom Colicchio finds vegan seafood mind-blowing
On Top Chef, Colicchio is known for his stern evaluations of contestants' cooking skills and dishes, and is often responsible for delivering the show's elimination catch phrase—making his investment in The Plant Based Seafood Co. a validating experience for the founders.
"Having 'pack your knives and go' Tom Colicchio invest in plant-based seafood speaks volumes as to where changes are occurring in consumers and chef's acceptance," Talbert said. "We need solutions that relieve the pressure off our ocean fish stocks if we need to continue to provide food for a swelling population that is expected to reach 10 billion by 2050."
After seeing myriad issues in the seafood industry as insiders, the company's founders are passionate about creating truly sustainable seafood—made entirely from plants—for generations to come. Financial backing from culinary giants such as Colicchio helps to push this mission forward.
"No one sets the bar of excellence higher than Tom Colicchio, so the fact that he not only believes in us, but invested in us and our plant-based seafood products, is the highest honor," Talbert said. "Our minds are blown."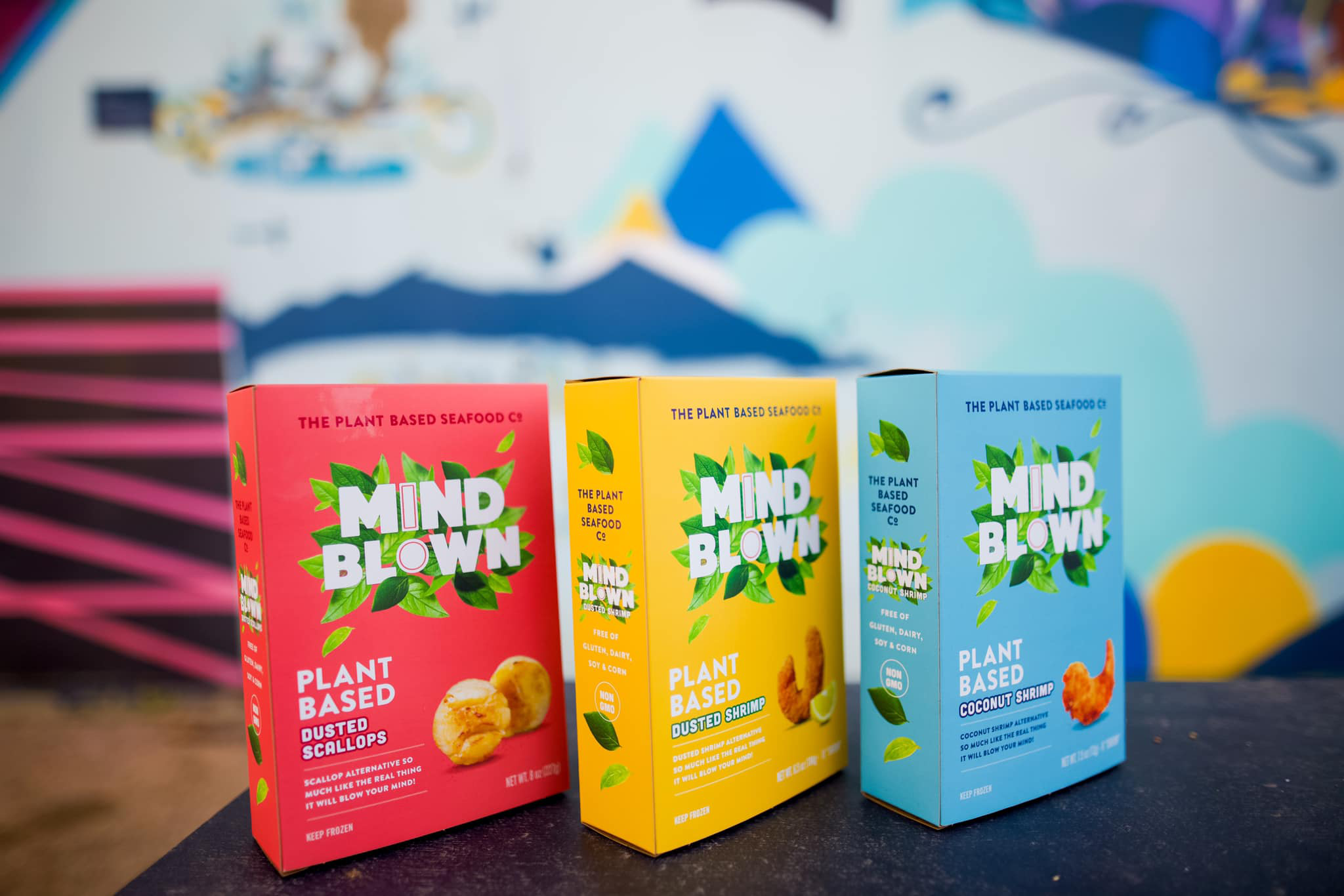 The Plant Based Seafood Co.
Top Chef alum Spike Mendelsohn loves Mind Blown, too
Colicchio is not the only Top Chef star to take interest in The Plant Based Seafood Co. In February, chef Spike Mendelsohn—who appeared on the Bravo series during two seasons—also invested in the company after tasting its vegan seafood products.
"When I first tasted the coconut shrimp, I literally had my Mind Blown," Mendelsohn said in a statement. "While I initially fell in love with the product, the reason I am investing in Mind Blown is because I love being part of an innovative team that leads with deliciousness first. This mother-daughter dynamic duo is making waves in the plant-based space."
Mendelsohn co-owns vegan fast-food chain PLNT Burger with Beyond Meat's former executive chairman Seth Goldman. The chef opened the first PLNT Burger location in 2019 in Silver Spring, MD and has since quickly expanded the chain, most recently into a Union Square location in New York City. Mendelsohn and Goldman also co-own sustainability focused vegan snack brand Eat the Change under which they make toothsome snacks such as jerky and chews from upcycled mushrooms and carrots—all for the sake of eliminating food waste while creating fun, plant-based snacks.
"We are so thrilled to have fellow change-maker, Chef Spike Mendelsohn on our team," Talbert said. "We love that Chef Spike pushes the envelope and shares our insatiable appetite for creating mind-blowing plant-based food for everyone-from vegans to meat eaters alike. Spike is known for being a high-energy, passionate restaurateur and brings with him a shared excitement that we can change the world by changing what we eat, without sacrificing our foodie favorites."
For more about vegan seafood, read:
Good Catch Is Trolling Subway With Vegan Tuna Sandwiches
You Can Now Get Sustainable Vegan Tuna Delivered to Your Door
America's Largest Seafood Chain, Long John Silver's, Adds Vegan Fish