The vegan snack world just got better with the launch of Outstanding Cheese Balls, a first-to-market dairy-free cheese ball snack that packs a flavorful punch. Made by snack brand Outstanding Foods, the innovative vegan cheese balls are available in Chedda, Bacon Chedda, Jalapeño Chedda, and Garlic Parmesan flavors. The soy-free cheese balls—made with a base of lentil, pea, and brown rice protein—are available in both three-ounce full size and 2.15-ounce snack packs retailing for $4.39 and $2.49, respectively.
Outstanding Foods was founded by entrepreneur Bill Glaser and Dave Anderson—former executive chef at Beyond Meat—for the purpose of making fun, better-for-you vegan snacks that appeal to all consumers. While Anderson crafted the vegan cheese balls to satisfy cravings (using nutritional yeast for that cheesy flavor), he also made sure to pack them with nutrition. As such, each serving features four grams of protein, along with 20 vitamins and minerals such as iron, zinc, and Vitamins B12, B6, D, E, and A.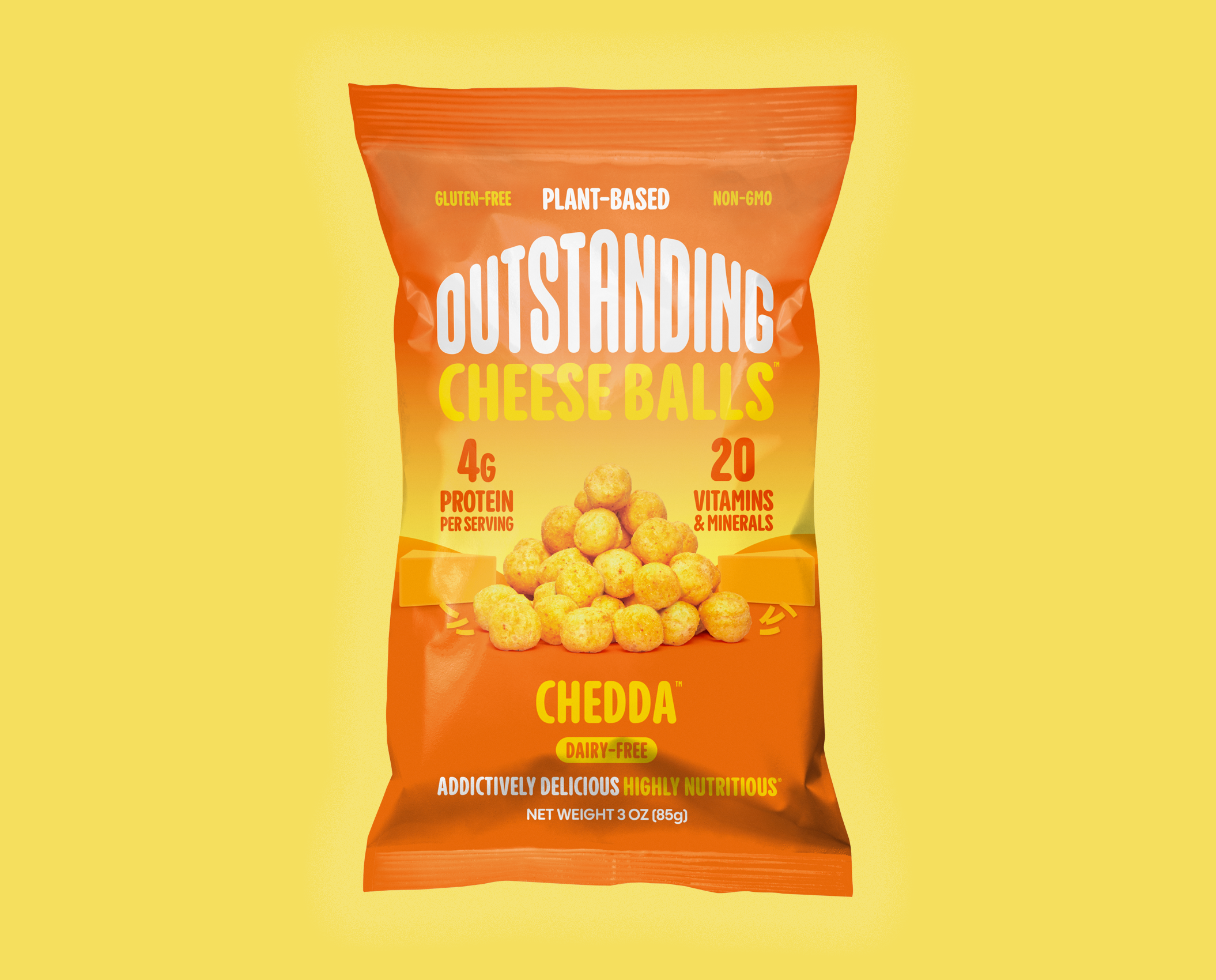 Outstanding Foods
"We are thrilled to introduce our Outstanding Cheese Balls as the first dairy-free cheese balls on the market," Glaser said in a statement. "Cheese balls are a nostalgic snack most of us grew up on, but for so many who avoid dairy for a variety of reasons, our Outstanding Cheese Balls will bring back those smile-filled memories with the great taste everyone loves and the nutrition we all need."
In addition to the Outstanding Cheese Balls, the brand also offers Outstanding Puffs and PigOut Crunchies (formerly known as Pigless Pork Rinds) in enticing flavors. Outstanding Foods is backed by some A-list celebrities, including Disney actress Daniella Monet and legendary musician Snoop Dogg, and its vegan snacks are available through Amazon and at thousands of retailers nationwide, including Whole Foods Market, Walmart, Costco, Safeway, and 7-Eleven.
For more about vegan snacks, read:
The Best Vegan Snacks at Trader Joe's
The 11 Best Sustainable Vegan Snacks: Better Food for You and the Planet
25 Accidentally Vegan Snacks You Can Find at Virtually Any Convenience Store