On June 28, macaroni and cheese brand GOODLES will launch its first vegan flavor. Aptly named Vegan Is Believin', the new vegan mac and cheese will be the first dairy-free offering under the GOODLES brand. The first brand to launch under parent company Gooder Foods, GOODLES was founded last year by actress Gal Gadot (known for her leading role in 2020 film Wonder Woman 1984); former Annie's President Deb Luster, CEO Jen Zeszut (former CEO at baby food brand Cerebelly), Paul Earle (brand entrepreneur and professor at Northwestern); and Molly Michet, a R&D leader and food scientist formerly of Dreyers, CLIF Bar and Plum Organics.
The brand's mission is to disrupt the boxed mac and cheese space by bringing more nutrition to the category with its proprietary pasta formulation that features 21 nutrients extracted from plant-based ingredients such as kale, mushrooms, and chickpeas.
While it initially launched with four non-vegan offerings, GOODLES stepped into the dairy-free space with Vegan Is Believin'—spiral noodles with a vegan white cheddar sauce—to bring its innovative mac and cheese to a wider consumer base. And the brand was intentional in crafting its first vegan mac and cheese to have a strong nutritional profile.
"Vegan Is Believin' Mac and Cheese has the same 21 micronutrients as GOODLES dairy-based flavors, and it still packs a punch of protein, with 13 grams of plant-based protein per one cup prepared serving—the same as two hard-boiled eggs," Ilana Mulhstein, M.S., R.D.N, GOODLES' Nutritional Advisor, told VegNews. "For comparison, GOODLES dairy-packed Cheddy Mac has 15 grams of protein per cup. The vegan flavor has even more heart- and gut-healthy fiber, with a whopping 7 grams per serving."
GOODLES gets into vegan mac and cheese
Creating GOODLES' nutrition-packed pasta took 1,000 tries until the team landed on a final formulation that worked as a base for its mac and cheese. While reinventing pasta in this way was hard work, Mitchet tells VegNews it was a worthwhile endeavor.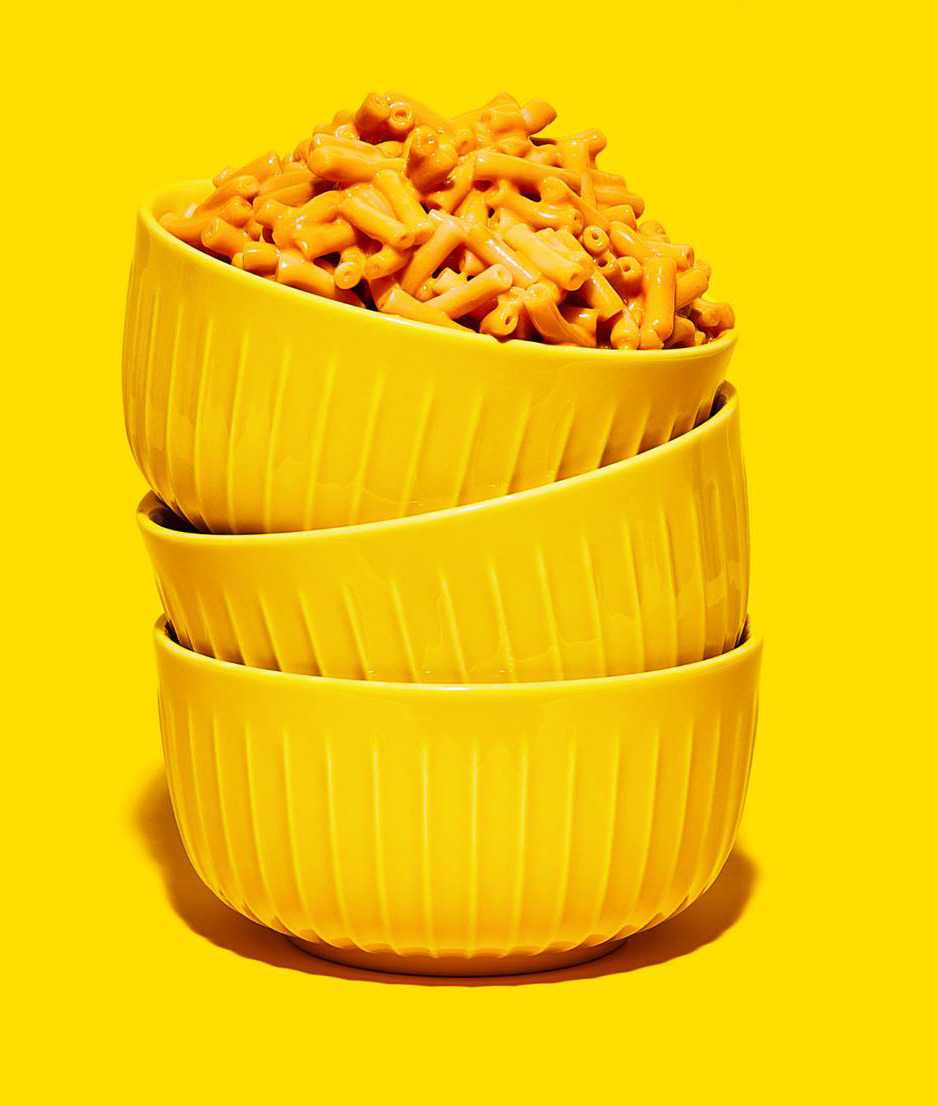 GOODLES
"Because I love pasta so much, and wanted to create something the market has never seen before," Mitchet said. "It had to look, feel, and taste like regular wheat pasta, but would give back extra nutrition and satiety using clean ingredients. GOODLES was founded by energetic, innovative, and savvy food industry professionals, and I knew the power of this team could actually make it happen."
GOODLES came to market with four dairy-based flavors: Cheddy Mac, Mover & Shaker, Shella Good, and Twist My Parm. With Vegan Is Believin', the brand expands into the lucrative dairy-free category with an option that is kinder to animals and the planet.
"We love our cheese around here, but we're also mindful of the planet and our health," Mitchet said. "As a California company, we adore farmer's markets, veggies, and plant-based foods, even if we're not all pure vegans. We really wanted to create another delicious and nutritious version of GOODLES that gives the same satisfaction and comfort of dairy mac and cheese."
GOODLES products are available through the company website, in-store at Target, and will expand to additional retailers in coming months.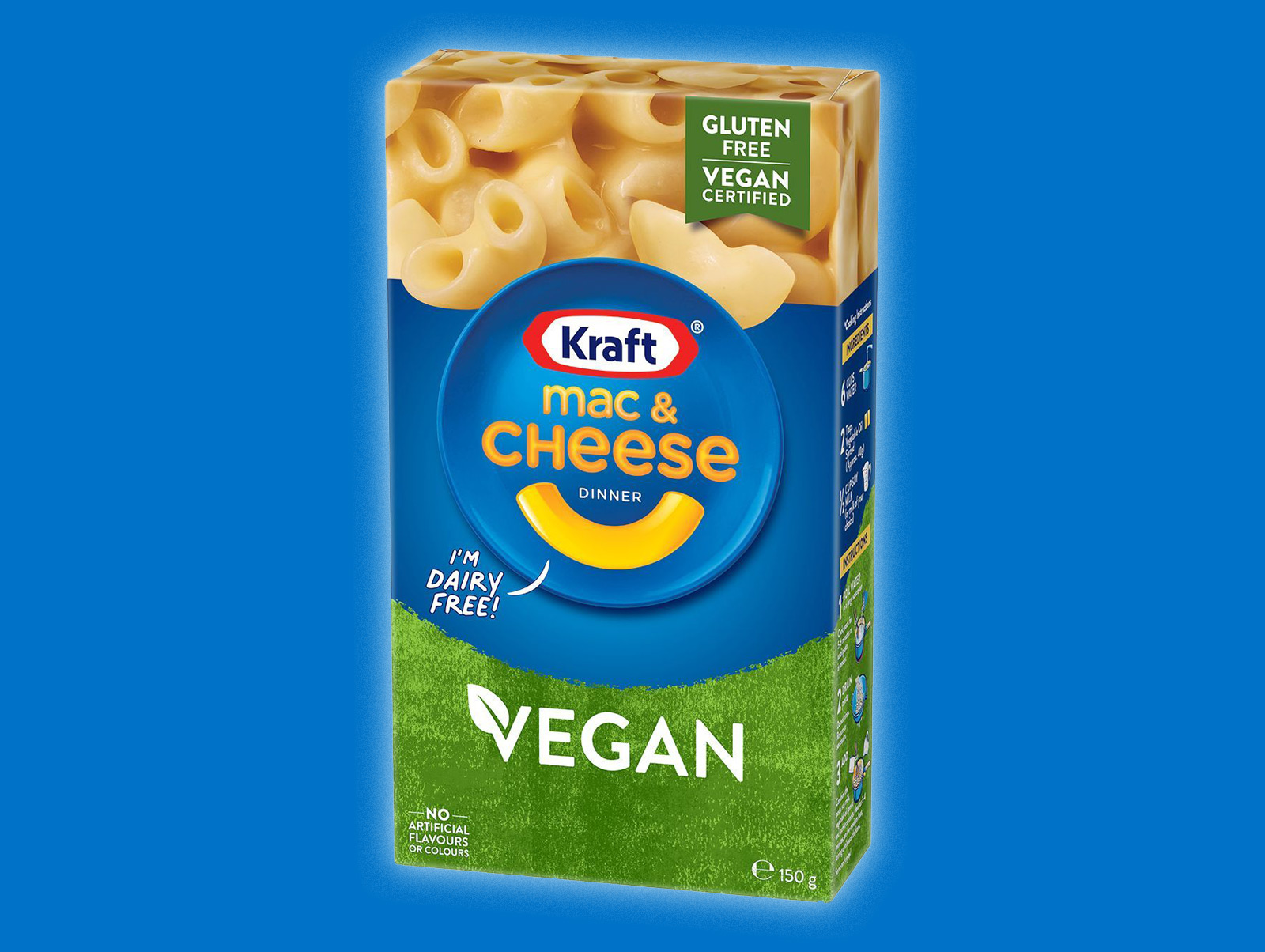 Kraft Heinz
Kraft's dairy-free mac and cheese
GOODLES was founded with the intent to disrupt a category dominated by Kraft Heinz—which introduced its signature blue box mac and cheese in 1937. Prior to the launch of Vegan Is Believin', brands such as Annie's and Daiya Foods have brought dairy-free innovations in the boxed mac and cheese category, and Kraft is looking to update its portfolio, too.
In Australia, Kraft entered into the dairy-free category last year with the launch of Kraft Vegan Mac & Cheese. The brand's first vegan mac and cheese was developed as a "contemporary" take on the classic boxed meal and is both gluten-free and vegan-certified with pasta made from rice flour and a dairy-free sauce. The new product is offered in the same classic blue box but with prominent vegan messaging throughout. Kraft even modified the cooking instructions to suggest using soy milk instead of traditional cow's milk.
While Kraft has yet to bring this innovation to regions outside of Australia, the brand is working on innovative products stateside, as well. Earlier this year, Kraft teamed up with Chilean startup TheNotCompany (NotCo) to form joint venture The Kraft Not Company. Under this partnership, the consumer goods giant will release new products made with the help of NotCo's technology, a platform that uses artificial intelligence to recreate vegan versions of animal products.
For more about vegan mac and cheese, read:
9 Easy Ways to Jazz up Trader Joe's Vegan Mac and Cheese
The VegNews Guide to Vegan Boxed Mac and Cheese
22 Vegan Mac and Cheese Recipes You Need To Try