Canadian vegan fast-food chain Odd Burger is planning to open an additional 40 locations in Ontario over the next eight years. This brings the chain's total to nearly 100 locations across Canada and the United States that are in operation or under development.
This means more consumers will be able to get their hands on Odd Burger's bestselling Famous Burger, which is a vegan version of McDonald's Big Mac that features two chickpea-based patties, famous sauce, vegan cheese, lettuce, onions, and pickles on a triple-decker sesame-seed bun. Odd Burger offers a large menu featuring vegan versions of items commonly found in mainstream fast-food restaurants, including the Vopper; "chickUN" sandwiches in Buffalo, crispy, and sticky (slathered in Korean sesame sauce) varieties; breakfast sandwiches, onion rings, milkshakes, wraps, and more.
For the Ontario expansion, Odd Burger is partnering with Toronto-based investment company Starke Investments, which will oversee franchise sales to individual owners, store construction, and provide support for franchises in its territory. The agreement outlines a yearly development quota that provides Odd Burger with a clear growth trajectory in the area.
"Starke Investments is always looking for opportunities to position itself as a leader in sustainability and innovation, and Odd Burger is without a doubt disrupting an industry where change is so desperately needed," Prashant Dalal, Founder and CEO of Starke Investments, said in a statement.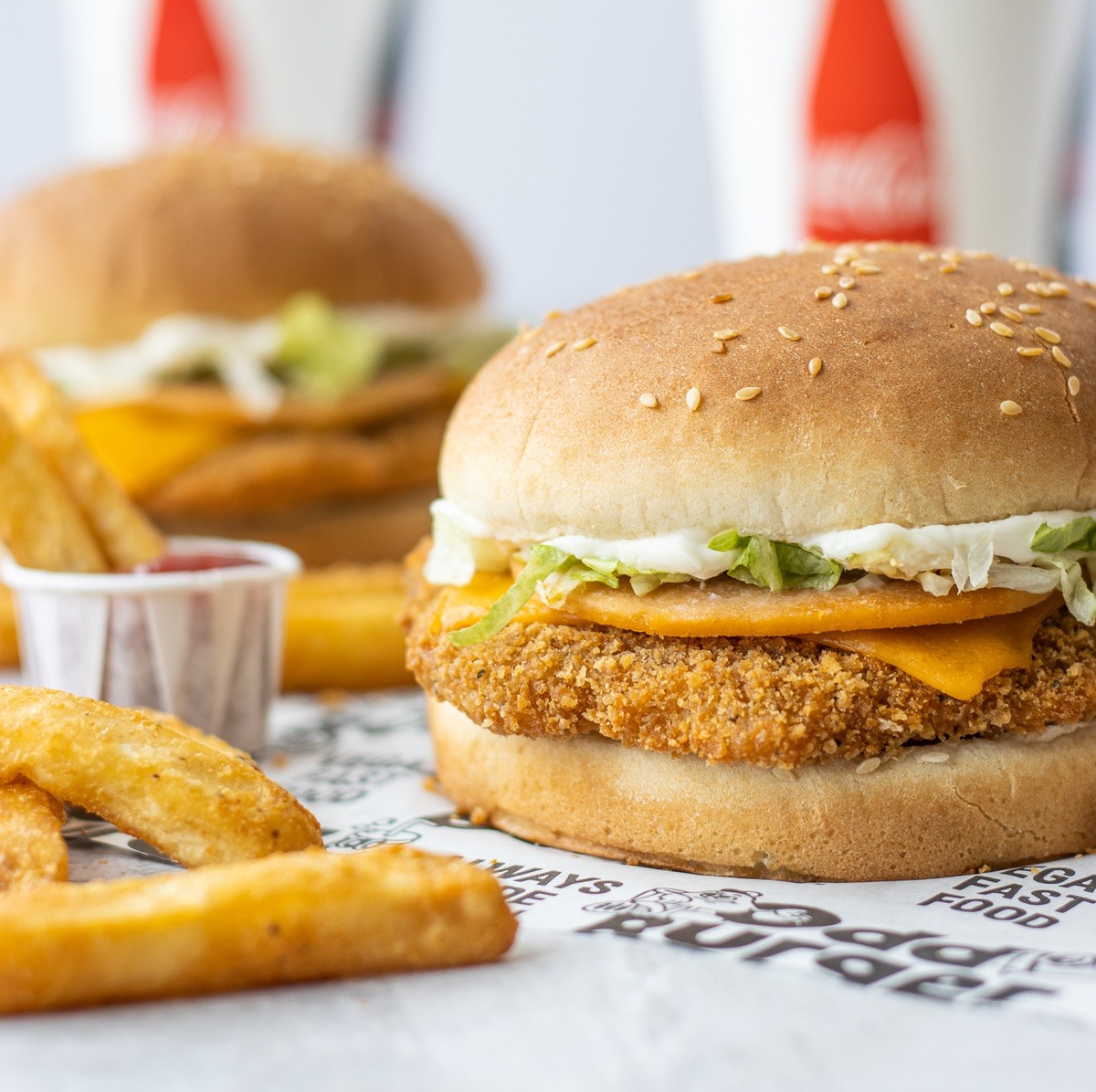 Odd Burger
Odd Burger expands to Western Canada
Earlier this year, Odd Burger announced the opening of 36 new locations in Alberta and British Columbia over the next seven years. For the new locations in Western Canada, Odd Burger partnered with family-owned hospitality group Sai-Ganesh Enterprises (SGE). In addition to supporting franchise growth, SGE plans to launch a corporate restaurant location in the area that will be used for training new franchisees.
"Western Canada is a great place for Odd Burger to expand, and a partnership with an experienced territory developer gives us a kickstart to our growth plans, plus it gives those franchisees strong support," Odd Burger co-founder and CEO James McInnes told VegNews. "In the future, I can see us signing other area developers not only in Canada, but also across the United States and even internationally."
Founded in 2016 in London, ON, Odd Burger became the world's first vegan fast-food chain to offer a 24-hour drive-thru when it took over a shuttered location of popular Canadian fast-food chain Harvey's in 2017. Last year, the chain hit another first when it began trading on the Toronto Stock Exchange's (TSE) Venture Exchange, making it the first publicly traded vegan fast-food chain in the world. It is now traded on the TSE under the symbol ODD, on the OTCQB under ODDAF, and the Frankfurt Stock Exchange under IA9.
World's first 24-hour vegan drive-thru
Currently, the chain already has locations in several Ontario cities (Toronto, London, Windsor, Vaughan, Waterloo, Hamilton, and Whitby) with new locations in Calgary, AB, Ottawa, ON, Victoria, BC, and Vancouver, BC currently in development. Odd Burger also operates a manufacturing facility in London, ON where it creates its proprietary plant-based proteins and dairy alternatives such as burgers, chickUn filets, sausages, and dairy-free sauces.
Odd Burger
Earlier this year, Odd Burger announced the creation of its new Preposterous Foods brand that offers a minimal-ingredient, minimally processed line of products for the foodservice sector including its crispy chickUN burger, meatless wings, beefy ground meat, gyro meat, breakfast sausage, dairy-free ranch dressing, "honey" mustard sauce, tzatziki sauce, eggless mayo, and dairy-free cheese sauce. The line of plant-based proteins and sauces is distributed exclusively through food service company Sysco.
"It may seem preposterous, but indulgent food can be healthy, and healthy food can be indulgent," McInnes said in a statement. "Thanks to new innovations and upgrades in our manufacturing facility, we're now able to produce plant-based proteins and other treats at scale for broader distribution, and bring utterly Preposterous Foods to a bigger market."
The chain is also planning to open its first US location in New York City, where it is currently searching for the right space. "It's a very competitive real estate market there," McInnes told VegNews. "The good news is we'll offer franchise opportunities across the United States soon, in various parts of the country. Working with franchisees that have expertise and relationships in their local markets also helps us expand strategically, and gives us the local knowledge to find the right spots."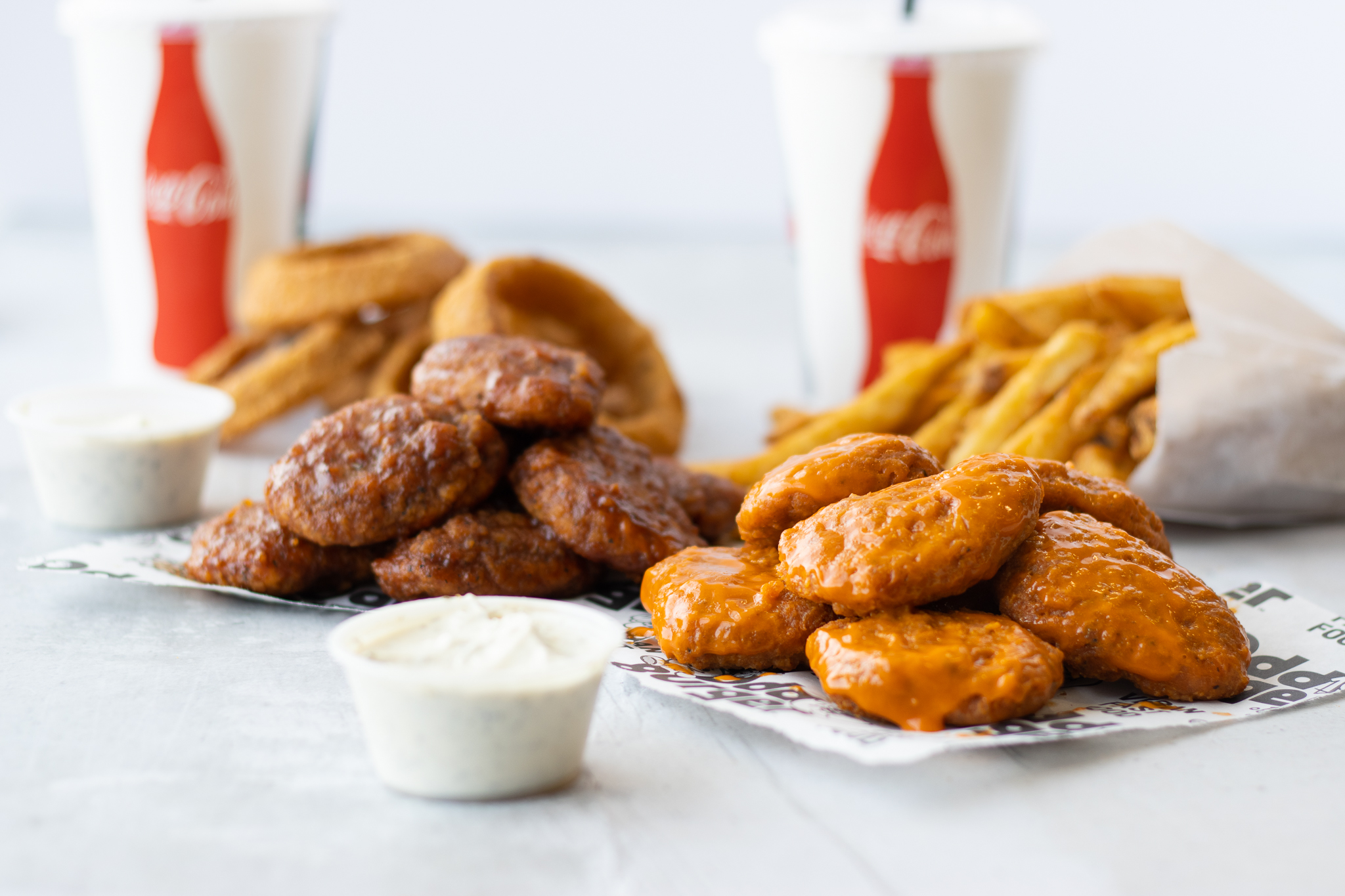 Odd Burger
Odd Burger revolutionizes fast food
Odd Burger is revolutionizing the fast-food industry not only with its healthier vegan ingredients, but also because all of Odd Burger outposts operate as compact smart kitchens, which use state-of-the-art cooking technology and automation solutions that are particularly favorable during this uncertain COVID-19 era. The company's technology is optimized for rapid service, takeout and delivery, affordability, and simplified employee training. Its smart kitchens also feature online ordering, self-checkout kiosks, and cashless transactions.
"We see tremendous potential with Odd Burger because they make plant-based food that appeals to the mass market by offering a menu made with simple ingredients, incredible flavor, and at a competitive price point," Dalal said. "This is not something that we have seen with any other plant-based restaurant brand."
For more about vegan fast food, read:
7-Eleven Adds Vegan Chicken Tenders to Hot Menu at All 600 Stores in Canada
Burger King is the First Major Fast-Food Chain to Serve Impossible Nuggets
KFC Just Launched Vegan Fried Chicken at More than 4,000 Stores