Vegan 24-hour convenience store Hangry Planet recently opened in the San Francisco Bay Area. Hangry Planet offers vegan snacks, meals, desserts, and more that are vetted to assure that every product is sustainable, animal-product free, and cruelty-free. In addition to the store, Hangry Planet also offers a gas station and immersive virtual-reality car wash, along with colorful and comical sculptures and live music.
The Hangry Planet is the brainchild of actor, entrepreneur, and philanthropist Bobak Bakhtiari, who curated the market's products and consumer experience. Bakhtiari opened the 24-hour convenience store in an effort to help advocate for sustainability and animal welfare while also meeting consumers' everyday needs.
"Coming across an undercover investigation into organic dairy farms by Animal Recovery Mission and then reviewing the prolific global work of Animal Equality was like being zapped by a truth taser that left me sporadically sobbing for weeks," Bakhtiari said in a statement. "What I learned of the systematic and fundamentally abusive practices on factory farms, alongside severe environmental consequences, inspired me to transition Hangry Planet to be North America's first fully plant-based convenience store."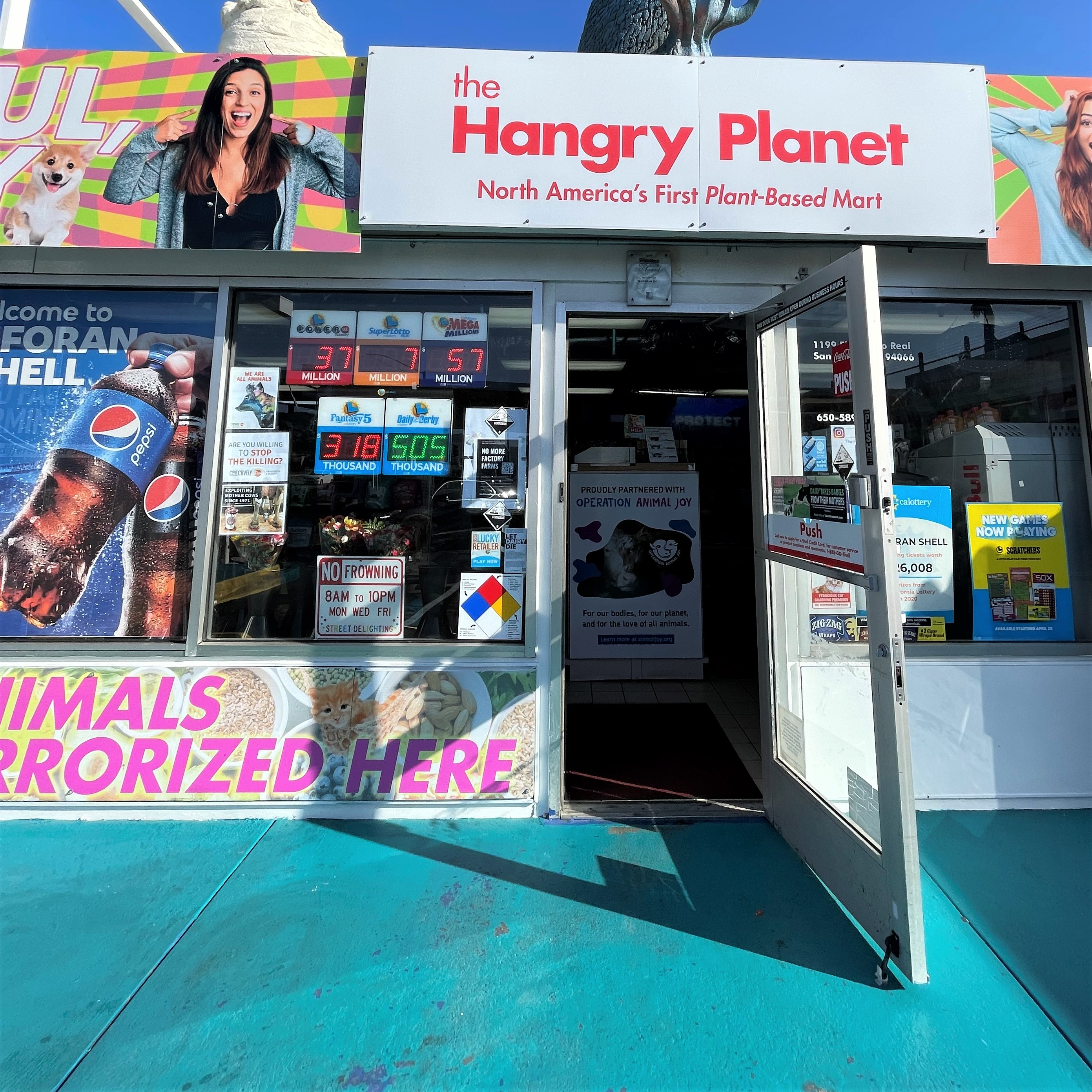 Hangry Planet
Vegan snacks abound at this 24-hour convenience store
Hangry Planet's offerings are curated to satisfy every on-the-go need. Inside the store, visitors will find a Laird's Superfood machine featuring vegan hot cocoa and golden milk, a range of vegan pastries from Santa Cruz-based Black China Bakery & Kerri Kreations, including Oakland's popular Donut Farm. Hangry Planet also offers Oatly's popular soft serve.
Grab-and-go meals include Hangry Bliss Breakfast sandwich (featuring Beyond Meat, JUST Egg, and Follow Your Heart cheese on a gluten-free bagel); hand pies with Beyond Meat-based mushroom-sausage scramble; Daiya burritos; Dr. Praeger's vegan burgers; vegan empanadas from Netflix's Selling Sunset star Emma Leigh Hernan; Annie Chun's noodle bowls; and a range of vegan jerky. The store also offers healthy plant-based snacks that champion the market's "Feel Beautiful Not Junkie" tagline.
But no convenience store is complete without some "junk food" snacks, and Hangry Planet stocks candy bars from Go Max Go Foods, Plant Based Bars, 2Fer, Buccaneer, Cleo Cup, Jokerz, Mahalo, Major, Snap!, Thumbs up and Twilight as well as prebiotic sodas and a wide variety of vegan chips from every major brand.
Additionally, 10 percent of every sale made goes to several different charities supporting both animal and human rights, schools, orphanages, and impoverished communities globally via Moms Against Poverty.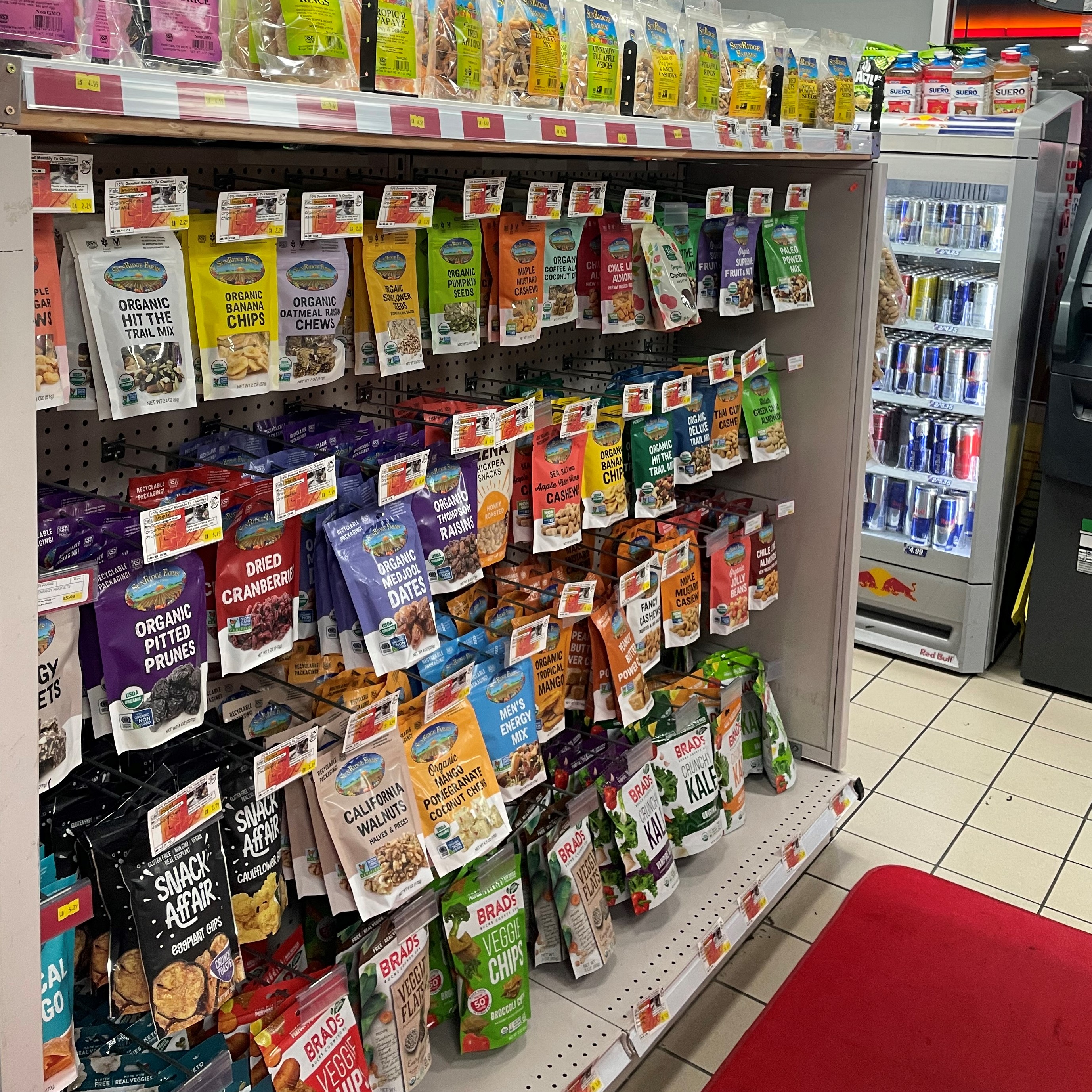 Hangry Planet
Bakhtiari believes his concept can be used as a model for other retailers as the shift toward more conscious consumption continues. "It's time for retail to robustly advocate for sustainability, animal welfare, and healthy products that aren't derived from abusing animals," he said.
Matthew Kenney opens convenience store concept
Although Hangry Planet might be the first 24-hour vegan market at a gas station, it is not the first convenience store to cater to vegan consumers. In 2018, acclaimed vegan chef Matthew Kenney opened vegan convenience store New Deli in Venice, CA featuring an array of practical, everyday products such as vegan packaged snacks, ice cream, chocolate, candy, companion-animal food, pantry staples, and a counter deli where customers can order freshly prepared vegan sandwiches, eccentric toast, carrot lox bagels, or containers of deli items such as marinated tofu, chickpea tuna salad, or eggless quiche. With the New Deli concept, Kenney aimed to revisit the concept of what a convenience store means.
Last year, Kenney announced the expansion of the concept after e-commerce platform PlantX acquired Kenney's New Deli and flagship store in Venice, CA, and rebranded it to become XMarket. The company also hired Kenney as its chief culinary officer and signed a five-year partnership agreement with Kenny's lifestyle company Matthew Kenney Cuisine (MKC) to help expand the XMarket concept across North America.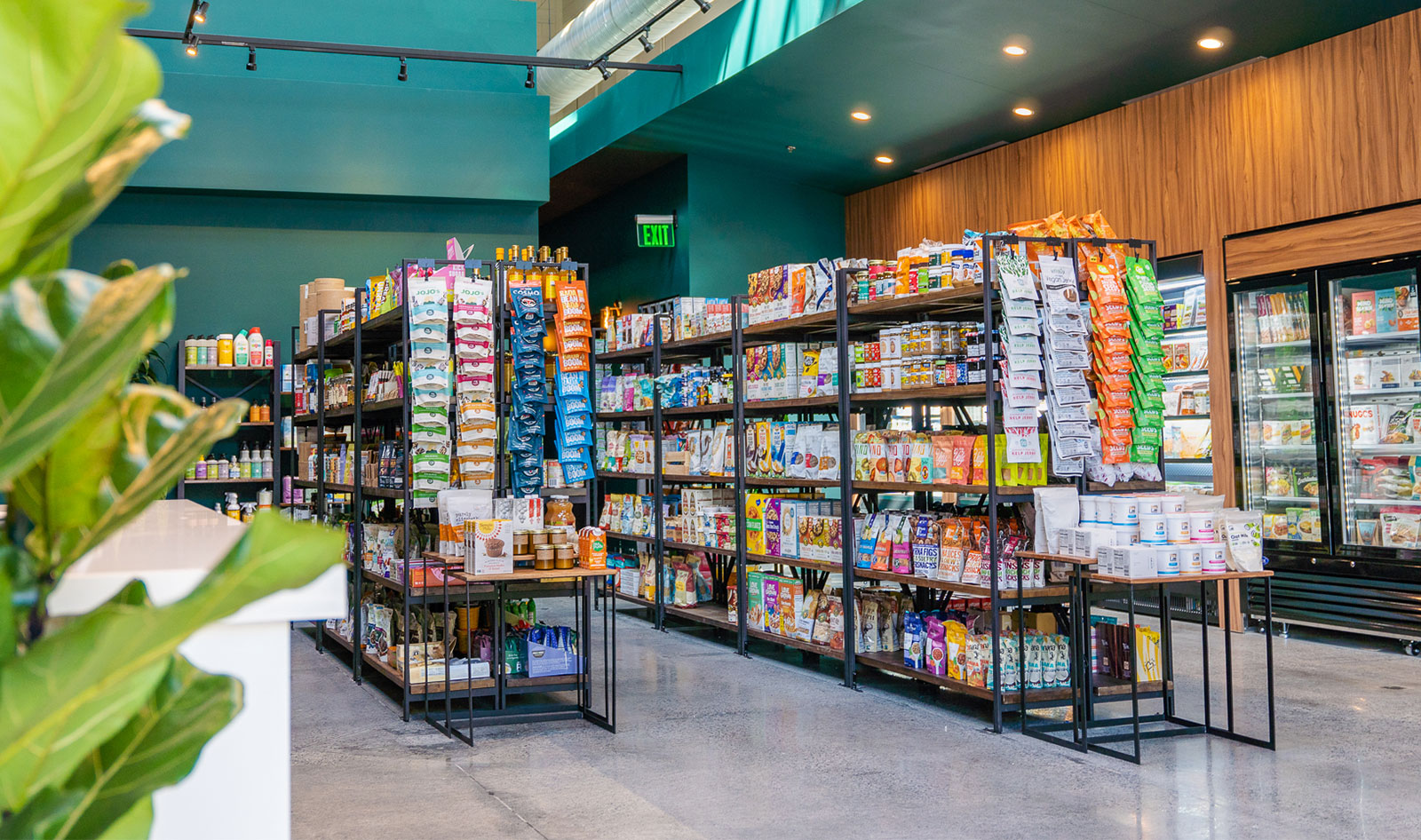 The growth of vegan convenience stores
Currently, XMarket locations operate in Squamish, BC, Venice, CA, Toronto, ON, Ottawa, ON, and Chicago, IL. The brand also opened a 4,500-square-foot market in San Diego, CA in 2021 called PlantX with an aim to be a vegan one-stop-shop. Located in the Hillcrest neighborhood, the retail space stocks vegan items from popular Canadian and US brands—including local vegan brands such as Kula Ice Cream, Tracy's Real Food, and San Diego Tempeh—with same-day delivery available through UberEats and Postmates.
The space also includes an XMarket café and sandwich shop offering cappuccinos, oat milk lattes, and steeped teas, and diverse plant-based lunch options carefully curated by Kenney, such as waffle-based avocado toast; caprese with Miyoko's Creamery mozzarella, tomatoes, arugula, and pesto on a focaccia bun; and bánh mì with braised tempeh, scallion mayonnaise, pickled carrots and daikon, cucumbers, and cilantro. The café also serves pastries from local bakeries Pan el Barro, The Gluten Free Bakery Co., and Yvonne's Vegan Kitchen.
"It was always our intent to build New Deli into the ultimate plant-based convenience store brand and ultimately align with a growth partner to expand it through various global markets, rather than grow it on our own," Kenney previously told VegNews. "PlantX's expertise in the e-commerce segment strengthens New Deli beyond a brick-and-mortar concept and into a much more versatile and efficient operating model. We are excited about this new partnership and all the other work we plan to do together to bring more plant-based options to the world."
For more about vegan convenience store finds, read:
25 Accidentally Vegan Snacks You Can Find at Virtually Any Convenience Store
Vegan Meat Sandwiches Just Launched at 800 7-Eleven Locations in Hong Kong
Tokyo Now Has an All-Vegan Convenience Store