Last night, Food Network premiered the highly anticipated new season of its hit reality competition show The Great Food Truck Race, and there's a vegan contestant already making a splash. Los Angeles-based Cuban pop-up Señoreata is the sole vegan competitor on the show's 15th season which brings together nine teams of entrepreneurs and home cooks as they race across Southern California in food trucks to out-cook and outsell each other for a chance to win the $50,000 grand prize.
Helmed by founder Evanice Holz, the Señoreata team consists of Chely Saludado (who has worked with the pop-up since its inception) and Adri Law. Officially titled "Hottest Season Ever," season 15 sees the trio compete against Amawele's South African Kitchen; Eso Artisanal Pasta; sandwich concept Food Flight; Girl's Got Balls, which slings arancini balls in non-traditional flavors; Mexican fusion truck Salsa Queen; soul food caterer Sauté Kingz; Southern Pride Asian Fusion, which brings together Southern and Asian cuisines; and loaded macaroni and cheese truck, Maybe Cheese Born With It.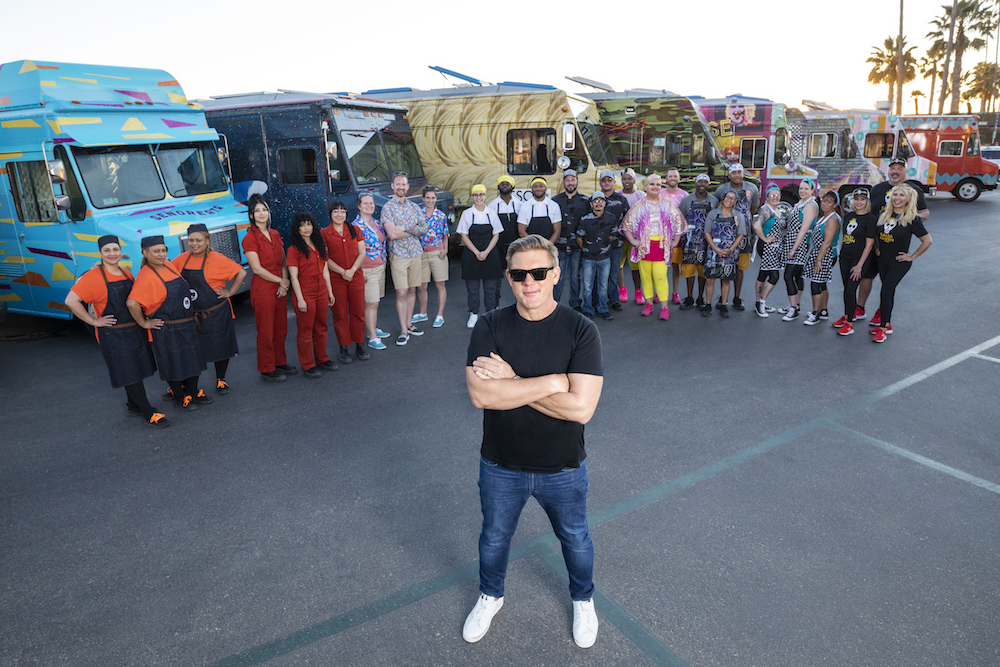 Food Network
For Holz, appearing on the show is a dream come true, but when the opportunity first came knocking, she almost didn't think it was real. The entrepreneur was approached by casting directors via direct message on Instagram, and once she realized they were legitimate, Holz was ecstatic.
"I've been watching Food Network since I was a kid, and to be on there was always a dream growing up," Holz told VegNews. "It's such an honor to not only represent my Cuban culture, but to also represent plant-based [cuisine] on nationwide television on such a reputable network that everyone knows. Seeing Señoreata up there shows me how far I've come in five years building this business from the ground up."
Watch Señoreata compete every Sunday through July 24 on the Food Network at 9pm EST.
Señoreata's vegan Cuban cuisine
Founded in 2017 in East Los Angeles, Señoreata got its start when Holz packed her Prius to the brim with ingredients and a mobile kitchen, ready to sling her plant-based, Cuban fare at events across the city. Today, the pop-up has earned a cult following with dishes such as Cubano sandwiches made with jackfruit lechon (jackfruit pork in a citrusy, peppery marinade); buttery, guava- and cheese-stuffed pastries; and loaded cassava fries topped with pickled onions, avocado, cilantro garlic sauce, dairy-free queso, and lime.
"I'm rewriting the narrative of my own experience as a first generation, modern, Cuban-Brazilian American, and making food my own way."
-Evanice Holz
Although Señoreata made its debut five years ago, the pop-up's roots can be traced to Holz's own vegan journey. Three years after adopting a vegetarian diet in high school when a friend inquired, "Hey, want to go vegetarian?," Holz came across a Food Network Magazine column spotlighting a plant-based chef and his vegan dog. Holz's curiosity took over, and she made a New Year's resolution to go vegan for two months, ultimately sticking with the lifestyle change for good.
Shortly after adopting a meatless diet, however, Holz found herself longing for the Cuban food she grew up eating. The entrepreneur, a first-generation Cuban-Brazilian American, started asking her father and grandmother for their traditional recipes. Making them plant-based, Holz notes, was easier than she imagined.
"When I went plant-based, I had to start learning how to cook because my father certainly didn't know what to cook for me. He didn't understand the concept of veganism," Holz said. "I started [veganizing] picadillo and arroz con pollo. I went from there, developing recipes at 19 years old. Señoreata is an extension of that whole experience."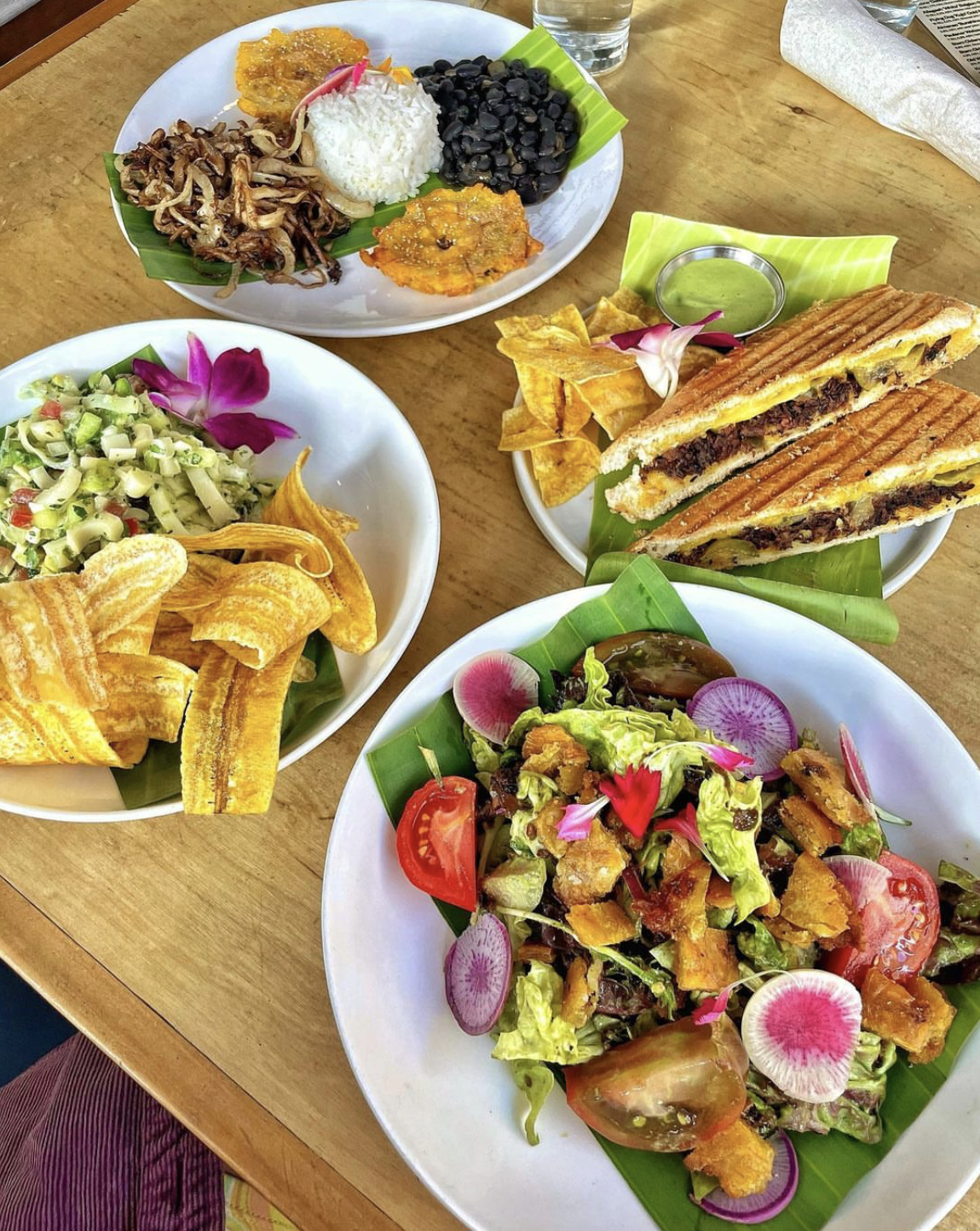 Señoreata
Ultimately, this culinary journey helped Holz cultivate a stronger connection to her Latin American heritage. "I'm rewriting the narrative of my own experience as a first generation, modern, Cuban-Brazilian American, and making food my own way. It's all about figuring it out—that's the first generation tagline," Holz said. "Señoreata is me figuring it out, and here's what I've [learned]. I feel even more connected [to my culture] than when I was eating these dishes as a child."
Vegan for la cultura
With her appearance on The Great Food Truck Race, Holz hopes to inspire viewers with entrepreneurial ambitions to take the first step toward launching their own business. She also aims to showcase how delicious plant-based cuisine can be and prove that it holds up to omnivorous dishes.
"I think we might inspire other people to put more plant-based dishes on their menu because they see, 'Oh, maybe there's something to this,'" Holz said. "I know there's still a lot of people who think plant-based food is something foreign, but I think if you release the stigma behind vegan food, [we can] unwrap it, bring it back to basics, and serve it in a way that is culturally relevant."
It's this desire for culturally relevant, plant-based food that fuels Holz. Beyond her upcoming Food Network debut, Holz is in the early stages of opening a restaurant in Joshua Tree. The entrepreneur, who splits her time between Los Angeles and the high desert, dreams of bringing more vegan options to Joshua Tree, where plant-based restaurants are few and far between. Outside of her food ventures, Holz plans to launch meal-planning services and classes that teach low-income families how to cook plant-based on a budget.
For a taste of Señoreata's vegan eats, visit the pop-up on Instagram to learn where they're heading next.
For more vegan Food Network, read:Meet the Chefs on Food Network's Vegan Episode of 'Beat Bobby Flay'13 Vegan-Friendly Food Network Moments
First Vegan Baker Appears on Food Network's 'Holiday Wars'
JUST LAUNCHED! Get our 10 Easy Vegan Summer Meals recipe book as a FREE instant download.
JUST LAUNCHED! Get our 10 Easy Vegan Summer Meals recipe book as a FREE instant download.