Sports fans in the heart of Portland, OR are flocking to The Sports Bra, a new vegan-friendly bar that screens women's sports exclusively. Founded by Jenny Nguyen, The Sports Bra is dedicated to highlighting women's sports by screening a variety of games such as collegiate tournaments, WNBA games, golf, tennis, football, soccer, and more.
The bar's grand opening on April 1 coincided with the start of the women's March Madness Final Four basketball tournament organized by the National Collegiate Athletic Association (NCAA). Excited customers began forming a line before noon, and while the collegiate basketball competition made for a busy weekend, the bar's foot traffic hasn't slowed down since—in large part due to its mission of inclusivity.
"I just know that there's a large group of folks who haven't had a great experience at sports bars and being able to be that place for them feels really good," Nguyen told VegNews. "The community has been so amazing, generous and extremely supportive, we feel so honored and proud to be here doing what we're doing."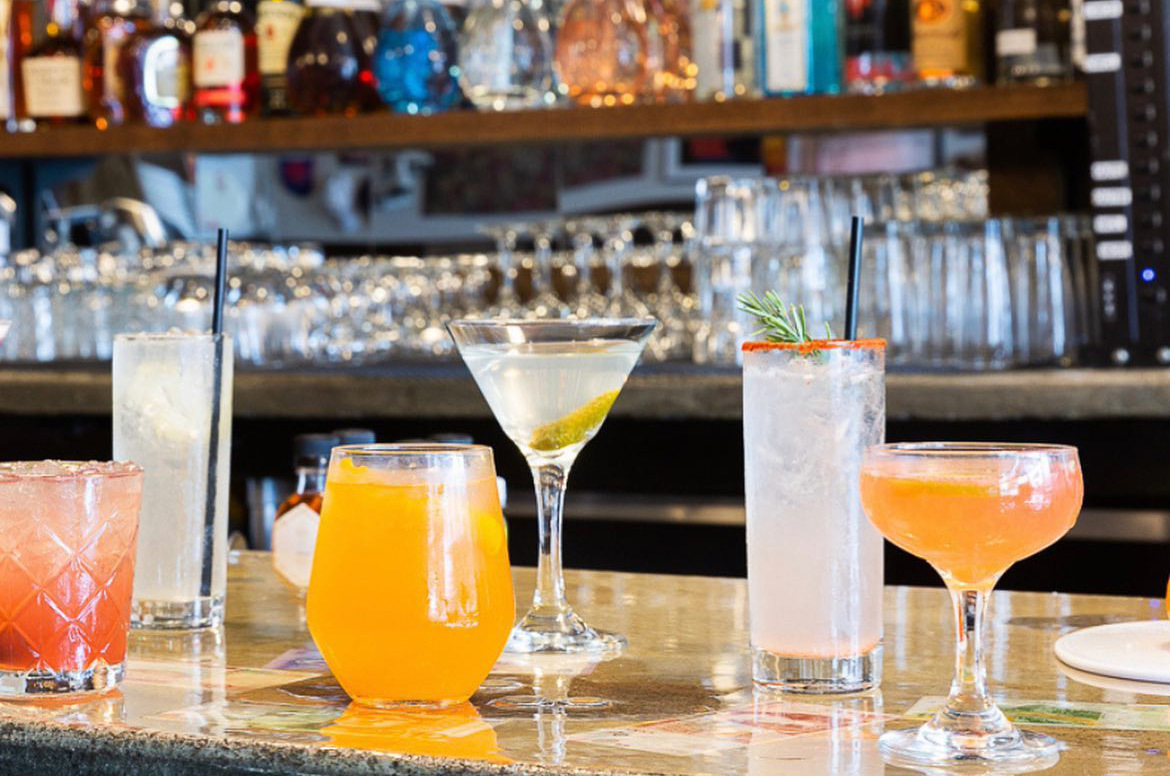 The Sports Bra
Sports, vegan food, and inclusivity
Since its inception, The Sports Bra has made inclusivity and empowerment a top priority. The bar's mission of supporting and empowering women and girls within sports and beyond trickles down to every facet of the business, from artwork of Serena Williams and Sha'Carri Richardson to brews from women-owned distilleries on tap and even its outdoor picnic tables, which were built by Girls Build, an organization that teaches young girls construction skills.
This mission of inclusivity can also be seen on The Sports Bra's menu. For owner Nguyen, catering to a variety of dietary needs wasn't an option—it was a necessity. Unlike traditional sports bars, which often feature dishes heavy in meat and dairy, The Sports Bra's menu offers a variety of plant-based options.
The bar's tempeh Reuben (marinated and griddled tempeh topped with sauerkraut, vegan cheese, and thousand island dressing served on rye) and crispy fried cauliflower with cilantro-tahini sauce are vegan without modification. The bar also offers items advertised as "vegan upon request." In the Sports Bra Nachos, dairy cheese is swapped out for a housemade vegan cheesy sauce and in the bar's burger offerings, Beyond Meat patties easily replace beef at no additional cost.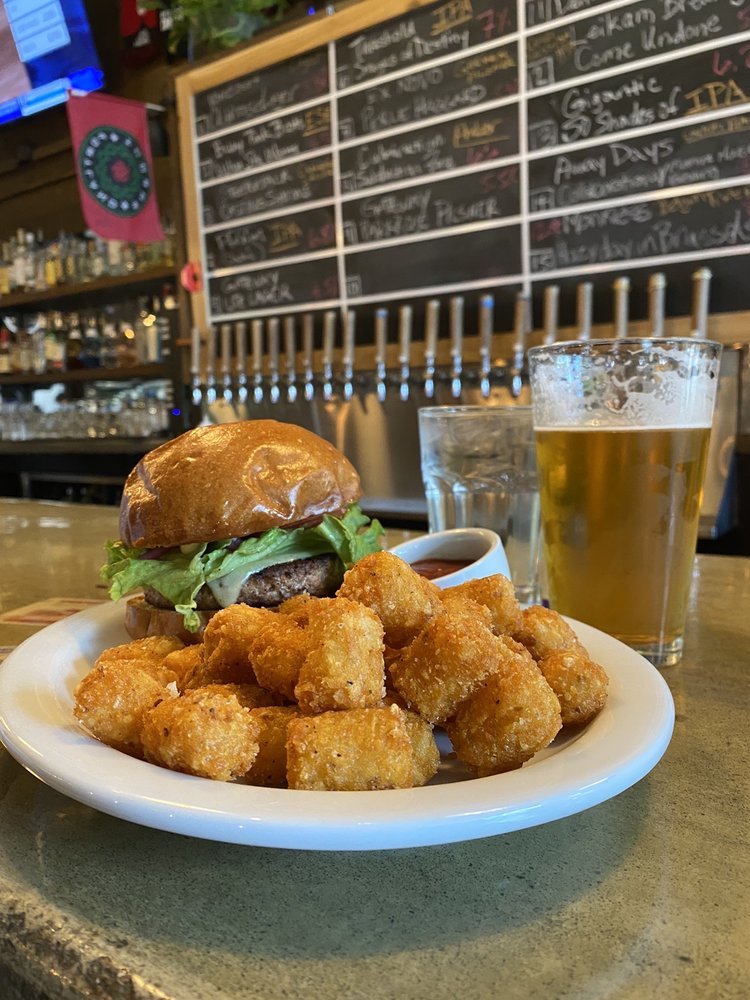 Sarah C/Yelp
"[The] lack of representation on menus at more traditional sports bars is precisely the reason that it was important for me to include more variety for dietary options on our menu," Nguyen said. "I basically tried to think about all the ways that your regular sports bar [doesn't] meet the needs of so many folks, myself included, and then tried to make those adjustments. The key was making those adjustments to represent more folks and not less; so making sure that all those same diners and bar-goers who love traditional fare would also feel like the menu was made for them."
And Nguyen's inclusive menu has proven to be a major hit, with Portland's vegan community coming out in droves to support her one-of-a-kind establishment, where gender neutral bathrooms and signage echoing the importance of Black lives and trans rights further underscore that all are truly welcome.
"We get a bunch of comments about how we don't charge extra for [our plant-based substitutes] and how refreshing it is for [vegan customers] to not have to pay a 'vegan tax,'" Nguyen said. Patrons can even celebrate the bar's refusal of a vegan tax with the Cherry Picker, a frothy cocktail made with aquafaba that's earned a reputation for being a customer favorite.
All are welcome at The Sports Bra
For Nguyen, April's grand opening was the realization of a longtime fantasy. The idea for a sports bar centered around women's sports first came to her in 2018. After going to a local bar to watch the NCAA basketball final with a group of friends, Nguyen watched the match on a tiny, muted television screen only after the group requested the game be turned on. Despite the circumstances, the excitement of the match riled up Nguyen, a longtime basketball fan. As the excitement began wearing off, she realized other patrons weren't paying attention to the collegiate women's basketball game. For years, Nguyen and her girlfriend dreamed of a sports bar where women's sports took center stage, with the pair often joking about the perfect name for such an enterprise.
"The inspiration really feels born out of necessity," Nguyen said. "For as long as I can remember, we always felt a certain way going into traditional sports bars, like they were places that were not meant for us. And those feelings were exacerbated when we went with the goal to watch women's sports. Not only were they not on, but when we were able to get someone to change a channel for us, it never felt like the main attraction—it felt more like a concession."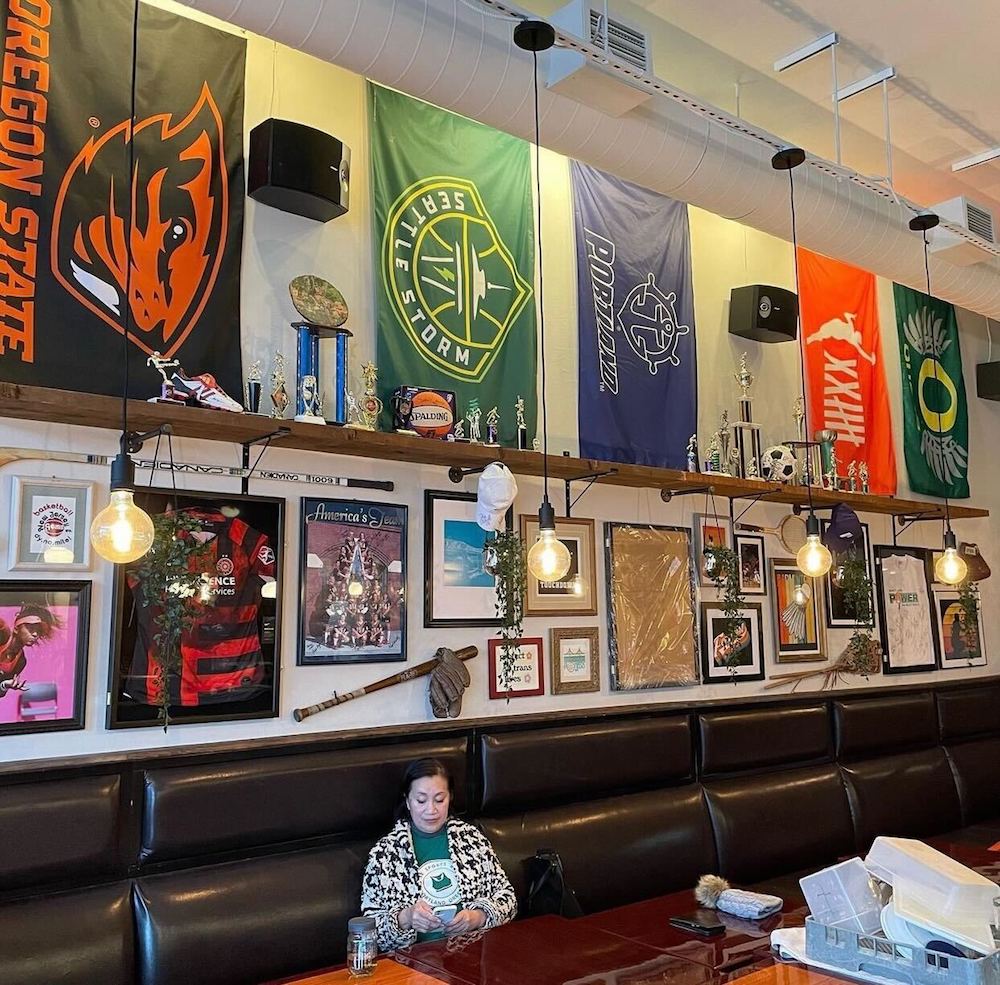 The Sports Bra
When COVID-19 began sweeping across the world and stay-at-home orders came into effect, Nguyen, who was working as an executive chef at the time, found herself unemployed. After a dose of encouragement from her girlfriend, Nguyen dove head first into getting the original concept off the ground.
"A few of the main challenges I faced when trying to get The Sports Bra started was definitely funding. I was literally declined loans from every major traditional lender I went to," Nguyen said. "It wasn't so much that they didn't think that I had a viable concept, it was more that we were just at the beginning of the Delta variant of coronavirus, that I was a first-time business owner and that my concept had never been done before. The trifecta risk was just too much for big banks and lenders to ignore." Determined to launch the space of her dreams, Nguyen turned to Kickstarter and within a month had raised $105,000 to fund the venture.
And her hard work paid off. Since opening day, Ngyuen has received hundreds of supportive messages from people across the country; among them, women who fought tooth and nail to play sports as young girls and men who are beginning to open their eyes to the lack of women athletes on the screens of the sports bars they frequent.
For the latest vegan bars and wineries, read: Black-Owned Winery Creating Vegan Wines Isn't Niche, It's Inclusive
A Huge Vegan Pub Opens Across From Boston's Fenway Park
DC Got its First Vegan Bar With Aquafaba Foam-Topped Cocktails