More than 30 years after the series finale of The Golden Girls first premiered, fans of the classic American sitcom can get a taste of life with Blanche, Rose, Dorothy, and Sophia with a new immersive, pop-up restaurant experience. Set to launch on July 30 in Beverly Hills, The Golden Girls Kitchen experience transports fans to 1980s Miami and into the world of the beloved cast of characters with a fast-casual restaurant and bar where iconic dishes from the show are brought to life.
And while the menu features meat and dairy, vegans can partake in the nostalgia with the saucy, meatless Sophia's Lasagna al Forno served with garlic bread and the Vegan Bacon Lettuce Potato Sandwich (Say It Fast) paired with a side of French fries. For dessert, vegan fans can opt for the Sperheoven Krispies available in strawberry and chocolate flavors—all served up by waitstaff fitted in Shady Pines uniforms.
Created by Bucket Listers, a platform that aims to connect adventure-seekers with unique experiences in 11 cities across the country, The Golden Girls Kitchen is equipped with Instagram-ready decor, photo opportunities, and a gift shop where exclusive merchandise will be available for purchase.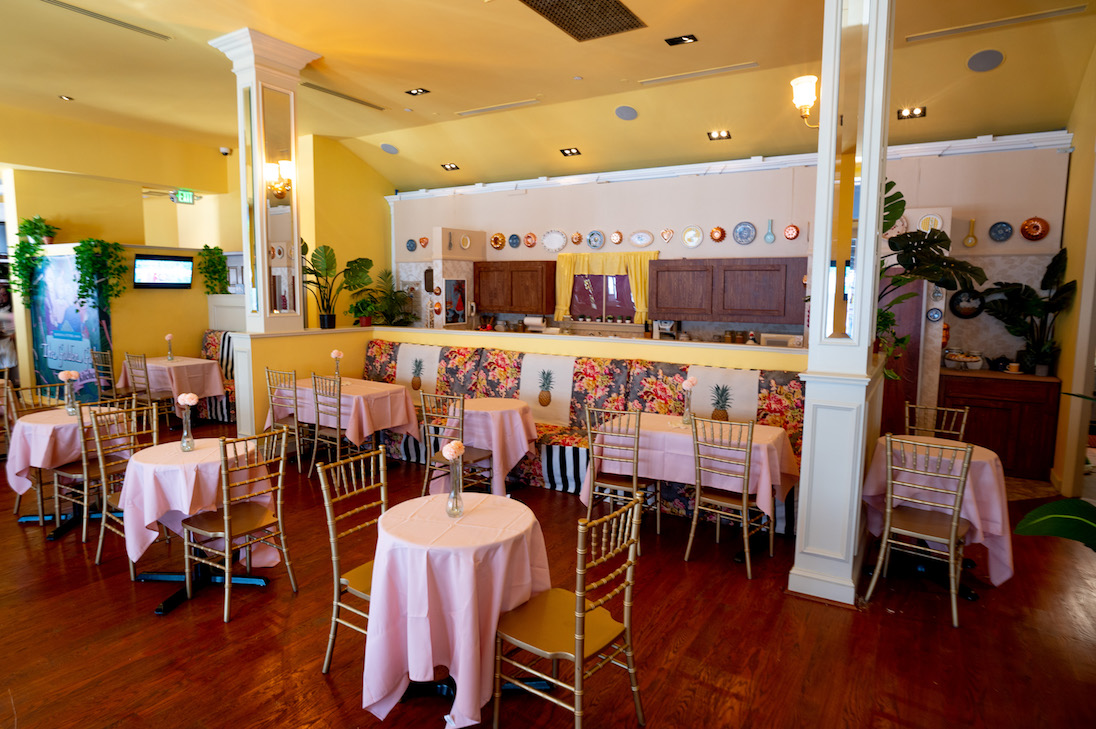 Bucket Listers
"Bringing Golden Girls to life has always been a dream of mine," Derek Berry, Bucket Listers Director of Experiences, said in a statement. "Our team is confident that both die hard fans of the show and first timers alike will leave with a deeper appreciation for the show's lasting legacy. We couldn't be more excited to launch The Golden Girls Kitchen."
Officially licensed by the show, the pop-up restaurant experience opens on Golden Girls Day, recognized annually on July 30. Tickets are available for purchase and run between $39 and $55. Each ticket guarantees a 90-minute reservation, choice of main dish, and a dairy cheesecake, which can be upgraded to the vegan-friendly Sperheoven Krispies. Additional sides, desserts, drinks, and merchandise can be purchased on site.
Beyond the nostalgic restaurant experience, fans can also attend Drag Brunch at the pop-up for $79 on September 24. Collaborations with local chefs are also on the horizon.
The Golden Girls' animal-rights legacy
The actresses on the iconic sitcom were known for their love of animals and speaking up for animal rights. In fact, Rue McClanahan, Betty White, and Bea Arthur—three of the four main Golden Girls—starred in the first ever anti-fur commercial produced by People for the Ethical Treatment of Animals (PETA).
In the ad, which was filmed on set of the classic NBC sitcom, White declares "cruelty is not fashionable" while Arthur succinctly calls for people not to wear fur with McClanahan asking viewers to support the animal-rights organization. A passionate animal advocate, McClanahan was originally contacted by PETA to appear in the ad. Not only did she agree to film the commercial, she also personally recruited White and Arthur to appear alongside her. This marked the beginning of McClanahan's relationship with PETA which spanned decades and saw the actress advocating for animals via various campaigns, benefits, public service announcements, and more.
In fact, McClanahan was the inspiration behind the now-shuttered, vegan-friendly Rue La Rue Café in New York City. First opened in February 2017, the café was a tribute to both the long-running show and to McClanahan, who passed away in June 2010. McClanahan's friend, Michael LaRue, began working on the café concept after the actress' death. Prior to the café's grand opening, LaRue took to Facebook to address a fan's question about vegan options, writing "How could we open a Rue McClanahan café and not have vegan options? Rue, the PETA enthusiast, would certainly find a way to come back and smack me." Despite a sizable following, the café shuttered within the year, officially closing its doors in November 2017.
McClanahan's co-star, the late White, was no stranger to animal advocacy herself. Beyond White's involvement in PETA's first anti-fur commercial, the veteran actress worked with several non-profit organizations and advocated for improved animal welfare. The icon worked with Actors and Others for Animals—which focuses on eliminating overpopulation in animal shelters and ensuring all companion animals are placed in loving, supporting homes. The actress served a number of duties with the Southern California-based nonprofit, including sitting on its Board of Directors and lending her star power to select campaigns.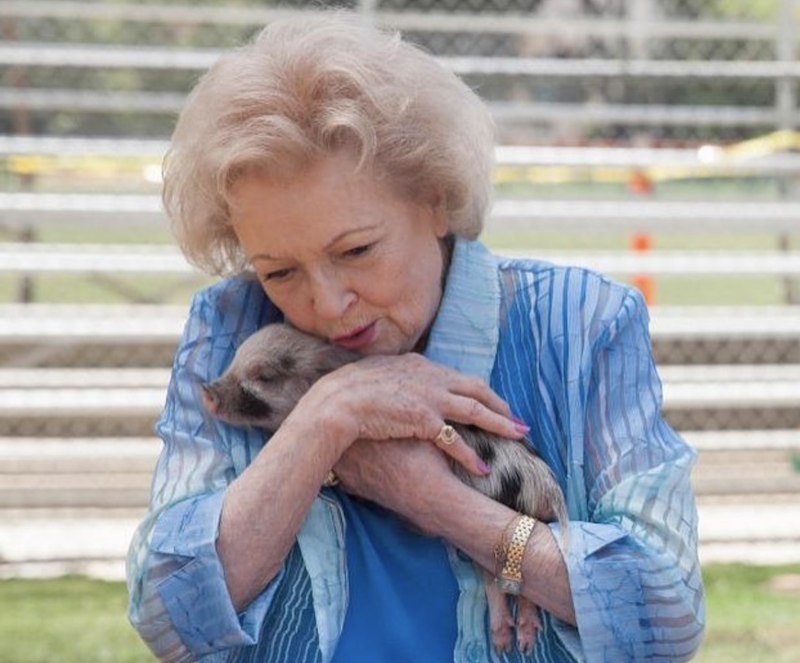 Betty White
On a more global scale, White was also involved with the Morris Animal Foundation (MAF)—a science-based nonprofit that invests in studies to better the lives of animals and reduce non-human animal diseases. White served in numerous senior positions with MAF for over 40 years. In 2010, the icon established the Betty White Wildlife Fund through MAF as a response to the disastrous Deepwater Horizon Oil spill that affected marine life in the Gulf of Mexico. Despite White's unexpected death just three weeks shy of her 100 birthday, the fund continues in her honor to address a variety of wildlife health issues.
For more about vegan pop-up experiences, read:
Kevin Smith's 'Jay and Silent Bob' Pop-Up Brings Vegan Burgers to Chicago
7 Must-Eat Dishes from Denver's Underground Pop-Up Scene
The 11 Best Vegan Pop-Ups, Food Trucks, and Delivery Kitchens in LA