New York's plant-based cuisine is among the most diverse in the country—from classic Americana fare to global bites from around the world—but there's a new restaurant shaking up the city's vegan scene.
Rabbit, the newest restaurant launched by plant-based restaurant group Overthrow Hospitality, recently opened in Manhattan's East Village. Spearheaded by Chef Xila Caudillo, the intimate, 12-seat chef's counter serves a seasonal, 13-course raw vegan tasting menu priced at $75 per person. This season, the menu includes dishes such as watermelon gazpacho served with a medley of tomatoes and strawberries; smoky, walnut al pastor tacos served with pineapple in purple cabbage tortillas; zucchini lasagna with tomato and basil; and seared watermelon atop a bed of forbidden rice and nori. For dessert, patrons can opt for the citrusy blackberry lemon tart.
The small, upscale restaurant also boasts a natural wine selection curated to highlight wines from Latinx-founded and operated vineyards as a nod to head chef Caudillo's Mexican-American heritage. Additionally, the wines have been selected from vineyards committed to sustainable and environmentally friendly practices.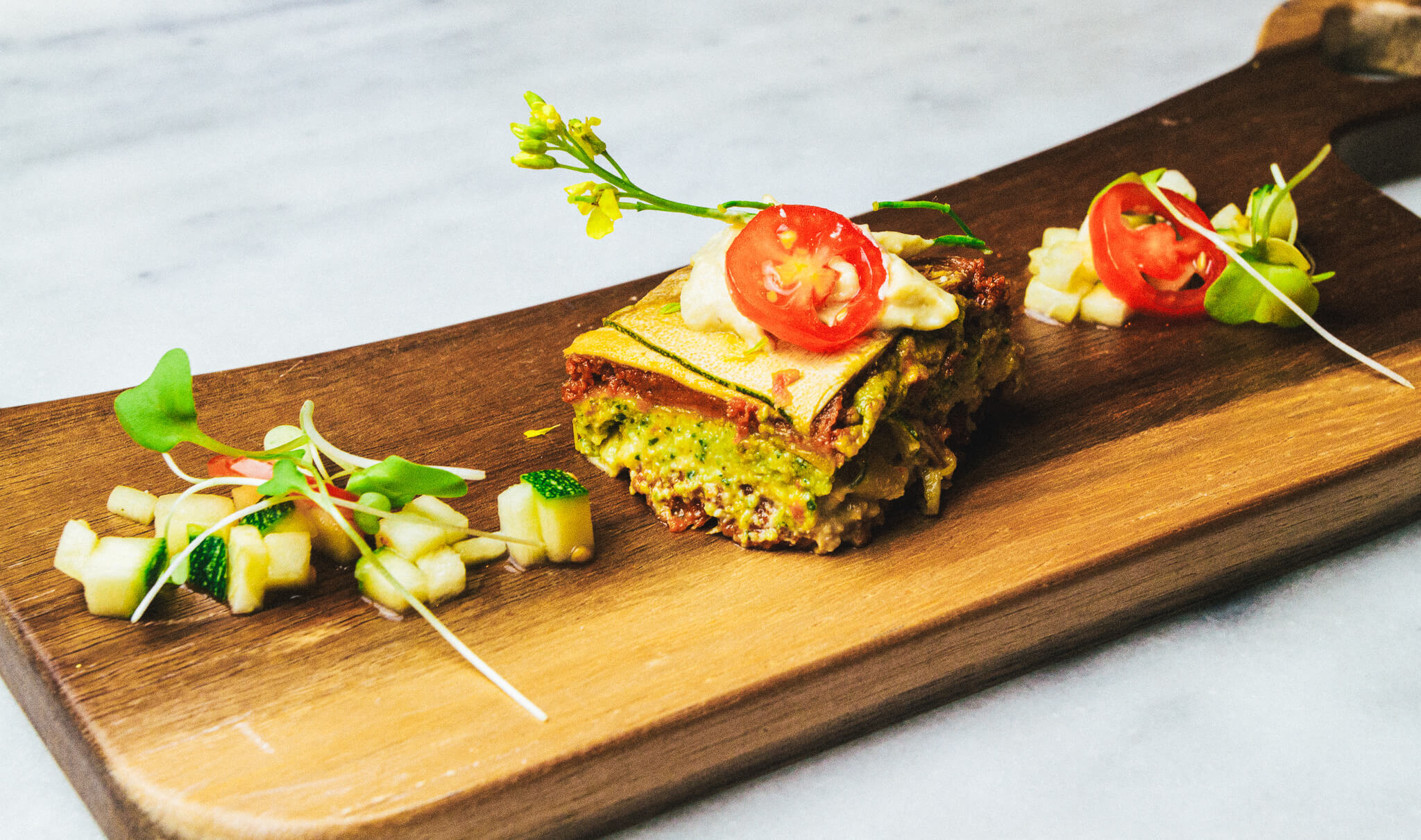 Rabbit
The first raw vegan restaurant in the Overthrow Hospitality portfolio, Rabbit aims to transport patrons "down the Rabbit hole"—a reference to Lewis Carrol's Alice's Adventures in Wonderland—via its menu, which is presented to diners in storybook format complete with poems and illustrations. "Rabbit is our first raw vegan concept—it was an idea we had been playing with for a little while and were looking for the right chef and format," Overthrow Hospitality founder Ravi DeRossi tells VegNews. With Rabbit, DeRossi—a James Beard-nominated restaurateur—hopes to bring patrons a cuisine that's often overlooked, even within the larger vegan scene. "We looked around and saw all the amazing vegan spots opening around the city and country, and wanted to add something new to that mix."
For chef Caudillo, who first began as an intern with Overthrow Hospitality before working her way up, the whimsical storybook inspiration behind Rabbit also served as a guide during menu development.
"When the idea for Rabbit came about, my first thought was healthy, but elevated, [food]," Caudillo tells VegNews. "I like a lot of fantasy and wanted the food to look like something out of a fairytale book. What would woodsy fairies and witches eat? This allowed me to be truly playful in the kitchen."
The 12-seat chef's counter will operate two seatings Wednesday through Sunday at 6pm and 8:30pm. Rabbit takes over the space previously occupied by Cadence, another Overthrow Hospitality restaurant. Cadence, where chef Shenarri Freeman continues to win over diners with plant-based soul food—including the much buzzed about fried vegan lasagna—quickly earned a cult following and outgrew the 12-seat space shortly after opening in spring 2021.
Earlier this year, Cadence relocated across the street into a larger space that now seats approximately 60 diners. When asked if Rabbit would follow a similar trajectory, DeRossi is keeping his mind open. "Never say no. For now, we feel that Rabbit is really well-suited to this intimate chef's counter experience, but we're definitely known to be flexible [in doing] what's best for our restaurants," he shares.
Coming soon: vegan wine and dessert bar
What's next for DeRossi's Overthrow Hospitality? The Fragile Flour, a vegan dessert and wine bar, is slated to open next door to Rabbit on September 7. Like Rabbit, the new concept will also seat 12 Wednesday through Sunday from 5 to 11pm.
Pastry chef Lady Ashton Warren helms The Fragile Flour. A burlesque dancer, Warren first began her culinary career as a hostess at local restaurant Marc Forgione. Shortly after, she found herself helping the kitchen develop a chocolate cake recipe. The dessert quickly became one of the most popular on the menu, and Warren left her position as hostess to become Marc Forgione's Executive Pastry Chef. "I've been a vegetarian since 2007 and have cornered the market on creating delicious treats to accommodate all dietary restrictions," Warren said in a statement. "I believe everyone deserves dessert, and The Fragile Flour celebrates that."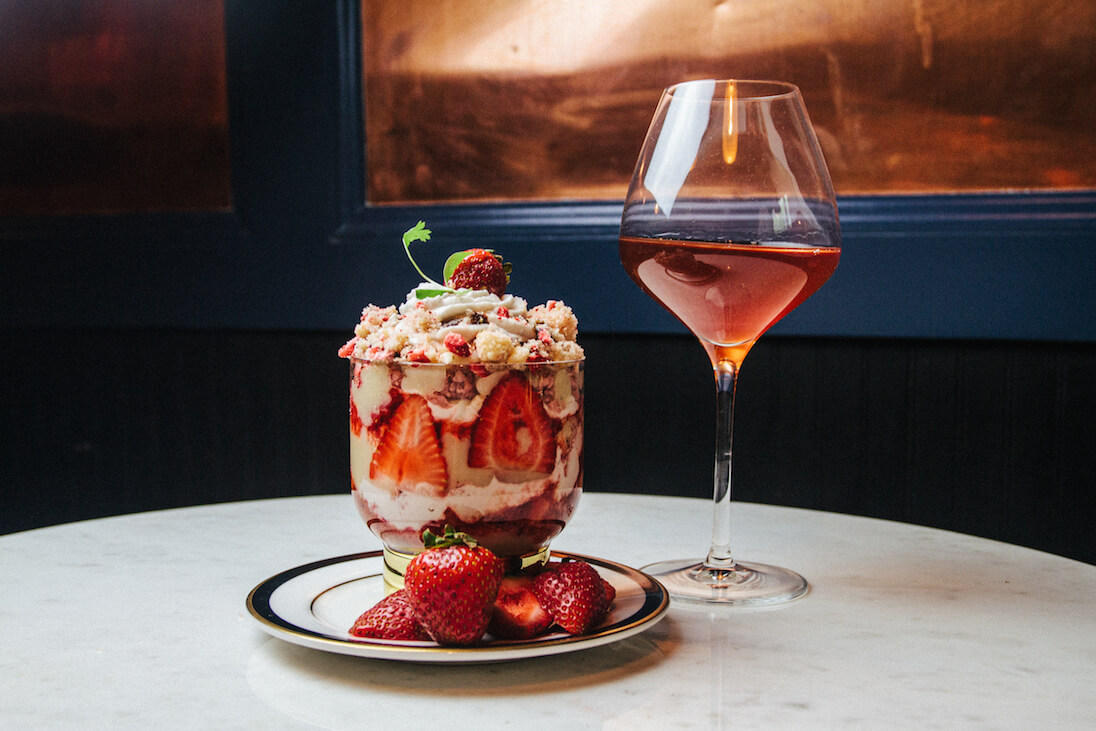 The Fragile Flour
The dessert and wine bar's opening menu will include coffee rum-soaked tiramisu featuring hazelnut mascarpone, lemon chamomile cream pie, and strawberry vanilla parfaits alongside wine sourced from around the world. Early in the evening, customers will also have a selection of savory bites to choose from such as gouda-stuffed pretzels and mushroom pesto arancini.
For the latest vegan news, read:
Starbucks' Very First Vegan Fall Drink Has Arrived
Will Burger King Become First Major Fast-Food Chain to Drop Meat?Cultivated Lamb Meat Could Help Reduce Livestock's Methane Footprint