Social media influencer Veronica Shaw, also known as Chef Pii—creator of the vibrant Pink Sauce that went viral on TikTok—is teaming up with sauce company Dave's Gourmet to bring the product to grocery stores and restaurants. While the sauce is currently vegetarian, Dave's Gourmet has confirmed with VegNews that its research and development team is working to find alternatives to Chef Pii's original recipe to make it vegan and gluten-free. Production is scheduled to begin this fall.
Chef Pii initially tried to launch her Pink Sauce creation on her own, selling out of her stock in just days on her website for $20 per bottle. However, her lack of commercial food production knowledge led to significant obstacles, including labeling errors and food safety concerns that included people accusing her that the sauce made them sick, with one social media influencer faking his own death and blaming it on the sauce.
Dave's Gourmet discovered this controversy soon after it started going viral on various social media platforms and decided to help. After multiple meetings with Dave's Gourmet team, Chef Pii entered into an exclusive partnership whereby Dave's Gourmet assumed responsibility for producing The Pink Sauce on a commercial scale. The company plans to sell the product to the foodservice, retail and e-commerce channels in the United States and internationally—and, according to the company, they're already receiving requests from big-name retailers and restaurant chains. For her part, Chef Pii will continue driving the social media aspects of the business and will participate in all the major steps of commercial production of The Pink Sauce.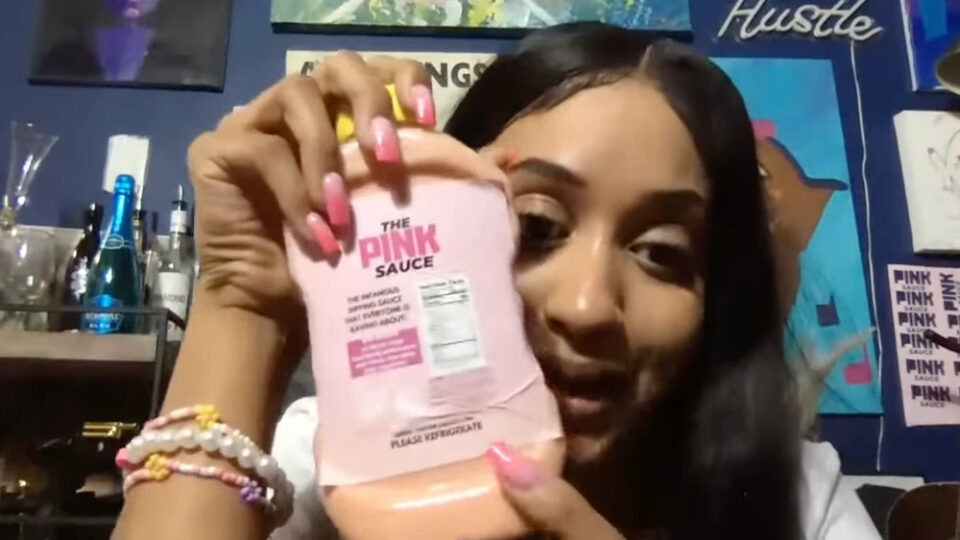 Chef Pii/YouTube
Is Pink Sauce vegan?
According to the ingredients listed on Chef Pii's website, the original Pink Sauce contained water, sunflower seed oil, raw honey, distilled vinegar, garlic, pitaya (or dragonfruit), pink himalayan sea salt, and less than two percent dried spices, lemon juice, milk, and citric acid. However, Dave's Gourmet has since reformulated the recipe to make it simpler, dairy-free, and shelf stable, with the ultimate goal of making it vegan.
"In less than a week, we nailed it," Dave's Gourmet President David Neuman said in a statement. "Our R&D team was able to re-formulate the sauce to match Chef Pii's exact color and flavor profile for the product and at the same time change some of the ingredients to make the sauce less complicated, dairy-free, and clean of any preservatives, artificial colors, or flavors. The public will end up receiving a shelf-stable version of the sensational sauce that Chef Pii envisioned in her Miami kitchen."
Since going viral in June, The Pink Sauce and Chef Pii have been featured in many prominent media sources and all over social media, with Chef Pii's social media accounts amassing over 154 million video views on TikTok, nearly 2 million video views on Instagram, and over a half a billion people using the #pinksauce hashtag on TikTok.
"This product is not only a social media phenomenon but actually enhances the food it is used with as a condiment," Jade Steger, Marketing Director for Dave's Gourmet, said in a statement. "People are intrigued by its bright pink color and unique taste. It can be paired with pretty much any savory food, creating a playful visual appeal and enhancing the flavor of the dish. This product resonates with the Millennials and Gen Xers who both adore Chef Pii's vibrant personality and are curious about the delicious and playful condiment that she created."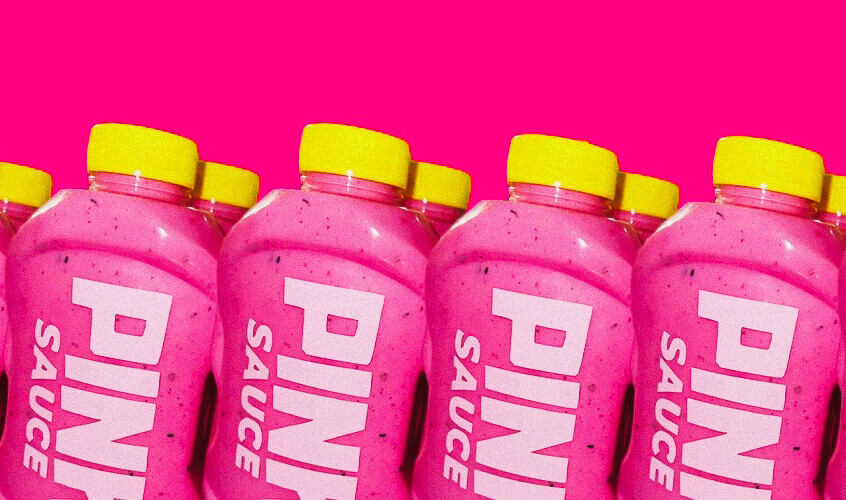 Pink Sauce goes into commercial production
Dave's Gourmet—best known for its vegan Insanity Sauce, commonly featured on the YouTube series Hot Ones—has a long history in the pasta and hot sauce markets, and so the company's involvement with Chef Pii will help give The Pink Sauce credibility as a viable and safe food product for restaurants and retail.
Ultimately, Dave's Gourmet jumped on an opportunity to use its food manufacturing experience to make the Pink Sauce a household name. "It's our pleasure to reach out to a talented foodie who has not had any experience with commercial production of sauces, and, with our expertise and resources, help bring her Pink Sauce to the market. We encourage other food companies to do the same. The youth of today have their fingers on the pulse of what their contemporaries want but may not have the knowledge, ability or capital to bring a product idea to market quickly, safely and on a large scale," Neuman said. "Look for the jaw-dropping Pink Sauce on various e-commerce platforms, in restaurants, and on major food retailers' shelves soon. We are excited and striving to make The Pink Sauce a household name."
For the latest vegan news, read:
How This Food Technology Company Is Improving Plant-Based Food
South Korea's New Vegan Mushroom Startup Was Born From Hyundai
Burger King Ventures Into Plant-Based Chicken Sandwiches