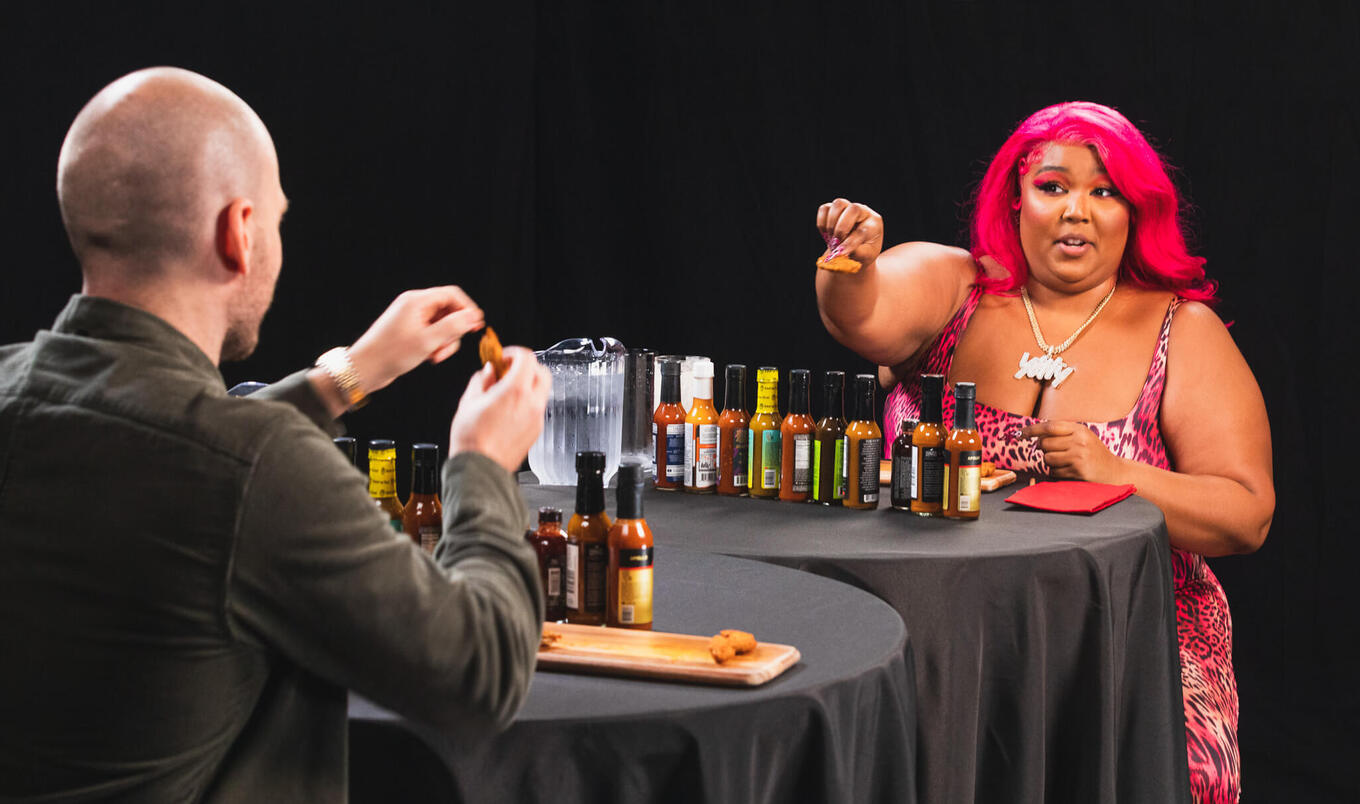 Lizzo's love of spicy food is put to the test on 'Hot Ones,' where the Grammy-award winning musical artist eats Daring's vegan chicken loaded with increasingly spicy hot sauces as she discusses her new projects.
August 4, 2022
---
Today, Lizzo appeared on popular show Hot Ones, where celebrities answer pressing questions about their lives as they eat chicken wings soaked in 10 increasingly spicy hot sauces. The musical artist took on the challenge with vegan wings provided by Daring Foods and was confident that she would make it to level 10. "I had an addiction to Hot Cheetos and I survived the one chip challenge," Lizzo said. "So I think this is going to be a piece of f*cking cake. So try me."
Lizzo got through the first two wings with no problem and the next two began to take a toll, which she tempered by "breathing backwards." By level 5, she began adjusting to the spice level and breezed through several sauces, including one made by Black-owned sauce Collards N Ghost—which she paused to shout out. Before level 7—which features Tyfring's Curse at 99,000 scoville heat units (SHU)—Lizzo needed to take off her shoes. At level 8, she took off her jacket and dipped the vegan chicken into a dairy-free milkshake to help level out the spice, which at this point was at 135,600 SHU from Da Bomb's Evolution hot sauce.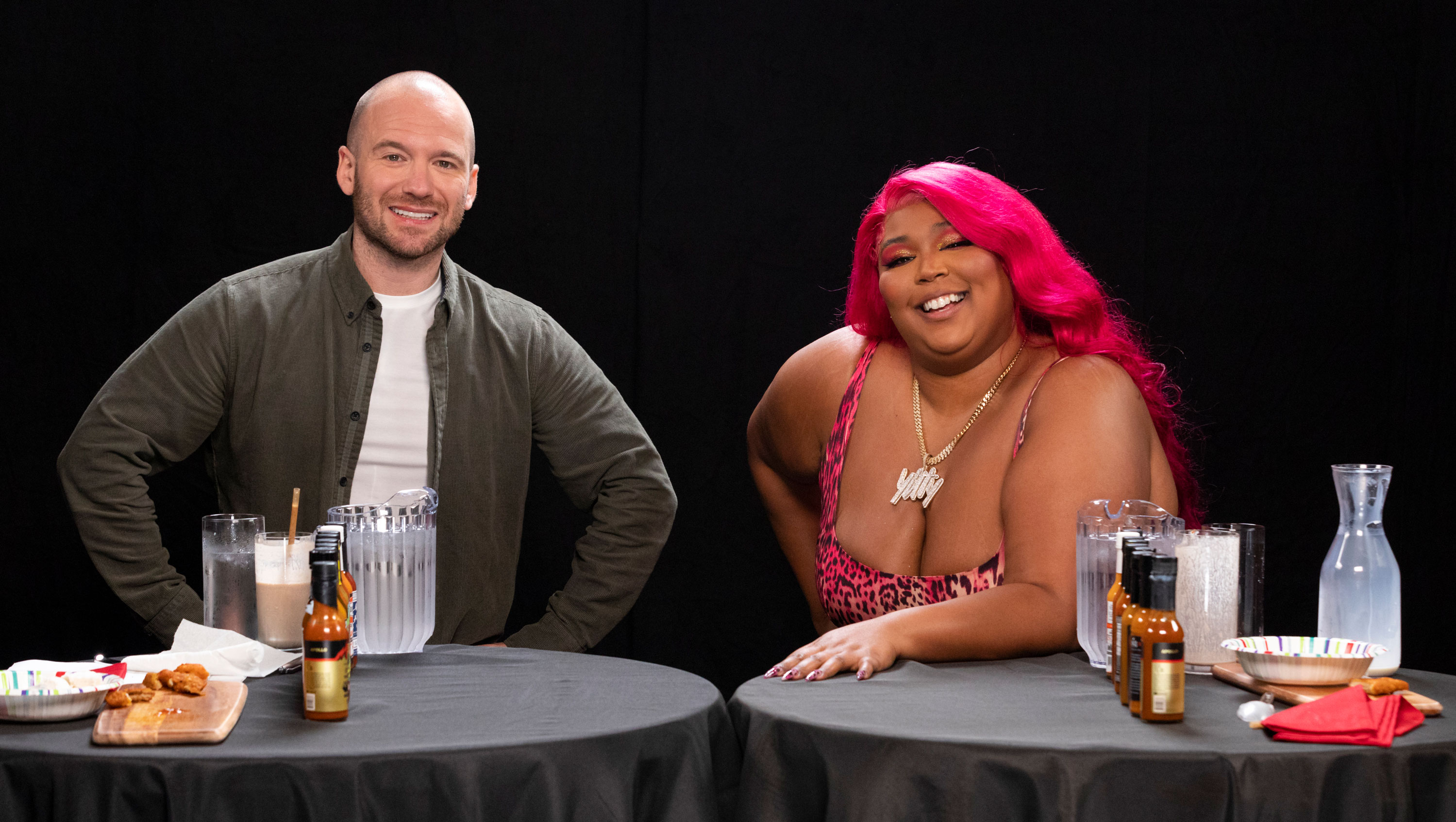 Hot Ones
Talking through tears, chattering teeth, and praising Jesus, Lizzo is tasked with discussing her journey to find the best vegan plantain sandwich. "I had a really good one at Black Rican Vegan," she says, after downing the entire vegan milkshake. "I feel like it was seasoned. It was juicy. It had vegan cheese on it." At this point, Lizzo is visibly hurt by the spice but continues on. For the last level, the Hot Ones team brings her some vegan oat milk ice cream for relief, which she uses to make it to the end.
Throughout the episode, Lizzo discussed topics such as her newest album Special and how the music scene in Minneapolis, combined with her classical music training, was critical inspiration for her early career. She discussed some of her most iconic fashion looks, staying ahead of the cultural zeitgeist, the qualities of a great backup dancer, and founding her own shapewear brand Yitty (which she was wearing during the show).
While all of the chicken on this episode of Hot Ones was vegan thanks to Daring Foods, two of the sauces—Island Wing Sauce and The Seventh Reaper, at level two and five, respectively—contained honey rendering them not vegan.
Lizzo's love for spicy vegan food
Lizzo went vegan in 2020 and, as a lover of all things spicy, has been making hacks to help tame her cravings for favorite non-vegan foods such as Hot Cheetos—which contain dairy ingredients. In March, she took to TikTok to share a recipe she created to tame her cravings for her favorite spicy chips, using Takis (vegan spicy chips) as a base. To impart cheesy notes, Lizzo created a vegan cheese sauce for the chips made from a blend of several Follow Your Heart Gouda cheese slices, boiled Japanese yam potatoes, a few cubes of high-protein tofu, onion, garlic, nutritional yeast, Kelly's Gourmet Cheezy Parm, salt, pepper, and habanero hot sauce.
Aside from spicy snack hacks, the singer consistently shares her vegan food recipes and finds—such as the Black Rican Vegan plantain sandwich she mentioned on Hot Ones—with her millions of fans on social media. To further help others go vegan, Lizzo recently donated her hit song "Good as Hell" to a PSA produced by People for the Ethical Treatment of Animals (PETA) which included a variety of celebrity vegans such as Alicia Silverstone, John Salley, and Edie Falco.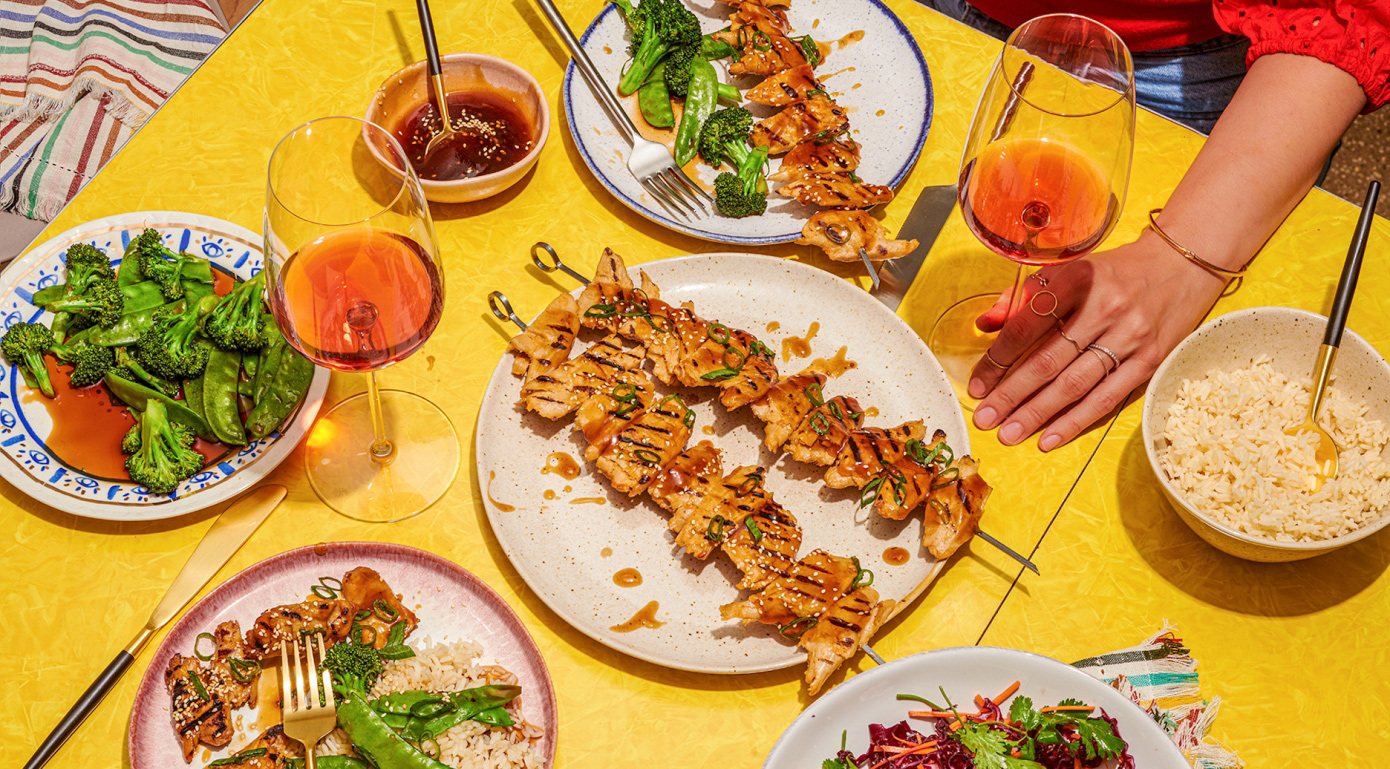 Daring Foods
Daring's plant-based chicken
Outside of Lizzo's Hot Ones episode, Daring Foods vegan chicken has become a celebrity favorite. The brand recently worked with newlyweds Travis Barker and Kourtney Kardashian, who posed in Daring's "Saucy" campaign, eating buckets of vegan chicken on their way to a staycation at West Hollywood's famed hotel Chateau Marmont.
"I honestly cannot believe how much it tastes like chicken," Kardashian said in a statement at the time. "There are lots of plant proteins out there, but we're always looking for options that are super clean with all-natural ingredients. That's why I love Daring."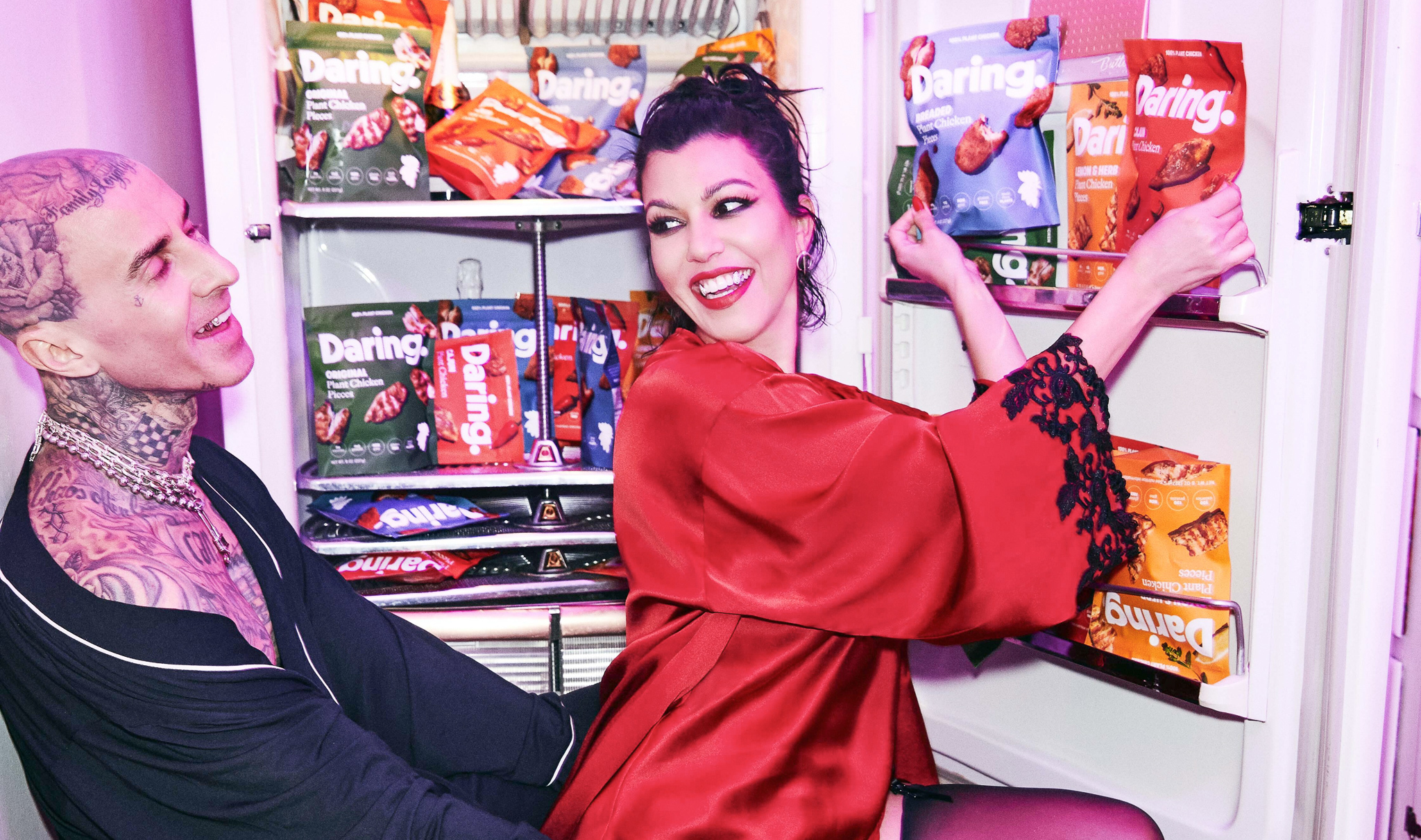 Ellen von Unwerth
Daring Foods—which is also backed by musical artist Drake—produces a plant-based chicken that mimics its animal counterpart in formats such as pieces and tenders, both with breading and without, in several flavors, which are available at restaurants such as Monty's Good Burger and more than 9,000 retailers nationwide.

For the latest vegan news, read:
Vegans Who Lift Weights Have Better Bone Strength, New Study Finds
Will This Cultured Palm Oil Be the Solution To Saving the Orangutans?
Why Nestlé Made New Vegan Beef for Nomoo