Vegan burger concept Nomoo is moving toward its goal of becoming a national brand with the help of Nestlé Professional, the foodservice manufacturing arm of global food and beverage giant Nestlé. Together, Nomoo and Nestlé Professional are working on an improved line of plant-based meats that provide operational benefits such as significant reduction in labor, lower food cost, less waste, more consistency, improved safety and sanitation, and extended shelf-life and storage time.
"With a partner like Nestlé, renowned for its commitment to the finest ingredients, operational knowledge, and uncompromised support to foodservice operations, Nomoo is sure to attract the right multi-unit franchise partners to accelerate our national growth," Nomoo founder George Montagu Brown said in a statement. "Nomoo was born from the idea that fast-food favorites can be 100 percent plant-based without sacrificing flavor, so it was critical that we not only had the right partner, but also a proprietary, great-tasting, better-for-you product that surpasses rivals Impossible and Beyond Meat. Together, we've created the most flavorful plant-based beef patty in the business."
Nomoo and Nestlé Professional have already created a new pea protein-based vegan burger that Nomoo will launch in October 2022. Under this partnership, the two businesses are also developing vegan chicken burgers and vegan cheese.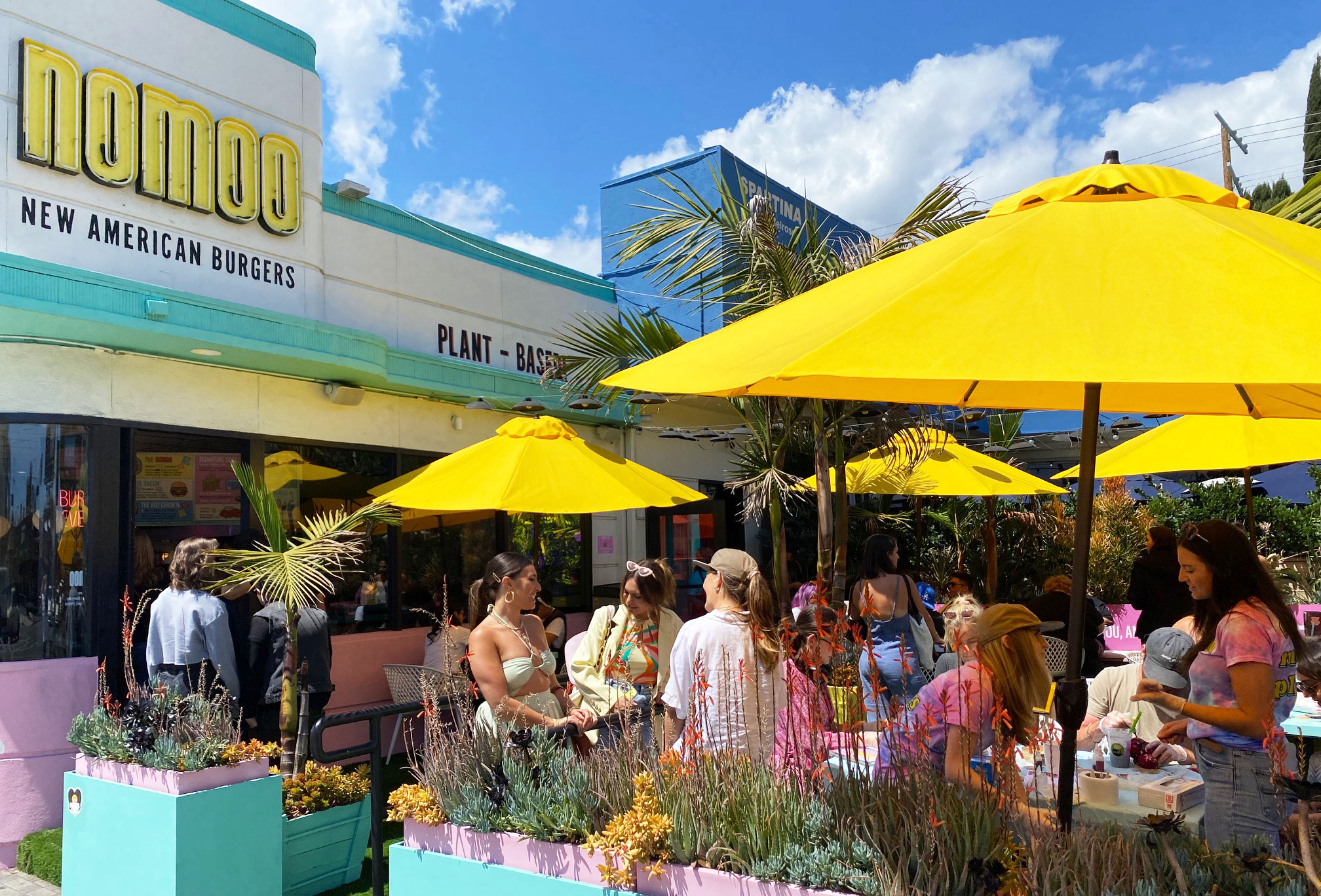 Nomoo
Is Nomoo the next Five Guys?
Brown moved from his home country of Costa Rica to Los Angeles to create Nomoo in order to advance his mission of raising awareness around the plight of animals in agriculture. On February 28, 2020, Nomoo opened inside the former flagship location of popular chain Johnny Rockets—which operated for 30 years in West Hollywood until closing in 2015.
Nomoo opened less than two weeks before COVID-19 lockdowns, which led to its temporary closure. Despite this, the vegan burger shop has pressed on to gain traction among LA's burger lovers with its Beyond Meat-based creations, housemade plant-based chicken sandwiches, dairy-free milkshakes, and more. Now, Brown is setting his sights on expanding the concept to a wider audience for more impact.
Nomoo's work with Nestlé is part of its push to become the next great burger franchise. To that end, the company also recently partnered with Fransmart, a franchise development company which helped to expand concepts such as Five Guys, The Halal Guys, and QDOBA as national franchises.
"Plant-based is the next big thing and I believe that Nomoo is poised to become the next (plant-based) Five Guys," Fransmart CEO Dan Rowe said in a statement. "With a partner like Nestlé, Nomoo has the ability to drive profitable growth because of its streamlined operations and supply, making it one of the most attractive fast-food franchise opportunities at this time."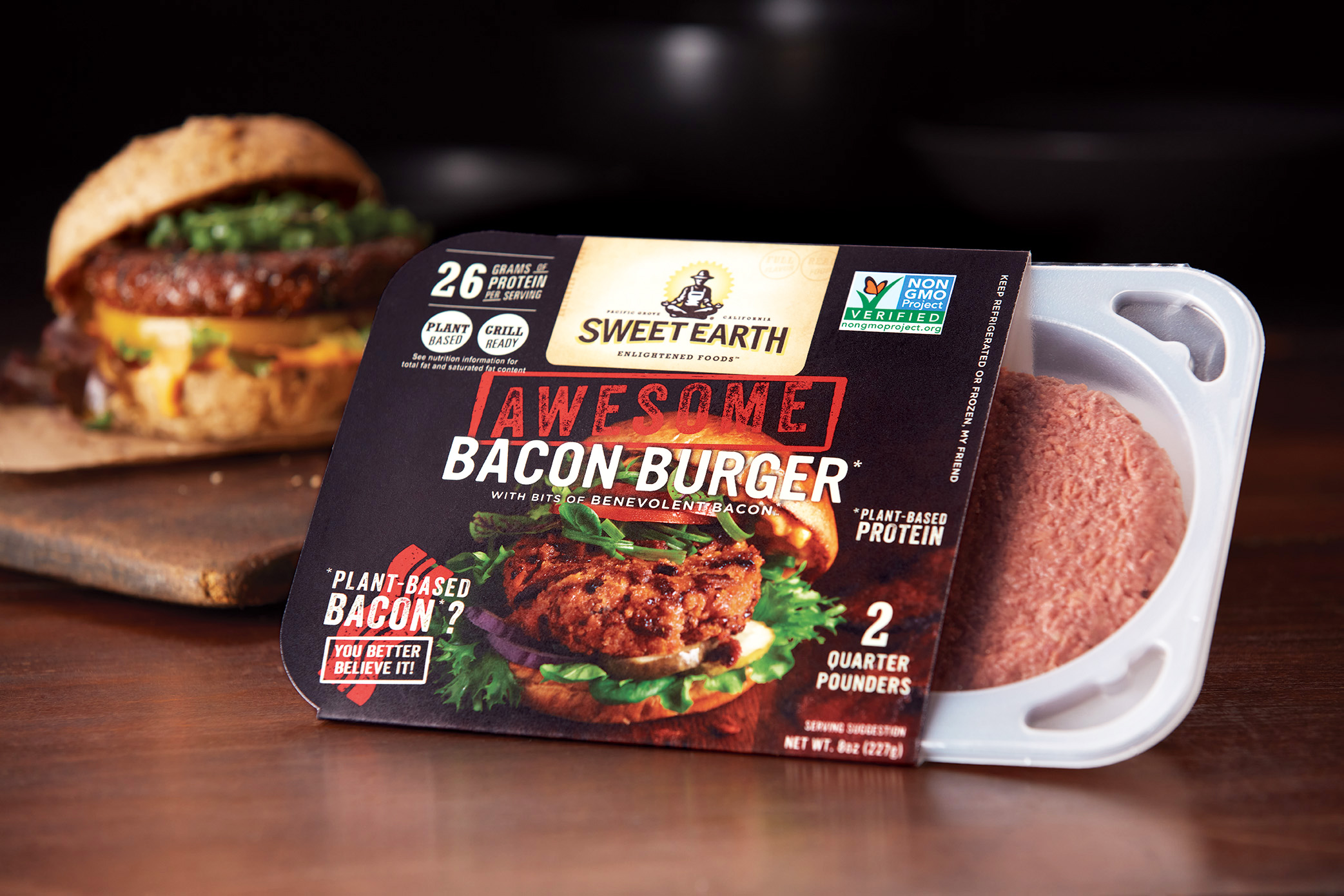 Sweet Earth
Nestlé's plant-based ventures
While Nestlé's business practices have been under fire for much of its existence, the food and beverage giant also thinks plant-based is the future and has gotten into the lucrative industry in various ways.
In 2017, Nestlé acquired vegetarian brand Sweet Earth to stake its claim in the meatless movement. Under the Sweet Earth brand, the food giant has also experimented with bringing novel items to foodservice providers such as the PB Triple Play—a vegan bacon cheeseburger built with Sweet Earth's Awesome Burger, Benevolent Bacon, and a vegan cheese it developed. Nestlé has also modernized some of its classic brands to include Sweet Earth's vegan meat products such as DiGiorno pizzas and Stouffer's lasagna.
In Europe, Nestlé has developed various items such as vegan burgers and plant-based tuna under its Garden Gourmet brand. The multinational giant is also investing in developing promising brands such as Sundial Foods, a California-based startup that is commercializing realistic skin-on vegan chicken wings.
With Nomoo, Nestlé Professional sees an opportunity to support a company making products with a lower environmental impact than animal agriculture. "Nestlé Professional is committed to plant-based innovation that is crafted in a kitchen and leaves a smaller footprint on our planet—a major reason consumers are choosing more plant-forward meals," Perry Miele, President and CEO of Nestlé Professional USA, said in a statement. "We are thrilled to be able to leverage our plant-forward manufacturing expertise and align with Nomoo on our vision of bringing nutritious and sustainable products to the out-of-home industry."

For the latest vegan news, read:
Jermaine Dupri Marks 25th Anniversary of Usher's 'My Way' with Vegan Ice Cream
New Research Shows Vegan Meat Is Healthier and Better for the Planet
A World War II Era Hot Dog Stand Is Back With Vegan Options