Today, Nestlé-owned brand Freshly is launching its first fully vegan meal line. Under its new Purely Plant menu, the chef-prepared meal delivery service will offer six options developed to showcase the nutritional benefits and delicious possibilities of plant-based foods.
The meals, which are ready to eat in approximately three minutes, are inspired by a variety of cuisines and include: Indian-Spiced Chickpea Curry Bowl with Basmati Rice, Lentils & Veggies; Farmstead Baked Pasta with Melty Cashew Cheeze & Seasonal Veggies (which features a coconut milk-based vegan cheese); Creamy Buffalo Cauli Mac & Cheeze with Garlic-Roasted Broccoli; and Moroccan Herb Falafel Bowl with Garlicky Hummus & Toasted Quinoa.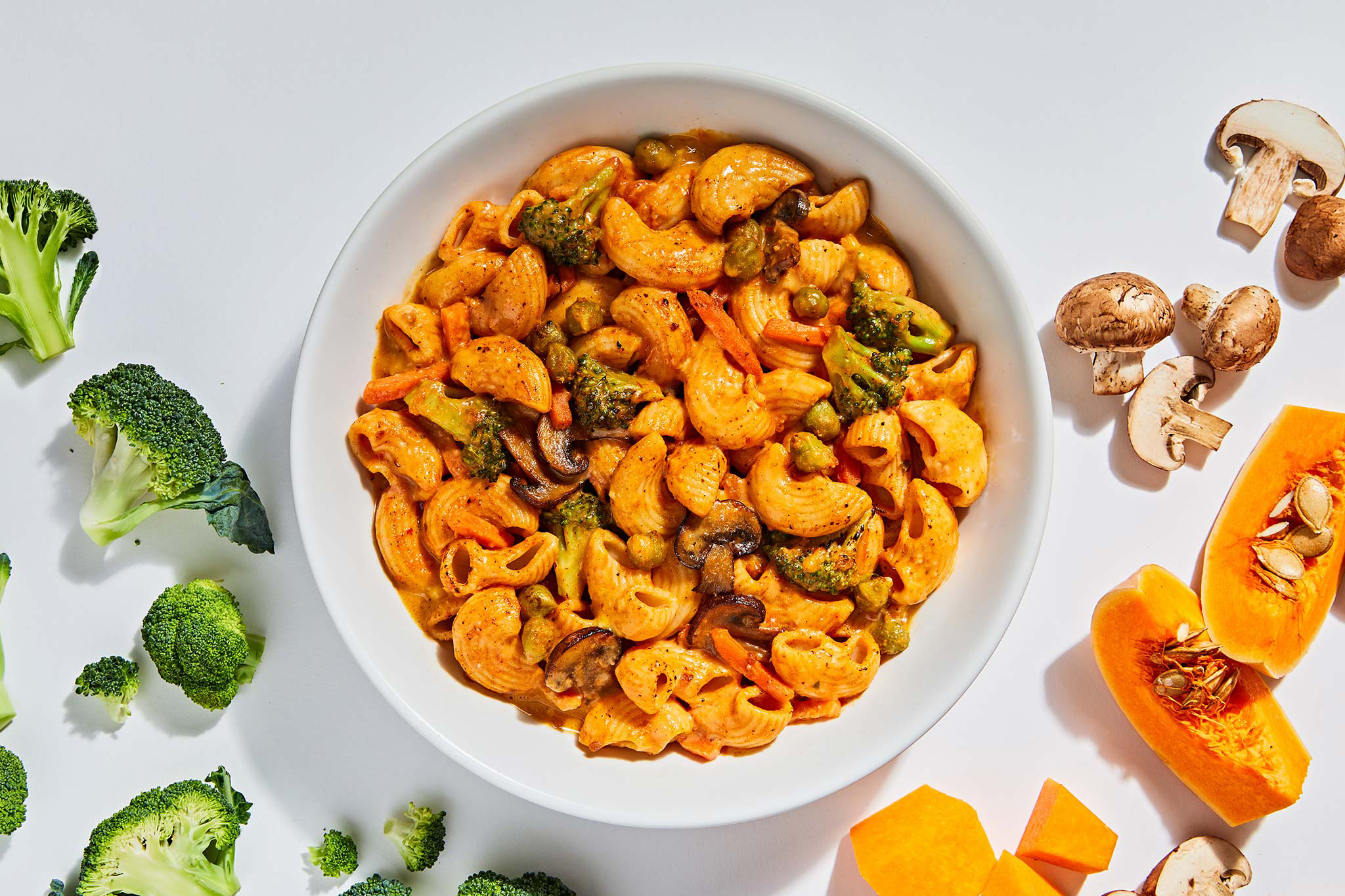 The Purely Plant line also includes Rainbow Harvest Plant-Based Burger with Sticky Carrot Jam & Summer Veggie Sauté and Unwrapped Salsa Verde Burrito with Purely Plant Crumbles (a "naked" burrito which comes sans tortilla).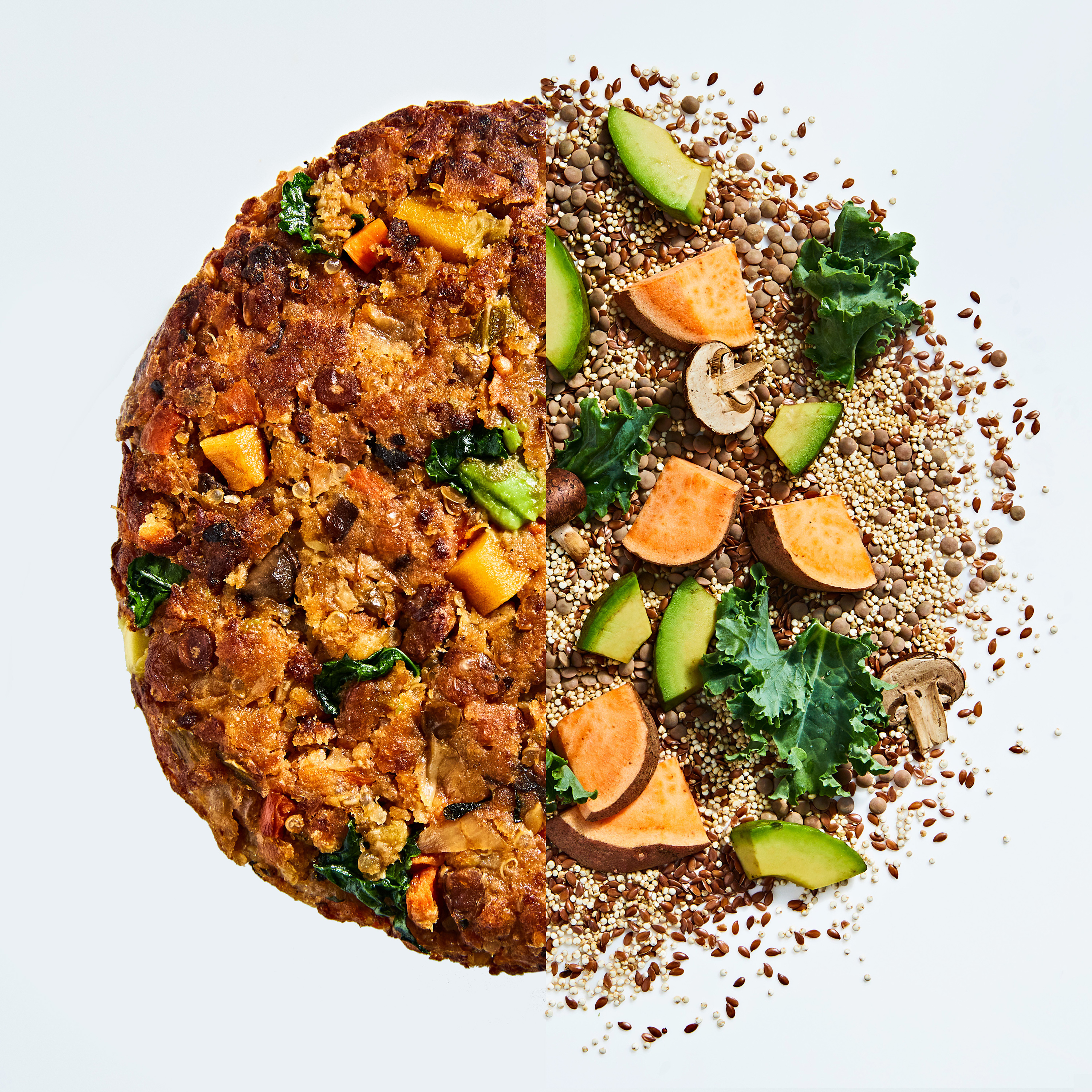 For these meals the company developed plant-based meat that combines pea protein with fiber-rich vegetables, legumes, seeds, pulses, and whole grains. The burger, burrito, and curry bowl meals are available today and the rest launch on August 22. All meals can be ordered as part of Freshly's four-, six-, eight-, 10-, or 12-meal plans which start at $8.49 per meal.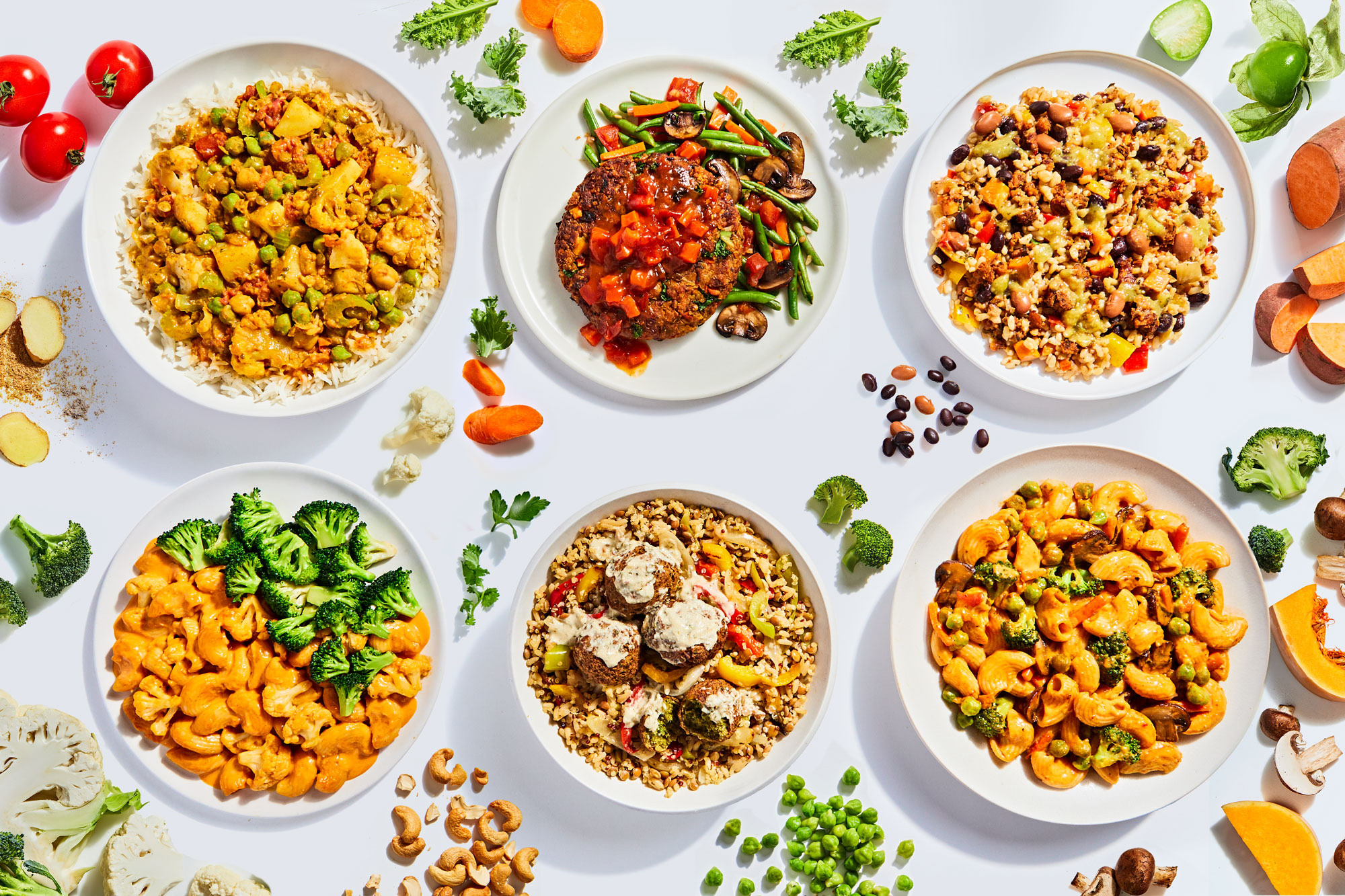 The company developed the Purely Plant line to serve the changing needs of its customer base, 65 percent of which now identify as "flexitarian." Freshly is also capitalizing on the greater growth of the plant-based industry, particularly after the onset of the COVID-19 pandemic, which pushed retail sales of alternatives to animal products such as meat, eggs, and dairy to $7 billion in 2020.
"We're thrilled to provide our customers with a convenient way to incorporate minimally processed, plant-based meals into their routines," Freshly Founder and CEO Mike Wystrach said. "We recognize that it can be challenging to eat a more plant-based diet without sacrificing on taste; but with the launch of Freshly's Purely Plant, we're laser-focused on delivering a variety of delicious, convenient, and better-for-you meal options, while also supporting flexitarians looking to make simple changes towards a more plant-based lifestyle."
Nestlé gets into vegan food
Nestlé acquired Freshly in 2020 and is adding the brand to a portfolio that is increasingly leaning in the plant-based direction. In 2017, Nestlé acquired vegetarian brand Sweet Earth for an undisclosed amount and has since debuted a variety of vegan products, including the Awesome Burger, Awesome Grounds, and vegan cheddar-stuffed sausages, and a new iteration of the Awesome Burger blended with Sweet Earth's vegan Benevolent Bacon pieces. Nestlé has also modernized some of its classic brands to include Sweet Earth's vegan meat products such as DiGiorno pizzas and Stouffer's lasagna.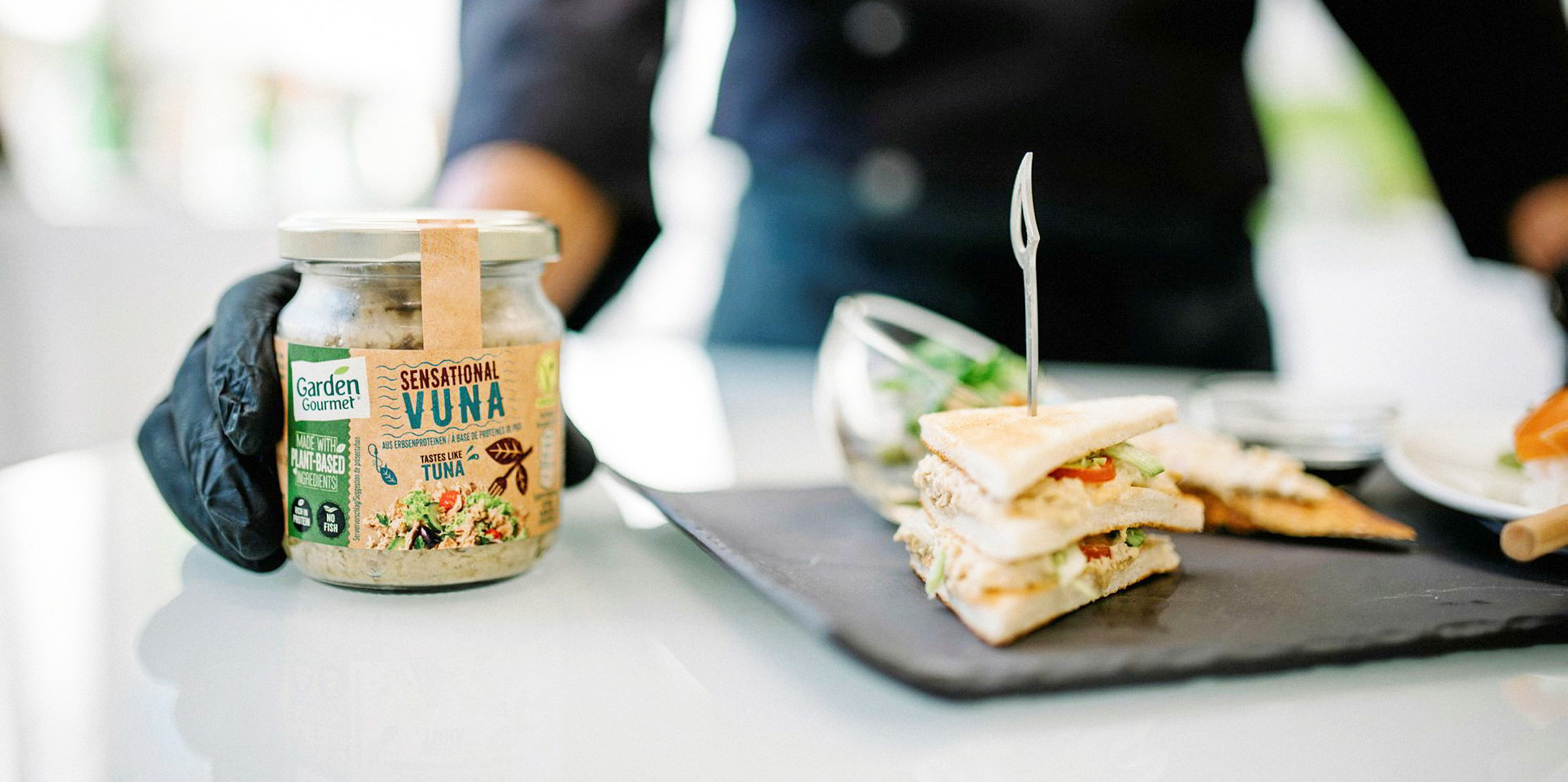 Outside of the US, the Swiss company offers a variety of plant-based products under its Garden Gourmet brand, both in the retail and foodservice sector, including the Incredible Burger patty (now "Sensational Burger") which was featured as part of The Big Vegan TS burger at McDonald's in Germany. Last year, the company also got into the lucrative vegan seafood business with the launch of Sensational Vuna, a pea protein-based vegan tuna it introduced in its home market of Switzerland with plans to expand the new product—and additional vegan seafood products—globally.
When it comes to sweets, Nestlé recently released a vegan version of the iconic Kit Kat candy bar (called "Kit Kat V") in multiple regions, including the UK, Australia, and South America. In the US, Kit Kat bars are owned by The Hershey Company which has not announced whether a vegan version of the iconic candy is on the way stateside.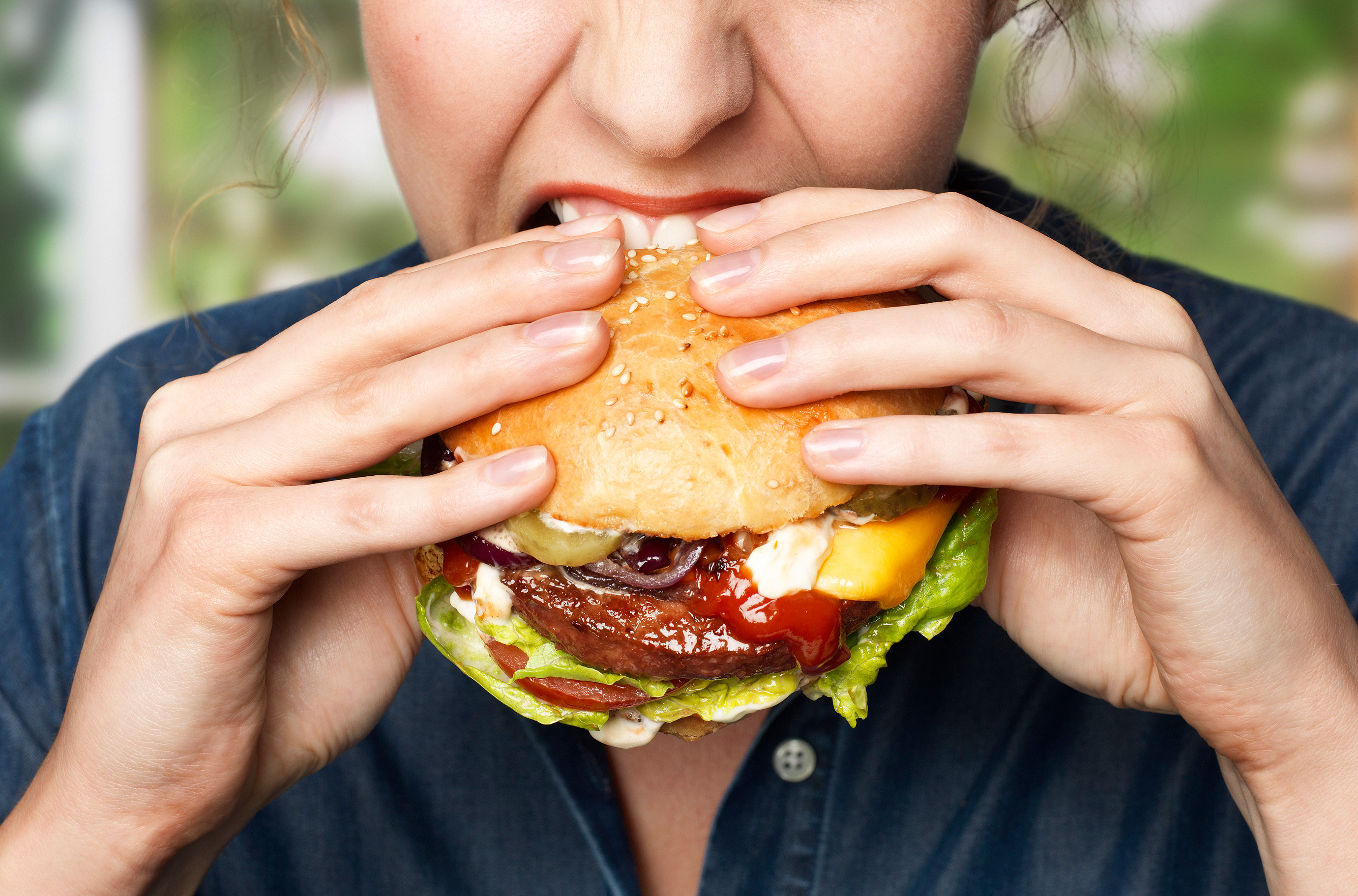 Food giants and the future of meat
The plant-based food industry presents a huge market opportunity and Nestlé knows it. The multinational company aimed to further capitalize on the popularity of plant-based meats and vegan cheeses by attempting to trademark the terms "The Original Vegan Butcher," "The Vegan Butchers," and "Vegan Butcher." After a lengthy battle with sibling-owned The Herbivorous Butcher—a Minneapolis shop that helped insert the term "vegan butcher" into American lexicon—Nestlé abandoned its pursuit to trademark the terms earlier this year.
While Nestlé has engaged in a number of problematic business practices throughout its more than 150 years in operation, the company recognizes the need to change the way meat is currently produced. In that vein, Nestlé might soon become the first company of its kind to incorporate lab-grown meat—which is grown from a small amount of animal cells in a lab-setting—into its business. Last month, Bloomberg revealed that Nestlé is in talks with Israel-based cultured meat startup Future Meat Technologies (FMT) to "explore the potential of cultured-meat components that do not compromise on taste or sustainability." Potentially, Nestlé will incorporate FMT's novel meat products into its Garden Gourmet brand to offer consumers a product that blends cultured and plant-based meat—further eliminating the need to slaughter animals to produce meat.