Best friends Alice Cherng and Belinda Wei created a craveable ice cream business with Dear Bella Creamery in Hollywood, where the duo's flagship location continues to attract celebrity clientele with an offering like no other.
At the shop, scoops of chef-crafted ice cream in bright hues with alluring textures can be enjoyed in waffle cones; sandwiches made with fresh-baked cookies; and over-the-top sundaes with toppings such as house made pastries, vegan honeycomb candy pieces, and gooey caramel. There's ice cream cake, floats, milkshakes, and to-go pints, too, all in an Instagrammable space where the candy pink walls are smattered with sprinkles.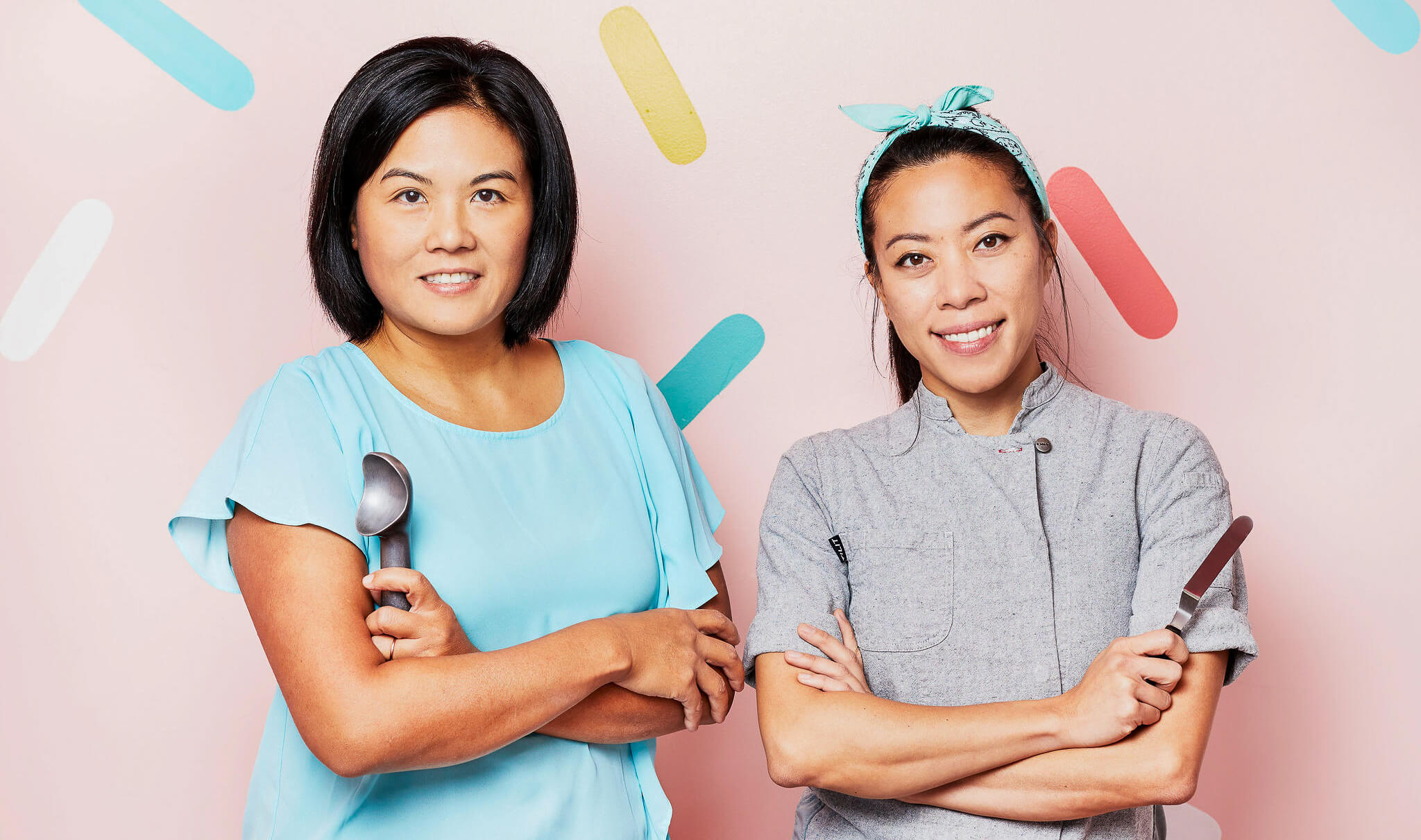 Alice Cherng (left) Belinda Wei (right)/Dear Bella
The Dear Bella concept is a labor of love between Le Cordon Bleu-trained chef Wei and Cherng, two Taiwanese-American immigrants with a shared love of ice cream who serendipitously became friends while working their way through LA's vegan food industry.
Through five years of perseverance, the duo has carved out a space in the ice cream industry at large for culturally significant, always vegan flavors such as Black Sesame, Mango Sticky Rice, Ube Casserole, and Taiwanese Pineapple Cake.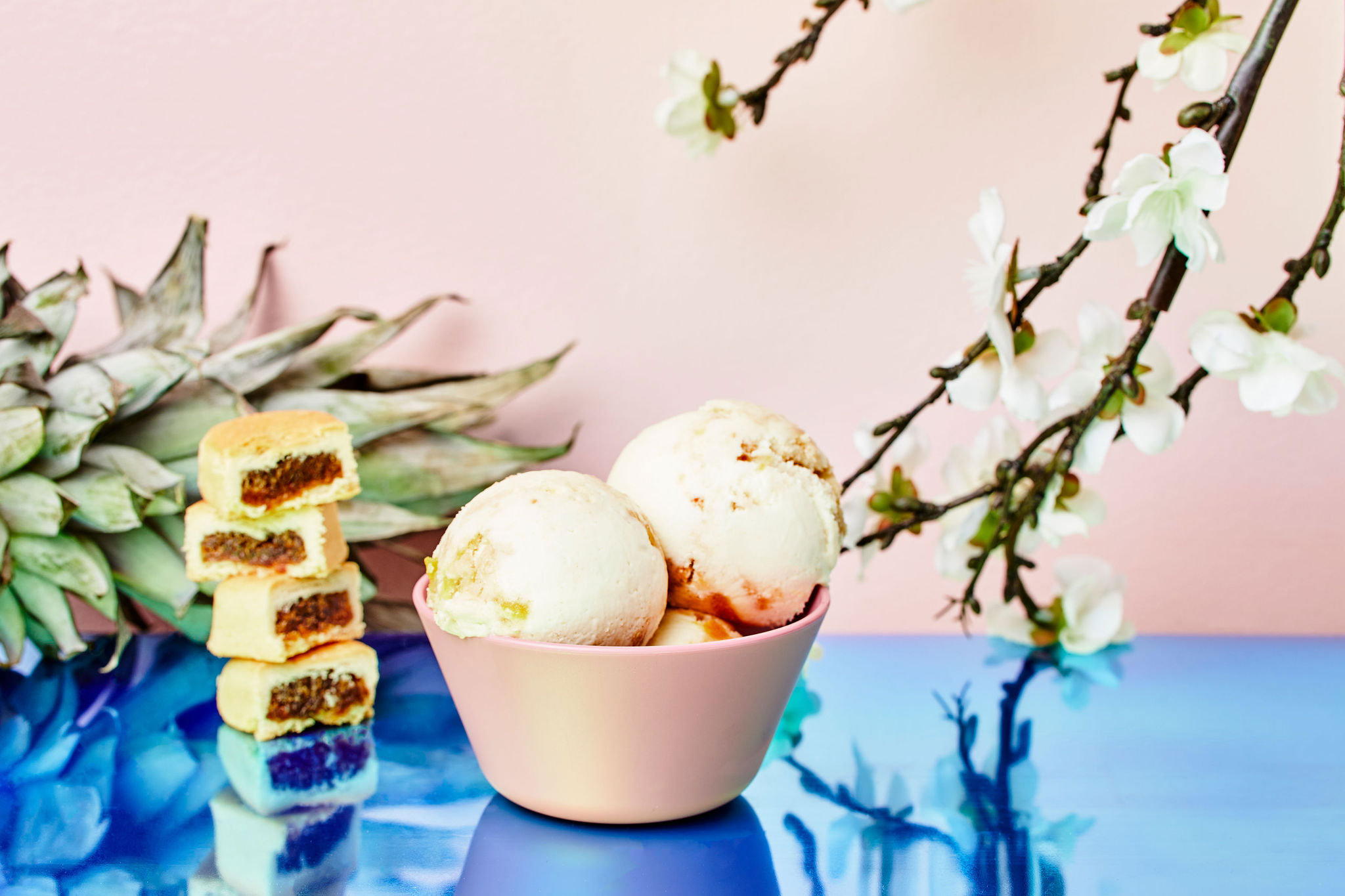 Dear Bella
And the punchy flavors on the ever-evolving Dear Bella menu match Wei and Cherng's unwavering desire to share their love of ice cream with the world. The first step of which happens on October 9 with the grand opening of Dear Bella's second location in Costa Mesa.
Dear Bella: Hollywood's first vegan ice cream shop
The duo opened their business in 2017 as the first vegan ice cream shop in Hollywood. Then called Cocobella, the menu offerings were made to mimic the likes of Ben & Jerry's, Baskin-Robbins, and other chains of the sort.
It took several years of proving that a vegan ice cream shop concept could be viable on its own before Cherng and Wei decided to fully showcase what they had to offer: a take on vegan ice cream that unapologetically embraces their shared heritage. This change came with a rebrand from the playful Cocobella to the Dear Bella iteration, a name that sends a love letter to the community of fans it has built.
The menu evolution was slow at first, with a matcha flavor added to test the waters but has since exploded with innovation.
"We've gone through a lot together and feel comfortable with each other," Wei tells VegNews. "It's about our shared love of food and our heritage."
Currently on the fall menu are flavors such as Honee Lavender (made with bee-free vegan honey); Honee Cornbread (cornflake ice cream with pieces of homemade honee cornbread); and Kabocha Pie (made with slow-roasted kabocha squash seasoned with warm spices and punched up with graham cracker crust pieces and dollops of velvety vegan mascarpone).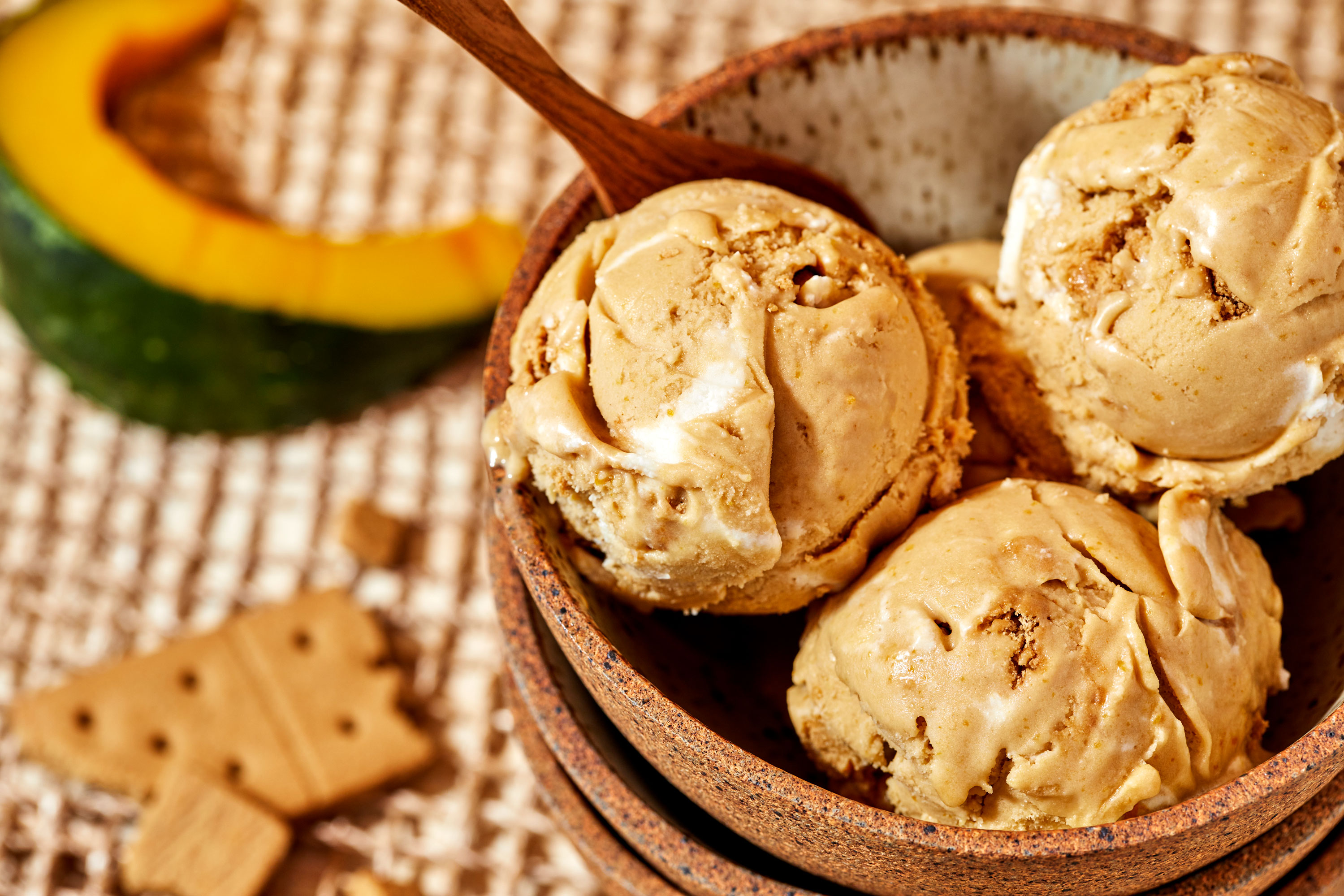 Dear Bella
And while during the Cocobella years, the flavors were much more vanilla—and made mostly with coconut milk bases—nowadays, Dear Bella explores the gamut of bases such as oat milk and will always feature AAPI-inspired flavors on its menu, which changes quarterly with the seasons but includes fan-favorites such as bright blue-hued Cookie Monsta (a cookie butter ice cream dotted with chocolate chip cookies and chocolate sandwich cookies and naturally colored with blue spirulina).
How do they develop these flavors? Cherng and Wei draw inspiration from the experiences they share as friends just hanging out and doing things they love like going to great restaurants and grocery stores.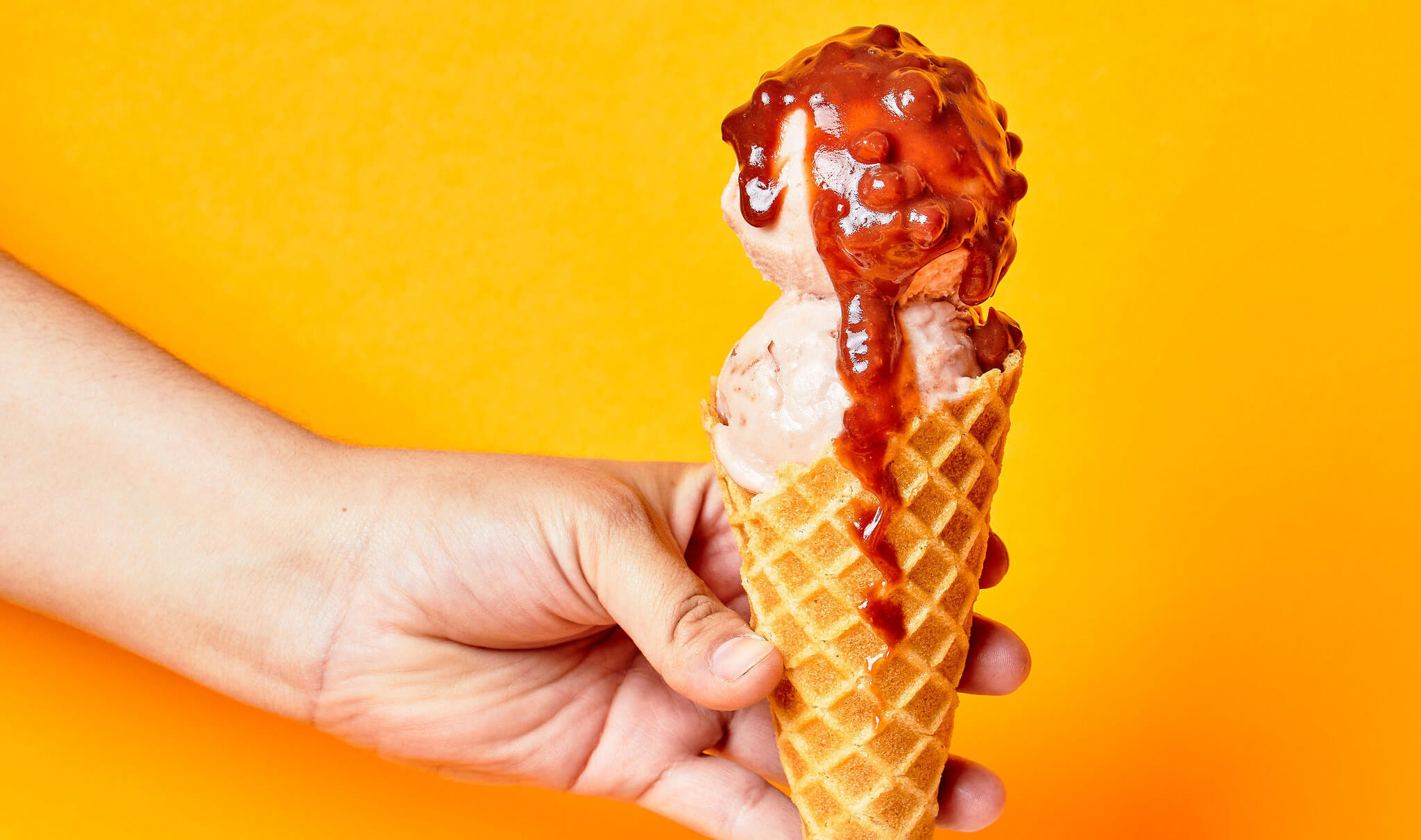 Dear Bella
"We pull inspiration from different places about what looks delicious to us and we create our version of it," Wei says. "We love putting our Asian influence on certain flavors or just digging into our childhoods and pulling out what we remember growing up with. It doesn't even have to be pastry or dessert; just things that are comforting to us. We love telling our story through ice cream."
Costa Mesa gets a taste of Dear Bella's creations
Right before they grew Dear Bella into its full expression, the impact of the COVID-19 pandemic pushed Wei and Cherng to make a bold decision to either shutter or expand. They bought out their initial investors and chose to keep pushing because they were not ready to let their dream die. As sole owners, Cherng and Wei are now ready to share Dear Bella with Costa Mesa in hopes of building something special in Orange County.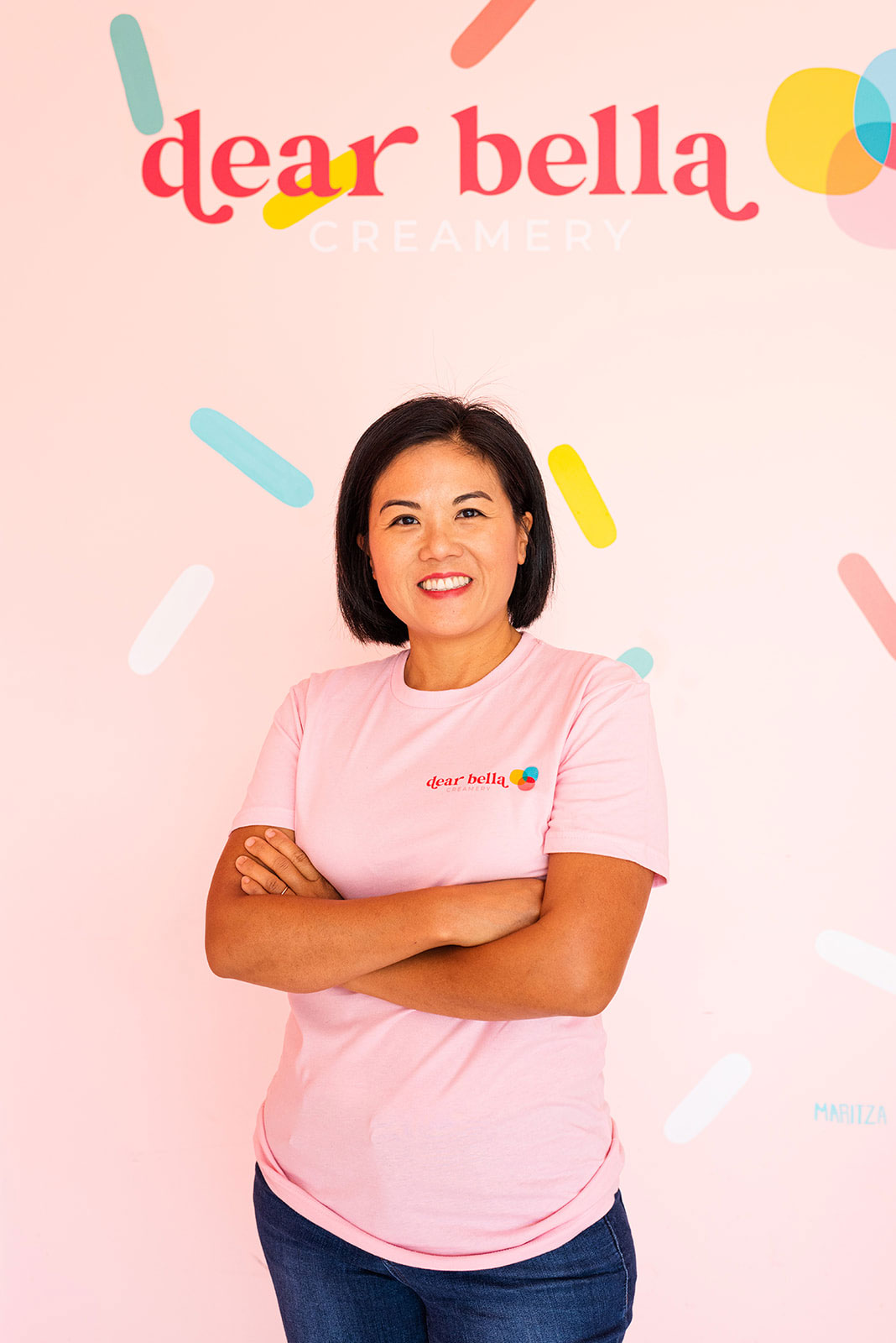 Alice Cherng/Dear Bella
The search for their second location was rigorous but they landed on The Lab—an "anti-mall" concept in Costa Mesa that features a collection of exciting, community-oriented businesses with a central outdoor living room to promote gathering.
The friends learned important lessons at Dear Bella's Hollywood location, where the ice cream shop is situated in a stripmall near other popular plant-based eateries from Doomie's and Doomie's Next Mex.
They chose The Lab because it houses one location of popular vegan restaurant Seabirds Kitchen. "It was most synergetic for us to be close to a popular plant-based restaurant," Cherng tells VegNews. "Not because all of our customers are plant-based but because they search us out. It's the core of our customers."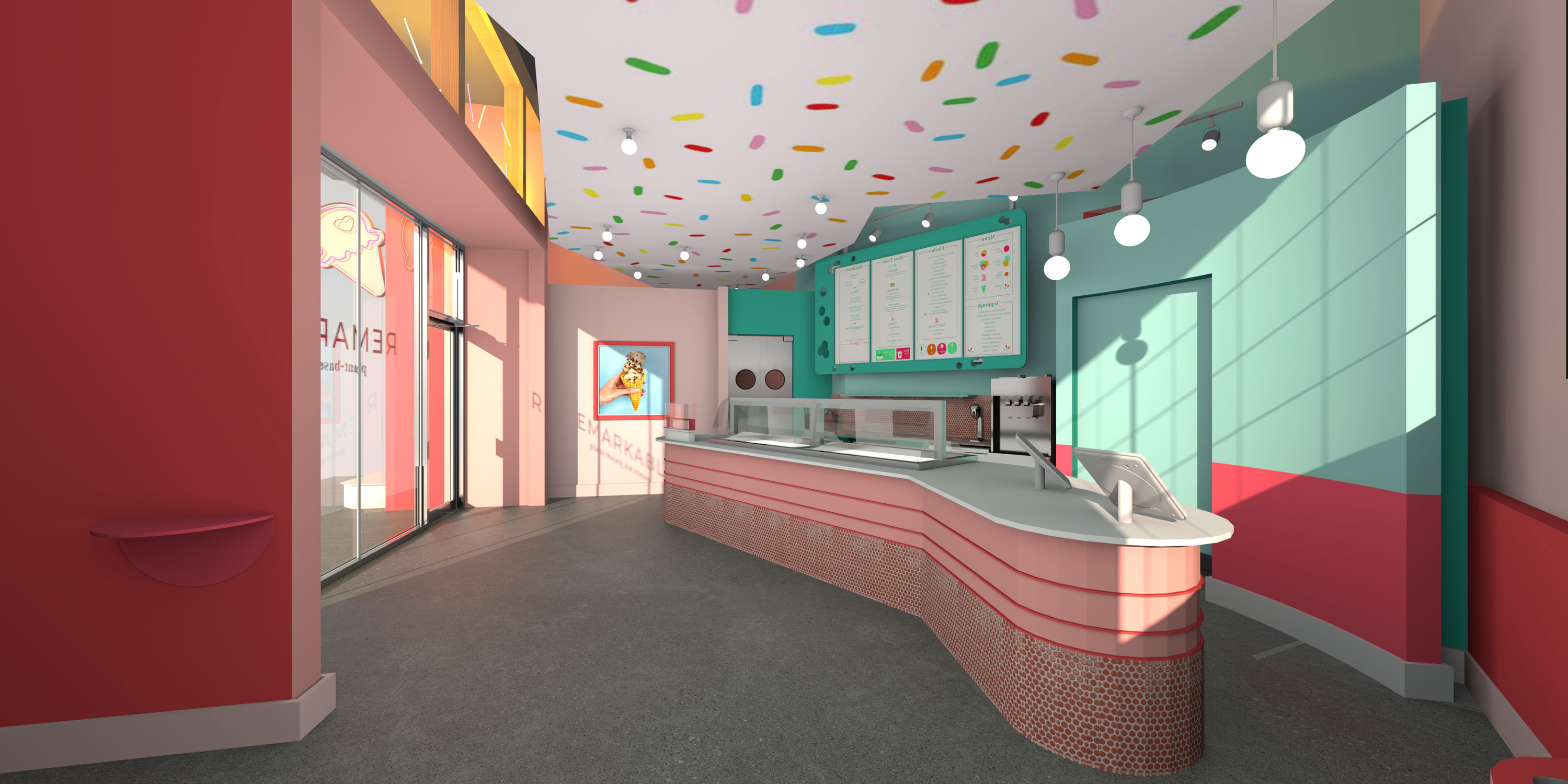 Dear Bella
At The Lab, Dear Bella is taking over a former barber shop where hospitality interior designer Kellie Patry recreated the brand's colorful identity in the form of bright pink and teal walls, a curved pink counter decked out in penny tiles, and painted wood accents where 16 flavors are showcased alongside a glass case filled with topping options. a
The whimsy extends to the exterior which is decorated with an upside down neon ice cream cone and painted mural. The space will also offer vegan snacks, sweets, and specialty retail products.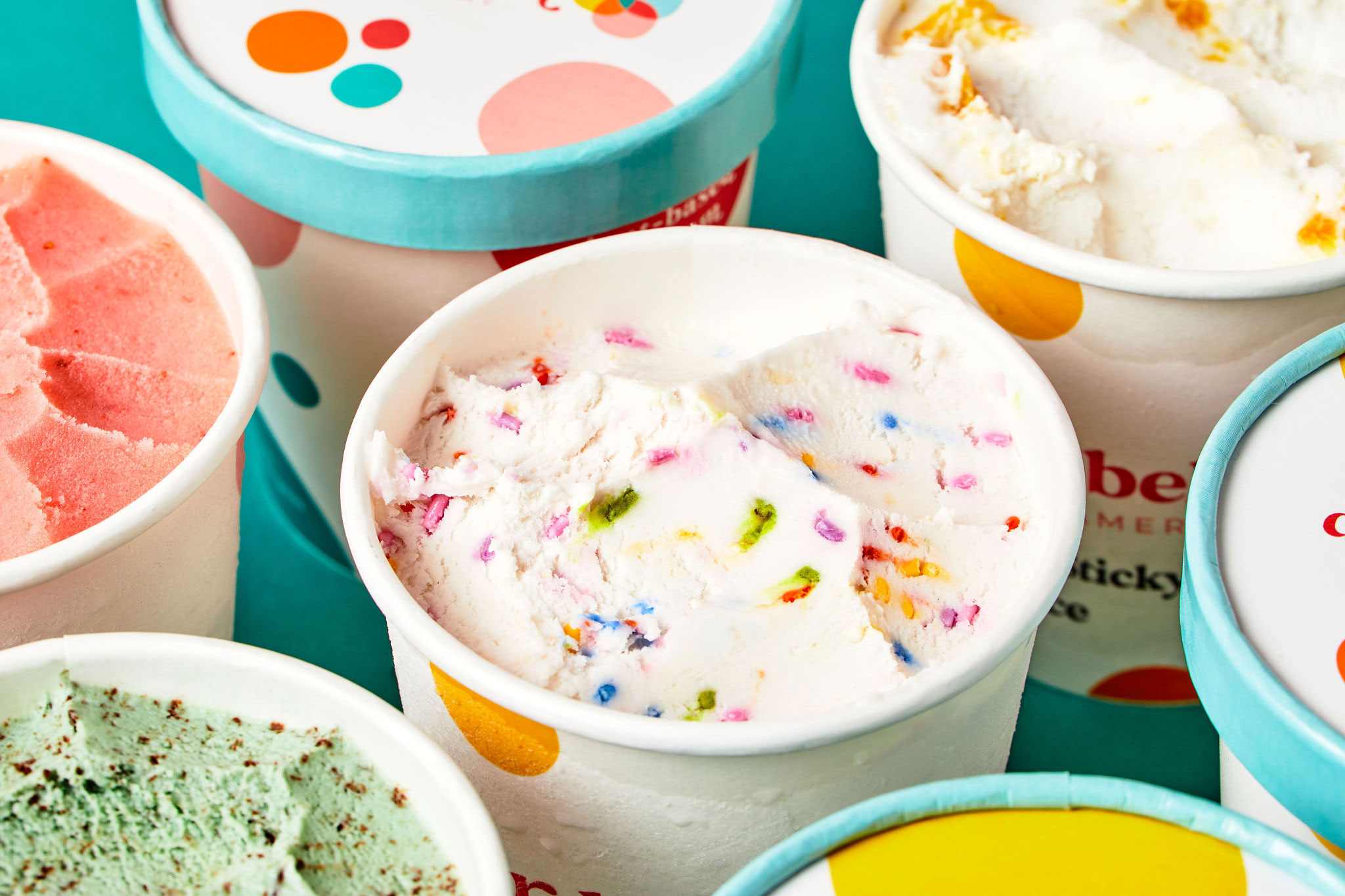 Dear Bella
Dear Bella will celebrate the anticipated milestone of opening its second location next Sunday with complimentary ice cream scoops for the first 100 guests, ice cream cake cutting, gifts and prizes, a live DJ, and exciting surprises throughout the day.
Building a vegan ice cream empire
The expansion plan for Dear Bella will always be anchored in maintaining a level of craftsmanship the shop is known for, along with a respect for its employees and dedication to quality ingredients. And while their focus is currently on the Costa Mesa location, Cherng and Wei hope to eventually bring the concept to ice cream lovers everywhere, starting with a concentration of shops in Southern California.
"When we talked about growing or quitting, we decided that if we were to grow, we would grow for real and we honestly want to be the largest national plant-based ice cream chain in the country," Cherng says. "That's the dream."
While experiencing Dear Bella in person is worth a trip to Southern California, the shop also ships its pints nationwide giving everyone a chance to taste its dynamic flavors, including collaborations between existing brands. Currently, Dear Bella is showcasing two co-branded ice cream flavors it created with East Coast chocolate company Fine & Raw: Hazelnut Butter and Chocolate and Espresso Chocolate Bar, along with co-created chocolate bars.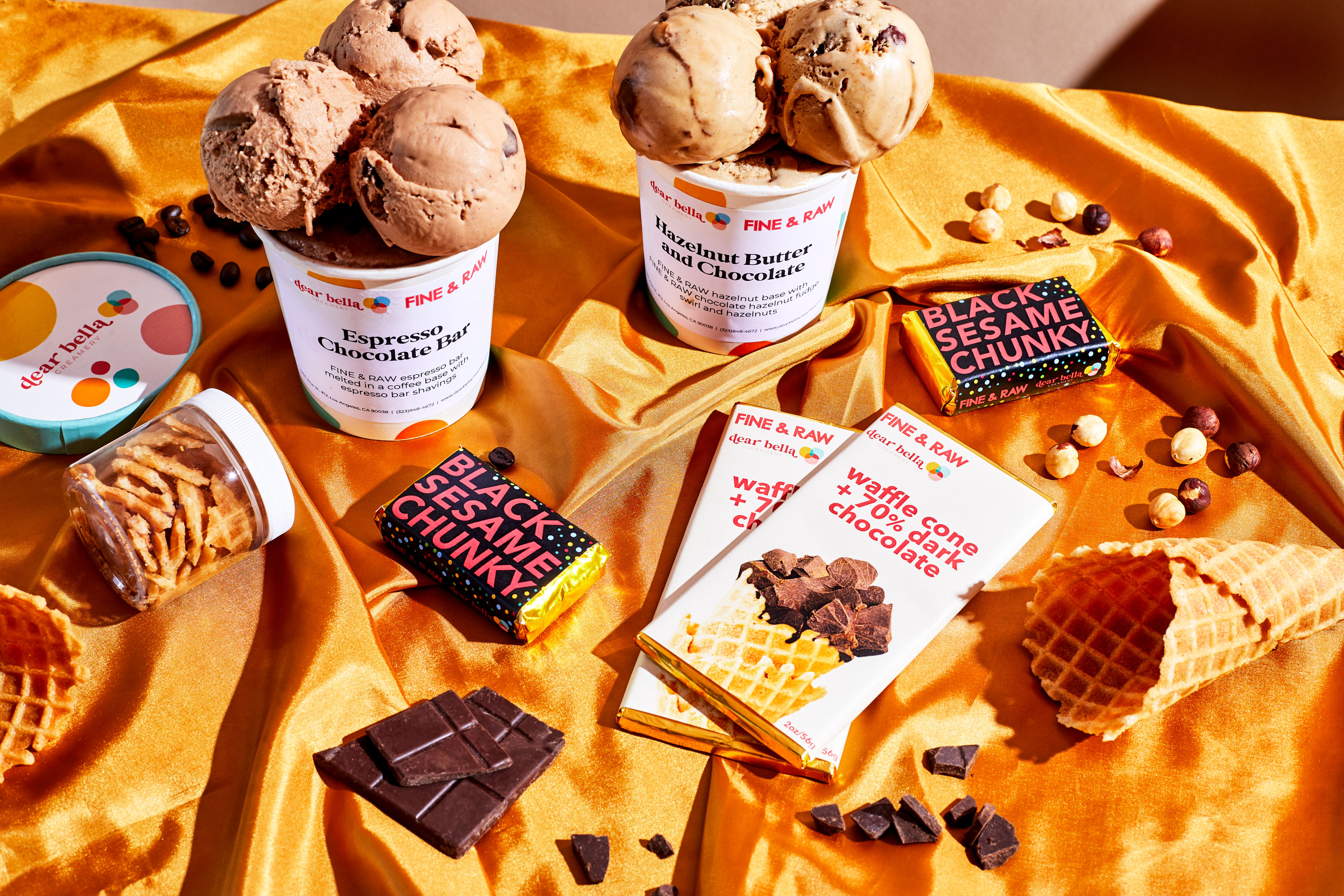 Dear Bella
Cherng and Wei will explore additional collaborations and they are excited to work on new flavors that spotlight childhood favorites during the forthcoming Chinese New Year. "We're going to continue to push boundaries and continue to bring out products that are a representation of our heritage and tell more stories around it," Cherng says. "This is something that we finally feel very empowered and comfortable doing going forward, even as we grow."
With expansion plans in place, the Dear Bella concept is coming into full bloom as a modern creamery. While the business model can eventually be replicated into a national chain, Dear Bella's soul comes from Cherng and Wei's immutable bond that will continue to inform the shop's flavor development and expansion plans. "The secret sauce is just our friendship," Cherng says, adding that Wei is the godmother of her daughter.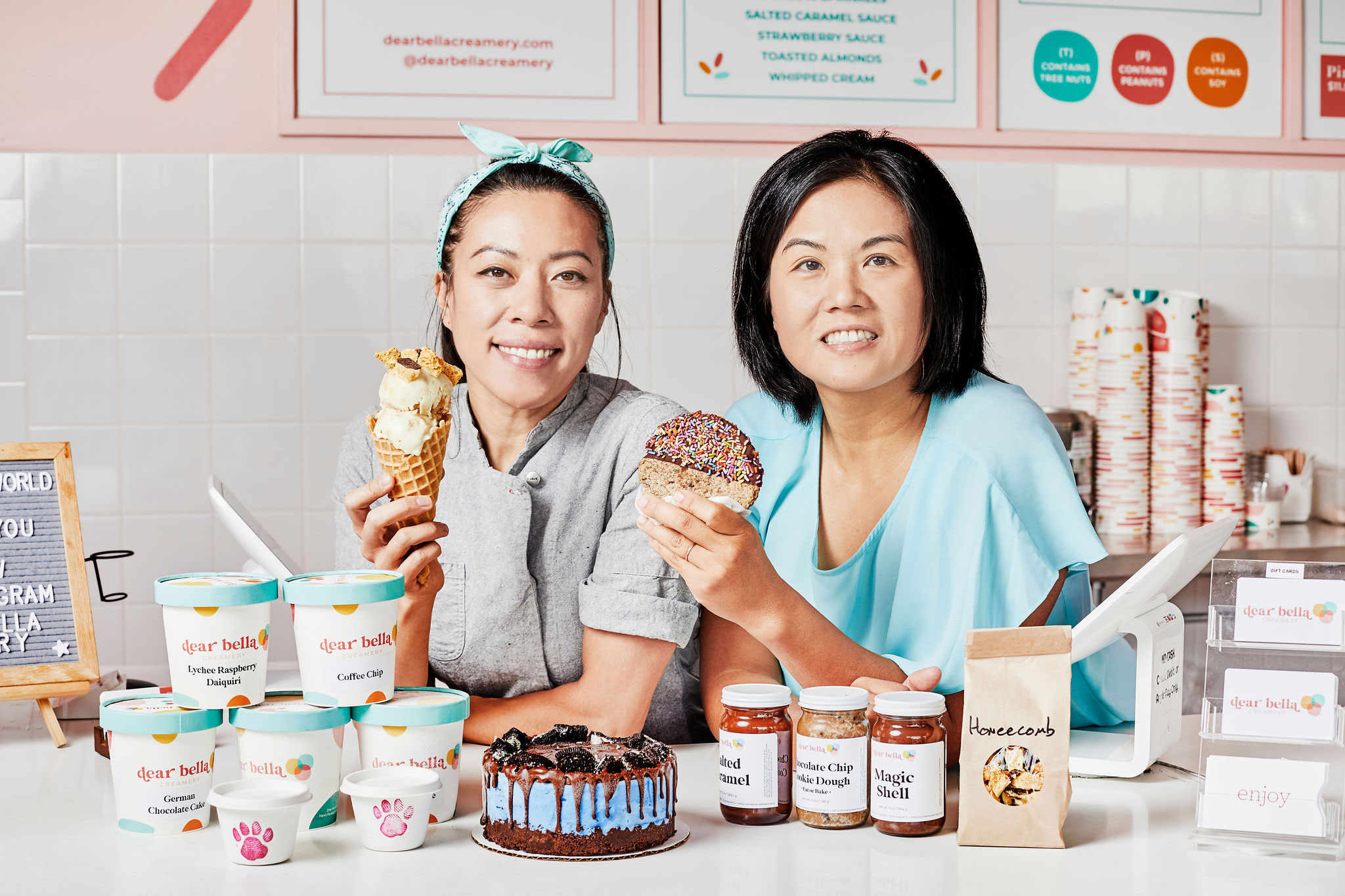 Belinda Wei (left) Alice Cherng (right)/Dear Bella
And the duo is endlessly inspired by the possibilities around them. "That's the most fun part for both of us," Wei says. "Having something that comes from a story in our heads and turning it into ice cream."
For the latest vegan news, read: