Last summer, Panda Express lovers were lucky enough to try Beyond The Original Orange Chicken (BTOOC)—a vegan version of the fast-food chain's most popular entrée—at a handful of locations. Starting today, the rest of the country will be able to enjoy the Beyond Meat-made vegan dish because Panda Express is expanding it to the menu at its more than 2,300 locations nationwide.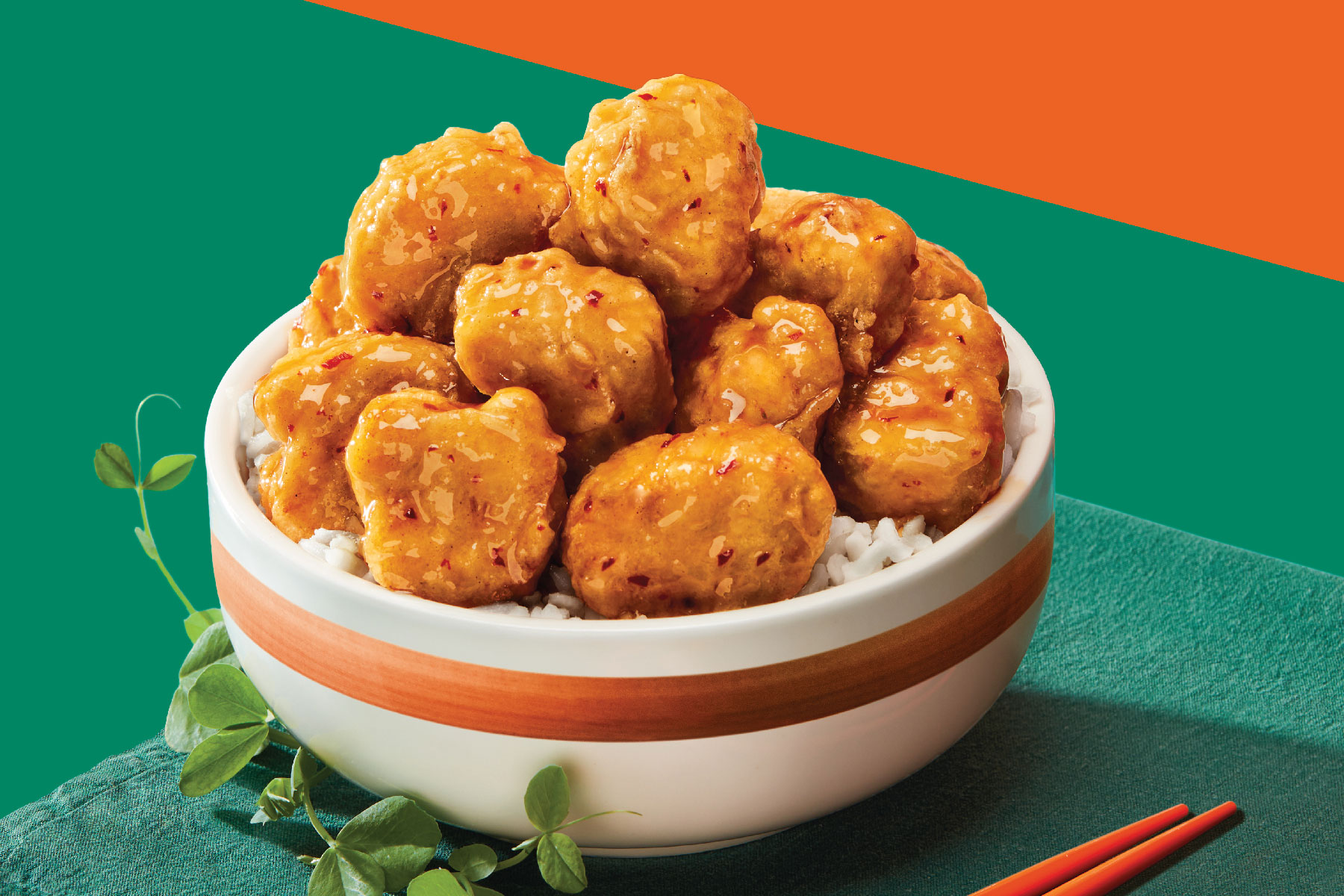 Panda Express
"We are thrilled to offer Beyond The Original Orange Chicken to consumers nationwide for the very first time," Dariush Ajami, Chief Innovation Officer at Beyond Meat, said in a statement. "By partnering with Panda Express to introduce new and innovative plant-based options that deliver the delicious taste and experience of their iconic menu items, we're enabling people to enjoy their favorite dishes with the upsides of plant-based meat."
To help younger generations discover the new BTOOC option, Panda Express is hosting a Panda Express Recharge Station pop-up to treat students to a study break this fall across 10 college campuses in three markets. At these events, students can sample BTOOC for free and engage in relaxing and fun activities with a chance to win exclusive prizes.
Vegan orange chicken at Panda Express
Panda Express first introduced Americans to its Original Orange Chicken in 1987 and the entrée now makes up one third of its entire business—but the BTOOC is quickly becoming a customer favorite, as well. In summer 2021, Panda Express worked with Beyond Meat to capture all of the flavors and textures of the original but without any animal products.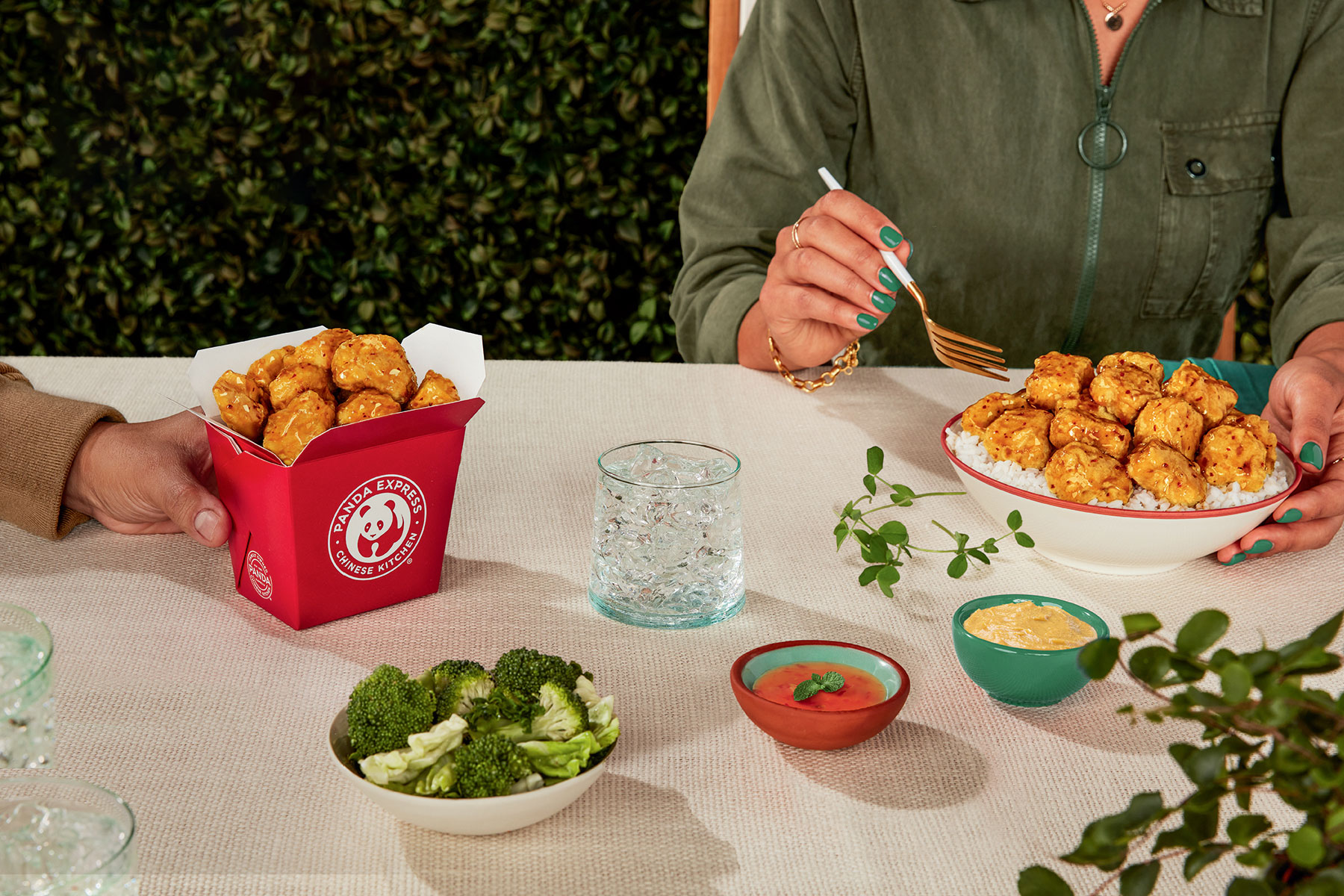 Panda Express
Panda Express initially put the BTOOC on the menu at select locations in and around New York City and Los Angeles. On July 26, 2021, its first day on the menu, Panda Express sold 1,300 pounds of BTOOC and sold out of the vegan chicken in all of its Southern California stores two weeks into the test. By the fall of 2021, Panda Express expanded the test of the vegan chicken to 70 additional locations in 10 states.
"Our team has been overjoyed by the undeniable excitement and incredible demand generated when we first introduced Beyond The Original Orange Chicken last summer as an innovative twist on our most iconic dish," Andrea Cherng, Chief Brand Officer at Panda Express, said in a statement. "After nearly 40 years of creating original American Chinese dishes, quality and innovation remain at the core of who we are. We're continuously exploring creative ways to present our guests with the comfort and crave-ability they can expect from Panda while appealing to their evolving preferences and tastes."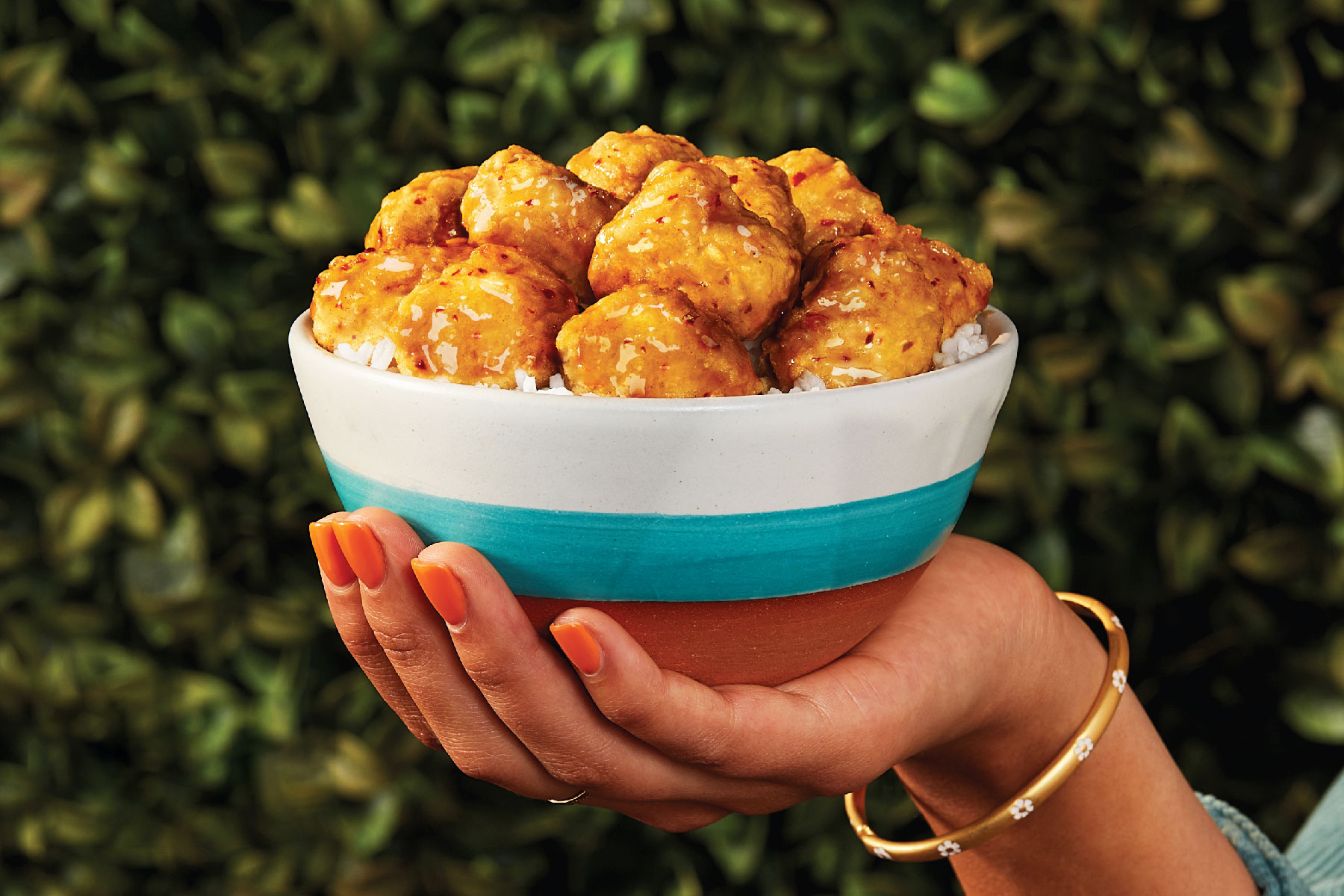 Panda Express
To complement its new vegan orange chicken, Panda Express also offers plant-based dishes such as Eggplant Tofu, Super Greens, Chow Mein, Vegetable Spring Rolls, along with steamed white and brown rice. To promote the limited-time national launch of the BTOOC, Panda Express is running a BOGO deal from September 26 to October 9, when a purchase of BTOOC entrée online or through the Panda Express app with the code "BEYOND" will get customers another bowl of their entrée of choice for free.
Panda Express does not advertise any of its items as "vegan" due to cross-contamination concerns.
Beyond Meat's fast-food expansion
In addition to its expanded menu offering at Panda Express, Beyond Meat is continuing its work with Yum! Brands—which owns fast-food giants KFC, Pizza Hut, and Taco Bell.
At Taco Bell, Beyond Meat has been working with the Mexican-inspired chain since March 2021 to develop a never-before-seen plant-based protein. Last year, rumors circulated that Beyond Meat developed a plant-based carne asada that Taco Bell was displeased with. However, last month, the chain set the record straight with VegNews, telling us that a vegan protein will emerge from the collaboration by the end of the year. In the meantime, Taco Bell is currently testing its own plant-based beef on the menu at 50 Birmingham, AL locations until mid-October.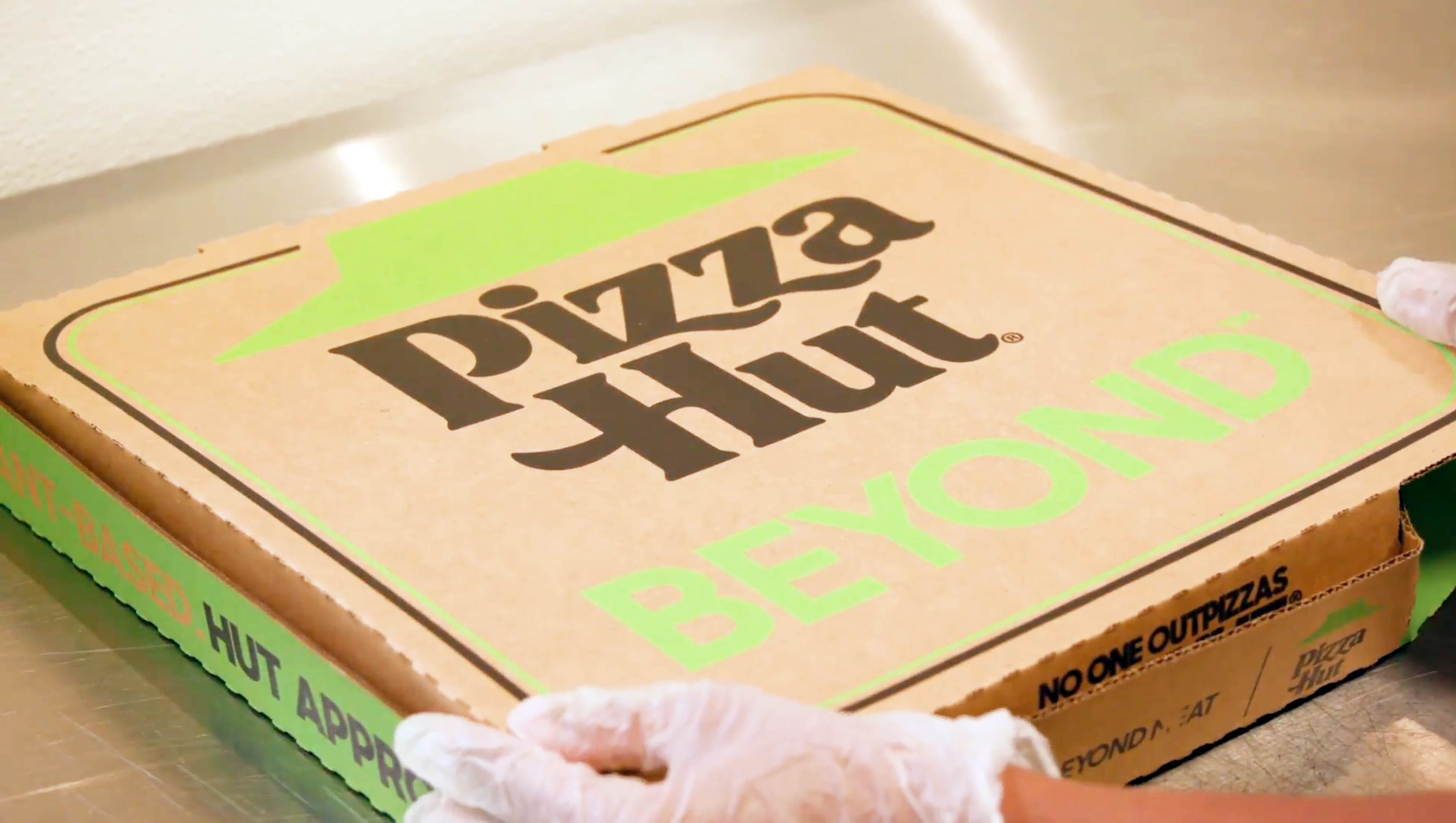 Pizza Hut
At Pizza Hut, Beyond Meat has helped the pizza chain add plant-based protein toppings in various markets, including North America and the United Kingdom where it launched pizzas topped with Beyond Sausage in 2020. Pizza Hut made its Beyond Meat items permanent menu additions both in the UK and Canada last year.
The collaboration recently expanded to additional regions, including Singapore where on September 1, Pizza Hut launched the Cheesy 7 Beyond Supreme, a plant-based meat version of one of its best-selling items.
In Guatemala and El Salvador, Pizza Hut went a step further by launching a dedicated Beyond Meat menu with nine dishes. For breakfast, Pizza Hut locations in these regions now serve Beyond Meat-stuffed omelets and croissants, along with Cheese & Meat Share Beyond Breadsticks. Three new pizzas and four new pasta dishes—all made with Beyond Meat—round up the new menu here.
For the latest vegan news, read:
How Microbial Fermentation Is Making Vegan Food Better
Who Will Be Featured on New Show Hosted By Food Network Star?
The Skinless Chicken Breast Gets a Vegan Makeover