Major food company Kellogg's has decided to keep its plant-based business close to its chest. Last summer, Kellogg's announced it would split its company into three independent business: tentatively called "The North American Cereal Co."; "Global Snacking Co." and "Plant Co."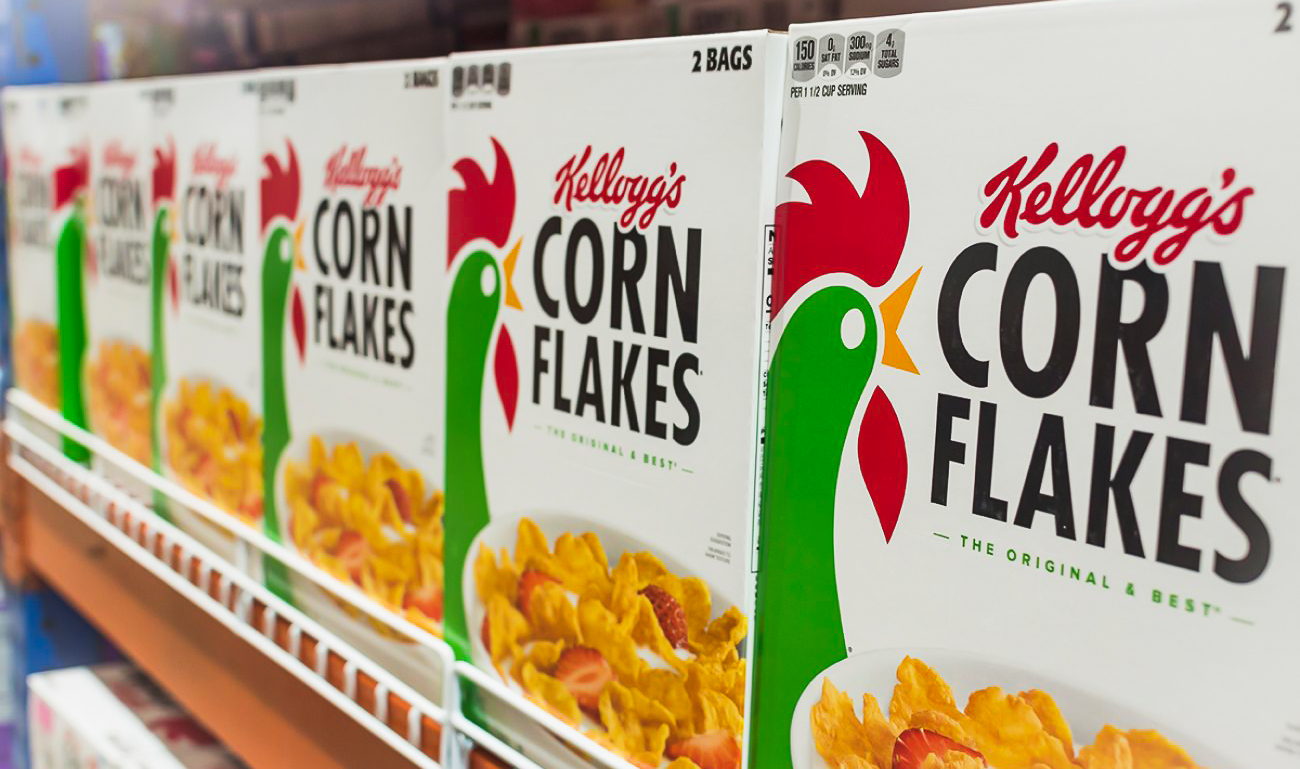 Kellogg's
At the time, it explained that it was undergoing a transformation and breaking up the company into these stand-alone segments allowed Kellogg's to develop individual strategies for each. Some analysts speculated that this division could lead to a sell-off of the Plant Co. arm.
However, after releasing its fourth-quarter results this month, Kellogg's announced it will retain its Plant Co. business.
"After exploring strategic options, the company has decided to retain its plant-based business, which represents 2 percent of net sales and offers strong long-term growth prospects," the company said in a statement.
Overall, Kellogg's reported an 8 percent growth in net sales over the past year bringing it up to $15.3 billion.
Kellogg's plant-based food business
Kellogg's plant-based portfolio has several interesting components. Outside of its cereals, perhaps the next most iconic product is Eggo Waffles, a breakfast staple for many Amercians that has been around since the 1950s.
While the waffle itself contains animal products, Kellogg's ventured into exploring a combination pack of meatless chicken and waffles as a National Waffle Day promotion last August. Soon after, the company went a step further by creating its first vegan Eggo waffle (a Belgian liège-style) and pairing it with vegan chicken, which hit select retailers last year.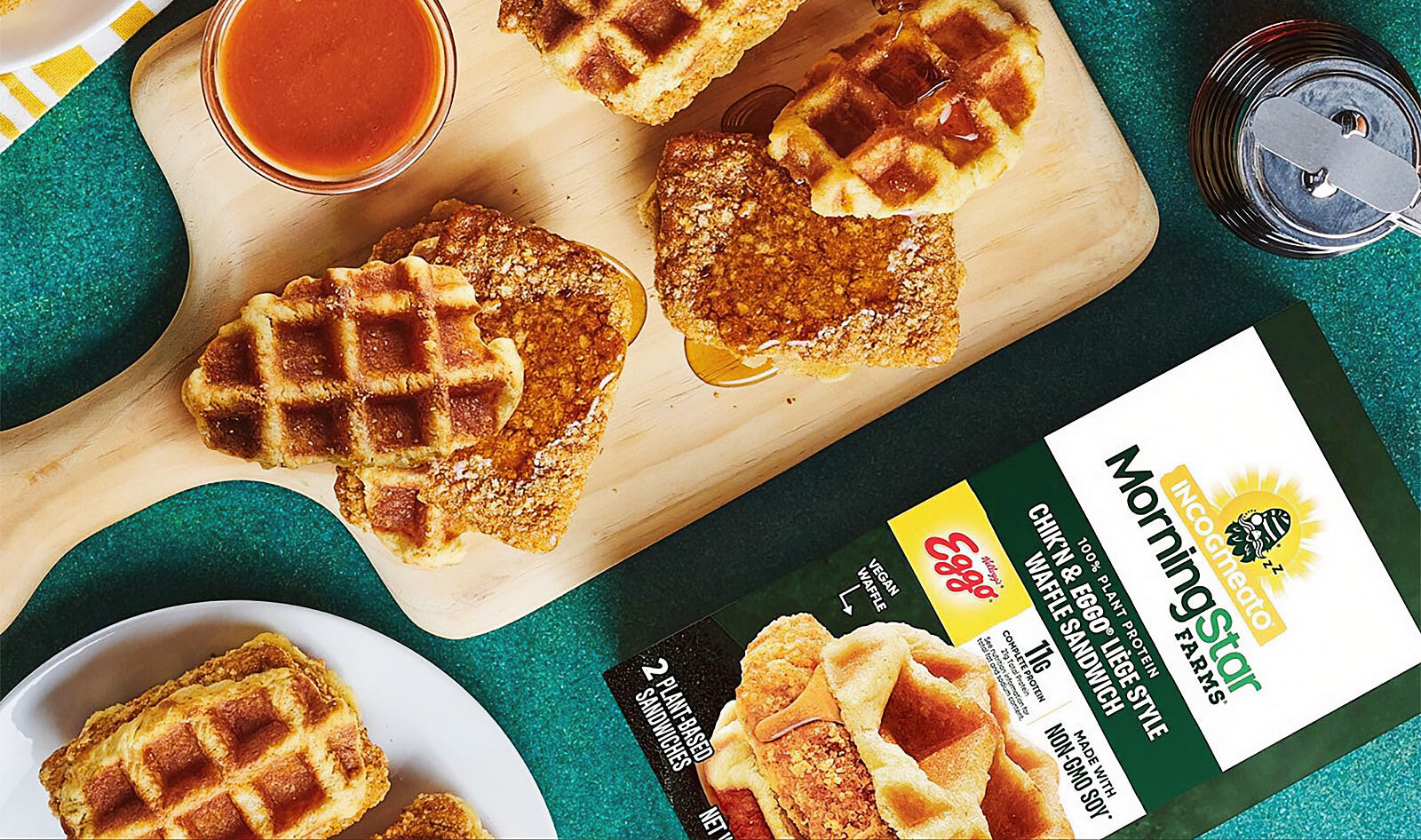 Morningstar Farms
The chicken here is from Kellogg's owned Morningstar Farms which developed a clever line of plant-based meats called "Incogmeato." In addition to vegan chicken, the line features a variety of plant-based meats such as burgers, grounds (marketed as "meal starters"), sausages, and a pancake-covered sausage on a stick (a unique take on a corn dog).
Vegan food: the next-generation
Kellogg's is not the only food giant looking at the future of food through a plant-based lens. That's because producing many of the popular products from the past—from Kraft Singles to Dove chocolate bars—is becoming increasingly unsustainable given the impact of industrial animal agriculture on the environment.
But huge brands have found better ways to reimagine their post popular products using innovative animal-free technologies.
From ketchup to blue box mac and cheese, Kraft Heinz' nostalgic products are a big part of food history and some of them are getting a modern makeover. The multinational food giant partnered with Chile-based The Not Company (NotCo) last year to create joint venture The Kraft Heinz Not Co. NotCo's food technology revolves around a platform that uses artificial intelligence to develop next-level plant-based alternatives to animal products.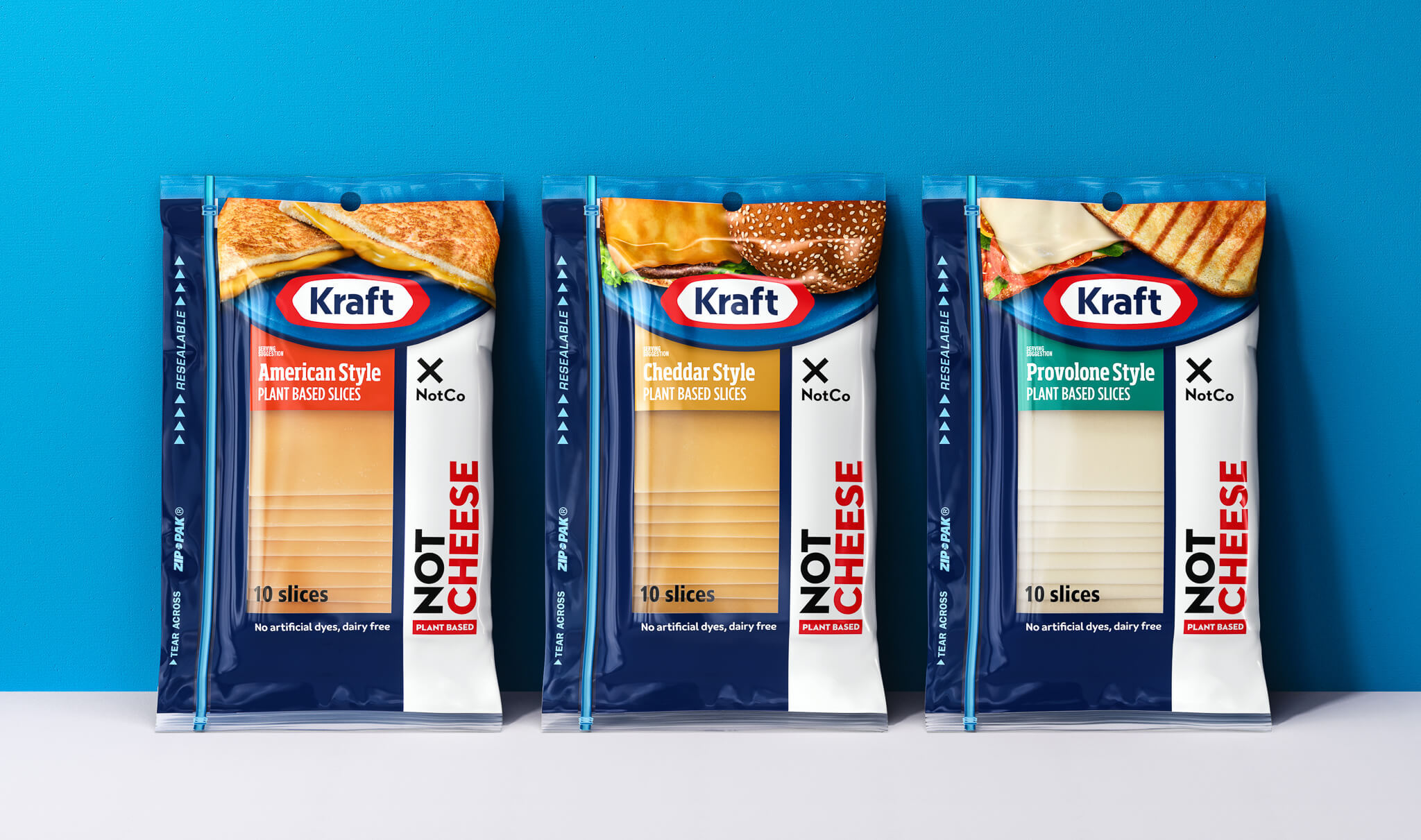 Kraft Heinz
Under this collaboration, Kraft Heinz will explore how NotCo's technology can plug into its business resulting in reimagined versions of its iconic products. Thus far, the joint venture has produced plant-based versions of Kraft Singles cheeses in American, cheddar, and provolone flavors which are slated for a national rollout this year.
Next? The duo is exploring vegan mayonnaise, a smart development given that egg-based mayonnaise is facing a crisis due to a historic and ongoing egg shortage.
Nestlé, the largest food and beverage company in the world, is also exploring next-level innovations to help bring its product portfolio into the future. While the company already owns a number of plant-based brands stateside and overseas, last year, it teamed up with Perfect Day—a California-based company that uses precision fermentation to make dairy-identical whey proteins without the cow.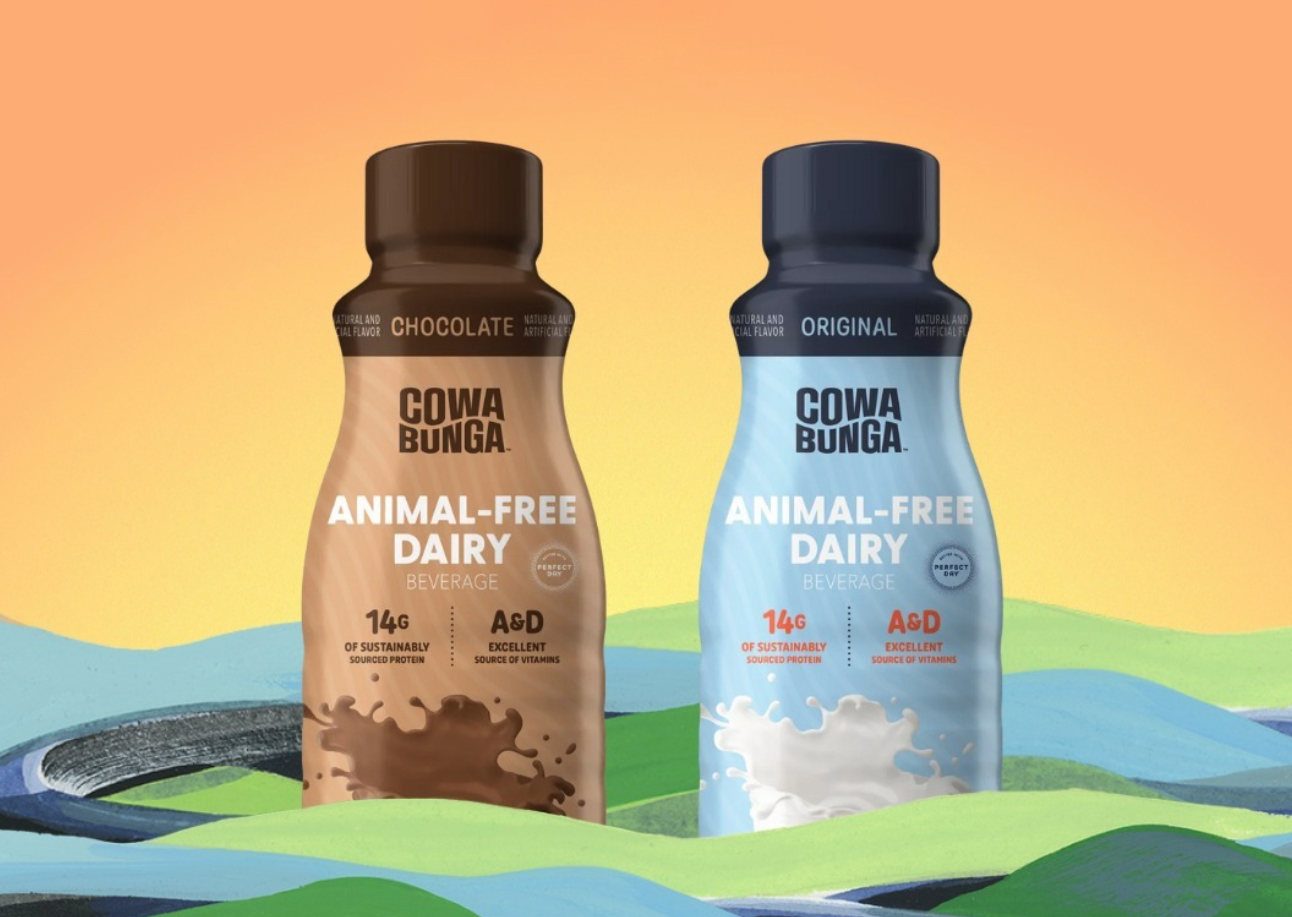 Nestlé
In December, Nestlé unveiled the fruit of its collaboration with Perfect Day: a milk brand called Cowabunga. This pilot brand offers Chocolate and Original flavors of vegan milk made with Perfect Day's animal-free whey. Nestlé and Perfect Day are exploring other opportunities under its newly created US R+D Accelerator, through which the food giant identifies opportunities and brings them to market at an accelerated rate of six months.
And more dairy products are getting a major vegan makeover thanks to French company Bel Group, which is best known stateside for its iconic cheese products such as Boursin, The Laughing Cow, and Babybel. In the last two years, the company has released vegan versions of all of these products and Bel is not stopping there.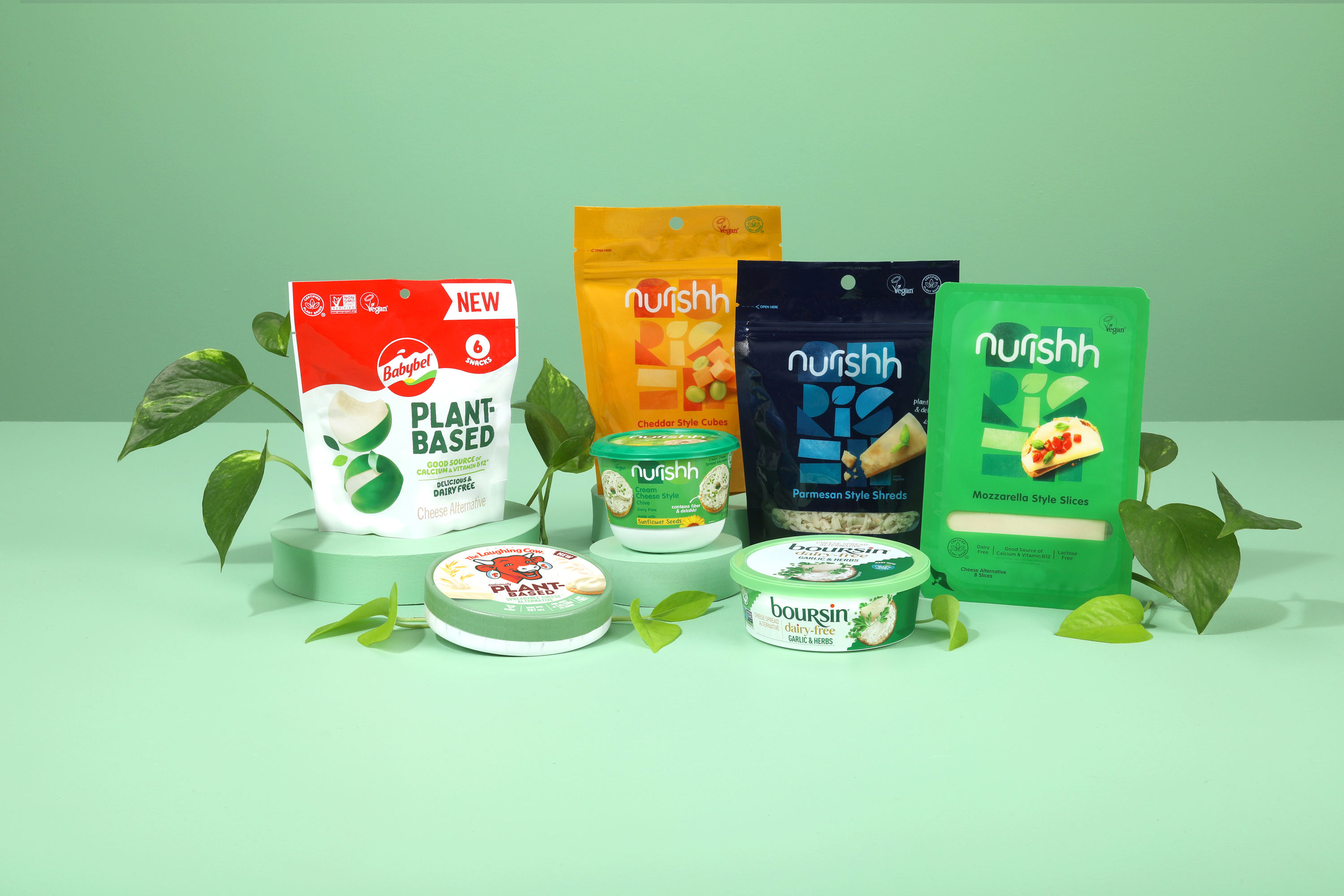 Bel Brands
Bel is also working with Perfect Day on innovations that bring its animal-free whey to the masses through its own vegan brand Nurishh. Thus far, the company has launched Nurishh Incredible Dairy cream cheese in three flavors. Bel is also working with another company in the microbial fermentation space, Superbrewed Foods, to explore how its unique postbiotic microbe can improve—and future-proof—its portfolio of products.
For the latest vegan news, read: