It's hard to argue with the French when it comes to cheese expertise, harder still with a company like Bel Group—headquartered near Paris—which has been in the cheesemaking business for 150 years. Yet, even the most die-hard of cheese companies know that modern consumers are seeking something new, be it vegan cheese or cheese made without harming animals or the environment.
Over the last few years, Bel Brands USA—the French company's US arm and makers of popular Babybel, Boursin, and The Laughing Cow cheeses—has been busy reformulating many of its core products with new, innovative ingredients and techniques.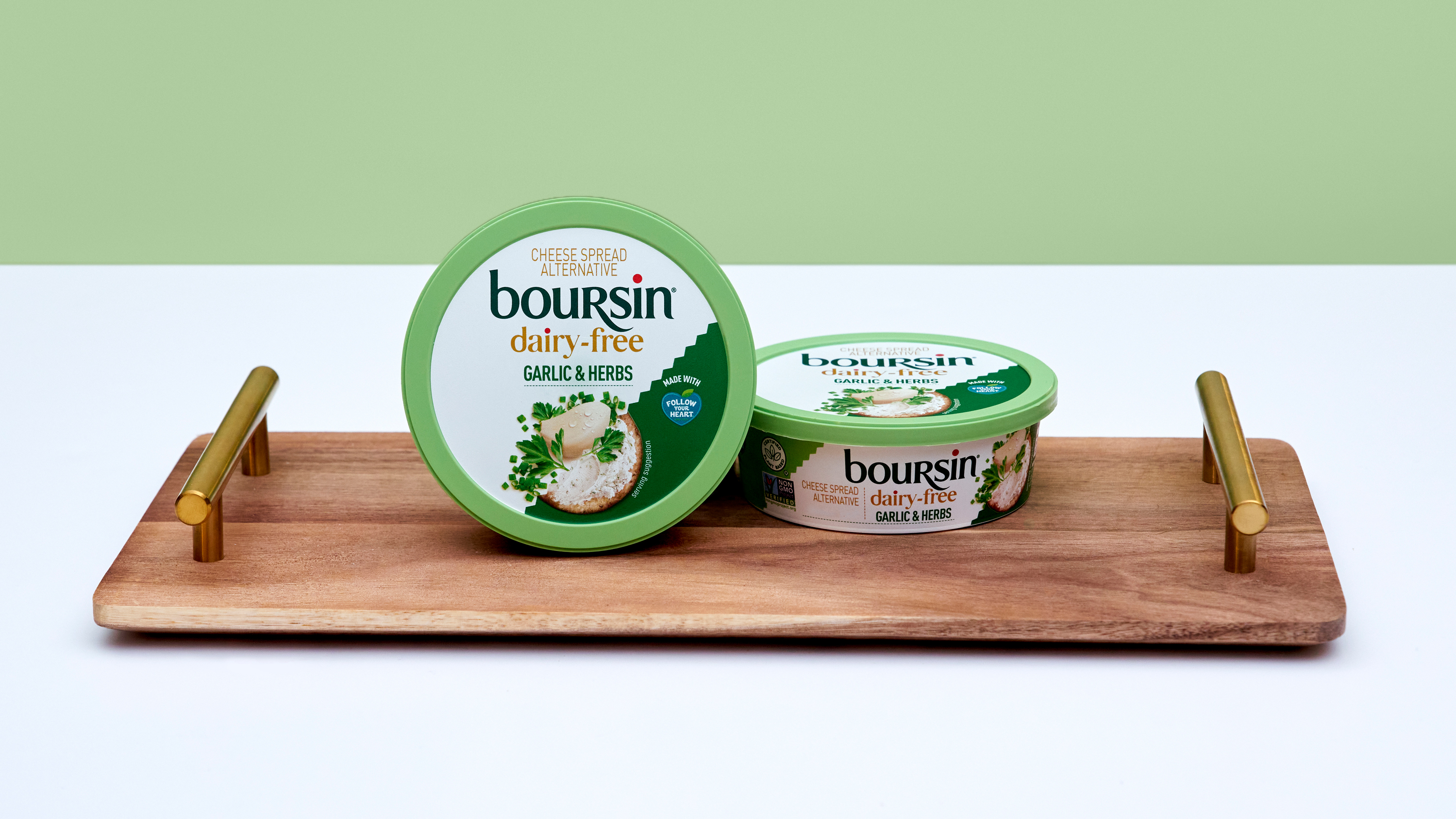 Bel Brands
It has also been delving deep into its exploration of precision fermentation, a biotechnology based around microbes that stands to transform the way cheese is produced entirely.
"As a cheese company, Bel Brands USA has leveraged our unique, longstanding history and expertise to achieve the delicious flavor and texture consumers expect to taste with dairy cheese alternatives, but have struggled to find on shelves until our offerings," Florian Decaux, Plant-Based Acceleration Director, Bel Brands USA, tells VegNews. "With several hugely successful products on shelves to-date, we've continued to develop our capabilities and expertise outside of the dairy cheese industry."
"It can be challenging to replicate dairy-based cheese, but given our company history and knowledge in what makes cheese cheese, we're uniquely positioned to address these challenges and are proud of how far we've come and are excited for future innovations that will move the industry forward," Decaux says.
And Bel Brands' innovations are coming in hot. Today, the company is proudly announcing the long-awaited launch of The Laughing Cow Plant-Based, a vegan version of the company's iconic snacking cheese wedges.
Bel Brands
Individually wrapped in foil with a red pull tab just like the original, the new Laughing Cow Plant-Based is rolling out to Whole Foods Market locations nationwide this month where two flavors, Original and Garlic & Herb, will be available for $5.49 per eight-wedge pack.
Bel Brands gets into vegan cheese
Reimagining The Laughing Cow as vegan cheese wedges took a bit of work and Bel Brands wanted to get the formula just right before launching in stores. The new vegan cheese is made from a base of almond milk, coconut oil, and sunflower oil, with a bit of pea protein, along with seasonings. Both flavors are also fortified with vitamin B12.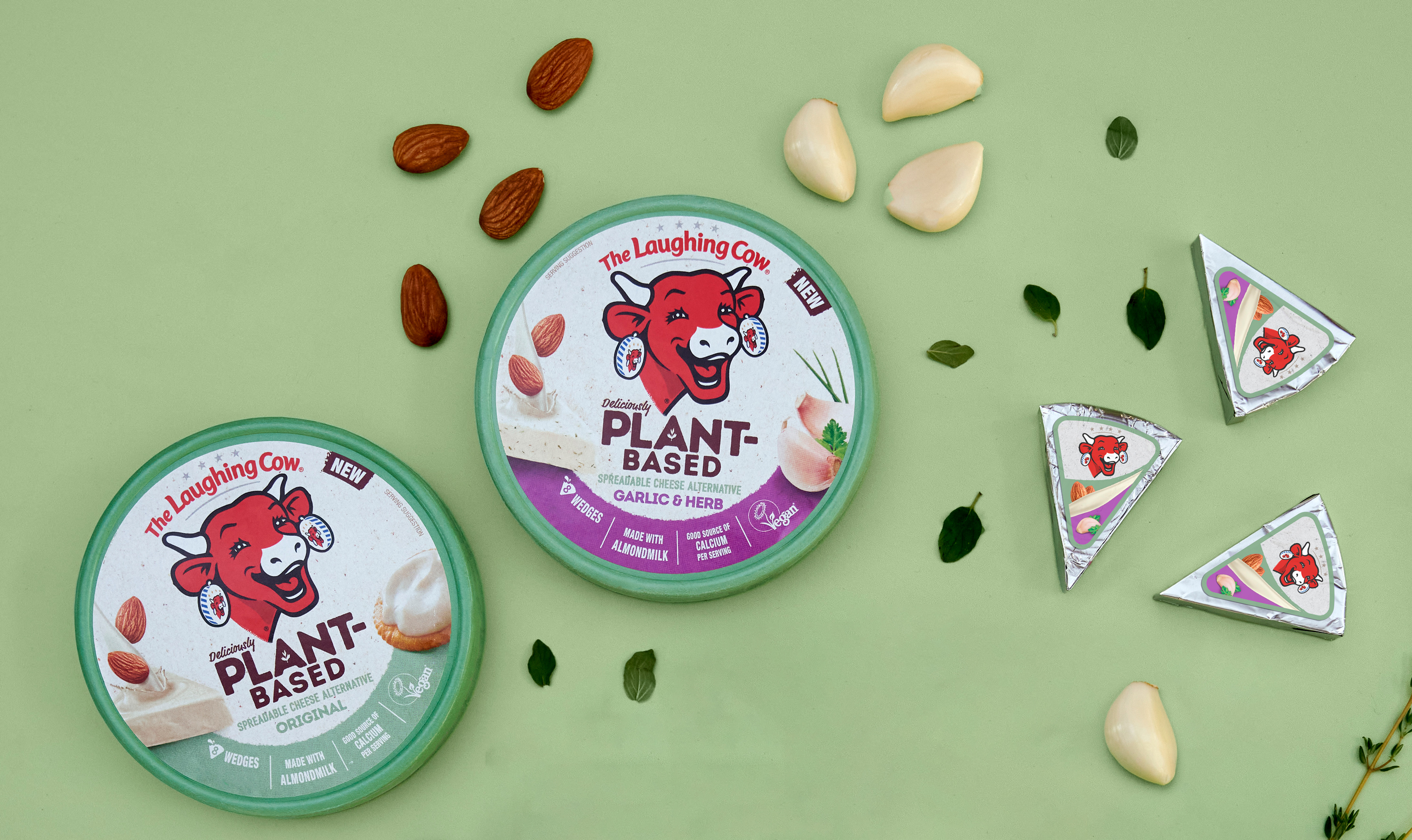 Bel Brands
"While developing The Laughing Cow Plant-Based, we took the same consumer-centric approach that has been the backbone of our innovations to-date," Decaux says. "Consumer feedback, in addition to the testing of our R&D experts, resulted in the product you'll find on shelves today—a creamy, smooth, and soft cheese texture that spreads beautifully onto crackers, vegetables, and more."
In addition to flavor and texture, Bel Brands worked to recreate the nostalgic experience of eating a wedge of Laughing Cow cheese.
"Almond milk also achieved a similar consistency to seamlessly fill the foil wedge and replicate the same iconic unwrapping of The Laughing Cow's pre-portioned wedges," Decaux says.
The Laughing Cow Plant-Based is the latest vegan cheese launch from Bel Brands USA. In 2020, the cheese giant worked with vegan company Follow Your Heart to develop Boursin Dairy-Free, which is now available at retailers nationwide, including Kroger, Sprouts, and Trader Joe's.
In March, Bel Brands also launched Babybel Plant-Based, another nostalgic product which it made with the same peelable wax packaging as the original but in a green hue to distinguish it from the dairy version.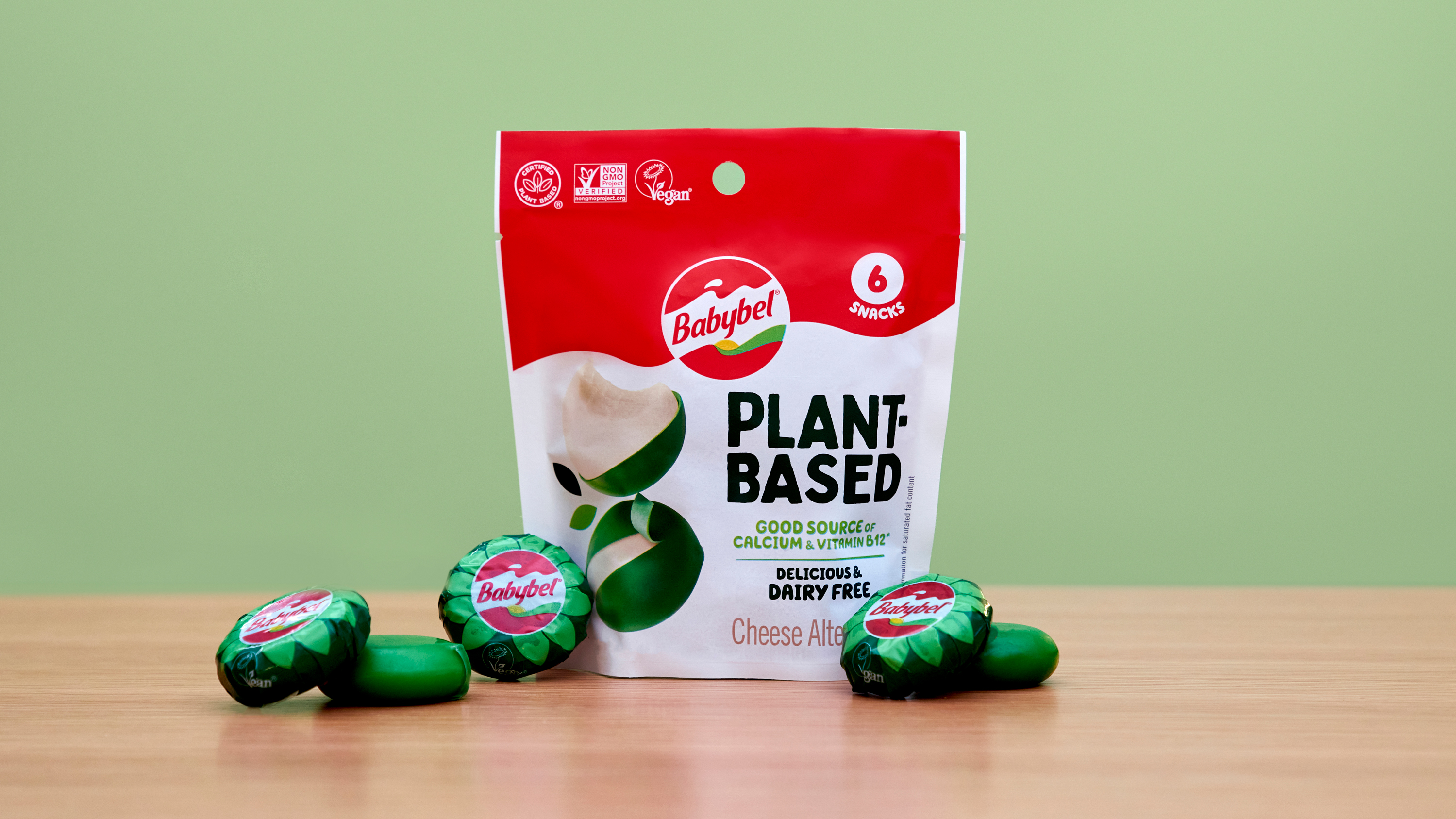 Bel Brands
"We've been blown away by the positive reception from consumers to-date with both Boursin Dairy-Free and Babybel Plant-Based and wanted to ensure we brought that same quality to The Laughing Cow Plant-Based, as well," Decaux says.
With these groundbreaking launches, Bel Brands has brought a wave of innovation into the vegan cheese category—and it's only getting started.
Bel Brands explores animal-free dairy with Perfect Day
In addition to recreating plant-based versions of its iconic cheeses, Bel Brands launched Nurishh as its first vegan cheese brand last year. This brand came to market with six flavors in slices and shreds, which Bel Brands has since expanded to additional flavors and formats.
This week, Bel Brands announced a major line expansion of Nurishh cream cheese made with the help of Perfect Day's animal-free whey. The new Nurishh Incredible Dairy cream cheese is even cheesier thanks to Perfect Day's precision fermentation, a technology that takes cows out of the dairy production equation and replaces them with microbes, which produce milk proteins through fermentation. In addition to the obvious animal welfare benefits, making dairy products in this animal-free way comes with massive environmental improvements.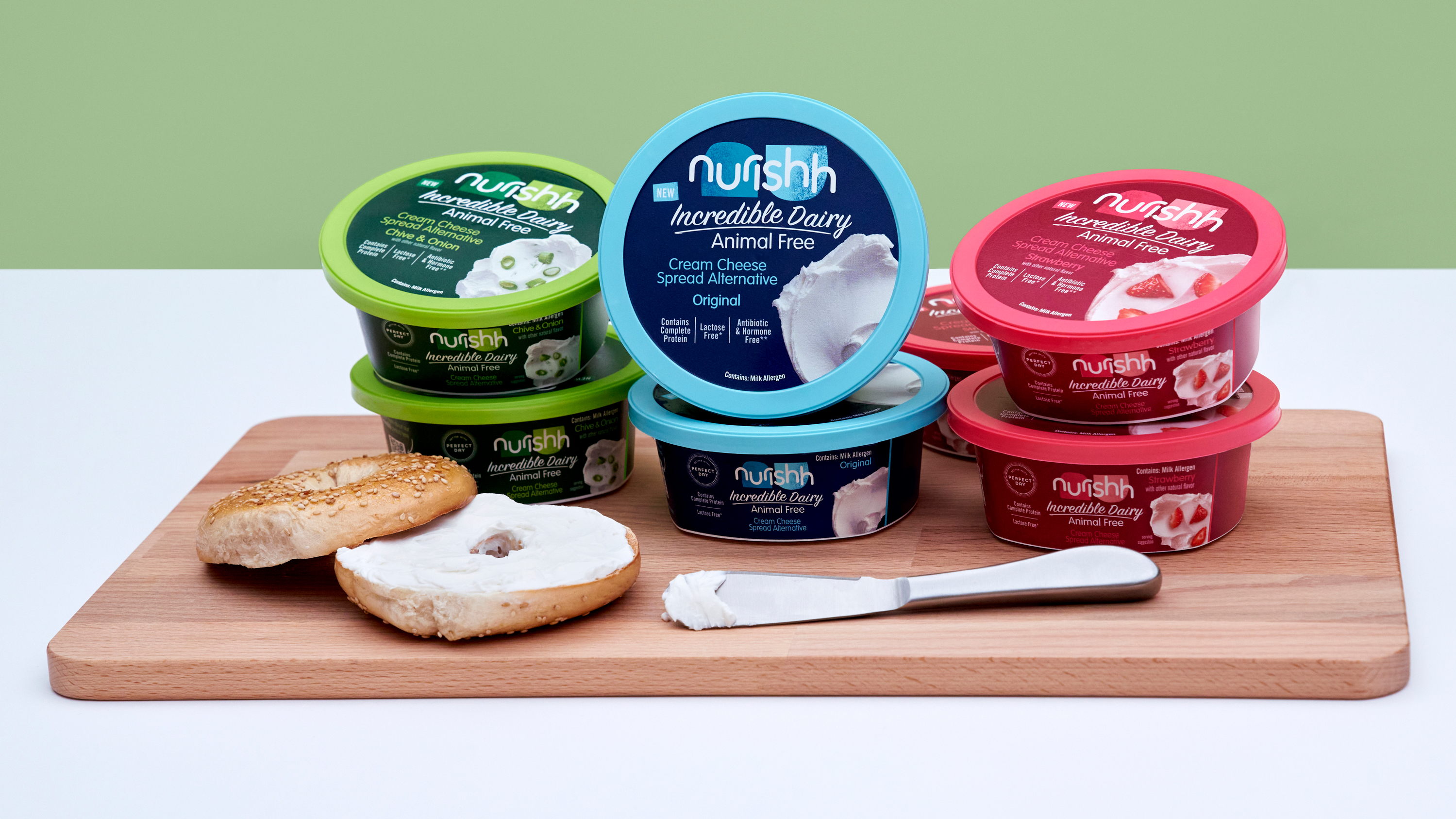 Bel Brands
"This announcement marks an exciting step towards giving even more consumers the ability to try what's possible when Perfect Day's innovative animal-free protein is used by a best-in-class dairy leader," Ryan Pandya, Perfect Day CEO and co-founder, said in a statement, "Consumers around the country will now be able to try kinder, greener animal-free cream cheese and make a delicious choice for the future of our planet."
Consumers will be able to try this innovation starting January 1 when Nurishh Incredible Dairy cream cheese will hit Kroger stores in Original, Strawberry, and Chive & Onion flavors for $4.95 per tub.
The (exciting) future of cheese
So what is it that makes cheese cheese? The functional proteins can be boiled down to casein and whey, which deliver qualities like meltability and pull, along with texture and mouthfeel. But do these proteins really have to come from a cow?
Bel Brands' partnership with Perfect Day puts the company's animal-free whey at the cheese giant's disposal, and it is equipping itself with other tools to help build the future of dairy.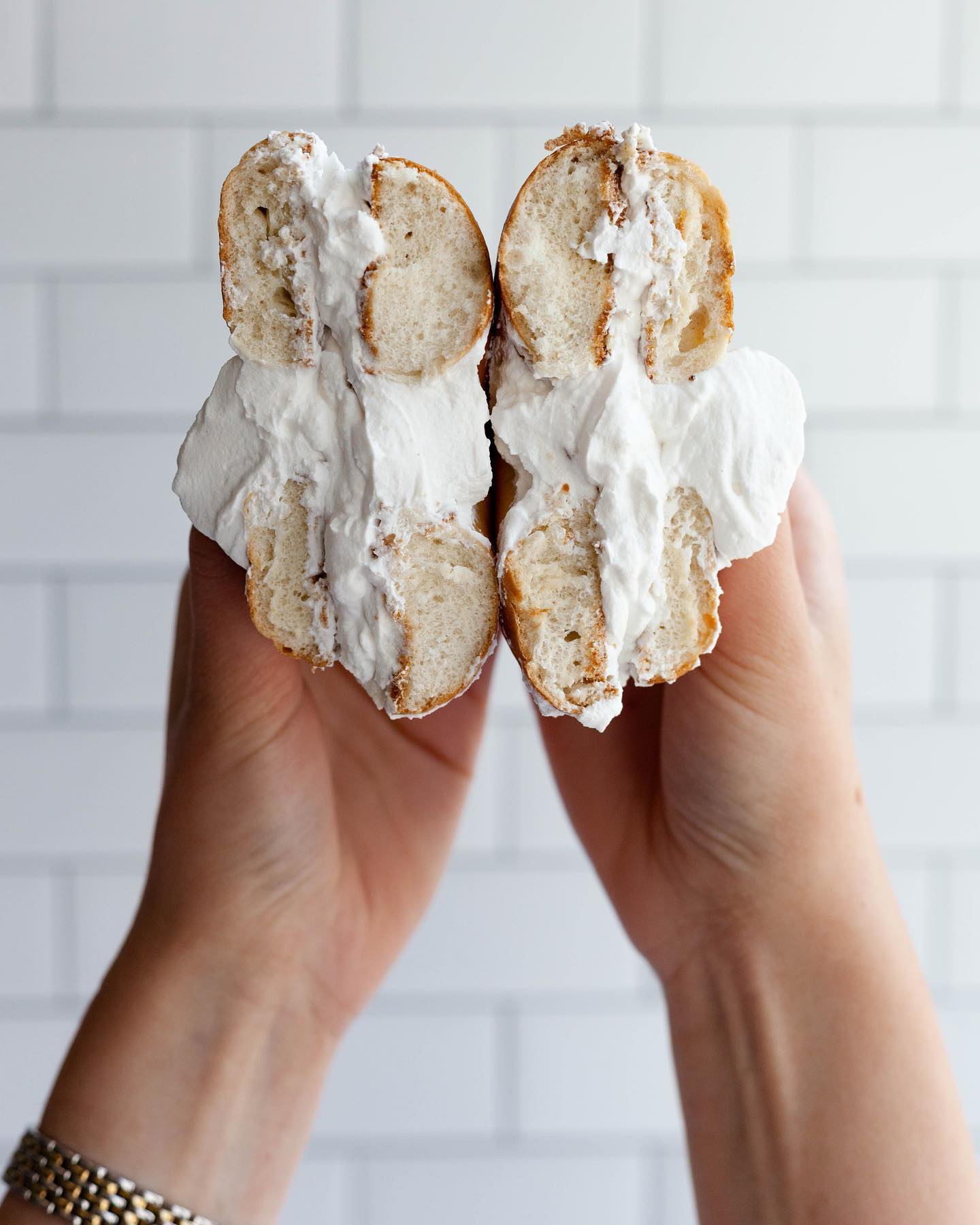 Perfect Day
Earlier this year, Bel Brands also partnered with French startup Standing Ovation, which uses a similar process to Perfect Day to create its animal-free casein. To round out its partnerships in this space, Bel Brands is also working with Superbrewed Foods, which produces a unique "postbiotic" microbe to improve dairy and non-dairy products.
Taken together, Bel Brands has the tools it needs to create an exciting future for cheese, both in dairy and dairy-free formulations, that no longer has to rely wholly on animal agriculture.
"We're working with all of our partners on a variety of innovations that we look forward to bringing to market in the US in the coming years as we continue to focus on taste and quality in the development of all our products," Decaux says. "With these partners we're able to leverage our expertise in dairy and their innovative technologies to deliver high-quality tasting products that we know consumers will love."
For the latest vegan news, read:
Editor's note: the rollout of The Laughing Cow Plant-Based has been delayed due to unforeseen production challenges.