New York City is defined by many things, but few are more iconic than its food staples like pizza, bagels, and cheesecakes. And if you ask any true New Yorker, classic breakfast sandwiches like the bacon, egg, and cheese rank right up there with the rest. But these sandwiches can't just come from anywhere. They must be made at a local bodega, a corner store that is essential to the fiber of everyday life in NYC.
And while New Yorkers are skeptical about people messing with their food staples, a growing concept called Plantega is bringing a new—yet familiar—spin on these iconic sandwiches and other bodega favorites, including grocery staples.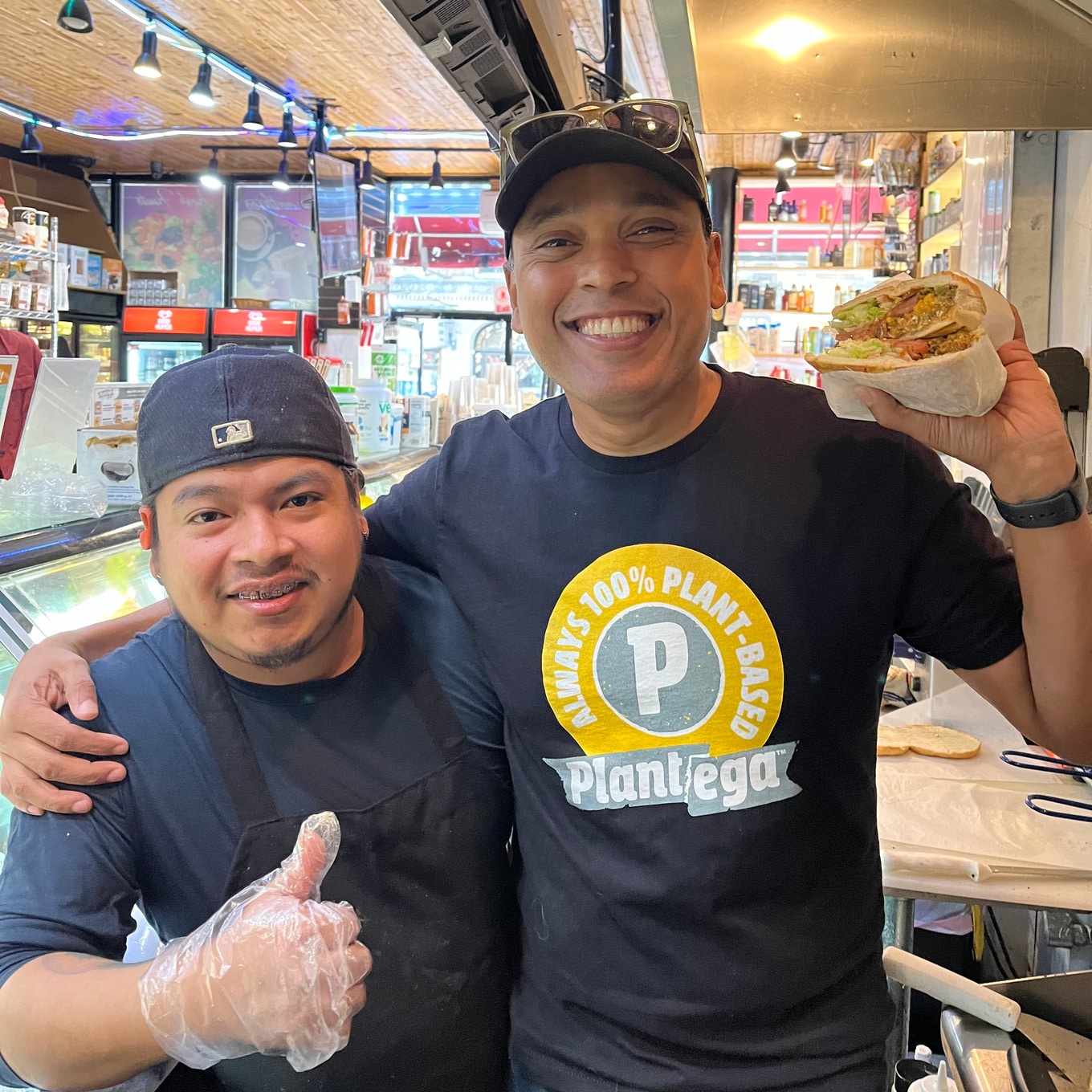 Plantega
"Bodegas are our inspiration and what we do, essentially, is create a plant-based store," Plantega Founder Nil Zacharias tells VegNews. "We take bodega classics and make them better. And they're better because they're plant-based. Better for you, better for the planet, and better for animals."
By partnering with bodegas, which are vital parts of communities, Plantega brings vegan food to where people shop and provides a turnkey solution for stores to jump on the popularity of plant-based food without having to change too much.
"I think of us as a simple software that you plug into an existing kitchen except that what we provide is an entire menu with some of the best brands in the world and we provide you with all the marketing, the training, the know-how where you can plug Plantega in and, within a day, you're selling plant-based food," Zacharias says.
"We're not trying to gentrify the bodega by opening up a Plantega across the street from your local bodega and stealing all the ideas," he says. "We're empowering them."
The best vegan food in NYC is inside a bodega
Plantega first began operations in the middle of the pandemic in 2020 with only eight menu items served by a handful of bodega deli counters. Now, the concept offers 62 food items, with 14 in-store and the rest available via delivery apps.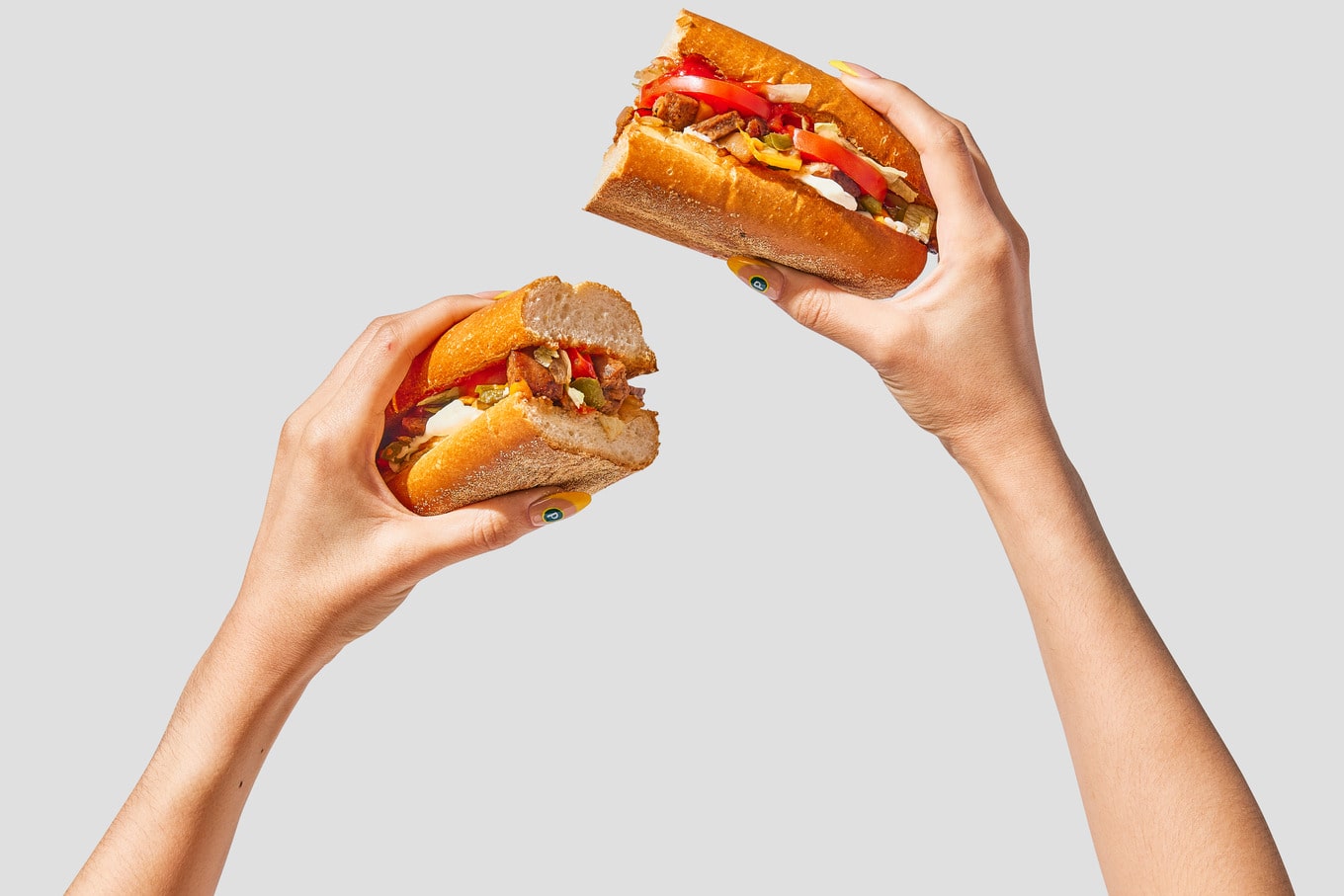 Plantega
On the menu at Plantega-equipped bodegas are classics like the Chopped Cheese; Deli Slice Sandwich with Turkey; and the Bacon, Egg, and Cheese. And the individual components of these sandwiches have evolved over time because Plantega serves as a launchpad for some of the biggest innovators in the plant-based space.
"The brands that work with us are collaborators," Zacharias says. "We aren't a regular restaurant chain where we just choose whichever ingredients. We're actually very brand-forward."
Because menu real estate is limited, Plantega first makes sure that the brands it works with—typically under a one or two-year contract—not only make stellar products but are in a stage where they can benefit from the value that Plantega can bring to their business.
In mid-May, Plantega updated its menus with new brand partners such as Zero Egg (which replaced Just Egg as its exclusive plant-based egg partner); jackfruit-based meat company Karana (which took over Beyond Meat as a breakfast sausage and burger supplier); and Vertage Foods (which replaced Follow Your Heart with its vegan American Cheddar Cheese).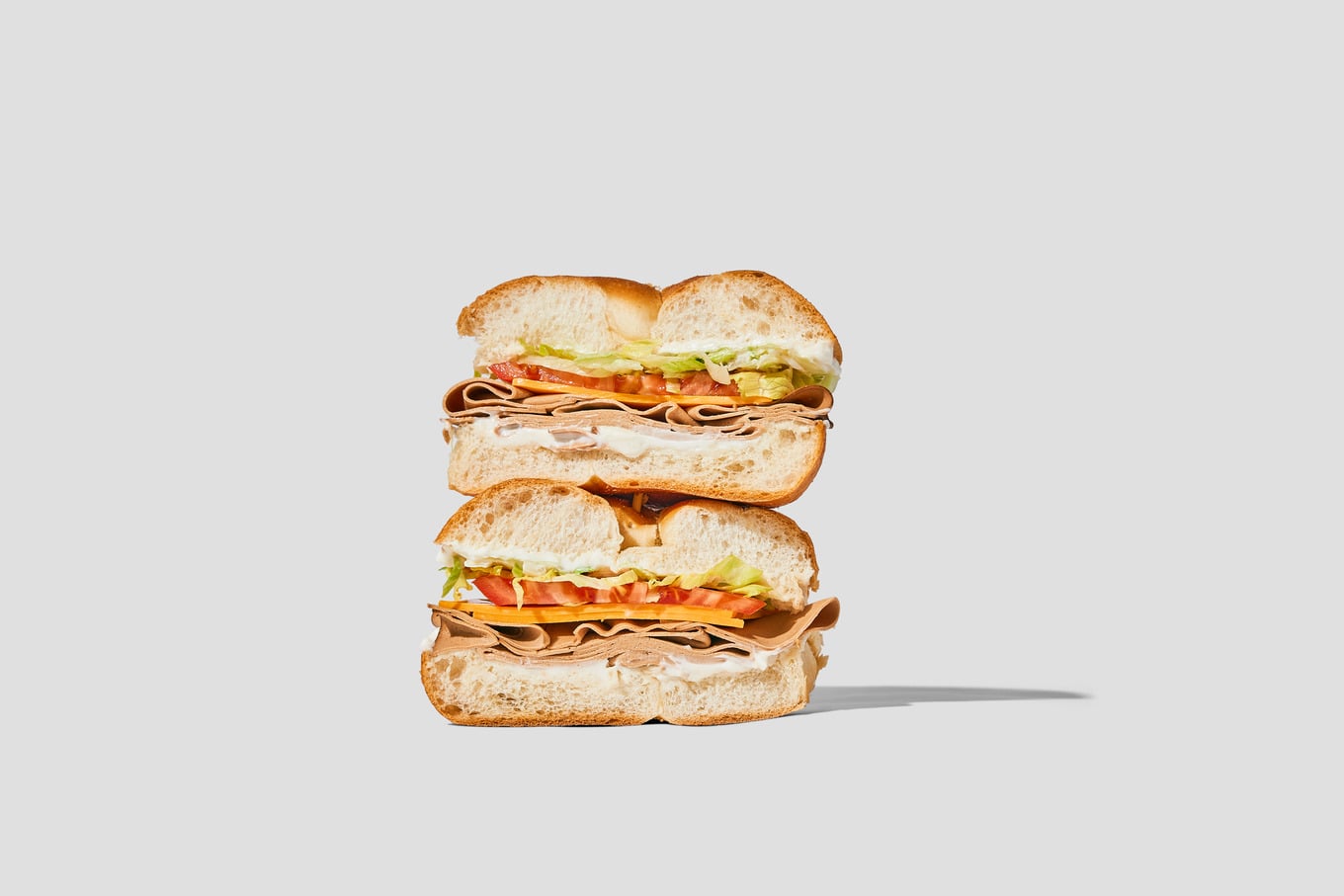 Plantega
Plus, Daring Foods' chicken patties, Wicked Kitchen meatballs, and Prime Roots—which aims to become as ubiquitous as Boar's Head—deli slices just landed on the Plantega menus. Brands that will remain on the menu this round are Pleese Cheese, Good Catch Foods, Abbot's Butcher, and Umaro Bacon.
"In each category that we're in, there's a new brand emerging every few months that has superior products in some cases," Zacharias says. "We want to be able to be at the cutting edge."
By conducting frequent tastings and promotions, Plantega also acts as a secondary marketing arm, providing its brand partners with valuable insights from a consumer cross-section much less homogenous than a typical restaurant setting.
"We get people's reactions as they eat a plant-based sandwich probably for the first time in their lives," Zacharias says. "And they're eating a bacon, egg, and cheese sandwich that most people in NYC have a reference for what that's supposed to taste like."
"And when they eat ours and say, 'Wow, this is plant-based?' for a plant-based bacon or egg or cheese brand, that's invaluable feedback and a great testimonial," he says.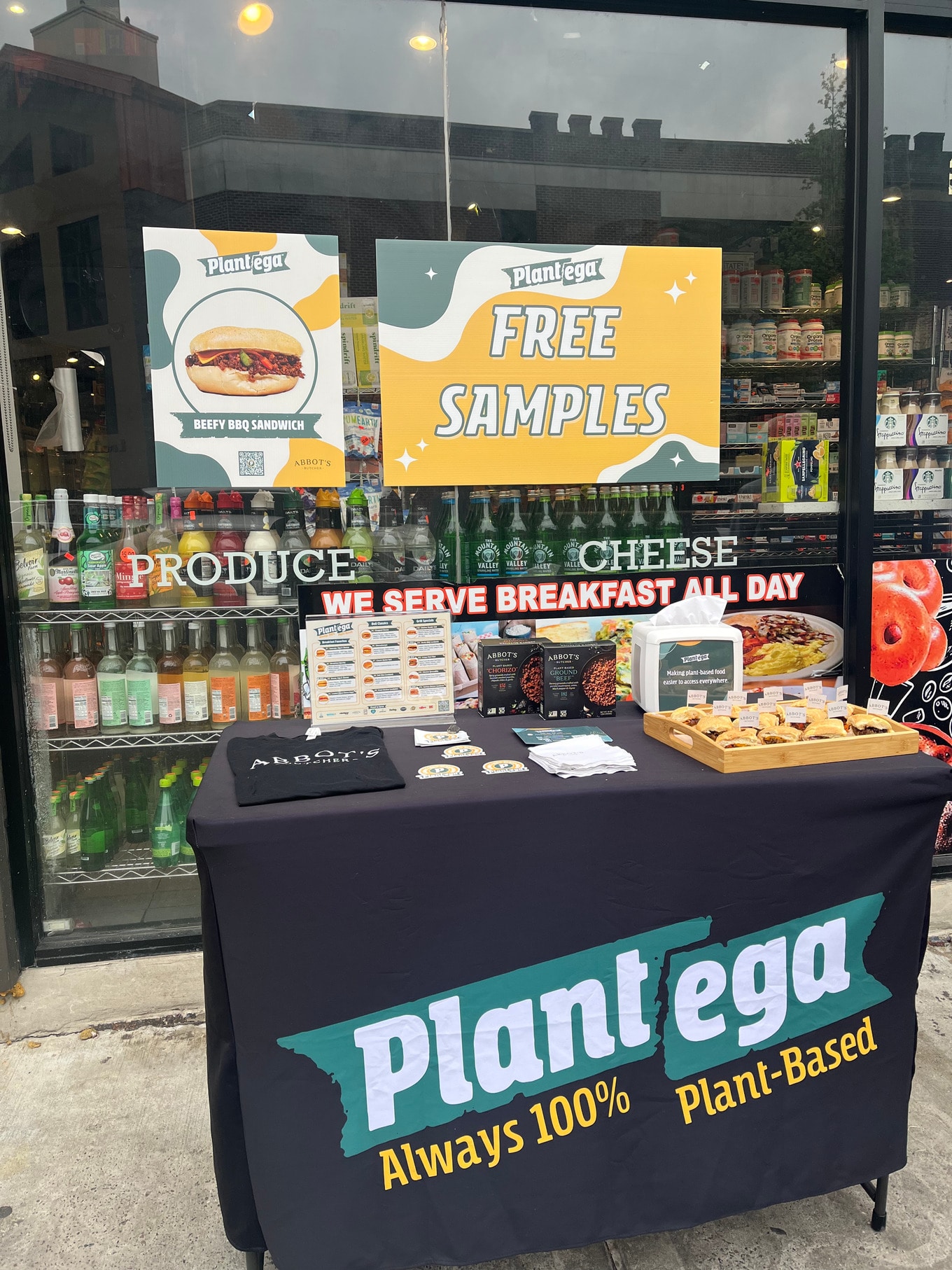 Plantega
An attractive ingredient label and sustainability metrics are also driving factors for Plantega's very intentional brand partnerships.
"We know our food is inherently healthier than the animal-derived meat, dairy, and eggs that are available at bodegas, we know a lot of consumers are choosing our menu for health reasons," Zacharias says. "We want our menu to increasingly lean in on that while it still has delicious and decadent tasting options."
Plugging plant-based food into bodegas
Are New Yorkers buying these vegan sandwiches? In 2022, Plantega sold more than 102,000 vegan sandwiches and generated more than $900,000 in revenue for local stores. In the first quarter of 2023, sales are already at 67,000 sandwiches with $700,000 in revenue, putting Plantega on course to more than double sales this year.
"Our goal is twofold in the sense that we're displacing the meat and dairy sold in bodega kitchens today by offering plant-based options and we're inspiring people who shop at those locations to try something plant-based," Zacharias says.
On average, 20 percent of the deli counter sales at these bodegas come from the Plantega menu, this ratio jumping to as much as 60 percent on weekends.
"Prior to us, there was zero percent that was coming from plant-based food, unless you count maybe a few salads that they sell once in a while," Zacharias says.
Zacharias thinks of Plantega as a "keystone species" in NYC's food scene, a vital, problem-solving animal, like a beaver or bee, that connects essential parts—from brands to stores to distributors and consumers—to help sustain the ecosystem through mutual benefit.
Currently, Plantega concepts operate inside 44 stores across NYC and Zacharias hopes to nearly double its footprint this year. The two best-performing Plantega bodegas are in completely different socio-economic environments: a location in the posh Chelsea neighborhood of Manhattan and one in Jamaica, a lower-income neighborhood in Queens with limited access to plant-based food.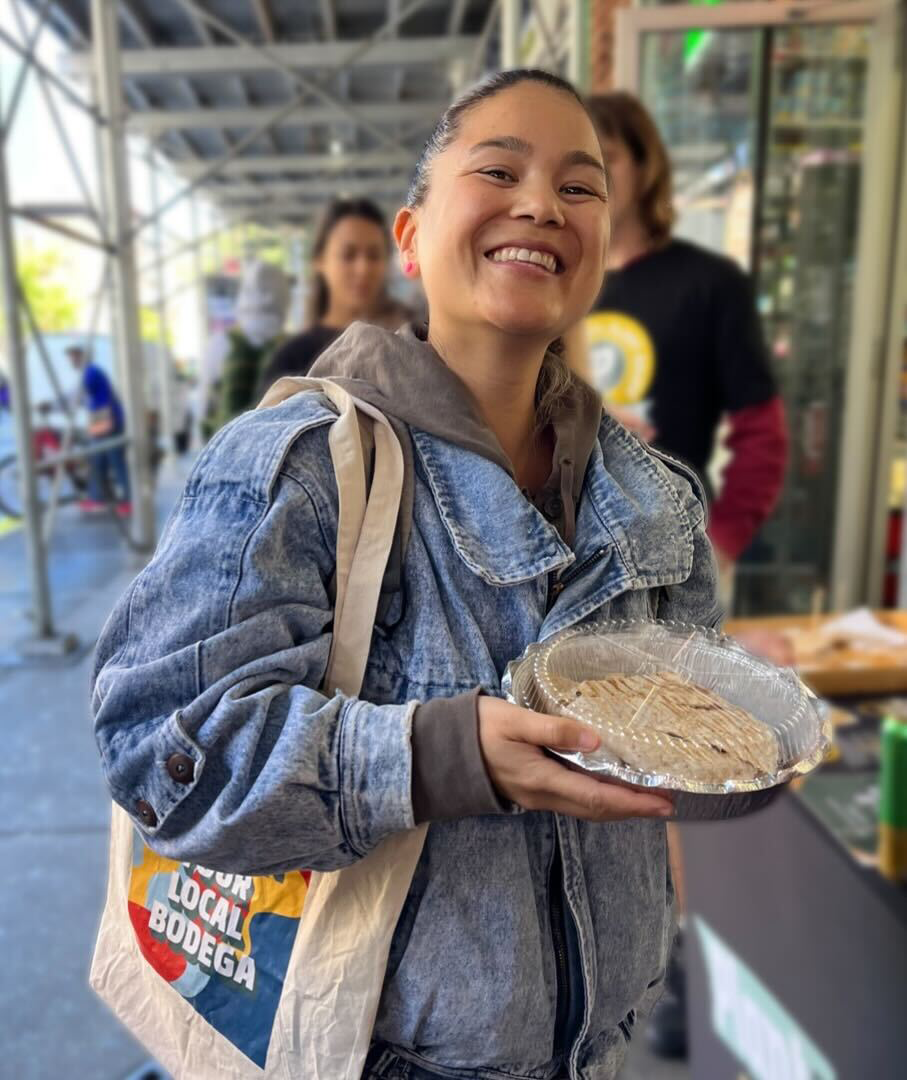 Plantega
"We're also not changing bodegas," he says. "We want them to be as wild as they have always been because they're iconic spaces in NYC. We're just seamlessly fitting into their environment and offering consumers something better and store owners a new source of revenue."
"Bodega" as an NYC cuisine
While Plantega was born inside of an NYC bodega, Zacharias says that it has evolved into a broader concept. As he expands strategically, what has emerged is an idea that bodega food can be a cuisine of its own that can be appreciated outside of NYC, even in places where the bodega concept does not exist.
"We're building a brand that is all about quick convenience, everything that NYC and bodegas stand for," Zacharias says. "Our foundations are set up in NYC but I think the popularity of the food is eventually going to go outside of New York because there is something iconic about a bodega sandwich."
"New York tends to define culture and we think bodega food can be replicated outside of the city," he says.
Zacharias first hopes to open 100 Plantegas in NYC and then explore the idea of test pilots outside of the city, first potentially with a delivery-only model that utilizes existing restaurant kitchens that are onboarded with the Plantega menu, with room to grow into university campuses and event spaces.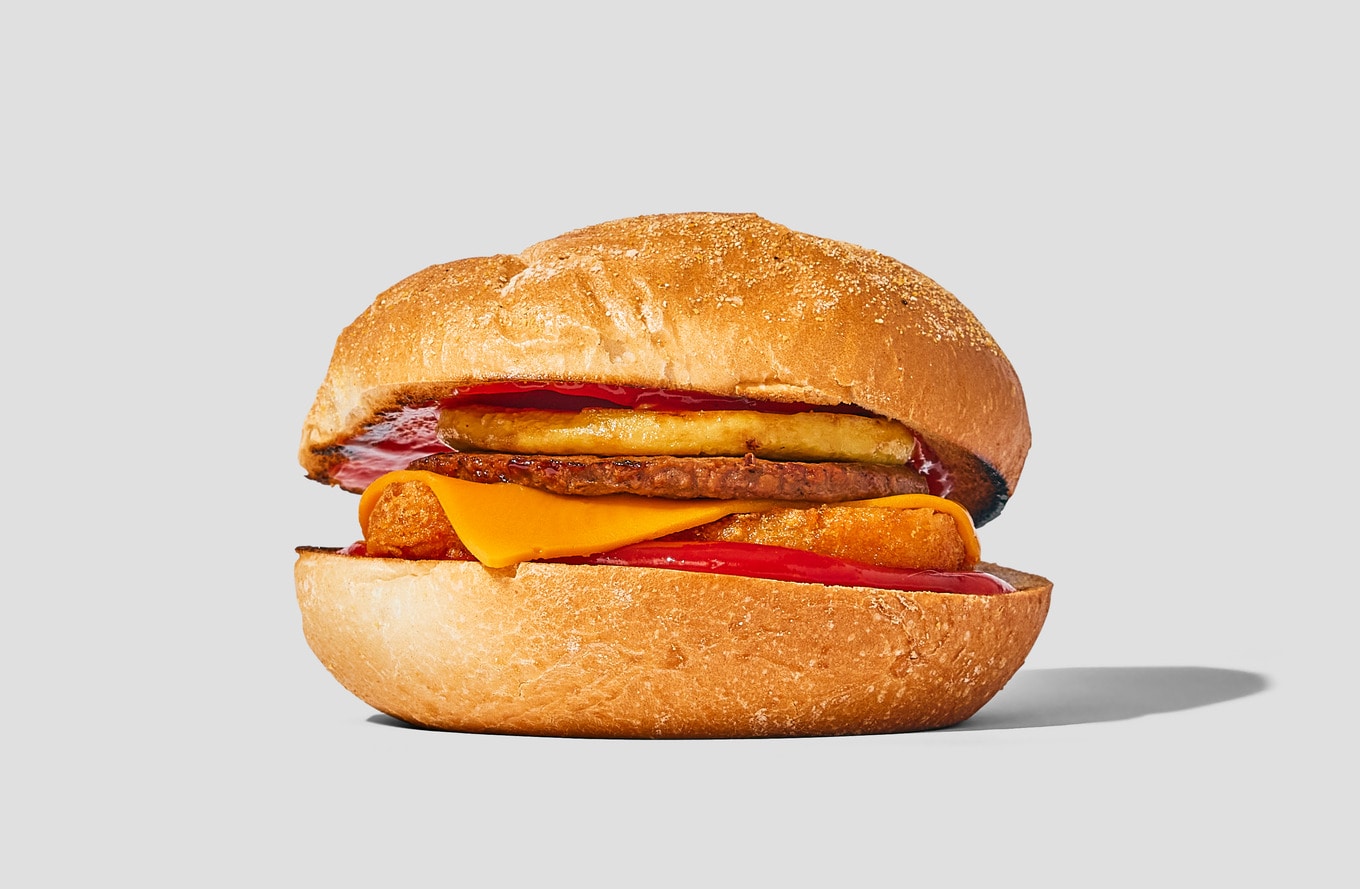 Plantega
An author and media professional, Zacharias himself moved to NYC 20 years ago from India to attend law school and spent his first US dollar at a bodega. For the last eight years, he has been on the search for a vegan sausage, egg, and cheese—the superior bodega sandwich, in his opinion. With Plantega, instead of finding it, he made it (with an added hash brown for crunch). And in the process, created so much more.
"Despite what you read in the headlines about specific companies and their stock price or investments in the space, at the end of the day, consumers still want this food and we're proving it every day by serving it to consumers in places where they eat food," he says.