Goodsugar, a new wellness-oriented vegan business, just opened its flagship location in New York City. The menu at Goodsugar features affordably priced unpasteurized, un-pressurized juices, superfood smoothies and bowls, a shot bar, and a plant-based food menu that focuses on soups and salads.
Menu highlights include berbere-spiced Egyptian Red Lentil Soup; The Best Burrito (stuffed with adzuki beans, wild rice, chipotle cashew cheese, and avocado); and 21 Greens Juice (which comes packed with every green you've ever seen plus lemon and ginger).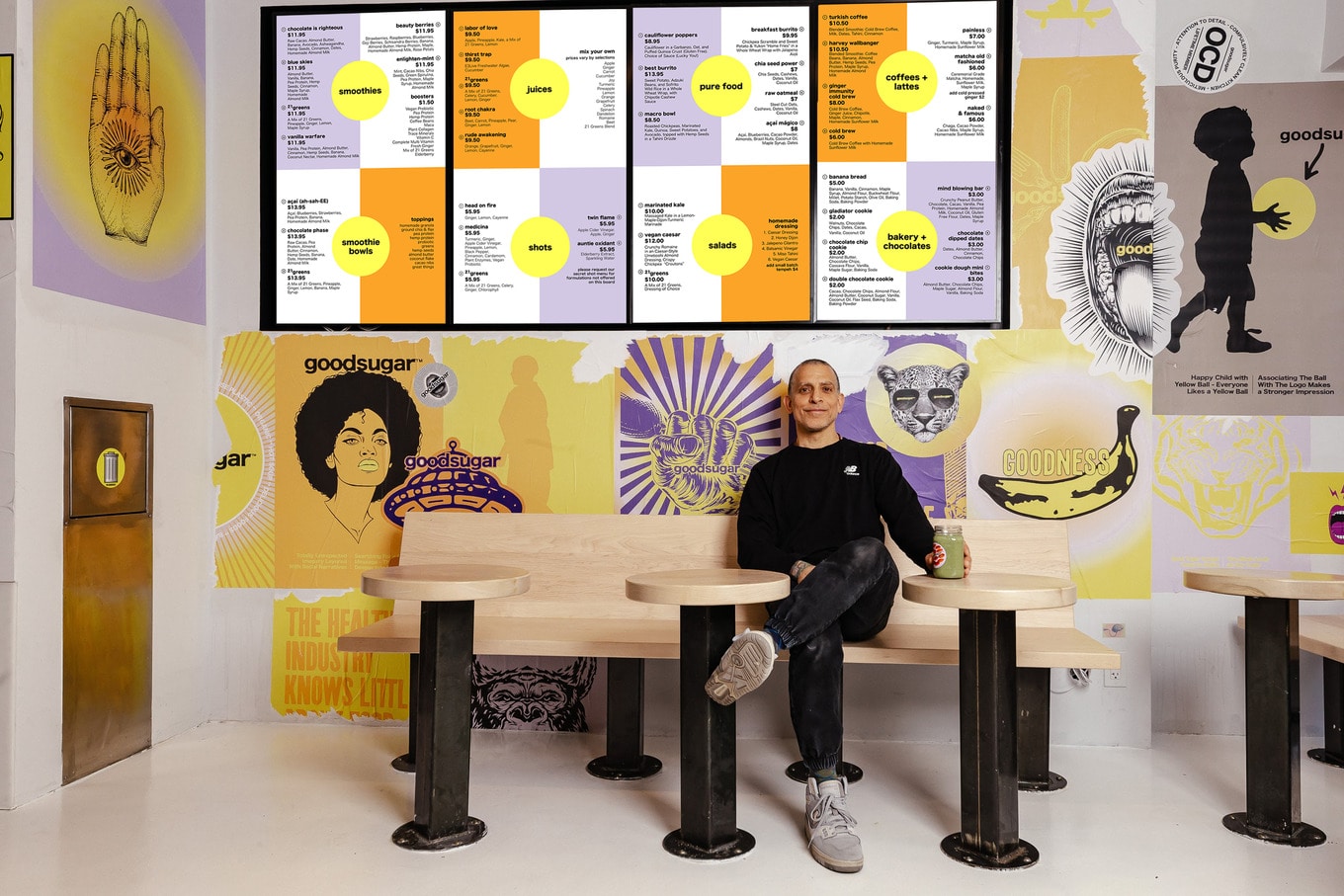 Goodsugar
Brooklyn-born entrepreneur Marcus Antebi—who spent his youth seeking thrills—is behind Goodsugar. He practiced Muy Thai and survived skydiving for 13 years, taking 2,300 jumps before retiring. Currently, he maintains a daily yoga routine and, he says, a whole foods, plant-based diet has helped to fuel it all.
"My plant-based diet provided me with my primary macronutrients which are carbohydrates, protein, and fats," Antebi tells VegNews.
"The double bonus is that plants provide micronutrients such as vitamins and minerals," he says. "And if that wasn't enough, there's a trifecta here: plants provide me with additional compounds that aren't always recognized as nutrients, such as antioxidants."
Antebi was inspired to share these benefits with others first through Juice Press—a juice empire he founded in 2010—and now through his new Goodsugar business, a physical incarnation of his 2020 book The Goodsugar Diet.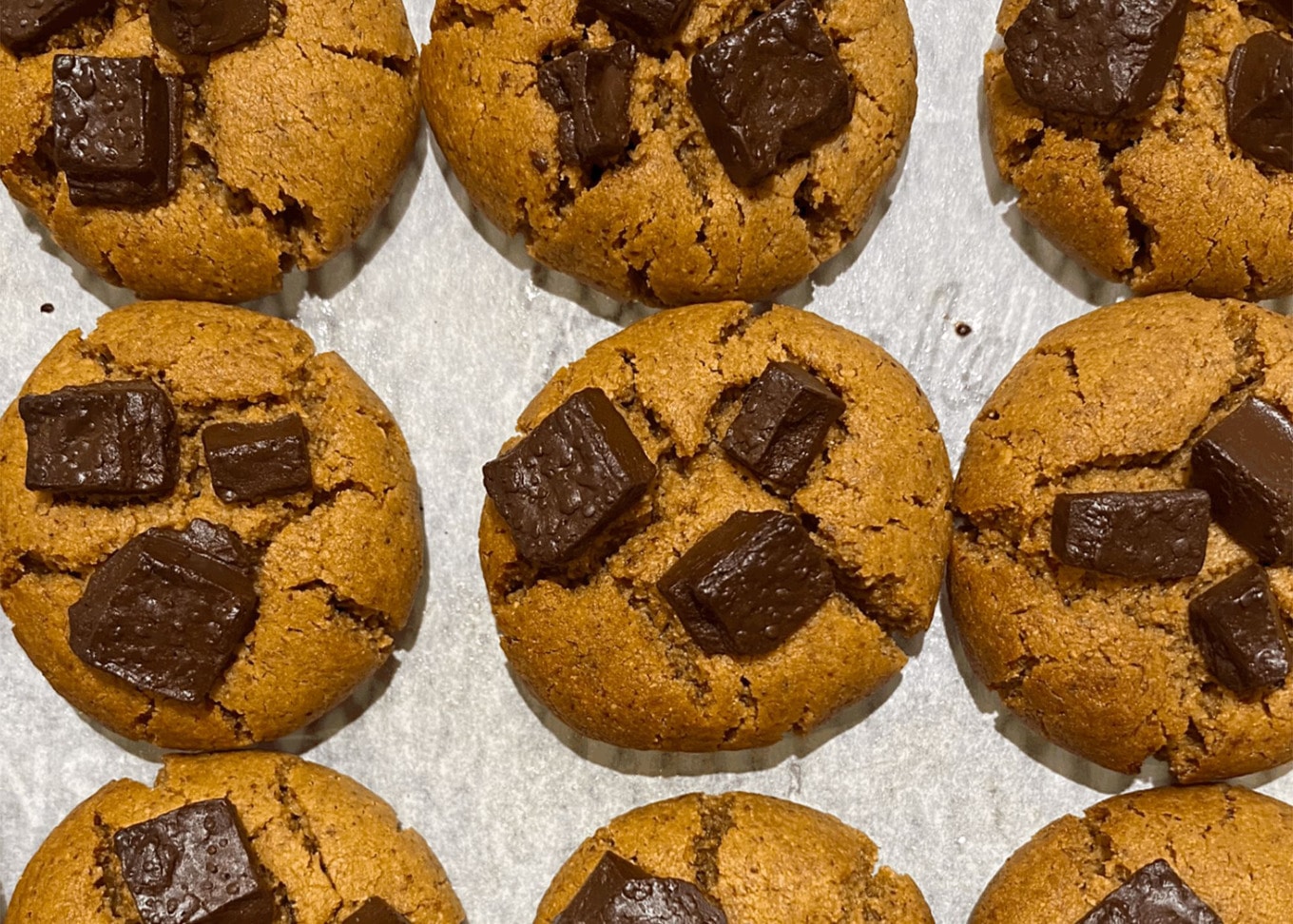 Goodsugar
And while juices, wellness shots, and savory foods are a focus at Goodsugar, the business includes a bakery arm that is all about satisfying vegan desserts.
"At Juice Press, I always really wanted to add in a truly healthy bakery option," Antebi says. "I've made that category a focus from the start at Goodsugar."
A healthy bakery?
Like the rest of Goodsugar, the idea here is turning "no" into a positive by focusing on nutrient dense treats that contain no refined sugar, flour, or processed ingredients, and no inflammatory agents such as dairy or other animal products.
Antebi says his bakery treats are not traditionally indulgent, per se. "There are no more negative side effects to my healthy baked goods than if you were eating a banana or some oatmeal," he says.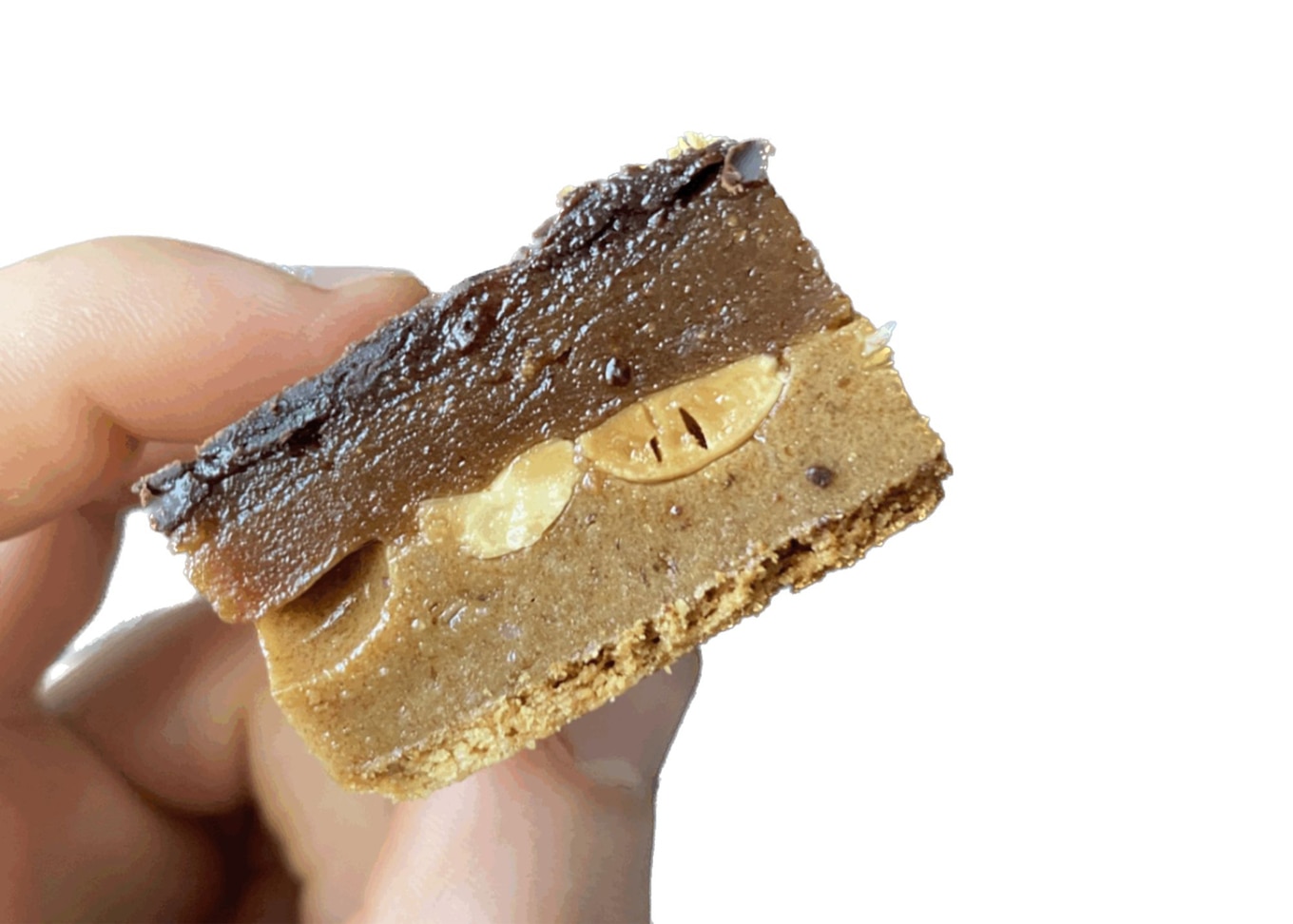 Goodsugar
Instead, treats like chocolate chip cookies, banana bread, and the Mind Blowing Bar (a treat made with crunchy peanut butter, cacao, homemade almond milk, and pea protein) are sweetened with maple syrup, whole dates, and fruit to impart the indulgence of traditional baked goods with a better-for-you twist.
"I used years of nutritional knowledge and philosophy to make sure every item in the bakery case is healthy enough to be a meal, but still delicious and satisfying," he says.
"By using only healthy, completely natural sugars like maple syrup, and no processed ingredients, sugars, or flours, I can guarantee everything at Goodsugar is good for you," Antebi says.
"Of course, you can't have six pieces of banana bread and call it a day—you still have to be aware how much you're eating," Antebi adds.
Beyond Juice Press
With Goodsugar, Antebi brings his wellness mission back into focus. "When I was a young boy, I watched my dad and sister struggle with their diet," Antebi says. "I always felt powerless that I couldn't help them. It made me want to make healthy food accessible for people. I wake up every morning and feel driven to help my family and community."
Antebi's desire to be environmentally friendly is also more achievable with Goodsugar, where packaging is reusable and sustainable.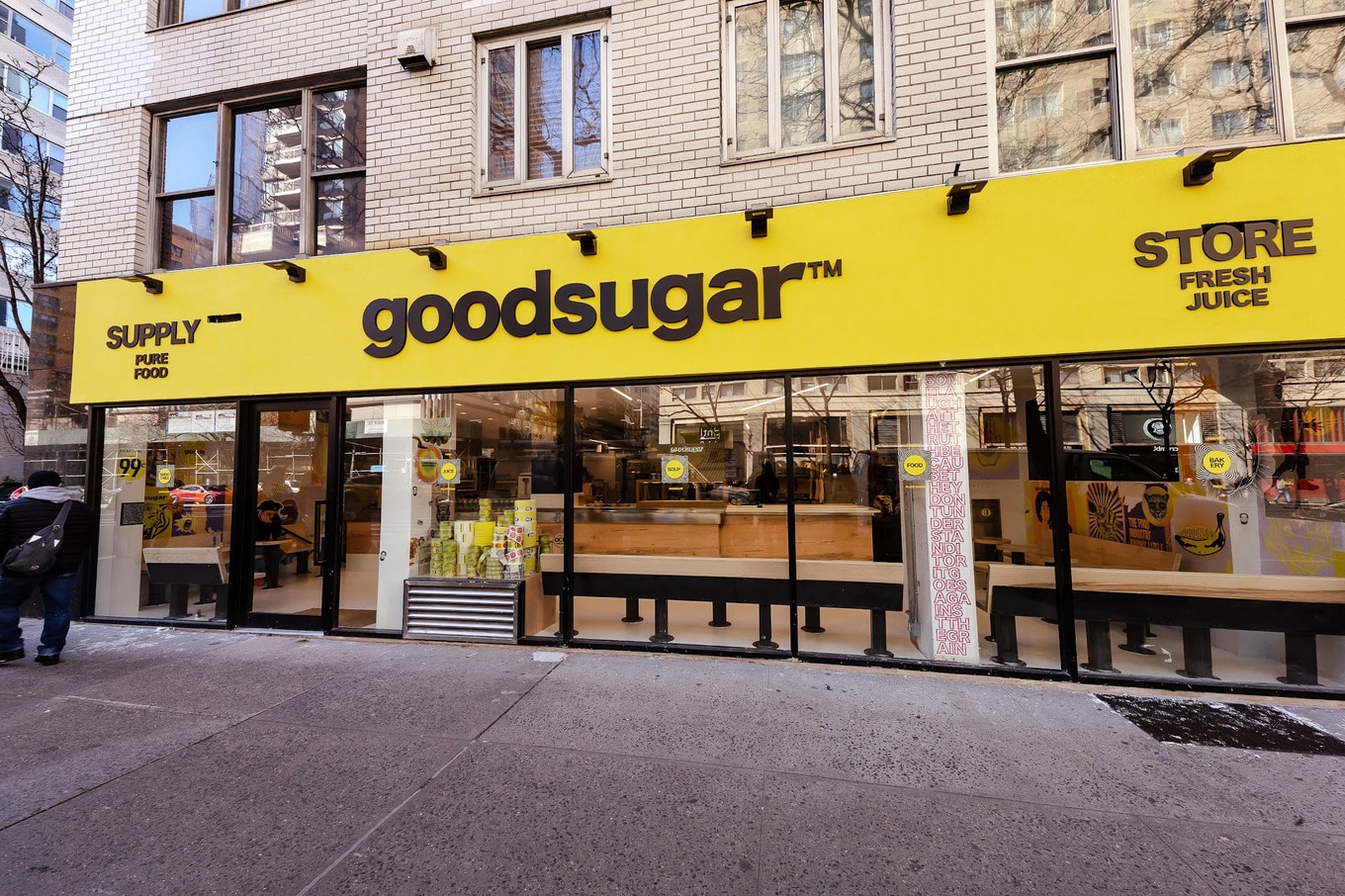 Goodsugar
"Once it was clear to me that single use plastic was a catastrophe to our planet, Juice Press was already too large to convert into glass," Antebi says. "One of the biggest priorities for Goodsugar is not polluting the earth, so we've implemented glass jars that can be returned for credit and all sustainable paper packaging—no plastic."
The focused operation also allows for a greater attention to detail when it comes to ingredients and offerings. "It's also really important to me and my diet that the things I'm eating are ultra-fresh," he says. "With one store to tend to, we can maintain that hyper freshness. Deliciousness is a top priority at Goodsugar."
Ultimately, Goodsugar—its philosophy, ingredients, curated menu, and bakery element—is all about helping others achieve their wellness goals. "When I left Juice Press, it was an empire with 85 locations," he says. "I wanted to get back to basics, where I was able to talk again to everyone who was coming in the store. I love people, I love the conversations, I love to watch people grow on their journey."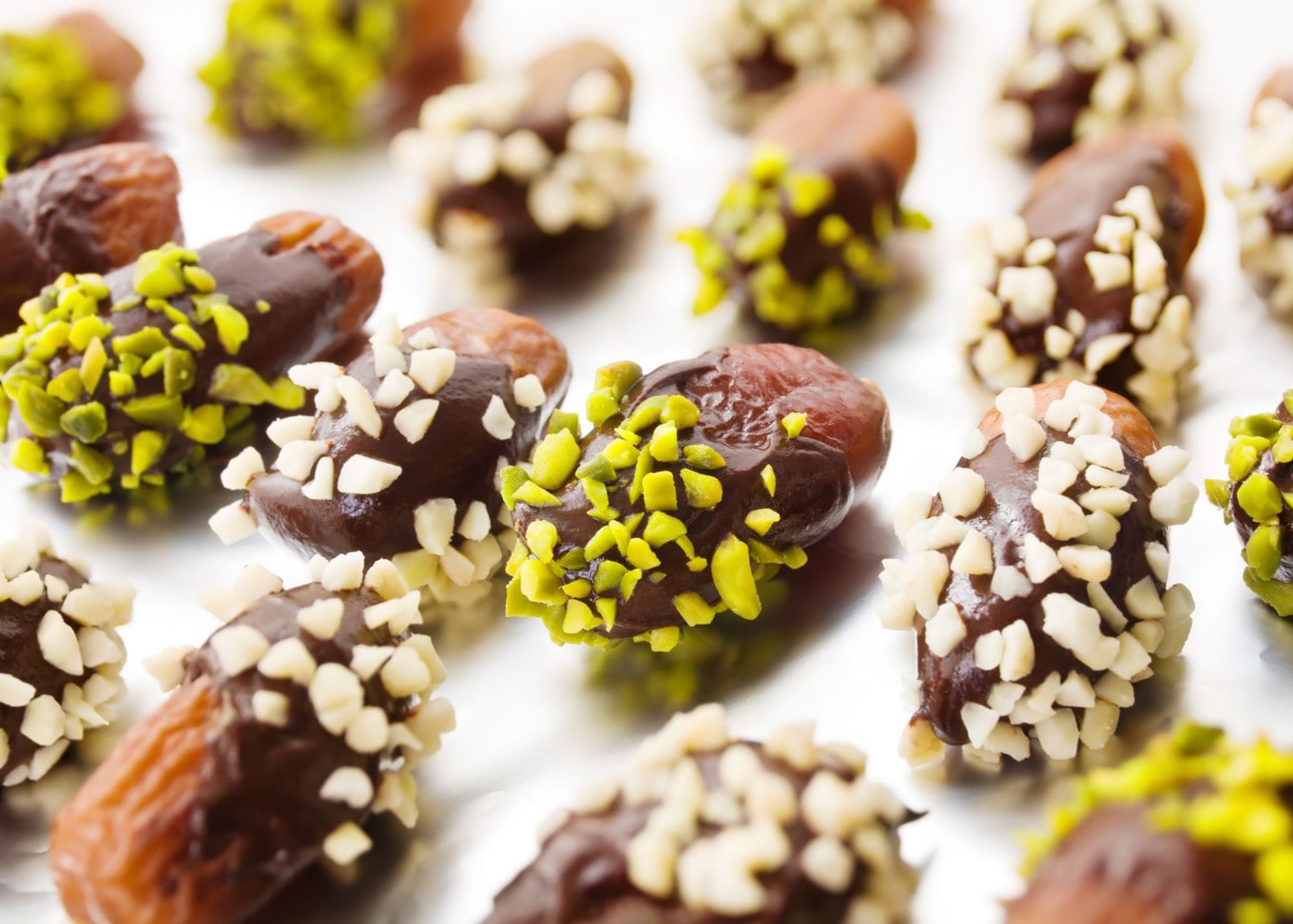 Goodsugar
And starting fresh at Goodsugar is an exciting step for Antebi, who sees it as a rejuvenating opportunity for himself and others. "Starting over with one store means I can be there and get back to my passion of helping people with their health and wellness," he says.
"With one store, I can be my most creative self again—there's no red tape surrounding my vision, message, and product."
For the latest vegan news, read: