During Earth Month, Big Dairy released its Wood Milk campaign with Aubrey Plaza. If you're not familiar, the campaign featured Plaza as the founder of a fake company that milks trees to produce pulpy wood milk. The point was to say that only dairy milk is "real" milk.
The campaign—which has sparked a good deal of backlash—also included an initiative to plant trees through support of nonprofit One Tree Planted, a move that some have called greenwashing given the dairy industry's high carbon footprint.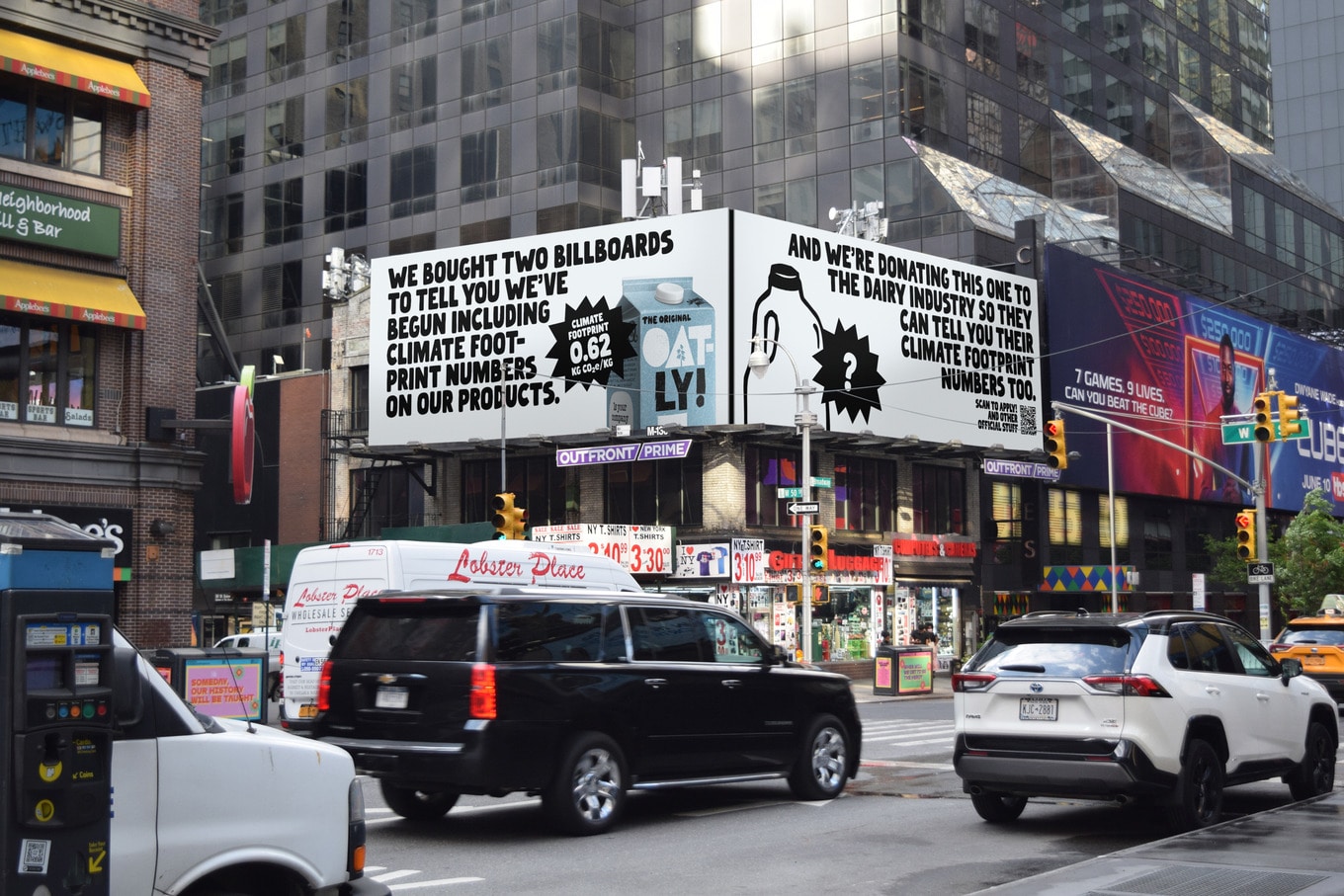 Oatly
This month, Swedish company Oatly is taking Big Dairy to task about that footprint with a new campaign. The vegan company took out full-page ads in The New York Times, Los Angeles Times, and Washington Post, and bought two adjacent billboards in Times Square and Hollywood Blvd.
On one side of each, Oatly announces the climate footprint of its original oat milk (0.62 kg CO2e (kilograms of carbon dioxide equivalents)/kg). The other side? Oatly says it is donating the space to any dairy competitor who wants to post its climate footprint for comparison.
Dairy's climate impact
Oatly's campaign was created to bring attention to its new labeling practices, which it kicked off with its Oatgurt in January—making it the first North American product for Oatly to display climate impact on packaging.
"Consumer choice plays an integral role in shaping our food system," Armando Turco, Executive Creative Director of Oatly North America, tells VegNews. "Earlier this year, Oatly began rolling out product climate footprints in North America to empower consumer decision-making right in the grocery aisle."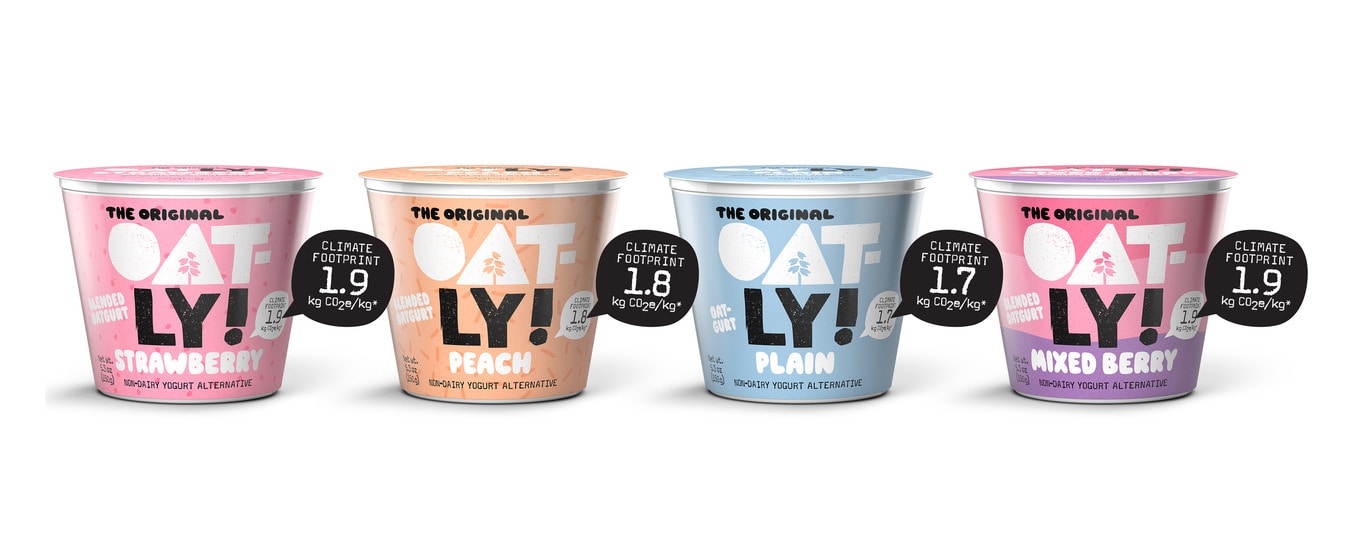 Oatly
The reformulated Oatgurt's emissions are between 1.7 and 1.9 CO2e/kg depending on flavor and Oatly arrived at these numbers through a life cycle assessment approach from grower to grocer, validated by climate change organization CarbonCloud.
These CO2e calculations consider the effect of different greenhouse gasses, including, carbon dioxide, methane, and nitrous oxide. Using this methodology, Oatly calculated climate footprints for an additional 12 products it distributes in North America.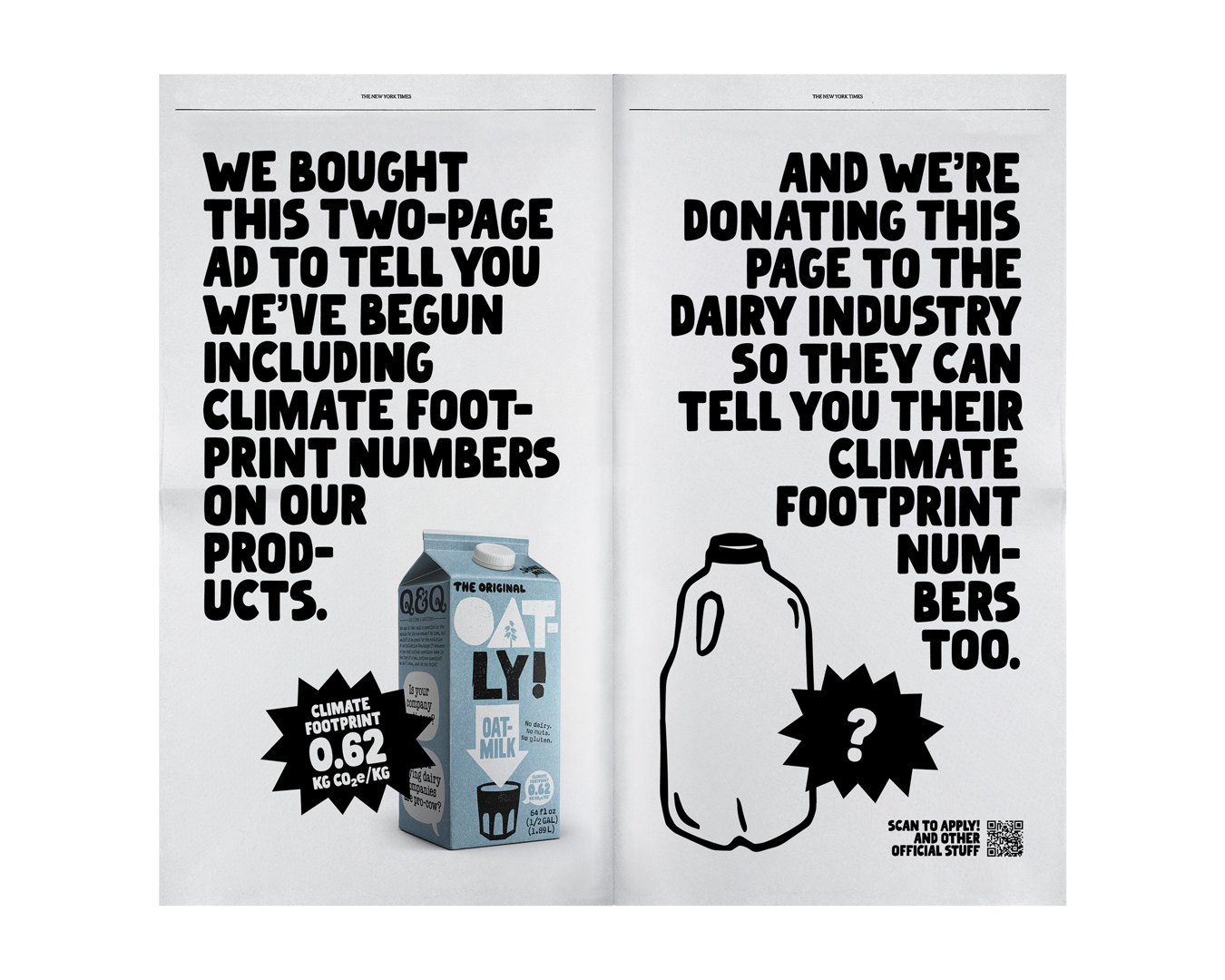 Oatly
Since there is no standardized way to express carbon impact nor is there a mandate to do so, Oatly has taken competitors to task, starting with the dairy industry, to disclose their footprints to inform consumers about the climate impact of their food choices.
"It's hard to understand what these numbers mean in isolation, and we understand that this initiative will only be effective if other companies, including those in the dairy industry, follow suit," Turco says.
"Ultimately, this campaign is focused on advocating for greater transparency around the information that consumers are increasingly seeking to encourage a more sustainable food industry," Turco says.
How can Big Dairy cash in on Oatly's promise of free advertising? Oatly directs an application where it can follow "72 easy steps," or submit the same assessment (68 questions and 4 short essays) to determine its own product climate footprint.
Oatly poll: young people think cow's milk is "basic"
Dairy milk consumption has been circling the drain for decades and its campaigns, including Wood Milk, have attempted to make dairy milk relevant among younger generations. Is anyone buying it? Oatly did a flash poll to find out.
Oatly partnered with Researchscape International to conduct a quick representative poll of 1,178 United States-based teens and adults aged 14 and up weighted to match the US population by nine demographics.
The findings showed that more than one-third (33 percent) have replaced cow's milk with a plant-based alternative on their grocery list; nearly one-fourth (22 percent) describe cow's milk as "basic" or "uncool"; and one-third (33 percent) would not drink cow's milk on a date.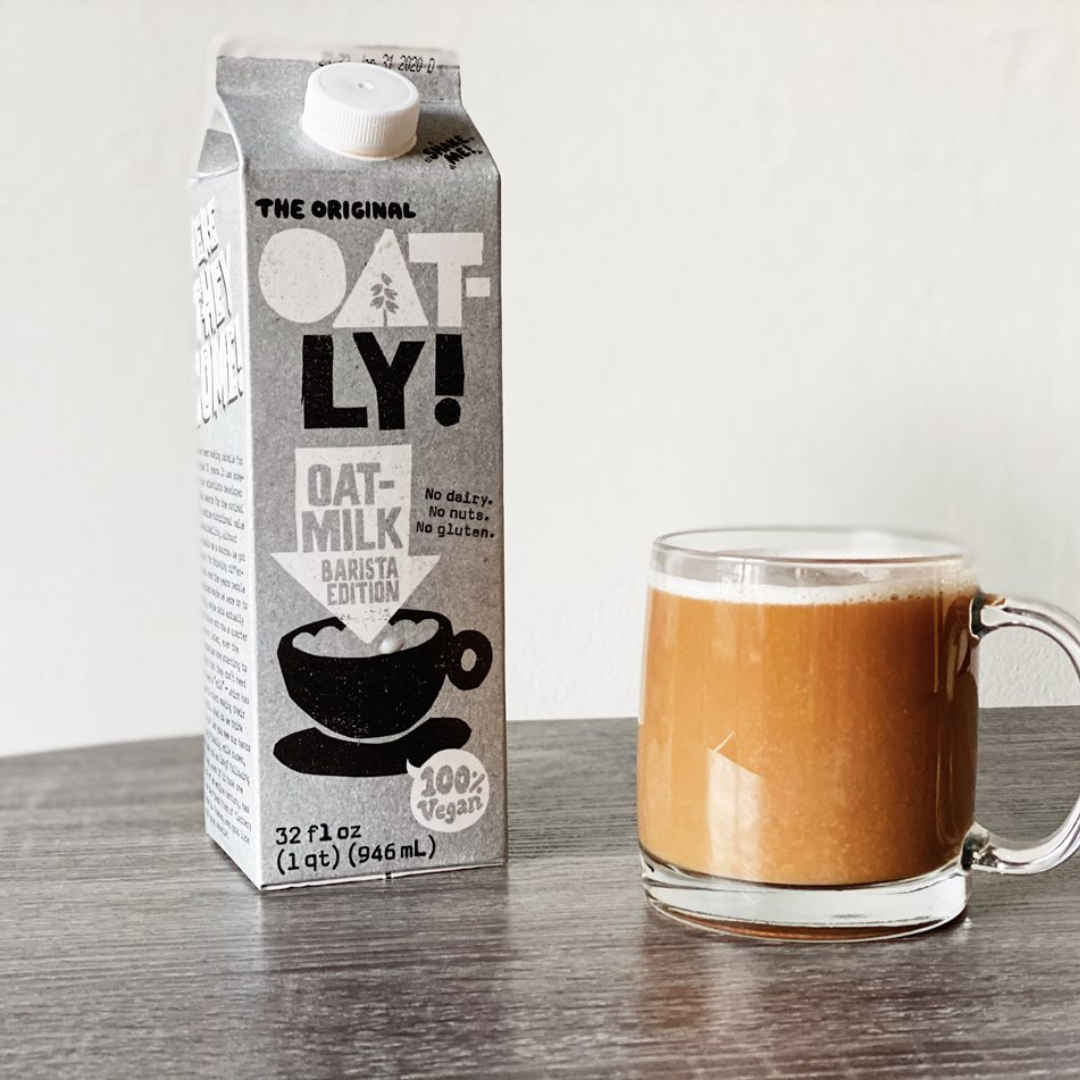 Oatly
Overall, 40 percent preferred plant-based milk over cow's milk, with 22 percent indicating they drink the former most often.
Drilling the data down to Gen Z and millennial respondents, Oatly found that preferences for plant-based milk in all of these situations were more pronounced with approximately one quarter (26 percent) stating they usually or always request plant-based milk at coffee shops.
"Trend data from Oatly's flash poll shows a growing preference for plant-based milk among consumers, with a significant portion of Gen Z and Millennials leading the trend," Turco says.
Oatly's poll is supported by recent consumer research and purchasing data that point to similar conclusions. And some companies are leaning on their plant-based offerings to appeal to younger demographics.
Earlier this year, Danone-owned Silk unveiled a new campaign for its Next Milk vegan line that featured children of celebrities who previously appeared in the popular "Got Milk?" campaign as a commentary about how younger generations have moved on from dairy milk.
For the latest vegan news, read: