New York City is home to 8.8 million people and a new campaign is aimed at helping them lead healthier lives by promoting the consumption of plant-based foods. Called "Eat A Whole Lot More Plants," the NYC Health Department campaign was created to educate New Yorkers about the power of eating plants and encourages the consumption of minimally processed plant foods like fruits, vegetables, whole grains, beans, and nuts as a way to improve health and prevent disease.
The campaign is endorsed by NYC Mayor Eric L. Adams, who experienced the benefits of a plant-based diet firsthand when he made the transition in 2016 to relieve symptoms, such as pain and blindness, of his type 2 diabetes.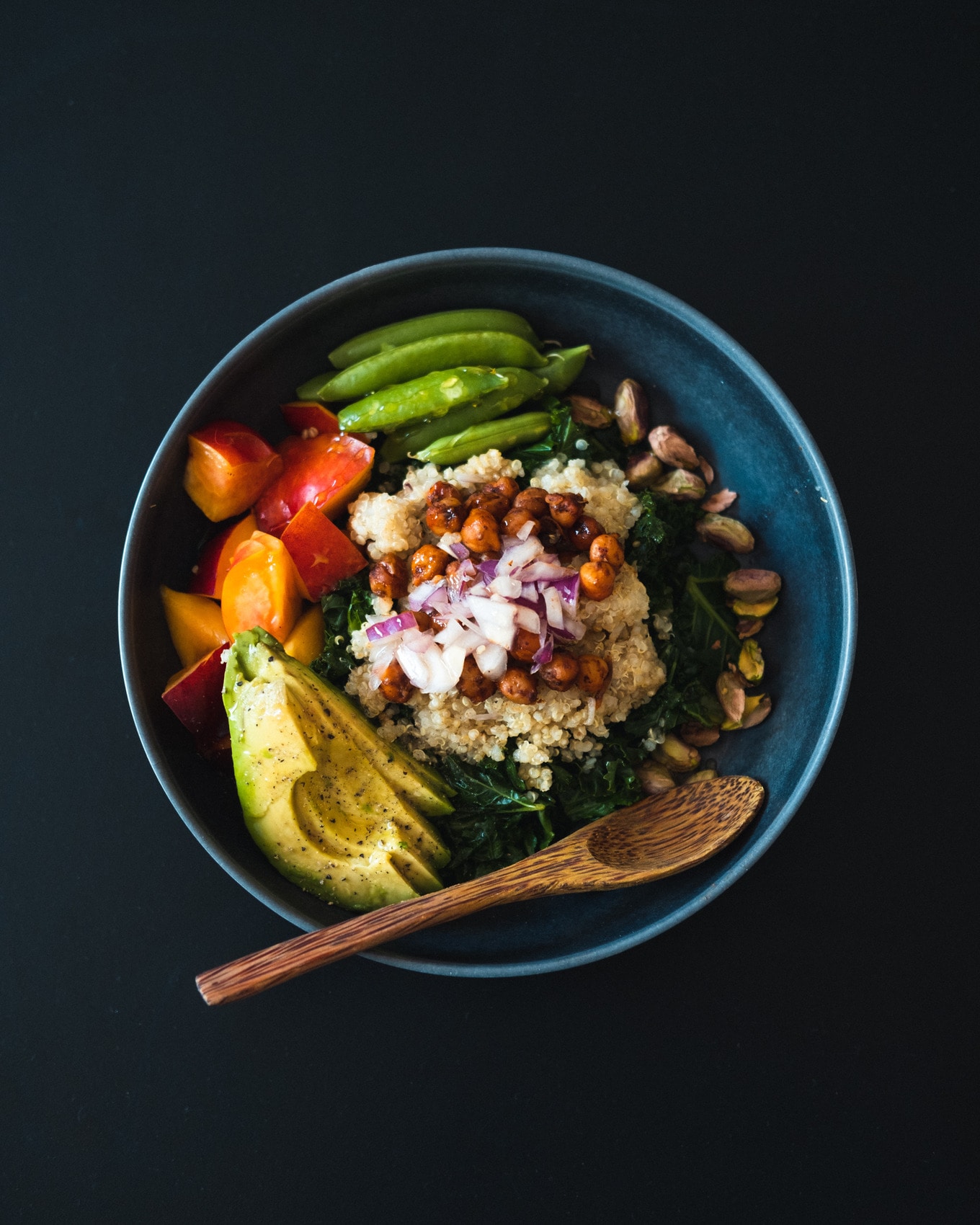 Sonny Mauricio/Unsplash
"With the 'Eat A Whole Lot More Plants' campaign, we are continuing the important work of transforming New Yorkers' menus, improving their health, and building a more sustainable world," Adams said in a statement. "A plant-based lifestyle transformed my life, and helped put my type 2 diabetes into remission."
"By embracing the power of plants, and ensuring every neighborhood across our city has both the knowledge and the access to healthy foods, we can cultivate a healthier future, one plant-based meal at a time," Adams said.
Plant-based diet for a healthy NYC
The new campaign builds upon Adams' previous health-oriented initiatives centered around helping New Yorkers eat more plants. In addition to getting more plant-based meals in hospitals, Adams spearheaded and expanded the Plant-Based Lifestyle Medicine Program at the NYC Health + Hospitals/Bellevue medical system, the first-of-its-kind program to focus on providing whole-food, plant-based nutrition and lifestyle counseling to critically ill patients in NYC.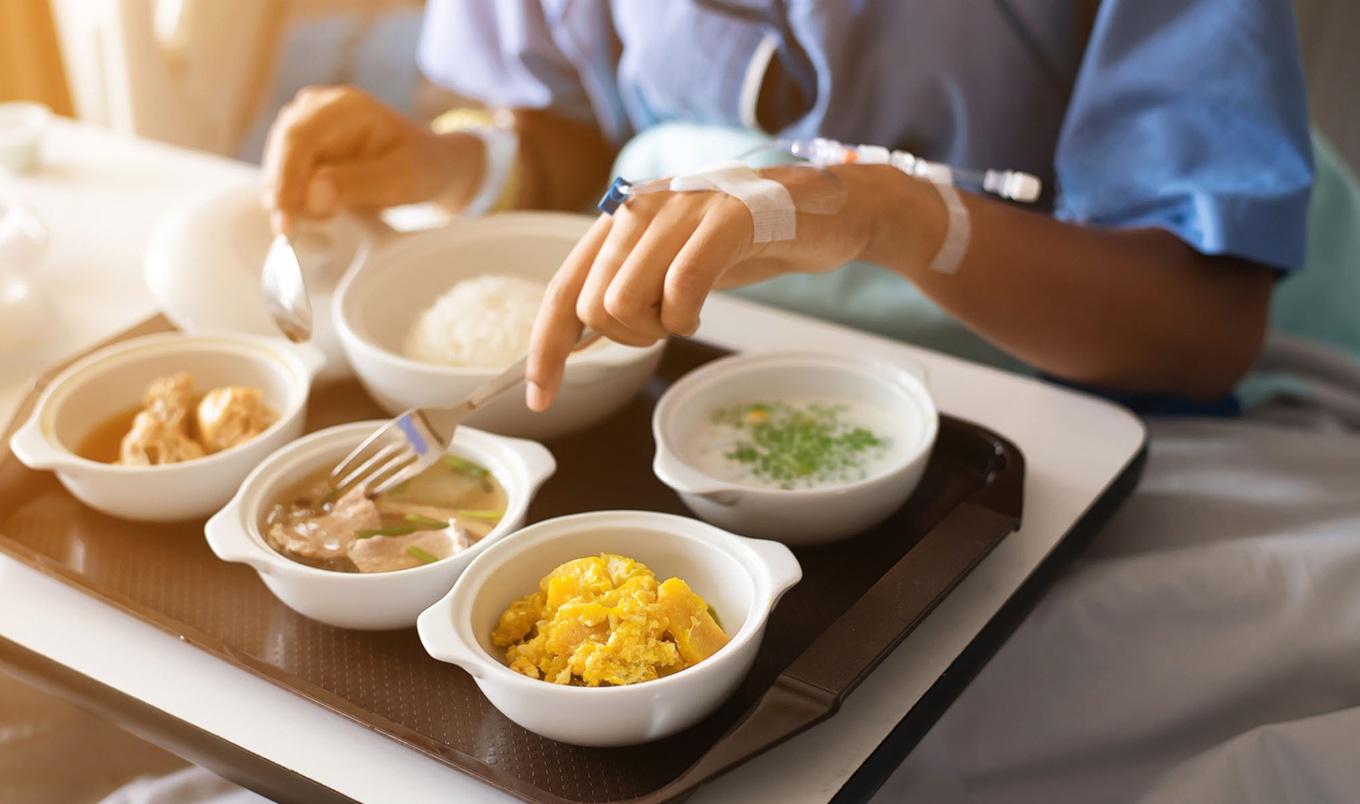 Adobe Stock
"A plant-based diet can do wonders for patients living with chronic diseases like type 2 diabetes and heart disease," NYC Health + Hospitals President and CEO Mitchell Katz, MD, said in a statement. "Not only can plants treat these conditions, but in some cases they can actually reverse them."
And scientific research continues to support the power of a plant-based diet in achieving optimal health, including as a risk reduction strategy for illnesses such as cardiovascular disease, type 2 diabetes, and certain types of cancers.
"Plant-based meals are the primary choice for inpatients at our 11 public hospitals and that is because a diet rich in plants helps them heal faster and puts them on the right track to a healthy lifestyle once they are discharged," Katz said. "We are grateful to Mayor Adams for spearheading this effort."
Adams also helped put healthier meals at NYC public schools by way of Plant-Powered Fridays, a program that gives nearly one million children access to plant-based meals every week.
Another added bonus of a citywide effort to eat more plants? By doing so, New Yorkers can help meet NYC's food-related climate goals of slashing greenhouse emissions by 33 percent by 2030.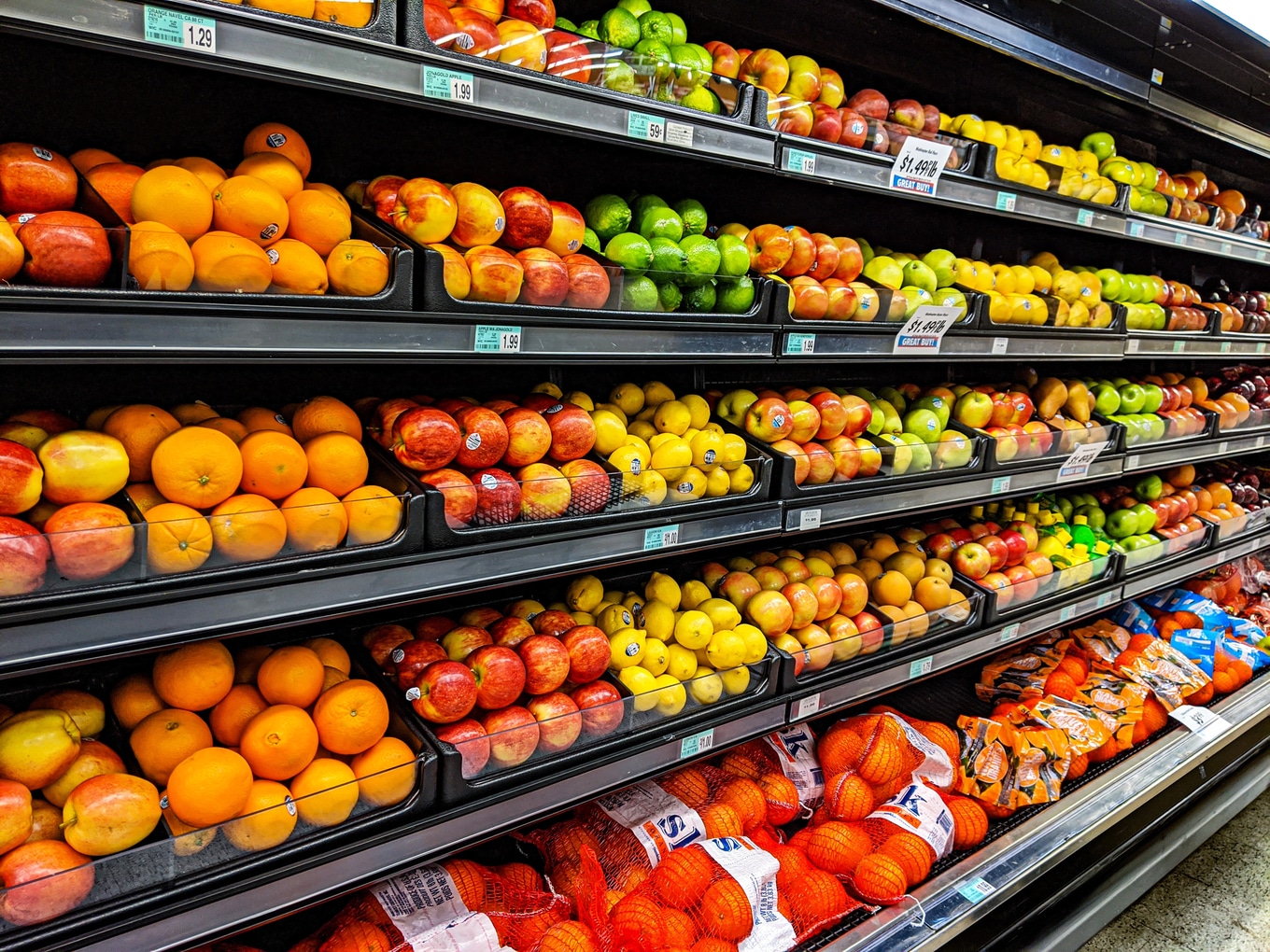 Unsplash
"Having fresh fruits and vegetables more accessible in schools and throughout our communities, is an important step in keeping our hearts, minds, and bodies healthier," Robert Ostfeld, MD, MSc, Director of Preventive Cardiology at Montefiore Health System, said in a statement.
"Let's all pledge to eat and distribute more apples in the Big Apple and support the health department's efforts to embed nutritional foods into our everyday diet," Ostfeld said.
Where to eat plants in NYC
New Yorkers who want to take on the challenge of eating more plants will find a plethora of options on the go in every category.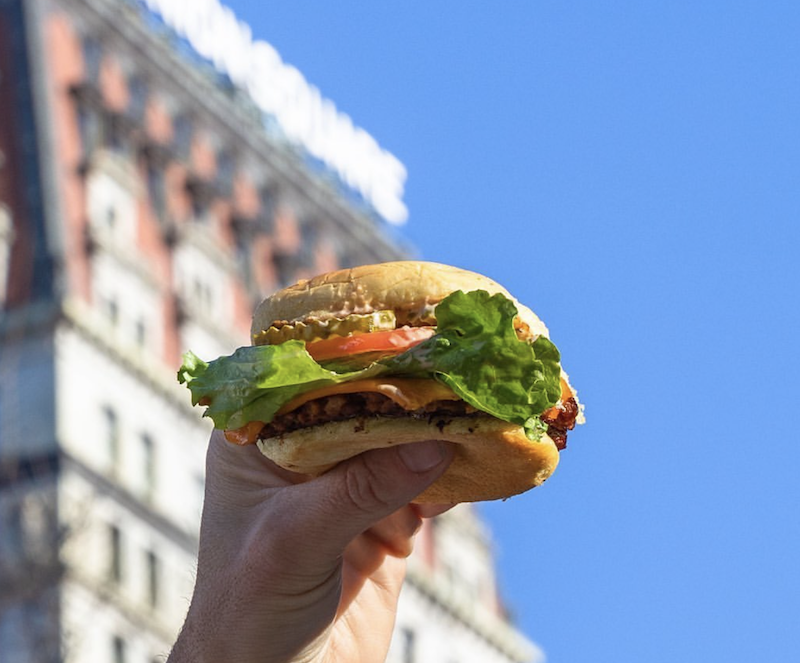 PLNT Burger
For fast-food fans, vegan chain PLNT Burger opened its first NYC locations last year. Helmed by celebrity chef Spike Mendelsohn, the chain—where every fast-food favorite gets a vegan spin—is one of the first in the country to offer a vegan sandwich made with Meati's mycelium chicken (a meat made from the fast-growing roots of mushrooms).
Want more fast-food options? Atlanta import Slutty Vegan—which Adams welcomed to the city personally—just opened Harlem and Brooklyn locations with the sauciest vegan burgers built atop soft Hawaiian buns.
NYC also happens to be the best place for vegan barbecue this summer. Pure Grit BBQ, which celebrated its one-year anniversary this week, is popping up all over the city (including Fifth Hammer, Big Alice Brewery, The Taste of Stuytown, and Big Apple BBQ) to give New Yorkers a taste of its gluten-free smoked barbecue mains such as fried chicken and waffles; pulled jackfruit Impossible burgers sandwiched between cornbread waffles; and classic sides such as coleslaw, baked beans, potato salad, and mac and cheese.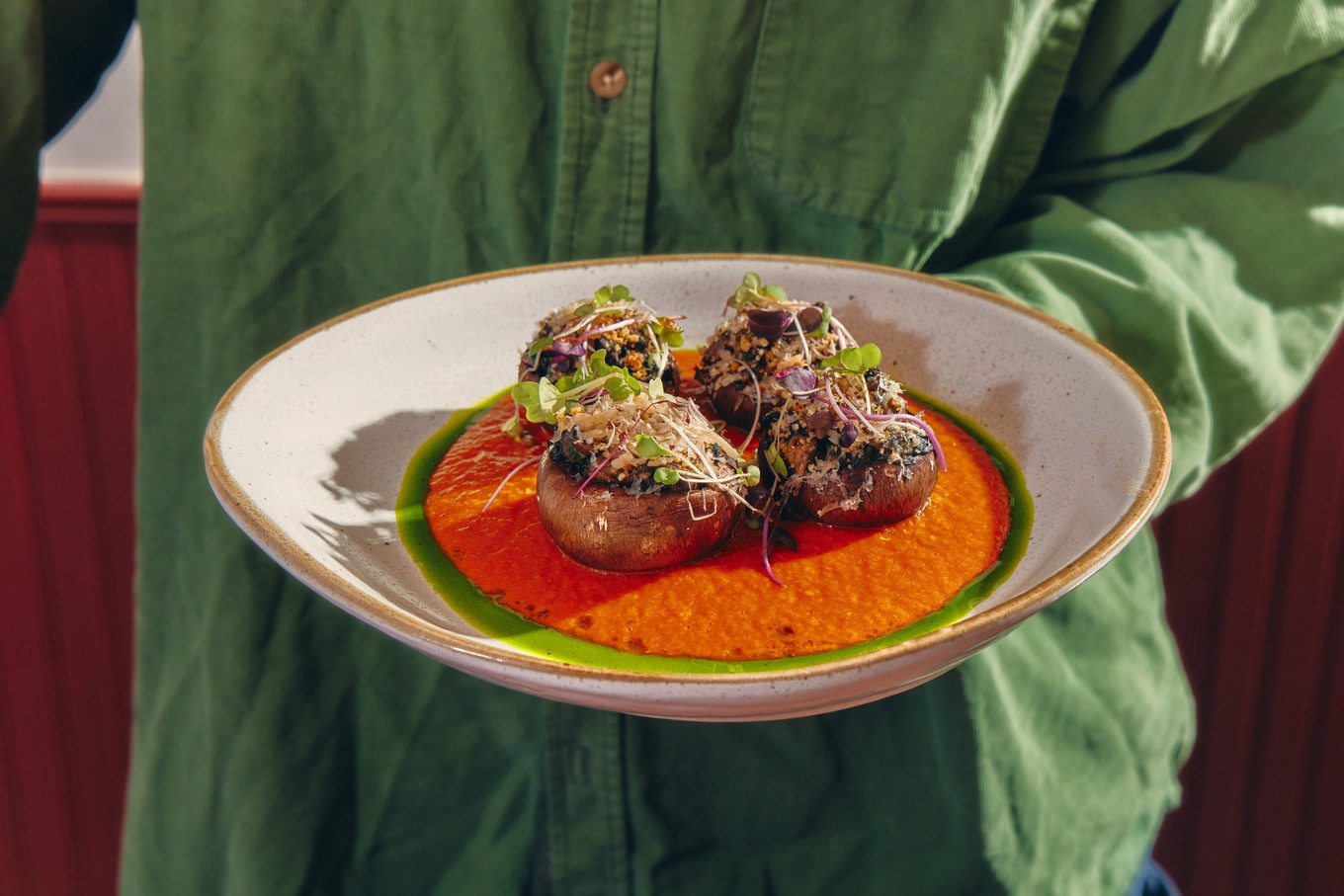 Cole Saladino
And if you're looking for a place to pop in for a beer, &Beer—a new pop-up series from NYC's vegan restaurants Ravi DeRossi—is slinging brews alongside new vegan food concepts in the East Village. Featured for summer is Mushroom & Beer, where mushrooms take center stage in more than a dozen dishes.
For dessert, New York-born Shake Shack just added its first two vegan options: dairy-free chocolate milkshakes and custards made with Not Milk, a dairy-identical vegan milk provided by Chile's The Not Company, a food-technology company that uses artificial intelligence to perfect vegan food.
"Every bite you take, every meal you create has the potential to improve your health and the health of your community," Columbus Batiste, MD, Interventional Cardiologist, Co-Founder Healthy Heart Nation, said in a statement. "Join the NYC Health Department in choosing whole plant foods daily."
The NYC Health Department and Adams acknowledge that not everyone has access to fresh plant-based foods. Those in need of food assistance or to learn more about the new campaign can call 311 or the campaign website for resources, recipes, tips, and more.
For the latest vegan news, read: