Oat milk is an unstoppable force within the plant-based milk category. It is allergen-friendly, extra creamy, and does not require animal exploitation, making it the perfect milk for many occasions.
Over in Canada, Häagen-Dazs—a Nestlé-owned brand—is embracing oat milk as the base for its newest line of vegan ice cream.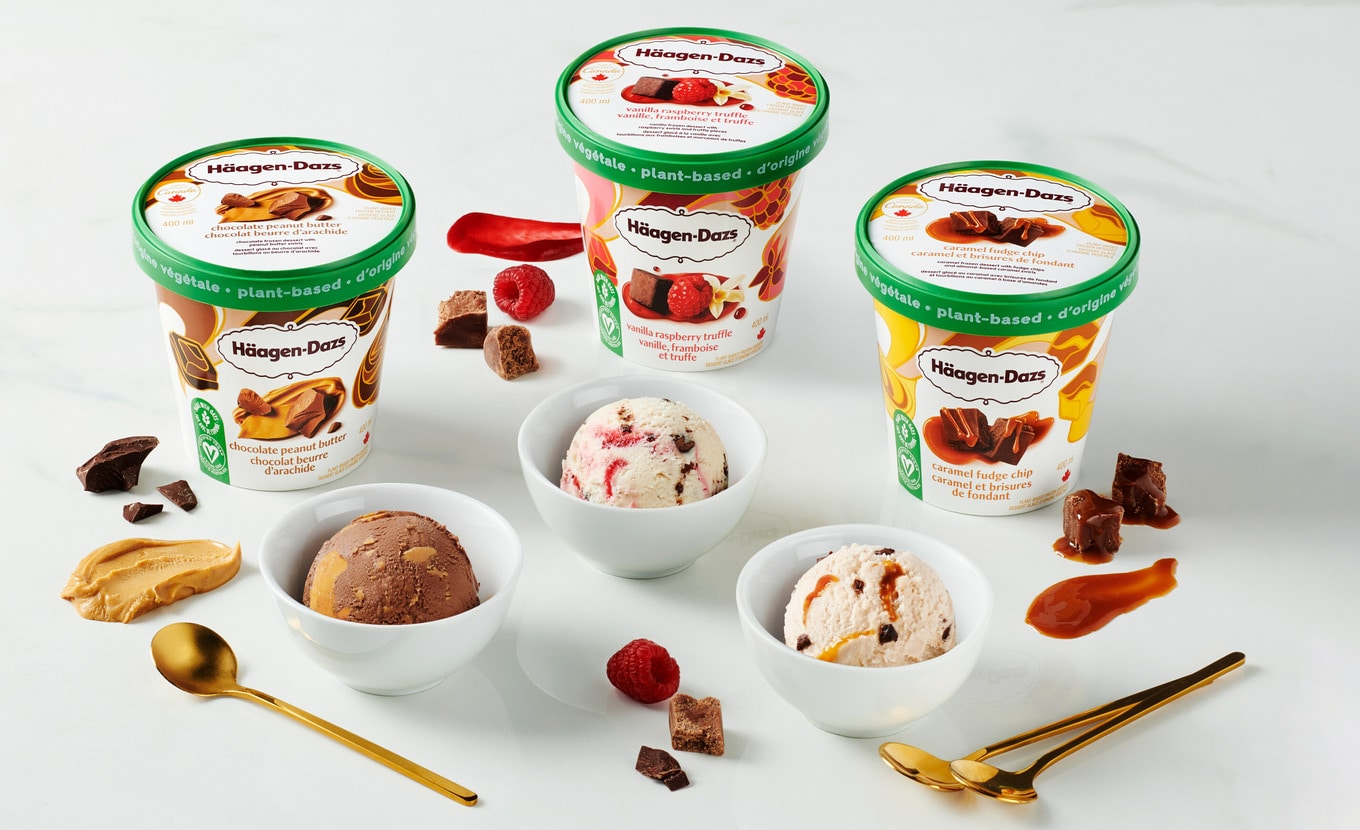 Häagen-Dazs
The newly released line features three flavors: Chocolate Peanut Butter (rich chocolate ice cream with creamy peanut butter swirls); Vanilla Raspberry Truffle (vanilla ice cream with raspberry ribbons and truffle pieces); and Caramel Fudge Chip (caramel ice cream with fudge chips and almond-based caramel ripple).
"We believe that everyone, no matter their dietary preference, should be able to enjoy Häagen-Dazs," Juliane Trenholme, Marketing Vice President at Nestlé Canada, said in a statement.
The new Häagen-Dazs oat milk ice cream line—a first for the brand—is available at most grocery stores across Canada.
Häagen-Dazs does vegan ice cream
A New York-born brand, Häagen-Dazs has been in the ice cream business since the 1960s and entered the vegan ice cream business back in 2017 with four flavors: Peanut Butter Chocolate Fudge, Coconut Caramel, Chocolate Salted Fudge Truffle, and Mocha Chocolate Cookie.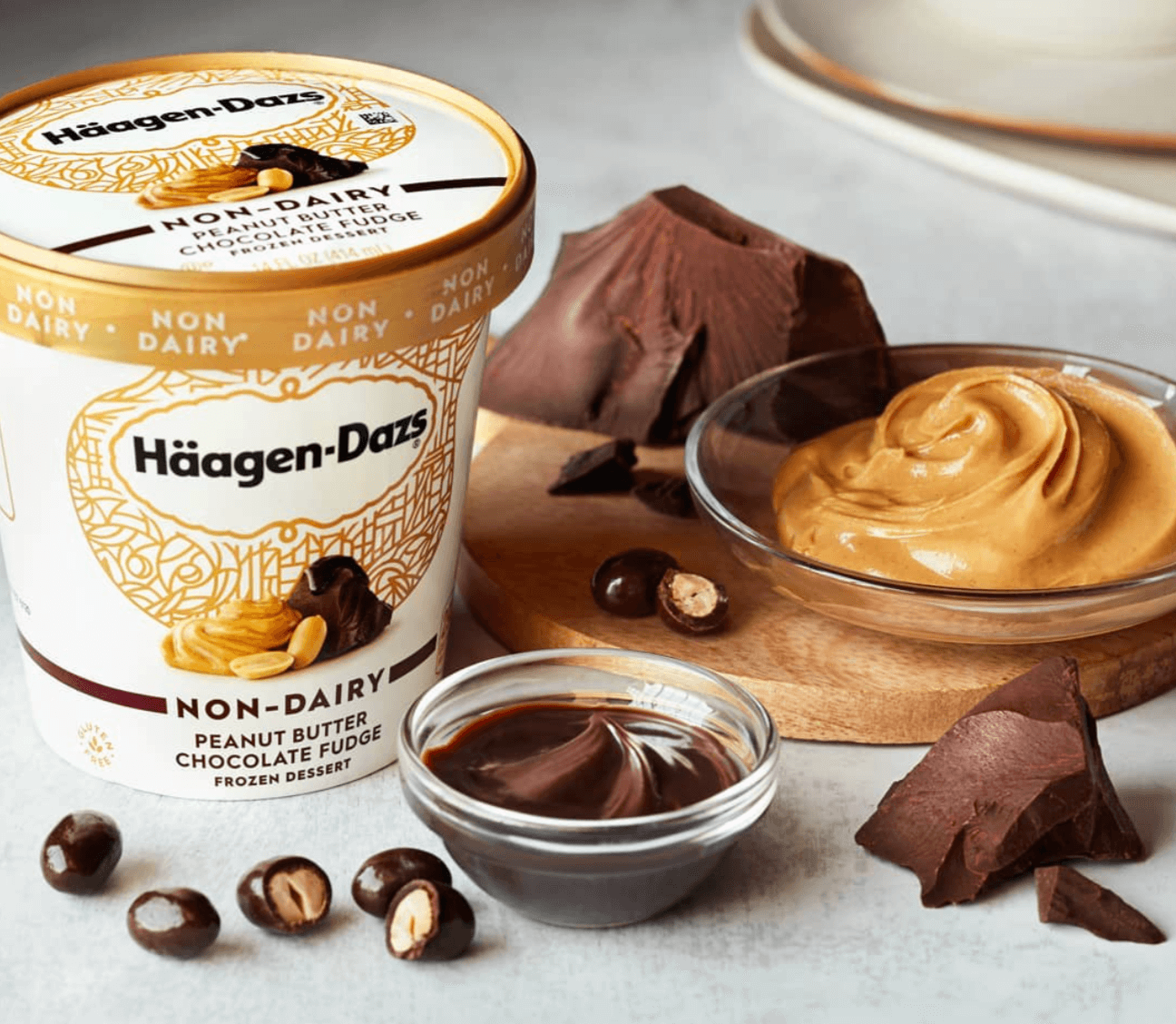 Häagen-Dazs
In 2018, the brand expanded its line to include two bars (Peanut Butter Chocolate Fudge and Coconut Caramel Dark Chocolate) and two more pints (Crunchy Peanut Butter and Coconut Cookies and Crème). The following year, Häagen-Daz further expanded the line with a Chocolate Fudge bar and a new pint flavor, Non-Dairy Amaretto Black Cherry Almond Toffee, which it also served at scoop shops for a limited time.
In 2019, Nestlé sold its US ice cream business—which consisted of Häagen-Dazs, Dreyer's, Edy's, Skinny Cow, and Drumstick—for $4 billion to Froneri, a joint venture it created with European private equity firm PAI Partners. The sale consolidated Nestlé's US ice cream holdings with Froneri's existing portfolio to create a larger ice cream company to compete with Unilever (parent company of Ben & Jerry's).
Nestlé held onto its Canadian ice cream brands. In 2020, it released a "plant-based indulgence" line under its Drumstick brand with Caramel and Vanilla Chocolate Swirl flavors.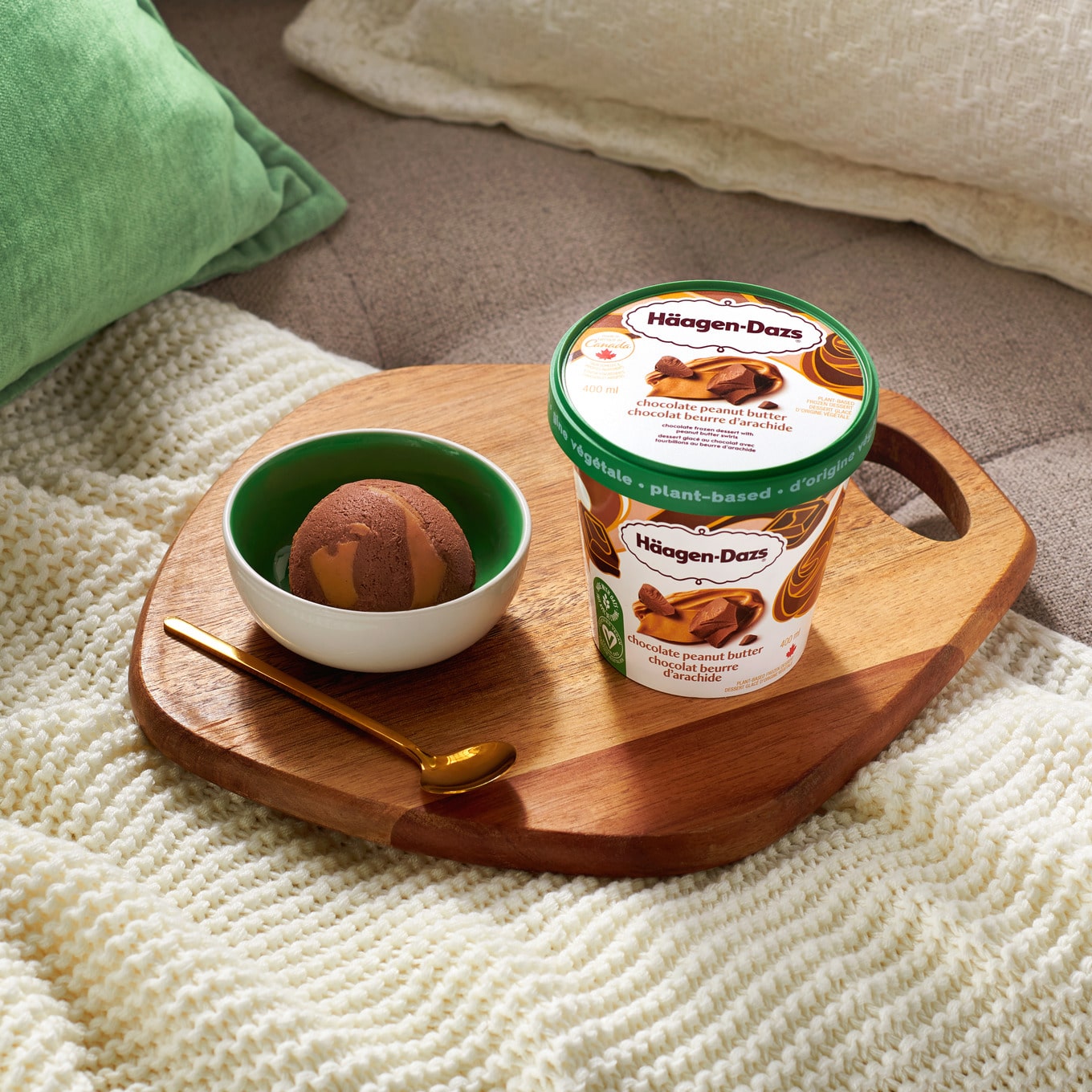 Häagen-Dazs
For its oat milk entry in Canada, Nestlé decided to keep the line simple to align with the Häagen-Dazs brand ethos. Here, oats are the main ingredient as the base which is then flavored with chocolate, vanilla, and caramel, and elevated with decadent sauces and inclusions.
"Consumers recognize Häagen-Dazs for its creamy texture, simple ingredients and indulgent flavors which is why we created a new plant-based collection," Trenholme said.
"Each new flavor is made in Canada and is designed for consumers who want a plant-based option without any compromise on texture or taste," she said.
The rise of dairy-free ice cream
Vegan ice cream companies such as NadaMoo! and So Delicious have been churning out dairy-free concoctions for years but a number of traditional dairy brands have diversified their offerings in recent years.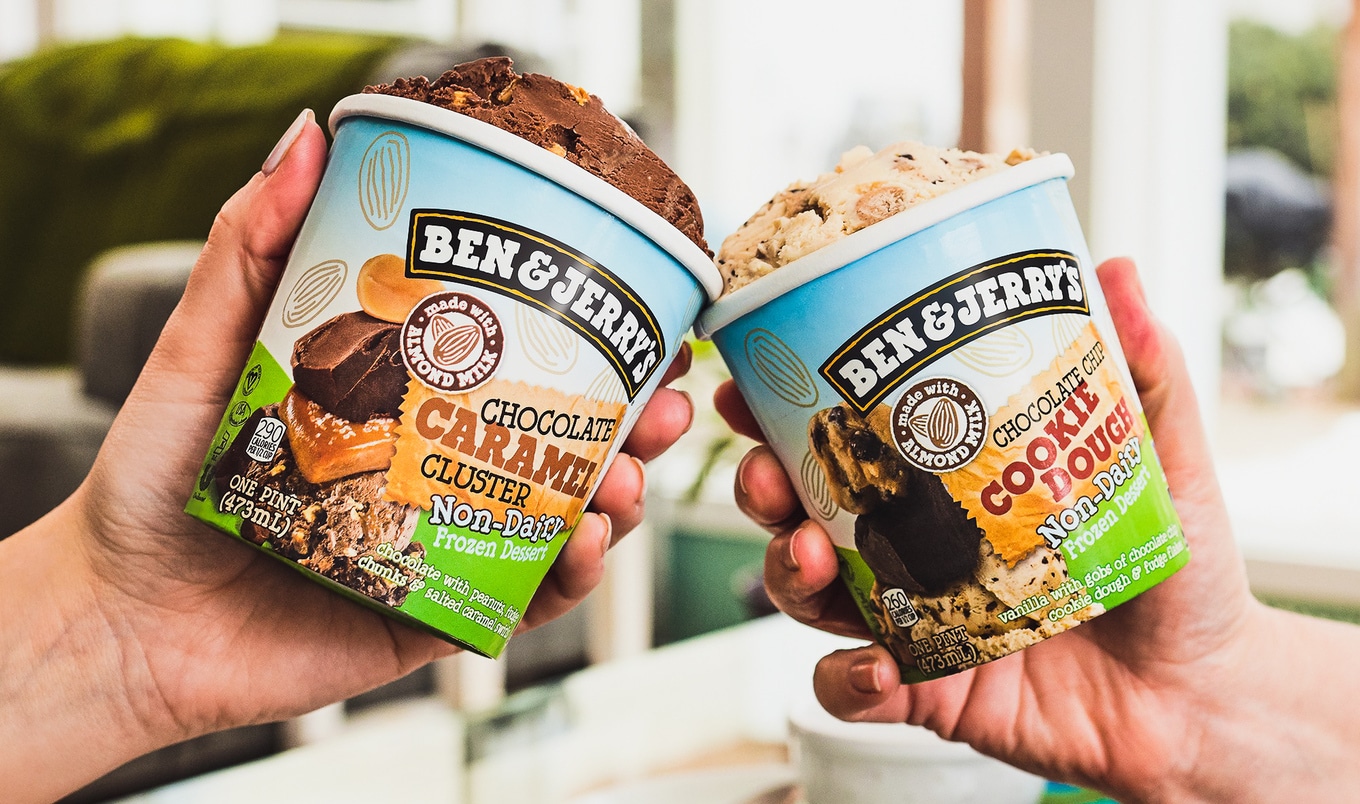 Ben & Jerry's
Ben & Jerry's is the ice cream brand that has done the most when it comes to adding vegan options, starting with a four-flavor debut of almond milk-based pints in 2016. Since then, the company has expanded its vegan ice cream portfolio to more than 20 flavors globally, including dairy-free versions of its classic flavors such as Phish Food, Americone Dream, and more.
In 2020, Ben & Jerry's further innovated the vegan ice cream space with the release of a unique sunflower butter base, which it featured in "Milk" & Cookies, Crème Brûlée Cookie, and Mint Chocolate Cookie flavors.
Most recently, Ben & Jerry's has partnered with activists and icons, such as Colin Kaepernick and Ava DuVernay, to craft new vegan flavors.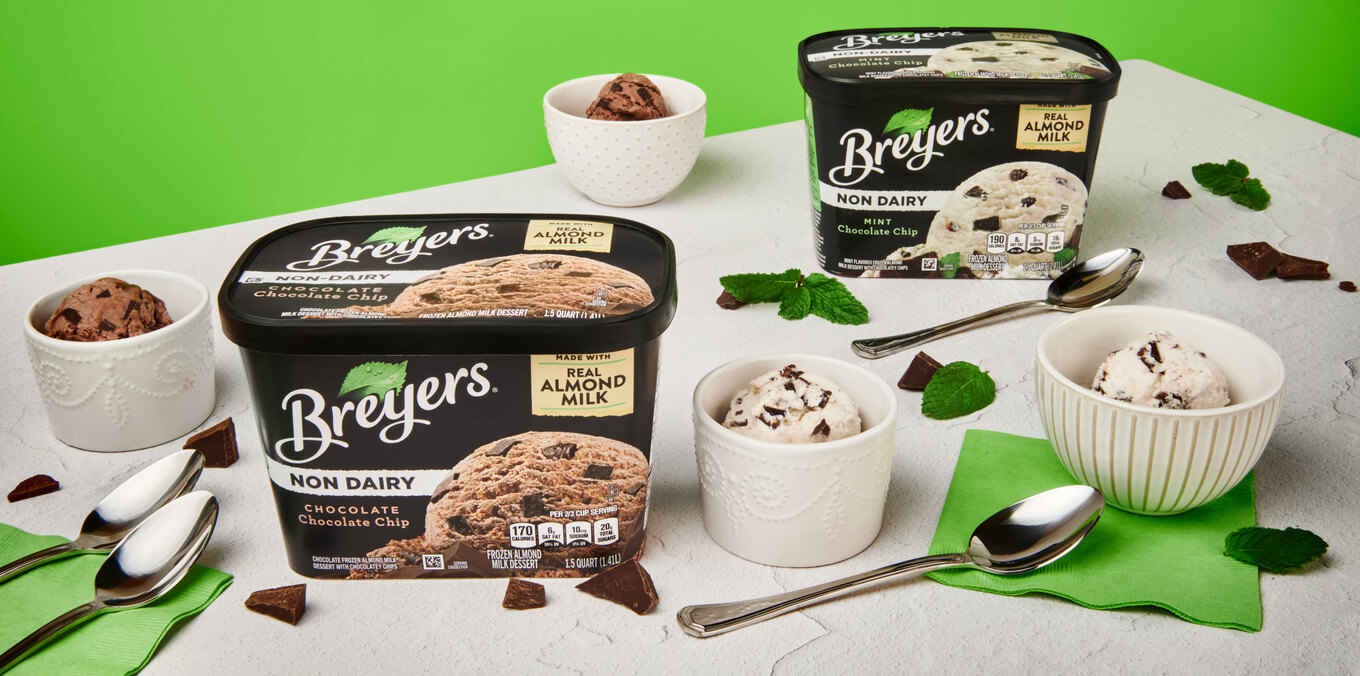 Breyers
Breyers has also dipped into dairy-free in recent years, with the 2017 launch of two almond milk-based flavors: Oreo Cookies & Cream and Vanilla Peanut Butter. In 2021, the Unilever-owned brand expanded the line to include two more almond milk versions of its iconic Mint Chocolate Chip and Chocolate Chocolate Chip flavors.
Unilever's exploration of the vegan ice cream space continued with Magnum, under which it launched Non-Dairy Classic and Non-Dairy Almond vegan ice cream bar flavors in 2019. Expansions to this line included a Sea Salt Caramel flavor and mini versions of Magnum's vegan offerings.
Like Häagen-Dazs, companies are continuing to lean on oat milk—which has seen a boom in popularity in recent years. This week, vegan company Oatly expanded its oat milk-based ice cream flavors with two exciting options: Banana Split and Chocolate Chip Cookie Dough.
Available at Whole Foods Markets, Schnucks, and Albertsons nationwide, the two new flavors join Oatly's vegan ice cream lineup that includes flavors such as Fudge Brownie, Salted Caramel, Raspberry Swirl, and more.
For the latest vegan news, read: