Ben & Jerry's set the bar for dairy-free ice cream. While the company still has a firm footing in the dairy sector, it has also become the largest producer of premium non-dairy desserts with an impressive 20 vegan flavors to its name (17 currently in circulation). Many of these decadent options are plant-based reincarnations of beloved Ben & Jerry's pints such as Phish Food and Cookie Dough, but others are unique to the non-dairy range including Colin Kaepernick's Change the Whirled. We toured the ice cream behemoth's Burlington, VT headquarters in 2019, but with a rush of new flavors, we had to circle back with the individuals who make the frozen magic happen. How does a dairy company make such indulgent and satisfying non-dairy ice cream? In-house flavor guru Craig Koskiniemi gave us the skinny on everything from non-dairy Boom Chocolatta to Cherry Garcia.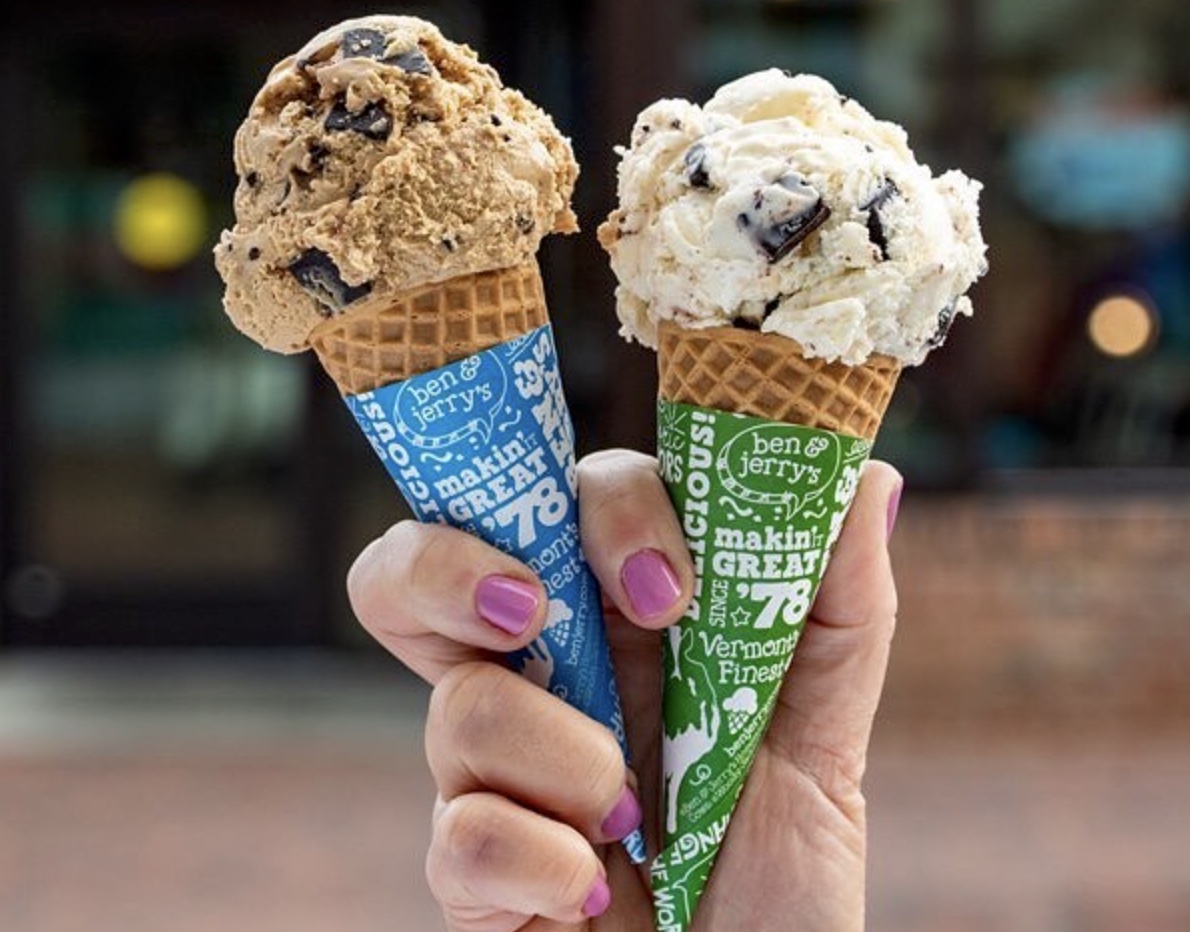 Ben and Jerry's
Ben & Jerry's non-dairy: the beginning
Vegan ice cream existed far before Ben & Jerry's released its inaugural non-dairy pints, but it was the first national dairy brand to enter the plant-based frozen dessert category. Released in 2016, vegans clamored to stores and scoop shops to try the four debut flavors—Chunky Monkey, Coffee Caramel Fudge, Chocolate Fudge Brownie, and P.B. & Cookies—all featuring an almond milk base. The brand steadily released additional flavors over the next handful of years, populating its non-dairy pint page with classics such as Cherry Garcia and later collaborating with celebrities and companies for one-off flavors like Non-Dairy Netflix & Chill'd and Mint Chocolate Chance (the latter courtesy of Chance the Rapper). In early 2020, the company also introduced a new, allergen-friendly base: sunflower butter. We got a taste when we visited the office during the summer of 2019, and we barely contained the secret for all those months leading up to the grand announcement. The line of vegan flavors has also expanded to include a few addictively spoonable Core pints, though our Senior News Editor, Anna, is still waiting on non-dairy Slices.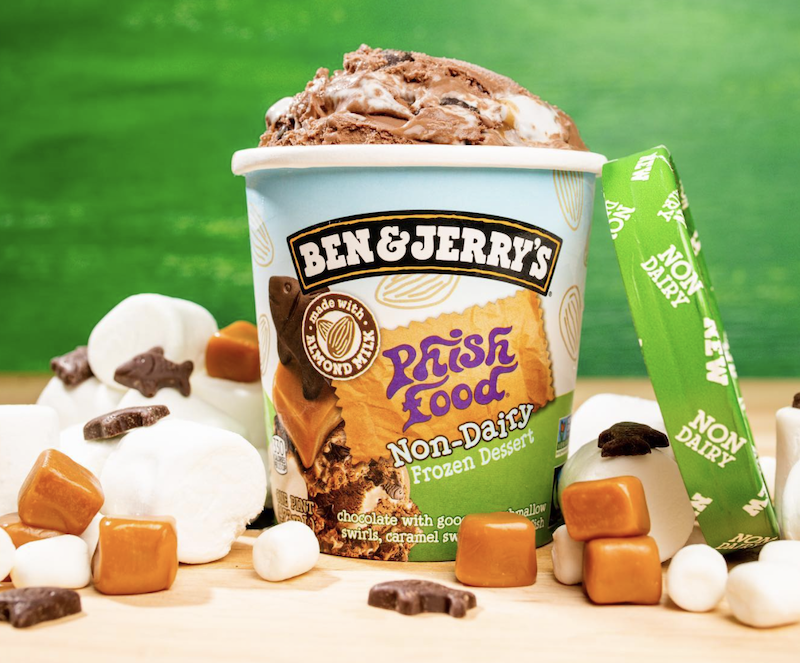 Ben & Jerry's
From fan demand to new non-dairy flavor
An idea is one thing, but churning it into an actual product that can be scaled and shipped around the country has its challenges. Fortunately for all the vegan ice cream connoisseurs out there, the Ben & Jerry's flavor gurus have this down to a science—literally. Koskiniemi informed us that the process starts with the customers in mind. They look at both qualitative and quantitative data—what flavors are trending, what is missing from the non-dairy lineup? After deciding on a few options to try, the team gets to work. A non-dairy base is chosen according to the ingredients—sunflower butter tends to be creamier and works better with flavors like mint, Koskiniemi explains, while almond milk complements chocolate bases well. Some of the ingredients are made in-house while others are outsourced to Ben & Jerry's trusted suppliers. For example, the brownie chunks come from Greyston Bakery. The "final" product is tested amongst other gurus and the marketing team to ensure it "tastes like the real deal." A new non-dairy flavor often goes through several iterations and internal trials before passing the rigorous test. In fact, Koskiniemi said that only 10 to 20 percent of the non-dairy flavors they try make it to market.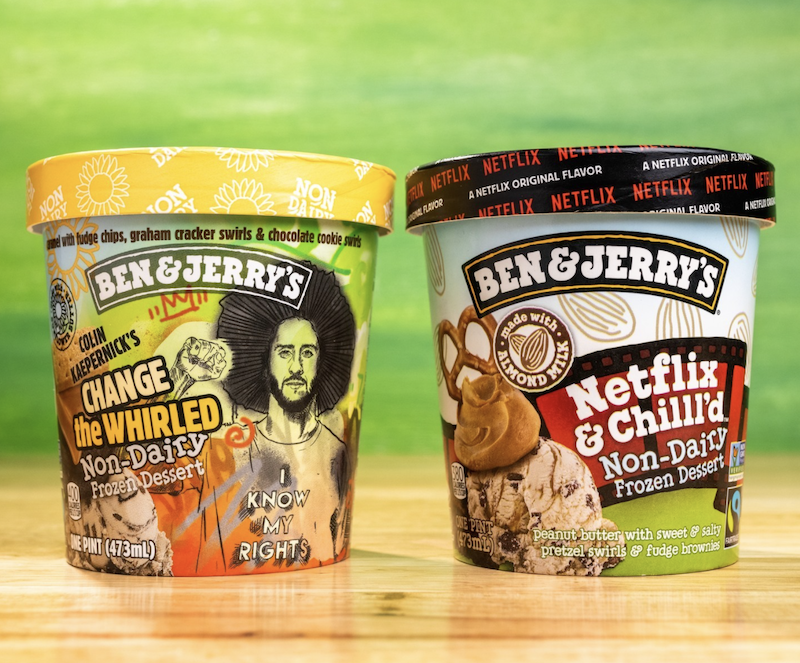 Ben and Jerry's
What it takes to be a Ben & Jerry's flavor guru
Koskiniemi's title is arguably one of the most fun professional titles we have come across, but he and the team take their jobs seriously. He assures us that having a passion for food is the number one quality of anyone in his field, but a collegiate degree in Food Science, plus experience in culinary arts and the food industry are also necessary to perform at the top level. Koskiniemi has both a Bachelor's and a Master's in Food Science from Perdue University and North Carolina State, respectively. He's also responsible for tasks outside of dreaming up the next best vegan ice cream. Koskiniemi works closely with the brand's sourcing team to identify backups for ingredients. The global pandemic has made this job particularly demanding given the uncertain supply chain issues.
Logistics may require a bulk of his attention, but Koskiniemi assures us it's worth it. "The most exciting thing about my job is when I step back to think about how many people get to enjoy the flavors my team and I have created. The fact that I get to create flavors that provide that pure moment of joy and comfort that so many seek when they sit down to enjoy some Ben & Jerry's brings me great satisfaction. Of course, day to day, I love trying new ingredients and dreaming up new flavors, too," he raved.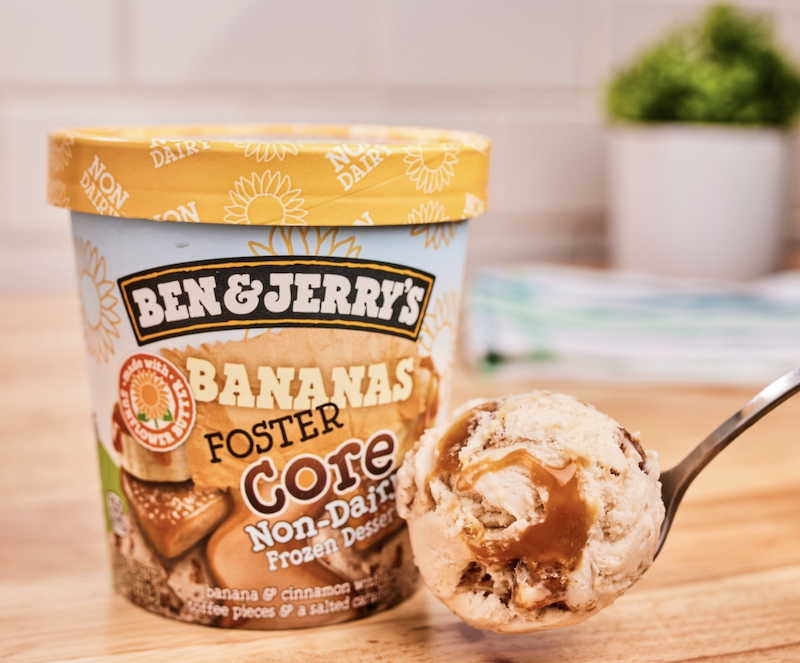 Ben & Jerry's
The best way to enjoy Ben & Jerry's non-dairy
In six swift years, Ben & Jerry's has produced 20 unique non-dairy flavors—17 of those have survived and can be found in retailers and some scoop shops. The most popular vegan pints to date include Chocolate Chip Cookie Dough, Chocolate Fudge Brownie, and Cherry Garcia—all top dairy flavors as well. It's clear fans love the classics, but it wouldn't be Ben & Jerry's without the over-the-top flavors. True, a handful of those wild options end up in the Flavor Graveyard (aka discontinued), but we think some of those flavors would do fabulously well in non-dairy form. Koskiniemi mentioned that he would love to see Wavy Gravy resurrected as a dairy-free flavor. Alive from 1993-2001, this long-deceased pint featured caramel and cashew brazil nut ice cream studded with roasted almonds and a hazelnut fudge swirl. We can see why it may not have been everyone's go-to, but we would happily try it if Koskiniemi gave it a second life.
We couldn't let Koskiniemi go without requesting a few tips from the expert. There is a science to eating ice cream, and it lies in patience. Diving into a scoop straight from the freezer is simply sub-par to the experience you could have if you waited a few minutes—10 to 15 long, excruciating minutes, according to Koskiniemi. However, if you can't wait (and who could blame you?) he offered a few company hacks: either use a fork to break up and soften the frozen pint or zap it in the microwave for 10 to 15 seconds. Once it hits that sweet spot—not quite melted but soft and creamy—the Ben & Jerry's experience is unique to each individual. Dig for the toothsome chunks of brownies and fudge, swirl your spoon along the caramel ribbon lines, or just allow the randomness of the universe to deliver the best bite. One thing is clear: Ben & Jerry's always tastes better straight from the pint.
For more on non-dairy Ben & Jerry's, read:
Ben & Jerry's 20th Vegan Ice Cream Flavor Is Here
How Ben & Jerry's Brought Vegan Marshmallows Mainstream
Lizzo Just Made Ice Cream Bread with Ben & Jerry's