A new pop-up series in New York City is centered around beer that is paired with novel plant-based food concepts. Aptly called "&Beer," the idea comes from Overthrow Hospitality, restaurateur Ravi DeRossi's group that continues to infuse NYC with exciting plant-based concepts.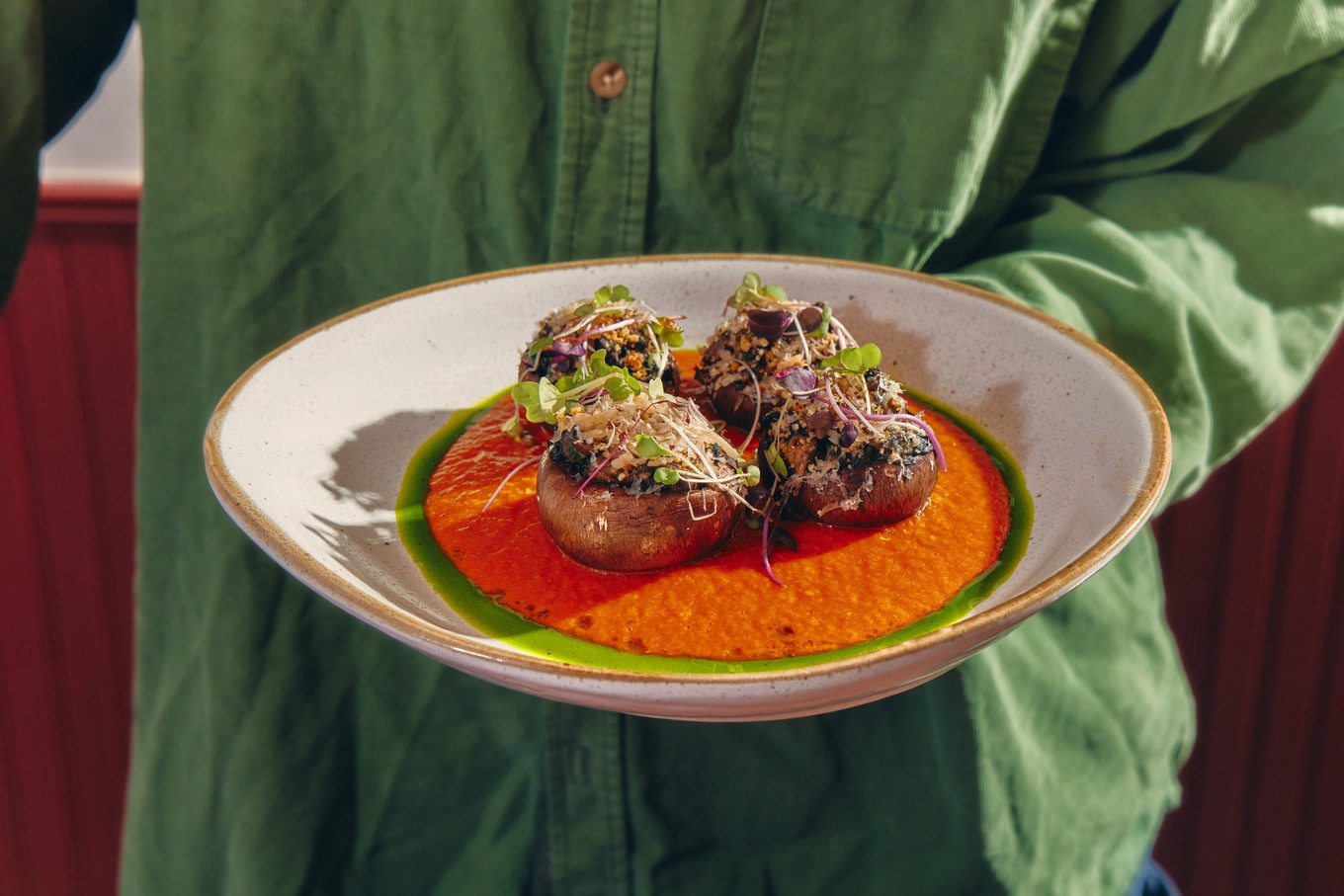 Cole Saladino
This month, the series kicked off with Mushroom & Beer, a concept helmed by chef Juan Pajarito—a former Line Cook and now Executive Chef at Overthrow's vegan fine-dining concept Avant Garden.
The chef crafted a dozen mushroom-centric dishes that feature produce grown by producers across New York.
"The mushroom concept has been a dream of mine for years," DeRossi tells VegNews. "I never even liked mushrooms until Avant Garden's 'Hen of the Woods' dish was conceived in 2015, and since then I've grown obsessed with all that mushrooms can offer."
Cole Saladino
"As the &Beer concept developed, I tapped Avant Garden chef Juan Pajarito to start menu testing, and he just blew me out of the water," DeRossi says. "It's been incredible to see the range of flavors and textures he's developed, and in our first few days the sentiment has been echoed by our guests."
Mushrooms take center stage
During the Mushroom & Beer run for the spring/summer of 2023, the menu features a celebration of mushrooms, all sprouted from that one best-seller atAvant Garden: a complex dish with four different preparations of the Hen of the Woods mushroom.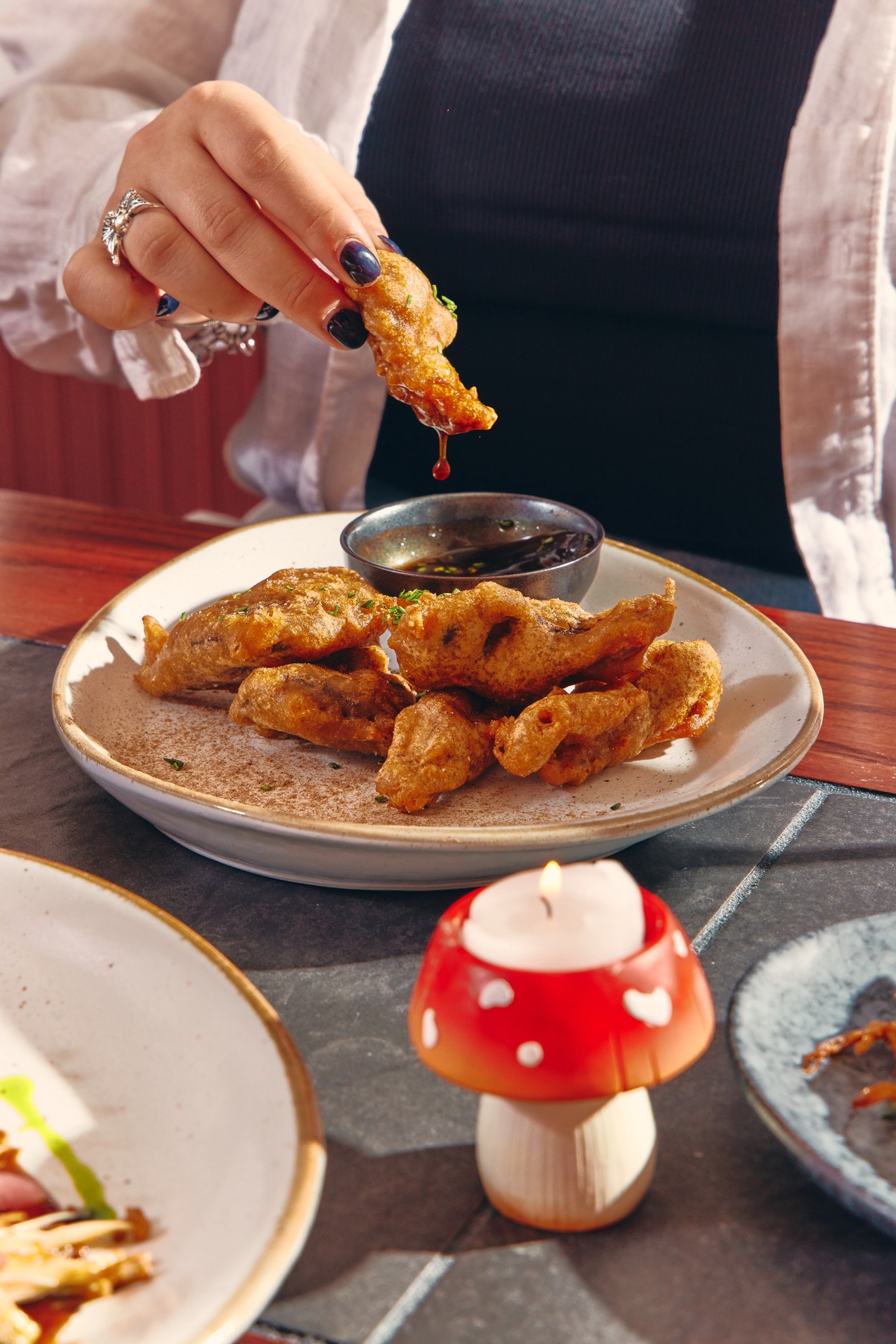 Cole Saladino
The menu features oyster mushrooms in a tempura beer batter served with ponzu hot sauce; beech mushrooms made decadent with cauliflower cheese and nori butter; and enoki mushrooms with smoked apple barbecue sauce.
The mushroom dish that inspired it all, the Hen of the Woods is served here with celery root puree, pickled hon shimeji, and rosemary.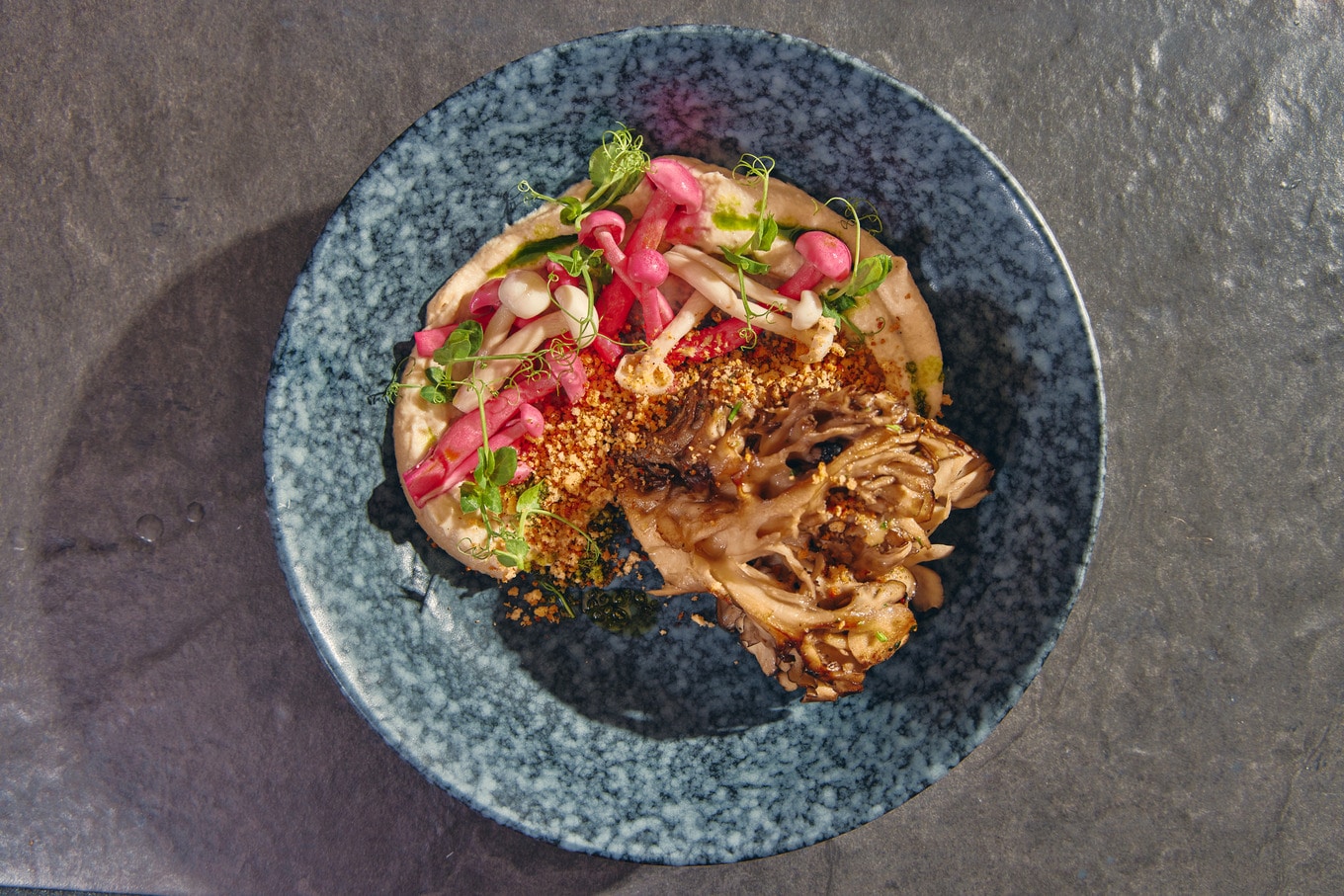 Cole Saladino
A Lion's Mane dish features the mushroom as part of a dumpling with daikon sauce and micro cilantro while the humble crimini gets spruced up with tomato cream sauce, garlic spinach ricotta, and basil oil.
What about dessert? The chef has you covered with a dish that incorporates black truffles and chocolate into ravioli that is served with blueberry sauce and vanilla ice cream.
And what about beer?
The new &Beer space is next door to another Overthrow concept, Proletariat, an English-style vegan craft beer bar that offers over 20 select drafts and a rotating list of hard-to-find bottles and cans. This means that the pop-up will be supplied with a steady stream of brews curated by the group's Beer Director Ramon Manrique Hung.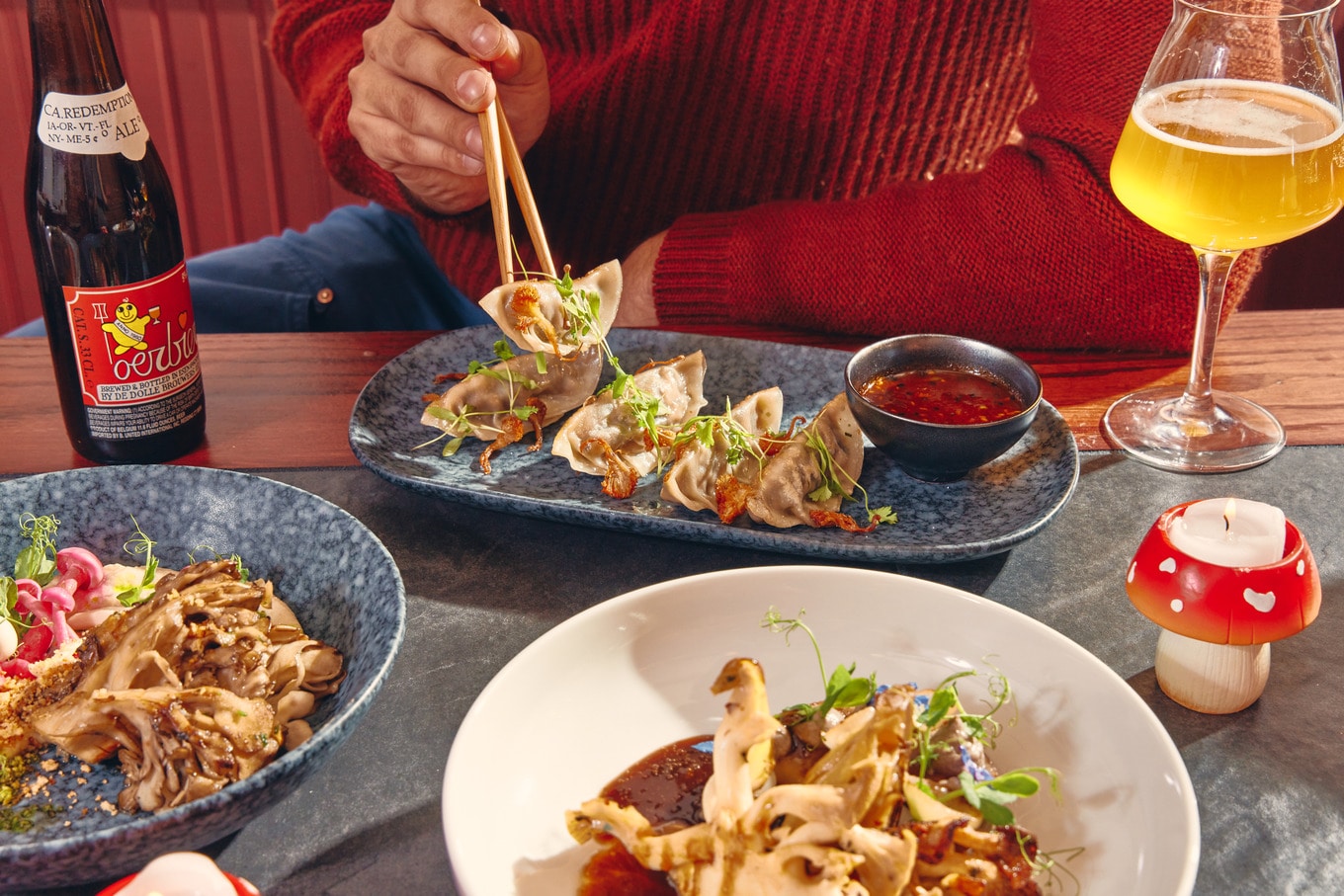 Cole Saladino
"When we took over the space at 21 E 7th Street as the new home of Proletariat, it came with this separate 14-seat counter space that we debated what to do with," DeRossi says. "Finally, we settled on &Beer as an outlet for the many ideas that we have circling through our minds at Overthrow."
"It's a perfect space to be able to test concepts, focus on more singular ingredients, and generally have fun in a more low-risk environment," DeRossi says.
At &Beer, patrons can expect to find a rotating list of both local and European beers that range from sours, lagers, and hoppy brews. Currently on tap, the pop-up is serving Closer (an American Pale Ale from Root + Branch Brewing); It's the Life (a Farmhouse Saison from Pen Druid Brewing); and Happy Medium (a Lager from Threes Brewing). A variety of bottled and canned beers are also available.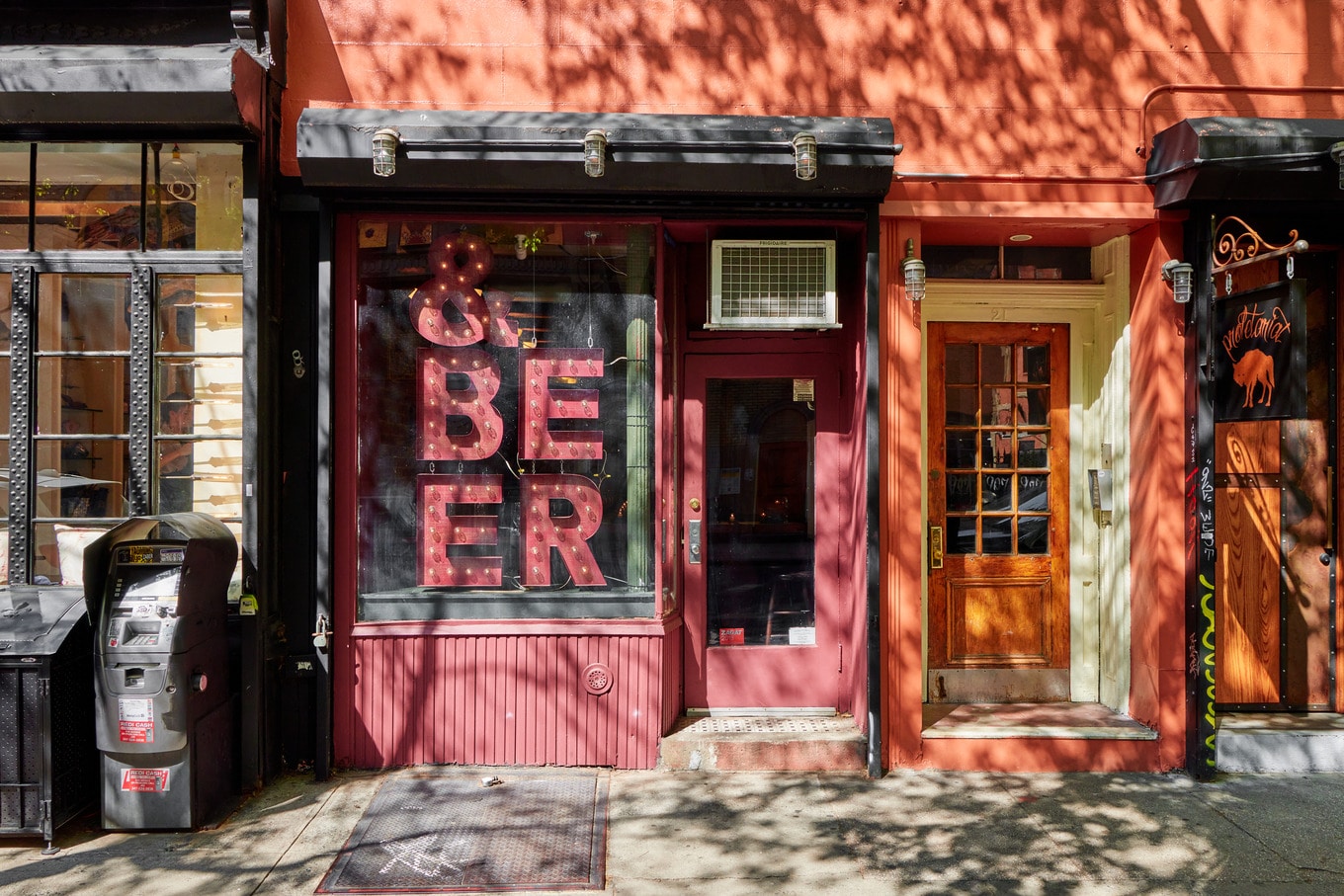 Cole Saladino
The & Beer space—which is kept intentionally minimalist with exposed brick walls and a wooden bar top—welcomes diners with a marquee-style front window that nods to the nature of the space, where tables act as the stage with new talent showcasing plant-based creations as the stars.
Overthrow's vegan concepts
Co-founder of NYC's cocktail destination Death & Company, DeRossi has always had an eye for great restaurant concepts. In 2016, the restaurateur vowed to transition as many of his then 15 restaurant holdings to be completely vegan to align with his own lifestyle.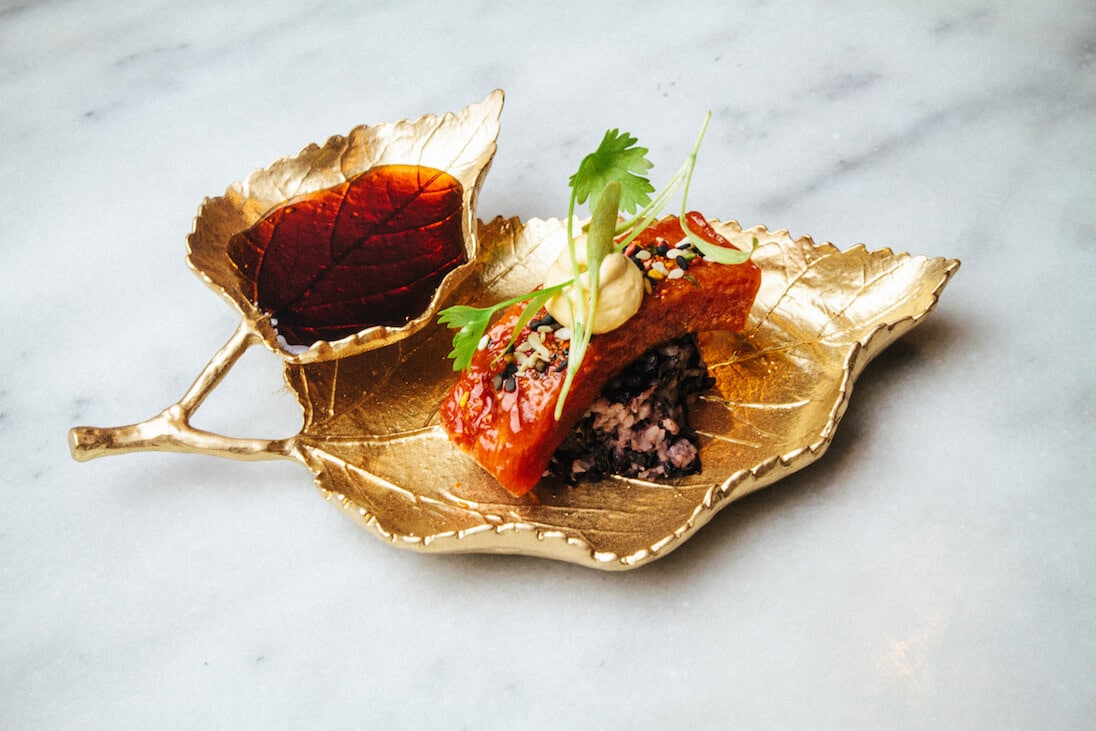 Rabbit
Since then, his empire—which operates under the motto "eat, drink, start a revolution"— has grown to encompass a variety of creative concepts such as Ladybird (a tapas and wine bar that sits in the former space of Bourgeois Pig); Rabbit (an upscale concept with a storybook menu inspired by Alice in Wonderland); and Cadence (a soul food eatery that has climbed the ranks to one of Manhattan's finest restaurants).
With &Beer, DeRossi aims to continue infusing Overthrow (and NYC at large) with new concepts and talent, all the while further redefining what vegan food can be. On the deck for the &Beer—which will serve as a concept incubator—might be pop-ups centered around Egyptian and Chinese cuisines, sushi, or barbecue.
"A space like &Beer allows us the opportunity to present menus and dishes that might not make sense in a 'traditional' restaurant menu—but at Overthrow we're not trying to be traditional." DeRossi says.
"&Beer allows us to continue showing the wide range of plant-based cooking, especially with a focus on real fruits and vegetables, and having a lot of fun while we do it," he says.