It seems that every week in the world of vegan food news is more exciting than the last and this week is no exception. Have you made Trader Joe's Battered Plant-Based Fillets into fish tacos yet? Are you dipping Wholly Veggie's truffled mozzarella sticks into marinara like us? There's also a few new launches from Beyond Meat and Tindle, and a frozen treat from Kind. Read on for more.
1TJ's plant-based fish filets
A few years back, Trader Joe's promised us new plant-based fish options and boy did the store deliver with the new Battered Plant-Based Fillets. Going by the photo on the package, one would be led to believe that this new vegan fish was caught sometime in the '70s when everything was a little more brown. But don't be fooled.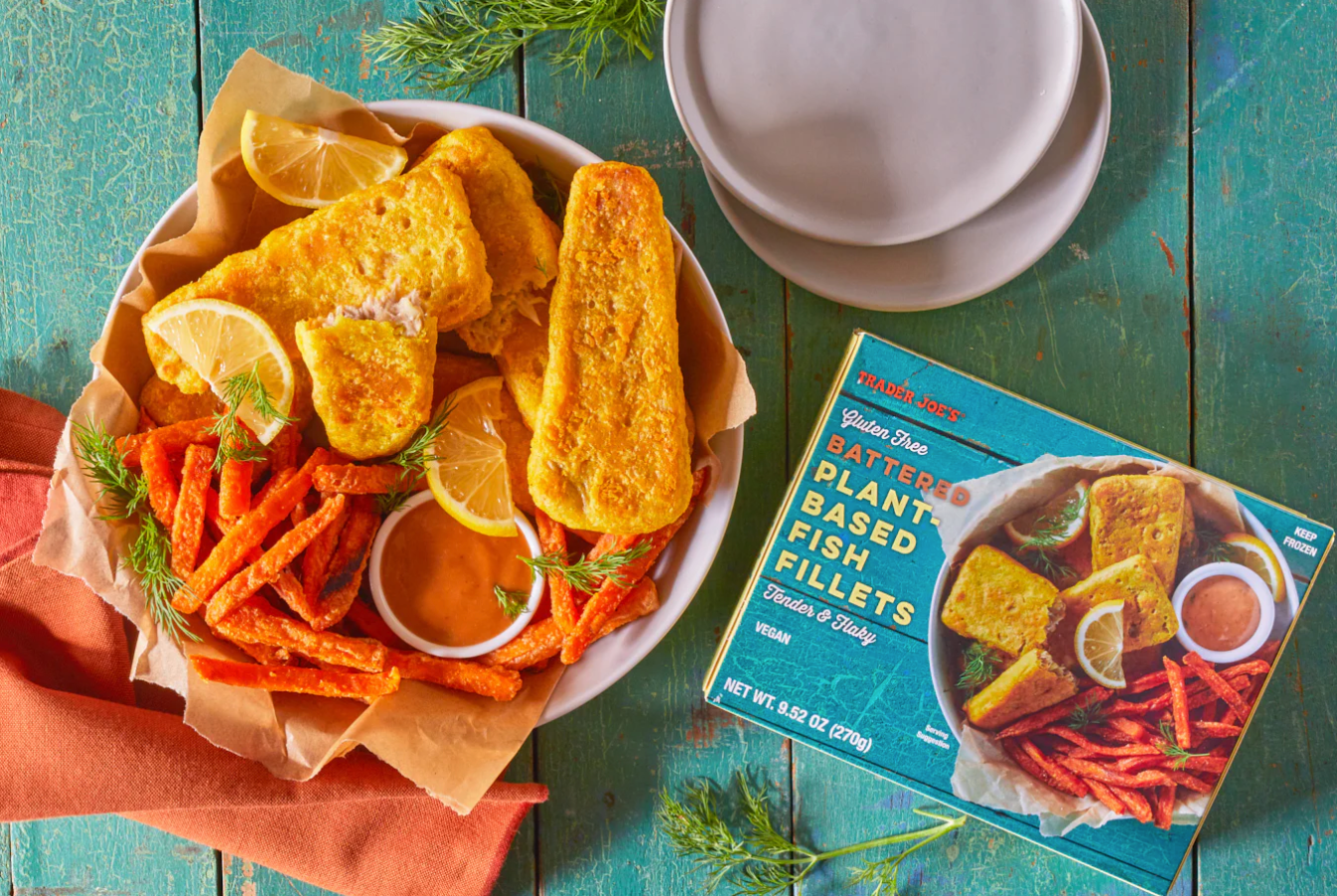 Trader Joe's
The vegan (and gluten-free) fish filets are anything but bland or boring. Made with a combo of jackfruit and king oyster mushrooms, the texture is tender and flaky (as the retro packaging points out) with a subtle umami flavor.
"We're particularly partial to featuring them in a vegetarian version of fish and chips, roughly chopping them for plant-based fish tacos, or stacking them into a sandwich with Vegan Mayo, pickles, lettuce, and a dash of hot sauce," Trader Joe's states on its website.
You read our minds, TJ's!
2Dairy-free truffle mozzarella cheese sticks
Vegan mozzarella sticks with a tangy marinara dipping sauce are probably one of the greatest inventions of all time. But if you want to fancy it up a bit, plant-based company Wholly Veggie just launched a truffle flavor of its dairy-free mozzarella sticks.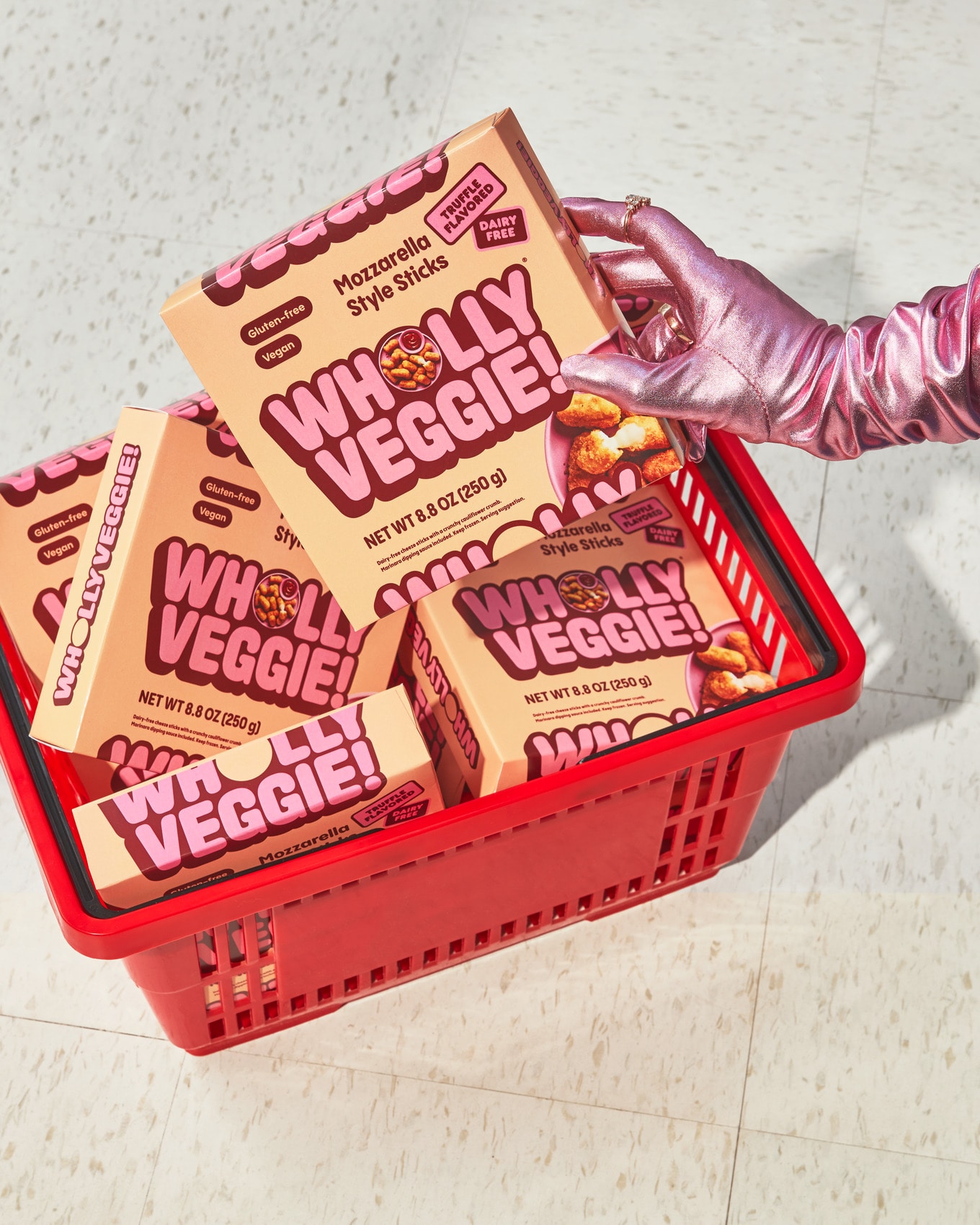 Wholly Veggie
Ready in the air fryer in just a few minutes, these pinky-up apps are made with vegan mozzarella, natural truffle flavor, and a gluten-free upcycled cauliflower crust—staying true to the brand's mission of hiding veggies inside otherwise indulgent foods.
Where else is Wholly Veggie hiding those veggies? Inside all kinds of party snacks such as Sweet Potato Popcorn, Buffalo Cauliflower Wings, Cheddar Style Jalapeño Sticks, and more.
3Beyond smash burgers and bolognese
The United Kingdom recently got its first taste of Beyond Meat's plant-based chicken products when the brand expanded the line across the pond. This week, our UK friends are getting a whole new line that's tailor-made to local tastes.
In time for UK's National Vegetarian Week (that's now), Beyond Meat is launching frozen "Beyond Meals" in three varieties: Spaghetti Bolognese, Keema Curry & Pilau Rice, and Chili with Coriander Rice. All three are now available at Tesco nationwide.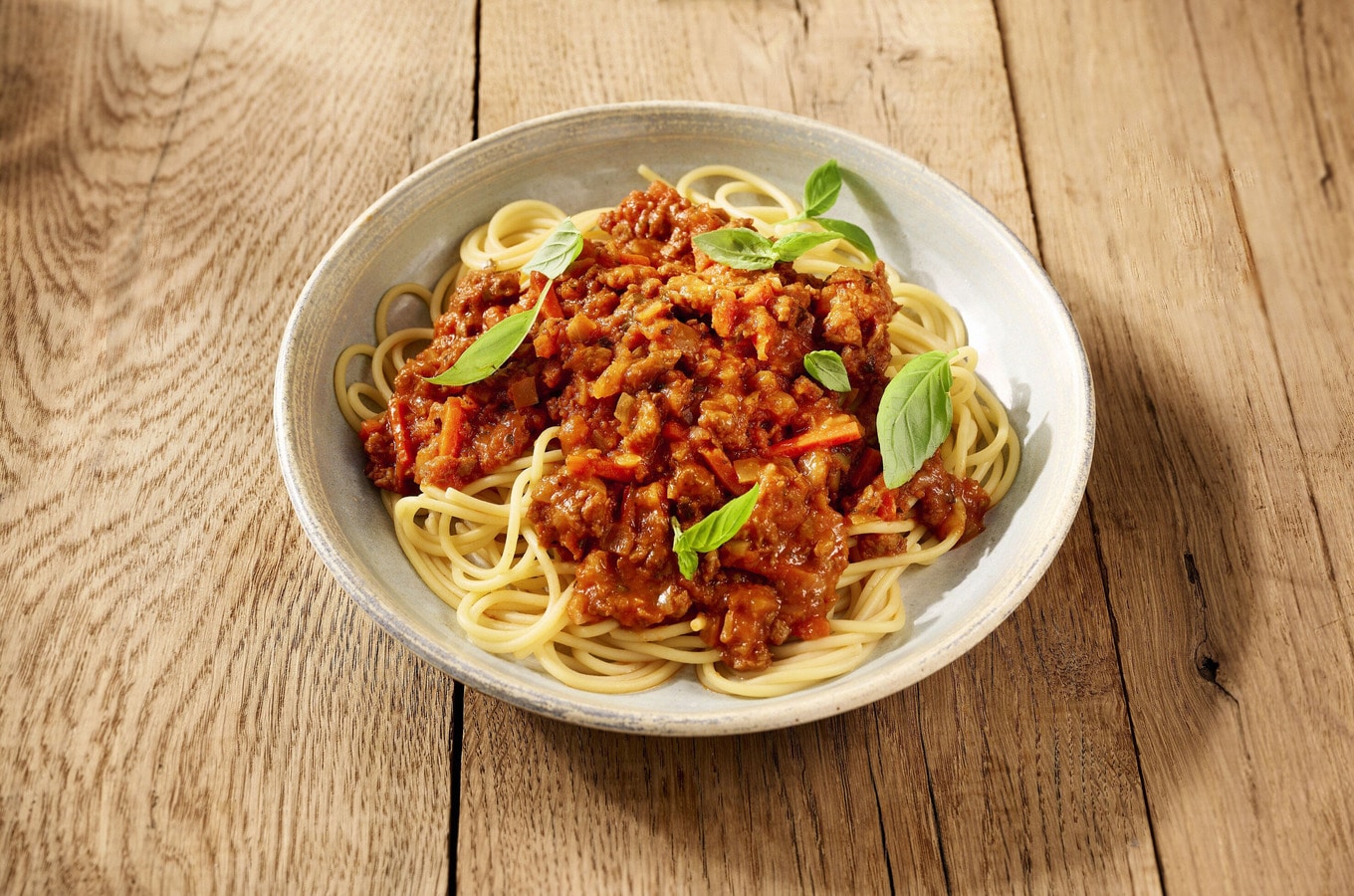 Beyond Meat
"We're absolutely thrilled to be launching our incredibly tasty and affordable new range of Beyond Meals in the UK," Steve Dalby, Regional Sales Manager UK at Beyond Meat, said in a statement. "With three different flavors to choose from, including plant-based twists on classic comfort foods and global cuisines, there's something for everyone to enjoy and they're perfect for those who are always on the go."
"Plus, our Beyond Meals are completely plant-based so you can eat what you love, no sacrifice required," Dalby says.
Stateside, Beyond is brewing up something new, as well. Ahead of this month's National Restaurant Association (NRA) trade show, the vegan company unveiled its new Beyond Smashable Burger—a smaller patty designed to be smashed just like its beef counterpart.
"With an unformed patty and quick cook time, the Beyond Smashable Burger offers restaurant operators a delicious, versatile, and unique plant-based solution for their menus," Dawn Lockwood, VP of Foodservice Sales at Beyond Meat North America, said in a statement.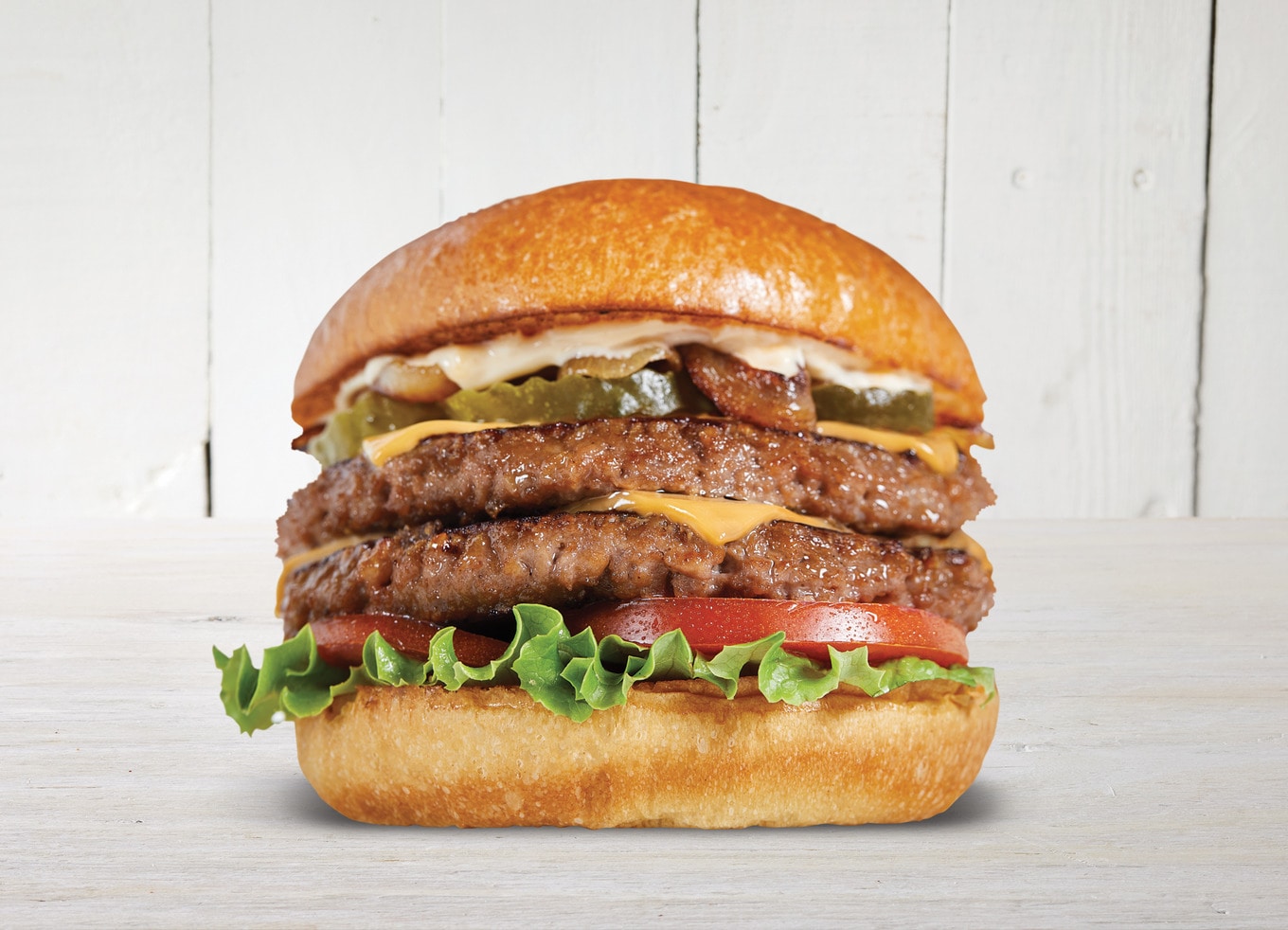 Beyond Meat
"We worked closely with foodservice operators to create a product specifically tailored to the needs of their kitchens, and are thrilled to expand our burger portfolio by offering the new 2.5-ounce size Beyond Smashable Burger," Lockwood said.
The new Beyond Burger format has already found a fan in celebrity chef Spike Mendelsohn, who has been using Beyond Burgers at his PLNT Burger vegan chain since it first opened in 2019.
"The new Beyond Smashable Burger is the perfect format for getting a smash on the griddle which helps form a crispy crust while keeping the patty juicy, and it's a more efficient solution for our restaurant operations and store team members," the chef said in a statement.
The Beyond Smashable Burger is now available to foodservice providers through distribution company DOT Foods.
4Tindle's whole-cut vegan chicken breasts
Chef-crafted and Singapore-born, vegan meat brand Tindle is pushing the envelope further with a new technology that gives its plant-based chicken an even meatier eating experience. At this weekend's NRA show, Tindle is unveiling its new "TrueCut" technology that improves the texture of its whole-cut chicken breast without the bird.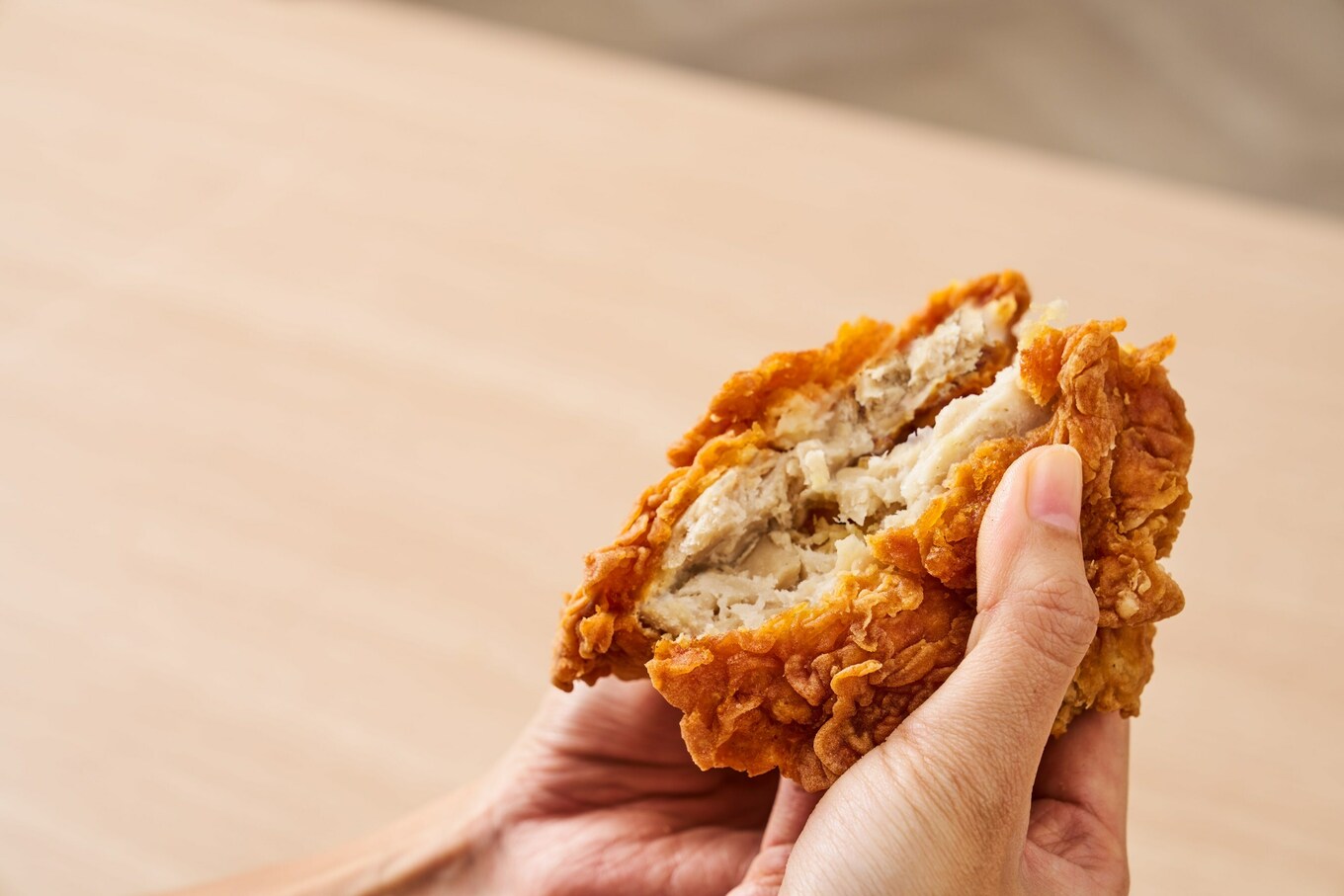 Tindle
The company is also launching vegan wings and breakfast sausage to expand its portfolio of vegan meats "Our commitment to innovation and expanding our range of delicious, best-in-class foods is core to our mission to reduce our global reliance on animals as a source for food," Andre Menezes, CEO and Co-Founder of parent company Next Gen Foods, said in a statement.
"With our newest innovations in whole cuts, wings, and breakfast sausages, we're excited to unlock unlimited potential for culinary creativity—and feel strongly that they deliver on the high bar for taste and quality that consumers expect," he said.
While this technology is not yet on the market, you can taste original Tindle chicken at several US restaurants, including Native Foods, where the vegan chain has officially dedicated a day of the week to the vegan chicken brand.
Tuesdays in May are now "Tindle Tuesdays" and items such as The Nashville Hot, Chicken Run Ranch, The Glazed and Confused, Buffalo Chicken Run Ranch, and The Chicken Bacon Avocado Club—all made with Tindle's chicken—are discounted at $9.95, with a side included.
5Kind's new dairy-free ice cream
Nothing feels more like summer than tasty dairy-free ice cream and food company Kind is giving us a new treat to crave this year.
Kind first launched the Frozen line in 2020 with two flavors, Dark Chocolate Almond Sea Salt and Dark Chocolate Peanut Butter. This summer, it's adding a Chocolate Cherry Almond & Nut Frozen Treat Bar to the mix.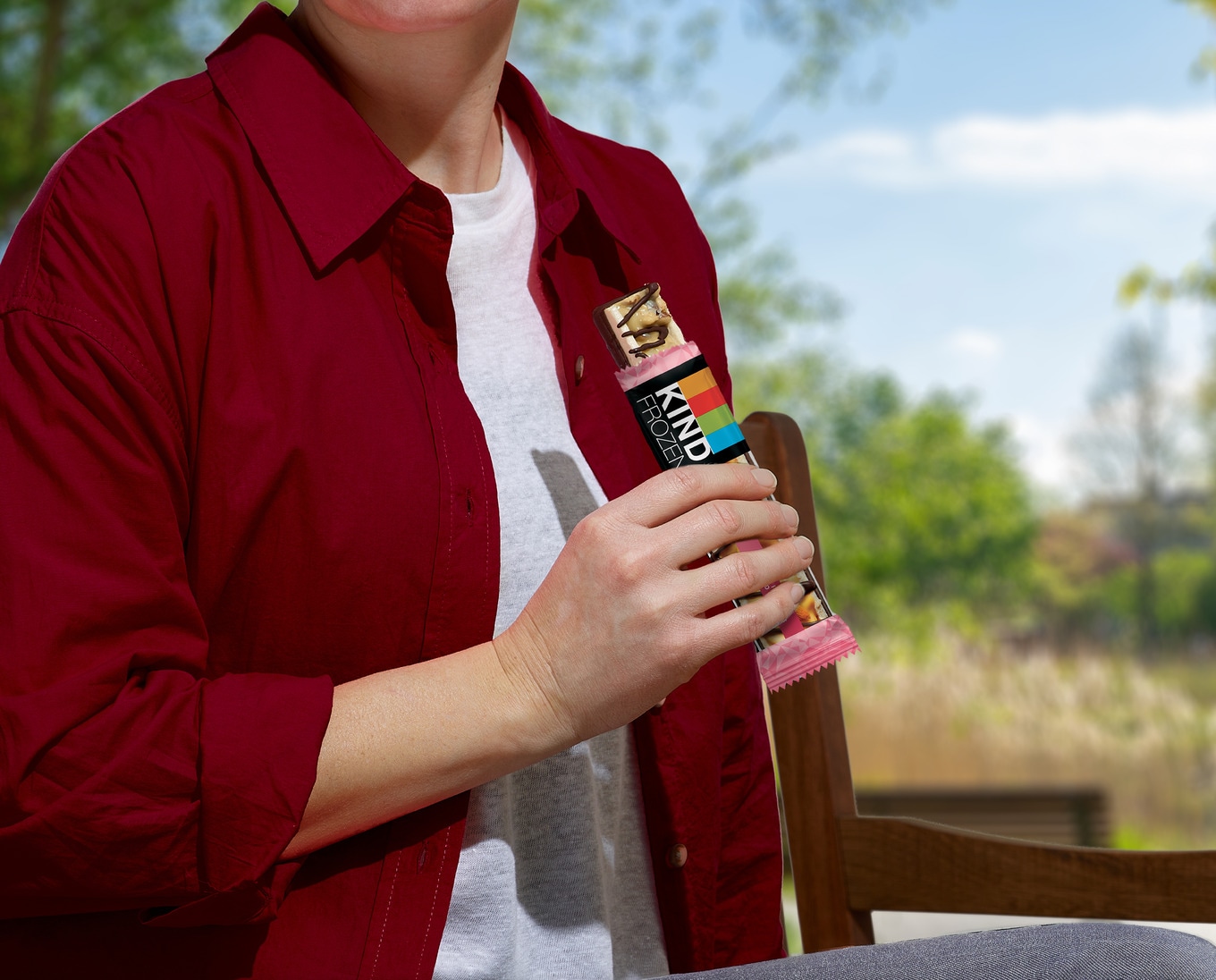 Kind
Available exclusively at Whole Foods Markets nationwide, the new Kind Frozen bar features real pieces of dried cherries, dark chocolate chunks, and chopped almonds and comes drizzled in a crackling chocolate.
While Kind's bars are typically not vegan-friendly as they contain honey and/or milk, its Frozen line of ice cream is free from animal products.
One tip? Don't put these in your pocket thinking they're a snack bar. They will melt.
For the latest vegan news, read: