It seems that every week in the world of vegan food news is more exciting than the last and this week is no exception. May is a month filled with celebration. For Mother's Day, Baked by Melissa is unveiling new vegan mini cupcakes and vegan diner Sticky Fingers has you covered for breakfast, brunch, dinner, dessert, and more. Snack brand Bobo's is celebrating its 20th anniversary with a Willy Wonka-style giveaway and National Egg Month (May) gets a vegan makeover at Next Level Burger. Oh, and there's a new vegan graham cracker on the bonfire circuit this summer. Read on for more.
1Vegan cupcakes for Mother's Day
Mother's Day is right around the corner on May 14 and if you're looking for a sweet treat, Baked by Melissa is making something special for the holiday. The New York City-based bakery chain is offering a limited-edition Mother's Day gift box stuffed with 25 vegan cupcakes made in partnership with Swedish brand Oatly.

Baked by Melissa
Baked by Melissa first launched its vegan line in 2019 and from now until July 31, its vegan cupcakes will be made with Oatly's oat milk and available in flavors such as Triple Chocolate Chip, Peanut Butter, Strawberry, Chocolate Vanilla Chip, Dark Chocolate Coconut, and Cinnamon Bun.
Why Oatly? The bakery says that the brand's full-fat oat milk allows it to achieve a super creamy buttercream that's on par with its original but without dairy.
Baked by Melissa
​​The new Oatly x Baked by Melissa cupcakes, including as part of the limited-edition Mother's Day box, are available for nationwide shipping, local Manhattan delivery, and in-store pickup at one of the bakery's 14 retail locations.
2Sticky Fingers brings Mother's Day home
Over in Washington, DC, iconic vegan diner and bakery Sticky Fingers will host a brunch during Mother's Day weekend but launched a special way to celebrate mom at home, too. What kind can you treat your mom to this year?
For Brunch, Sticky Fingers offers Croissant Boxes, Bagel Platters, and European Breakfasts (with croissants, charcuterie, vegan chèvre cheese, and berries), alongside bake-at-home sticky buns and Brewing Good Coffee Beans.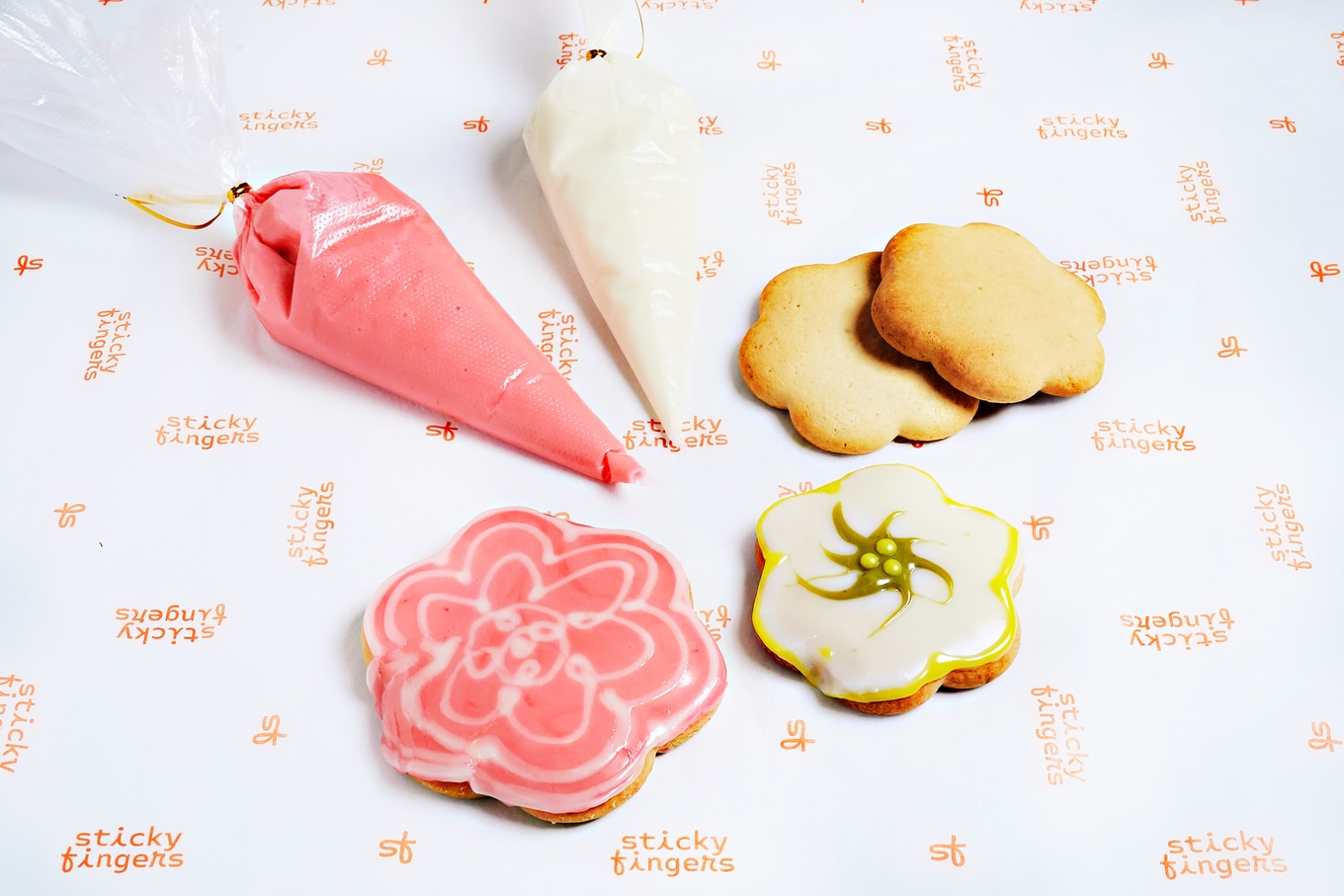 Sticky Fingers
Or you can opt for dinner and get a make-at-home Caulifredo pasta meal kit rounded out by Flower Power Shake-at-Home Cocktails. Sticky Fingers also offers a variety of dessert kits that are as fun to put together as they are to eat.
Pre-orders for Sticky Finger's Mother's Day Brunch at Home must be placed by May 11.
And for non-locals, Sticky Fingers is offering nationwide delivery for bake-at-home Mother's Day favorites such as Flower Cake Pops, Spring Cookie Tins, Flower Cutout Decorating Kits, along with cupcake, cookie, and brownie decorating kits, and more. Orders for these must be placed by Monday, May 6.
3Vegan eggs at Next Level Burger
Did you know that May is National Egg Month? We can't think of a better way to celebrate than with a hearty serving of vegan eggs during brunch. And the good people over at vegan chain Next Level Burger agree with a new menu item that features Just Egg, an eco-friendly alternative that uses 98 percent less water, 83 percent less land and 93 percent CO2 emissions than conventional chicken eggs.
"At NLB, we believe that the future is bright, but it's up to all of us to make an impact," Matt de Gruyter, NLB co-founder and CEO, said in a statement.
"We're on a mission to bring more healthful, climate-friendly plant-based options to the people so they can more easily make delicious choices that align with their values," de Gruyter said.
New on the menu for May at all NLB locations is the Brunch Burger, which comes loaded with a smashed patty, Just Egg Folded, organic tempeh bacon, melted American dairy-free cheese, roasted garlic thyme mayo, tater tots, and organic tomatoes, all served on an organic white bun.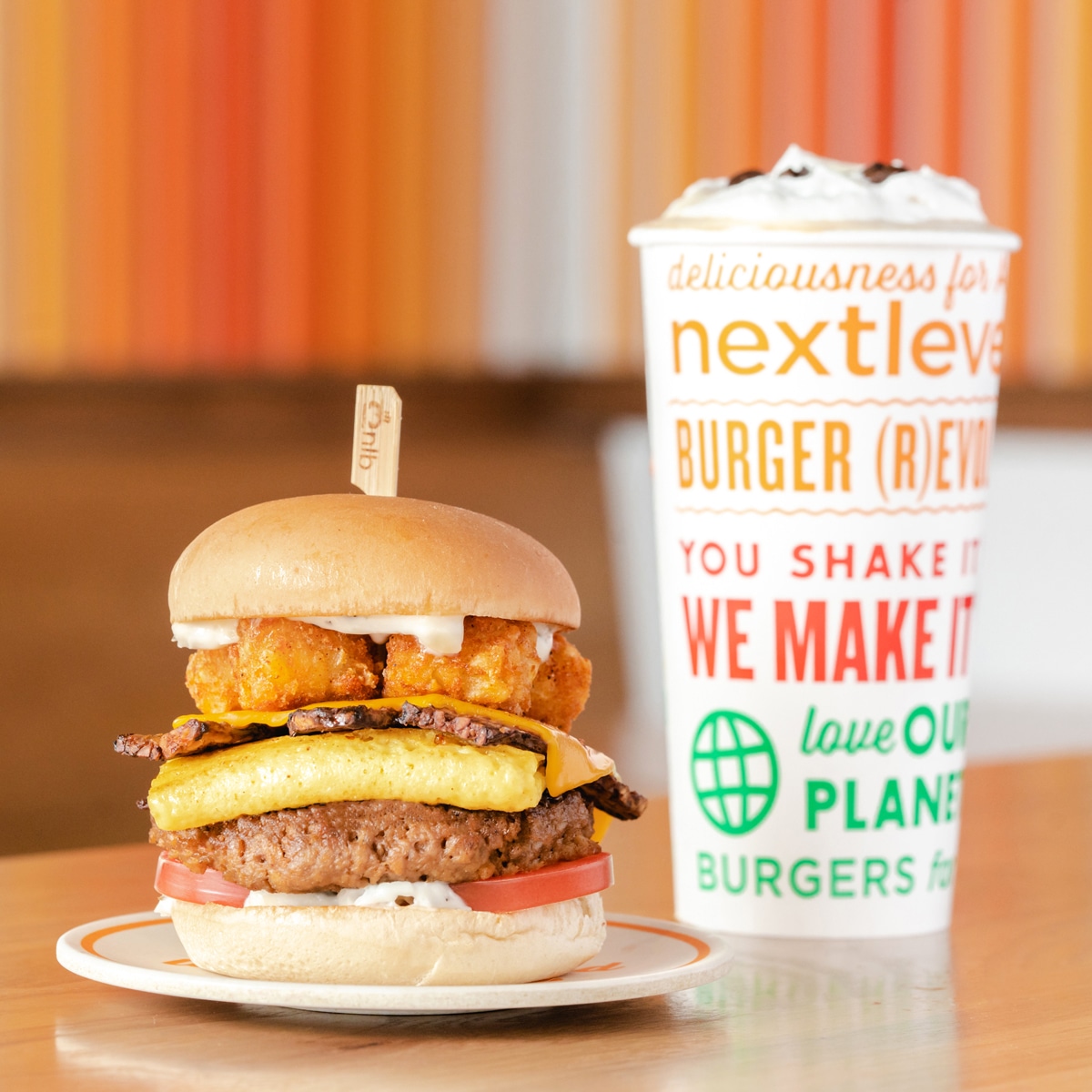 Next Level Burger
"Whether it's a whole-foods based quinoa and mushroom patty or a meat or egg substitute made to mimic animal products, we're here to bring only the best quality and flavors to our fans," de Gruyter said. "Our new Brunch Burger with Just Egg packs in the flavor of the fan-favorite meal with impressive sustainability stats."
For customers looking for other vegan ways to celebrate National Egg Day, NLB will pop a Just Egg folded patty on any burger throughout May for $3.
4Bobo's birthday cake bars
Looks like this May will be full of celebrations. Snack brand Bobo's is celebrating its 20th anniversary this month with a special Willy Wonka-style golden ticket giveaway. Into the wild, Bobo's is releasing five golden tickets tucked into packs of its Oat Bites. If you find a golden ticket, Bobo's will give you a year's worth of its vegan snacks.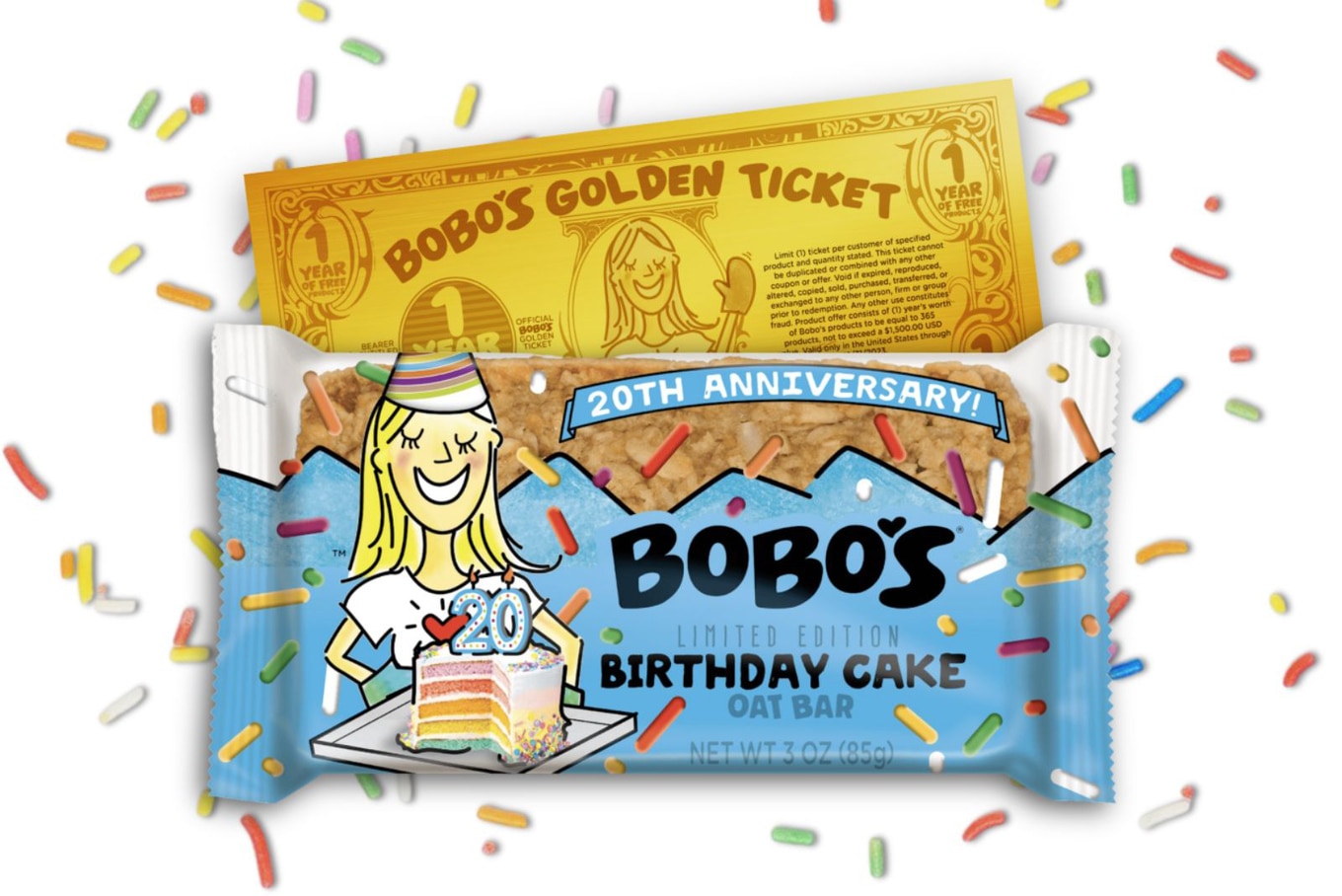 Bobo's
As part of the celebration, the company is also launching a limited-edition Birthday Cake flavor of its oat bars made with whole grain rolled oats, coconut oil, cane sugar, and brightly colored confetti sprinkles.
"I never imagined I'd be celebrating such a significant milestone 20 years ago when I decided to start my little oat bar company out of my tiny kitchen in Boulder, Co.," Beryl Stafford, Founder of Bobo's, said in a statement. "It's been such a pleasure to grow this company and to bring a product that we're so proud of to so many people for two decades now."
"We owe so much to our incredible team and the wonderful relationships we've been lucky enough to have on our incredible journey," Stafford said.
Bobo's recently opened a wind-powered bakery in Loveland, CO to produce one million oat products daily. And after 20 years, Bobo's continues to innovate its 100-product strong portfolio with the launch of new Dipp'd Bars and PB&J rounds (think Uncrustables for the modern era).
5Partake's vegan graham crackers
As summer peeks out from the clouds, we think about all of the s'mores we'll be roasting around a bonfire in just a few weeks. We already know that the new Hershey's vegan chocolate bar will play a pivotal role in our s'more construction alongside our go-to Dandies vegan marshmallows.
This year, we're doing a little something different with the graham crackers—which are typically hard to find vegan as many types are made with honey. However, thanks to allergen-friendly company Partake, summer 2023 s'mores will be better than ever.
That's because it's launching Partake Classic Graham Crackers, a gluten-free, cinnamon-spiked cookie free from the top nine allergens.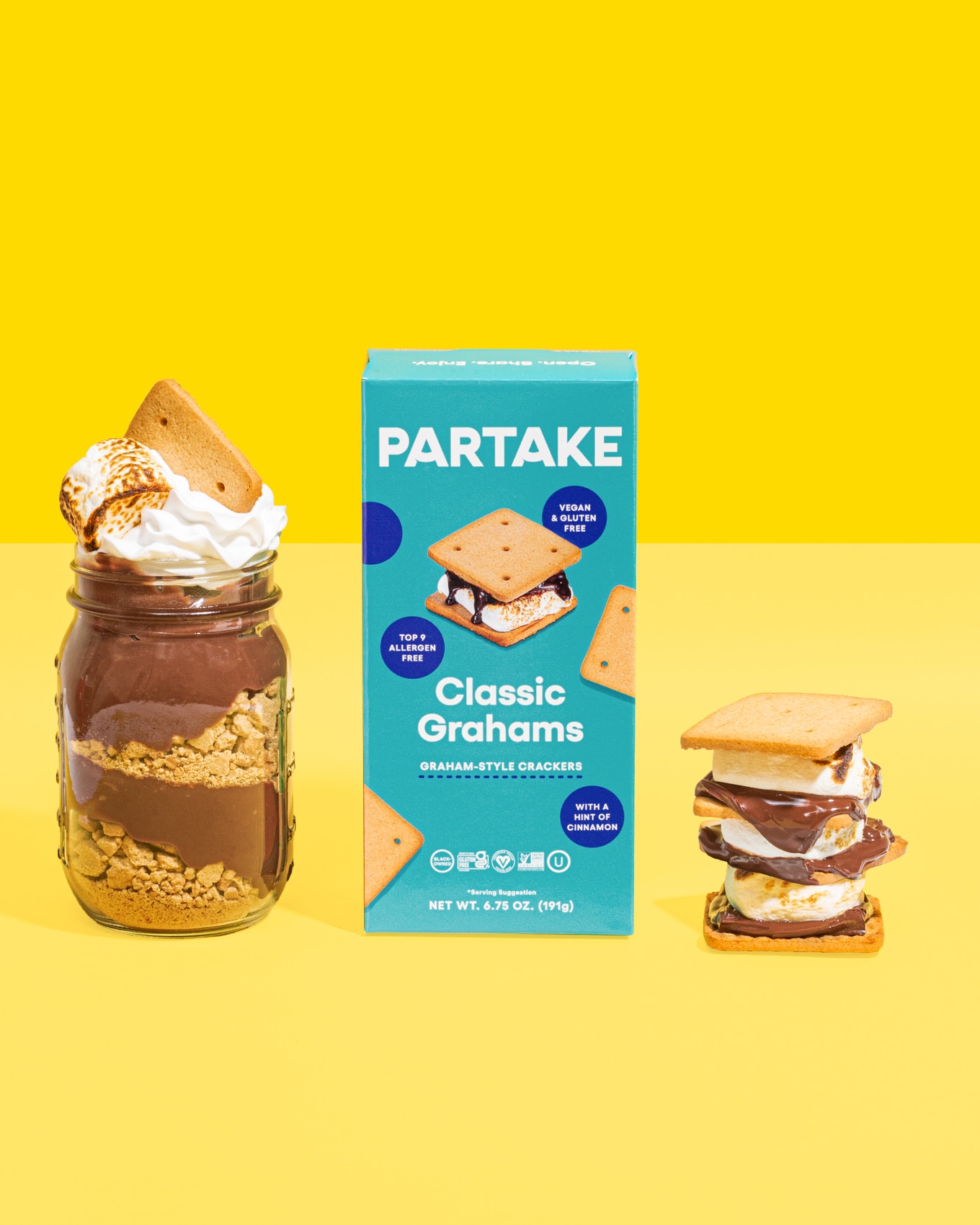 Partake
"Graham Crackers are a summer staple, and we are so excited to offer our customers this new innovation from Partake," Denise Woodard, Founder & CEO of Partake Foods, said in a statement.
"As we expand our offerings of delicious, allergy-friendly foods, we are thrilled to continue our mission to make snack time more inclusive for those with and without food restrictions," she said.
For the latest vegan news, read: