A plant-forward diet could have a positive impact on brain health, suggests a new large-scale study. Researchers from Israel's Ben-Gurion University of the Negev recently concluded a long-term clinical trial, which involved 300 participants and took place over a period of 18 months.
Their findings, which were published in the journal eLife, focused on a green-Mediterranean diet. It is low in processed meats and high in dietary polyphenols, which are naturally occurring compounds, often found in plant-based foods, that help to protect the body from oxidative stress.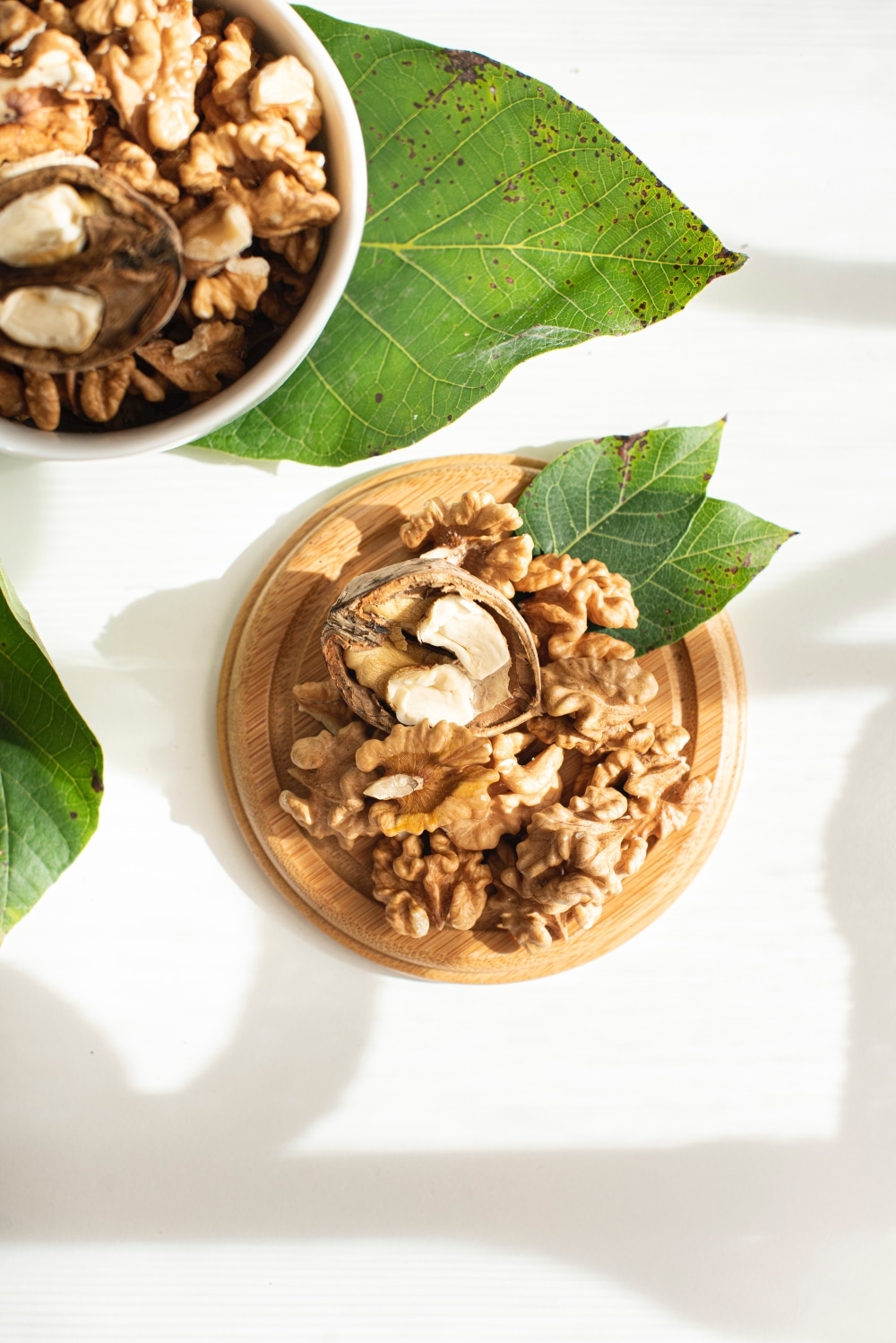 Larisa Birta/Unsplash
According to the research, the participants ate 28 grams of walnuts per day, as well as three to four cups of green tea, and one cup of a Wolffia globose (an iron-, protein-, and polyphenol-rich flowering plant, also known as duckweed) shake.
"Our study highlights the importance of a healthy lifestyle, including lower consumption of processed food, sweets, and beverages, in maintaining brain health," Gidon Levakov, PhD, who helped to lead the study, said in a statement.
The researchers focused predominantly on weight loss and found that just a 1 percent reduction in body weight led to a nine-month reduction in brain age. They discovered this by comparing brain scans taken at the beginning and the end of the study.
"We were encouraged to find that even a weight loss of 1 percent was sufficient to affect brain health," another of the study's leaders Professor Galia Avidan, of Ben-Gurion's Department of Psychology, added.
Plant-based diets and brain health
The new study isn't the first to assess the impact of a plant-forward diet on brain health. At the end of 2022, research suggested that just one handful of walnuts per day could help improve students' stress levels, leaving them with improved mental health and sleep. This may be because walnuts are rich in omega-3 ALA, noted the researchers.
"While more supporting research is needed, evidence is becoming clear that consuming walnuts as a healthy eating pattern may have positive effects on cognition and mental health, potentially owing to their abundance in omega-3 ALA content," lead researcher Larisa Bobrovskaya, PhD, said.
Mushrooms have also been associated with an improvement in brain health. Earlier this year, a new study examining lion's mane mushrooms found that one active compound in the fungus may help to boost nerve growth and improve memory.
Another study, also published earlier this year, found that consuming more antioxidant-rich fruits and vegetables could help to slow memory decline. The researchers observed 961 people with an average age of 81 and without dementia for seven years to come up with their conclusions.
"Something as simple as eating more fruits and vegetables and drinking more tea is an easy way for people to take an active role in maintaining their brain health," study author Thomas M. Holland, MD, MS, said.
The health benefits of a plant-based diet
Improved brain health isn't the only benefit of consuming a diet rich in plant-based foods. Plant-based diets have also been associated with improved heart health and a lower risk of some types of cancer. Plus, it could even help with fitness levels.
A new study, published in the European Journal of Preventive Cardiology, suggested that consuming a diet with more fruits, vegetables, and whole grains is associated with greater fitness levels—to the same effect as taking 4,000 extra steps each day.
"Our metabolite data suggest that eating healthily is associated with better metabolic health, which could be one possible way that it leads to improved fitness and ability to exercise," study author Michael Mi, MD, said.
For more on plant-based diets and health, read: