Vegan bacon is already an improvement on animal-based pork in many ways but European company The Vegetarian Butcher thinks it can be even better. The Unilever-owned company just announced the launch of its NoBacon 2, an improved vegan bacon made from a carefully selected ingredient list that includes soy and wheat protein and perfected with The Vegetarian Butcher's new fat technology.
The new fat technology solves the main issues that pork alternatives face to truly deliver the eating experience of bacon without the ethical and environmental costs. The new patented technology encapsulates oil and releases it at 20-times the rate of previous iterations, allowing for a fatty, crispy texture and a similar sizzle when cooking.
The new fat technology also allows for a tender texture and, because it becomes translucent when cooked, a similar visual and eating experience.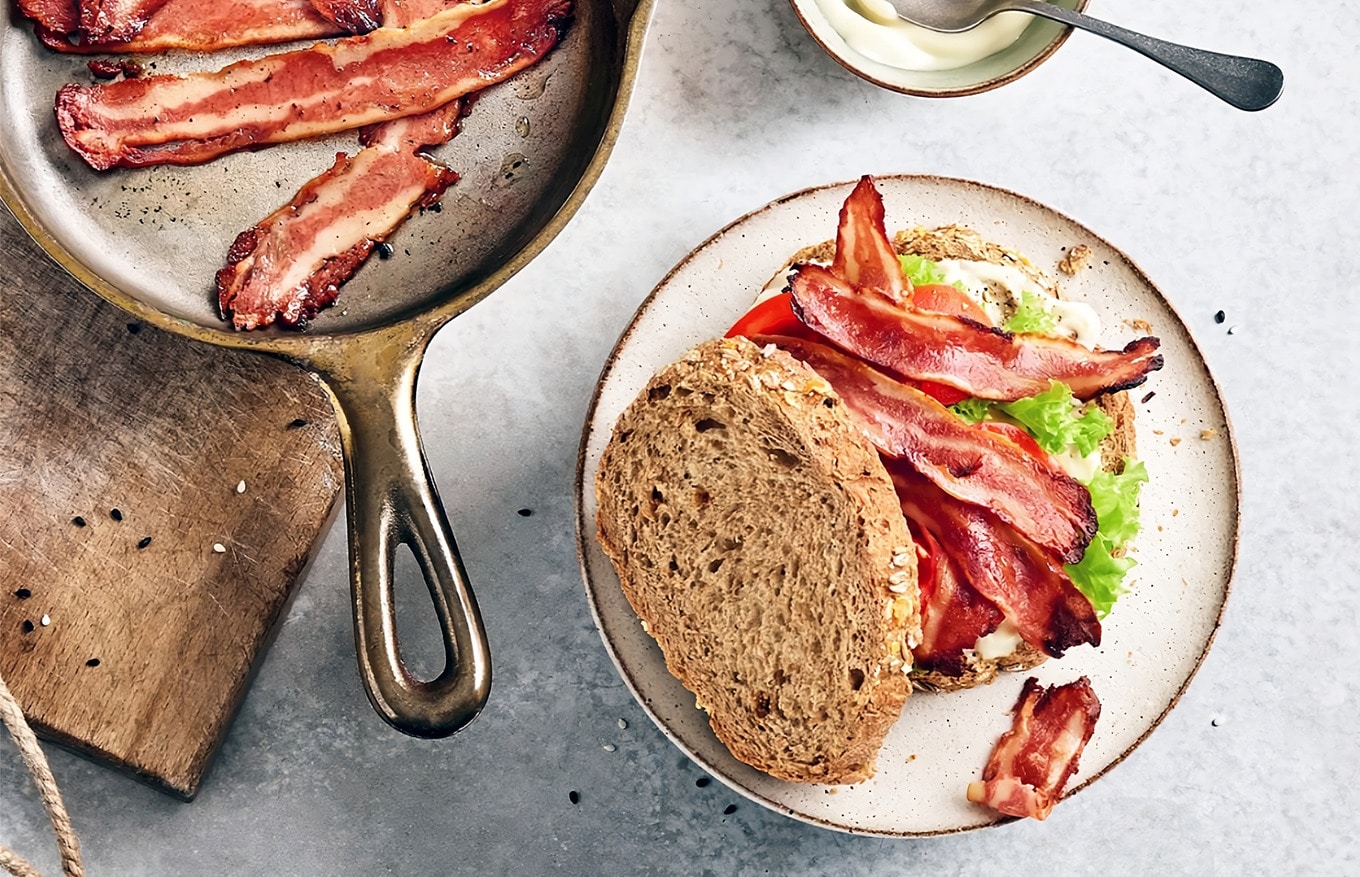 Unilever
Improving vegan bacon to better mimic its pork counterpart has myriad benefits, according to The Vegetarian Butcher CEO Hugo Verkuil. "Releasing all animals from the food chain is not just good news for animals, it's also great news for our planet," Verkull said in a statement.
Vegan bacon is sizzling
Approximately 3.5 million pigs are slaughtered globally every year for food and the production of traditional bacon and other pork products involves industrial farming practices that often prioritize profit over the well-being of animals.
Plus, producing bacon this way is environmentally damaging and requires vast amounts of resources, including water and grain, which puts pressure on already strained ecosystems.
The Vegetarian Butcher's new vegan bacon makes no compromises when it comes to taste, sizzle, and environmental benefits. "Taking animals out of the equation makes the food system more efficient and more environmentally friendly," Verkull said.
"Instead of feeding legumes to animals and making meat out of these living creatures, The Vegetarian Butcher makes plant-based meat directly from legumes," Verkull said. "Our plant-based bacon's taste and texture is fantastic, so it truly is a win-win-win."
While NoBacon 2 is currently available only in the Netherlands, Unilever's The Vegetarian Butcher has foodservice partners that could greatly benefit from this development, most notably Burger King.
Since launching the Impossible Whopper stateside in 2019, Burger King dug its heels into the plant-based revolution. The Vegetarian Butcher has supplied the fast-food giant along the way in Europe and other regions, where Burger King has added a bevy of vegan options and opened multiple plant-based popups to better understand consumer behavior while slashing its environmental footprint.
In the United Kingdom, where Burger King aims to make 50 percent of its menu plant-based by 2030, the menu has undergone some serious innovation.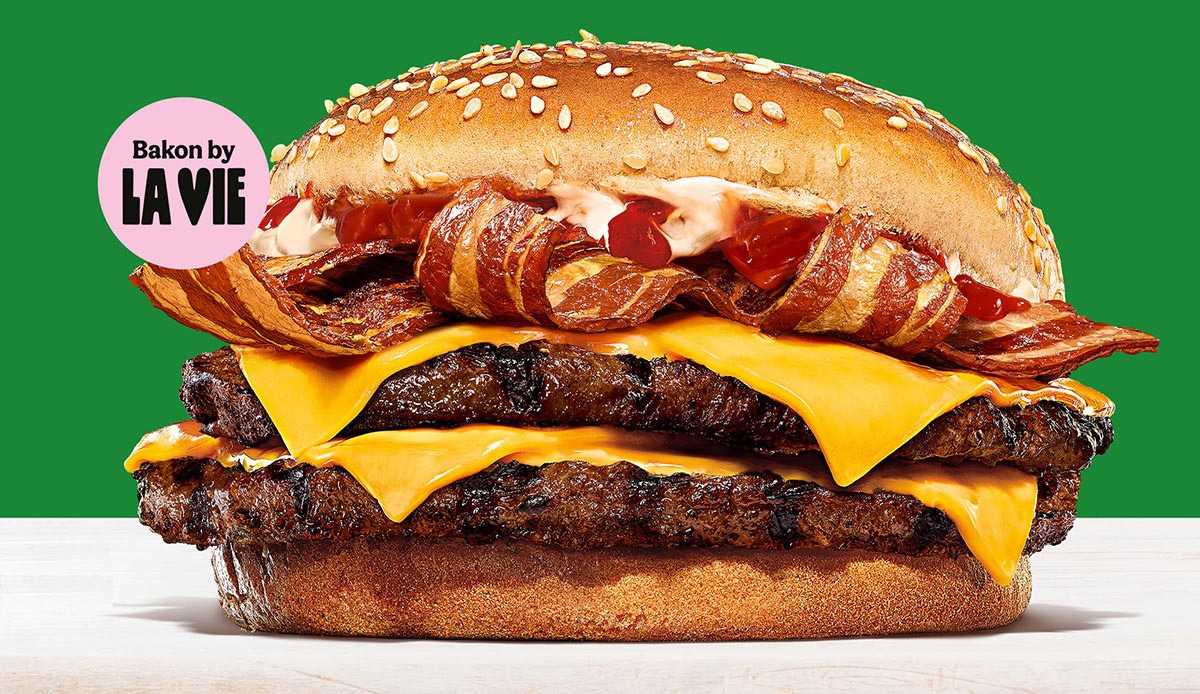 Burger King
Earlier this year, Burger King added three vegan bacon cheeseburgers to the menu, featuring Violife's cheese, The Vegetarian Butcher's vegan patty, and bacon made by French company LaVie. The vegan bacon company counts actress Natalie Portman as an investor and first made its appearance on the Burger King menu in France after a humorous campaign.
With NoBacon 2, The Vegetarian Butcher now has its own improved vegan bacon offering should Burger King choose to explore the option in more markets.
Better bacon, made without pigs
The Vegetarian Butcher and La Vie are not the only companies working to take pigs out of the food system by developing realistic vegan bacon and other pork products.
Hong Kong's OmniFoods—known for its plant-based pork products—recently unveiled its OMNINano Vegan Fat. This patented technology locks flavor into its vegan meat while delivering a juiciness and texture that is identical to animal meat but without any of the downsides of eating animal products.
In New York, MyForest Foods is making whole-cut vegan bacon, called "MyBacon," using mycelium, the fast-growing root system of mushrooms. Last week, the company raised an additional $15 million in funding to help bring its vegan bacon to more consumers across the East Coast.
MyForest Foods
"The plant-based category is at a unique inflection point, where only the most promising and delicious innovations will thrive," Gary Hirshberg, Co-Founder of Stonyfield Farm and MyForest Foods Board Member, said in a statement. "I believe MyForest Foods has met this call with its unique MyBacon offering."
Over in San Francisco, startup Lypid recently developed a vegan pork belly to showcase its debut product: PhytoFat, microencapsulated fat particles with a high melting point that behave like animal fat when cooked. After launching at Taiwanese chain Louisa Coffee, Lypid made its PhytoFat ingredient available to food companies and restaurants in the United States to bring pork-identical vegan bacon to market.
For the latest vegan news, read: