For the next six months, Burger King will add vegan bacon made by French startup La Vie to its 550 locations across France, local outlet Le Figaro reports. The news comes after the startup—which is backed by actress Natalie Portman—engaged in a week-long campaign to urge Burger King to add its vegan bacon to the Veggie Steakhouse, a plant-based remake of a meat-heavy mainstay.
A Burger King customer named Julien noticed that the Veggie Steakhouse failed to mimic the original by leaving off bacon entirely. "Sorry guys, I'm waiting for the Veggie Steakhouse with La Vie bacon," he tweeted. La Vie responded with a clever campaign to convince Burger King to add its vegan bacon. La Vie took out a full page ad in Paris newspaper Le Parisien to bring attention to this issue.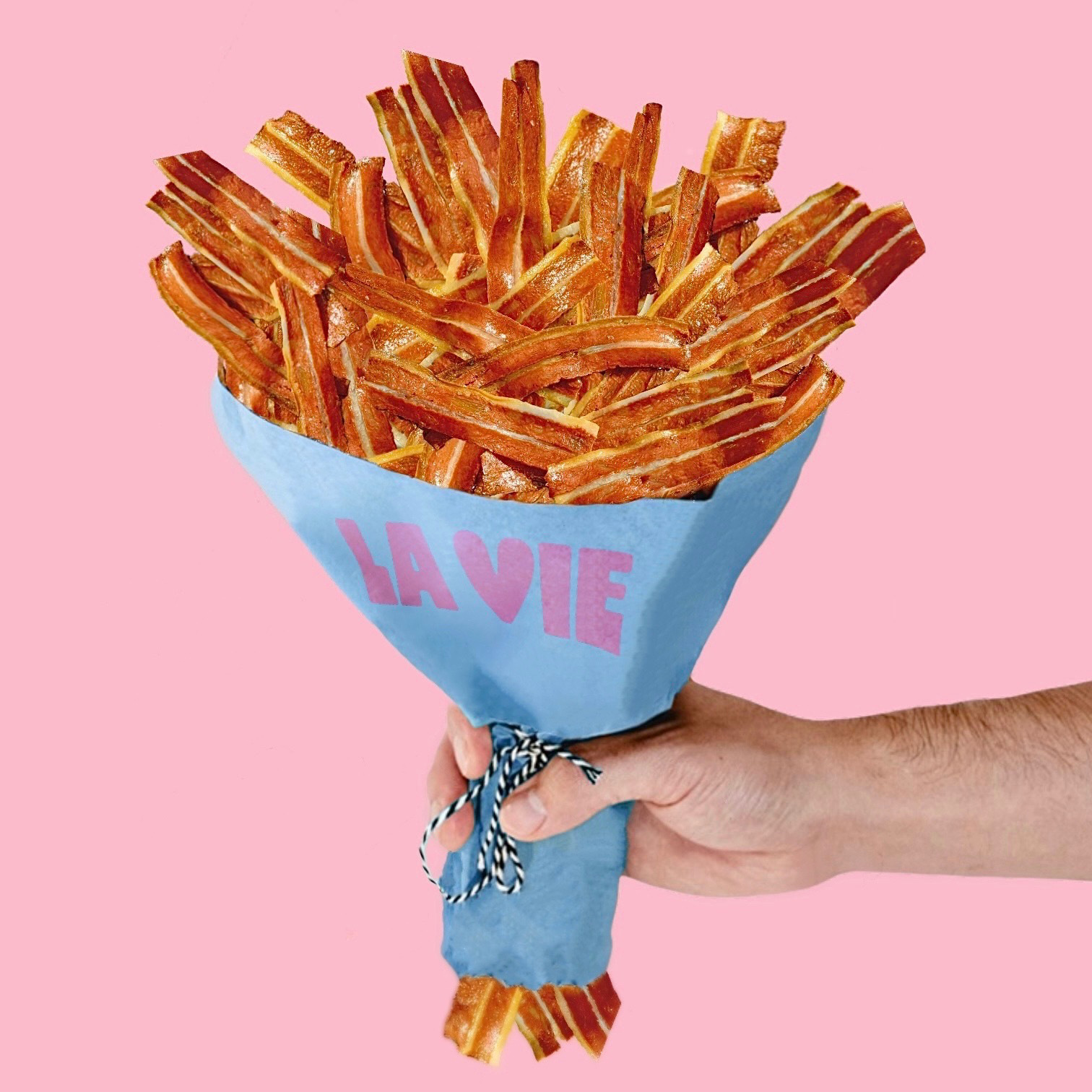 La Vie
"You must be really busy to miss Julien's tweet," La Vie stated. "In any case Julien, we loved your idea. Because yes, in the [original] Steakhouse, there is bacon. But in the Veggie Steakhouse, there is none … and as we find that a shame, we put our snout in this business." La Vie explains that a partnership between the two brands would fix this issue and directs Burger King to reach out via email.
In addition to the ad, over the weekend, La Vie sent out its "Love Truck" to the Saint-Brice-sous-Forêt area where Burger King customers could bring their Veggie Steakhouse burgers to be doctored up with vegan bacon.
Whether or not this was a big marketing stunt remains a mystery but all of the commotion proved successful and could result in a wider rollout of the vegan bacon at other Burger King locations in Europe.
In January, La Vie raised €20 million ($21 million) in a funding round that included participation from Portman, funding it is using to expand its European distribution. La Vie is looking for an additional investment of €50 million ($53 million) to fund its expansion plans into the United States.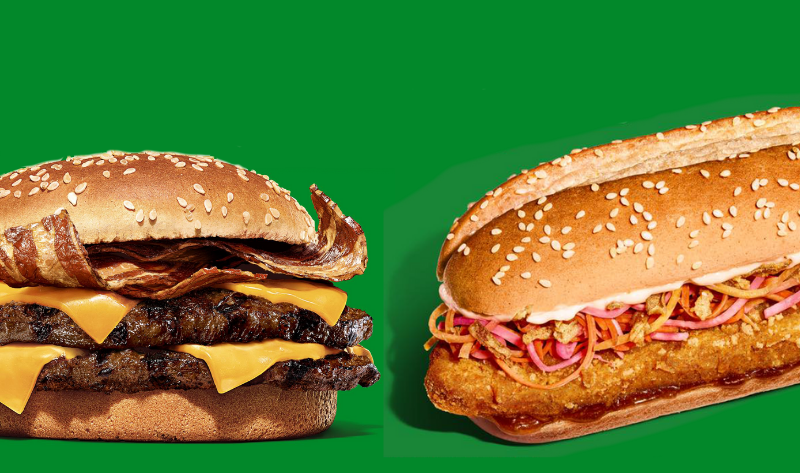 Burger King UK
Burger King becomes fast-food leader in plant-based burgers
Burger King got into plant-based burgers in 2019 with the launch of the Impossible Whopper—its classic Whopper but made with a plant-based Impossible Burger patty—across its US locations. Since then, the fast-food giant has made some large leaps into new menu items and markets across the world.
While in North America, its plant-based partner is Impossible Foods, in other markets, the chain is partnered with The Vegetarian Butcher—a Dutch vegetarian brand that was acquired by Unilever in 2018. Together with The Vegetarian Butcher, Burger King has released plant-based versions of its iconic Whopper across the globe. Burger King also works with Australian brand v2Food to deliver plant-based options in the Asia Pacific region.
These partnerships have resulted in some epic launches in recent years, including vegan chicken sandwiches and nuggets across Europe and parts of Asia. Since last year, Burger King has also been exploring meat-free pop-ups, starting with one location in Cologne, Germany that only served plant-based options for one week last summer. In Spain, Burger King transformed a Madrid location into a meatless paradise for one full month last fall.
And in the United Kingdom—where UK CEO Alasdair Murdoch predicts half of the menu will be plant-based by 2031—Burger King's Leicester Square location in London went vegan for approximately one month earlier this spring. There, guests could choose from 25 different plant-based menu items, including a vegan bacon double cheeseburger made with La Vie's plant-based bacon.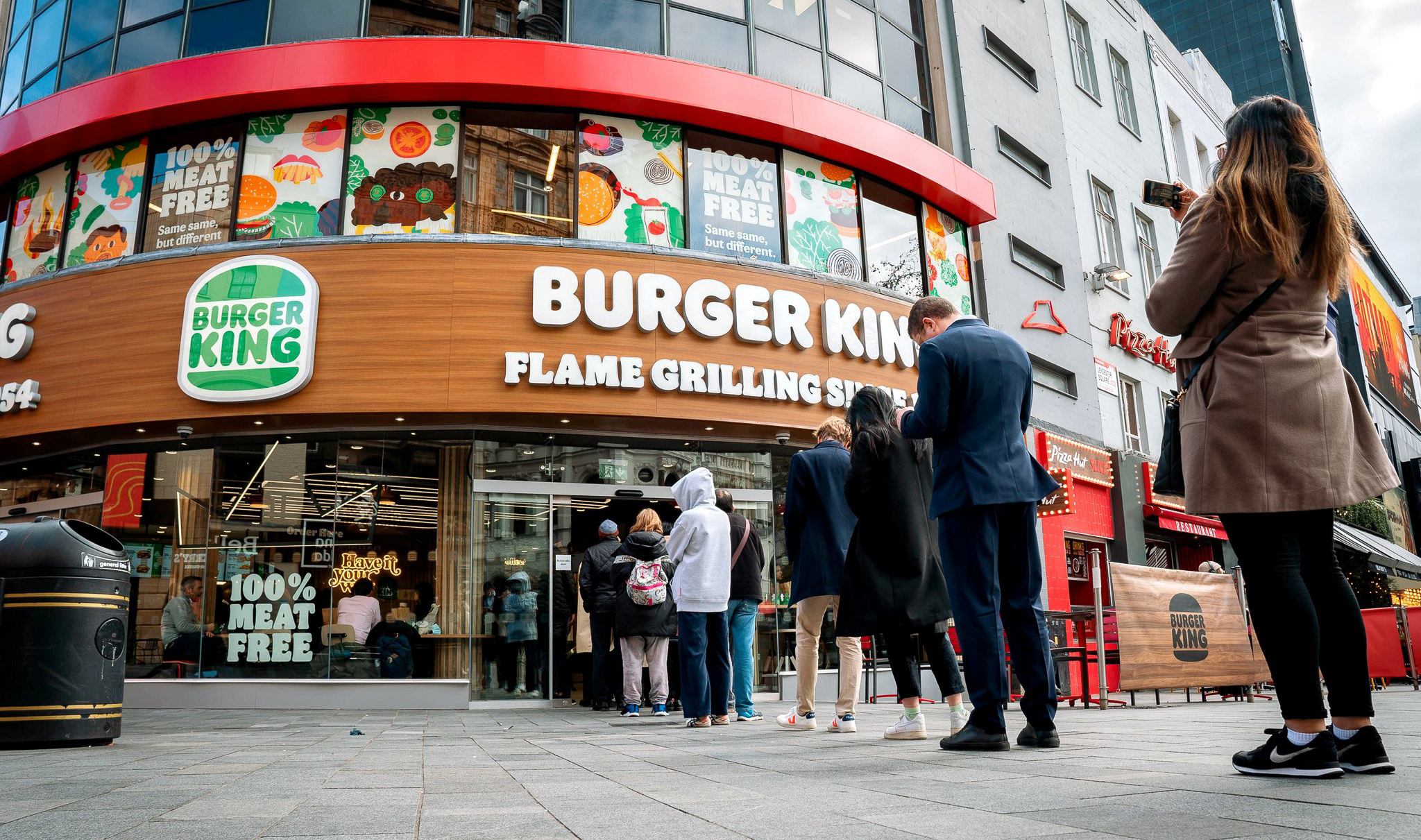 The Vegetarian Butcher
Natalie Portman's vegan investments
Natlie Portman has always been an animal lover and adopted a plant-based diet after reading Jonathan Safran Foer's animal-rights leaning book Eating Animals—which other celebrities, including Drew Barrymore, have credited for helping them eat less meat. To bring the book's messaging to a wider audience, Portman produced and narrated the 2018 film Eating Animals.
Portman frequently uses her fame to promote animal-rights issues and her money to invest in vegan brands. In addition to La Vie, Portman is an investor in Oatly alongside media mogul Oprah Winfrey, former Starbucks CEO Howard Schulz, and Roc Nation—an entertainment agency founded by rapper Jay-Z.
Portman's most recent investment was in Tender Food, which raised $12 million in March to bring its innovative plant-based meats to market. Founded in 2020 by researchers and engineers at Harvard University, Tender focuses on creating fibrous, whole-muscle meats that pull apart just like the real thing using its proprietary technology to recreate the textures of pork, chicken, and steak. Its first products are expected to launch this year.
For more about vegan bacon, read:
Why Former Dunkin' CEO David Hoffmann Is Investing in Vegan Bacon
Gordon Ramsay Just Dropped a Crispy Vegan Bacon Recipe on TikTok
Startup Raises $40 Million To Bring "Whole Cut" Vegan Bacon to Stores