The city of Los Angeles has welcomed an addition to its charitable landscape with the introduction of a vegan food bank. Created in collaboration with Hope on Union, the Vegans of Los Angeles Food Bank is taking significant strides in ensuring food security while championing healthier dietary choices for the residents of Southern California.
With a mission that goes beyond filling stomachs, the Vegans of LA Food Bank is making waves by offering a fresh perspective on food assistance. Its approach centers on not just providing sustenance, but also nurturing a sense of dignity and positivity among those who seek aid.
Founded by Gwenna Hunter a year ago, the initiative challenges the notion that we need to eat animal products to be healthy. Given the growing number of scientific studies that confirm the health benefits of a plant-based diet, the need for more plant-based nutrition is critical.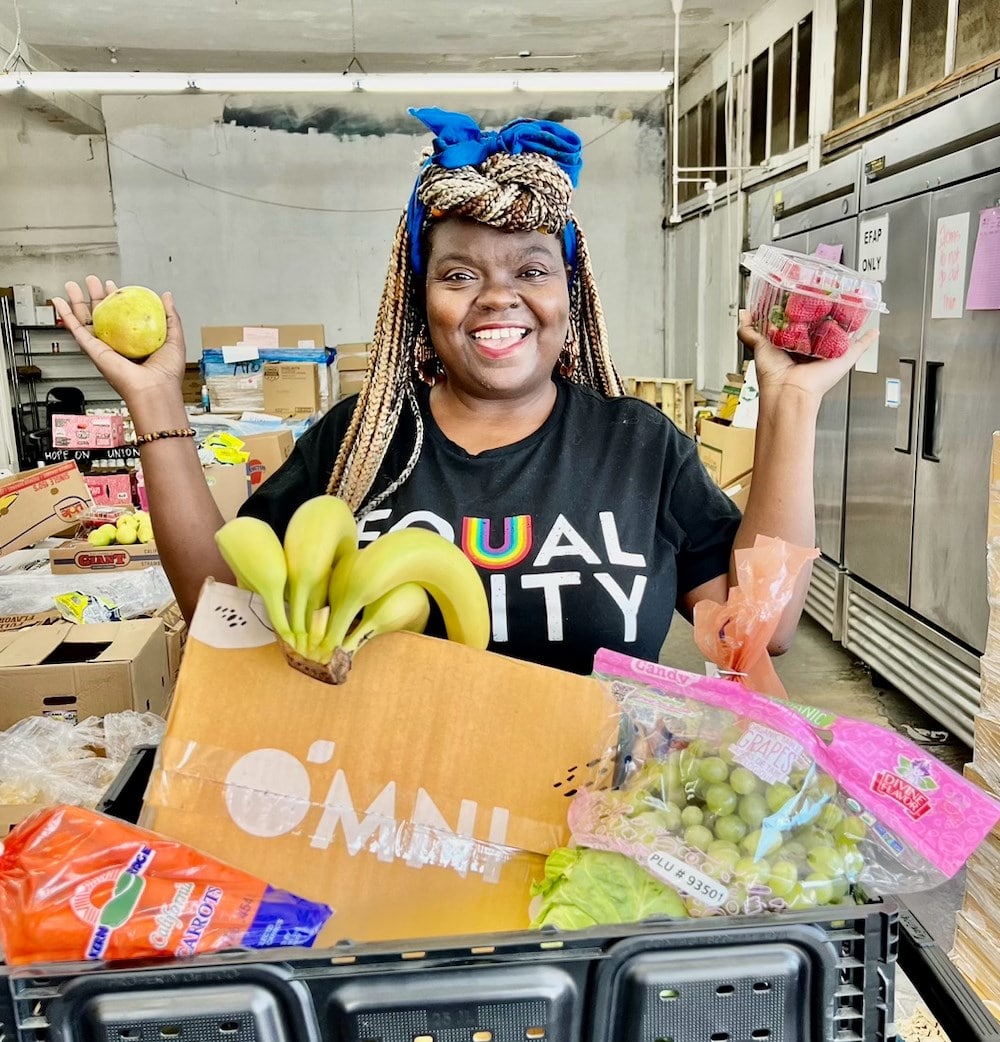 VegansofLA
Hunter was inspired to create the vegan food bank after experiencing food insecurity herself. "At one point I had $5 to feed myself for the week. It was one of the scariest and most stressful times of my entire existence," Hunter tells VegNews.
"I personally know what it feels like to wonder how you are going to feed yourself and survive. It can be a very dark feeling that depletes your light and hope," Hunter adds. "A vegan food bank would have saved me from so much stress."
Providing plant-based food for all
As patrons line up for the monthly distribution, they are met with a comforting environment, where volunteers extend kindness and respect to each individual.
The organization's ethos is rooted in the belief that everyone, regardless of their circumstances, deserves access to nourishing meals. When recipients leave the food bank, they not only carry bags of nutritious produce but also a renewed outlook on their circumstances, instilled with hope and pride.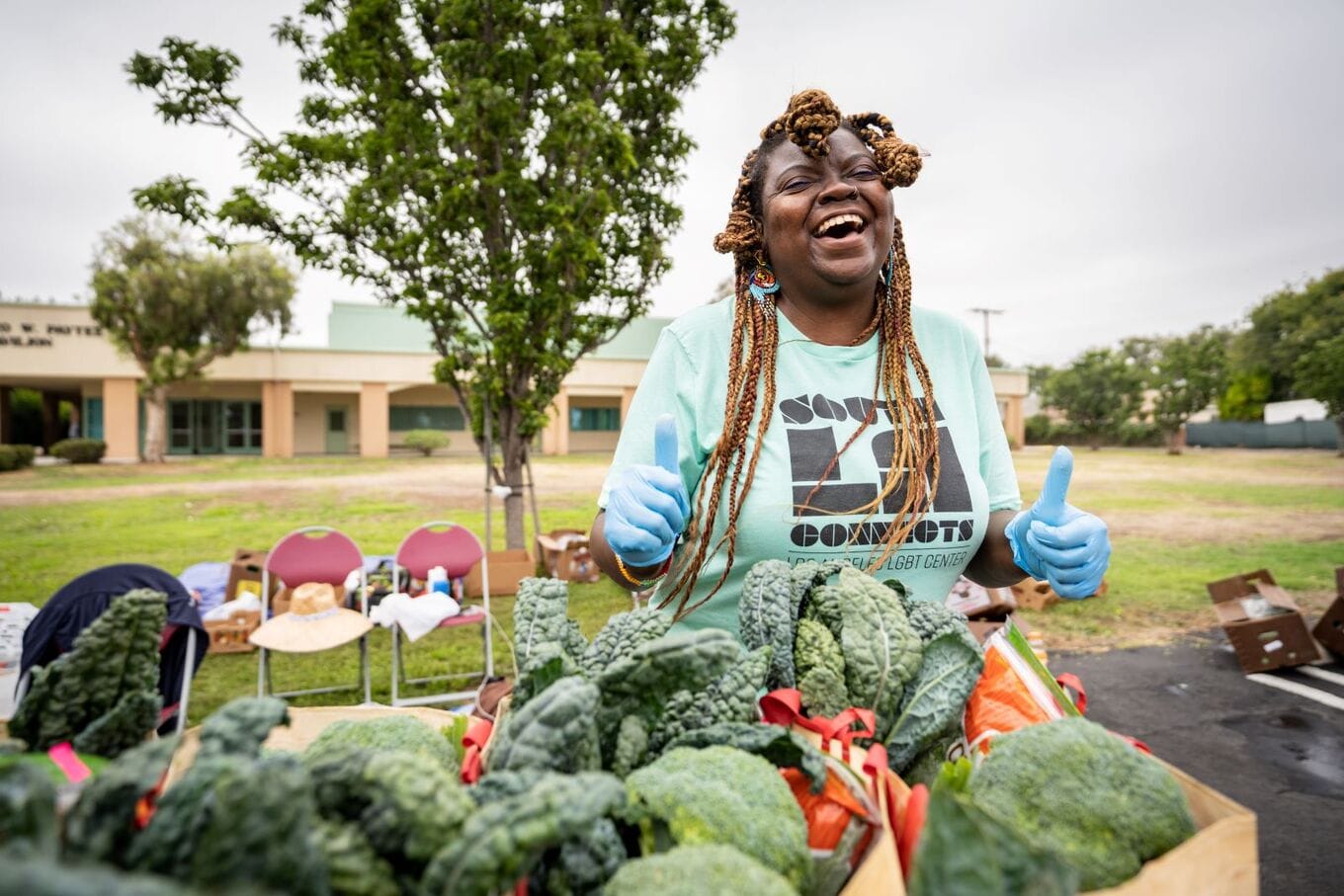 Nikki Ritcher/#unboundproject/We Animals Media
"They really appreciate and look forward to receiving the produce we offer and those [who] are vegan [who] attend, always look forward to seeing what we will have for them during our vegan week," Hunter says. "Many members of our communities have between four and five people in their families and our abundance [of plant-based food] gets them through tough times."
The offerings are an embodiment of the organization's commitment to healthier living. Locally sourced, seasonal fruits, vegetables, nuts, grains, and beans line the shelves, alongside plant-based products donated by companies such as All Vegetarian Inc., Califia Farms, Chobani, OmniFoods, and Just Egg.
A unique "Build-A-Bag" concept empowers individuals to select items that cater to their family's dietary preferences and requirements, ensuring a personalized and respectful approach to assistance.
Building a compassionate community
What sets the Vegans of LA Food Bank apart is its response to the growing demand for healthier food options, a trend that has gained momentum, particularly in challenging times. The lines wrapping around city blocks are testament to the significance of its contributions.
"Between the physical food bank and a vegan food outreach program we sponsor at the historic West Presbyterian church in LA, we serve over 600 people in a single day within a three-hour period once per month," Hunter says.
Hunter, a prominent LA figure known for her advocacy, is dedicated to spreading the message of food worthiness as a fundamental human right that does not necessitate animal exploitation. The Vegans of LA Food Bank not only strives to provide plant-based sustenance but also seeks to foster unity and access to nutritious meals for all families, advocating for a society where free food resource centers are as commonplace as fast-food joints.
"Black women were telling us that they have never cooked with such an abundance of vegetables before," Hunter says. "They shared their health updates and reported that they were either no longer cooking with animals and some had started the journey of meatless meals."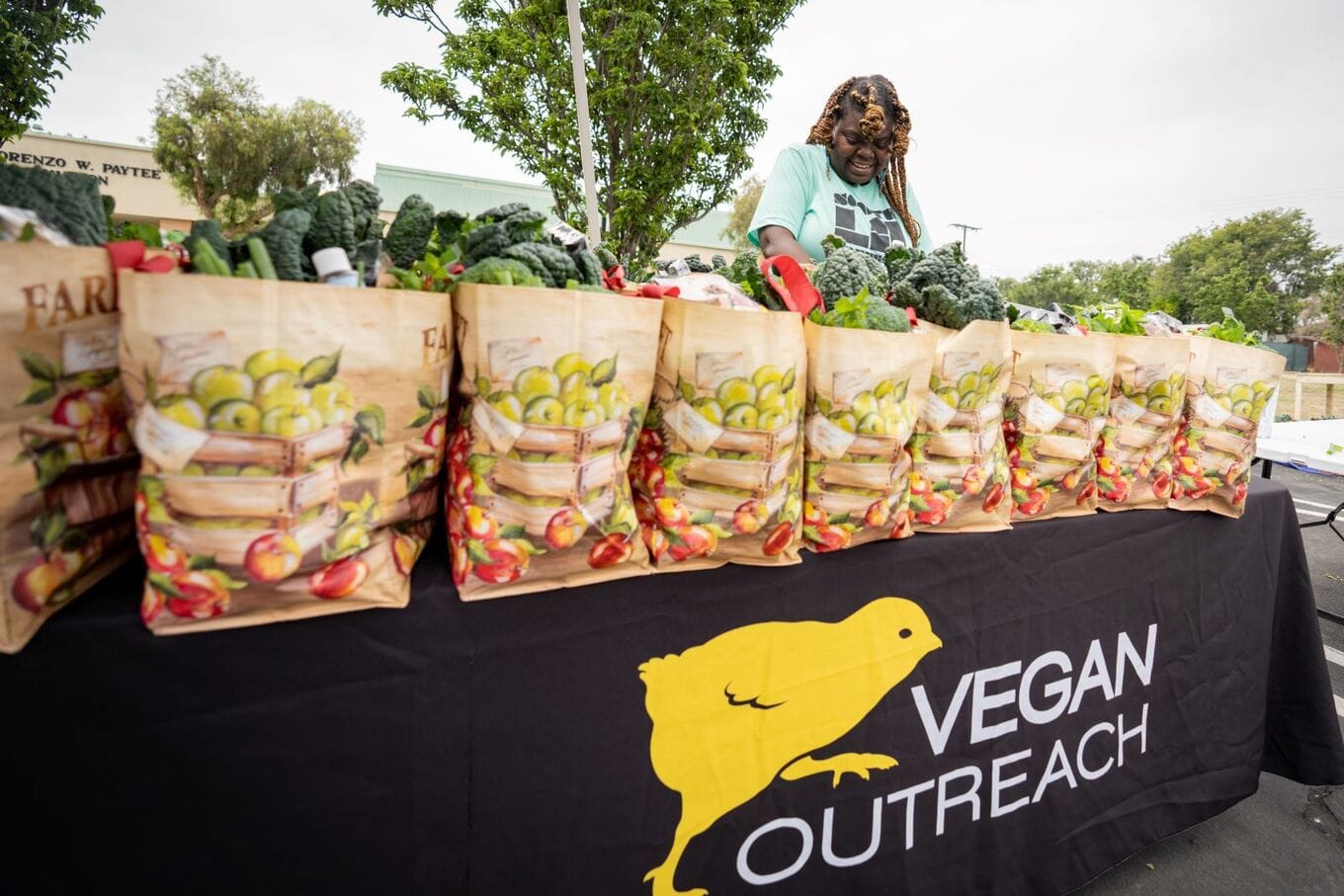 Nikki Ritcher/#unboundproject/We Animals Media
And, importantly, the Vegans of LA Food Bank is bridging dietary gaps and building a compassionate community. Its commitment to a healthier and more sustainable future is a driving force behind its efforts, serving as a testament to the symbiotic relationship between human well-being, animal welfare, and planetary health.
Given its success, Hunter says she is contemplating launching a traveling food bank so she can reach other communities and work with social justice organizations and local libraries.
"I also would like to help others start their own vegan food banks in other states," Hunter adds.
With a vision that encompasses both immediate aid and long-term change, this pioneering venture is reshaping perceptions around food assistance, emphasizing the fusion of health, compassion, and environmental consciousness.
For the latest vegan news, read: