More schools across the country are offering plant-based options as part of their lunch menus. They're doing so because they see the benefits: to be able to have a meal option for students seeking a meat-free meal, offer all students healthier options, meet religious dietary needs, and be more sustainable.
And now, it seems, plant-based menu items are becoming lunchtime favorites for students themselves.
The Annual National Conference of the School Nutrition Association—the premier industry event for school food in the United States—took place a few weeks ago. Here, student ambassadors from Littleton Public Schools in Colorado told the conference's 6,600 attendees that they preferred the vegan chicken nuggets from Rebellyous Foods to those typically served in their schools.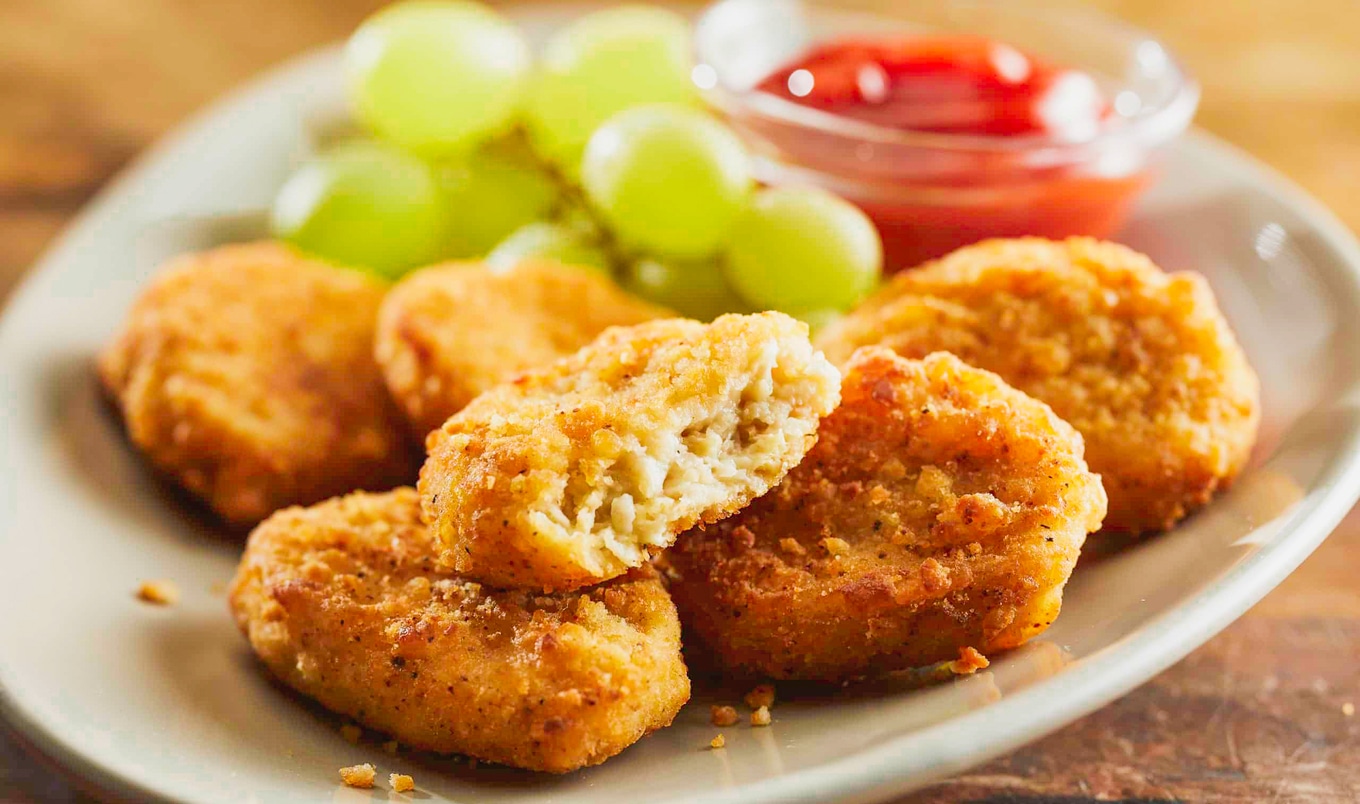 Rebellyous Foods
The resounding feedback from school food providers was that it tastes like conventional chicken.
Vegan chicken nuggets on school lunch menus
For its part, Rebellyous Foods is on a mission to change school lunch menus. "Nearly 30 million students eat school meals each day. Chicken nuggets, patties, and tenders are some of the most popular menu items in schools," Kristie Middleton, Rebellyous Foods Vice President, Business Development, tells VegNews.
"By offering a 1:1 replacement that tastes, looks, and cooks just like those popular options, we are making better-for-you, better-for-the-planet, and better-for-animals alternatives widely available to an audience that deserves quality meals," she says.
The company believes that vegan chicken nuggets are ideal for school lunches because they are a familiar comfort food, and also because—unlike animal-based chicken nuggets—they are free of cholesterol, antibiotics, and hormones, and low in saturated fat.
Vegan chicken nuggets also have a lighter environmental footprint and no animals are harmed in the making of them.
And so far, Rebellyous is gaining traction on that mission. The brand has already gained 13 new school district customers this year so far, bringing the total to 159 across the US.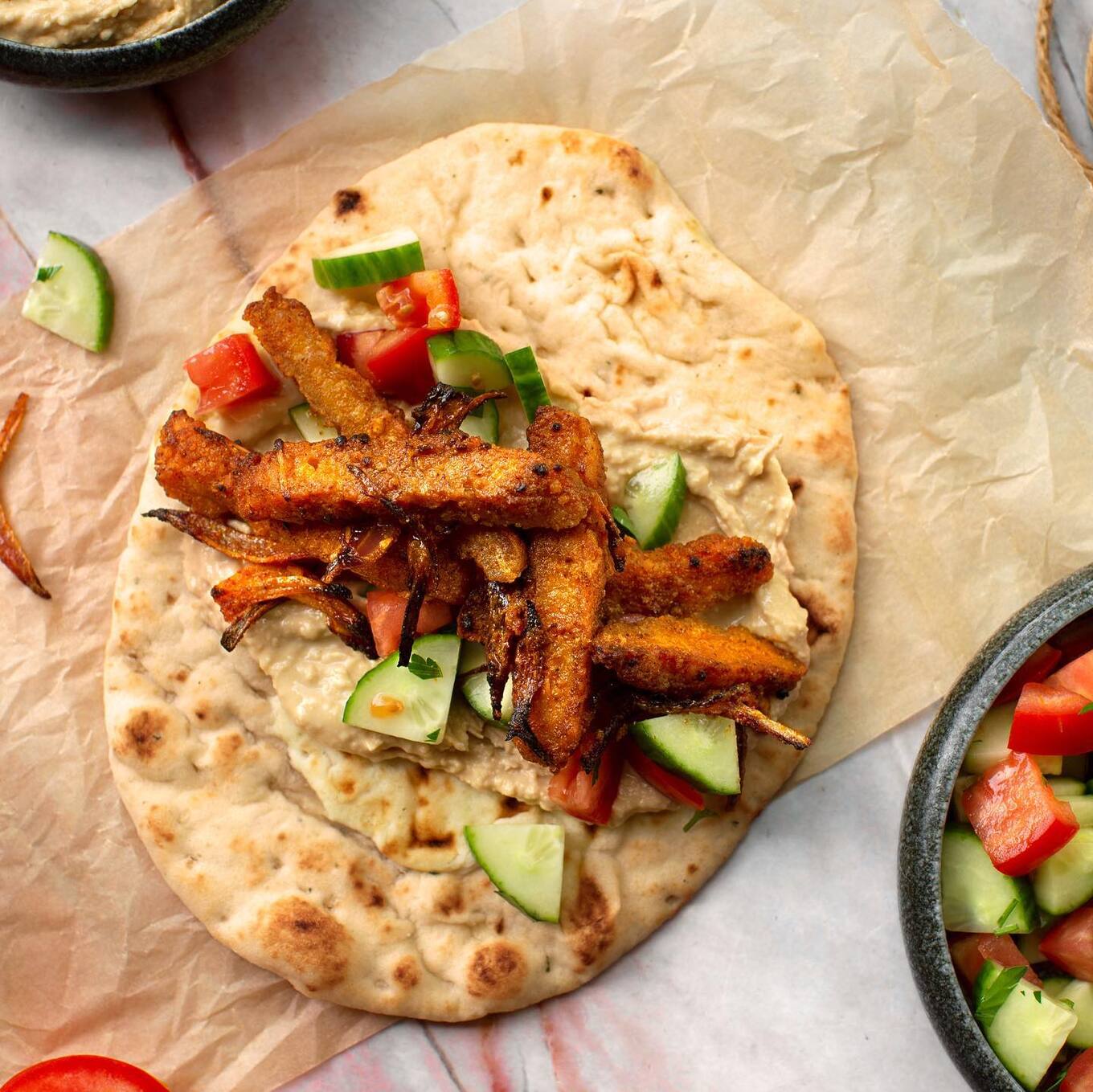 Rebellyous Foods
In total, more than two million students have access to Rebellyous' products on their lunch menus, in part because the company is a primary supplier of vegan nuggets for the National School Lunch Program, which serves major school districts across the country.
Making vegan chicken at price parity
Former aerospace engineer Christie Lagally founded Rebellyous with the ultimate goal of creating vegan chicken products that outcompete animal-derived chicken on every metric, with a particular focus on price. Earlier this year, the brand raised an additional $9.5 million to advance that goal, with the plan to improve its production equipment to bring Rebellyous products to commercial scale.
And this goal will help get this popular lunch option in more schools, too. "Our goal is to get to price parity with chicken within the next year," Middleton explains.
Rebellyous Foods
"Price is one of the biggest inhibiting factors for schools, so as we bring down the price of our plant-based chicken, we hope to make plant-based products that are affordable to all, making them everyday menu items for schools across the US," she says.
Why plant-based meals are good for schools
The traction is part of a growing movement in schools to provide more plant-based food options. Last year, for example, California earmarked $100 million for schools to receive grants to promote plant-based food, and Illinois passed legislation requiring schools to offer vegan meals. And in New York City, public schools have implemented Plant-Powered Fridays.
Similarly, California's Santa Ana Unified School District (SAUSD) has Plant-Based Wednesdays. For the SAUSD, this means each Wednesday all school menus are 100 percent plant-based, with the exception of cows' milk, which must be offered to qualify as reimbursable in accordance with the federal nutrition programs requirements.
The Environmental Protection Agency and SAUSD estimate that by going plant-based once a week for an entire school year the district has reduced its greenhouse gas footprint by 1,240 tons (2,480,000 lbs).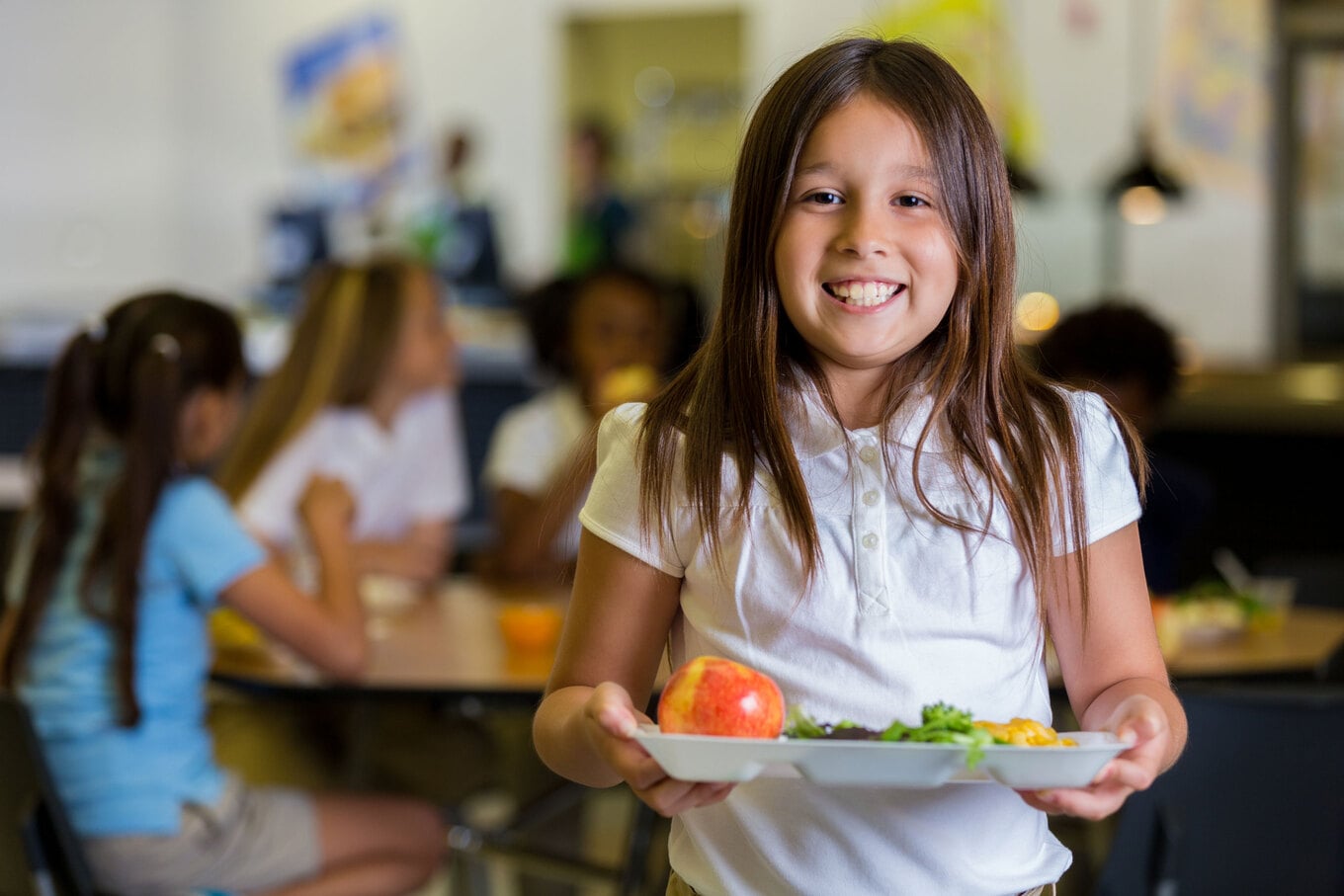 Getty
Recognizing that the more than eight million meals they serve each year have an impact on the environment, SAUSD plans to continue its Plant-Based Wednesdays initiative and add more plant-based options to its menus.
"The National School Lunch Program is one of the largest coordinated meal service operations on the planet. Given its immense scale, it has an obligation to adopt principles that would make it the most climate-friendly meal service operation on the planet. And its scope is growing," Josh Goddard, SNS, Director of Nutrition Services for SAUSD, tells VegNews.
"As more states follow California's lead in adopting universal meal programs, expanding the reach of the federal school nutrition programs, the time is now to adapt federal law to ensure food served in schools reflects what the science tells us," Goddard says. "In America, we are consuming animal products at an unsustainable level."
From a customer perspective, Goddard also points out that the move is a good one as more students are adhering to a plant-based diet or are incorporating more plant-based foods into their diets.
"Adding more plant-based options is good for any school desiring to make their menus as inclusive as possible," Goddard says.
"For many students, school menus are the first place they encounter new and different cuisines including new flavors, ingredients, and textures found in plant-based options," Goddard adds.
With all this in mind, he asks: "Why would we not want school menus that reflect real food security, system resilience, climate-smart agriculture, and so on? Why shouldn't schools be the epicenter of climate-friendly menus?"
"Because children are the future, the food we serve them must reflect values that consider their generation and all generations that follow," Goddard says.
For the latest vegan news, read: