In a recent study conducted by the Friedman School of Nutrition Science and Policy at Tufts University, researchers have found that while today's school meals are notably healthier than those provided to previous generations of American children, there is still much room for improvement.
Today, approximately one in four school meals are considered to have poor nutritional quality.
The study, which was recently published in The American Journal of Clinical Nutrition, indicates that updating nutritional standards could bring about significant benefits for hundreds of thousands of children as they transition into adulthood. Notably, this change could also lead to substantial financial savings, potentially saving billions of dollars in lifetime medical costs.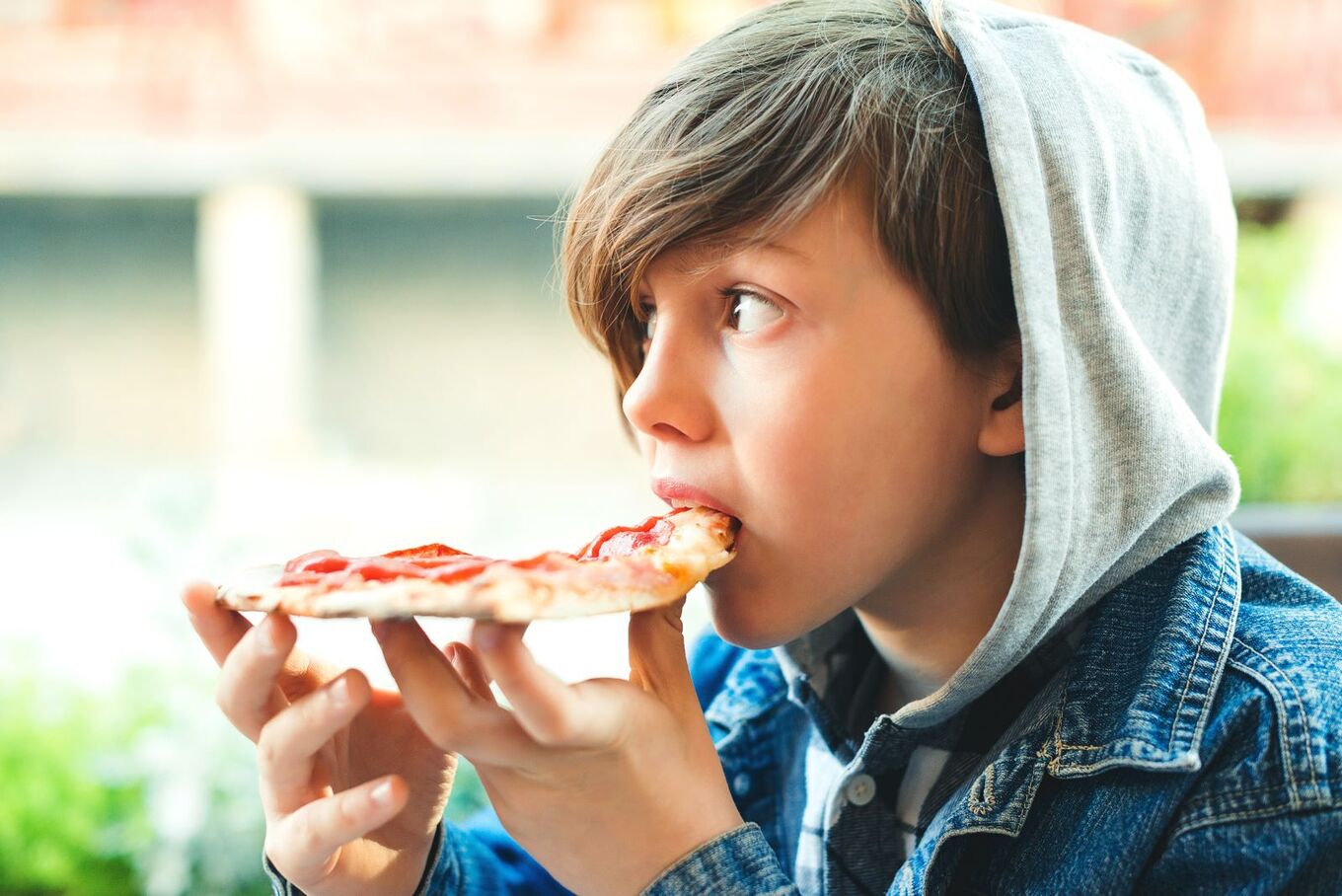 Adobe
"On average, school meals are healthier than the food American children consume from any other source including at home, but we're at a critical time to further strengthen their nutrition," Senior author Dariush Mozaffarian, a cardiologist and Jean Mayer Professor of Nutrition at the Friedman School, said in a statement.
In fact, previous research has found that 39 percent of American youth between the ages of 12 and 19 are overweight or obese; 53 percent have abnormal lipids; 18 percent have prediabetes; and 15 percent have elevated blood pressure.
This means children are already showing risk factors closely associated with premature heart attack and stroke. And changes to their diet are critical.
Improving nutrition standards in schools
If schools limited added sugar, ensured all grains were whole, and reduced sodium according to 2020-2025 Dietary Guidelines for Americans, more than 10,600 yearly deaths from diet-related diseases could be prevented, the study suggests.
This change could result in saving more than $19 billion annually in healthcare-related costs during adulthood.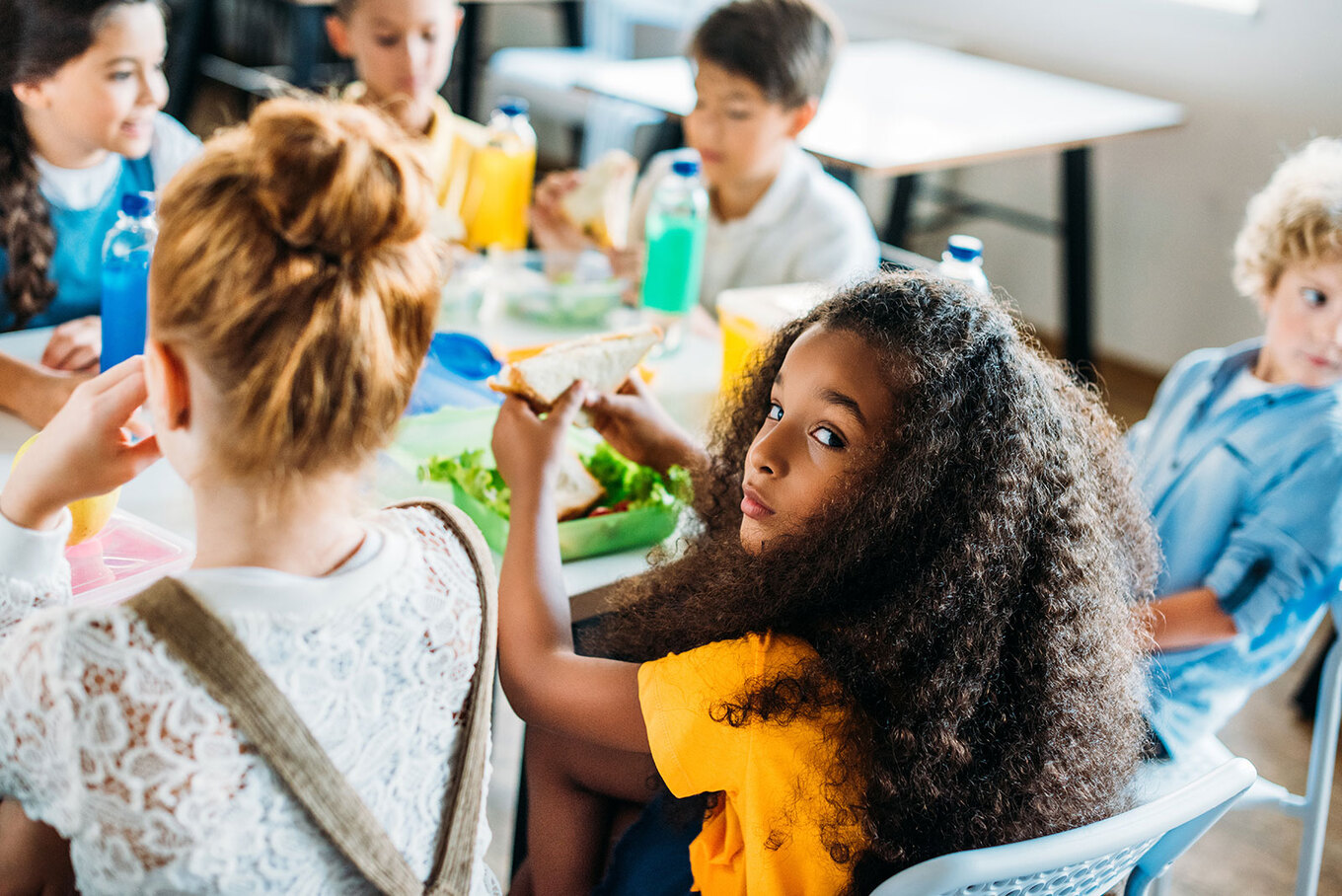 Adobe
The study's projections indicated that aligning school meals with the new dietary guidelines for added sugars, sodium, and whole grains would yield modest yet important short-term health benefits for children.
And these findings come at a crucial time as the United States Department of Agriculture has recently committed to updating school meal nutrition standards to align with the 2020–2025 dietary guidelines.
But what if schools went even further to offer plant-based meals as the default option?
An increasing number of schools across the US are working to make food healthier—putting more focus on salad bars, making vegetables appealing, and introducing plant-based entrées. However, most school meals are still not healthy.
The Coalition for Healthy School Food (CHSF)—a nonprofit organization that works to introduce plant-based foods and nutrition education in schools—says schools must offer vegetables, fruits, and at least some whole grains, but that doesn't mean those items are on students' cafeteria trays.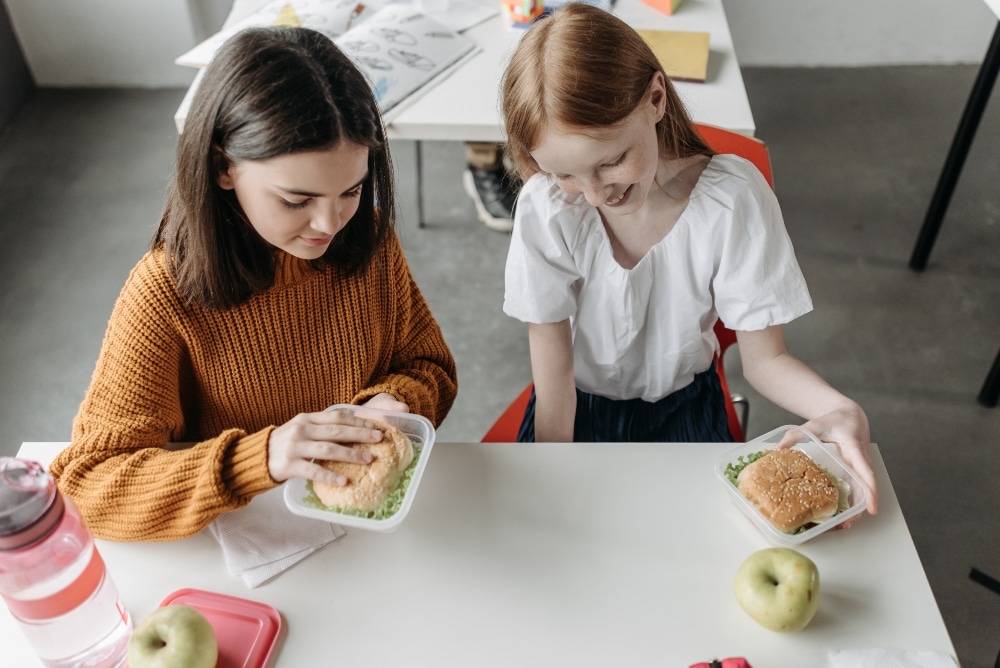 Pexels
A cheeseburger on a bun that is only 40 percent whole grain with a carton of apple juice can count as a "meal" that is eligible for reimbursement from federal and state governments. Because it meets federal regulations, many claim this is a healthy meal.
However, even though current regulations say dairy milk is required to be offered (but not required to be taken by students), the food served at schools can be entirely plant-based. There is no requirement for schools to serve meat, cheese, eggs, fish, or seafood.
Plant-based meals in schools
CHSF was founded in 2004 by Amie Hamlin and Bradley Goldberg after Hamlin wrote a legislative resolution for New York State that passed unanimously. The organization is grounded in a belief that offering plant-based meals would not only improve human health, but also children's well-being and the environment, too.
"Plant-based foods address several equity issues, including lactose intolerance and the disproportionate impact of diet-related diseases on the BIPOC population," Hamlin tells VegNews.
"Making schools aware of this helps them to understand why it is so important to add plant-based options," Hamlin adds.
Plant-based food as the default in schools would also help address sustainability goals. According to a study published earlier this year, the increased consumption of animal-derived foods has been responsible for 95 percent of food-related emissions in the last 20 years, with beef and dairy accounting for 32 percent and 46 percent, respectively. Experts have long suggested that a shift to more sustainable proteins is needed.
"With over seven billion individual school meals served each year in the US, the implications for addressing climate change are enormous," Hamlin says.
Additionally, Hamlin says nutritious plant-based meals could help improve students' cognition, which could result in better grades. A new study has found that the MIND diet, which emphasizes fresh fruits, vegetables, nuts, whole grains, and legumes, could help improve cognitive development in pre-adolescent kids.
"All of these reasons can be motivating for schools when they are helped to understand the enormous impact that food has on equity, health, sustainability, and school performance," Hamlin adds.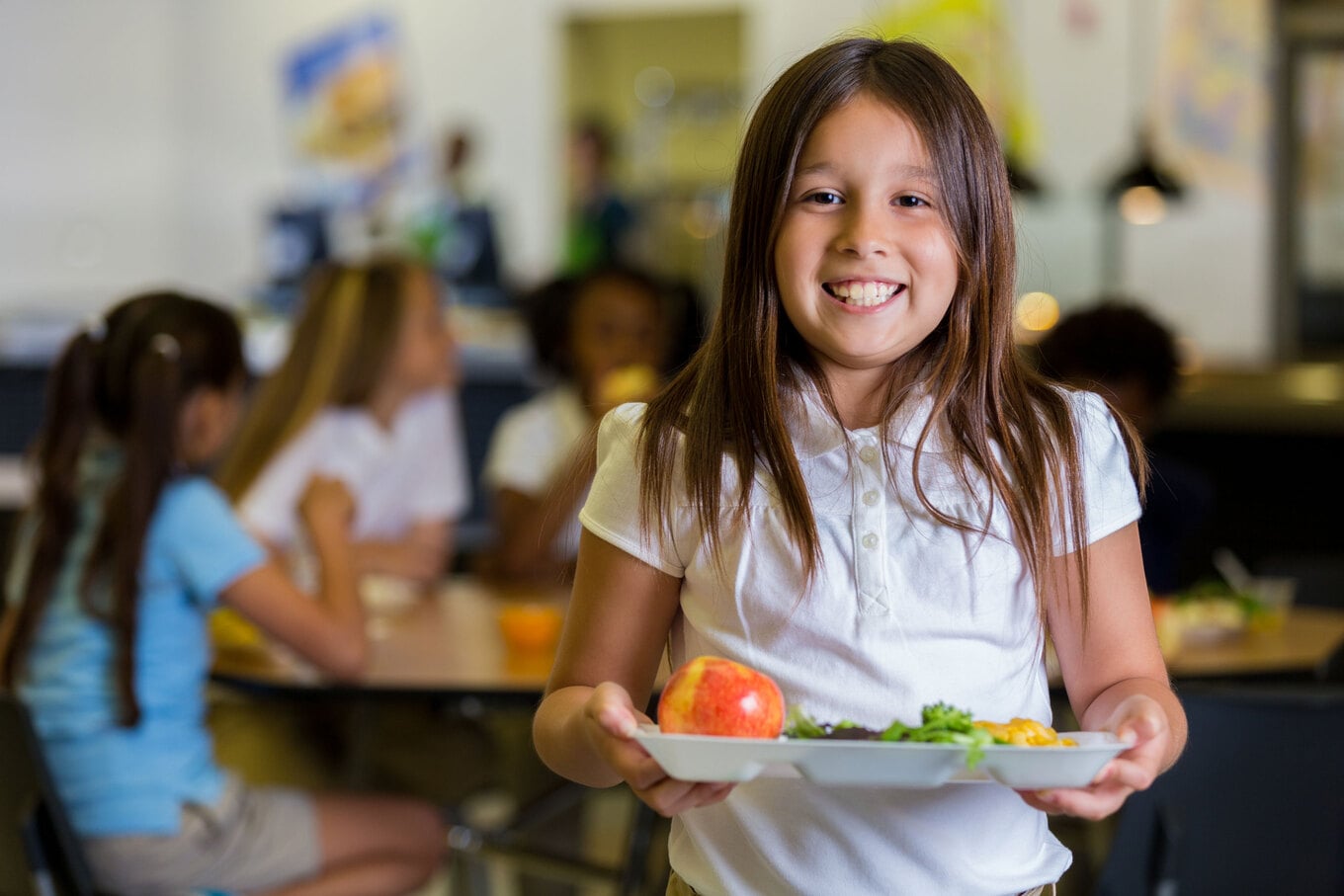 Getty
The organization's biggest accomplishment to date has been implementing Plant-Powered Fridays in New York City where all 1,700 public schools feature vegan food for breakfast and lunch every Friday.
"We had been advocating for a vegan day in all schools for some time," Hamlin says. "We asked the [NYC Office of Food and Nutrition Services] to do a vegan menu on Fridays in all schools, and they agreed to do it."
Currently, CHSF is working to reach more schools across the country as they prepare for and start the new school year, including offering in-person nutrition education that includes chefs, recipe-specific curriculums, and taste-testing in cafeterias.
"We do this not only for students but also for families, teachers, administrators, assistant teachers, and food service workers—the whole school community," Hamlin says.
For the latest vegan news, read: