In Ukraine, the Lviv Vegan Kitchen (LVK) has emerged as a beacon of hope and sustenance for those affected by the ravages of the Russian invasion. Founded by sisters Marta Ostrovska and Oksana Khomien, LVK has been providing vital vegan food aid to individuals in need throughout Ukraine since Russian troops invaded the country in February 2022.
Before the war, Ukraine had a growing vegan population, with 11 percent identifying as vegetarians and 2 percent as vegans, as per a study by the Kyiv International Institute of Sociology in 2020.
When the conflict erupted, Ostrovska and Khomien made a bold decision. They quit their jobs—leaving behind their small family business producing handmade jewelry and home decor—to devote themselves full-time to LVK, which initially began operations from the kitchen of Vega Room, a friend's vegan restaurant.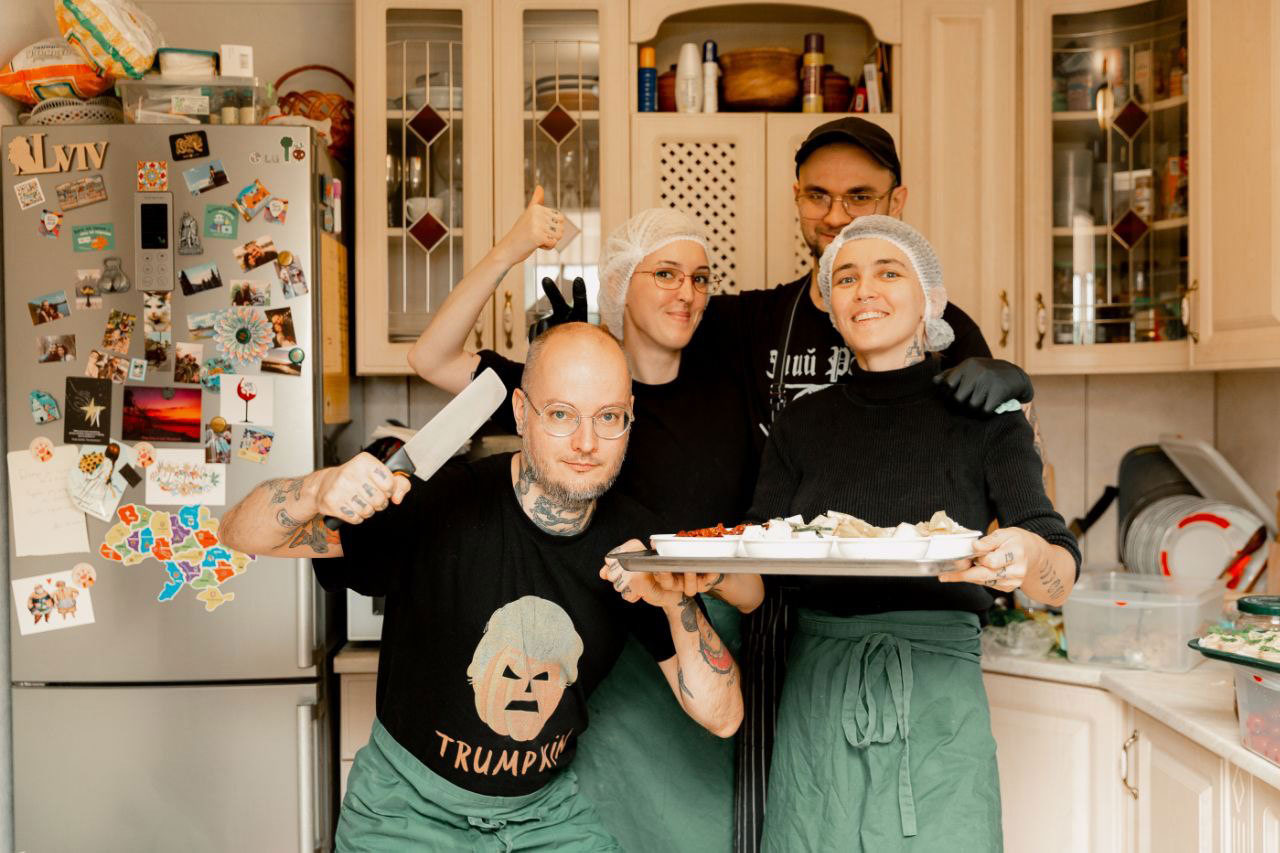 Lviv Vegan Kitchen
"Our primary goal was to support existing vegans first of all, to help them stay vegan and healthy," Ostrovska tells VegNews.
"When people hear about humanitarian aid during war, they might think that people will be happy to receive any help—both vegans and non-vegans," Ostrovska shares. "But reality does not look that way, vegans want to stay vegan and non-vegans want to keep their habits, as well."
With the Armed Forces lacking vegan options and refugees facing a scarcity of suitable food, LVK's mission became an indispensable lifeline.
Getting vegan food to Ukrainians amid the war
Situated in Lviv, a city with a history of cultural exchange, LVK became a humanitarian center during the crisis, giving out free vegan meals to people in need.
"We were volunteering here and there during the chaos of the first days of a full-scale invasion, and during night volunteering on the railway station in Lviv (serving tea for evacuated people), we realized that there are no vegan options for them at all—and this was time for us to act," Ostrovska says.
Lviv's status as a safe haven for refugees meant the demand for aid was high. However, challenges quickly arose. Supply chains were disrupted, making it hard to source meat substitutes. Major Ukrainian producers had ceased operations due to missile strikes and occupation, forcing LVK to adapt by sourcing products from Poland and receiving support from neighboring countries.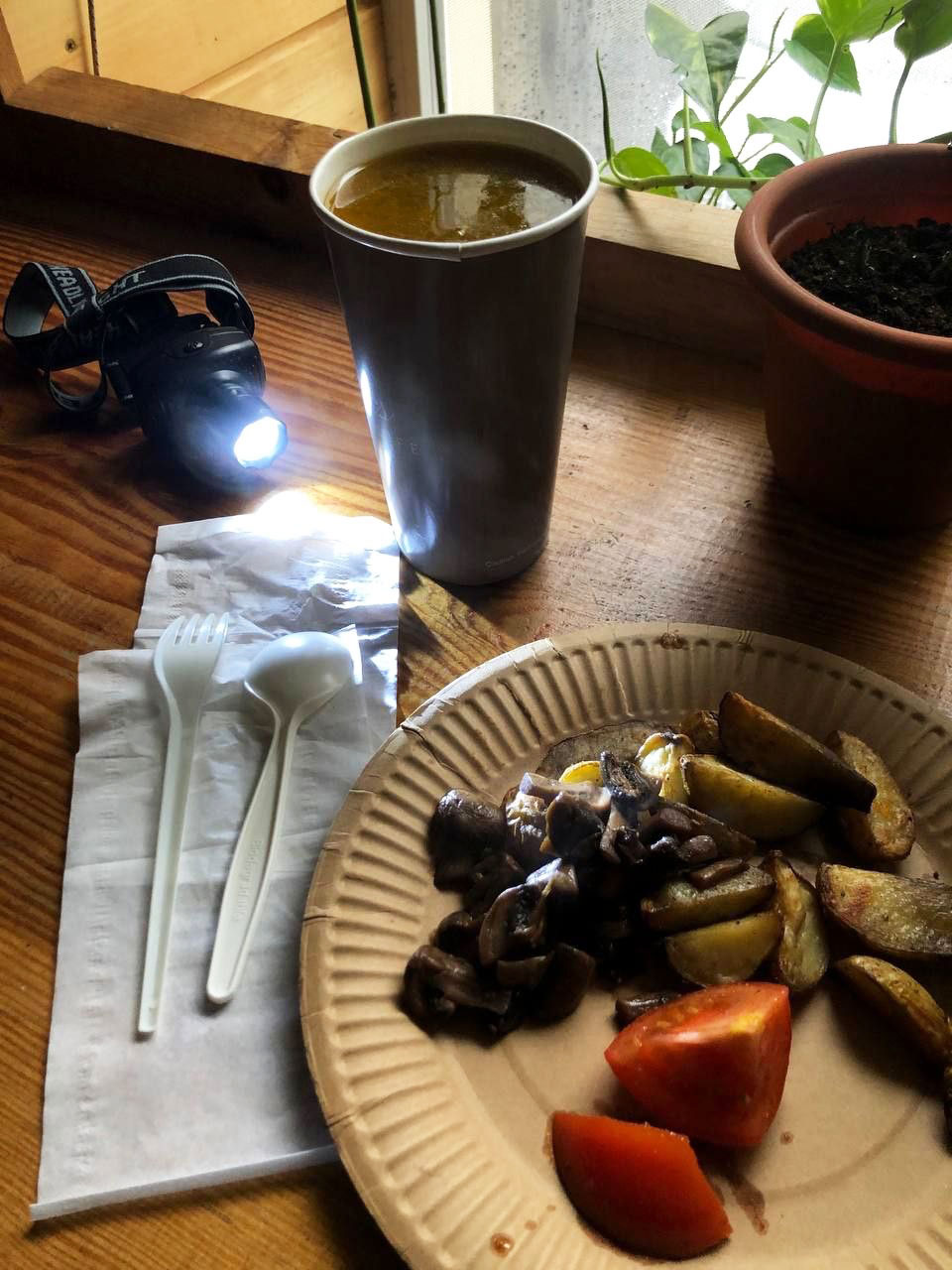 Lviv Vegan Kitchen
One bright light came after a chance meeting with Seth Tibbot, the founder of The Tofurky Company. Following the Russian invasion of Ukraine, Tibbot learned about Anastasia Yalanskaya, an animal-rights activist who was killed at close range by Russian soldiers along with two others after delivering dog food to a shelter near Bucha.
This prompted Tibbot to seek out Ukrainian vegans to find ways to help. His search led him to LVK and the sisters behind the operation, who initially asked and received chewable B12 supplements for children traveling through Lviv to safer locations.
"The more I got to know these women and their story, the more I became impressed by their compassion, selfless courage, and business acumen," Tibbot tells VegNews.
In 2021, Tibbot along with several non-profit organizations, including A Well Fed World and ABillion, helped the sisters raise enough money to buy a car and improve their supply chain.
"It's pretty hard under the best of circumstances to start a business or nonprofit and how they have done this rapidly and under the mess of wartime is one of the most heroic stories I have ever heard," Tibbot says. "I guess I see their work and my involvement as a tribute to Anastasia Yalanskaya."
Ukraine under fire
Last fall, missile strikes challenged LVK's ability to continue operations even further. Navigating the logistical challenges of delivering food aid with limited electricity required resourcefulness. LVK invested in a generator and propane tank to ensure cooking capabilities during the scheduled four-hour blocks of electricity.
Flashlights and power banks have become essential tools, and they have partially transitioned to disposable dishes due to the lack of hot water. The team often finds themselves working late nights or starting early to manage the fluctuating power supply.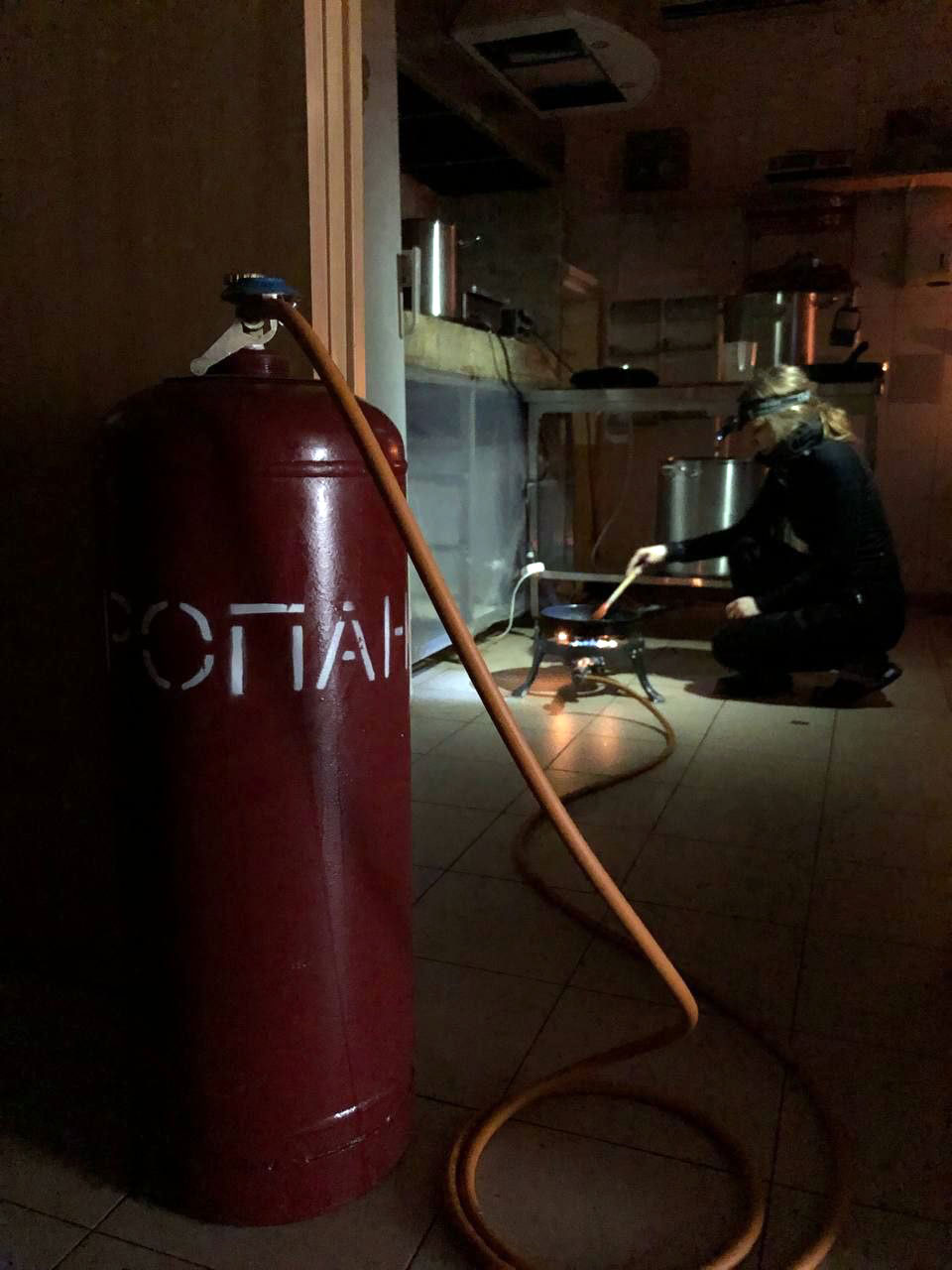 Lviv Vegan Kitchen
Working in this way, LVK has been serving 200 to 500 people every day at its restaurant.
Despite living in a region that experiences occasional missile strikes (the last of which happened in July), Ostrovska and Khomien acknowledge feeling comparatively safer in Lviv—one of the Western most cities in Ukraine. While the threat persists, they take solace in the fact that they sleep in their own beds, experience days without air alerts, and continue their work at LVK—a source of hope for people who have lost everything.
When visiting the LVK restaurant, people get free vegan meals and a moment of respite during a time of crisis. One woman who dined at the kitchen, Ostrovska shares, said she was able to smile for the first time since the Russian invasion.
"It makes us happy because a sense of security is something we all lack during war, especially people who left their homes to save their lives," Ostrovska says.
Vegan food aid for soldiers
Outside of the restaurant, LVK's commitment to sustainably supporting soldiers and individuals extends to carefully curating aid packages that include items with extended expiration dates and require minimal cooking.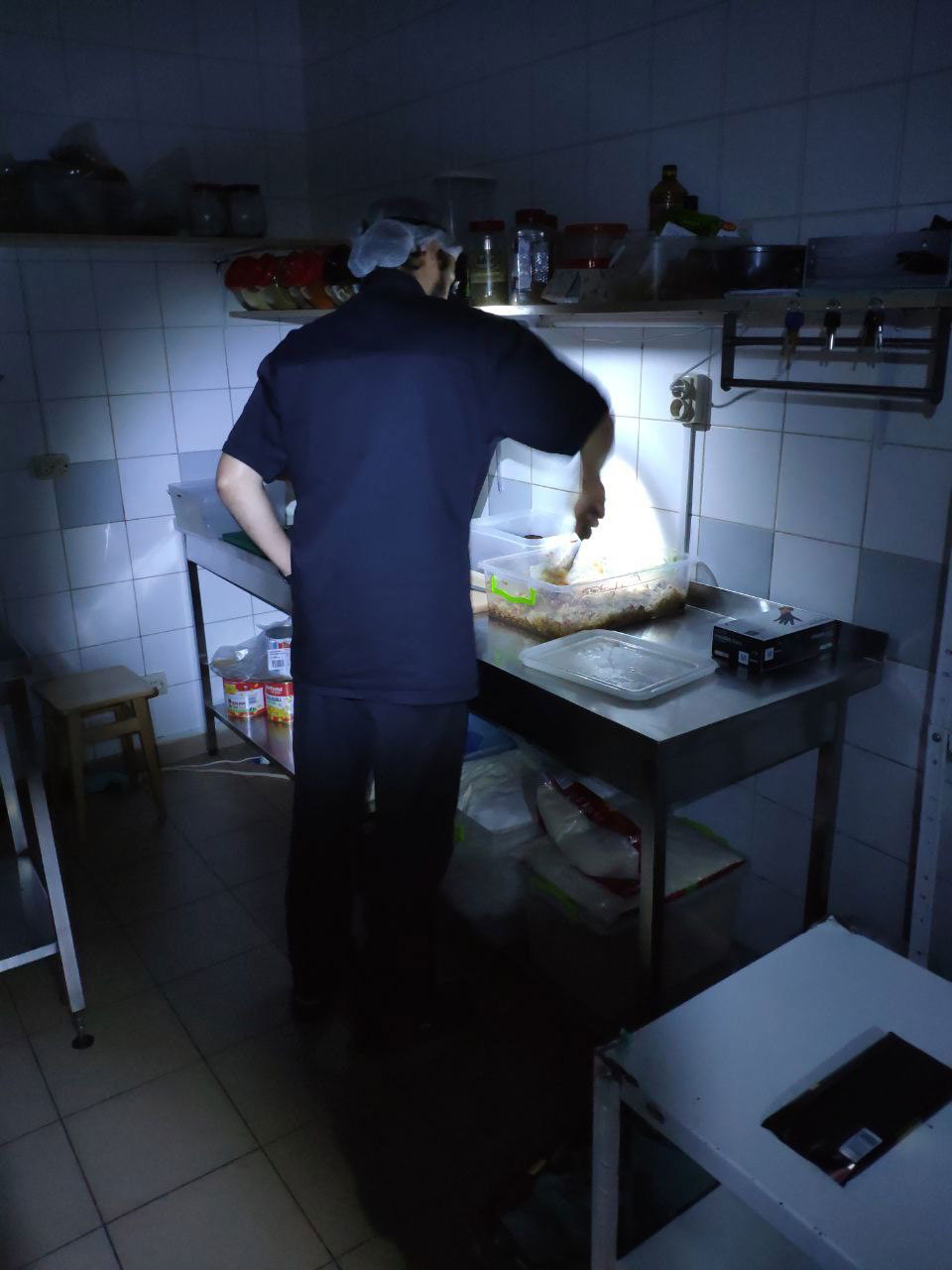 Lviv Vegan Kitchen
Dried soups and porridges, canned beans, protein bars (which they created themselves), sweets, soy milk powder, sausages, and tofu are among the provisions sent to vegan soldiers and others in need throughout Ukraine.
However, despite their best efforts, the sisters are still limited in how many people they are able to help. Throughout this year, LVK received 55,700 requests for aid, approximately 2,000 of them from vegans, 7,000 from vegetarians, 2,500 from people with allergies, and about 3,500 people with diabetes. They were able to fill a maximum of 150 of these requests per week, triaging whom they could help best with their limited resources.
Last year, a petition urging Ukraine's President Volodymyr Zelenskyy to include vegan rations for soldiers garnered 25,000 signatures, sparking discussions about plant-based rations' benefits for energy needs. Ostrovska explains that the Ukrainian government has yet to add vegan rations, making LVK's work even more important.
"We have a couple of vegan friends who chose 'vegan' as their call sign," she says. "So outreach continues even in trenches."
To date, LVK has sent out more than 2,000 vegan food packages.
Vegan food, the opposite of violence
Despite the immense challenges, their effort, Ostrovska says, is paying off in a number of ways, including by helping people understand the value of veganism even during immensely difficult times.
In their own small-scale market research, the sisters have found that 17 out of 40 people they asked discovered veganism through LVK.
"People who do not even know the word 'vegan' have started to visit us and now they say that they don't want to eat meat anymore," Ostrovska says.
As Ukraine continues to grapple with the Russian invasion, the sisters and LVK have doubled down on nourishing people with vegan food.
The sisters recently visited the United States for the first time to attend the Animal & Vegan Advocacy Summit in Los Angeles, and to spread awareness about LVK to raise additional support for their life-saving work in Ukraine. Together with Tibbot, the sisters also experienced some of the treasured sites along the West Coast, were able to see an ocean (the Pacific) for the first time in their lives, and raised enough funding to keep LVK going for an additional five months.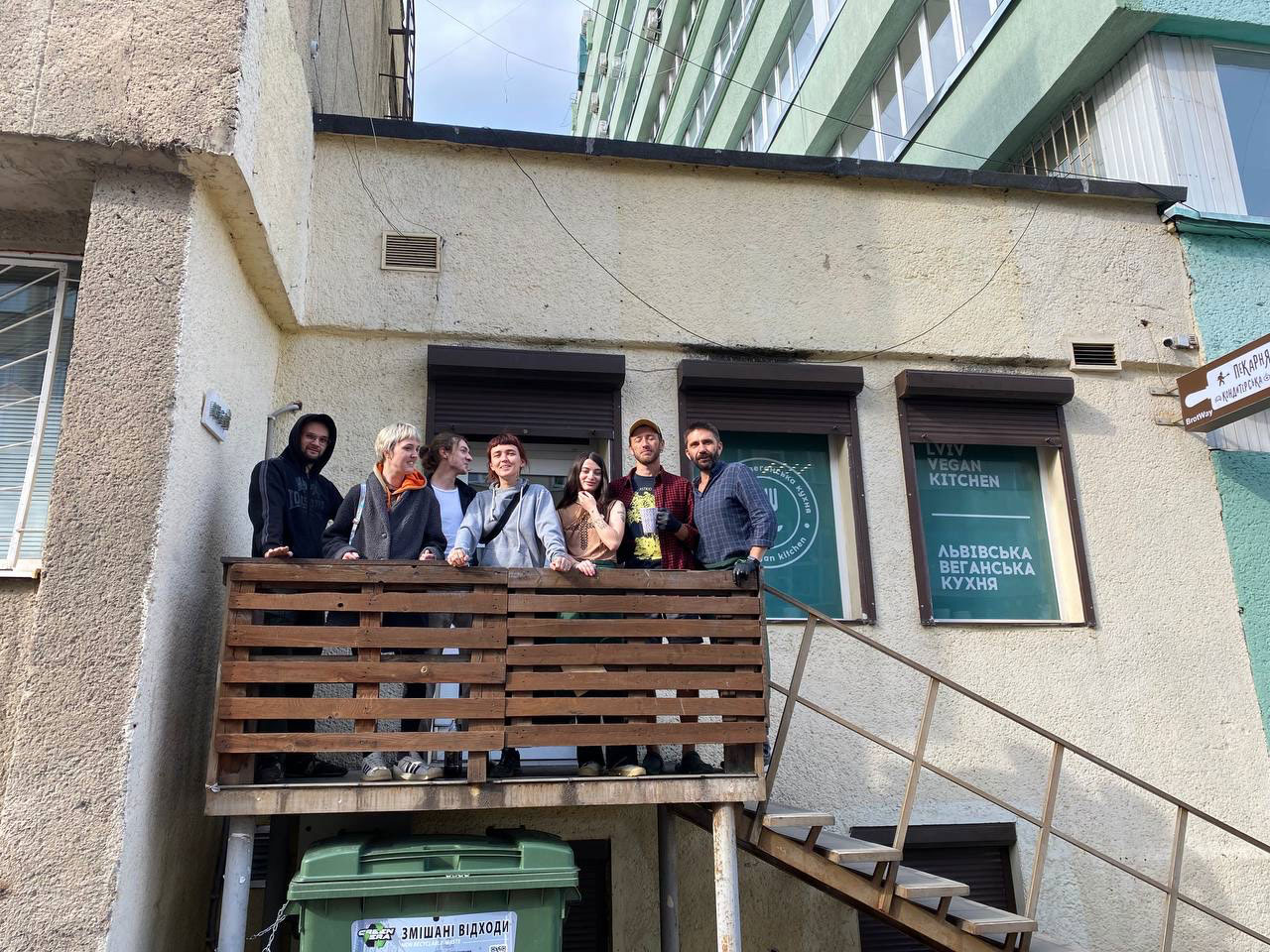 Lviv Vegan Kitchen
"The Lviv Vegan Kitchen is a prime example of dedicated people doing selfless work that excites me and gives me hope for this sweet old world," Tibbot says.
Looking beyond the conflict, Ostrovska and Khomien dream of leading simple lives in peaceful towns. Their aspirations extend to giving back to the world that has supported them through these challenging times.
"Hopefully with our help, it was much easier for a lot of vegans to stay vegan, and for new people to go vegetarian or vegan," Ostrovska says. "People need something opposite to the stress and violence they witness and experience. And veganism is the opposite to violence."
Those wishing to support LVK in its mission can donate through its website here.