Underneath its veil of glitz and glamor, the city of Los Angeles continues struggling with its homelessness crisis. The city is home to an estimated 46,260 unhoused residents, a 10-percent increase from 2022 according to the Los Angeles Homeless Services Authority (LAHSA).
Just east of Downtown Los Angeles, Skid Row—an area of 54 square blocks—is often regarded as the center of the city's unhoused community. Currently, an estimated 2,000 unhoused Angelenos are living on Skid Row.
And while city officials have long struggled to provide ample resources and funding to help those living on the streets of Los Angeles, a number of organizations have taken matters into their own hands to provide food relief to the city's most vulnerable.
Among such individuals hitting the streets to address the needs of unhoused communities is celebrity chef and lifelong vegan Supreme Dow.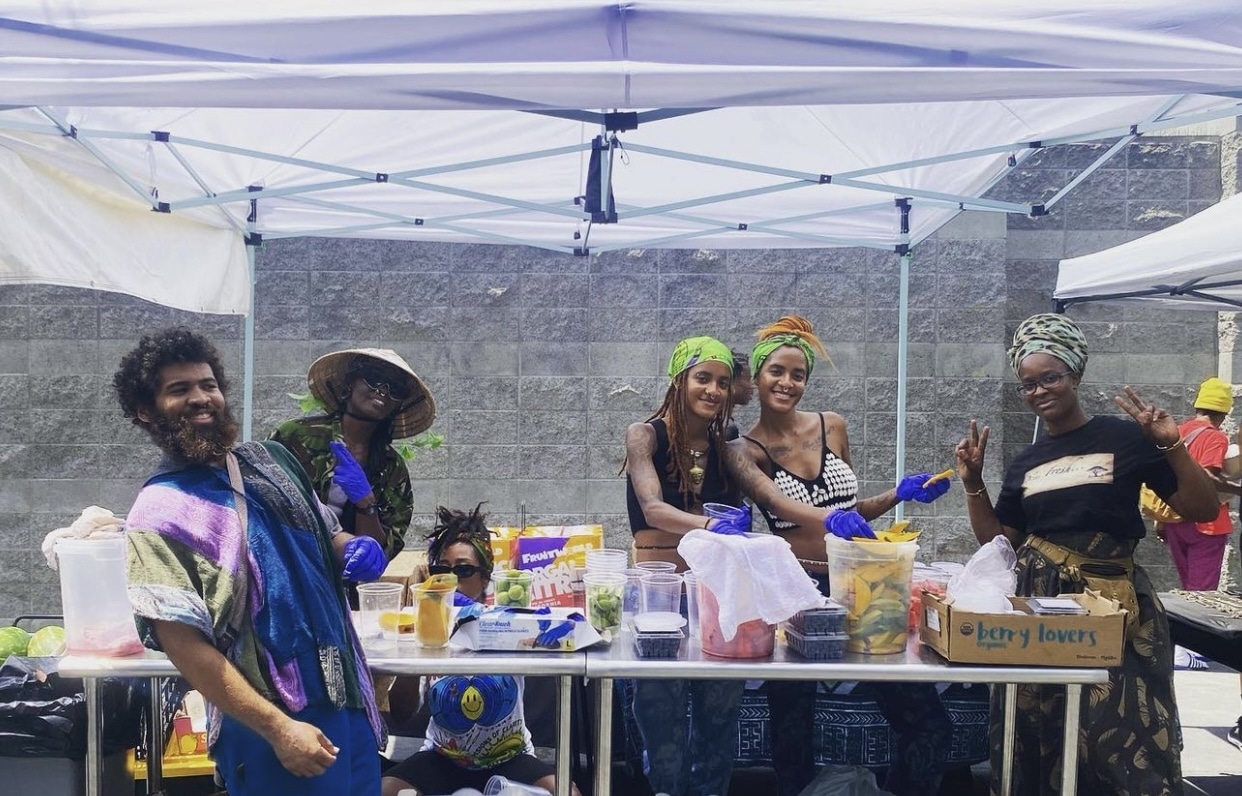 @OriginalManufacturing/Instagram
Last month, Dow kicked off his annual Skid Row BBQ—an initiative that provides vegan food to unhoused Angelenos throughout the summer—in collaboration with NBA star Kyrie Irving; Hart House (a vegan fast-food chain owned by Hollywood A-lister and Philadelphia native Kevin Hart); All Love No Beef (an organization addressing food deserts, incarceration, and violence); and The SheRise Enterprise (a public relations agency).
Dow's Skid Row BBQ is a part of his greater 10K Meals Across LA initiative, which he spearheads under his non-profit, The Harvest Academy.
For this year's first Skid Row BBQ, Chef Dow—a Philadelphia native—hoped to infuse a touch of his hometown's brotherly love. So, he looked toward Hart House for plant-based cheeseburgers.
With the help of donations and funds he's earned from paid catering gigs, Dow purchased 200 vegan cheeseburgers from Hart House, and the chain donated an additional 50 units for July's Skid Row BBQ. Alongside the fast-food staple, Dow served fresh fruit and Philadelphia water ice.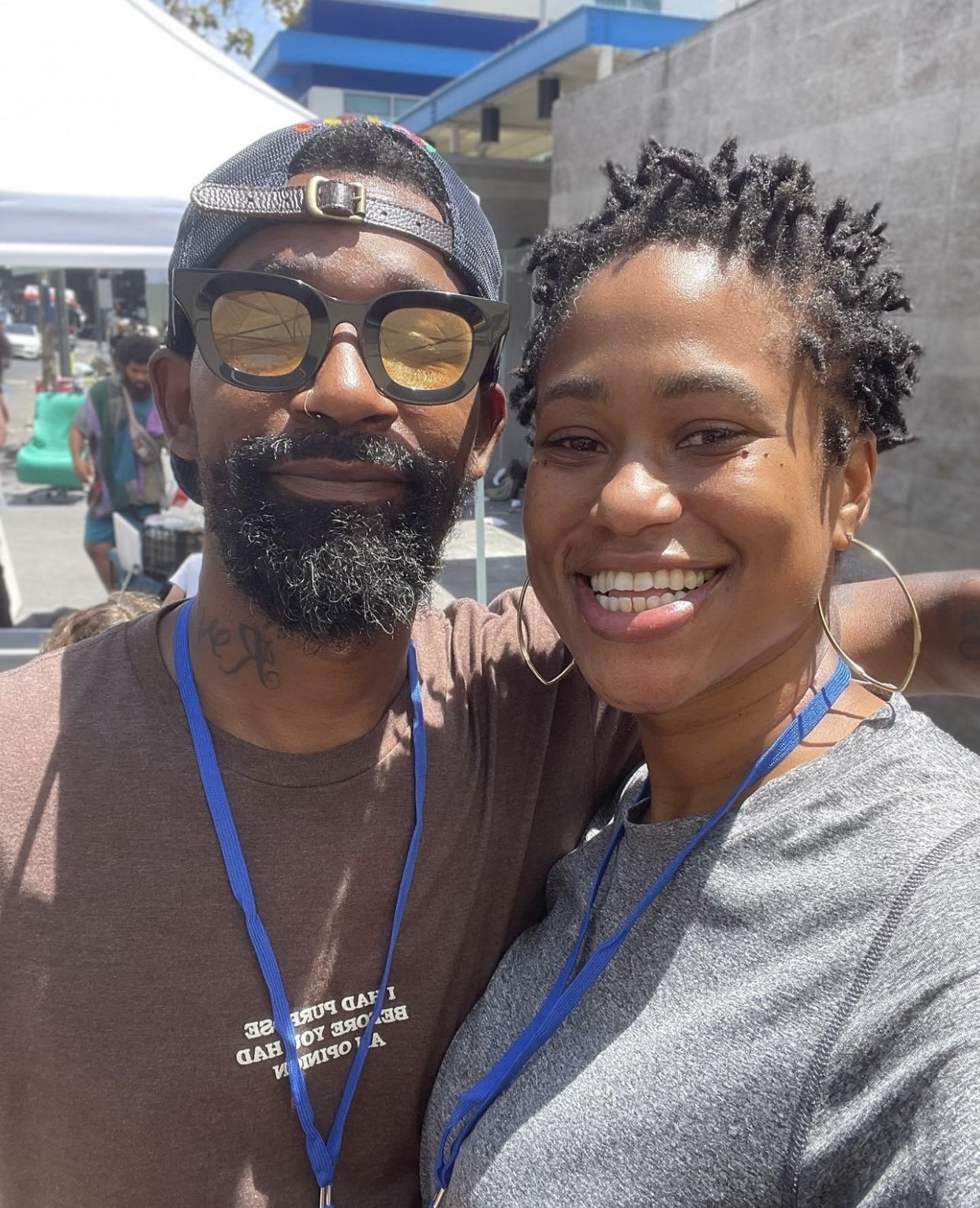 Chef Supreme Dow and SheRise Ford. @TheConciergeKitchen/Instagram
"We wanted to bring the City of Brotherly Love to Los Angeles. That was [one of] my goals," Dow tells VegNews. "The turnout was amazing. We had about 12 to 17, maybe 20 volunteers. The community was in love—it was a hot day that day, so we had fresh fruit cut on site and fresh water ice."
"[Unhoused community members] were able to share their stories and share their voices in a place of love," Dow says. "It was every bit amazing."
It takes a village
While Dow officially launched his 10K Meals Across LA initiative a year and a half ago, he has been serving unhoused Angelenos for twice as long.
Four years ago, Dow moved to Los Angeles from Philadelphia to pursue his longtime dream of working as a vegan celebrity chef. "I told my father 15 years ago that I was going to come to [Los Angeles] to be a celebrity chef and feed millionaires higher quality food," Dow says.
Dow's clientele quickly became a roster of Hollywood's top stars including rapper André 3000 and singer-songwriter India Arie. When he wasn't cooking for celebrity clients, Dow was busy leading the vegan and raw department at Erewhon (a cult-favorite grocery chain in Los Angeles) and selling vegan food at Leimert Park.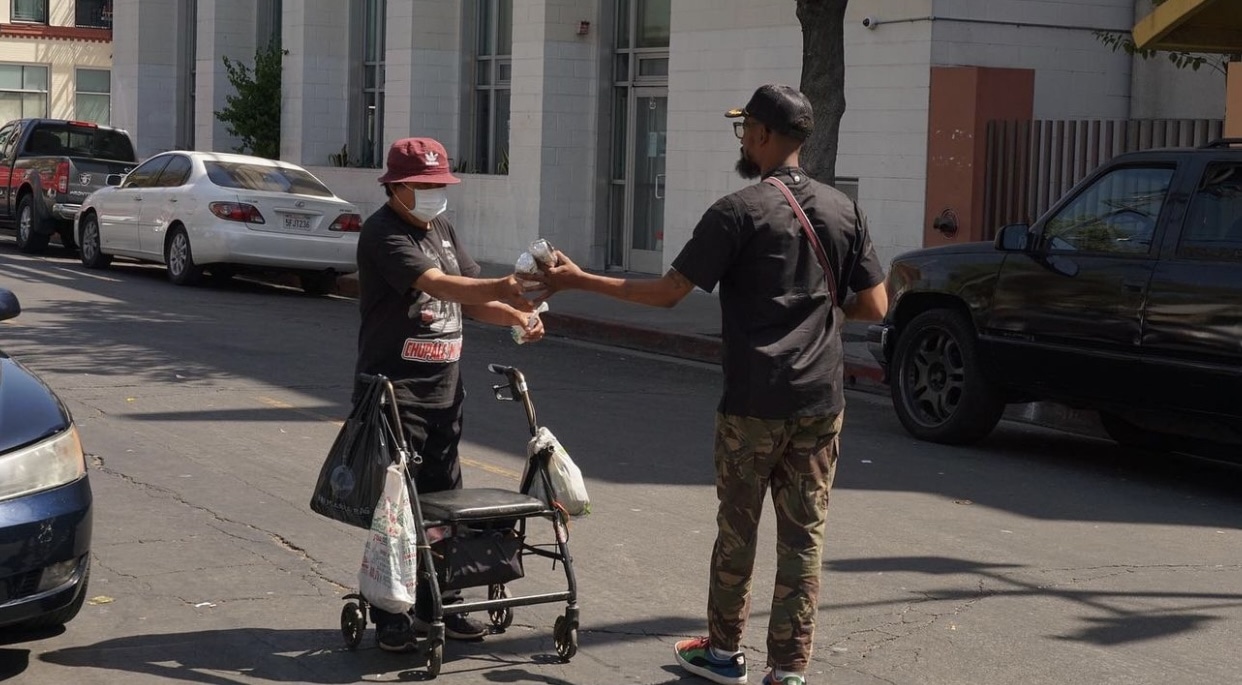 @TheConciergeKitchen/Instagram
But in March 2020, Dow's focus quickly shifted. "When the pandemic hit, I clearly understood how it impacted certain communities, how it impacted my communities: underserved communities, communities where families depend on schools for food, and things of that nature," Dow shares.
"So I sat back and thought, 'How could I have an impact?' I just started giving my services away to groups like Vegans of LA, Vegan Outreach, and Gen V, which was formerly [known as] Million Dollar Vegan," Dow says. "I worked with a lot of different organizations within the city to get food to underserved communities."
But ultimately, it was a donation from Gwenna Hunter—founder of Vegans of LA and the Vegans of LA Food Bank—that helped Dow propel his work even further.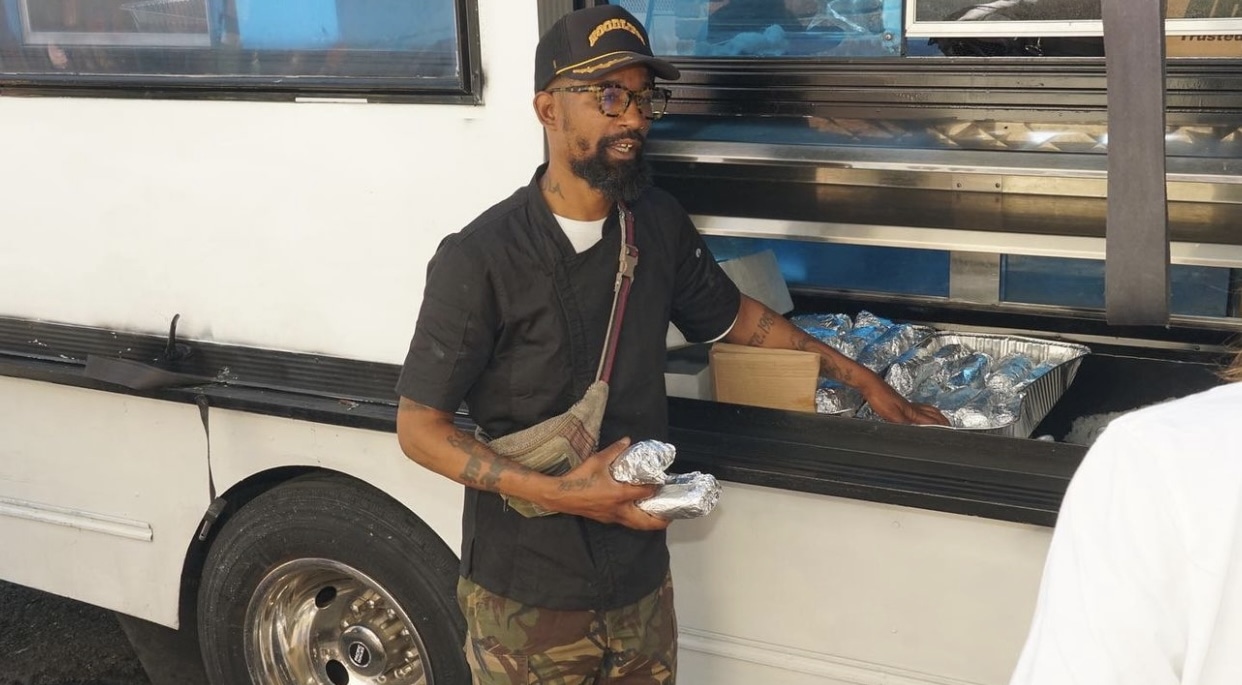 @TheConciergeKitchen/Instagram
After Hunter received a donation of Tofurky's sliced meats and deli ham, she gave the product to Dow. Dow's response? "I'm going to feed 500 people in five days with this," he recounts. "I started a campaign on social media, and it was such a positive response. We ended up feeding 900 people in seven days."
"I said, 'You know what? We're going to feed 1,000 people a week," Dow says. "This launched my initiative, 10K Meals Across LA, where we feed 10,000 people in 10 weeks gourmet, vegan meals."
Soon after, he met Jeremy Allen, founder and CEO of All Love No Beef, and SheRise Ford of The SheRise Enterprise.
"No person is an island," Dow Says. "I did this alone for about a year and a half, and within two months of having a team, we were seeing heights that I've never even thought of."
And with a recent $25,000 donation from Kyrie Irving—who Dow cooked for after Irv Roland, the NBA star's coach, invited the vegan chef to cook for a basketball camp—Chef Dow is poised to feed even more people.
"My first big donation was from Kyrie Irving, which came after three years of work," Dow explains. "I made no money for myself for three years. I would do a gig in Bel-Air and use all of the money I earned to go feed people on Skid Row that same night."
After feeding more than 10,000 unhoused Angelenos last year, Dow is committed to feeding even more community members this year.
The next Skid Row BBQ is scheduled for August 20, from 12pm to 2pm, where unhoused Angelenos will be treated to Plant Power Fast Food, a San Diego-based vegan chain. And in October, they'll be treated to Mr. Charlie's—a cult-favorite vegan restaurant dubbed "vegan McDonald's."
"The foods that you and I love, why wouldn't [unhoused Angelenos] love them, too?" Dow asks. "I'm going to ensure that they get food like this every time, no questions asked, even if I have to pay for it myself like I've had to for the past three and a half years."
Chef Supreme Dow's commitment to giving back
Beyond his own initiatives, Dow has also worked with The Midnight Mission, a local homeless shelter and homeless services provider.
This Spring, Dow was hired as The Midnight Mission's Managing Chef. In this role, Dow helped revamp the shelter's menu and implemented Meatless Mondays. While the short contract lasted only until July, Dow was able to teach kitchen staff how to make vegan breakfast burritos, fried mushrooms, cauliflower wings, and more.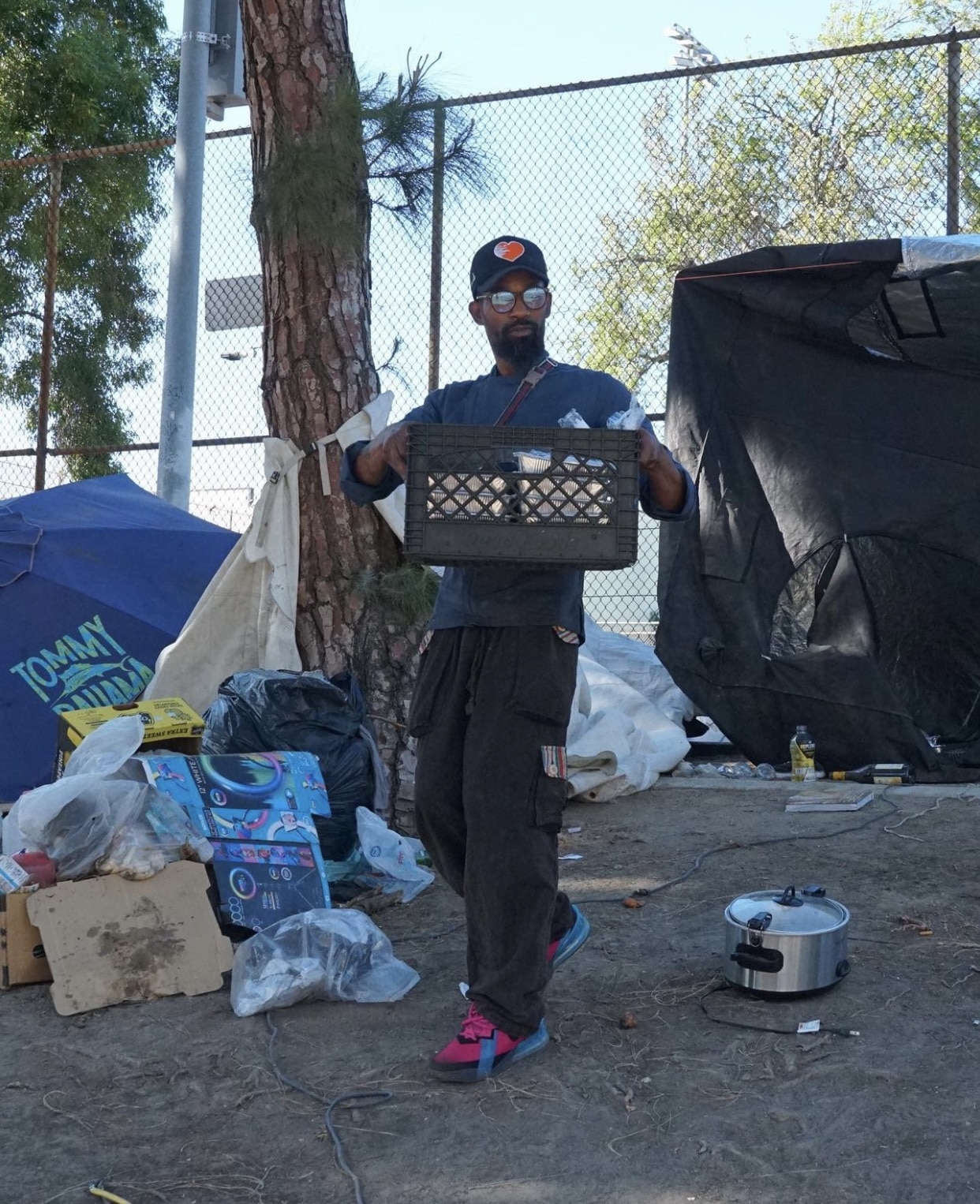 @TheConciergeKitchen/Instagram
"They saw me outside of their facility for two years straight and asked me to do the same thing inside," Dow explains.
The chef's deep desire to give back was instilled by his family. "I was raised by revolutionaries," Dow says. "When I say that, I mean like literal revolutionaries—former Congressman Chaka Fatah and the late David P. Richardson [among others]. I had so many powerful people around me who always gave back.
"I was a part of building a community to send people to the Million Man March as a child. We've been doing this [work]," Dow says.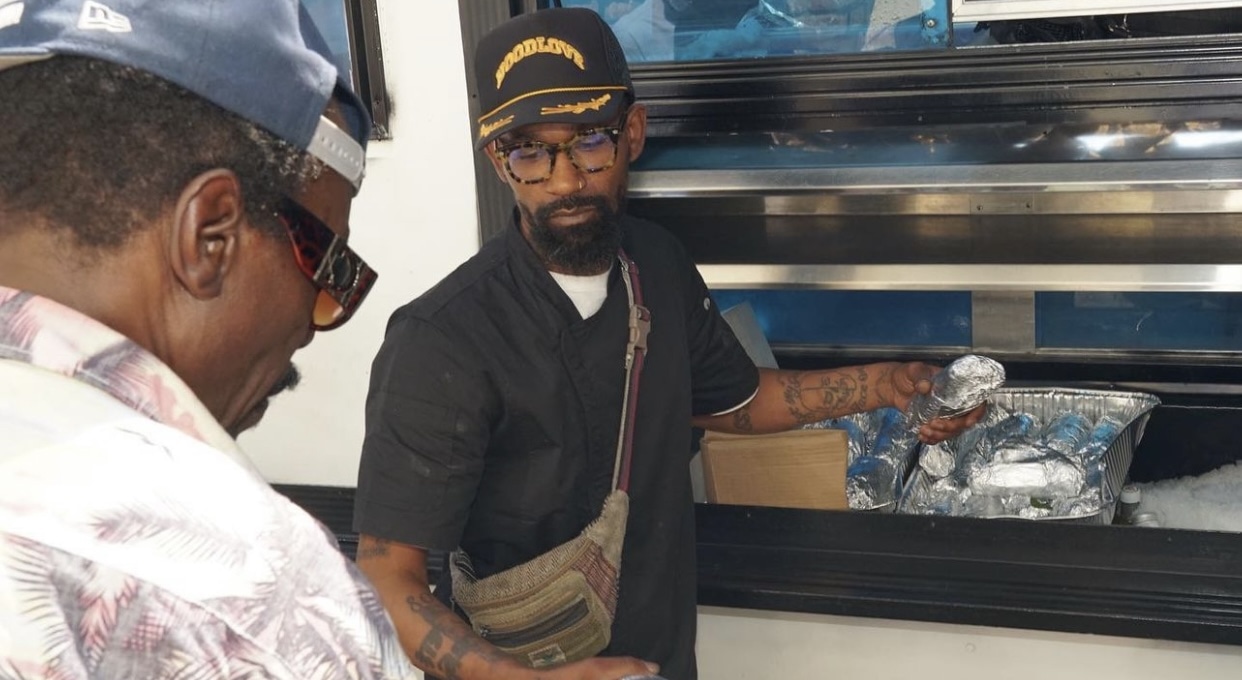 @TheConciergeKitchen/Instagram
Dow's veganism, too, was instilled by his parents. And his grandmother, who wasn't vegan herself but was supportive of the lifestyle, explained to a young Dow: "Plants are here for us. Animals are here with us." This sentiment has stayed with him ever since, and through his work, Dow embodies his grandmother's words.
To further support his work, Dow is planning a benefit at the HaHa Comedy Club in North Hollywood set for September 23. Those who want to support his work with unhoused Angelenos can also donate via The Harvest Academy website.
For the latest vegan news, read: