There's a shift happening in San Francisco's fast-food industry. The city's Fisherman's Wharf, a world-famous tourist destination, recently bid farewell to its only McDonald's outpost. The golden arches officially shuttered at the end of last year, marking the first time the international chain has closed a San Francisco location since 2018.
Despite the closure, locals and tourists alike can still enjoy classic fast-food fare made without the need to slaughter animals. Enter: Mr. Charlie's—the TikTok sensation dubbed "the vegan McDonald's" that first opened in Los Angeles last winter to much fanfare.
The new Mr. Charlie's outpost will open in San Francisco's Union Square neighborhood, approximately two miles from Fisherman's Wharf and across the street from an operating McDonald's.
To mark its expansion into the city, the TikTok-famous restaurant is launching—and giving away—Mini Frowny Meals during its grand opening this Saturday. Each meal will include two Not Chicken Nuggets, an order of fries, and choice of Not a Hamburger or Not a Cheeseburger made with Impossible patties.
"We've been in Los Angeles for a minute, and it's been incredible—just beyond the dream," Taylor McKinnon, Mr. Charlie's co-founder, tells VegNews. "We've really seen an impact of what a business like this can do for the plant-based world."
While Mr. Charlie's is not the first vegan fast-food concept, McKinnon sees it as an integral part of the shift the fast-food industry is undergoing as a whole.
"We feel like we're spokes on the wheel of transformation," he says. "I say 'spoke' because we're not trying to reinvent the wheel here. Many people did that before us, and I think we're just a part of it. I like to think of [Mr. Charlie's] as a little red and yellow spoke on that wheel."
Mr. Charlie's brings vegan Frowny Meals to San Francisco
Mr. Charlie's San Francisco outpost has been highly anticipated by fans of the vegan fast-food restaurant. After teasing the new location on Instagram last fall, Mr. Charlie's quietly opened to online orders via food delivery platform DoorDash.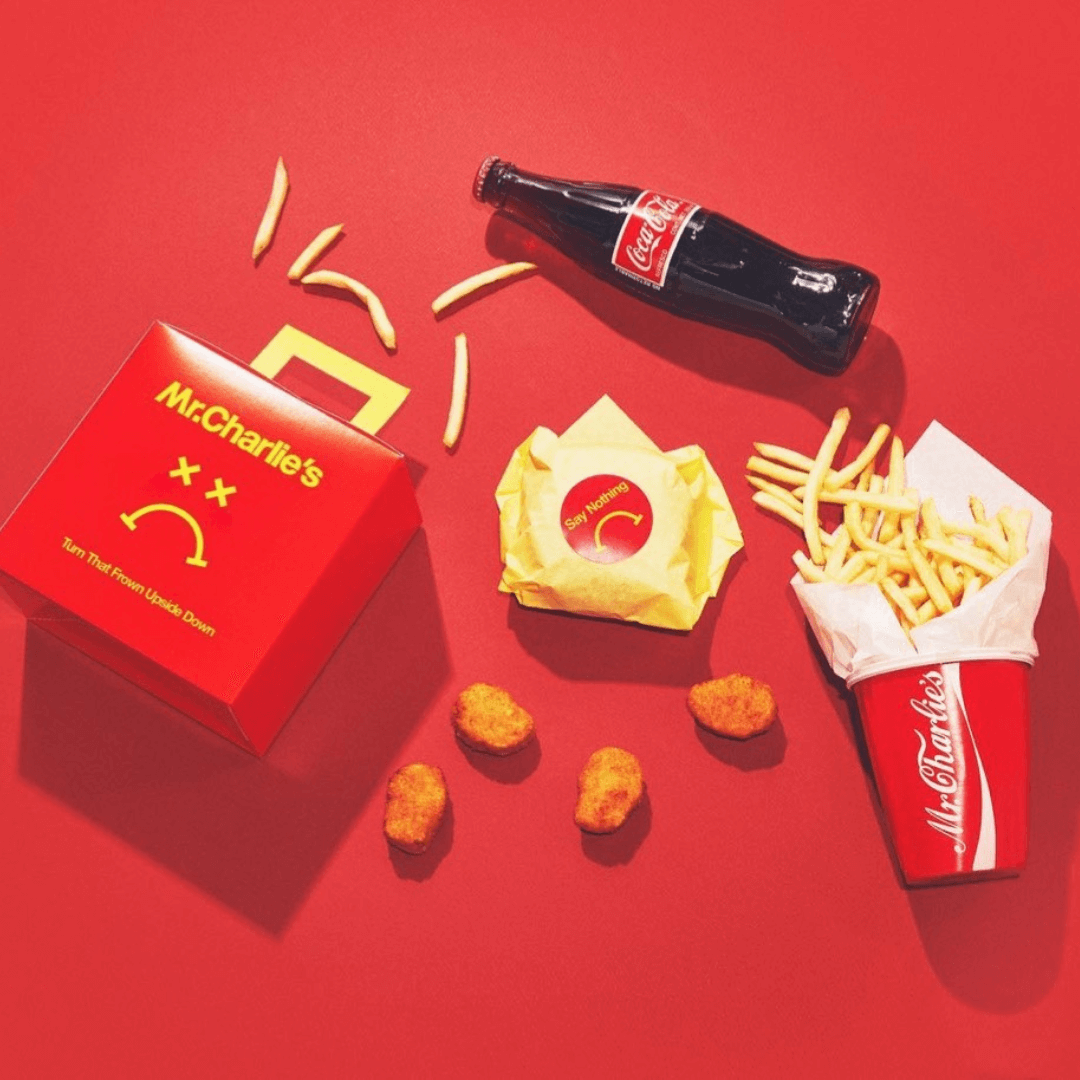 Mr. Charlie's
Since then, the restaurant has been bombarded with a number of online messages from hungry fans inquiring about the San Francisco outpost's official grand opening. Those looking to get their hands on a free Mini Frowny Meal can stop by Mr. Charlie's between 11:11 AM and 1:11 PM on Saturday. The restaurant's flagship Los Angeles location is also celebrating the new San Francisco location with its own free Mini Frowny Meal, available during the same time period.
"If you've thought about going plant-based, now you don't have an excuse," McKinnon says about the giveaway. "We'll pay for your food."
With its grand opening just one day away, McKinnon is ready to wow patrons in more ways than one. Mr. Charlie's San Francisco will also house a petting zoo in collaboration with Mercy for Animals (MFA). The petting zoo will feature synthetic cow replicas to spotlight the plight of farmed animals—a display that stands to make a wide impact given the outpost's location in a tourist hub.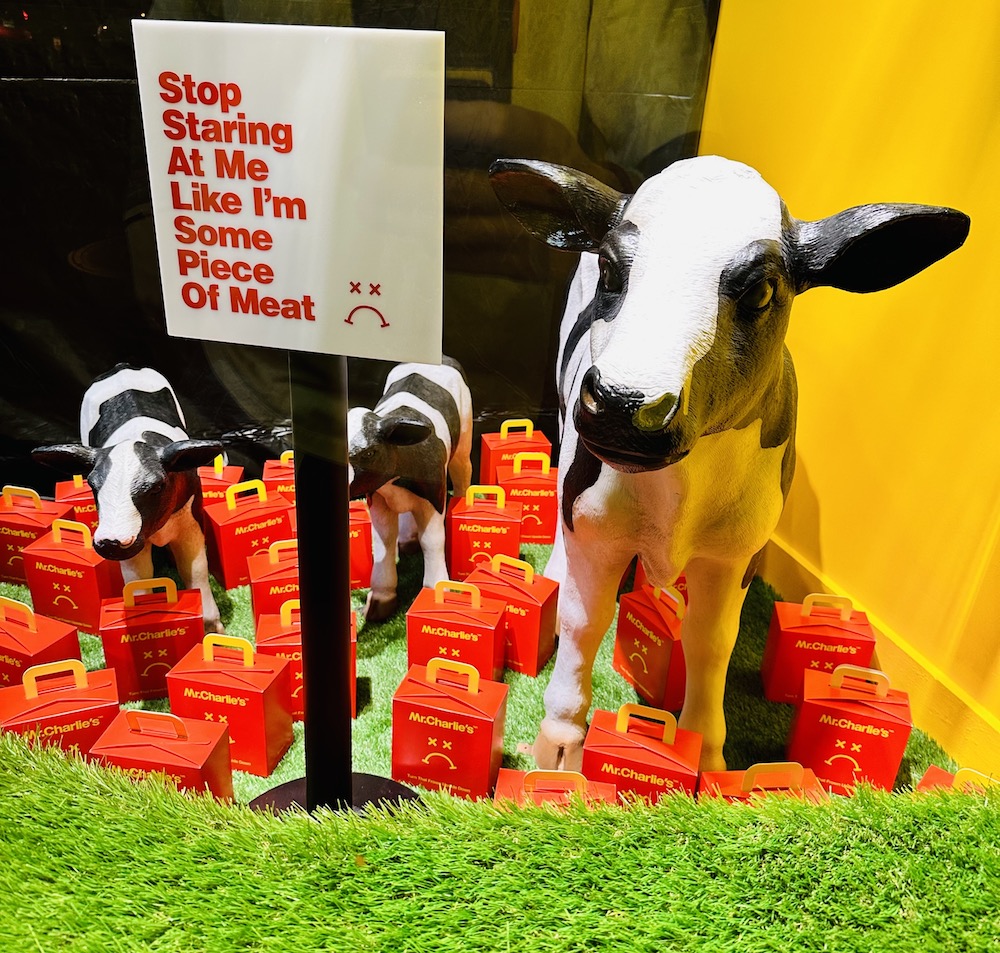 Taylor McKinnon
Additionally, the restaurant will sell branded t-shirts, all proceeds from which will be donated to support MFA's work.
Mr. Charlie's ability to draw consumers with unique dining experiences while creatively advocating for animals, people, and the planet has also garnered support from major vegan companies. The restaurant's Frowny Meal giveaway is a collaboration with Impossible Foods, another company committed to removing animals from the food system.
"This clever and cheeky take on food has attracted a cult following of young people making value-based purchasing decisions, like protecting the planet or helping their communities," Erin Reynolds, Vice President of National Food Service Sales at Impossible Foods, tells VegNews. "Few food experiences are able to tick all of these boxes while still tasting delicious—until now. We love how the restaurant has built Impossible products into their menu to capture such a powerful and energized audience."
Mr. Charlie's provides jobs
Mr. Charlie's has been widely admired for its approach to vegan fast-food, but the restaurant's hiring practices are also cause for celebration.
To staff its Los Angeles restaurant, Mr. Charlie's partnered with the Dream Center, a nationwide organization that helps unhoused and formerly incarcerated people get back on their feet by providing them with housing, training, and additional resources.
Thirteen of Mr. Charlie's Los Angeles employees are Dream Center participants, including manager Susanna Sanchez. Sanchez, a single mom who moved to Los Angeles from Phoenix "after hitting dead end after dead end," found herself at the Dream Center.
"After months of being at the Dream Center, going from job to job, the Lord opened up an opportunity at Mr. Charlie's, and I must say I am so excited to be a part of this movement," Sanchez, who was also a part of the Dream Center's Phoenix chapter, tells VegNews.
"It has not only changed my perspective, it has given me an opportunity to grow, to get out of my comfort zone, to challenge myself, [and] to open doors for me and my children's future that I couldn't see before."
Sanchez has since moved out of the Dream Center's Family Floor and into her own apartment. She has been a major part of ensuring Mr. Charlie's San Francisco meets expectations, assisting with training and quality control.
The restaurant will follow this same hiring model in San Francisco, this time partnering with a number of organizations committed to helping the unhoused, including GLIDE and Urban Alchemy.
Real living wages
But Mr. Charlie's does more than hire unhoused and formerly incarcerated people. The restaurant provides management-level employees with a $300 credit card allowance per month to help them build credit and establish healthy spending habits.
For McKinnon, who found himself living on the streets after moving to Los Angeles from Australia, uplifting unhoused individuals and partnering with the Dream Center is of utmost importance, coming before profits and burgers.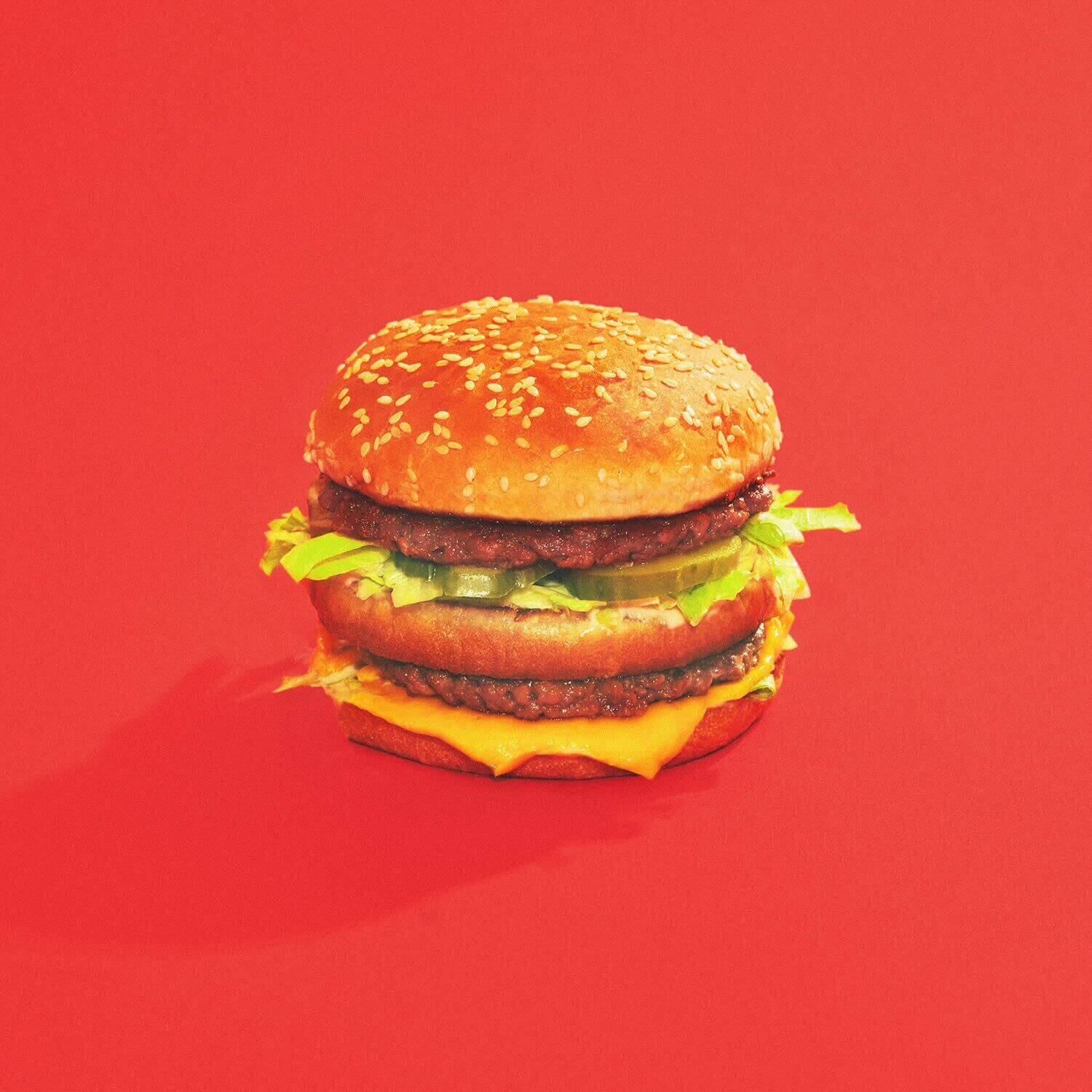 Mr. Charlie's
While other fast-food chains are still experiencing high employee turnover during the "Great Resignation," Mr. Charlie's is creating a real path for people whose opportunities are otherwise very limited, inspiring a new generation of workers to rejoin the labor force while paying fair wages.
"If you're [unhoused] and you don't have any ID, it's impossible to get a job," McKinnon says. "Our partnership with the Dream Center is [Mr. Charlie's way] of stepping up as an organization and saying, 'We don't care about what you've done in your life. We have no judgment. We believe that if you want to start again … we are a safe haven to welcome you back to society. And we're not going to scold you for it—we're not going to pay you low wages.'"
Vegan McDonald's? I don't know her
While Angelenos and social media at large—and soon San Franciscans—have embraced Mr. Charlie's and celebrated its work in helping the most marginalized communities, it's not without criticism of its pricing, which many have pointed out runs higher than McDonald's.
When asked to respond to such critics, McKinnon says, "McWho? We have no idea who they are. We can't compare ourselves to a company we don't know."
Mr. Charlie's, unlike McDonald's, pays its employees above minimum wage and doesn't benefit from government subsidies of animal products since the vegan fast-food restaurant doesn't sell animal meat or dairy products. Despite critics, patrons continue lining up day after day, showcasing customers are willing to pay more to support livable wages and hiring models that benefit—not exploit—the most marginalized.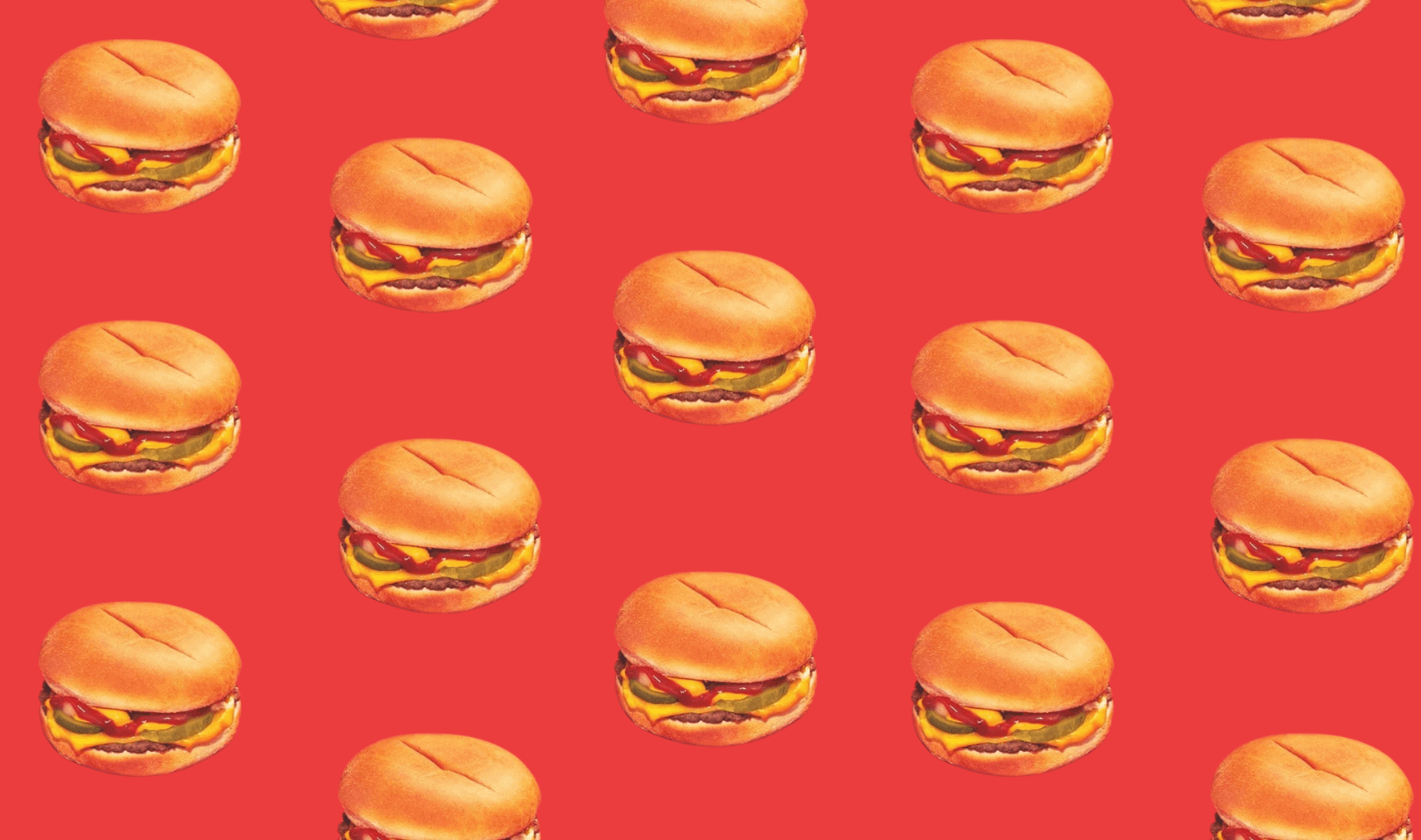 Mr. Charlie's
Through Mr. Charlie's, McKinnon and co-founders Charlie Kim and Aaron Haxton aim to create a welcoming, joyful environment that seeks to, quite literally, turn frowns upside down, and their bright red burger boxes emblazoned with golden frowns are a bold reminder of their mission.
But how did the trio first come together? A pizza oven.
McKinnon and Haxton, who ran a creative agency together, heard a pizza oven was being sold at a nearby restaurant space. A friend of the pair was in the market for one, so the duo made their way over to inquire about the piece of kitchen equipment.
When they showed up, Kim—who had just rented the space—was there. The three connected instantly and became immediate partners.
Haxton and McKinnon, experts at creating unique concepts, found the perfect partner in Kim, who left his corporate job to help his parents' struggling business, San Francisco-based Korean street-food restaurant Aria.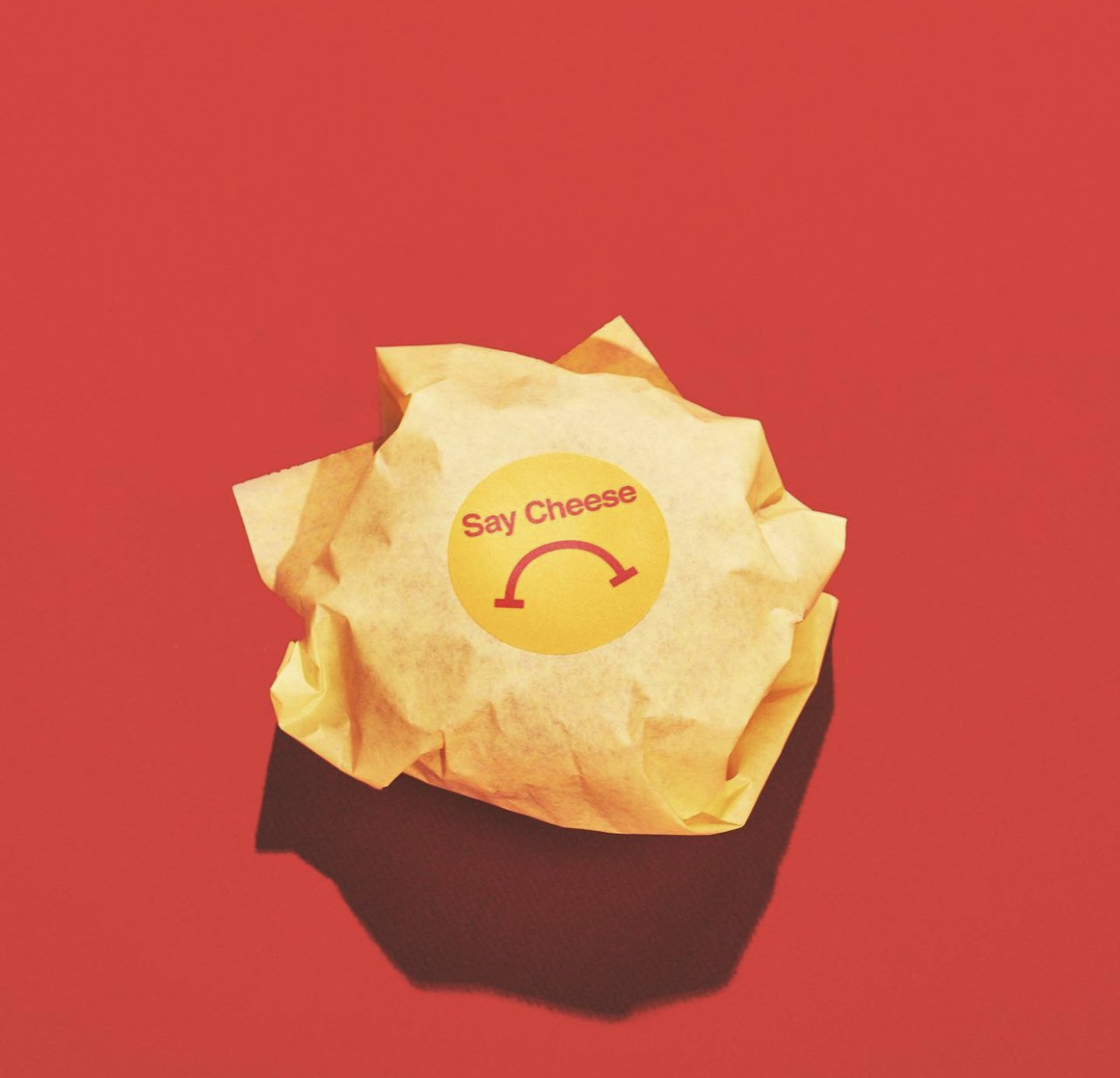 Mr. Charlie's
And while they didn't intend to open a vegan restaurant, in fact toying with a chicken concept first, the trio ultimately decided on a plant-based restaurant after McKinnon called Kim in a panic one night stating, "I can't kill that many chickens."
Now, Kim, Haxton, and McKinnon—who all eat a mostly plant-based diet themselves—aren't just saving millions of animals' lives, they're helping the environment and uplifting unhoused communities.
Next up for Mr. Charlie's? A location in Sydney, Australia, the growing chain's first international expansion, which is set to open this spring. As with Mr. Charlie's San Francisco expansion, the fast-food restaurant will tap into its existing workforce and train employees to manage future outposts.
In line with its overall mission, Mr. Charlie's Sydney will donate food and funds to the Redfern Community Center—which serves local Indigenous communities and organizes culturally relevant events—on a regular basis, which in turn will help the center remain open after years of struggling to keep its doors open. The fast-food restaurant will also bring jobs and create youth programs to ensure the Redfern Community Center flourishes.
McDonald's may have defined fast-food of the past, but Mr. Charlie's is setting the precedent for the future of fast-food.
For the latest vegan news, read: