Last summer, Food Network's The Great Food Truck Race crowned its first plant-based winner, officially cementing Señoreata, a Los Angeles-based Cuban pop-up, into the network's history. And just one year later, the competition show has named its second vegan winner.
The Easy Vegan—a plant-based pop-up from Denver, CO—recently claimed victory on season 16 of The Great Food Truck Race.
Helmed by founders Taylor Herbert and Alexi Mandolini, The Easy Vegan was born from the pandemic. After Mandolini was laid off, she launched The Easy Vegan with Herbert, her partner in both business and life.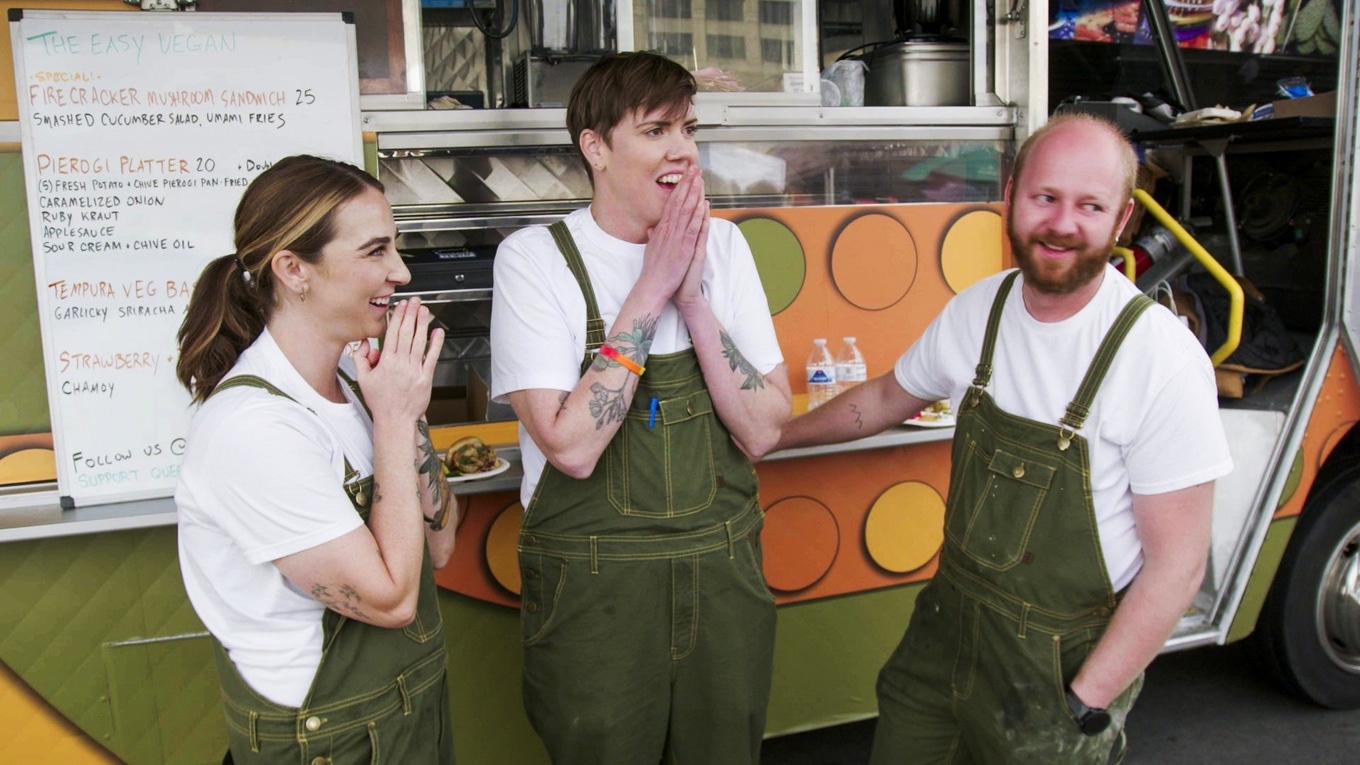 Food Network
For The Great Food Truck Race, the couple recruited friend and Denver-based chef Matt Heikkila to round out their team. Together, the trio competed against eight other teams for a chance to win the $50,000 grand prize, and ultimately came out on top.
"[Winning] feels amazing. We couldn't be more happy to be a part of the growing momentum behind vegan food," Herbert and Mandolini tell VegNews in a joint statement. "Having back-to-back plant based winners was a great opportunity to show people who are unfamiliar with vegan food how diverse the cuisine can be."
The Easy Vegan wins 'The Great Food Truck Race'
In a new twist, season 16 pitted seasoned industry professionals with established food trucks against talented, up-and-coming rookies new to the food truck business. The Easy Vegan faced off against fellow rookies 2 Girls Jamaican Tacos; 4 Hens Creole Kitchen; Khana, which churns out Pakistani fusion dishes; and The Block, an eatery serving up burgers, sandwiches, and seafood dishes.
Lisa's Creperie; Da Bald Guy, a Hawaiian mainstay serving up the island's cuisine; Puerto Rican food truck D'Pura Cepa; and Italian truck Paisani represented industry professionals and rounded out the season's competitors.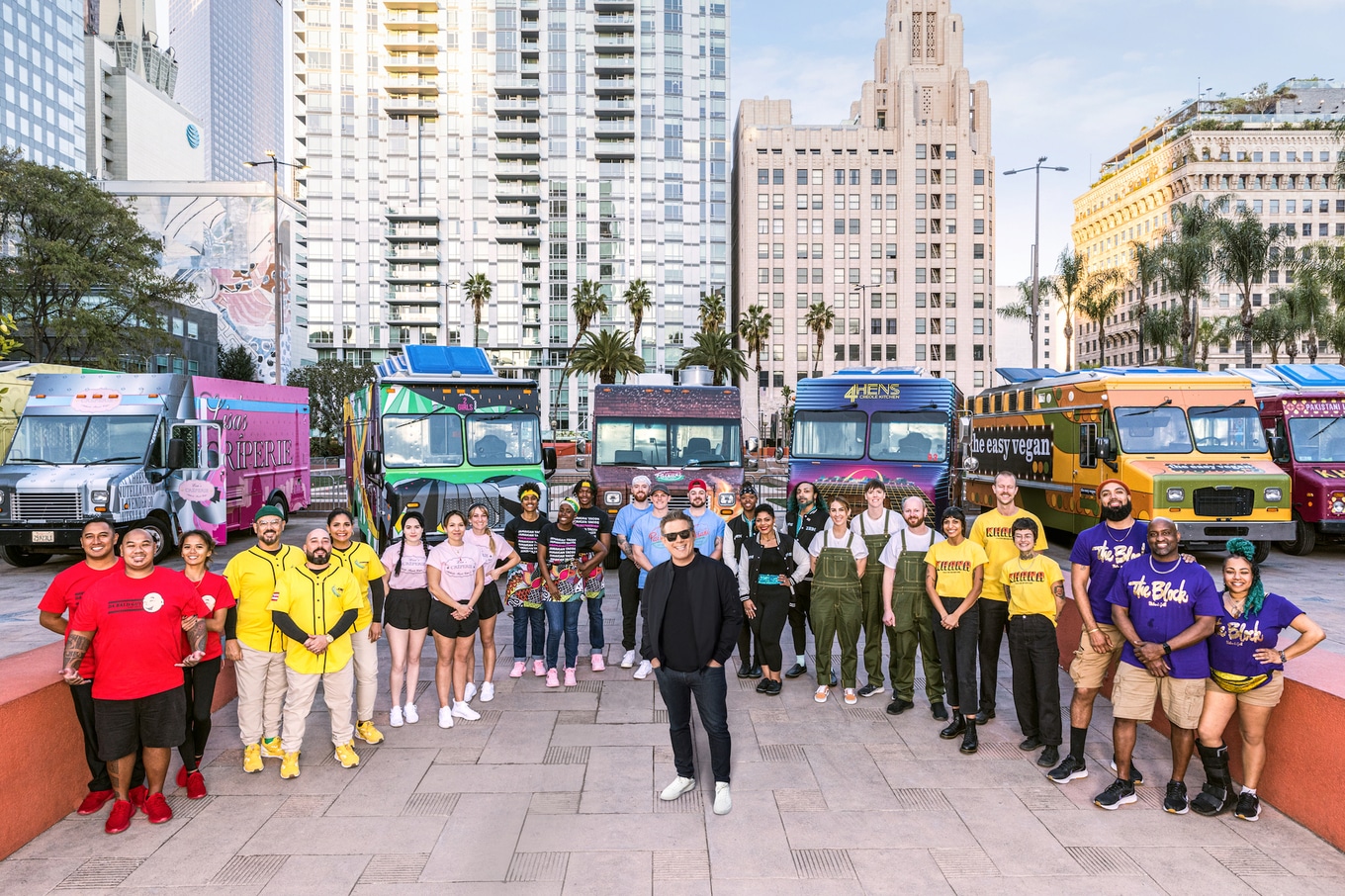 Food Network
Across a series of challenges designed to test culinary skills and business acumen, The Easy Vegan consistently ranked within the top three throughout the season, facing elimination just once in the season's penultimate episode.
For the finale, The Easy Vegan faced off against fellow rookie team Khana, which earned a cult following during its time competing in Los Angeles.
Both teams raced to out-cook and outsell each other during their last round of challenges. During the final leg of the race, each team was tasked with recreating a dish from their competitor's menu and selling the most units of their newest creation.
The Easy Vegan transformed Khana's best-selling Butter Chicken Sandoori into a plant-based Firecracker Maitake Mushroom Sandwich.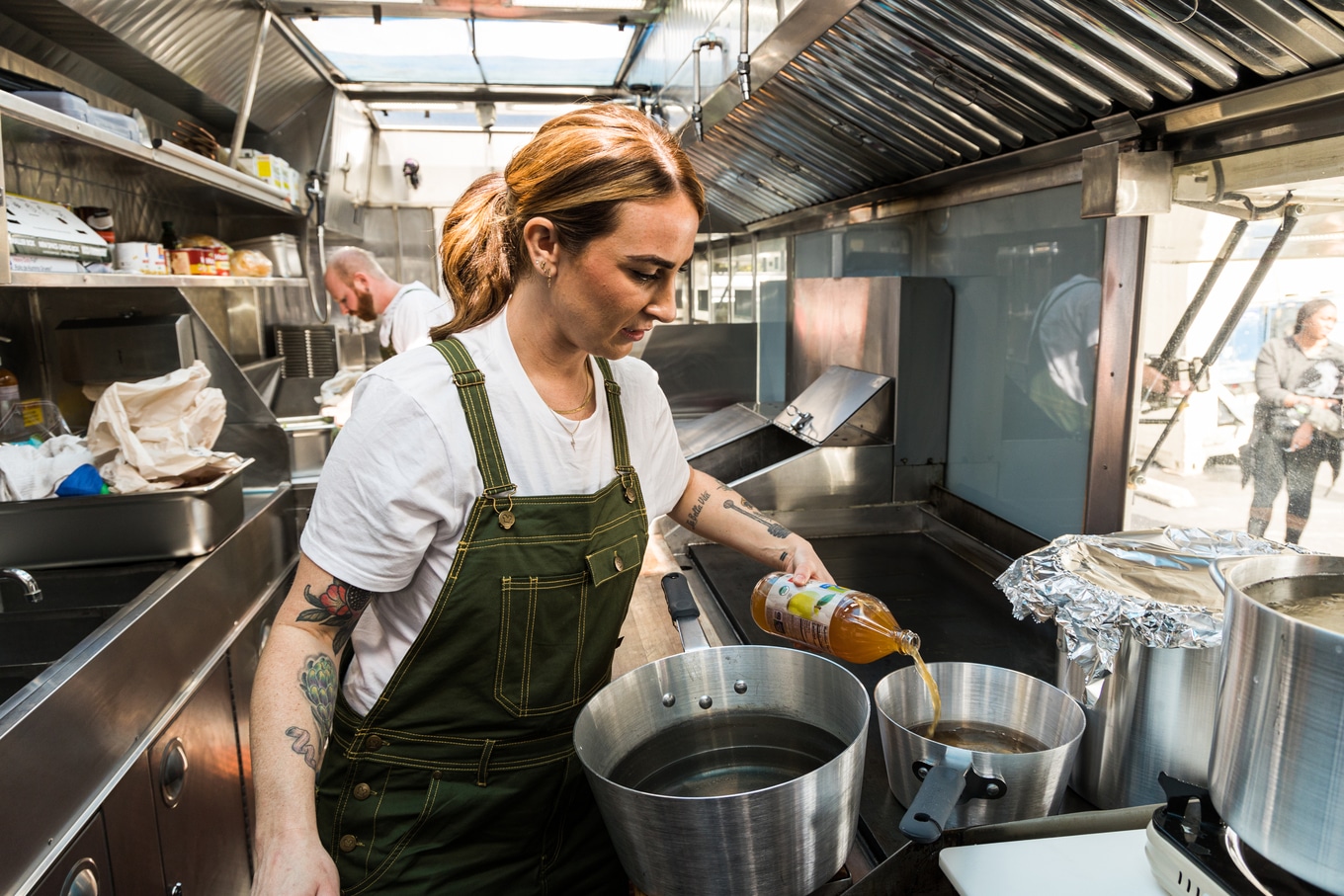 Food Network
For the taste challenge, host Tyler Florence presented The Easy Vegan and Khana with a list of culinary techniques. Each team then had to create a new dish utilizing two of the presented techniques. The Easy Vegan impressed guest judges with Peas and Carrots Dumplings in Coconut Broth, but ultimately, Khana won both challenges, earning an additional $400 in their till.
On the last day of the competition, Florence threw the teams a major curveball. For the final challenge, each team was allowed to sell only one entrée alongside their usual sides, desserts, and drinks. The stakes? $400—$200 for the taste winner, and an additional $200 for whoever sold the most units of their entrée.
The Easy Vegan decided on pink tacos for the final challenge. The tacos, which owe their signature pink hue to beetroot powder, were filled with carrot and walnut meat, maitake mushrooms, lime crema, pickled red onions, and cilantro. And while Khana opted for a lamb burger, Florence ultimately declared The Easy Vegan's pink tacos the winner of both challenges, awarding the plant-based team an additional $400 in their till.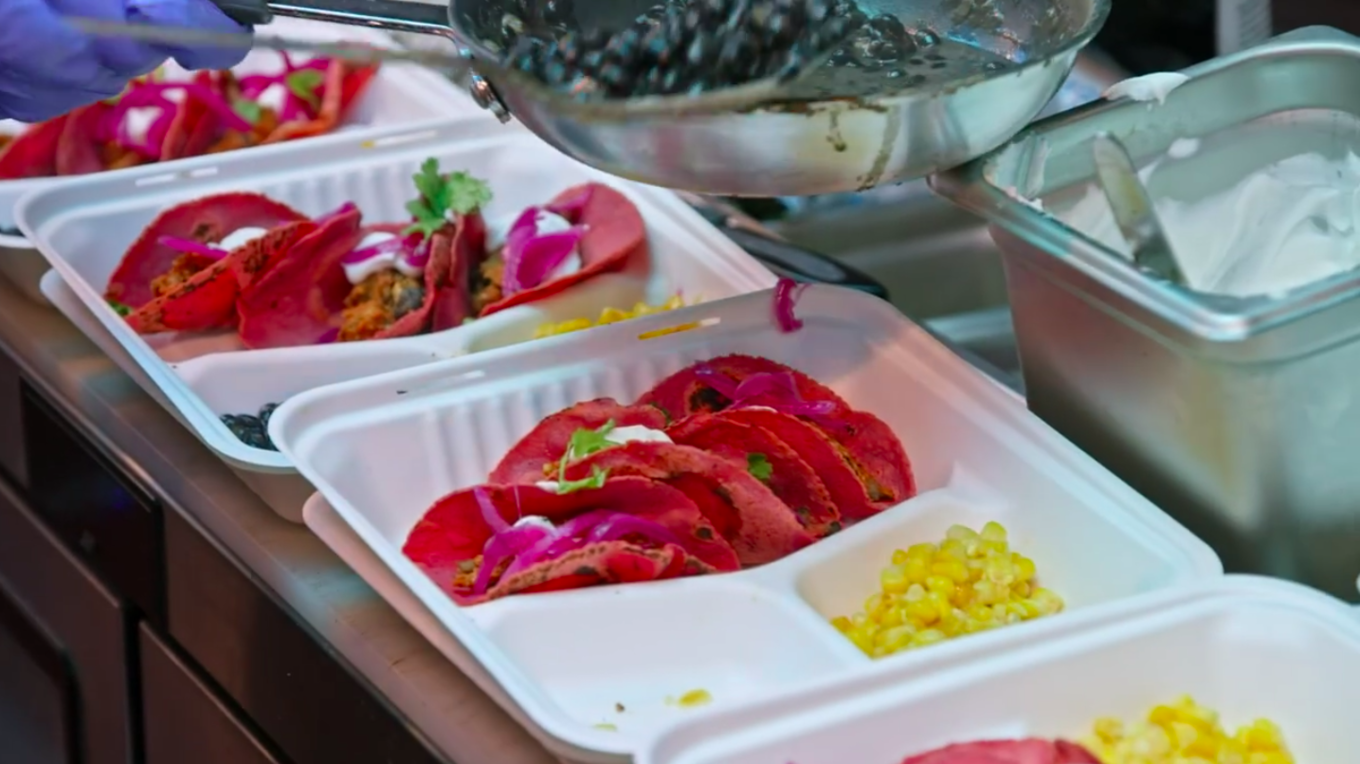 Food Network
With this win, The Easy Vegan's total earnings for the final leg of the race came to $6,684—officially making them the winners of season 16.
"You are the second vegan team to win The Great Food Truck Race," Florence says in the season finale. "You have put vegan food on the map in such an incredible way—it's a new era of food here in America."
The Easy Vegan and the power of community
Despite the struggles of competing in Los Angeles—where foot traffic is sparse, a reality the team wasn't expecting—The Easy Vegan trio relied on each other and their community.
"We felt like our [Denver community] was there with us the entire time we were getting to know the vegan scene in Los Angeles," Herbert previously told VegNews. "People in Denver who were following our journey would send their [people]."
"I would get so emotional because somebody would walk up to the truck, introduce themselves, and say, 'Hey, I have six degrees of separation from this person in Denver,'" Herbert said. "We just had so many people rallying for us."
And online, the support continues to pour in after the season's conclusion. "We've gotten over 100 messages at this point from people who are not vegan asking for recipes," Herbert and Mandolini say. "We want to rush to put that resource together; it's so exciting to us to see that people are kind and curious about our food."
Ultimately, their win is emblematic of the public's changing sentiment toward vegan food.
"People are more open minded about [plant-based cuisine]. A lot of our regulars in Denver aren't even vegetarian, and it means a lot to us whenever they make the decision to eat our food," Herbert and Mandolini say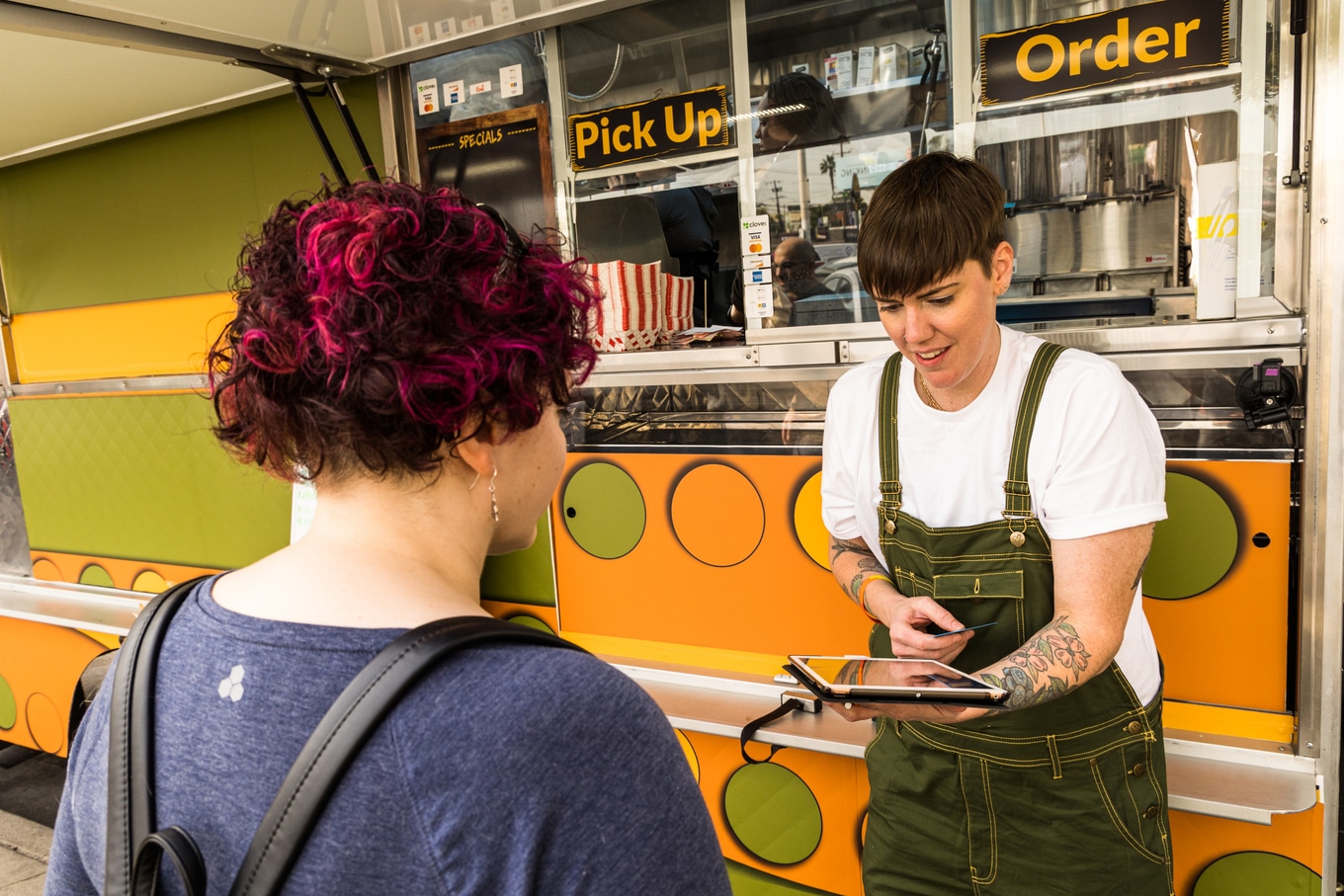 Food Network
"We've noticed more restaurants have more intentional vegan options, when for so long the options felt like an afterthought," they say. "This is evidence of an increased demand, and it's good news for us, good news for the planet, and good news for animals."
What's next for The Easy Vegan? Mandolini and Herbert are currently working to open a plant-based restaurant in Denver under a new name later this year, and their $50,000 winnings will help bring their brick-and-mortar concept to life.
For the latest vegan news, read: