The best way to celebrate food this summer is with an array of recipes that feature plenty of fresh produce, which is abundant this time of year. And sometimes we get meal inspiration from very unlikely places. This month, two celebrities, Kim Kardashian and Stanley Tucci, both shared vegan recipes that embody the best of summer.
First up, Kardashian shared a veggie-packed vegan pizza recipe with Poosh, a wellness brand owned by her sister Kourtney Kardashian Barker—who, these days, has become a big fan of vegan food thanks in no small part to her husband, Blink-182 drummer Travis Barker.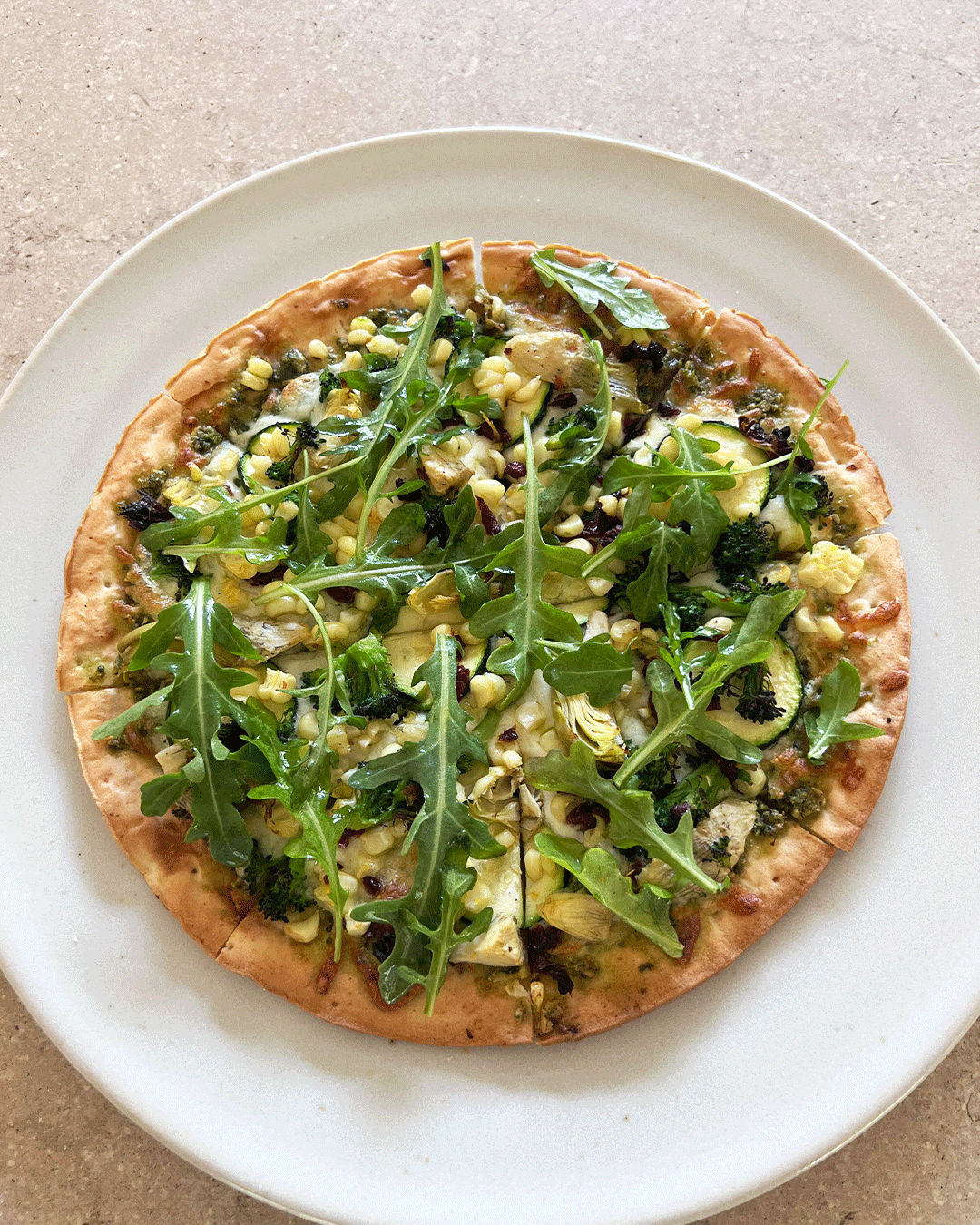 Kim Kardashian
"Kim has a special knack for creating the most delicious comfort foods out of clean ingredients and making fully vegan dishes," Poosh captioned the post. "When she shared this colorful, loaded pizza recipe with us, we couldn't wait to try it."
The recipe? It starts with a cauliflower crust which is spread with a nooch-spiked basil pesto and topped with Kim Kardashian's preferred vegan cheese Violife.
The base then gets a layer of veggies such as zucchini, sun-dried tomatoes, marinated baby artichokes, broccoli florets, and corn, a summer staple. After a quick trip to the oven, arugula tossed with olive oil and lemon juice finishes the pizza.
While Kardashian is all about vegan pizza, Tucci takes on summer with a simple summer soup that pays homage to his Italian roots.
Stanley Tucci's vegan soup recipe
Tucci might be known as a talented actor and writer, but he is also a passionate ambassador of Italian cuisine.
From his film Big Night to his television series Searching for Italy, Tucci has celebrated the flavors and traditions of Italian food. He even wrote a cookbook, The Tucci Cookbook, sharing his Italian-inspired recipes.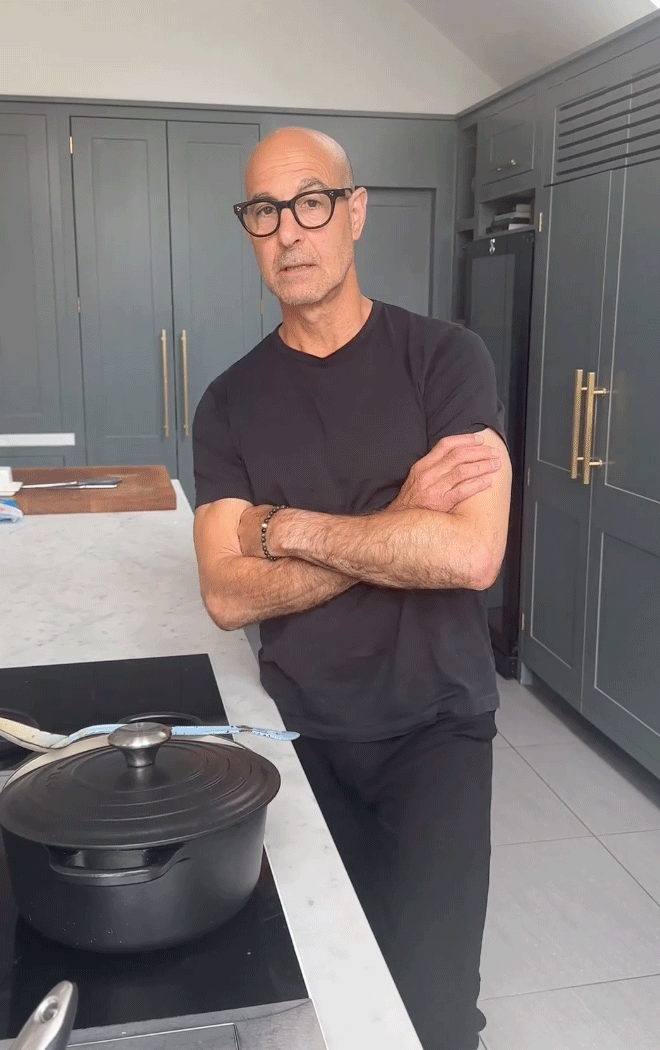 Stanley Tucci/Instagram
This summer, Tucci shared a family soup recipe that calls for minimal time in the kitchen.
"I made this afternoon some string bean minestra—which means 'soup' in Italian—and basically, it's this incredibly easy thing that my grandmother and my mother always made, and now I make it," Tucci said in an Instagram video.
The idea here is to roughly chop garlic, onions, potatoes, zucchini, tomatoes, and string beans and throw them together into a pot with olive oil, water, salt, and a touch of marinara.
The best part about this summer soup is that there is no need to sauté anything beforehand as the vegetables break down into a flavorful meal all on their own that can be served with crusty bread for dipping.
"It's a very light, light soup but absolutely delicious," Tucci says.
Is Kim Kardashian vegan?
The veggie-packed pizza Kardashian shared is indeed plant-based but is the reality star vegan? It is clear from the most recent season of Hulu's Kardashians that the 42-year-old does consume animal products, including In-N-Out burgers and dairy ice cream.
However, Kardashian says that when she is at home, she likes to maintain a plant-based diet—and has been on this journey since at least 2019. Throughout her journey, the reality star has shared some of her favorite products, which include vegan meats from Beyond Meat—a company she joined as its "Chief Taste Consultant' last year.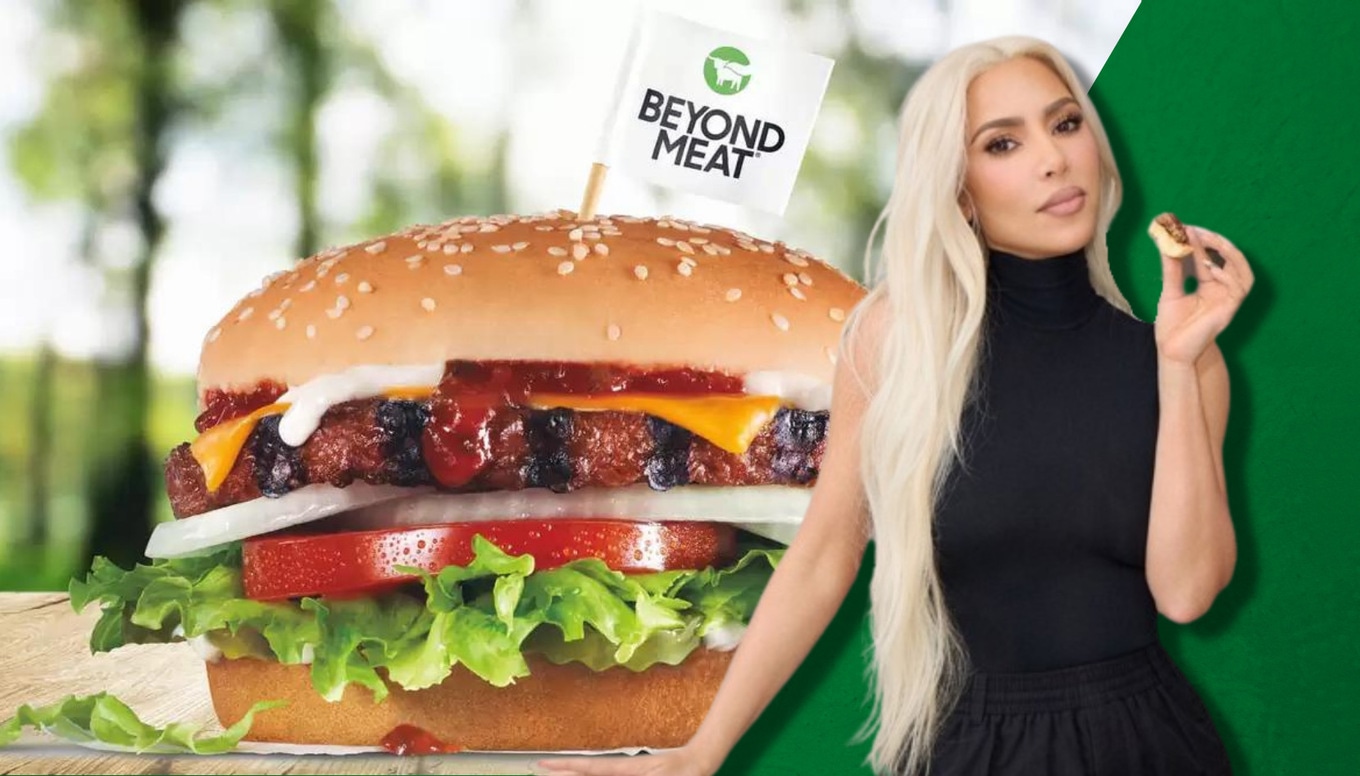 In 2021, Kardashian also taught her first cooking class during the second annual Poosh Your Wellness online festival where she showed viewers how to prepare her famous vegan tacos, using seasoned Beyond Beef, vegan Violife cheddar cheese, dairy-free sour cream, tomatoes, onions, and avocado, all served in gluten-free almond tortillas.
Kourtney Kardashian Barker also loves to explore vegan food options in and around Los Angeles with her husband, both of whom are ambassadors for vegan chicken brand Daring Foods.
And viewers of the most recent Kardashians season will note that the duo made a front-row appearance at the opening of restaurant Crossroads Kitchen in Calabasas to support the vegan business, which Travis Barker had a hand in founding.
Country Crock
Apart from Kourtney and Kim, the other sisters are also involved in the plant-based industry in various ways. Most recently, Khloe Kardashian and their mother Kris Jenner teamed up with Country Crock to promote its Plant Butter to showcase its uncanny ability to swap one-for-one in recipes that call for traditional butter.
"What I love about Country Crock, it's the one thing I have in my refrigerator that's older than I am," Jenner said in a promo video. "I have had this around since the dawn of time."
"The fact that they have the Plant Butter, makes me really happy because you guys [her daughters] are trying to get me to eat the same way you eat, and I don't want to taste a difference," she said.
For the latest vegan news, read: