Kris Jenner and Khloé Kardashian are big fans of Country Crock's new Plant Butter and want you to know that replacing dairy butter with the vegan butter in baking makes no difference in terms of flavor and texture.
In partnership with Country Crock, Jenner, Kardashian, and her daughter True Thompson recently hit the kitchen to whip up their favorite Crispy Rice Treat recipe, one batch using traditional animal-derived butter and another using Country Crock's Plant Butter.
"What I love about Country Crock, it's the one thing I have in my refrigerator that's older than I am," Jenner says in a video for the campaign. "I have had this around since the dawn of time."
"The fact that they have the Plant Butter, makes me really happy because you guys [her daughters] are trying to get me to eat the same way you eat, and I don't want to taste a difference," Jenner explains.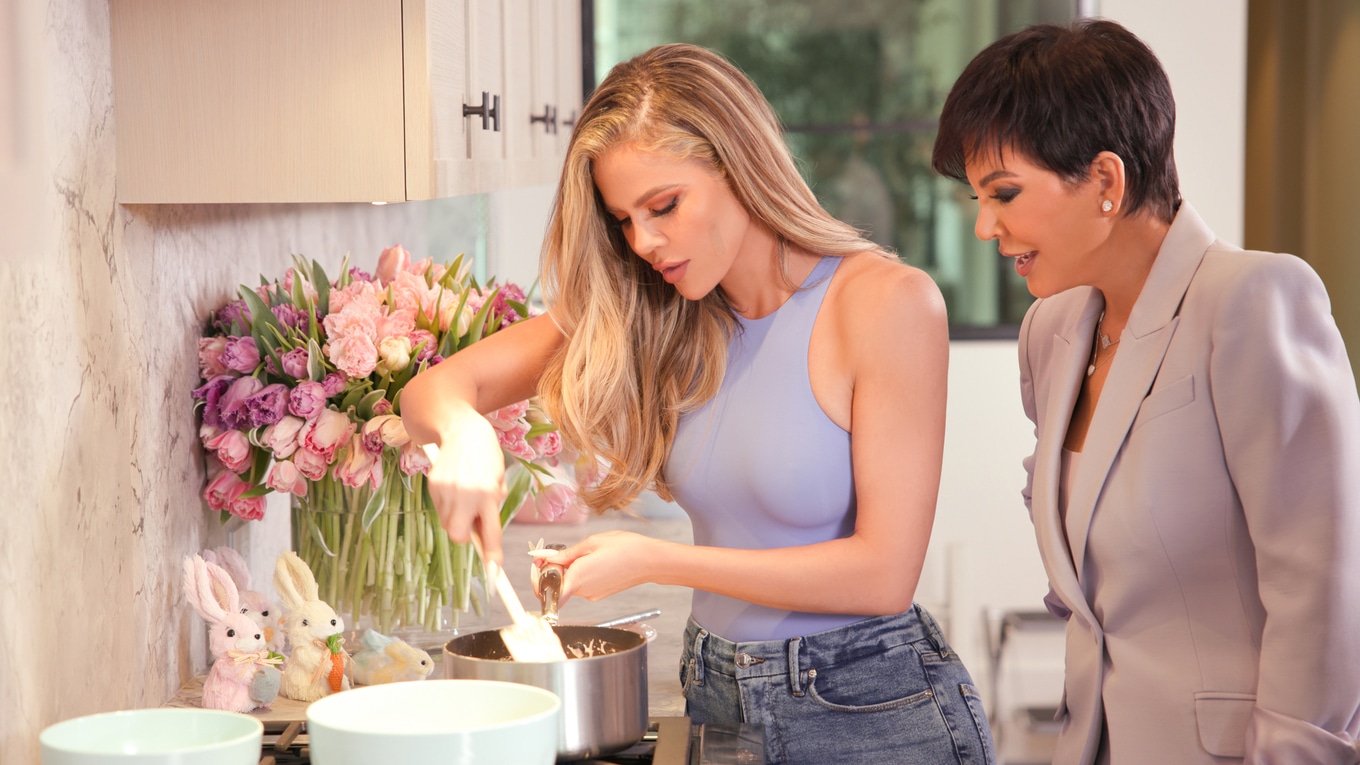 Country Crock
Kardashian explains that the Plant Butter is a one-for-one substitute in baking recipes that call for dairy butter. "And I feel so excited because I've been trying to do less dairy, and I've been trying to find swaps where you don't taste the difference," she says.
Jenner then tastes the Plant Butter on its own and exclaims that it is "so creamy and yummy," before tasting the dairy butter to compare the two. "They're exactly the same," she says.
"Who knew that we could just eat butter all day?" Kardashian says.
When it was time to taste the Crispy Rice Treats, the women could not tell the difference between the treats made with the vegan butter when compared to the traditional recipe. Five-year-old Thompson was the final judge. Her verdict? "I love it!"
The video is part of a two-part campaign between Jenner, Kardashian, and Country Crock and an additional promotion of the dairy-free butter is on the way mid-May.
Country Crock gets into plant butter
Throughout the 1980s and 1990s, Country Crock gained popularity among health-conscious consumers who were looking for a butter substitute. The margarine brand's success was largely due to its clever marketing campaigns, which emphasized the health benefits of its products and its versatility in cooking and baking.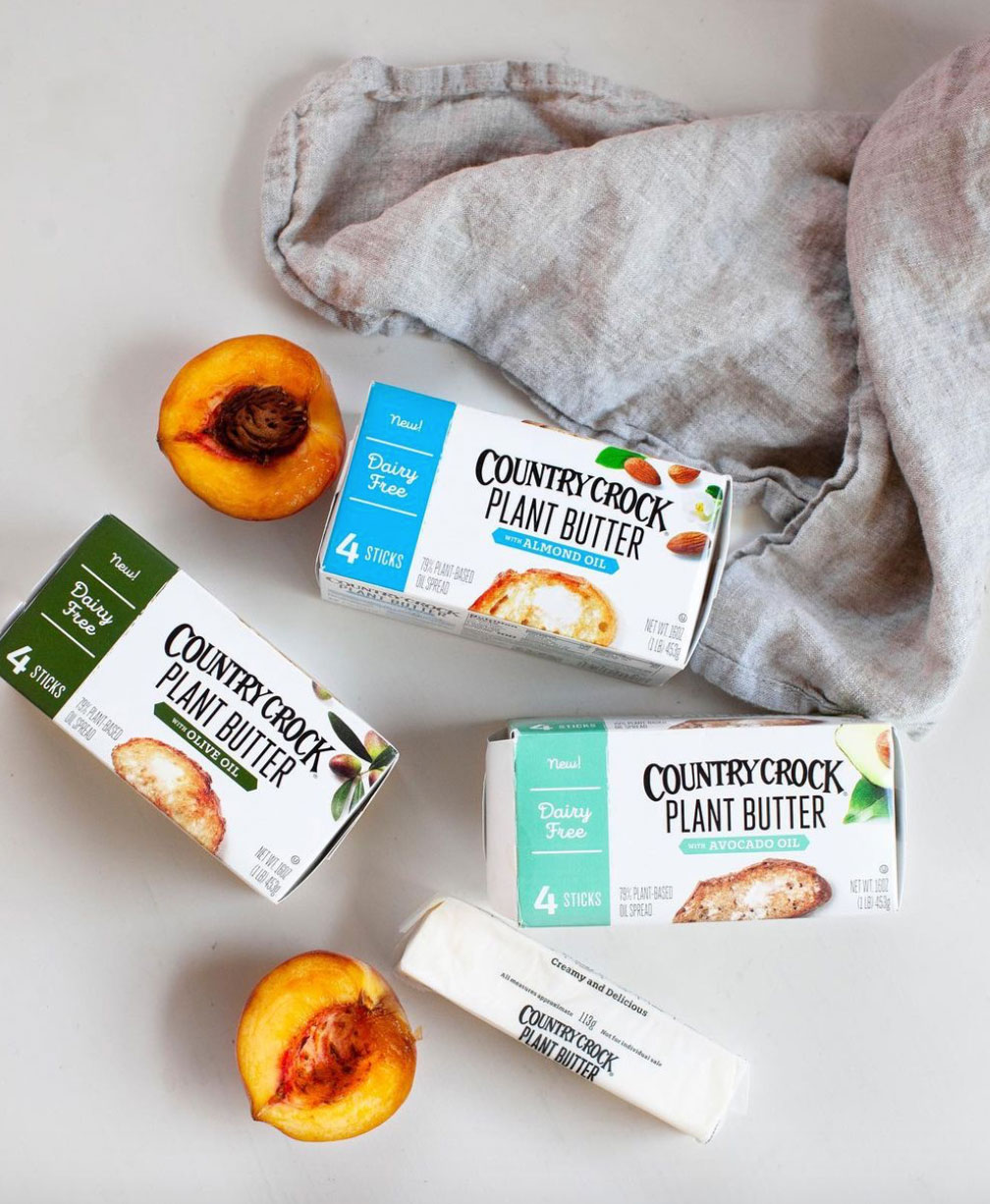 Country Crock
Country Crock is owned by Upfield, which is also the parent company of popular vegan cheese brand Violife. In 2019, the brand got into Plant Butter, a departure from margarine in that it was a more direct substitute for butter that it initially offered in three buttery sticks: Plant Butter with Olive Oil, Plant Butter with Almond Oil, and Plant Butter with Avocado Oil. The almond oil and olive oil varieties are also available in tub formats.
Last month, the brand launched a "Spring Swap" campaign and partnered with the famous family to give its vegan butter a boost.
"Kris Jenner and Khloé Kardashian were natural fits for this promotion since they were already brand fans of Country Crock," Courtney Cotter, Country Crock Brand Director, tells VegNews.
"Kris has used Country Crock Original Spread in her kitchen, in her words, 'since the dawn of time,' and since Khloe is incorporating more dairy-free products into her diet and has been influencing Kris to do the same, Country Crock Plant Butter is the perfect ingredient for Khloé and Kris to use in their dishes this spring," Cotter says.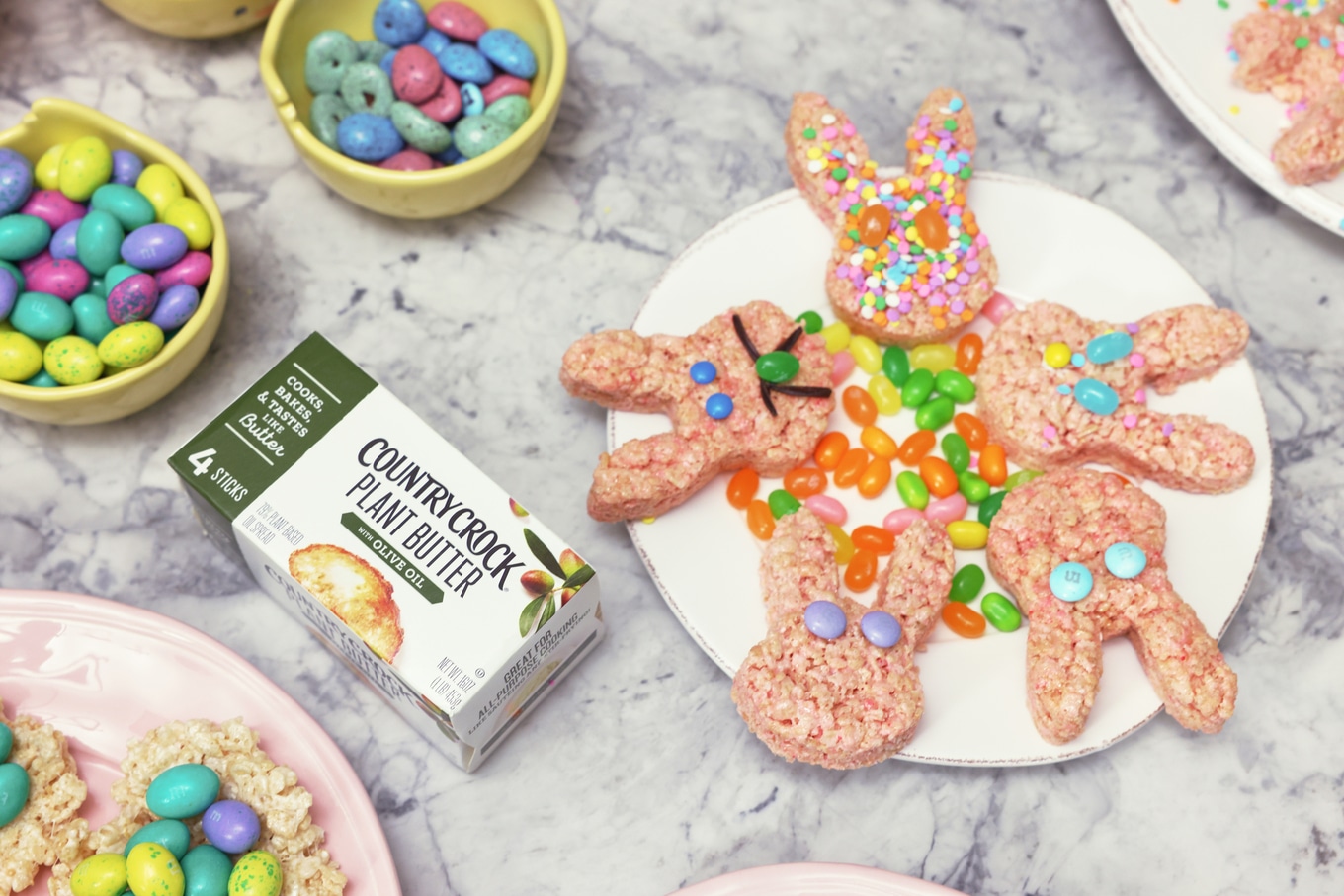 Country Crock
Last year, Country Crock expanded into alternatives to animal products even further with the launch of Plant Cream. Created to compete directly with dairy-based heavy whipping cream, Country Crock's Plant Cream is made from lentil milk and a blend of plant oils and comes in a ready-to-pour container.
The Kardashians get behind vegan food
Khloé Kardashian and Kris Jenner—who also owns plant-based cleaning business Safely—are not the only members of the popular family to publicly endorse vegan food.
Kim Kardashian has had an on-again-off-again relationship with plant-based eating and has counted on vegan brand Beyond Meat to help her along the way. Last May, Kim Kardashian made her love of Beyond Meat official when she joined the company as its Chief Taste Consultant.
"As my fans know, my fridge and freezer are fully stocked with Beyond Meat's products and I'm so thrilled to be featured in the campaign as its Chief Taste Consultant to inspire people to include Beyond Meat in their diets," Kim Kardashian said in a statement at the time.
The eldest sister, Kourtney Kardashian—who celebrated her 44th birthday this week—is also a big fan of everything plant-based, in part thanks to her vegan husband Travis Barker. Back in 2021, the wellness industry entrepreneur revealed that she was 95-percent vegan and has since been sharing plant-based food finds, particularly in the Los Angeles area.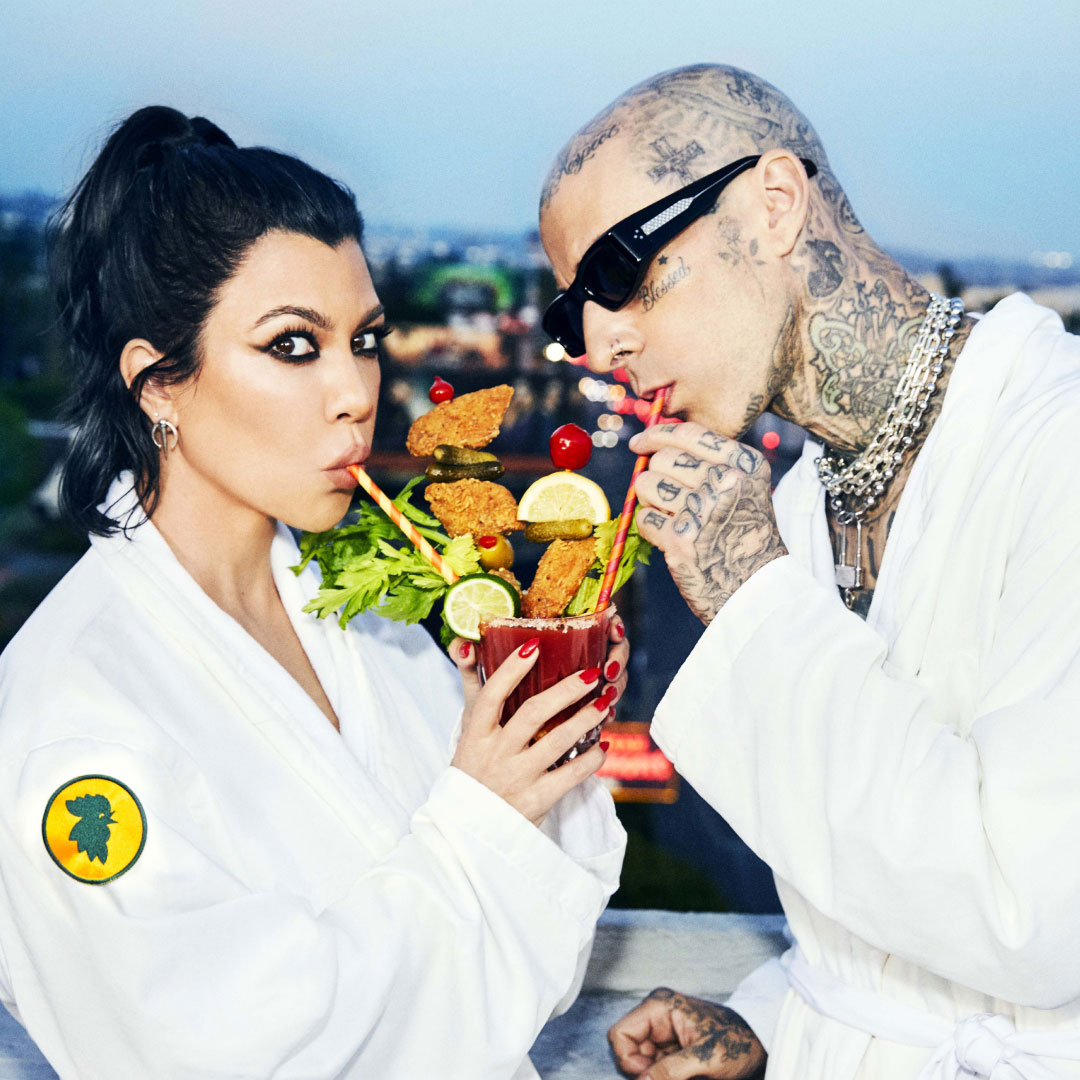 Ellen von Unwerth
Last summer, Kourtney Kardashian and Barker eloped in Las Vegas, which, along with the couple's two other weddings, is documented in newly released Hulu special 'Til Death Do Us Part Kourtney & Travis. Immediately after eloping, the couple took to the famed Chateau Marmont in West Hollywood to celebrate. Here, the duo also spent time shooting a campaign with photographer Ellen von Unwerth to promote Daring Foods' vegan chicken—a favorite meat substitute of theirs.
In addition to the steamy photoshoot, Daring worked with Kourtney Kardashian last fall to take her annual Poolside with Poosh celebration to the next level. There, the vegan brand helped create a "drive-thru" concept for the '50s themed party with a walk-up window serving Daring's Fried Chicken & French Fries with gochujang ketchup and vegan ranch.
"From the moment our partnership with Kourtney and Travis began there was clear synergy between Daring's mission and their personal beliefs on plant-based eating and the positive impact it has on the environment," Ross Mackay, CEO and Founder of Daring Foods, previously told VegNews.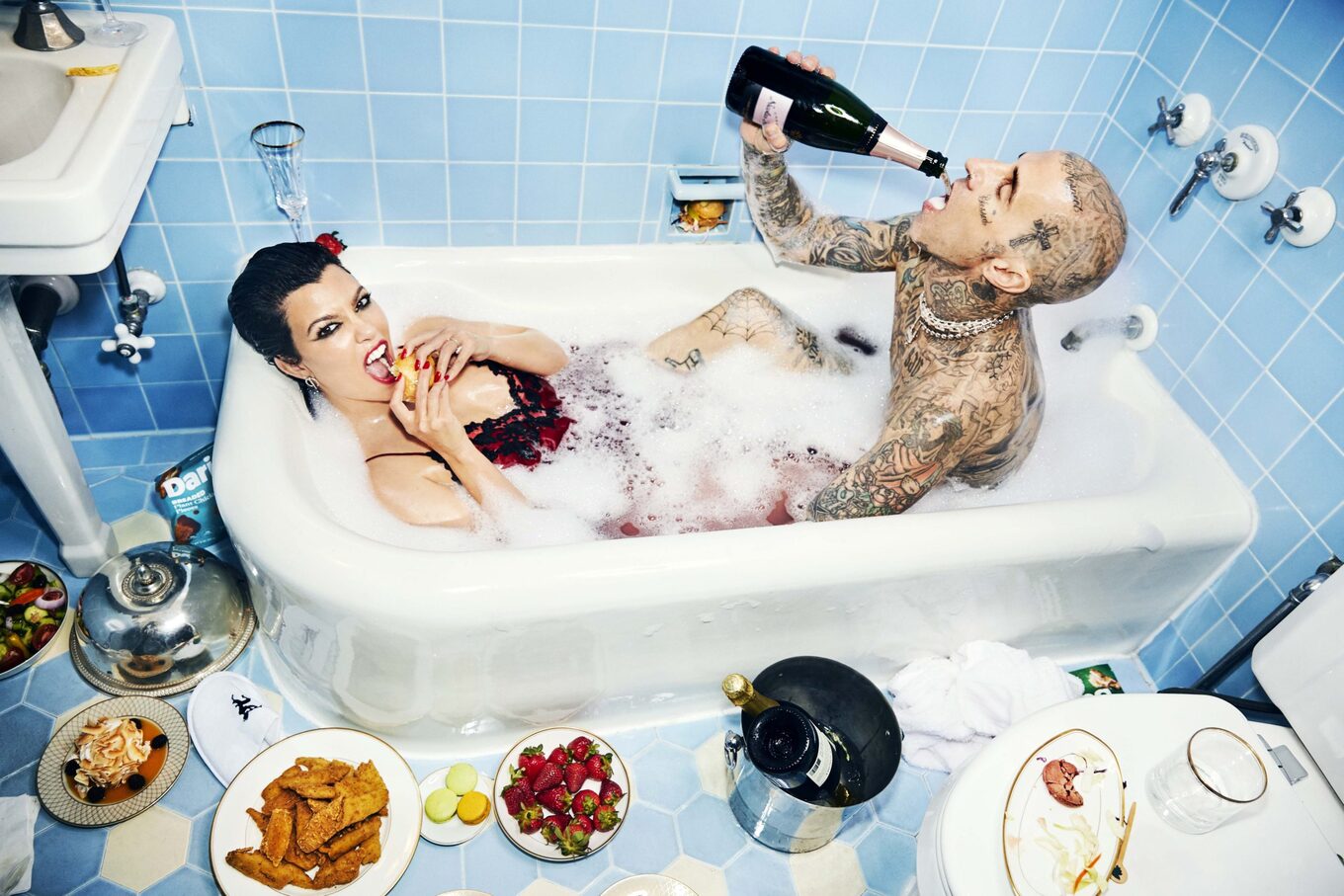 Ellen von Unwerth
"We continue to work on these celebrity-driven events like Poolside with Poosh so we can introduce the brand to high-profile people that have a similar stance on the industry," Mackay said. "Having their support and continuing to spread the word through their voices and platforms is really helpful as we continue to reach our goal of replacing and rethinking chicken in the global food system."
For the latest vegan news, read: