Starting today, a national pet food retailer is rolling out a fully vegan line of dog food and treats. The company partnered with vegan dog food company Wild Earth to offer its Maintenance and Performance formulas in flavors such as Veggie Chick'n Kabob, Classic Roast, and Golden Rotisserie; along with superfood treats in Peanut Butter, Banana & Cinnamon, and Strawberry & Beet flavors.
The products will be available in stores in Los Angeles and New York City, as well as on the retailer's website. While Wild Earth is a popular vegan brand, other vegan dog food options do exist, including V-Dog, Halo, V-Planet, and Gather.
Wild Earth CEO and Co-founder Ryan Bethencourt says the launch is a pivotal point for the entire vegan movement because it points to the mainstream adoption of vegan dog food. "It's been a long road for so many of us to get the entire industry to see that vegan dog food can be just as healthy (if not healthier) for dogs," Bethencourt tells VegNews.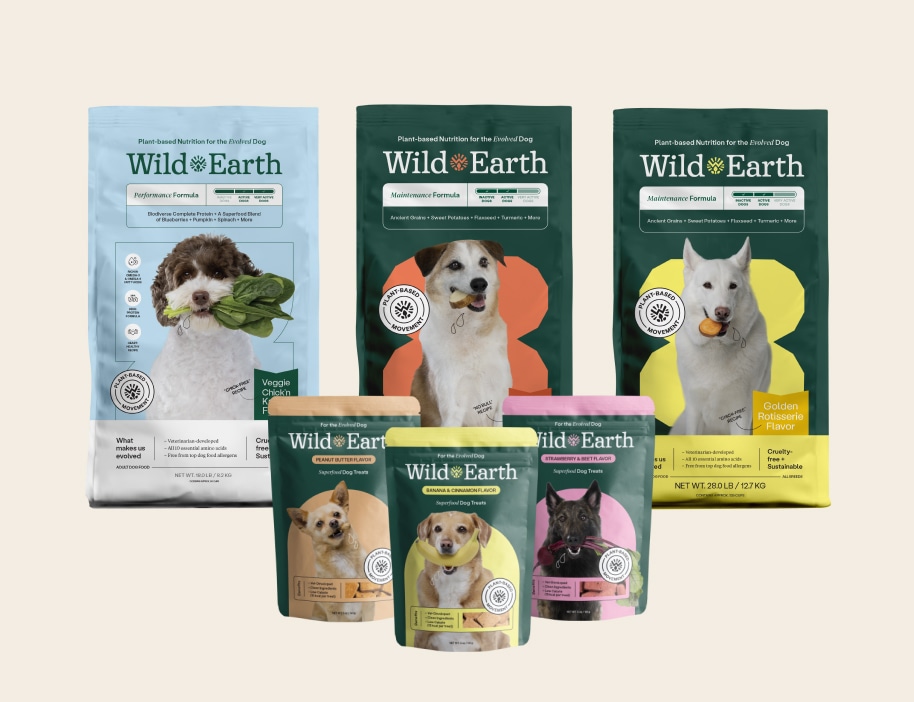 Wild Earth
"We're delighted at Wild Earth to be the first to do this, but we're even more excited to see the massive change that's possible across the entire pet food category to embrace vegan and cruelty-free foods for our best friends, finally."
The vegan dog food movement
In 2019, Wild Earth debuted its first dog treat made with cultured koji—a type of fungi that it developed, in a lab-setting, to contain more protein than steak using a proprietary process. That same year, the company appeared on Shark Tank, where Bethencourt secured $550,000 from investor Mark Cuban for 10 percent of the company.
"When I pitched to Mark on Shark Tank, we were just an idea," Bethencourt says. "He backed us based on the idea that we could make better plant-based food and transform the massive pet food industry."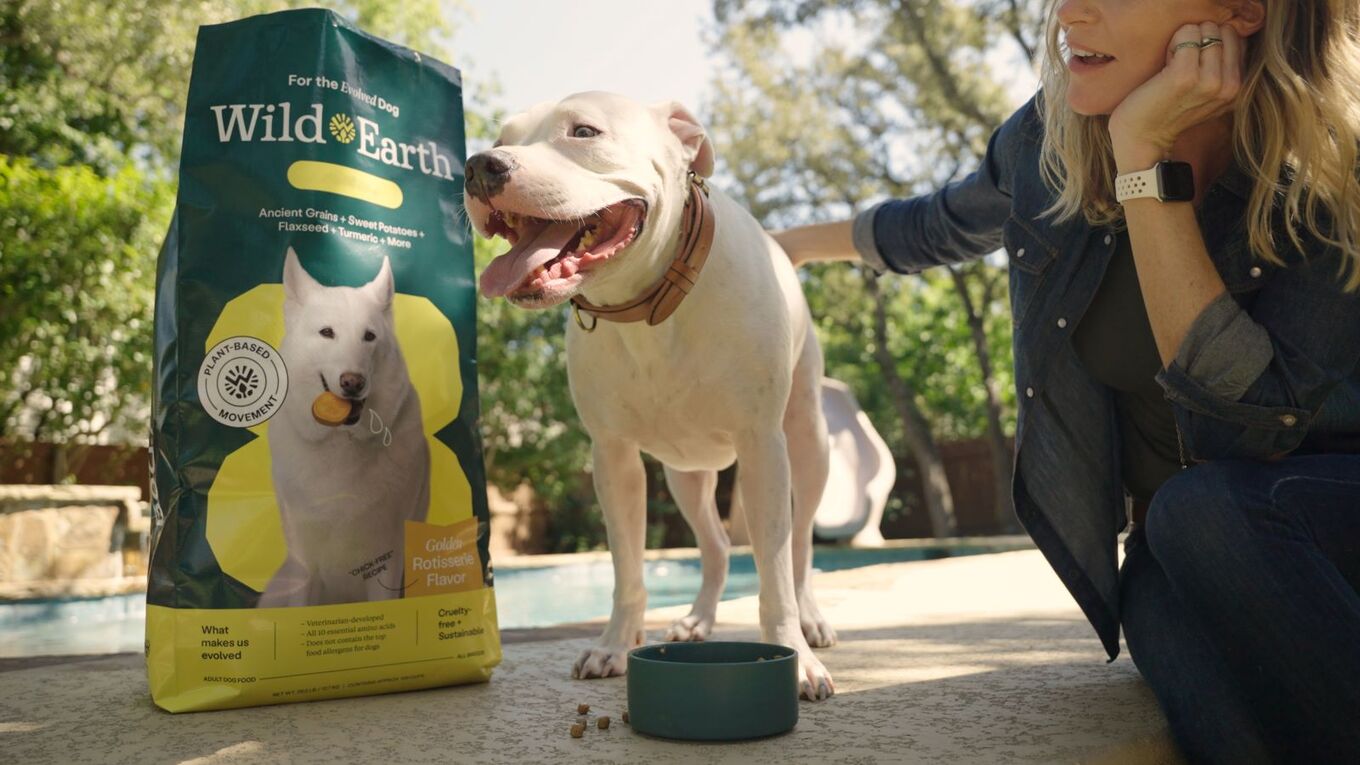 Wild Earth
Since then, Wild Earth has become a leader in the vegan dog food space by innovating and expanding its product line to include 100-percent nutritionally complete dog food that contains yeast protein—a sustainable, high-quality protein that contains all 10 essential amino acids, plus beta-glucans, and B vitamins.
To round out its nutritional profile, the dog food formulas also feature ingredients such as oats, sweet potatoes, blueberries, pumpkin, and spinach to support immune health and digestion.
Transforming the dog food market
Surprisingly, the vast majority of conventional dog food still depends on meat—which adds to animal agriculture's negative impact on the planet. These foods also contain questionable ingredients that we might not want to give our companion animals in the first place.
There are also concerns about the safety of conventional dog food. Following a pet food safety recall in February 2018, it came to light that meat giant JBS knowingly distributed beef tallow adulterated with pentobarbital, a euthanasia drug used for cattle and horses.
Similar recalls of other brands have happened in the past, including for pet food products that were found to be contaminated with salmonella and listeria monocytogenes.
But, it seems, things are starting to change, and Wild Earth is on a mission to transform the dog food space so that clean, sustainable, plant-based food is the norm rather than the exception.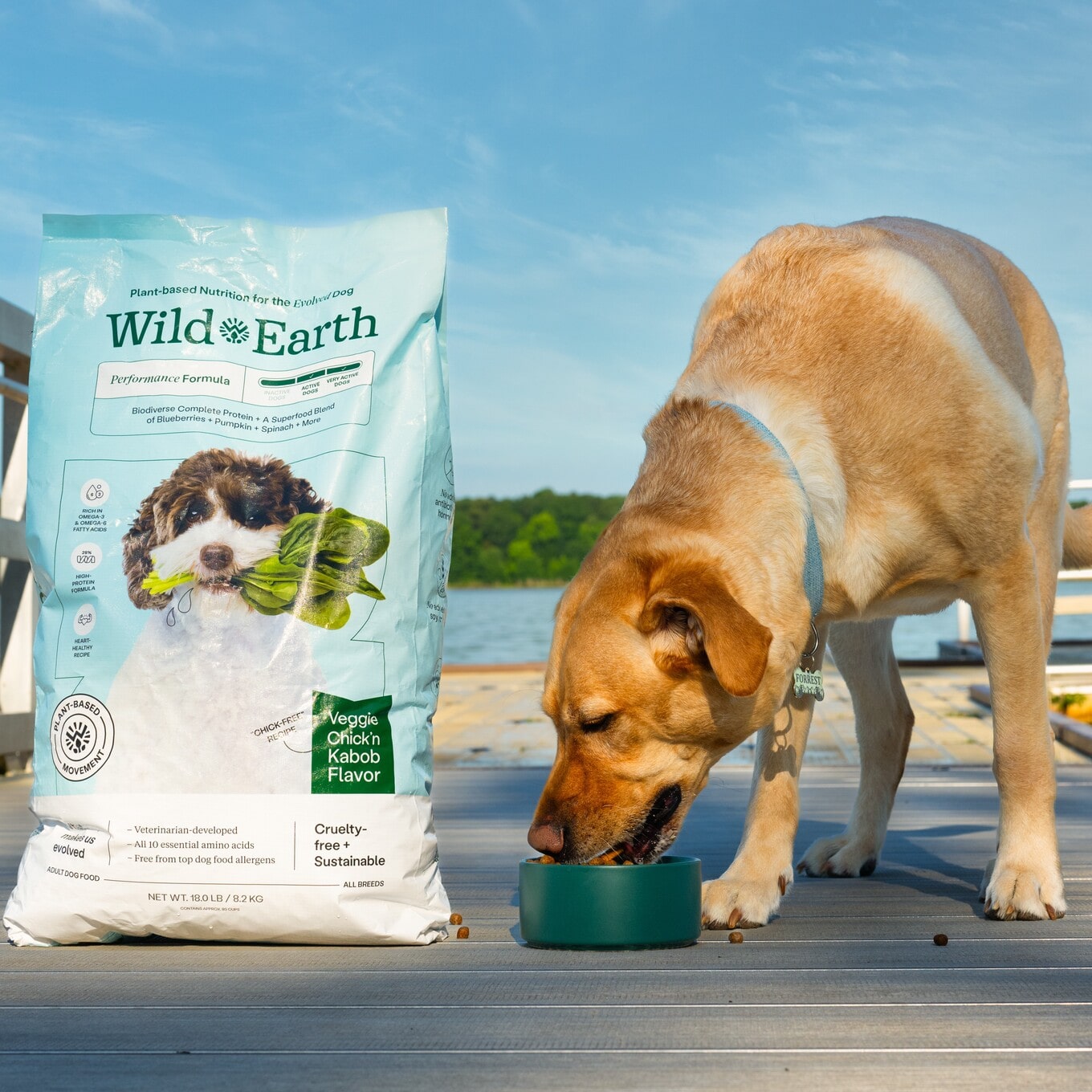 Wild Earth
Currently, anyone who has a dog as a companion would be lucky to find one or two vegan dog food selections among the rows of meat-based options at major pet food stores.
But, Bethencourt believes change is happening, and the food sector for companion animals will follow the same path as the plant-based space for humans. "The same companies that resisted plant-based foods in the human food space also have resisted plant-based pet foods," Bethencourt says.
"When we've exhibited at pet food conferences over the last few years, it's been a sea of sameness," he says. "Over the last year we've seen a lot more interest and excitement about plant-based pet foods based on both consumer demand and the really positive health data we've seen coming out about plant-based dog foods."
In fact, Bethencourt points out that scientists at the University of Guelph found that dogs on plant-based vegan diets on average live 1.5 years longer (14 years instead of 12.5 years).
"[This] was a pretty groundbreaking finding mirroring what we see in improved health for humans on plant-based diets," Bethencourt says.
Ultimately, Wild Earth is proud to be a part of the movement and helping challenge consumers to think differently about what they feed their dogs. "I'm very proud of the fact that at Wild Earth we went from an idea to building a successful nationwide brand," Bethencourt says. "We are really making a positive difference for so many dogs, animals [who] are spared from slaughter (at every one of our dog's meals), and our planet."
Can dogs be vegan?
A growing body of research has shown that dogs can thrive on a plant-based diet—mainly because dogs are technically omnivores, so it all comes down to meeting their nutritional needs. In addition to the University of Guelph study that found vegan dogs have a longer lifespan, a study published last year found that a well-balanced vegan diet may be healthier for dogs than conventional or raw kibble meat-based diets, leading to fewer vet visits.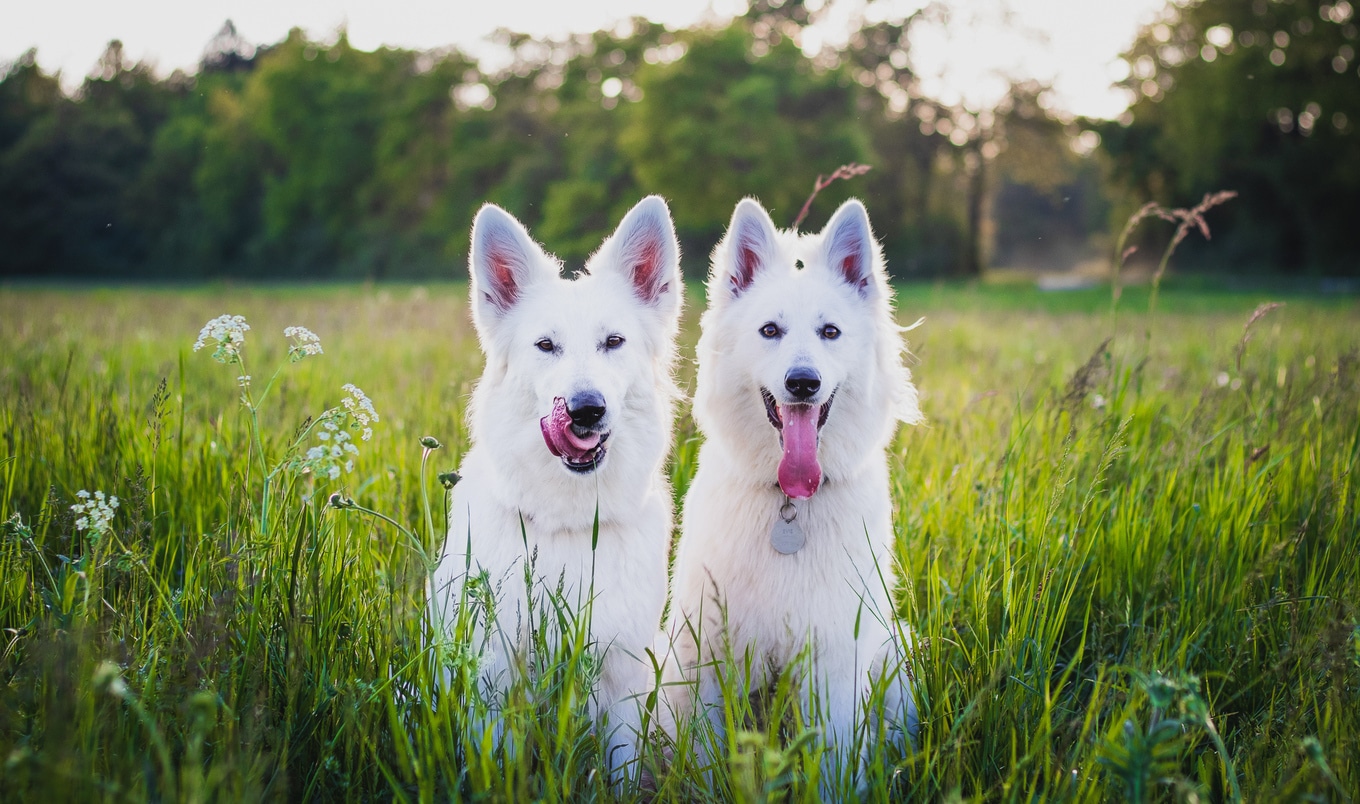 Simona Kidrič
"We believe our study of 2,536 dogs is by far the largest study published to date, exploring health outcomes of dogs fed vegan and meat-based diets," the researchers said in a statement.
"It analyzed a range of objective data, as well as owner opinions and reported veterinary assessments of health," they said. "It revealed that the healthiest and least hazardous dietary choices for dogs are nutritionally sound vegan diets."
For the latest vegan news, read: