James Beard Award-winning French pastry chef Dominique Ansel—who invented the Cronut—has created his first-ever vegan version of the popular croissant-doughnut hybrid.
The all-vegan version of Ansel's iconic "half croissant, half doughnut" creation is filled with coconut rice pudding infused with naturally flavored Butterfly Pea Flower Tea and topped with a hand-glazed fondant. The limited-edition vegan Cronut is available at Dominique Ansel Bakery in New York City from September 21 through September 24 until sold out daily.
Uniquely, Ansel partnered with paint brand Sherwin-Williams to create the vegan Cronut inspired by the brand's 2024 Color of the Year—a relaxed blue hue called Upward SW 6239.
"This collaboration represented a challenge, to change the way we think and experiment with different ingredients we haven't quite used before," Ansel tells VegNews. "We've tested different versions of the Cronut in the past, whether it's vegetarian or vegan or using alternative ingredients, but this allows us to push forward for that final stretch and bring it to life. I'm excited for everyone to try it."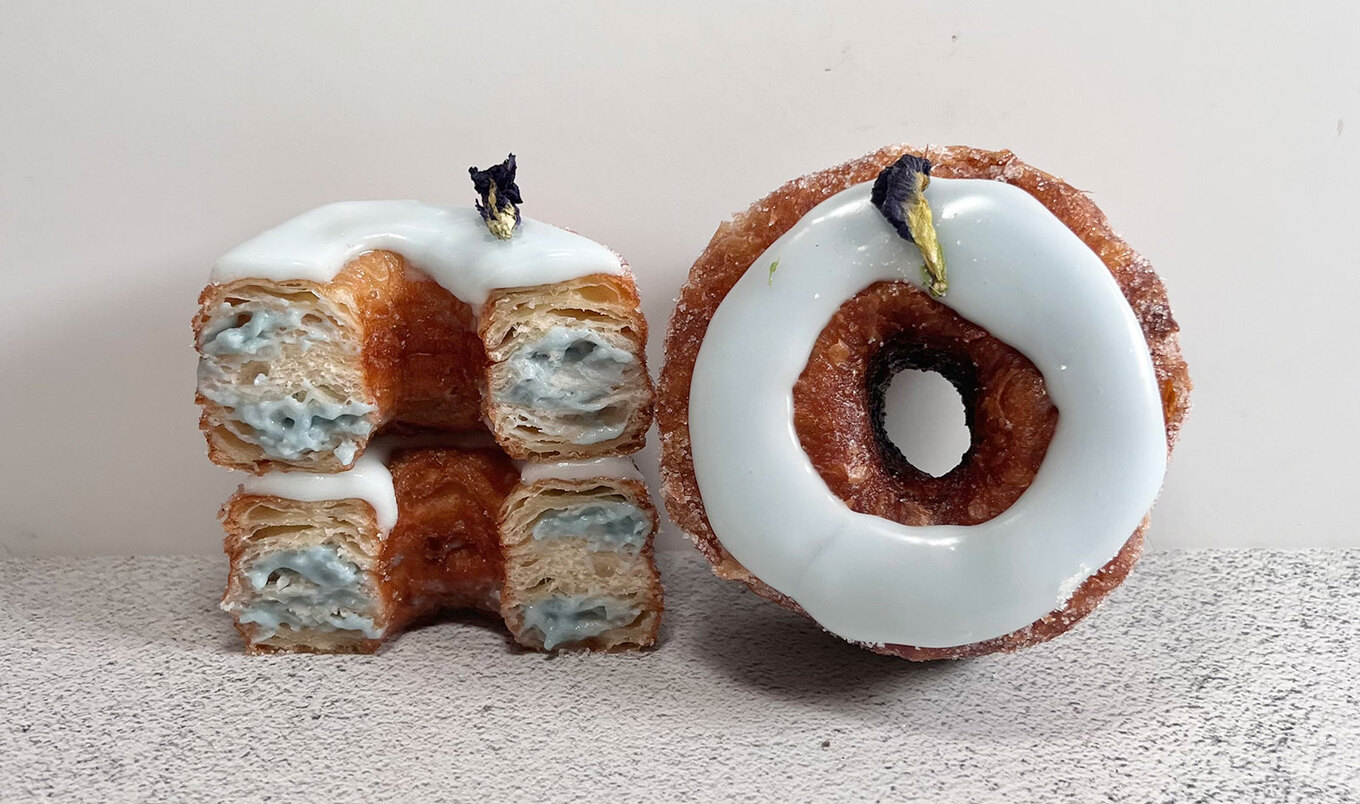 Dominique Ansel
To create the vegan version of his iconic pastry, Ansel says he and his team started by brainstorming different flavor combinations and testing with ingredients they don't typically use, such as vegan butter and non-dairy milk.
"While the lamination techniques (the process of folding the dough and 'butter' to create all those flaky layers) is similar to our original process, using these new ingredients changed up the texture a bit so we learned to adapt in order to still achieve that light and airy texture balanced with a smooth and creamy butterfly pea flower and coconut riz au lait filling," Ansel explains.
Incorporating the Color of the Year
As for Sherwin-Williams' Color of the Year, Upward SW 6239 is meant to be a breezy and blissful shade of blue that evokes the ever-present sense of peace found when slowing down, taking a breath, and allowing the mind to clear.
"Upward SW 6239 represents the gentle forward momentum in all of our lives," Sue Wadden, Director of Color Marketing at Sherwin-Williams, said in a statement. "It brings to life that carefree, sunny day energy that elicits a notion of contentment and peace. With this color, we invite our consumers to take a pause and infuse a new sense of ease and possibility into their spaces–one that doesn't overwhelm, but rather establishes meditation and tranquility."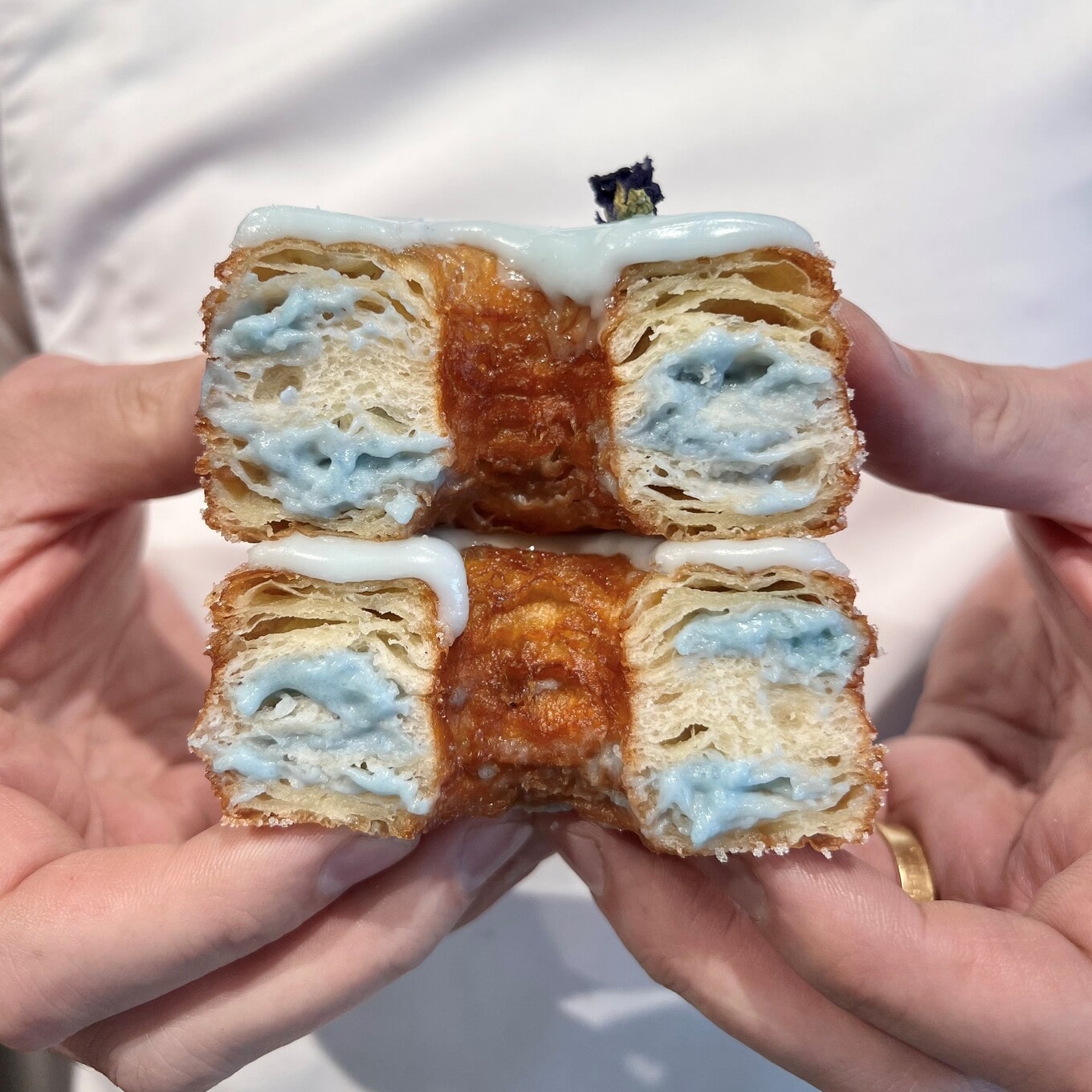 Dominique Ansel
And when it comes to adding the challenge of incorporating a soft blue hue into the vegan pastry, Ansel says it was a unique challenge. "I loved that the Upward color represents balance and moving forward, something peaceful and inspiring," Ansel says.
To incorporate this calming hue into the Cronut, Ansel used the Butterfly Pea Flower Tea. This vibrantly hued Southeast Asian flower, when gently steeped as a tea, mirrors the shade and spirit of Upward SW 6239.
"Blue isn't something that occurs in culinary ingredients very often, and we were able to use the natural hue that butterfly pea flower creates when it's steeped as a tea to mimic that soft and light blue coloring," Ansel says.
Ultimately, the whole process took a few months of testing and development. In contrast, when Ansel created the original Cronut more than a decade ago, it took about two months and 10 different iterations to get it right.
"People thought it was just croissant dough that's fried, but it was far more intricate and complicated than that," Ansel says. "The same goes with this vegan version, as we experimented with different 'butters' and ingredients until we felt that the textures and flavors were comparable and something we could be proud of."
The Cronut craze
In addition to bringing the world the Cronut®, the chef and cookbook author has been responsible for creating some of the most fêted pastries in the world, including The Cookie Shot, Frozen S'more, Blossoming Hot Chocolate, and many more. In 2011, Ansel opened his first shop, the eponymous Dominique Ansel Bakery in NYC's Soho neighborhood, which has since grown to additional locations in NYC's Flatiron neighborhood, Hong Kong, and Las Vegas.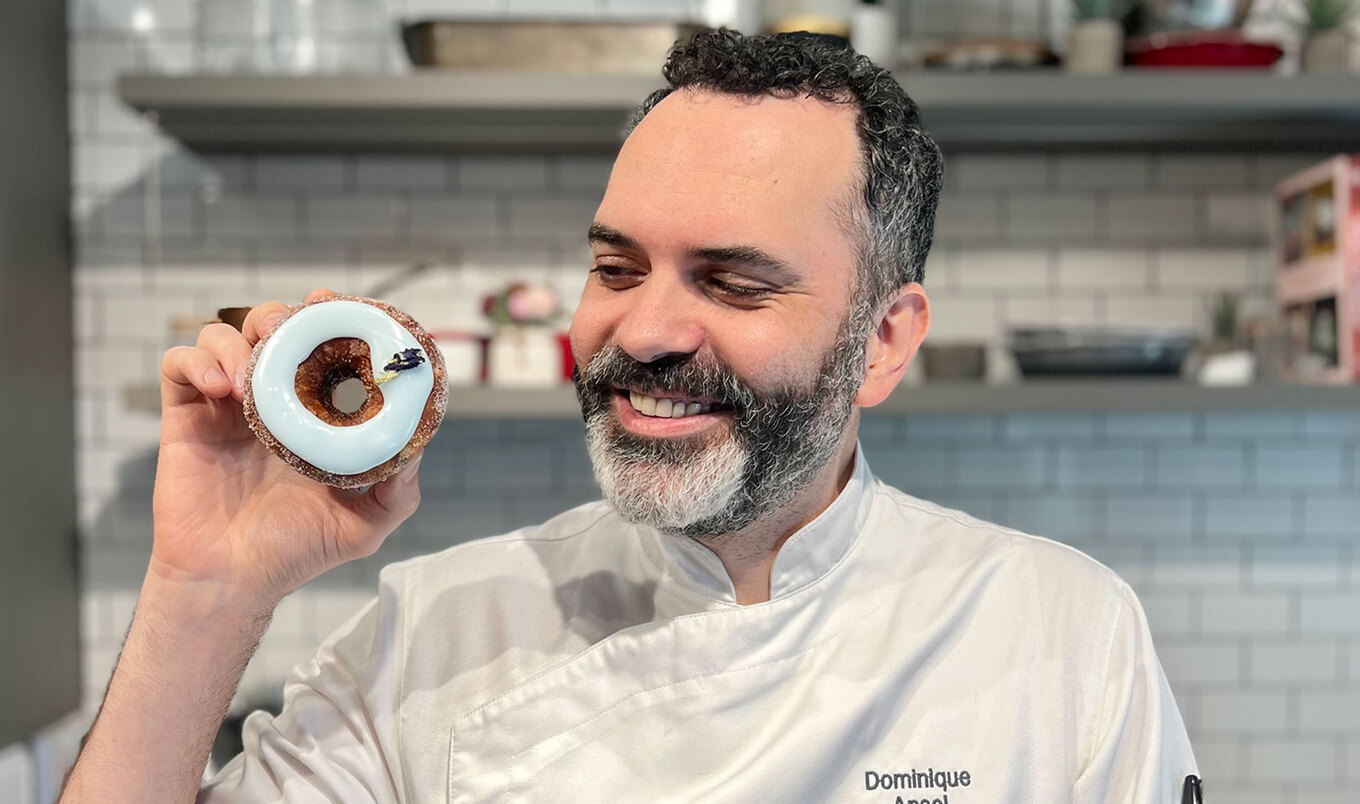 Dominique Ansel
Ever since Ansel started the big Cronut craze in 2013, other bakeries across the country have tried their hand at making their own variation of the croissant-doughnut hybrid. In fact, vegan doughnut shops have also attempted the feat, creating flavors from cinnamon sugar to glazed crème brûlée.
For the latest vegan news, read: