It seems that every week in the world of vegan food news is more exciting than the last, and this week is no exception. Vegan meat brand Plant Provisions is putting a savory spin on sweet potatoes with its new sausage line. Emma Chamberlain teams with snack company Outstanding Foods to craft the perfect vegan cookie. And Hershey's oat milk chocolate bars are headed to retailers across Canada. Read on for more.
1Sweet potato sausages
Sweet potato pie season is just around the corner. While we wait, vegan meat company Plant Provisions is satisfying that craving in a savory way with its new Smoked Sweet Potato Veggie sausage.
Made from sweet potatoes and caramelized onions and smoked with real hickory wood, this new offering is perfect for quick skillet meals and on the grill (if you still can't pry yourself away from the outdoor grill).
The hero ingredient is sourced from a farm in Oregon and these sausages were created to let the root vegetable shine. "We wanted to really highlight the inherent goodness of the sweet potato while pairing it with classic sweet and savory BBQ flavors including real hickory smoke," Lauren Klein, Head of Brand and Operations for Plant Provisions, tells VegNews.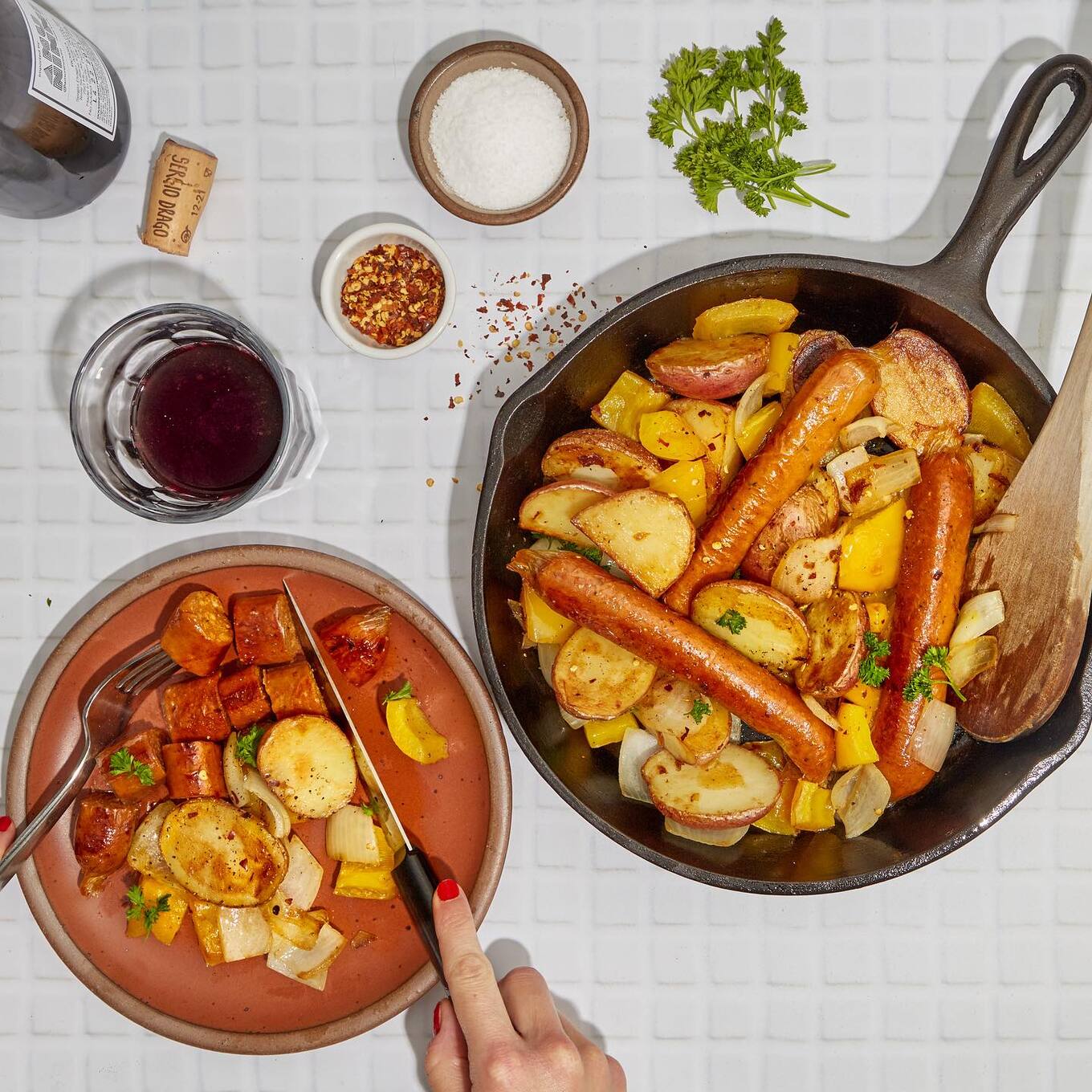 Free from soy and gluten fillers, the sausages contain 7 grams of protein per serving and are designed to have a reduced environmental impact, generating 90 percent less greenhouse gas emissions compared to traditional meat products.
Plant Provisions was founded by Michael Galbo, the son of a deli meat distributor who started the company to give consumers a more conscious way to consume these environmentally damaging animal products.
"Our customers have been asking us to make a veggie sausage for a while now," Klein says. "Sausages are a fun format that allows us to innovate with flavor and take Plant Provisions beyond sandwiches.
These sausages join the brand's existing line Veggie Slices, all made with high-quality chickpeas and various veggies, available in flavors such as Mesquite BBQ and Chipotle Chili.
2Vegan milk, simplified
Are you tired of waking up at the crack of dawn to milk the almonds and oats for your homemade vegan milks? This new product line might be just for you.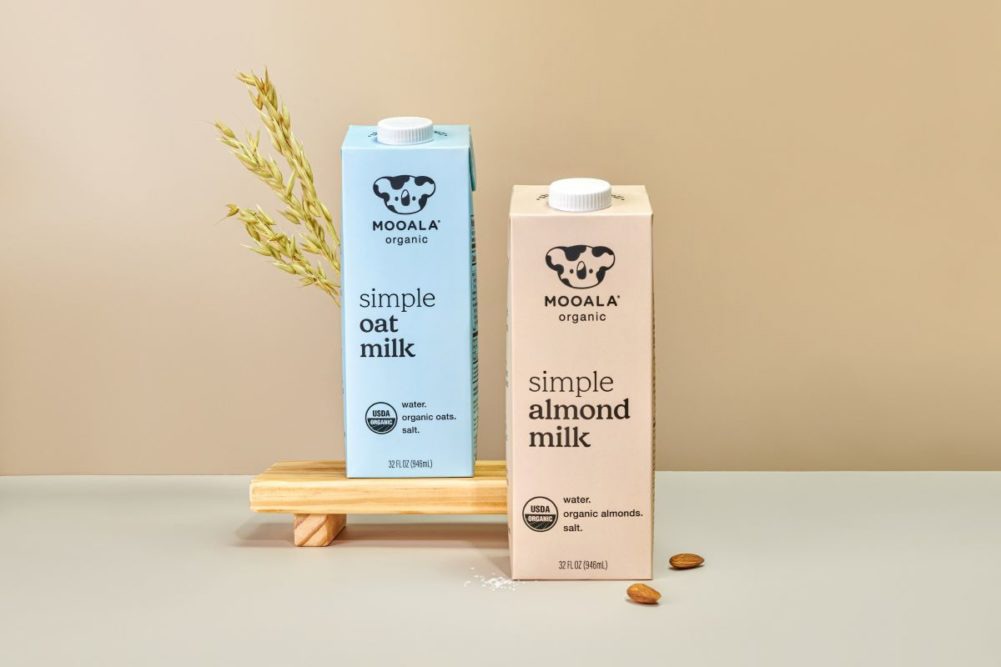 Mooala
Dallas, TX-based company Mooala recently expanded its range of organic, plant-based milks and creamers with Mooala Simple, which is designed to meet consumer demands for fewer and organic ingredients.
The Simple line consists of shelf-stable milks made from just three ingredients: filtered water, sea salt, and organic oats or almonds, and is free from gums, oils, and additives.
"Consumers are reading labels carefully—they are demanding fewer ingredients in addition to organic ingredients; we created Mooala Simple as an elevated product line to address both needs," Jeff Richards, the CEO of Mooala, said in a statement.
The new line joins Mooala's existing portfolio which includes coconut oat milk, banana milk, almond milks, and keto-friendly milks.
3Creamy vegan cheese
The only thing we love more than a double entendre is vegan cheese and Nuts for Cheese is giving us both at once. The Canadian company recently introduced a new product line of cashew-based Cream Cheese Style Spreads, available in Original, Garlic & Herb, and Lemon Dill flavors.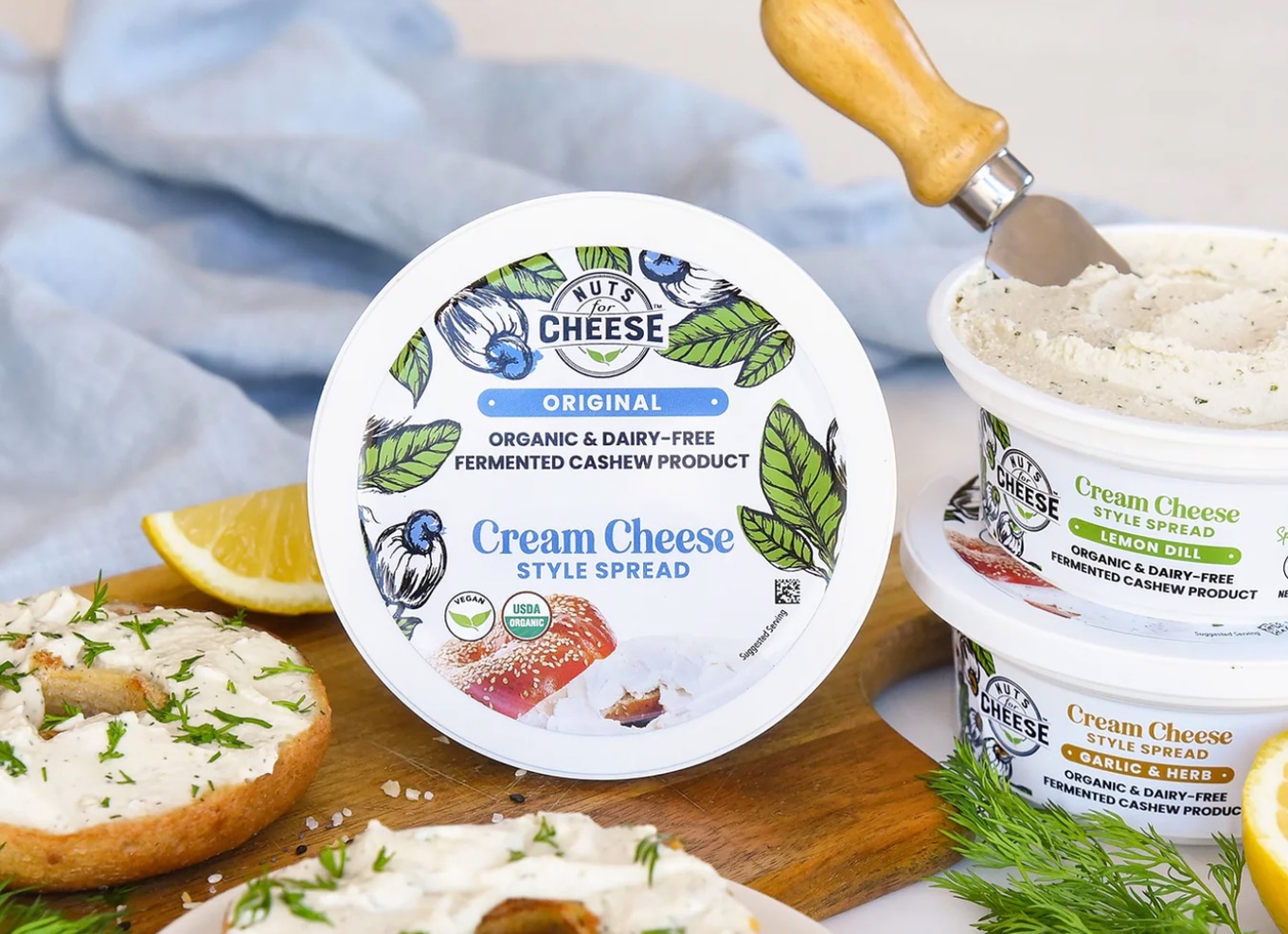 Nuts for Cheese
This month, the new line rolls out at major retailers across Canada where the brand is a key driver in the plant-based cheese market, available in more than 5,000 retail locations and responsible for significant growth in the category.
In addition to its new cream cheese line, Nuts for Cheese offers wedges in Un-brie-lievable, Super Blue, Black Garlic, Smoky Gouda, and more.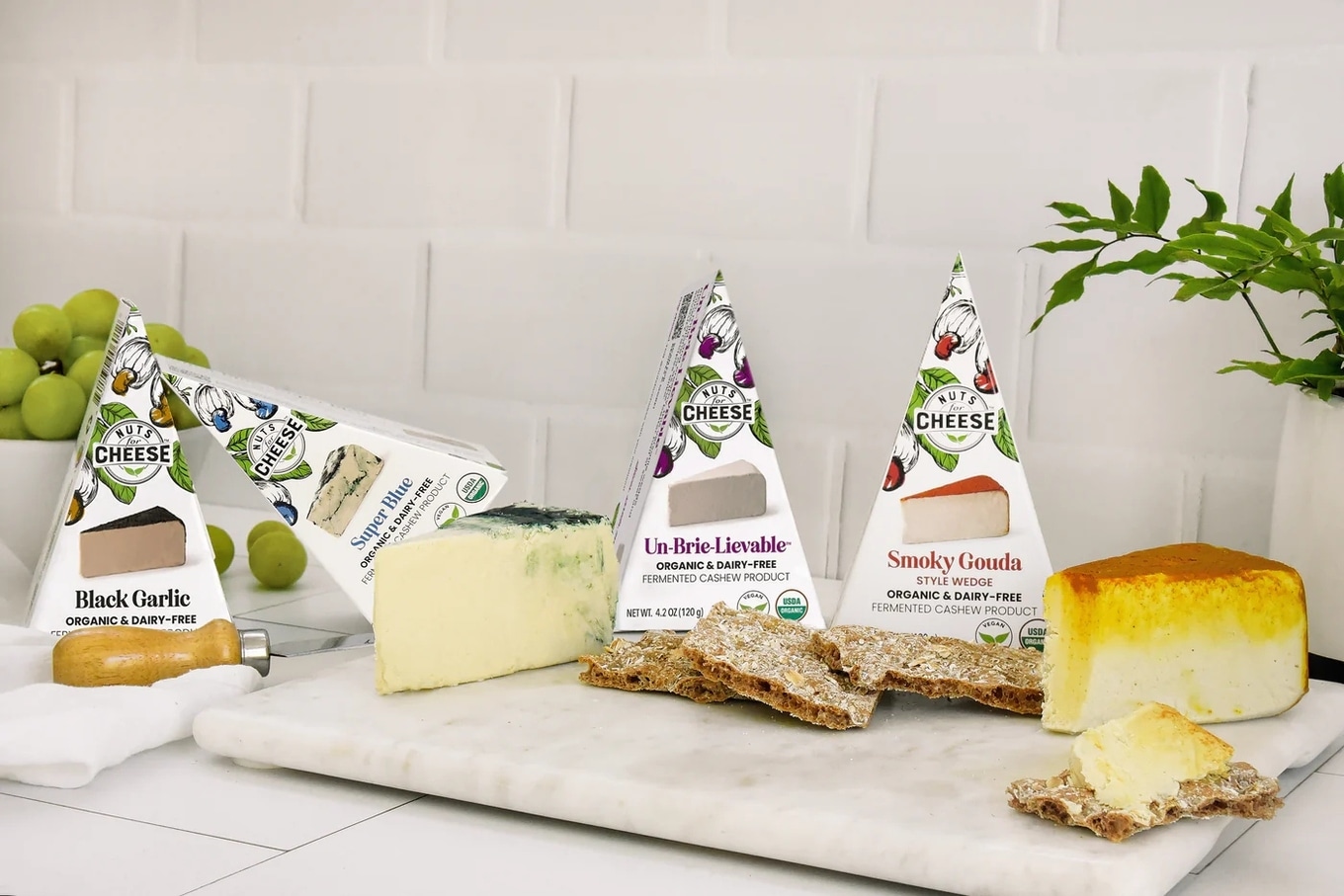 Nuts for Cheese
Nuts for Cheese is also making sure that its products are made with the utmost care when it comes to food safety and recently received an A grade in the British Retail Consortium (BRC) Certification for its cashew-based artisanal cheeses.
This certification is an internationally recognized standard for food safety and quality, awarded only to organizations that exhibit a comprehensive approach to food safety culture. The certification covers the company's 25,000-square-foot cheesemaking facility in London, Ontario.
"Quality has always been our number one priority," Margaret Coons, Founder & CEO of Nuts For Cheese, said in a statement. "Food safety is an important focus as part of our commitment to quality and this achievement validates our continuous efforts to uphold the highest standards."
The company has raised $8 million in capital and has invested $1 million directly into its cheesemaking facility, passing a third-party audit to secure the BRC Certification.
4Emma Chamberlain's vegan cookies
We have had a long-term snack affair with Outstanding Foods, makers of savory cheese balls, puffs, and crunchies (think pork rinds but without animal products). The company recently got into sweet snacks by launching a cookie line that features a Mocha flavor with some celebrity cred.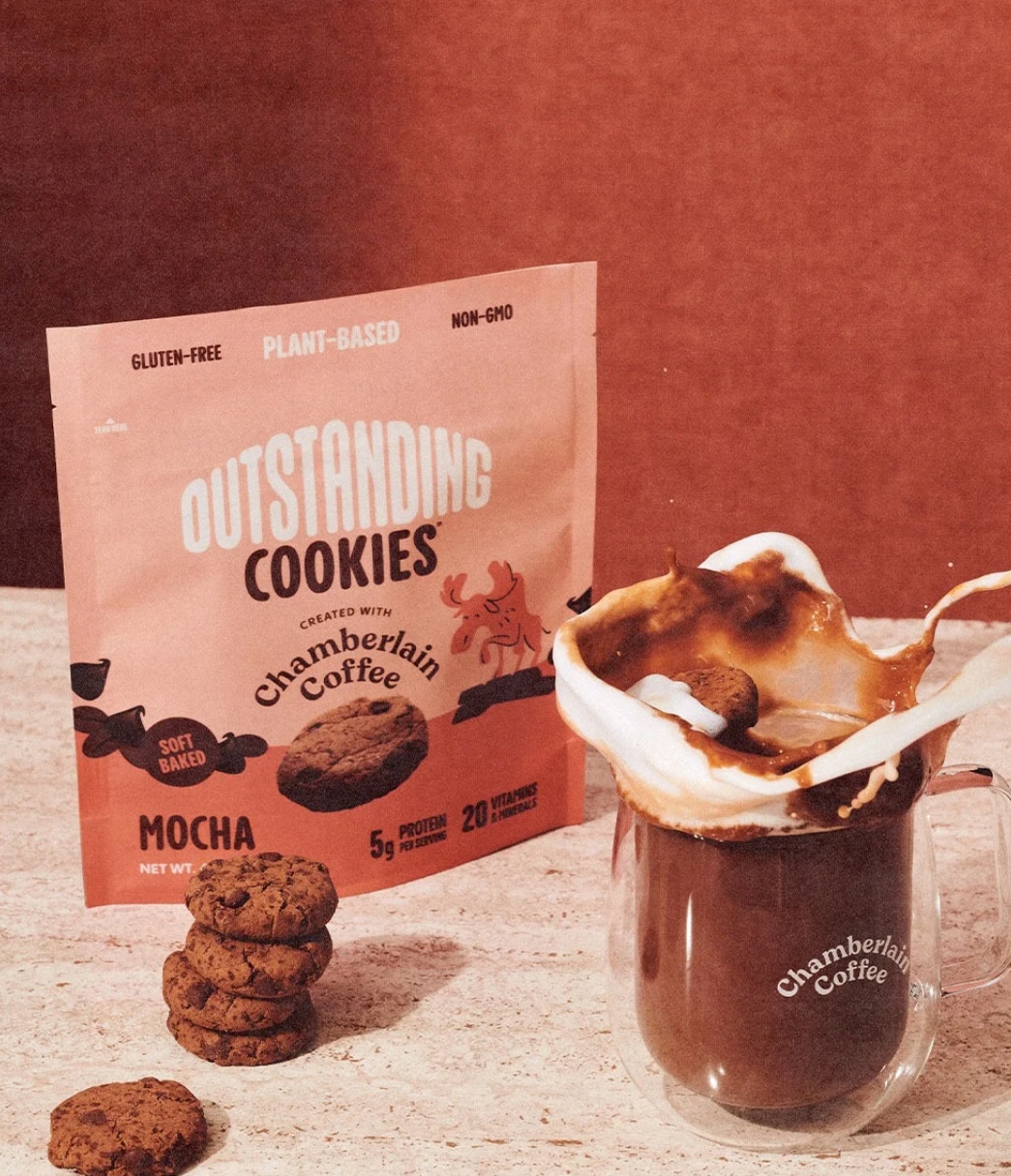 Outstanding Foods
The new vegan Chamberlain Coffee Mocha cookies are inspired by the ready-to-drink Mocha Latte made by Chamberlain Coffee—a company founded by influencer and businesswoman Emma Chamberlain.
"I love having snacks around that require little effort," Chamberlain said in a statement. "These cookies are the perfect treat for when I'm in the mood for something sweet."
"In addition to them being delicious, they're vegan, gluten-free, and are packed with essential vitamins, minerals and 5 grams of plant-based protein," she said.
Mocha is one of four flavors in Outstanding's cookie line which also includes Chocolate Chip, Double Chocolate, and Oatmeal Raisin.
5Hershey's vegan chocolate expands to Canada
Back in April, The Hershey Company made our dreams come true when it launched its first vegan chocolate bars made with oat milk at retailers across the United States. Now, our friends up North get to enjoy something sweet, too.
That's because Hershey Canada—a subsidiary of The Hershey Company—has also introduced its first plant-based chocolate bars, Hershey's Oat Made. Similar to the US launch, these vegan chocolate bars will be available in Almond & Sea Salt and Creamy flavors.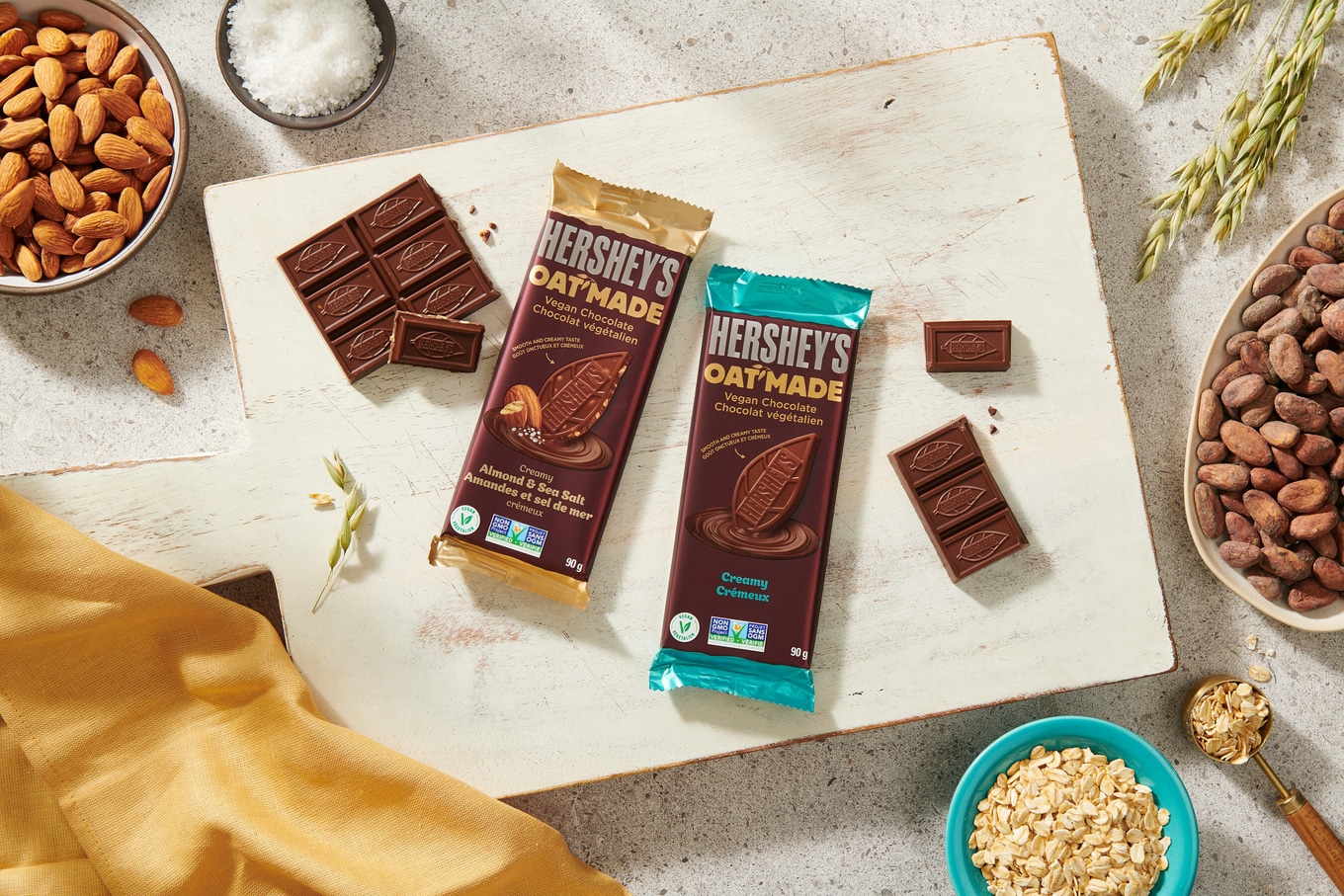 The Hershey Company
"Hershey's Oat Made bars are everything you love about milk chocolate … except the milk," Carly Cowman, Brand Manager at Hershey Canada, said in a statement.
"Our product development team did an unbelievable job at delivering the smooth and creamy texture that we know Canadians love and expect from Hershey's in our first-ever plant-based bar," Cowman said.
The vegan chocolate bars, which are crafted using oat flour as a substitute for dairy, were developed to serve the growing plant-based consumer market and are now available in the confectionary aisles of major grocery retailers across Canada.
"The plant-based category continues to see incredible growth, and today, one in four Canadians are actively seeking more plant-based options in their diets," Cowman said.
"Whether you're a vegan or vegetarian, or simply looking for more choice in the chocolate aisle, Hershey's Oat Made bars offer an amazing and delicious alternative that doesn't compromise on flavor," Cowman said.
The US launch also included Plant-Based Reese's Peanut Butter Cups but the company has yet to announce the expansion of this new product to Canada.