It seems that every week in the world of vegan food news is more exciting than the last, and this week is no exception.
First, Iconic brand Blue Bunny is getting back into the vegan ice cream business with mini bars and cones.
A wholly different critter, vegan bakery Bunnie Cakes, just unveiled that its cakes and cupcakes are now sold in vending machines at the Miami International Airport.
Soap staple Dr. Bronner's is flexing its chocolate chops with the launch of an oat milk chocolate line. Plus, Trader Joe's is not the only one playing the vegan kimbap game. Read on for more.
1Just Egg-stuffed Korean kimbap
Are you still waiting for Trader Joe's to restock that vegan kimbap? Taking a trip out to South Korea might actually be a quicker alternative given its popularity.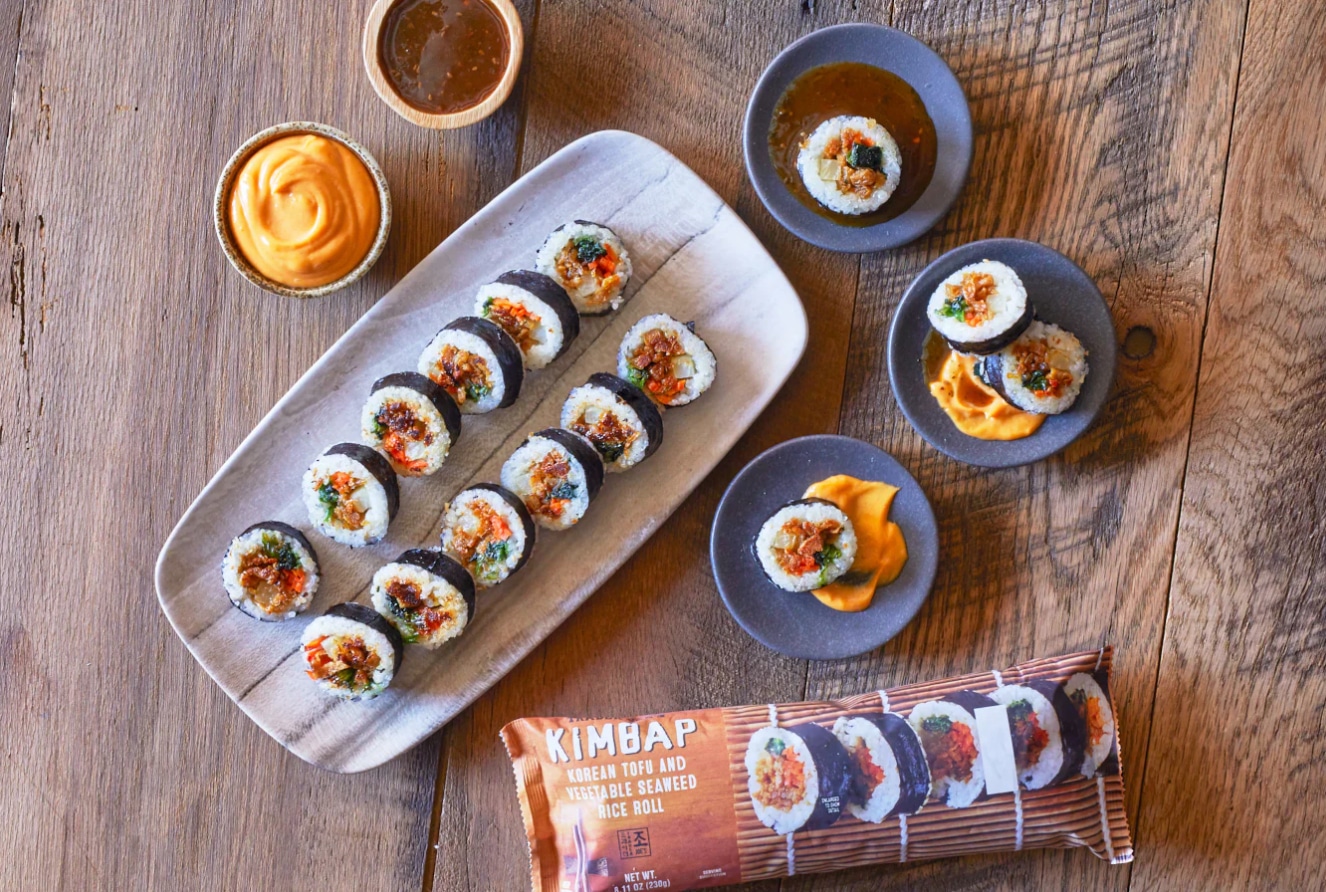 Trader Joe's
There, Zikooin Company, known for its alternative meat brand Unlimeat, has recently entered into a brand license agreement with Eat Just—maker of vegan Just Egg. The collaboration aims to combine Zikooin's diverse plant-based meat and cheese products with Just Egg's folded products made from mung beans.
The partnership's first offering is the 100-percent Plant Protein Bomb Kimbap, a high-protein, plant-based version of the traditional Korean dish featuring Just Egg, Unlimeat's sausage patty, and plant-based cheese.
"We are excited to collaborate with [Eat Just], a food-tech company with a mission to create a healthy, safe, and sustainable food system," an Unlimeat representative said.
"As this collaboration unites brands with the same beliefs, we hope to develop a variety of products using Just Egg's offerings and Unlimeat's plant-based substitutes," the representative said. "This will serve as an opportunity to expand the range of choices for consumers who enjoy vegan options."
The kimbap will be available in Seoul's Gangnam area starting this month. Following this, the companies plan to introduce a vegan breakfast sandwich featuring a Korean-style Tteokgalbi patty, cheese, and Just Egg.
2Cream cheese made from fungi
If you're more of a Whole Foods shopper, we've got good news for you, too.
That's because select locations of the grocery store now offer Dairy-Free Original Cream Cheese by Nature's Fynd, a food company specializing in alternative proteins derived from a nutritional fungi named Fy.
With its origins in the thermal springs of Yellowstone National Park, Fy Protein is sustainably produced using a fraction of the land, water, and energy compared to traditional agriculture.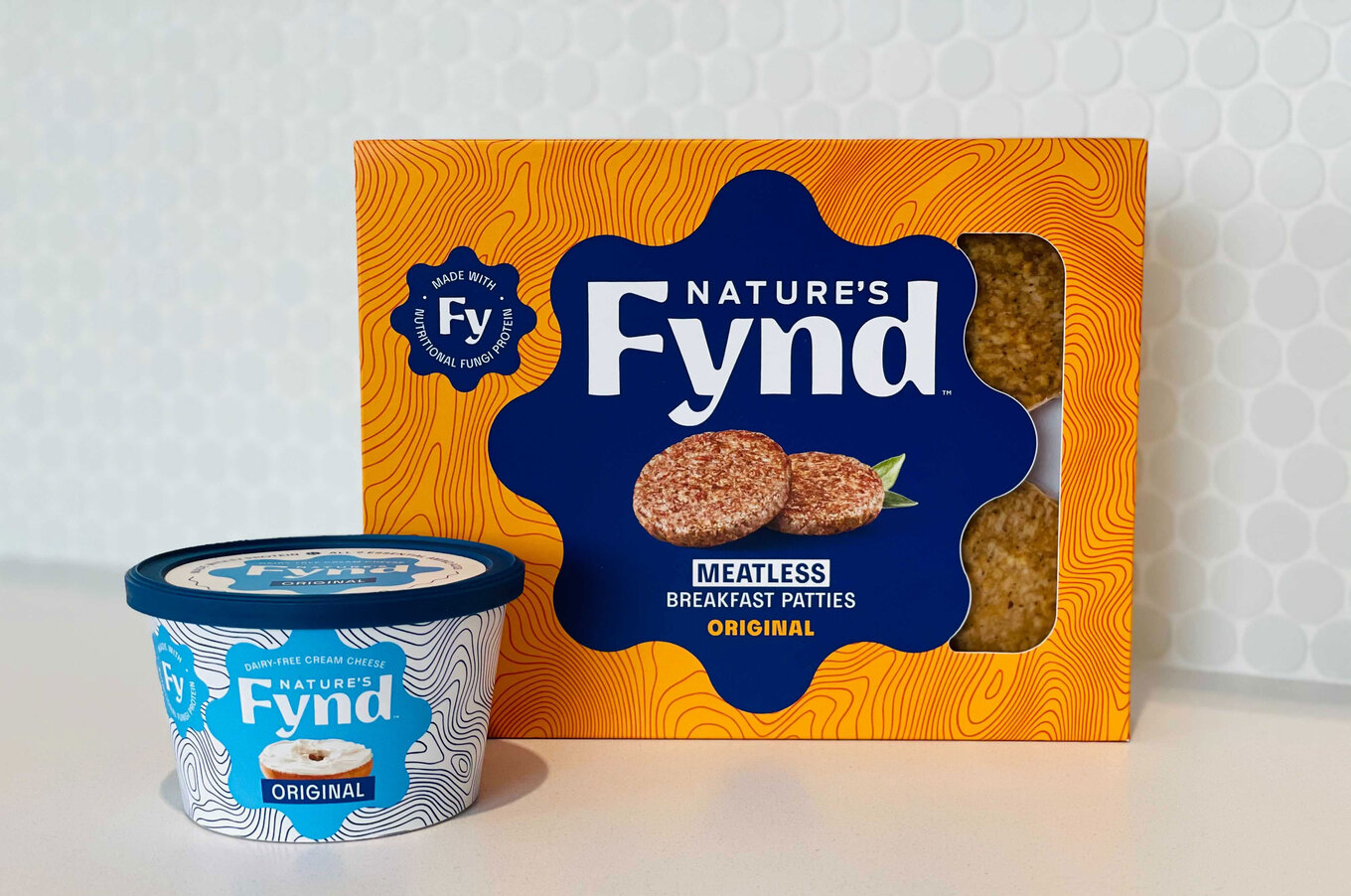 Nature's Fynd
Nature's Fynd initially launched its Meatless Breakfast Patties in Whole Foods stores in May 2022 and has since expanded its national distribution. The introduction of the dairy-free cream cheese at Whole Foods means breakfast is officially transformed thanks to Nature's Fynd.
"Fungi-based foods, like the ones made with Fy, are an innovative new category that we are really excited about," Nicole West, Whole Foods Market Category Merchant, said.
"Nature's Fynd first brought us their Meatless Breakfast Patties and now we're adding their Dairy-Free Cream Cheese to many shelves across the nation, introducing our customers to even more of their delicious products."
3Blue Bunny's dairy-free ice cream
Back in 2015, major ice cream brand Blue Bunny got into almond milk-based ice cream. The plan was to test four flavors—tentatively vanilla, chocolate, mint chocolate chip, and mocha fudge—in select states before releasing them more widely.
Fast-forward to 2023 and vegan ice cream pints are widely available from major brands, most notably Ben & Jerry's. What's a Blue Bunny to do to compete? The 88-year-old company is launching vegan ice cream novelties in four varieties.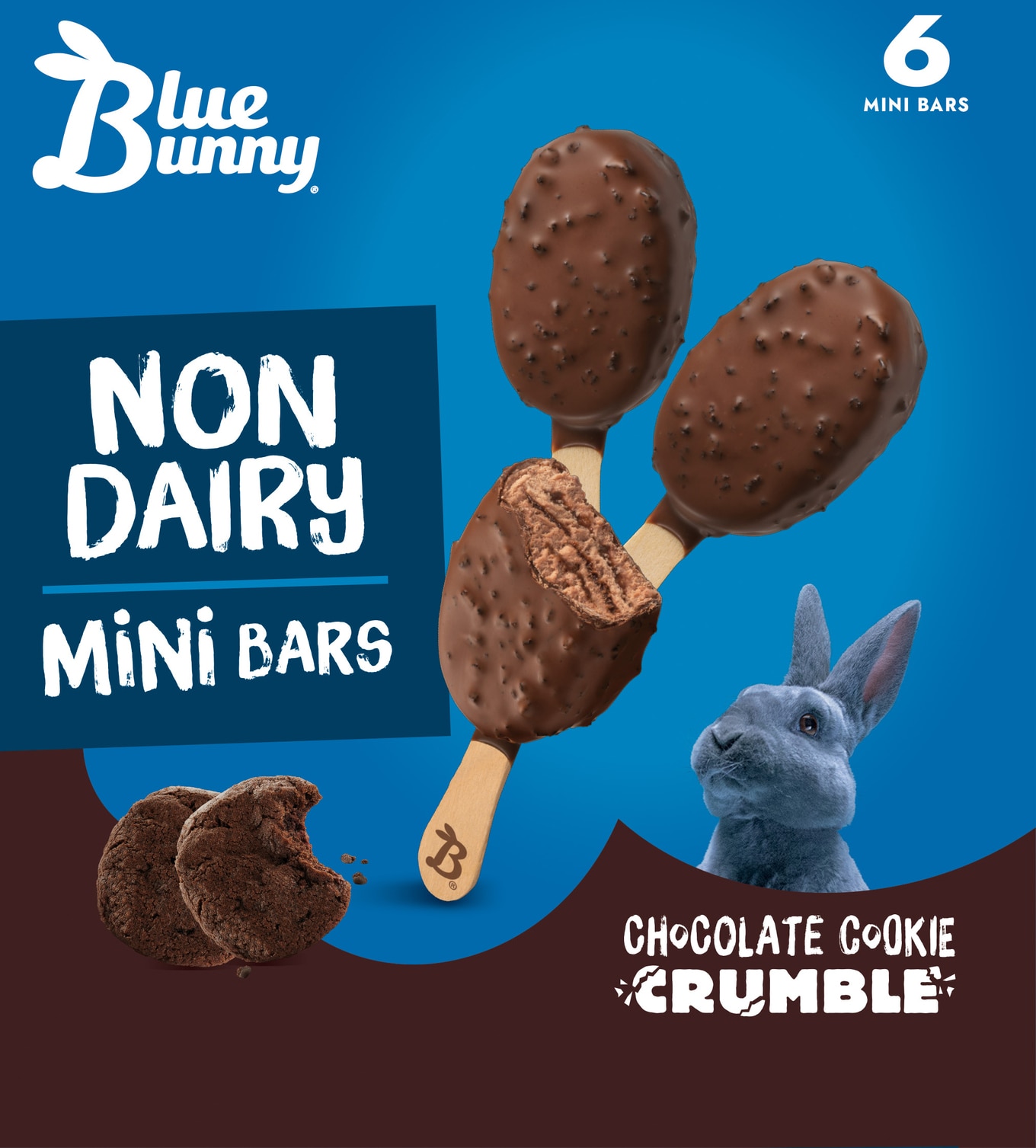 Blue Bunny
The Chocolate Cookie Crumble mini bars feature chocolate ice cream with fudge swirls that are dipped in chocolate and sprinkled with cookie pieces.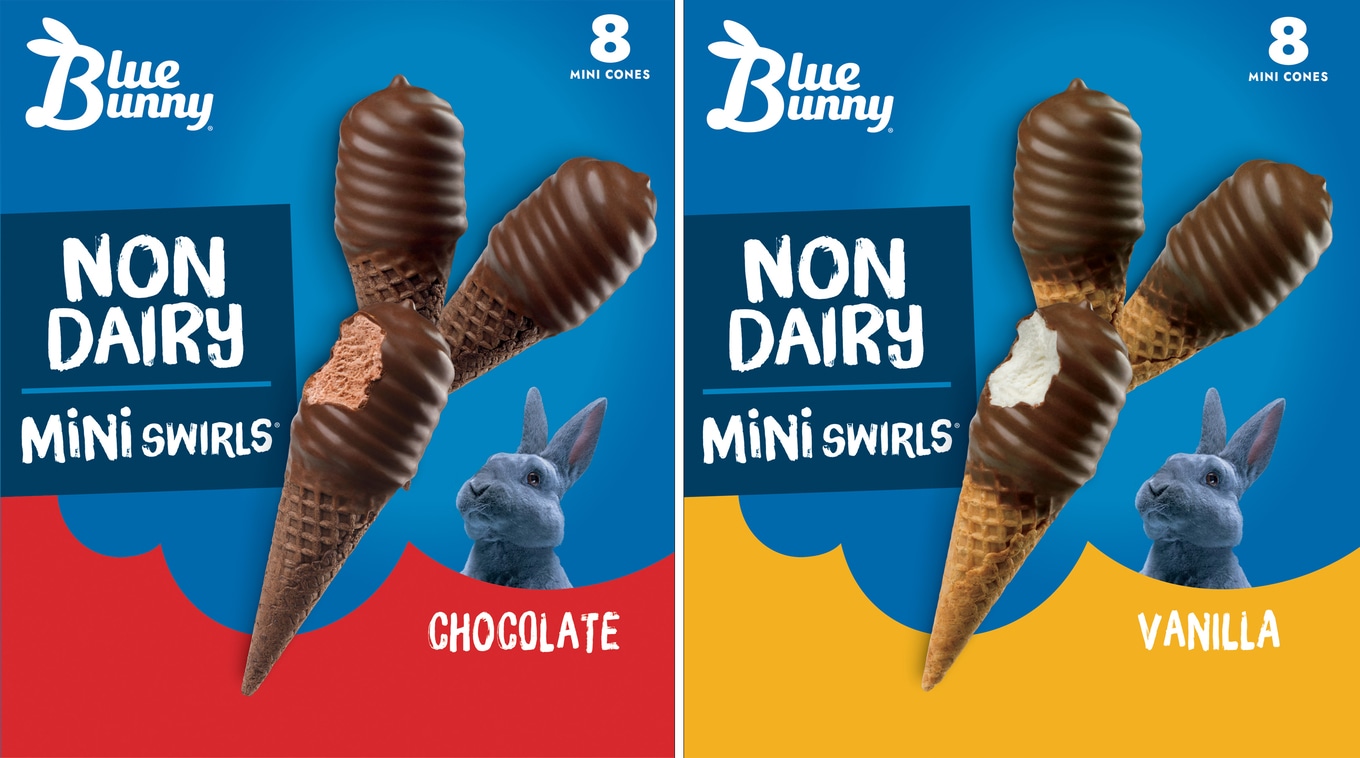 Blue Bunny
The Chocolate mini swirl cones come in chocolate and vanilla ice cream flavors, both dipped in a chocolate coating, with the chocolate flavor packed into a chocolate cone.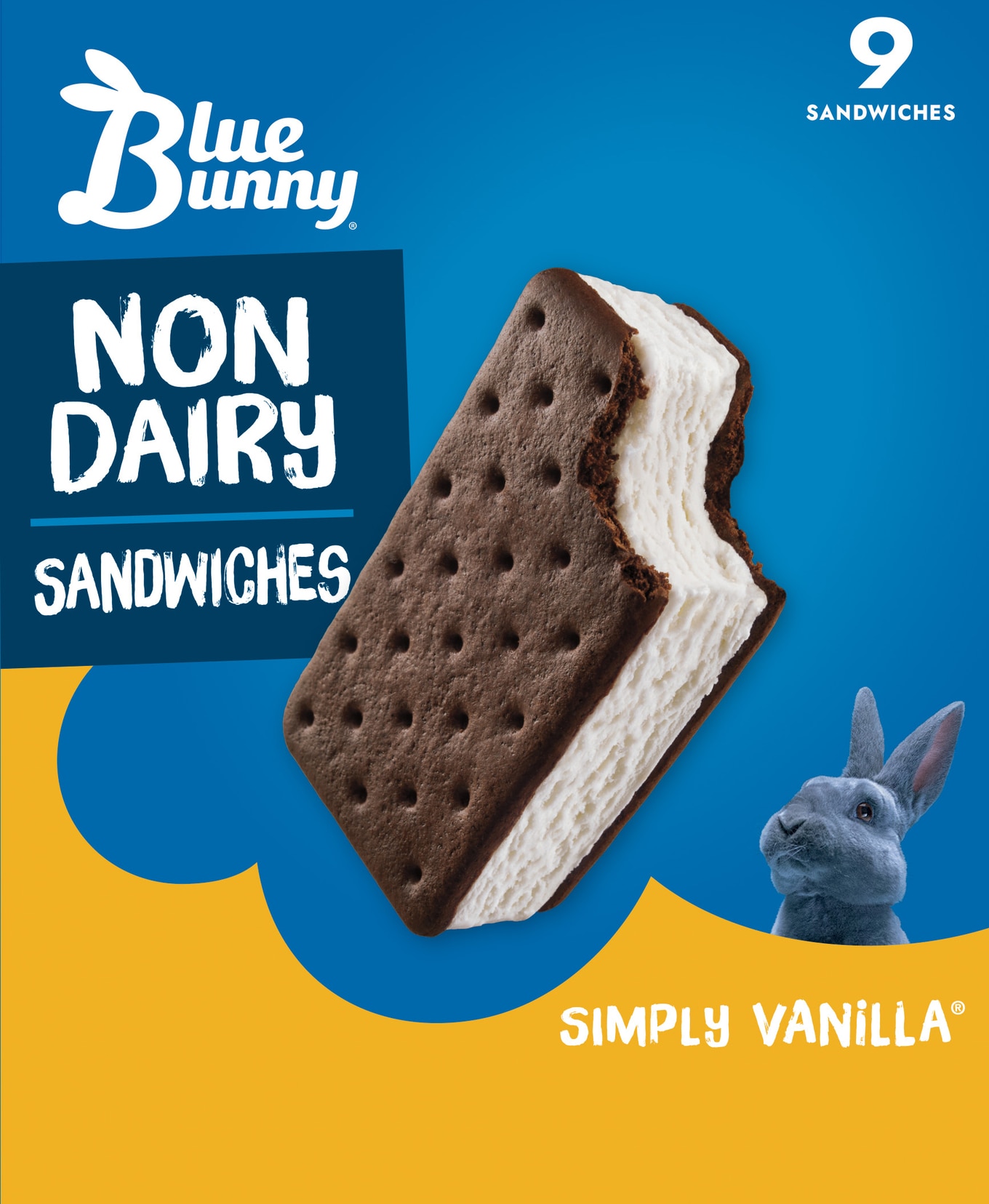 Blue Bunny
Lastly, Blue Bunny is also offering a Simply Vanilla flavor of ice cream sandwiches.
The new ice creams are now available for a limited time at 2,000 Kroger stores nationwide.
4Dr. Bronner's gets into oat milk chocolate
Dr. Bronner's has kept us blissfully clean with its beloved soaps for years. But in 2021, the company aimed straight for our sweet tooth with the launch of an ethical vegan chocolate line.
This week, the Good Doctor is back at it with an extension of its chocolate line with three oat milk-based flavors: Crunchy Hazelnut Butter, Creamy Mocha Latte, and Golden Milk Chai.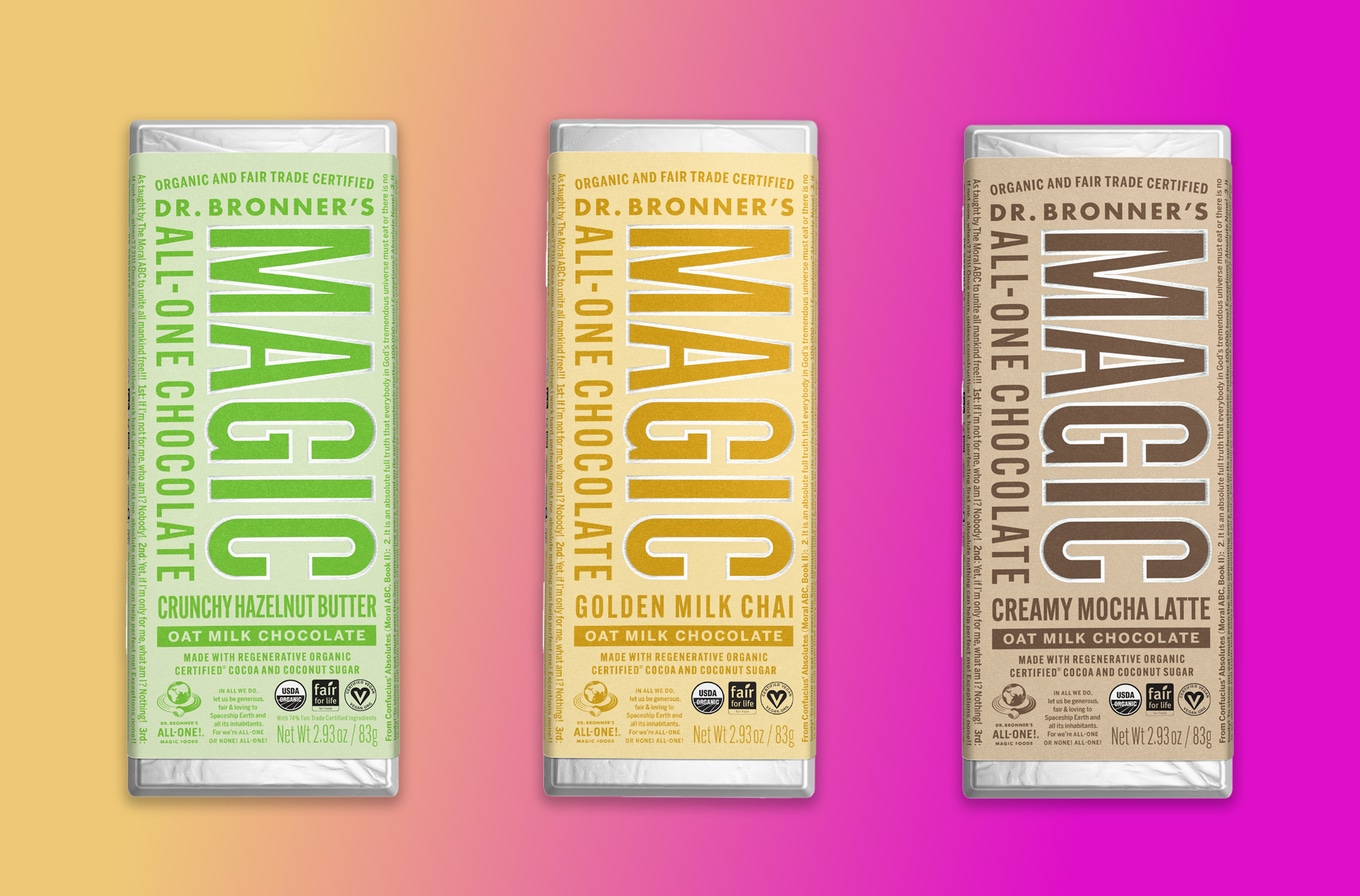 Dr. Bronner's
Made from a blend of Regenerative Organic Certified ingredients sourced globally, the new chocolates are part of the company's commitment to ethical sourcing and environmental sustainability.
Collaborating with 800 farmers in eastern Ghana and a women's cooperative in Ivory Coast, Dr. Bronner's employs regenerative organic farming and dynamic agroforestry techniques to ensure both ethical and environmental responsibility.
"Our new plant-based oat milk chocolate offers the smooth, creamy texture and sweetness milk chocolate lovers desire," Michael Bronner, president of Dr. Bronner's, said.
"We seek to model how chocolate can be sourced ethically, by respecting labor and the environment," Bronner said. "By doing, so we demonstrate that delicious chocolate can truly be a source of good in the world and that the companies that make it can be, too."
The new flavors will join seven existing chocolate varieties in the Magic All-One Dark Chocolate series and will be available nationwide at a manufacturer's suggested retail price of $5.99 each.
5Vegan cakes at the airport
Miami-based vegan bakery Bunnie Cakes has expanded its reach by setting up vending machines at Miami International Airport. These machines are located at gates D21 and G15, with a third to be added at gate D49.
"Airport snacks just got a whole new meaning," Bunnie Cakes posted on Instagram.
"We are so excited to share our newest endeavor with all of you, our vending machines at the Miami International Airport," the company said. "We are so happy to see this vision come to life and even more happy to hear all the amazing feedback from our vending machines."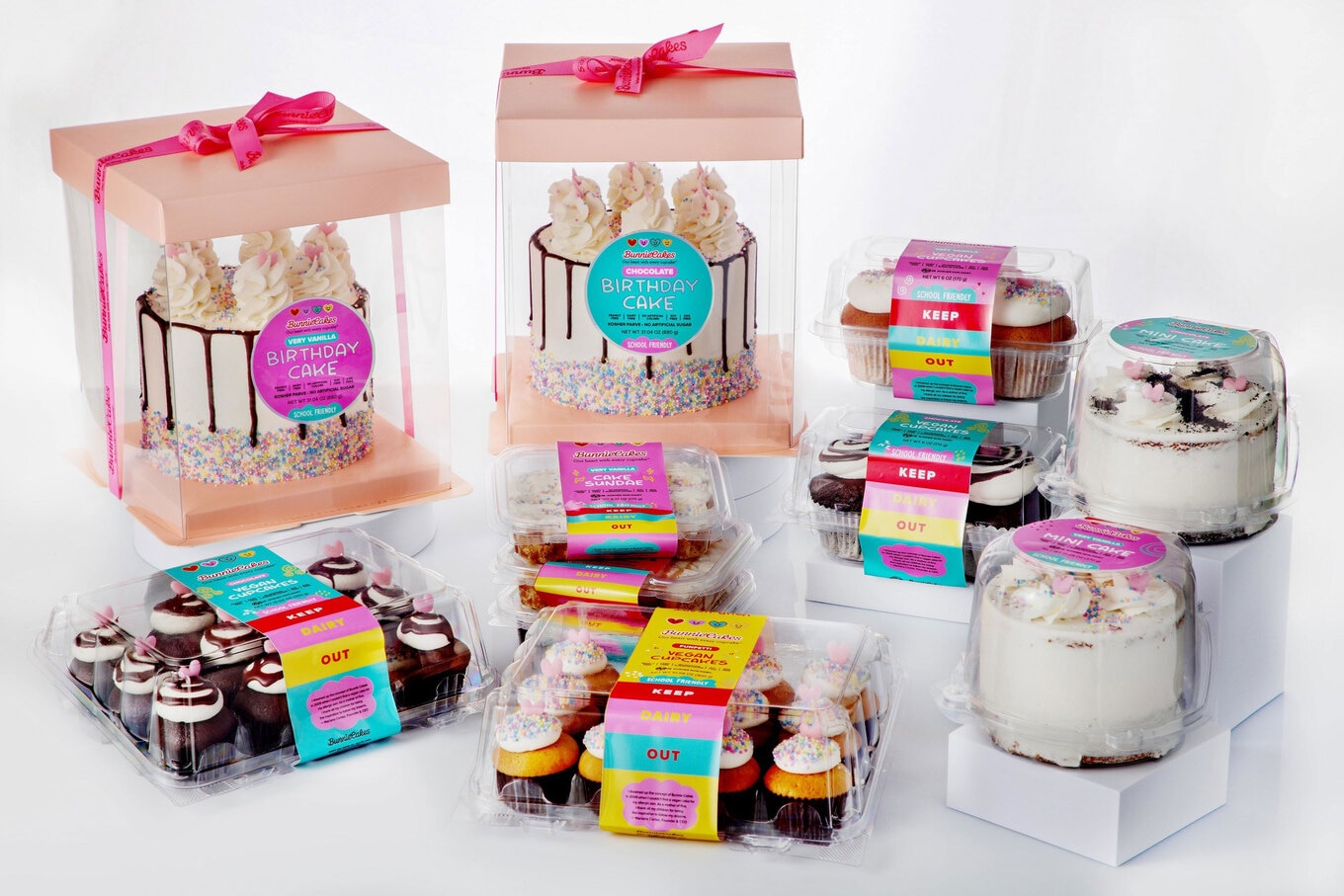 Bunnie Cakes
The bright pink-covered machines vend a range of the bakery's popular offerings, such as four- and six-packs of mini cupcakes, cake sundaes, and four-inch cakes, which have become popular souvenirs among tourists.
This airport expansion is part of Bunnie Cakes' broader growth strategy, which includes an anticipated partnership with a national grocery chain to make its products available nationwide.
Since travel just got much sweeter, is anybody interested in a last-minute summer trip to Miami?
For the latest vegan news, read: