Over the years, we've tried thousands of phenomenal vegan desserts, so when the challenge of making the ultimate dessert bucket list arose, we were all in. VegNews' editors searched from coast to coast for the crème de la crème, so forget the main course and get ready to skip straight to dessert.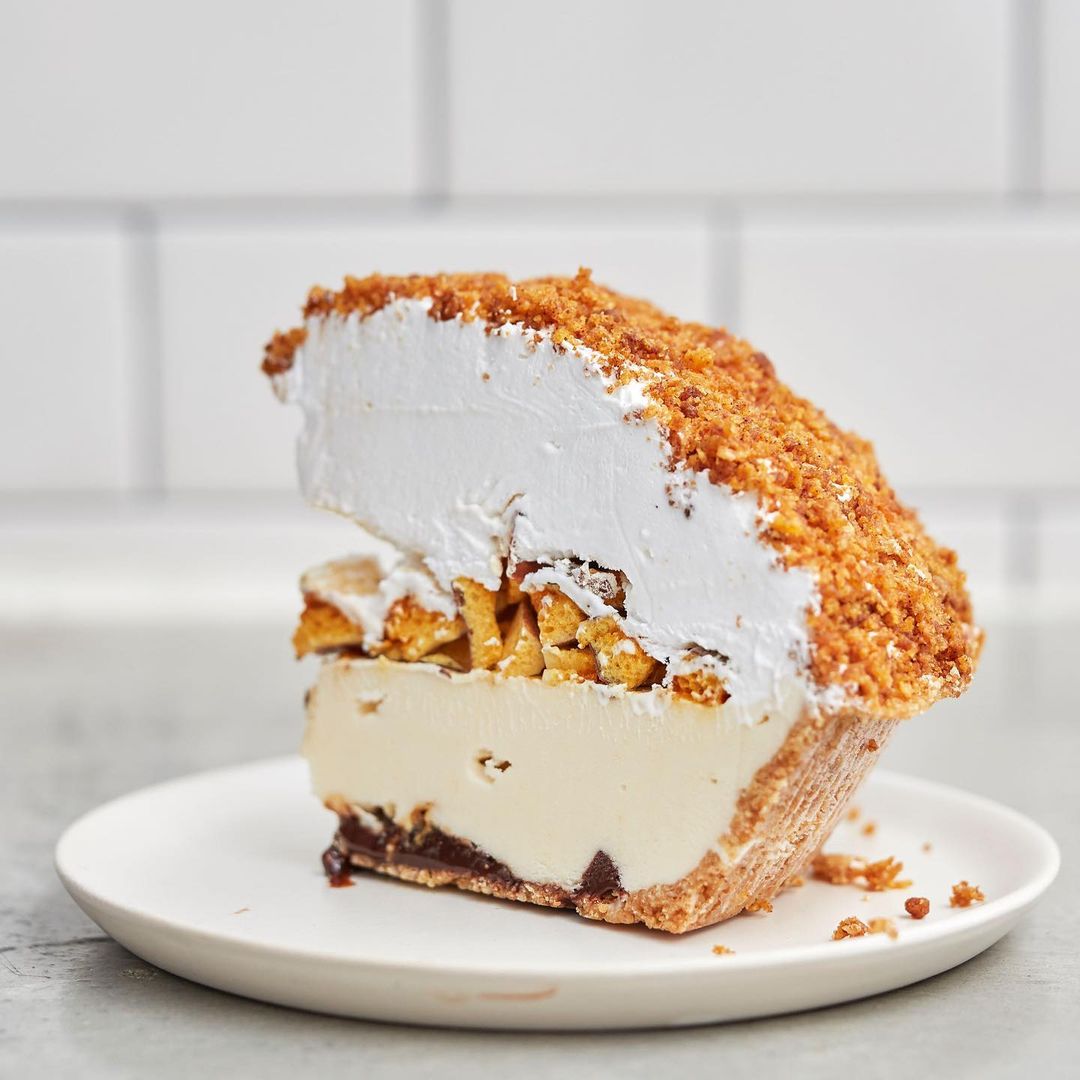 Magpies Softserve
1. Fried Softserve Pie from Magpies Softserve
Los Angeles, CA
Magpies Softserve is making magic happen with its rotating selection of frozen dessert pies. Soft-serve in flavors like ube, brown sugar-banana, and roasted strawberry are layered into a pie crust with flavored whipped creams, crumbles, sprinkles, and mix-ins. Take it from us, though, and go for the Fried Softserve Pie with corn-almond soft-serve, fried candied cornflakes, and chocolate fudge.
Visit them here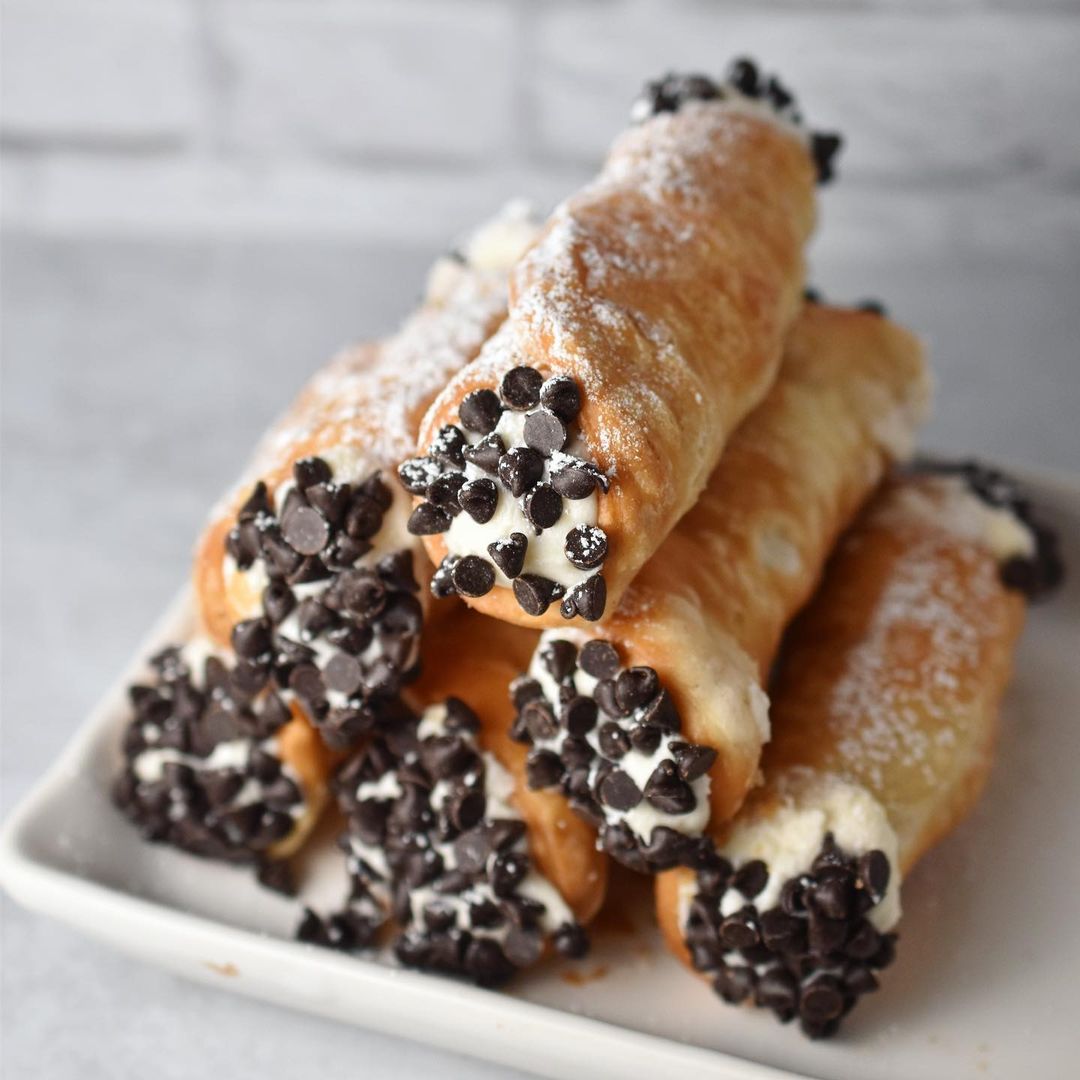 Miss Vegan
2. Cannolis from Miss Vegan
Providence, RI
Pop-up bakery Miss Vegan is rolling, frying, and filling these crunchy pastries with sweet, creamy cheese in a variety of creative, mouth-watering flavors. Choose between traditional vanilla and must-trys like brownie batter, pumpkin spice, peanut butter cup, and peppermint bark.
Visit them here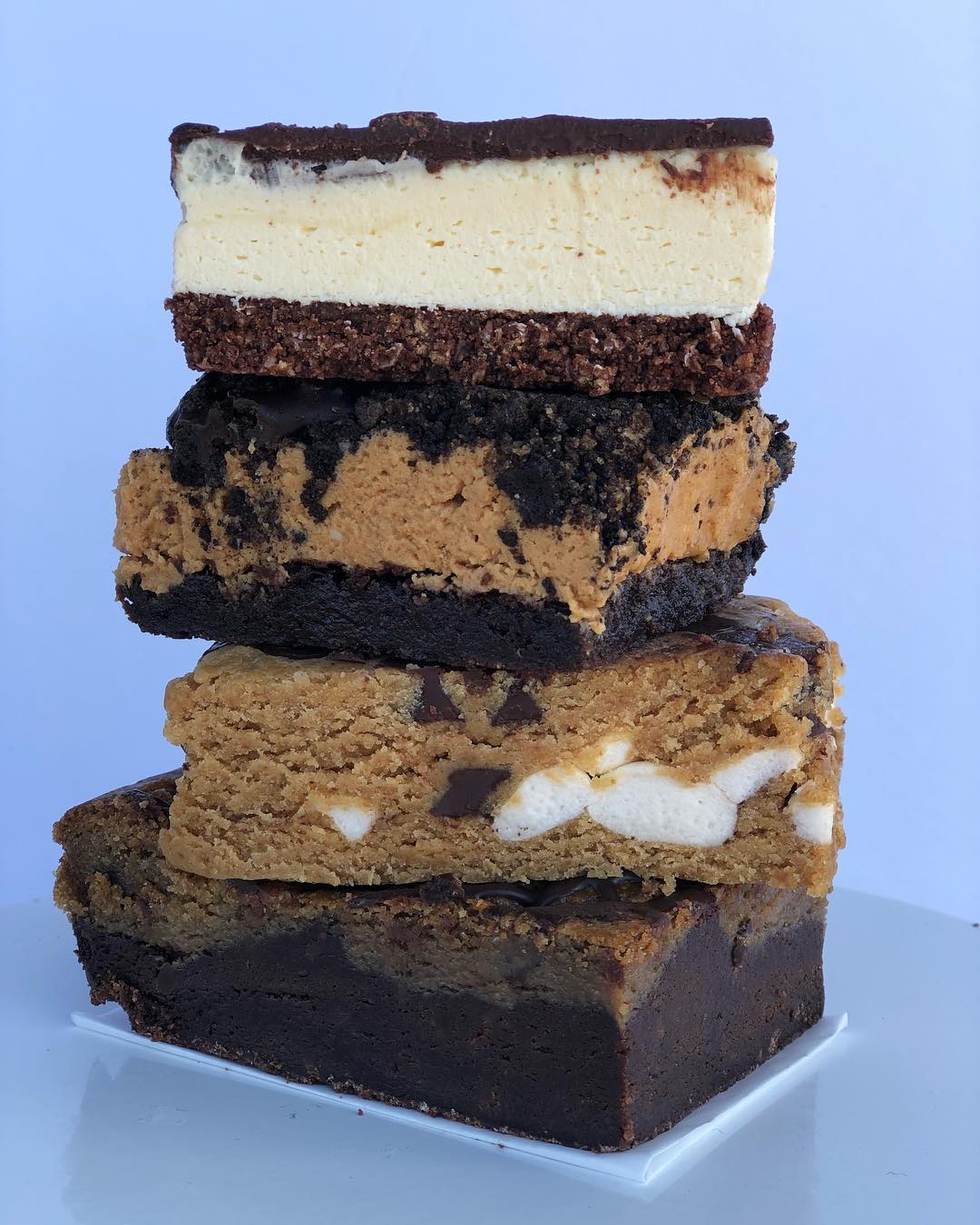 Valhalla Bakery
3. Death Bar from Valhalla Bakery
Orlando, FL
Why do we love bars so much? Simple. They're the best of all our favorite desserts—brownies, pies, and cookies—all in one. That's why Floridians can't get enough of this woman-owned bakery's Death Bar, with a thick layer of peanut butter crunch filling on a brownie base topped with candied Oreos, chocolate chips, and fudgy ganache: it's to die for.
Visit them here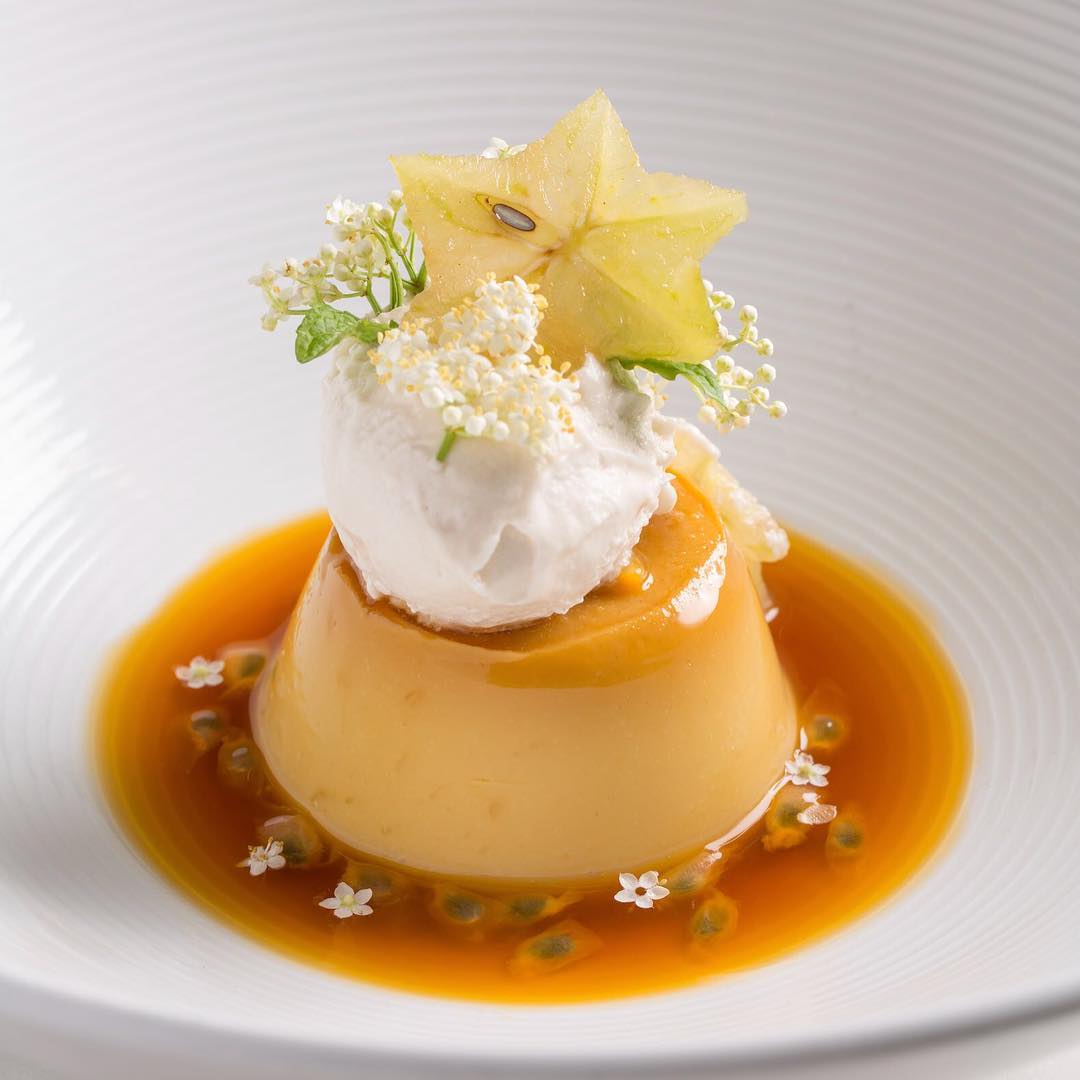 Plant Miami
4. Passionfruit Flan from Plant Miami
Miami, FL
At Miami's chic vegan hot spot, Plant Miami, order dessert first and make it this elegant and tropical version of this silky, caramelly Spanish-French flan, topped with fragrant elderberry syrup glaze, fresh-scooped passion fruit, and toasted macadamia gelato.
Visit them here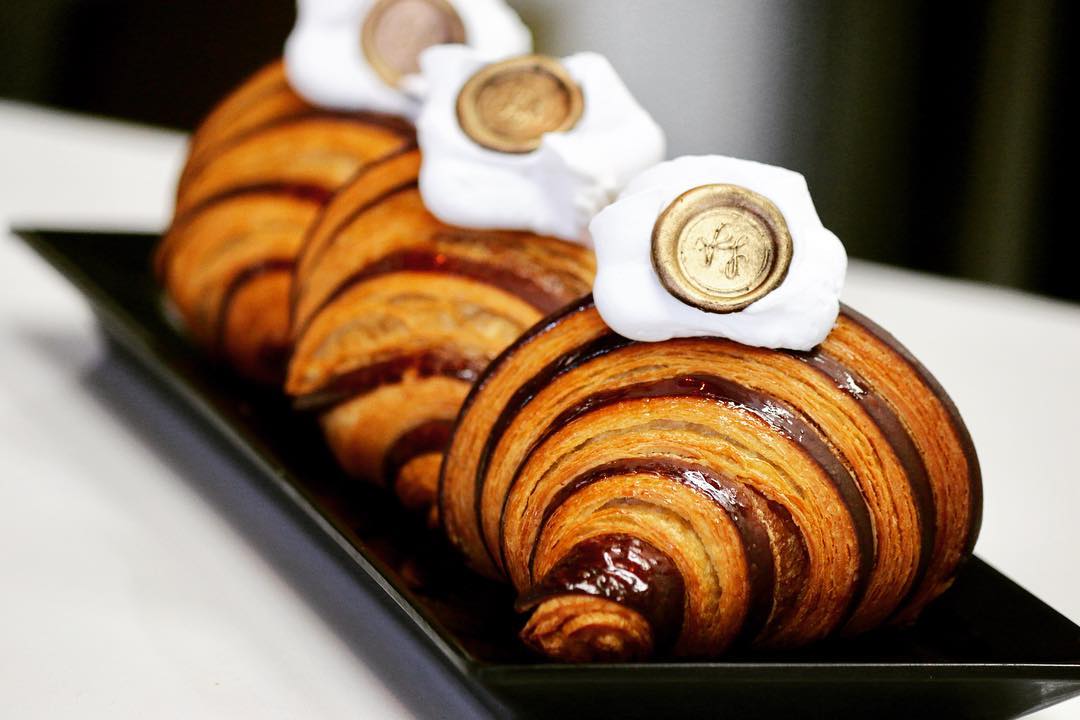 L'Artisane Creative Bakery
5. Croissants from L'Artisane Creative Bakery
Miami Beach, FL
Endless buttery, flaky, melt-in-your mouth layers of pastry make each and every one of L'Artisane's croissants—in flavors like cookies and cream, red velvet, and apple pie—an impeccable work of art.
Visit them here
Veggie Galaxy
6. Mile High Lemon Meringue Pie from Veggie Galaxy
Boston, MA
Historically, everything about lemon meringue pie is not vegan but that's not a problem for Veggie Galaxy and its award-winning take on the diner classic with billowy swirls of egg-free meringue atop a tart and tangy lemon-passion fruit curd filling.
Visit them here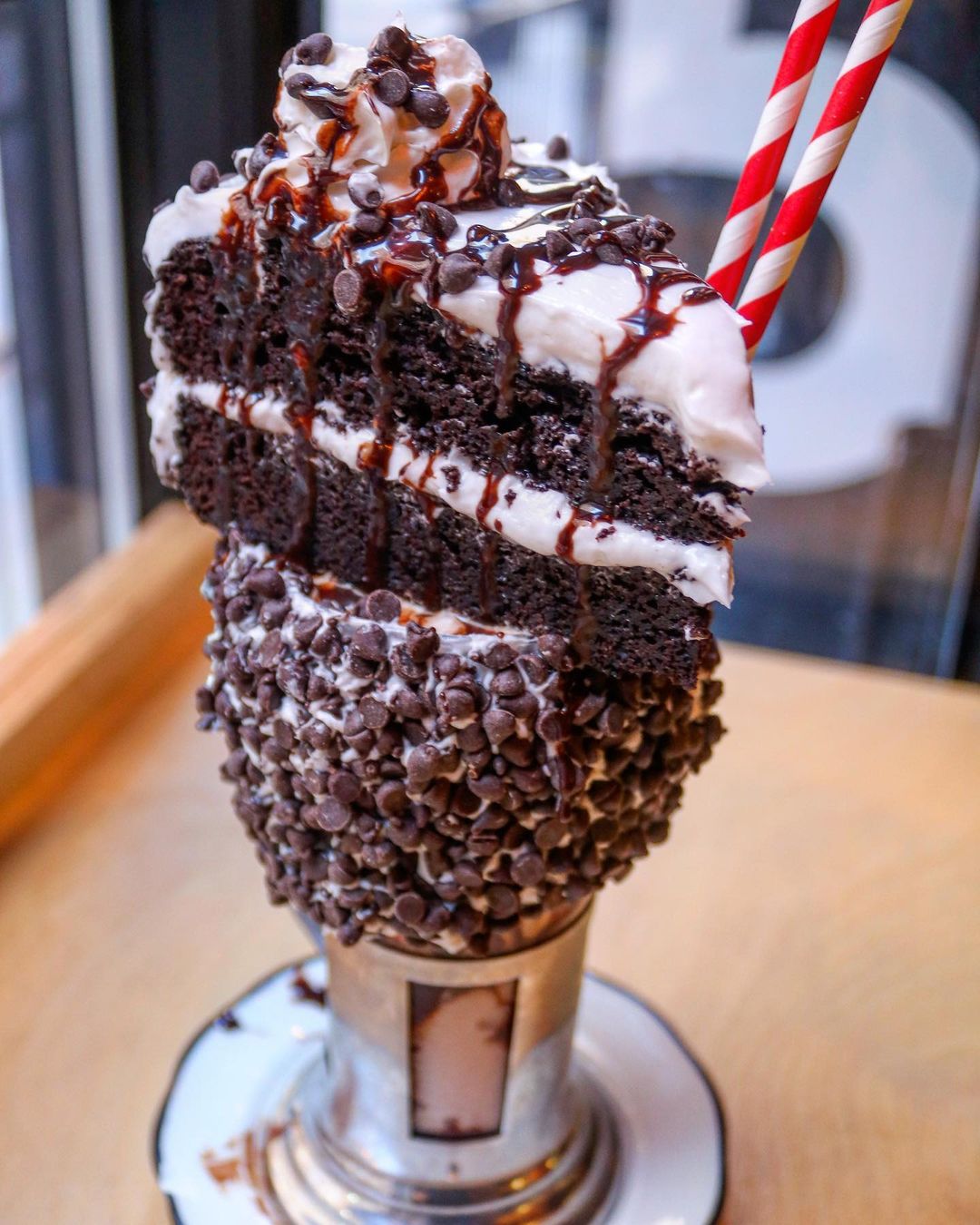 Black Tap
7. Vegan Black 'N White CakeShake from Black Tap
New York City, NY
A nod to New York's famous black and white cookie, this mind-blowing dessert starts with a chocolate shake with housemade vanilla frosting and mini chocolate chips on the rim. Then it's crowned with a huge slice of black and white cake, whipped cream, and chocolate sauce. Talk about having your shake and eating it, too!
Visit them here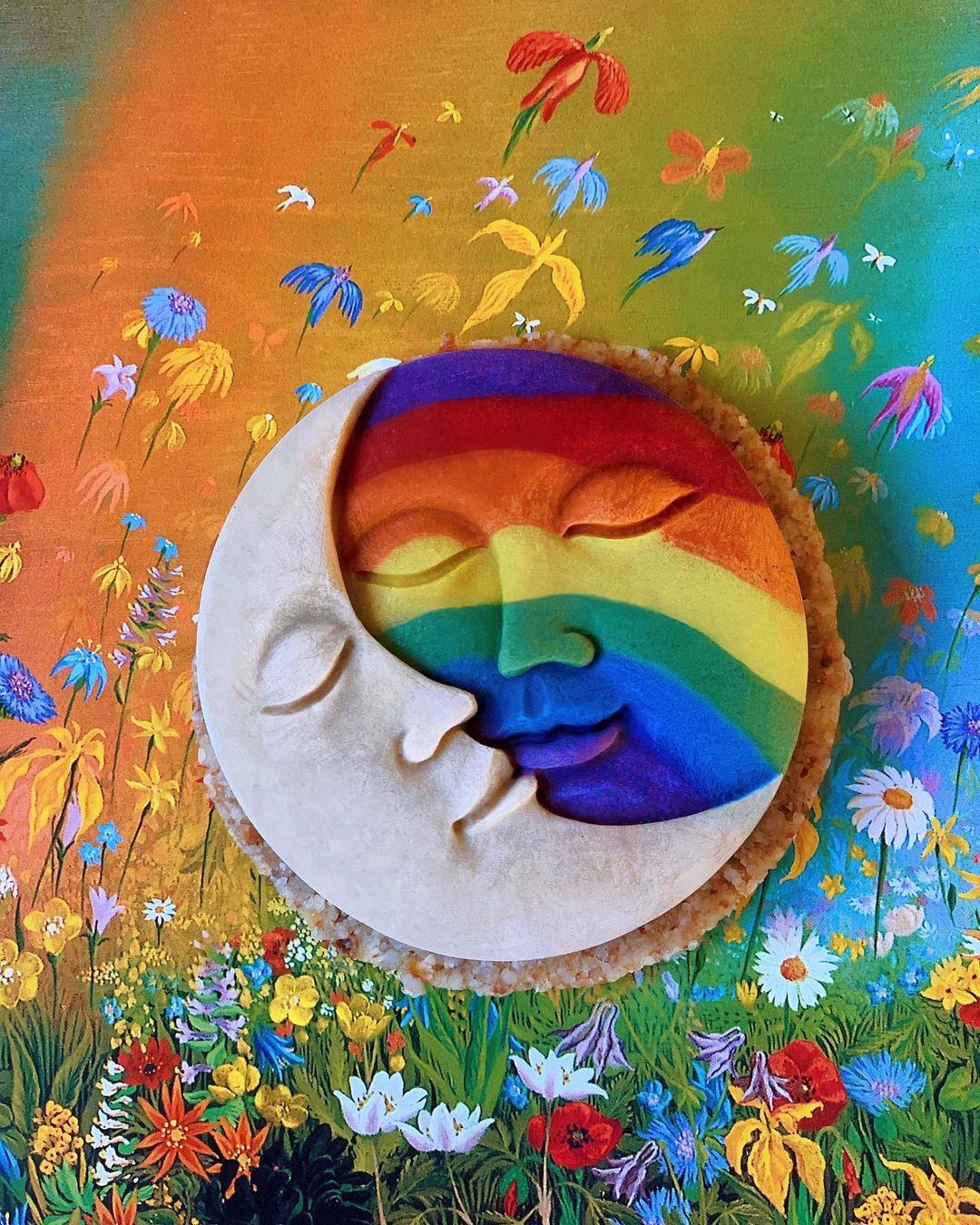 Solar Return
8. Raw Cheesecakes from Solar Return
Los Angeles, CA
One look at these jaw-dropping psychedelic vegan cheesecakes and you'll know you're guaranteed to be transported to another dimension. And if you're afraid these captivating raw cakes are all style and no substance, rest assured: Solar Return's blend of cashews, coconut milk, coconut nectar, and dates yield a velvety, indulgent cheesecake as heavenly as the celestial bodies depicted on them.
Visit them here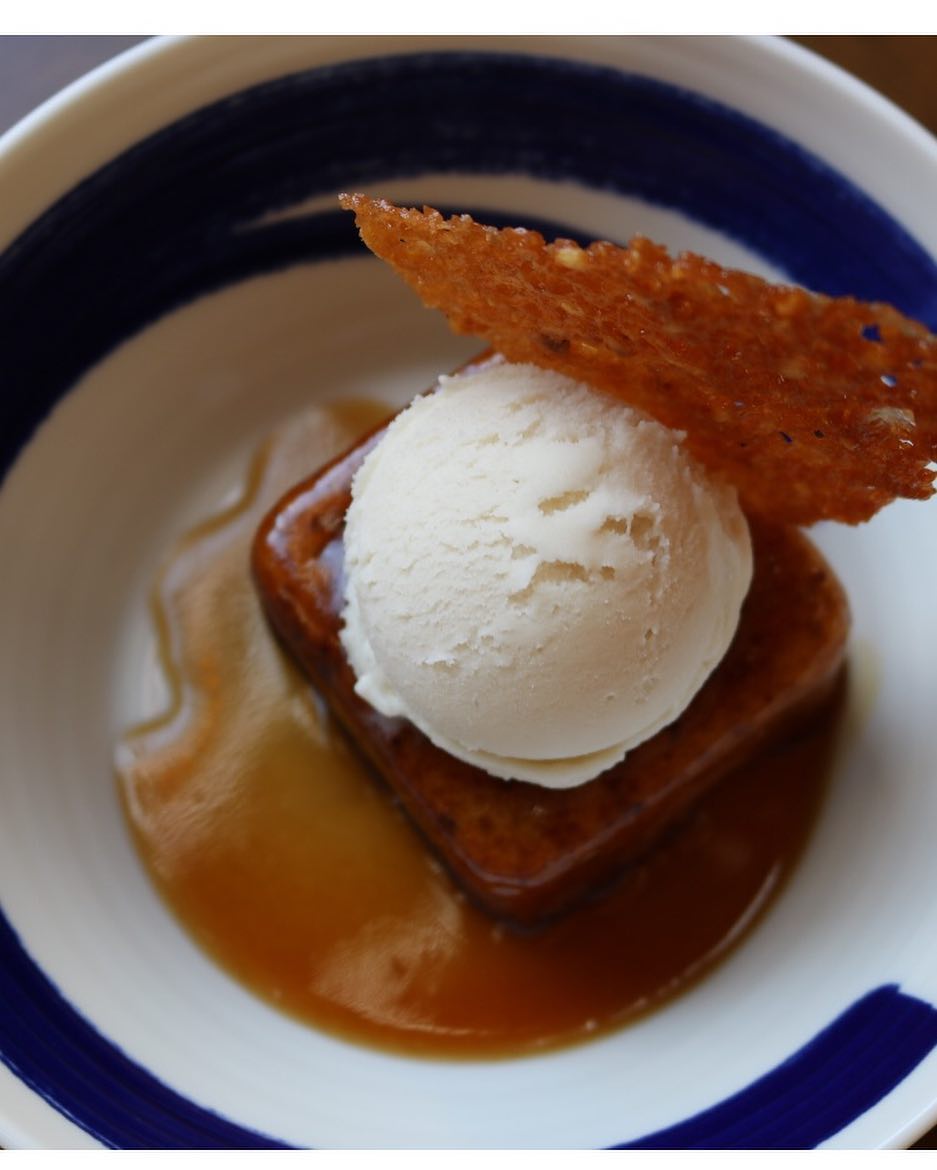 Vedge
9. Sticky Toffee Pudding from Vedge Restaurant
Philadelphia, PA
Everything at the world-renowned Vedge is superb, but the house Sticky Toffee Pudding is what keeps countless diners coming back for more. Chef Rich Landau describes it as "sweet with a touch savory, warm and cold, and both creamy and sticky, with flavor combinations ranging from cedar ice cream and hazelnut wafers, banoffee ice cream and coffee crumb, bourbon ice cream and crunchy pecans, and cardamom and pistachio tulle." We'll take one of each.
Visit them here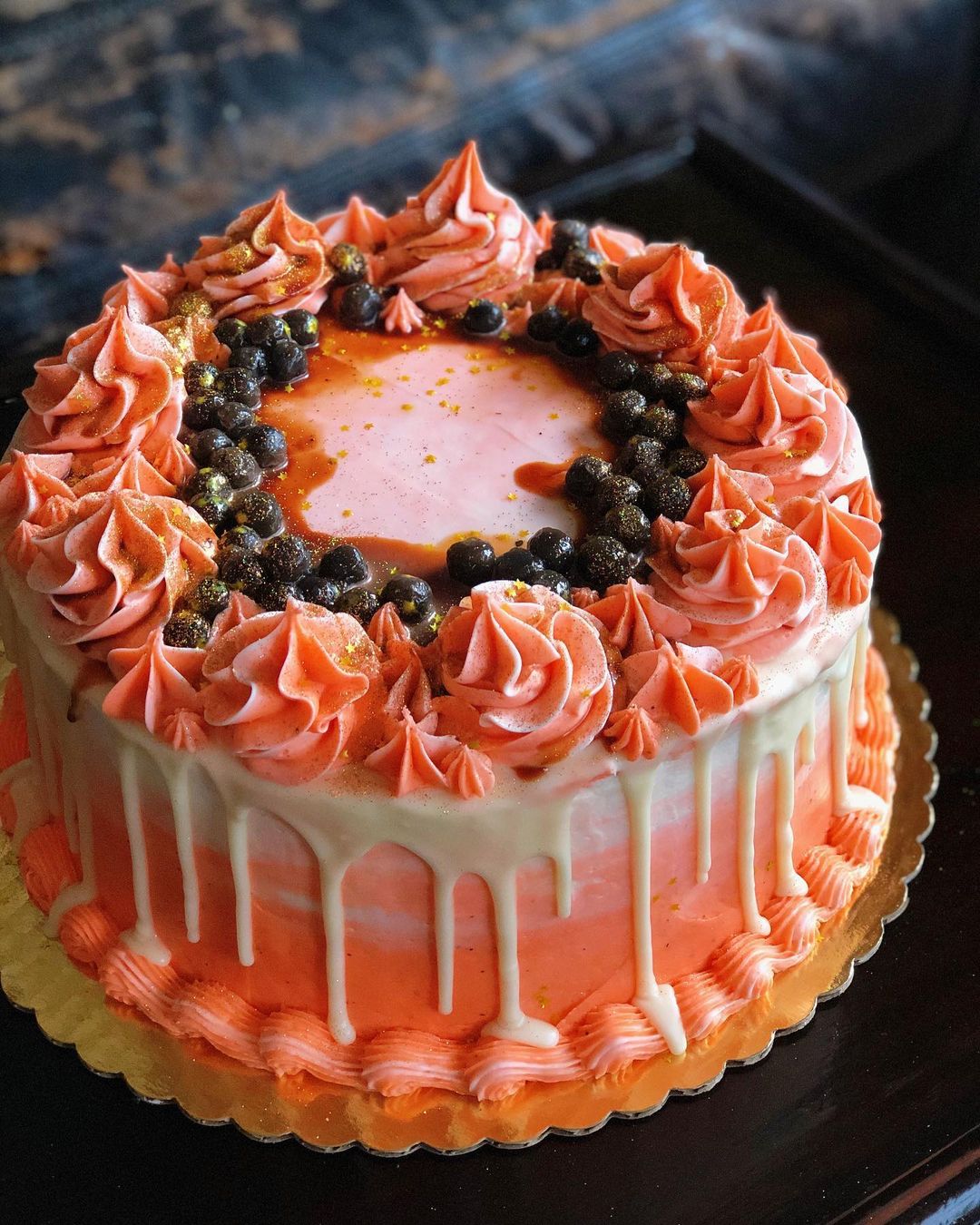 Harle Quin Holiday
10. Thai Tea Boba Cake from Harle Quin Holiday
Chicago, IL
Ace of Wands Bakeshop is crafting some of the most inventive and mouth-watering desserts we've even seen, like this over-the-top cake featuring chewy tapioca pearls soaked in Thai tea caramel, coconut cream pudding, and Thai tea buttercream, and rich white chocolate drizzle.
Visit them here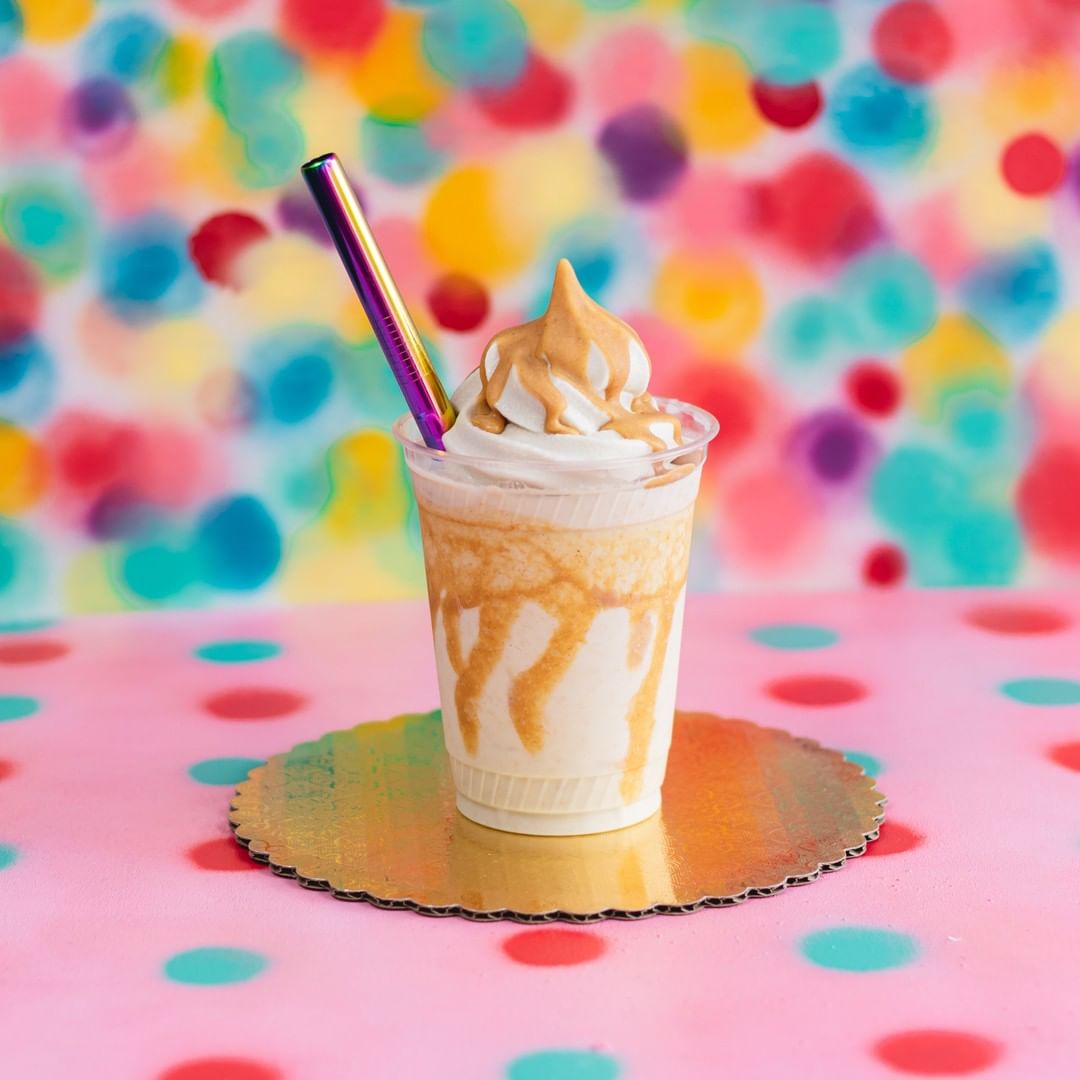 Sweet Ritual
11. Fancy Shakes from Sweet Ritual
Austin, TX
You could have a thick, frosty milkshake every day at Austin's adorable vegan scoop shop Sweet Ritual, and you'd be guaranteed to never get bored. Our favorites? Chocolate Dipped Strawberry, Cookie Party, Midnight Shake, and Rainbow Chaser.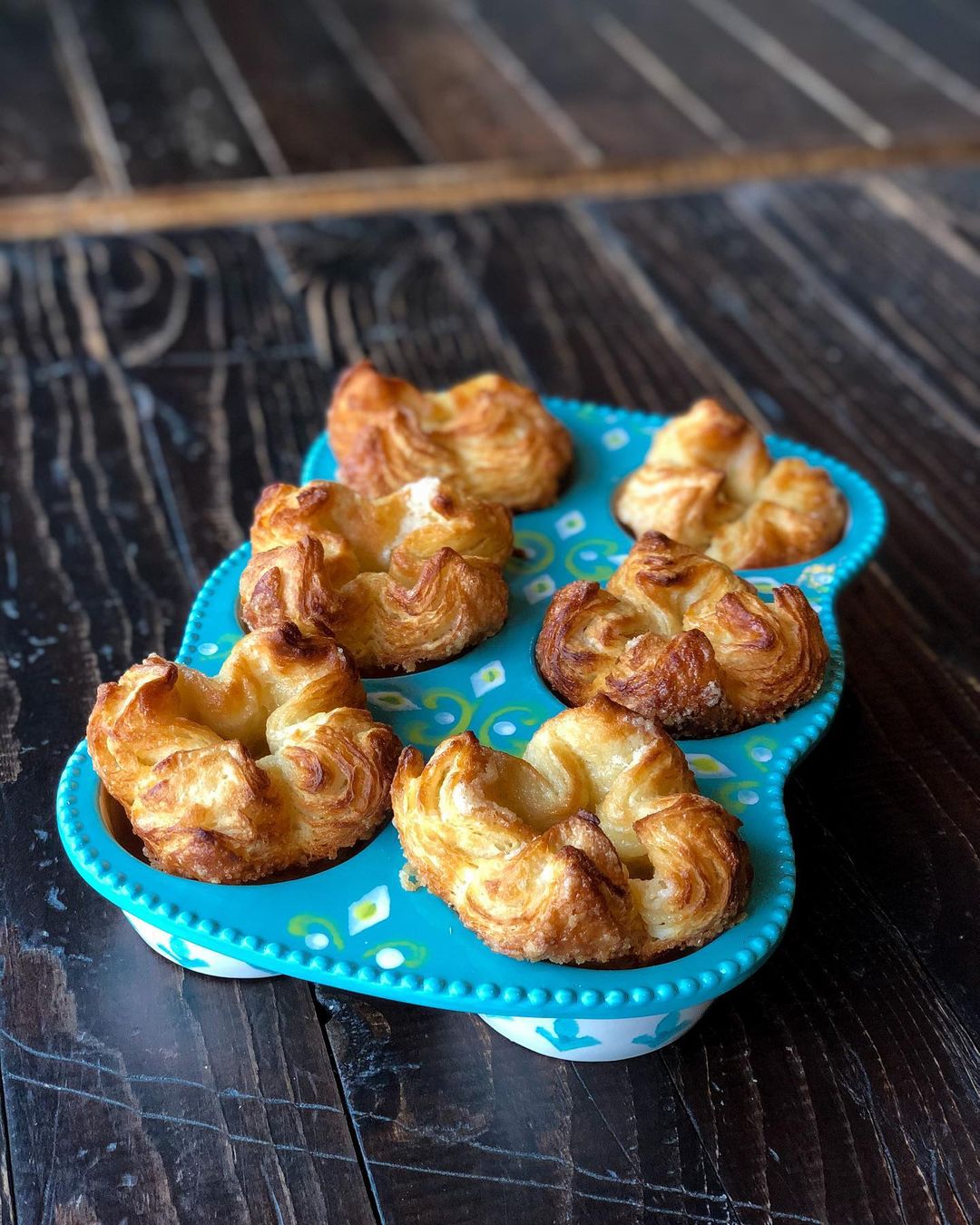 Passion Flour Patisserie
12. Kouign-Amann from Passion Flour Patisserie
Salt Lake City, UT
Imagine a croissant, but stepped up with a caramelized, almost-crunchy sugar crust and a buttery interior that's both dense and light, all folded into a muffin-like shape. That's the French kouign-amann Utah's premier vegan bakery and we need about a dozen.
Visit them here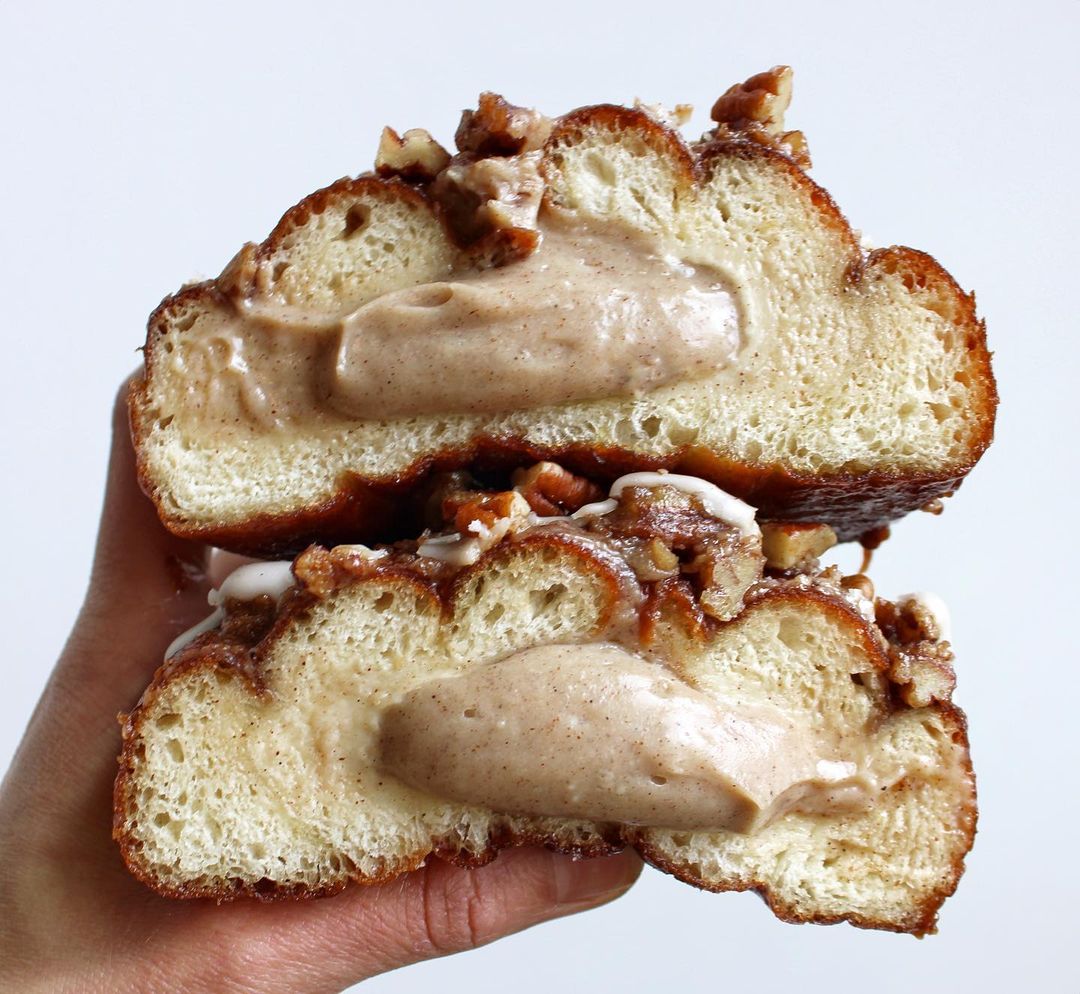 Peaceful Provisions
13. Stuffed Doughnuts from Peaceful Provisions
Peekskill, NY
Don't look for simple sprinkles or ordinary jelly here—Peaceful Provisions specializes in stuffing everything from pistachio halva to half-baked funfetti cookies to sweet corn pudding into their gigantic, yeast-raised doughnuts.
Visit them here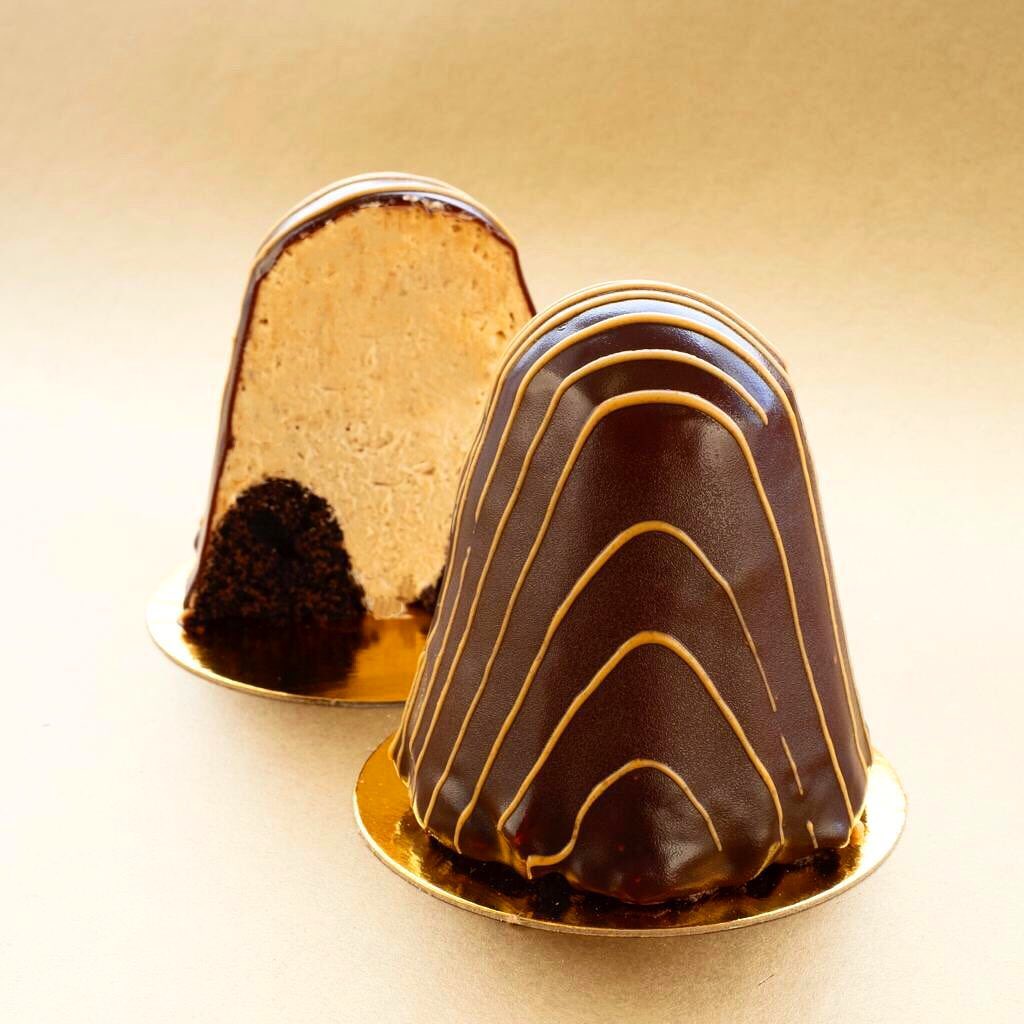 Vegan Treats
14. Peanut Butter Bomb Cake from Vegan Treats
Bethlehem, PA
From cakepops to sticky buns to cheesecakes-on-a-stick, everything from Vegan Treats tastes divine but none more than its iconic crown jewel of chocolate cake, mounds of fluffy peanut butter mousse, and Belgian chocolate coating.
Visit them here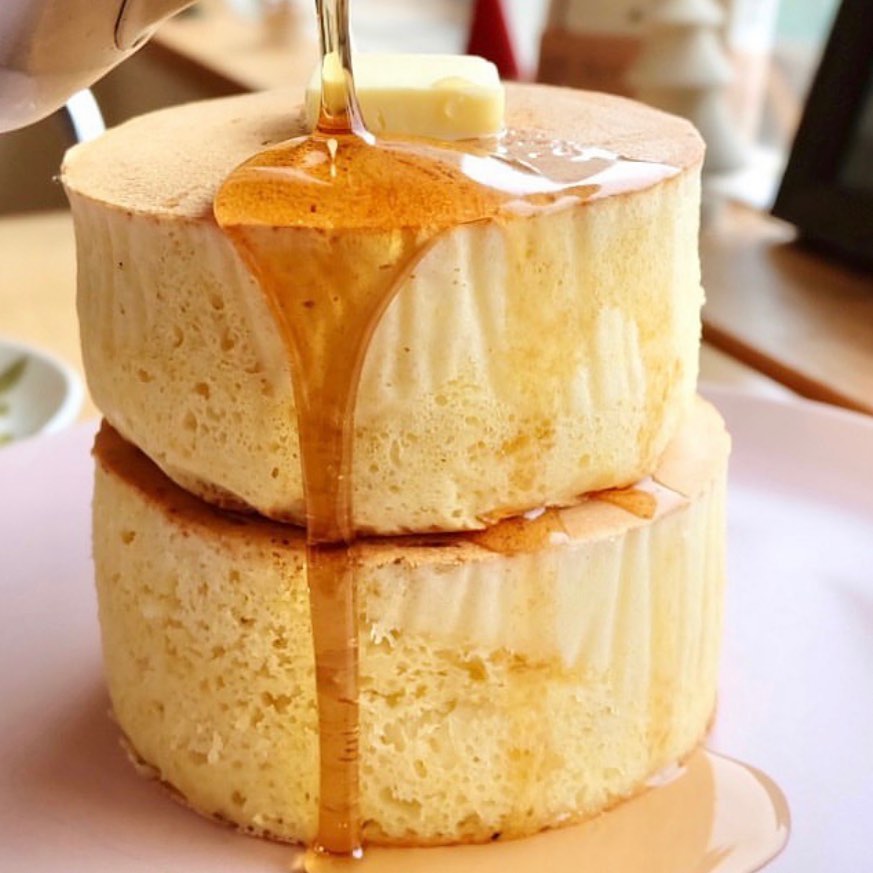 Fluffy's NYC
15. Vegan Pancakes from Fluffy's NYC
New York City, NY
Towering, jiggly Japanese-style souffle pancakes have captivated foodies and 'grammers alike since first rising to popularity in Osaka in 2016, and now Fluffy's NYC is bringing the trend to the US. Try them smothered in blueberry compote, sprinkled with crushed Oreos, or simply crowned with a slab of plant-based butter. However you roll, be sure to get a few boomerangs of their iconic wiggle before diving in.
Visit them here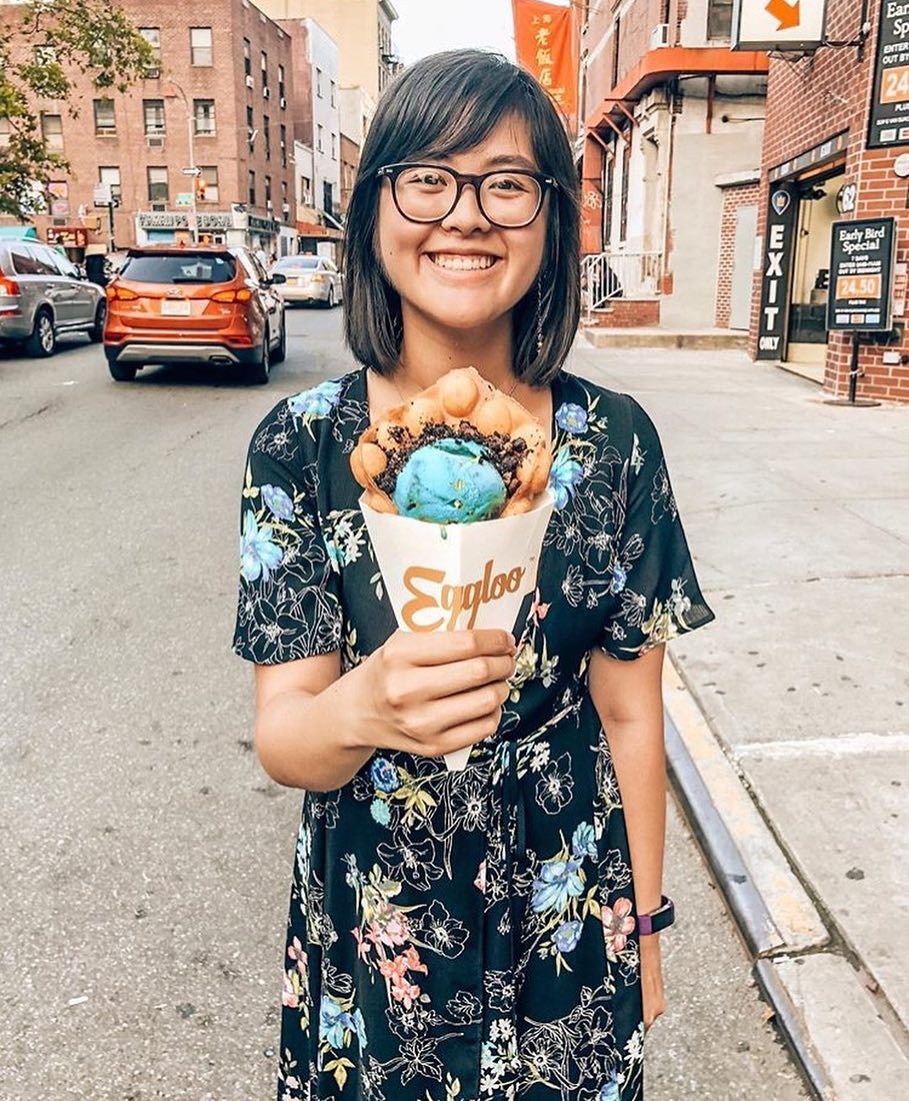 @veganeatsnyc/Instagram
16. Eggloo Rose from Eggloo
New York City, NY
Manhattan dessert shop Eggloo has cracked the code to veganizing Hong Kong's famous puffy, snackable egg waffle, and breakfast-slash-dessert lovers are rejoicing. Hungry New Yorkers can order this fun-filled dessert with a scoop of vegan ice cream shaped into a pretty rose and a shower of decadent toppings (we like coconut flakes and mochi) to finish it off.
Visit them here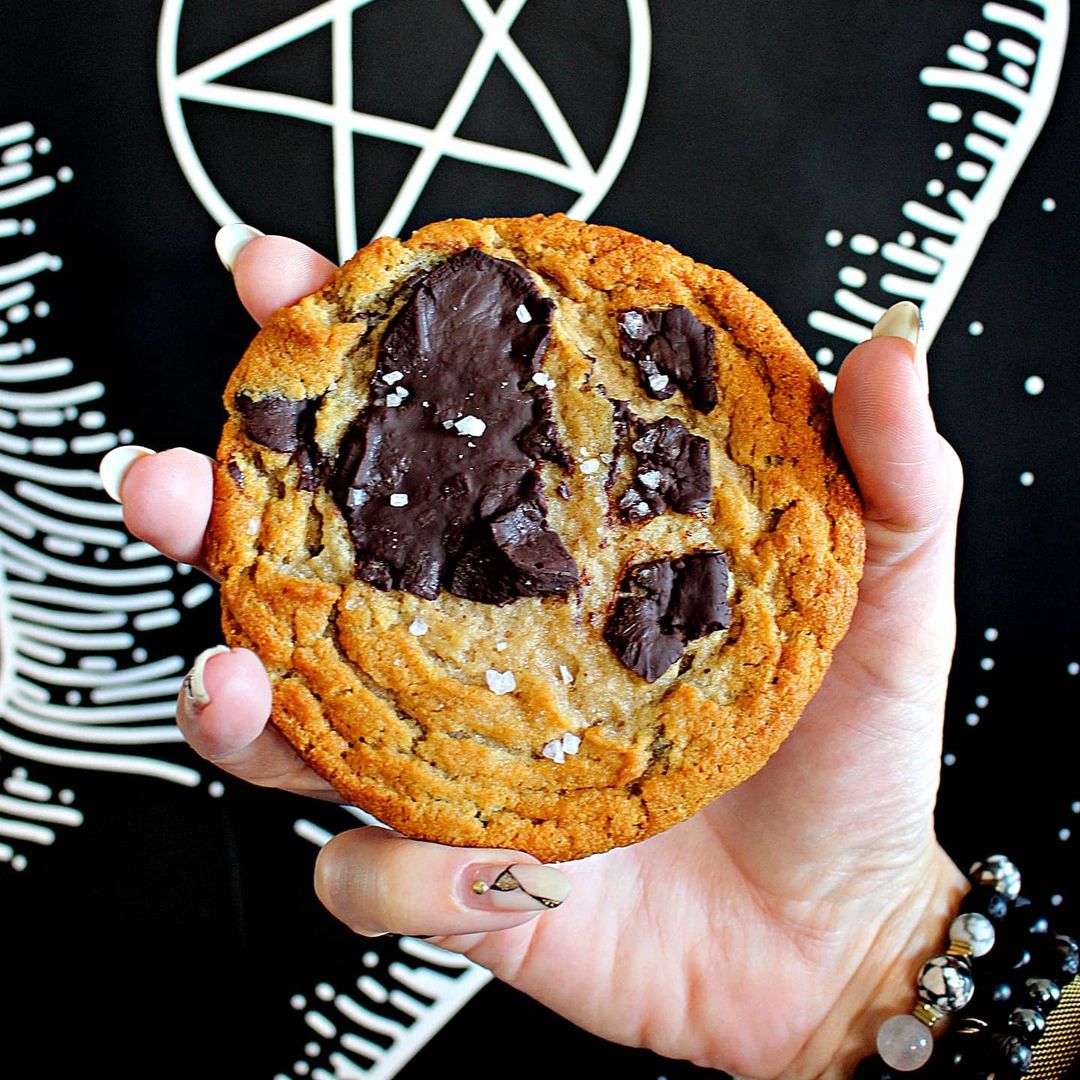 Dark Hall Coffee
17. Salted Chocolate Chunk Cookies from Dark Hall Coffee
Phoenix, AZ
There's nothing as satisfying as a classic chocolate chip cookie. Except maybe this fresh-out-the-oven, crisp-yet-chewy chocolate chunk cookie topped with melted dark chocolate and flaky sea salt.
Visit them here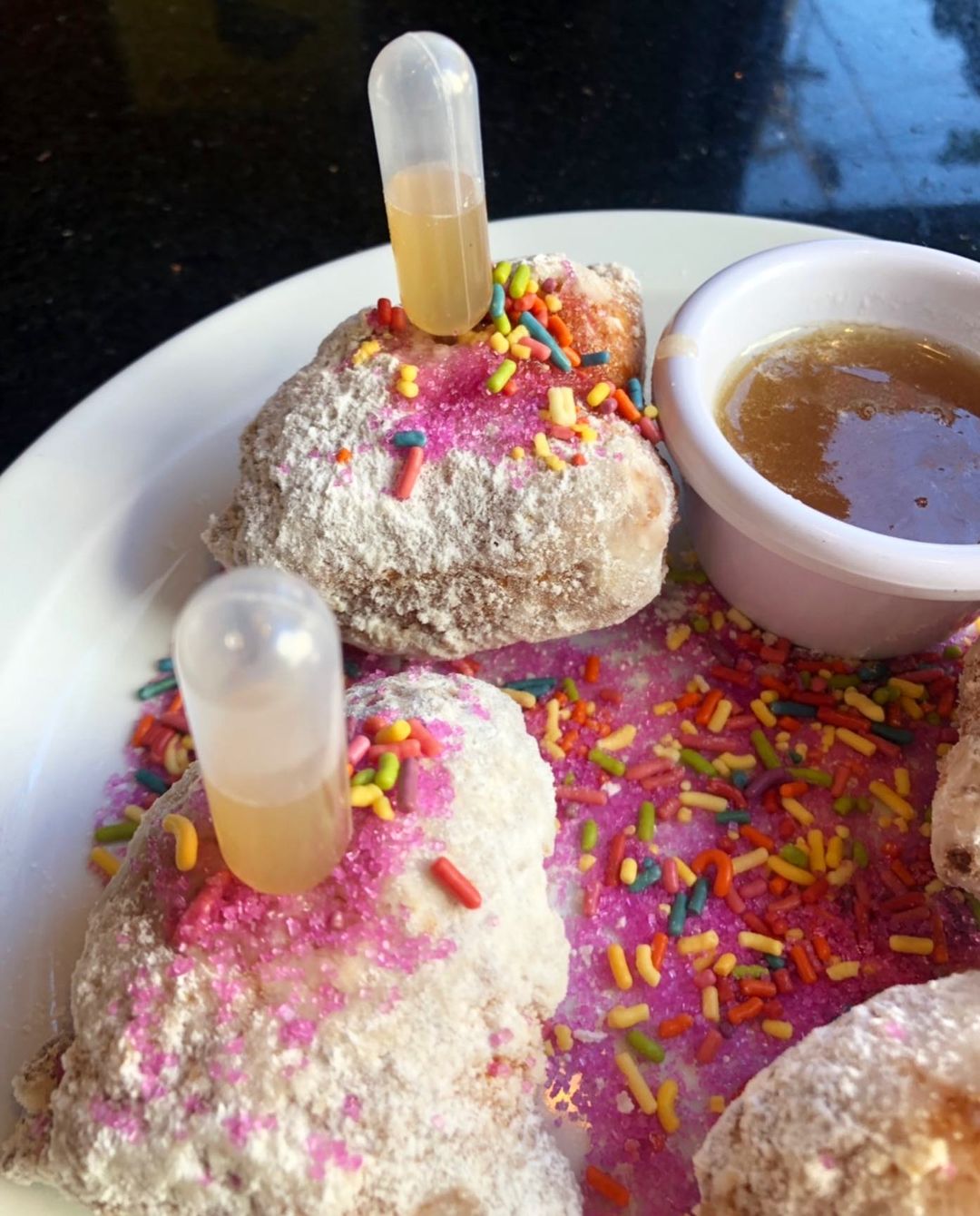 CyBelle's Front Room
18. Beignets from CyBelle's Front Room
San Francisco, CA
This San Francisco pizzeria is flipping expectations with an array of piping-hot, fluffy Louisiana-style beignets. The ones your Instagram followers won't be able to get enough of? The Unicorn Beignets, complete with pipettes of salted caramel sauce, rainbow sprinkles, and pink crystal sugar.
Visit them here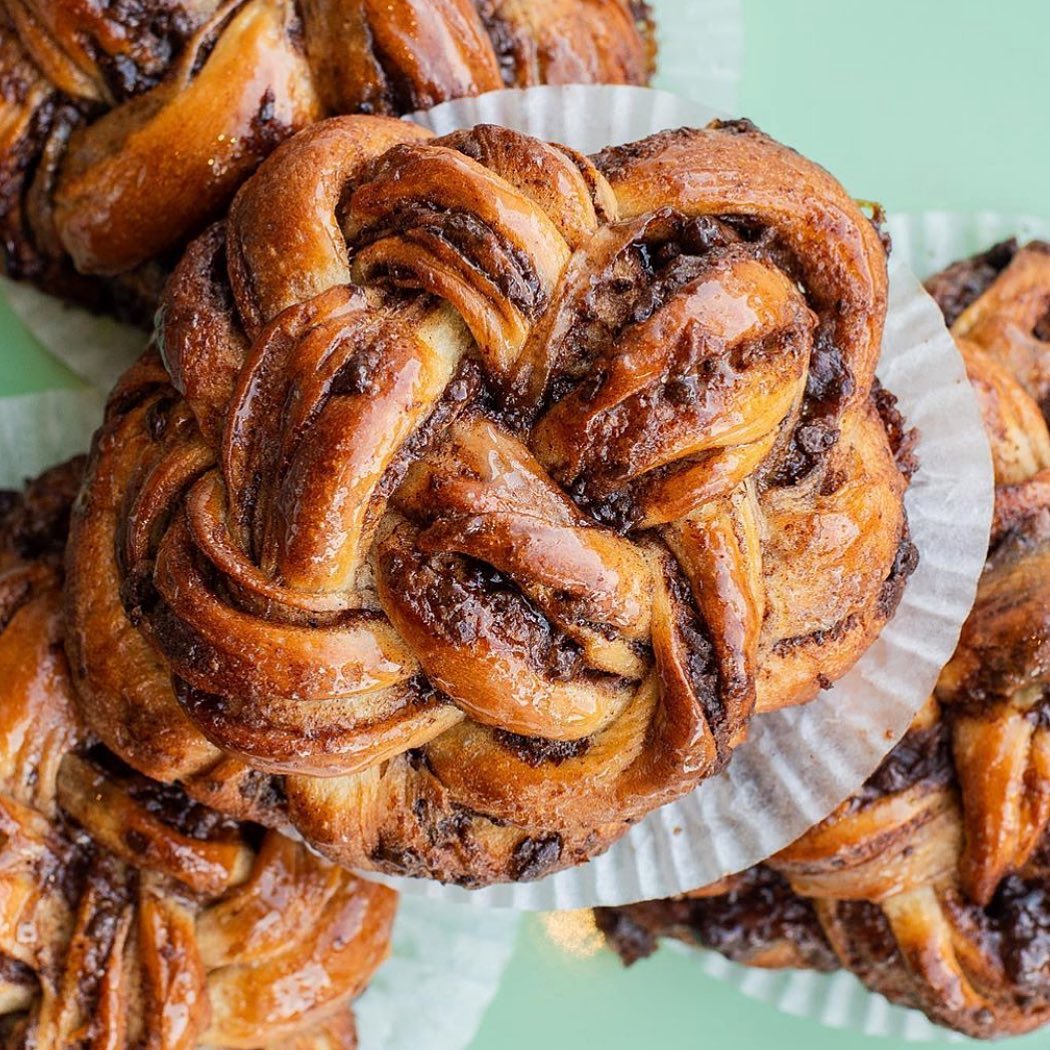 Make, Believe Bakery
19. Babka from Make, Believe Bakery
Denver, CO
This iconic Jewish dessert features knots of sweet yeasted bread swirled and twirled with ribbons of cinnamon sugar before being baked golden-brown and lacquered in vegan butter.
Visit them here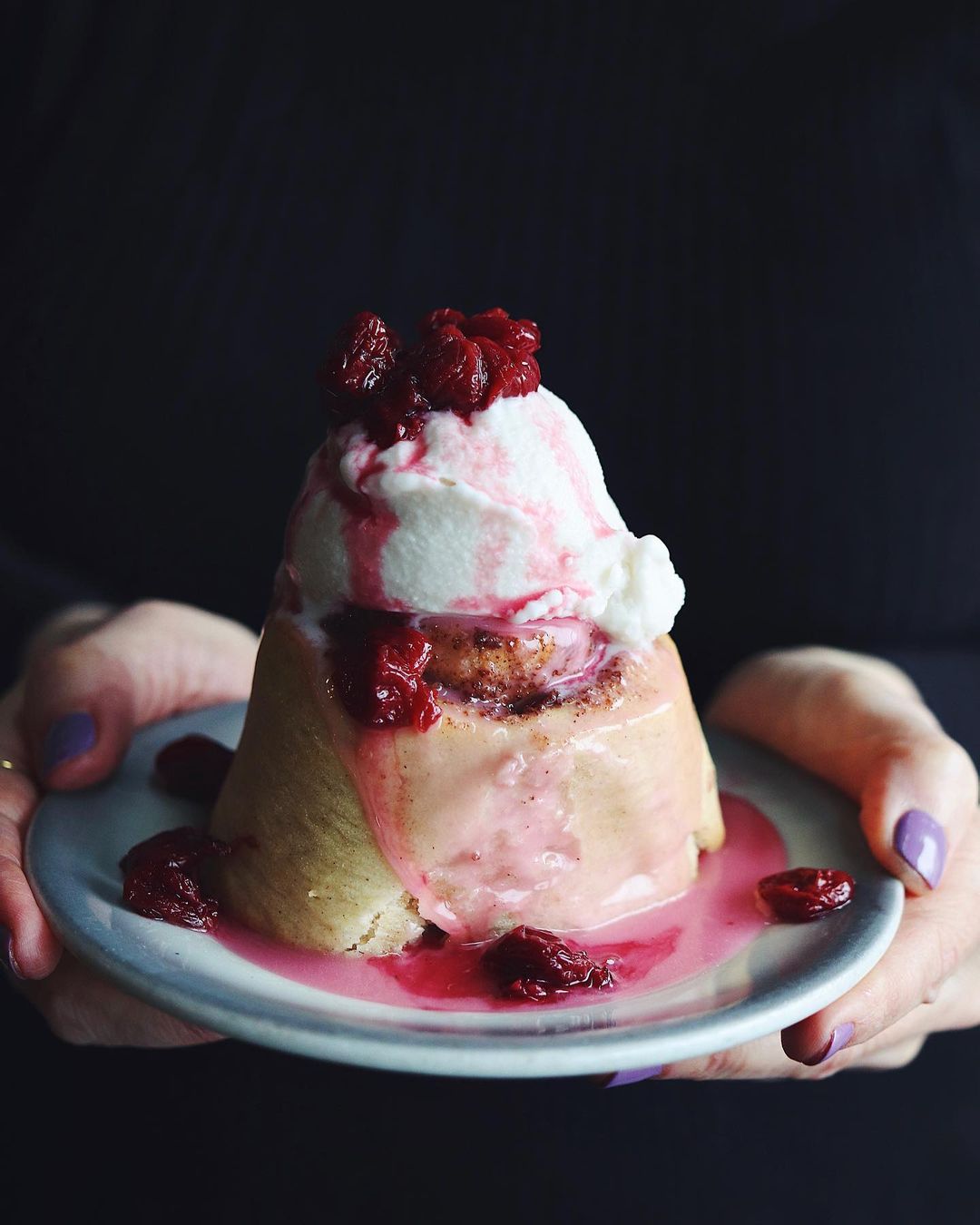 Modern Love
20. Season's Cinnamon Rolls from Modern Love
Omaha, NE & Brooklyn, NY
Whether it's summer in the City That Never Sleeps or autumn in Omaha, you can always count on a warm, fresh bun to satisfy. Our advice? Delve into the flavors of spring with the Warm Blackberry Cinnamon Roll with lemon icing and blackberry sauce.
Find them here
Check out the full feature of The 20 Vegan Desserts to Eat Before You Die in the 2020 Best of Vegan Issue of VegNews Magazine!