Food, fashion, beauty—these are often the first things we think of when it comes to products that may or may not be vegan. But did you know the bed you sleep on every night might not be vegan either? Yup, it turns out mattresses can contain animal products, too. But if you're in the market to spruce up your space and for a new place to rest your head, don't worry, there are many vegan mattress options to choose from. Here's what you need to know.
What makes mattresses not vegan?
Wool and down feathers are the two most common animal products found in mattresses. The former is derived from sheep, of course, while the latter comes from birds like geese, ducks, and swans. According to People for the Ethical Treatment of Animals (PETA), down feathers (which are the soft layer of feathers close to their skin) are byproducts of the meat industry, as they are often removed from ducks and geese when they are sent to slaughter. It adds that some foie gras producers also bolster their income by selling down feathers.
What is a vegan mattress?
A vegan mattress, of course, doesn't contain down feathers or wool. Instead, they are often made with materials like natural latex, organic cotton, and synthetic materials, like polyester. The latter is plastic-derived and doesn't break down in the environment, so, with that in mind, it's important to invest in a good-quality mattress and hold on to it for as long as possible to keep it out of the landfill.
The best vegan mattresses
The mattress market is big business (after all, we all need somewhere to lie down at night time). It's worth more than $39 billion globally. Many of the brands in the market will be selling non-vegan options, but there are several out there offering vegan options, too. Here are some of the best vegan mattress options you can buy right now.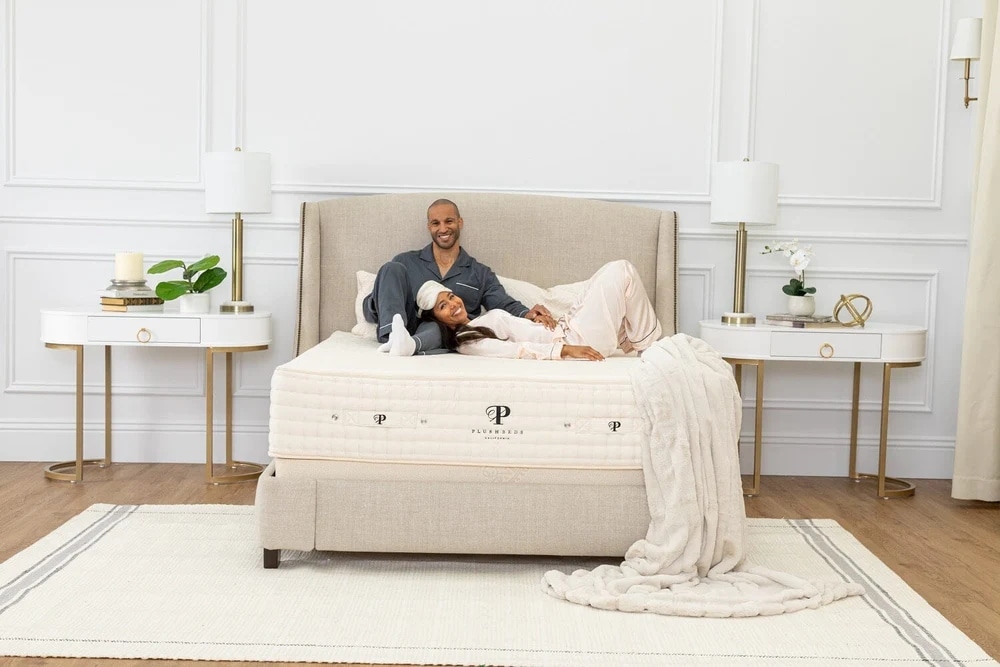 Plush Beds
1 Plush Beds' The Natural Bliss
Made with organic cotton and "the finest quality" natural latex, you can rest your head peacefully on Plush Beds' The Natural Bliss knowing that this vegan mattress has no synthetics or chemicals. It's also hypoallergenic and Greenguard Gold Certified, which means it has been stringently tested by safety science company UL Solutions to ensure it meets chemical emissions limits.
Get it here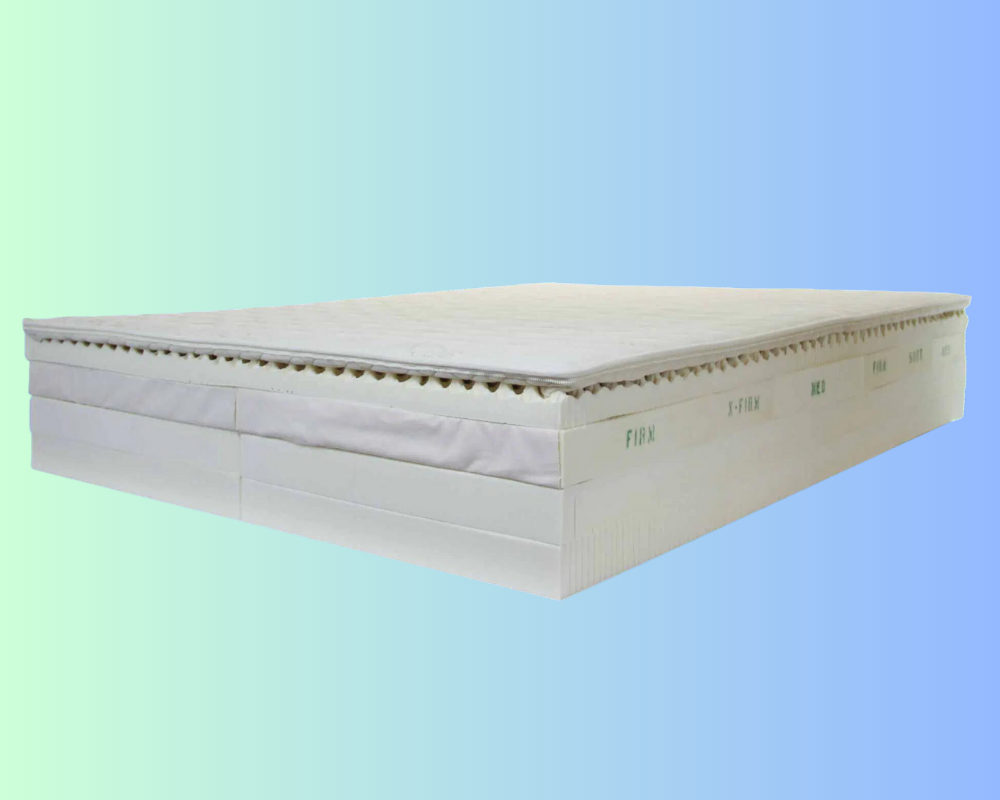 2 Flo Beds' Natural Latex Vegan Mattress
Flo Beds has a range of latex mattress options, but most of them contain wool. However, this option is wool-free and vegan, and is just as comfortable. You can choose the design, which is made with natural Talalay latex and organic cotton, to suit your preferred mattress model, size, and firmness (which can be different on each side to accommodate the needs of you and your significant other!).
Get it here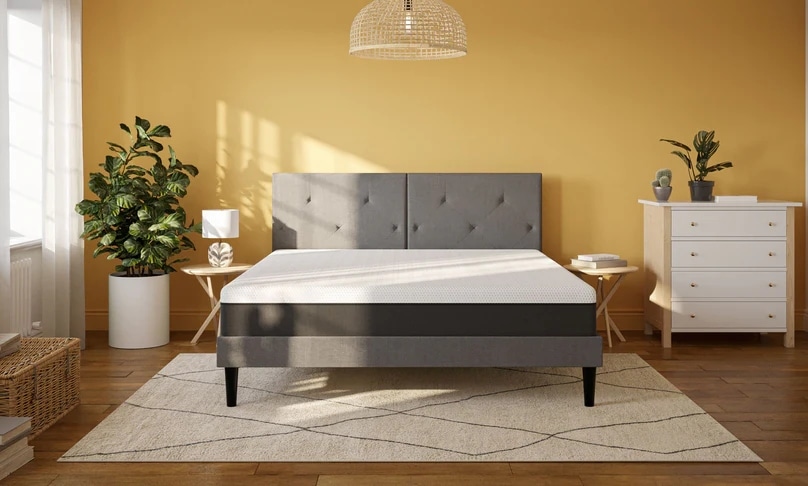 Emma
3 Emma Sleep's CliMax Hybrid
This British brand has rave reviews for a good reason: its mattresses are breathable, efficient when it comes to weight and activity support, and designed to improve overall sleep quality. And thankfully, it has a vegan option in the form of the CliMax Hybrid. The latter is even fitted with climate regulation and cooling technology, to prevent you from overheating while you get some well-earned rest.
Get it here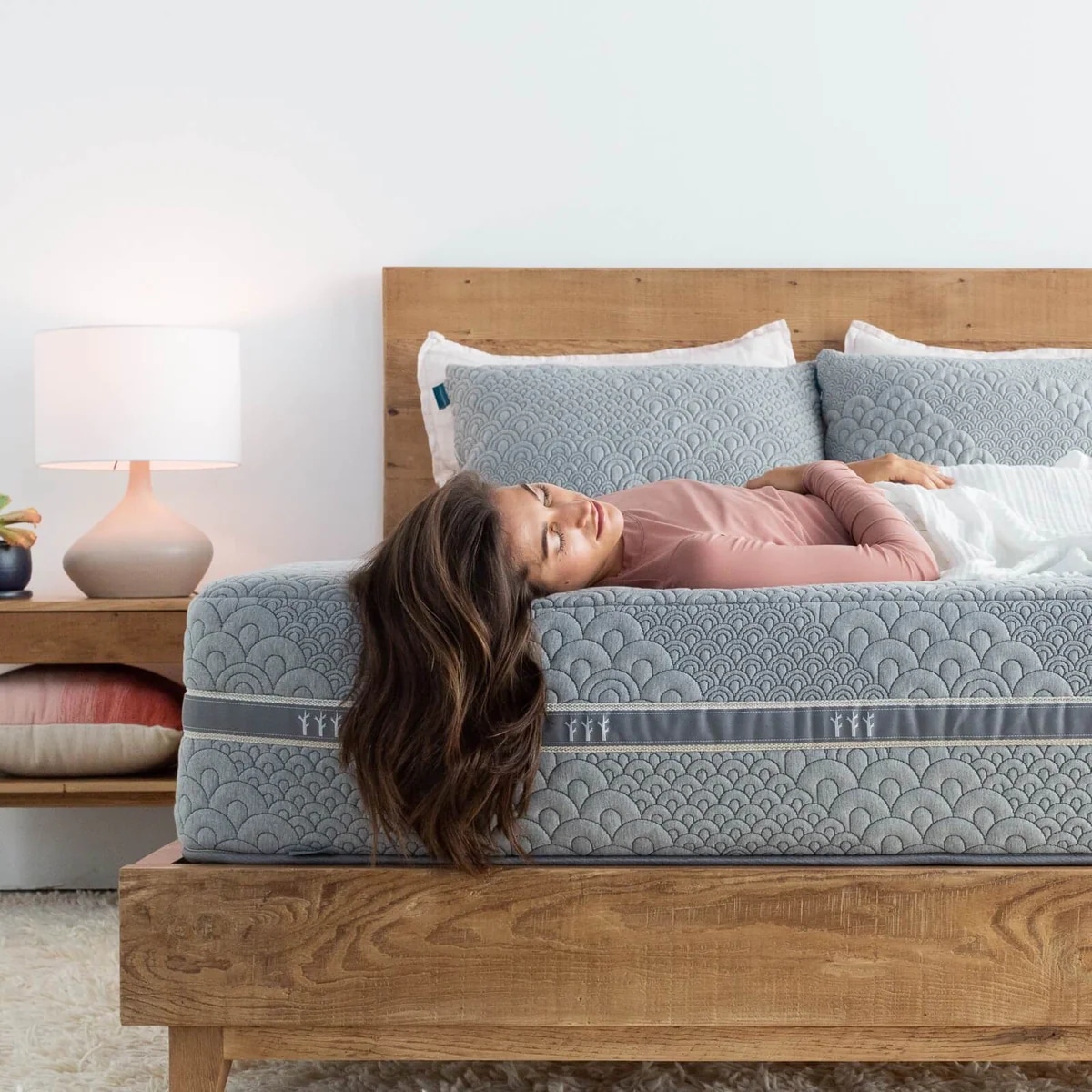 Brentwood Home
4 Brentwood Home's Crystal Cove
With cooling charcoal-infused memory foam, this natural, organic Dunlop latex mattress is soft and firm in equal measure, plus it looks sleek, too. It has received a vegan certification by Vegan Action, so you can get your beauty sleep knowing that your rest is cruelty-free. "If you practice a vegan lifestyle, you can rest assured that your Crystal Cove Mattress is aligned with your values," notes Brentwood Home.
Get it here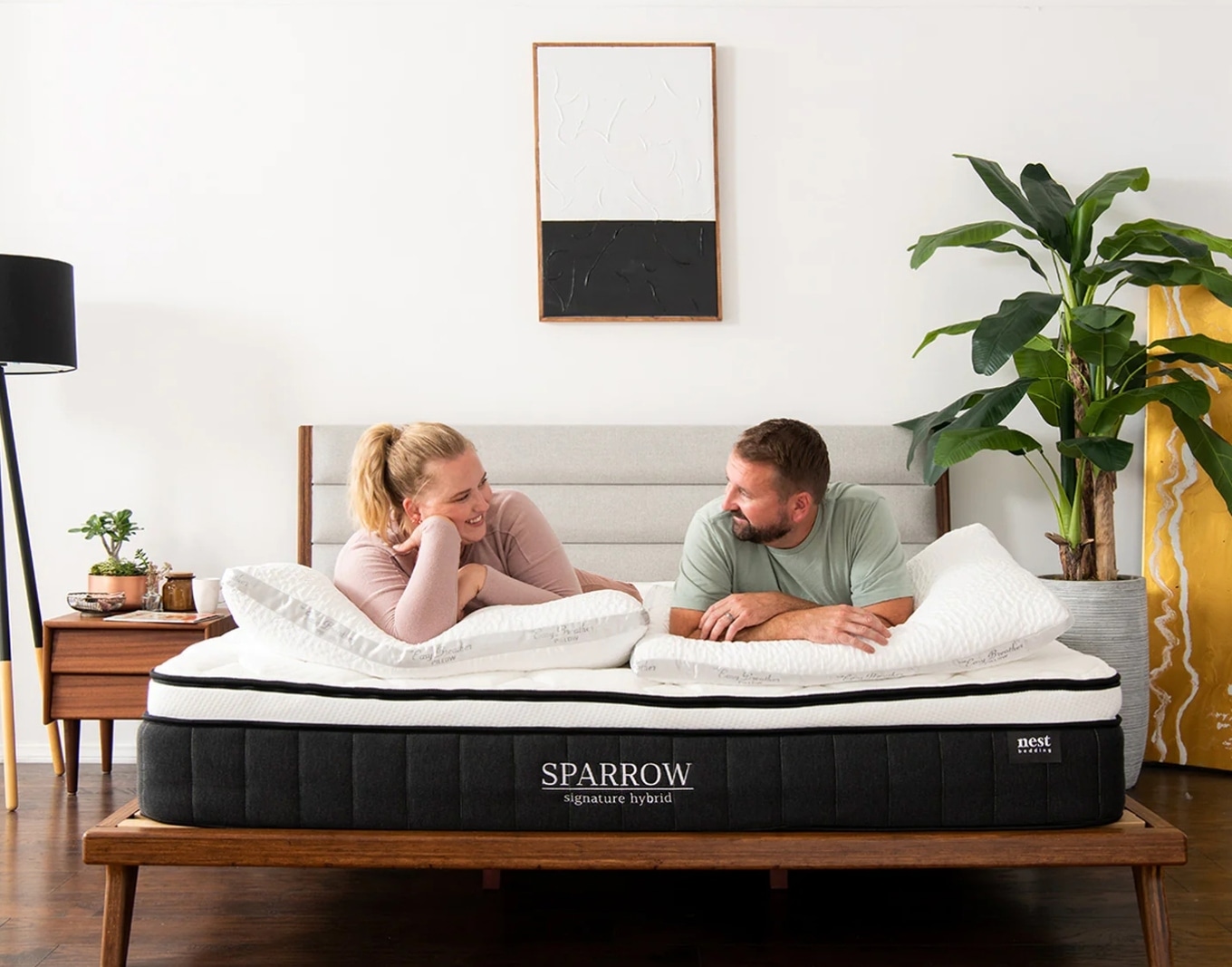 Nest Bedding
5 Nest Bedding's Sparrow Signature
Whether you prefer a firm rest or more of a plush feel, Nest Bedding's Sparrow Signature mattress—which comes complete with Energex foam (similar to memory foam, but without the lasting imprint)—can be adapted to suit your needs. If you live with a wriggly sleeper, you can also take comfort in the fact that this model features individually wrapped coils, which help to isolate motion and reduce disturbance.
Get it here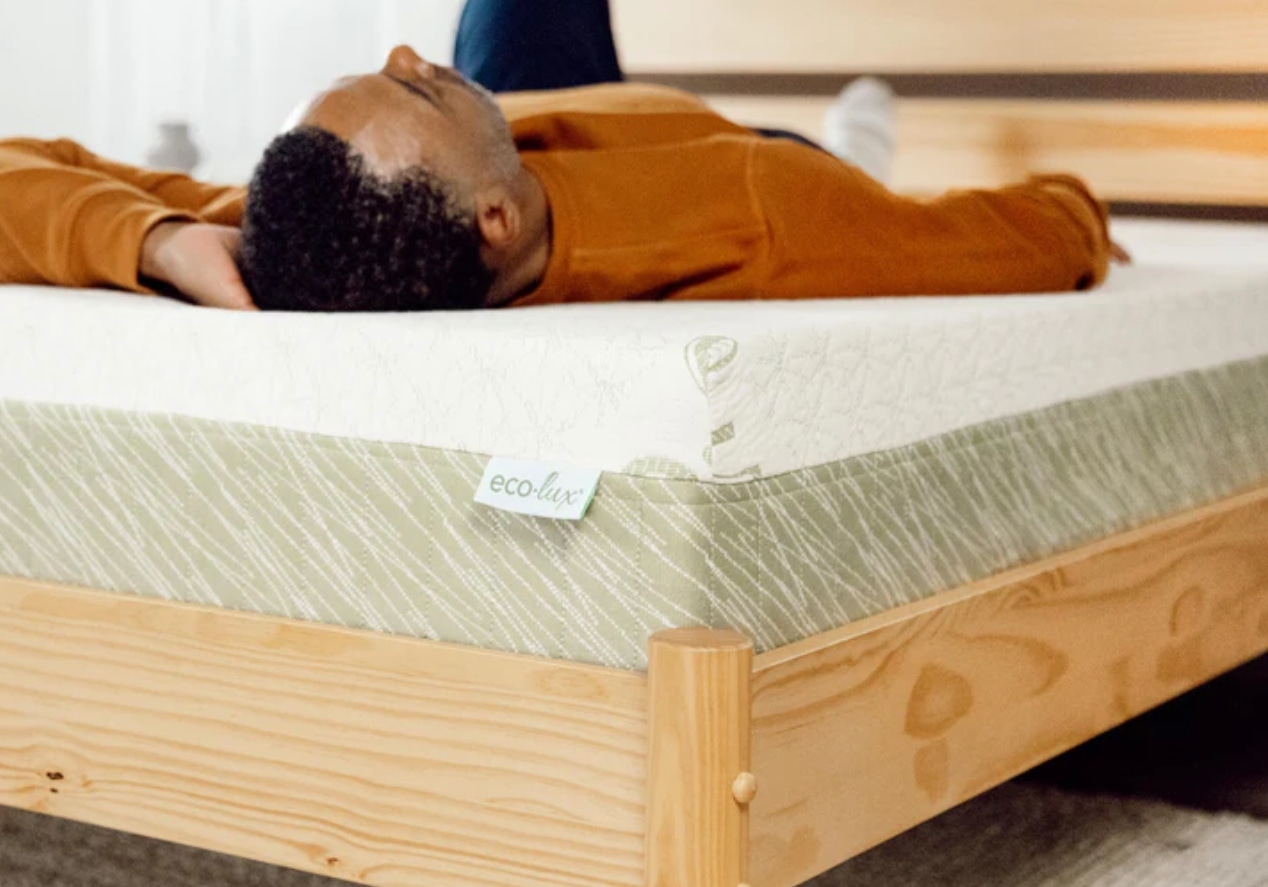 Bed In A Box
6 Bed In A Box's Eco-Luxe
Made with breathable, soft organic cotton, this mattress by Bed In A Box is "the best blend of renewable and luxury," according to the brand. That's because it's made with Bio-Preferred memory foam, which is not only comfortable and durable but also contains 34-percent renewable content.
Get it here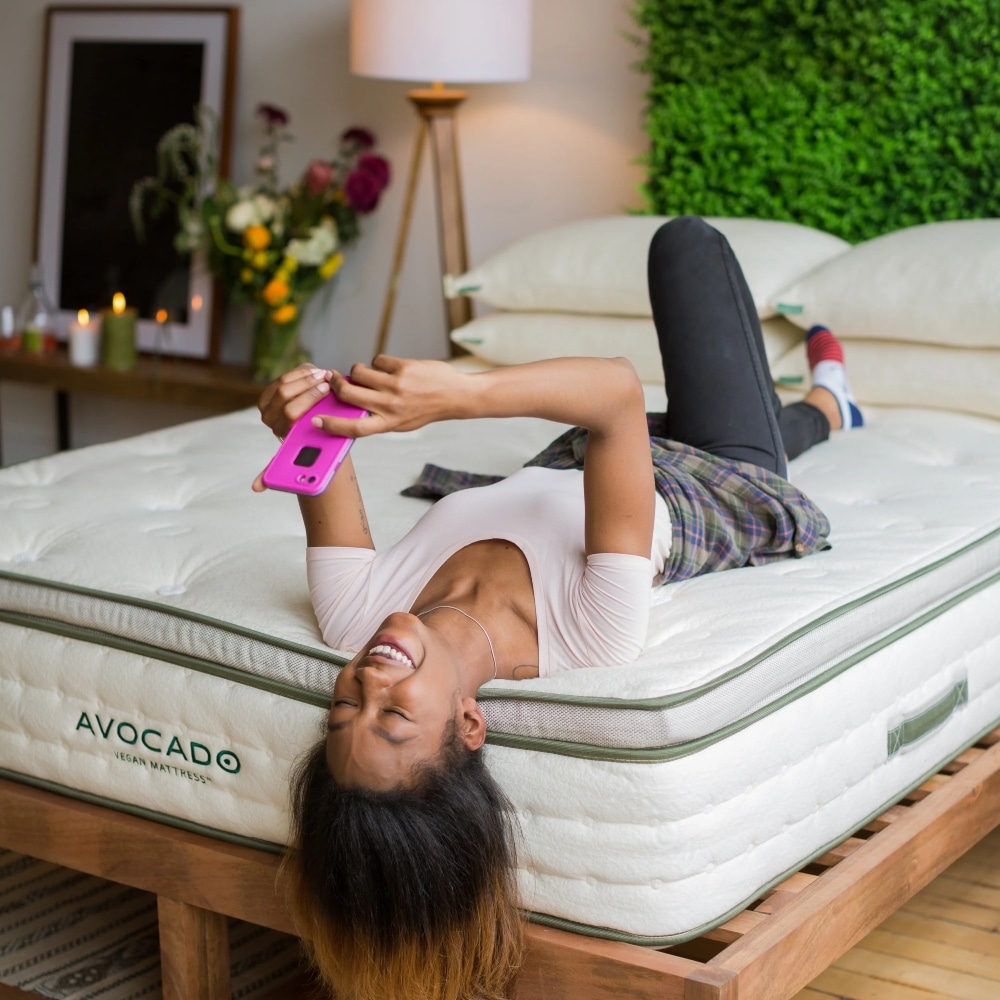 Avocado
7 Avocado's Vegan Mattress
If you're concerned about synthetics in your mattress, this option by Avocado is free of materials like polyurethane foam, polyester, and toxic fire retardants. Instead of wool, the brand has also opted for soft organic cotton and organic latex, which is sourced sustainably and responsibly from co-owned farmer collectives. This mattress is also vegan-certified, PETA-approved, and Greenguard Gold Certified, too.
Get it here
For more on vegan homeware, read:
Here at VegNews, we live and breathe the vegan lifestyle, and only recommend products we feel make our lives amazing. Occasionally, articles may include shopping links where we might earn a small commission. In no way does this effect the editorial integrity of VegNews.