Making your home more cruelty-free has never been easier (or more stylish!). Swap out animal-based materials such as down, wool, and silk and swap in sustainable alternatives such as organic cotton, and recycled materials to build the ultimate cruelty-free oasis. From comfy vegan mattresses and silky, smooth bamboo sheets to delicately scented soy wax candles and gorgeous kitchenware, check out these 20 items to give your home a sustainable, ethical upgrade.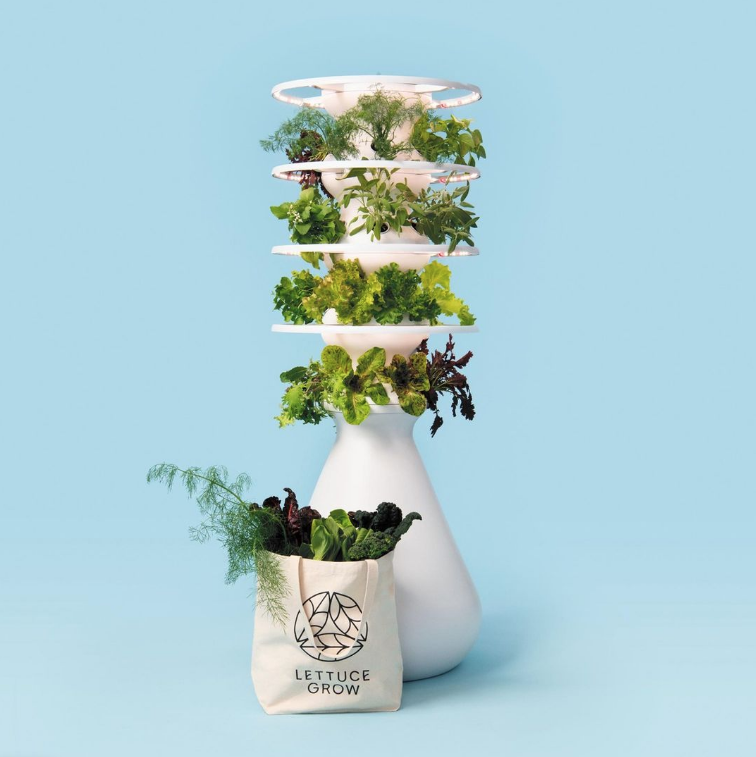 Lettuce Grow
1 Lettuce Grow Farmstand
Completely revolutionize your home growing game with this vertical hydroponic farmstand. Whether you put it outside or place it in your kitchen, this easy way to grow your own produce at home can grow up to 36 plants in just 4 square feet. Talk about farm fresh produce!
Find it here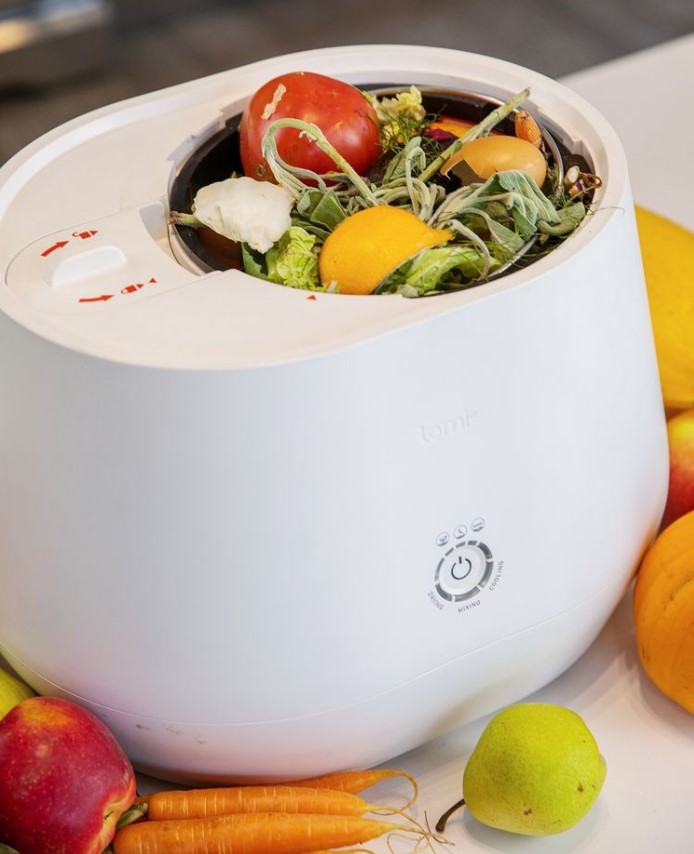 @getlomi/Instagram
2 Lomi Home Composter
Home composting has never been done like this before. This sleek looking composter device turns food waste into dirt for your houseplants or garden in a matter of hours. Not only does it run quietly, but there's no nasty smell commonly associated with composting and helps reduce your carbon footprint one banana peel at a time.
Find it here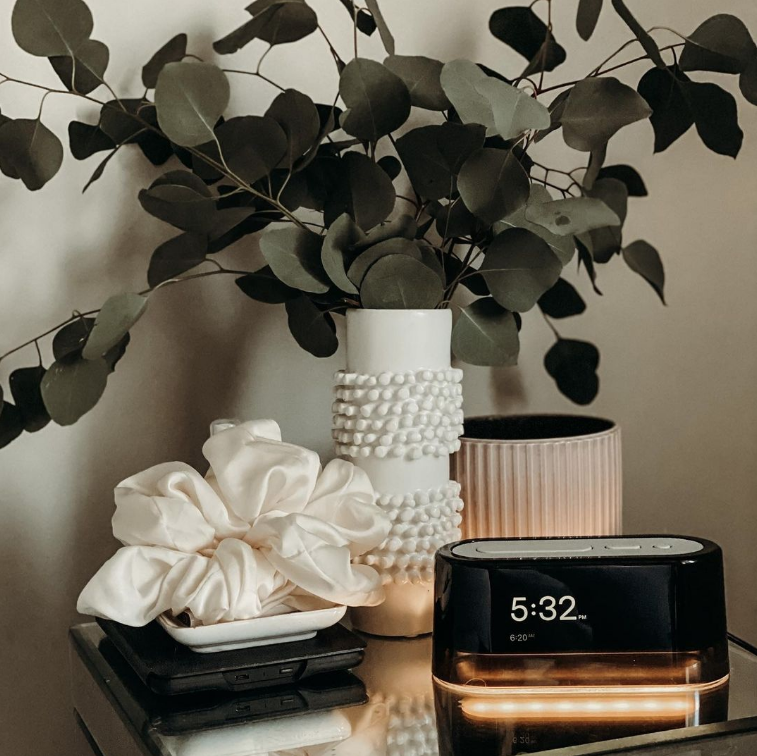 @_evamariemc/Instagram
3 Loftie Bluetooth Alarm Clock
Say goodbye to your harsh, blaring smartphone alarm clock forever with this two-phase alarm made with professionally crafted non-alarming alarm tones. The white noise and soundbath functions help ease you into a deep night's sleep and ensure you stay peacefully asleep through the night.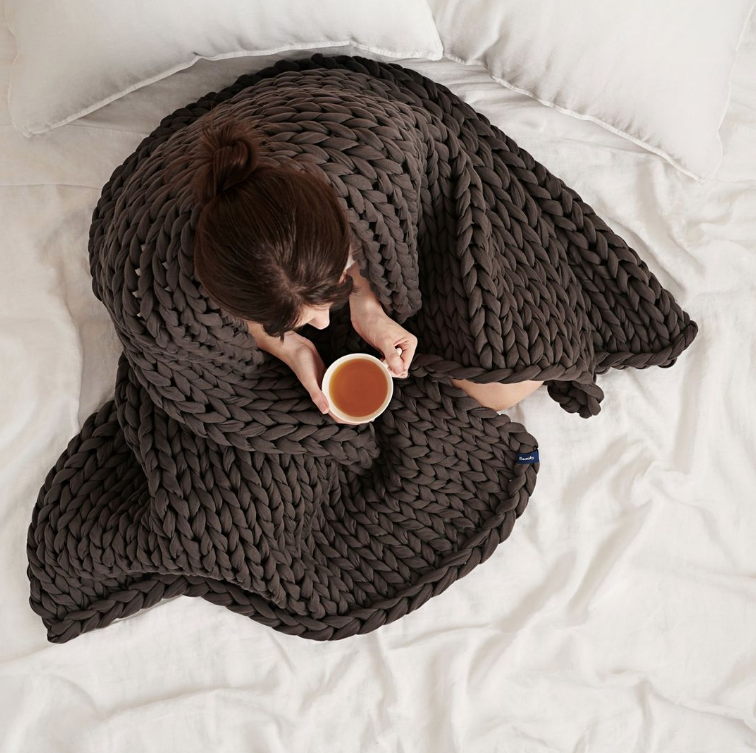 Bearaby
4 Bearaby Vegan Knit Weighted Blanket
This thick, chunky knit organic cotton throw weighs up to 25 pounds (depending on the weight you choose) and feels buttery soft! The breathable knit prevents you from overheating in any season while the even weight distribution makes you feel all the calming effects of a weighted blanket.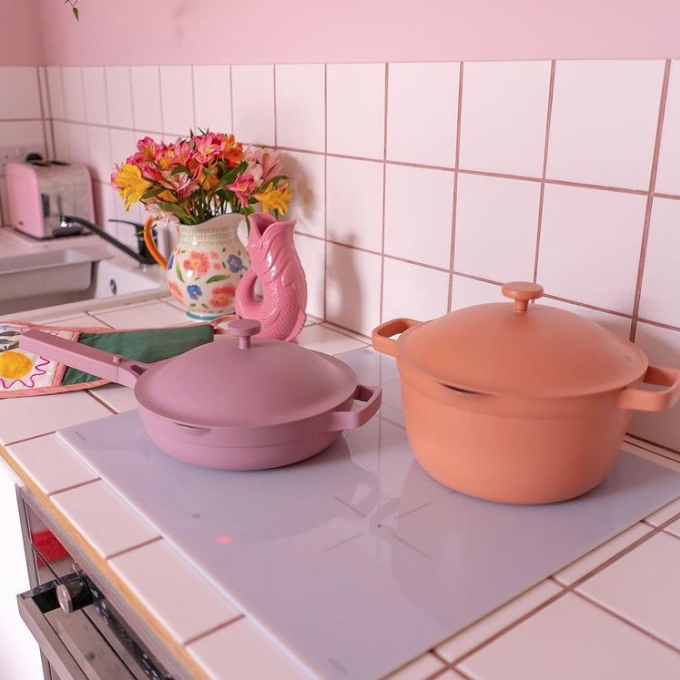 @lindsey_isla/Instagram
5 Our Place's Always Pan
This award winning, virally popular pan is a consumer favorite for a reason! The built-in steamer, easy pour spouts, ceramic non-stick pan, and cool, modern aesthetic make it almost an art piece for your kitchen. Whip up your favorite curries, pastas, and veggies in this gorgeous pan.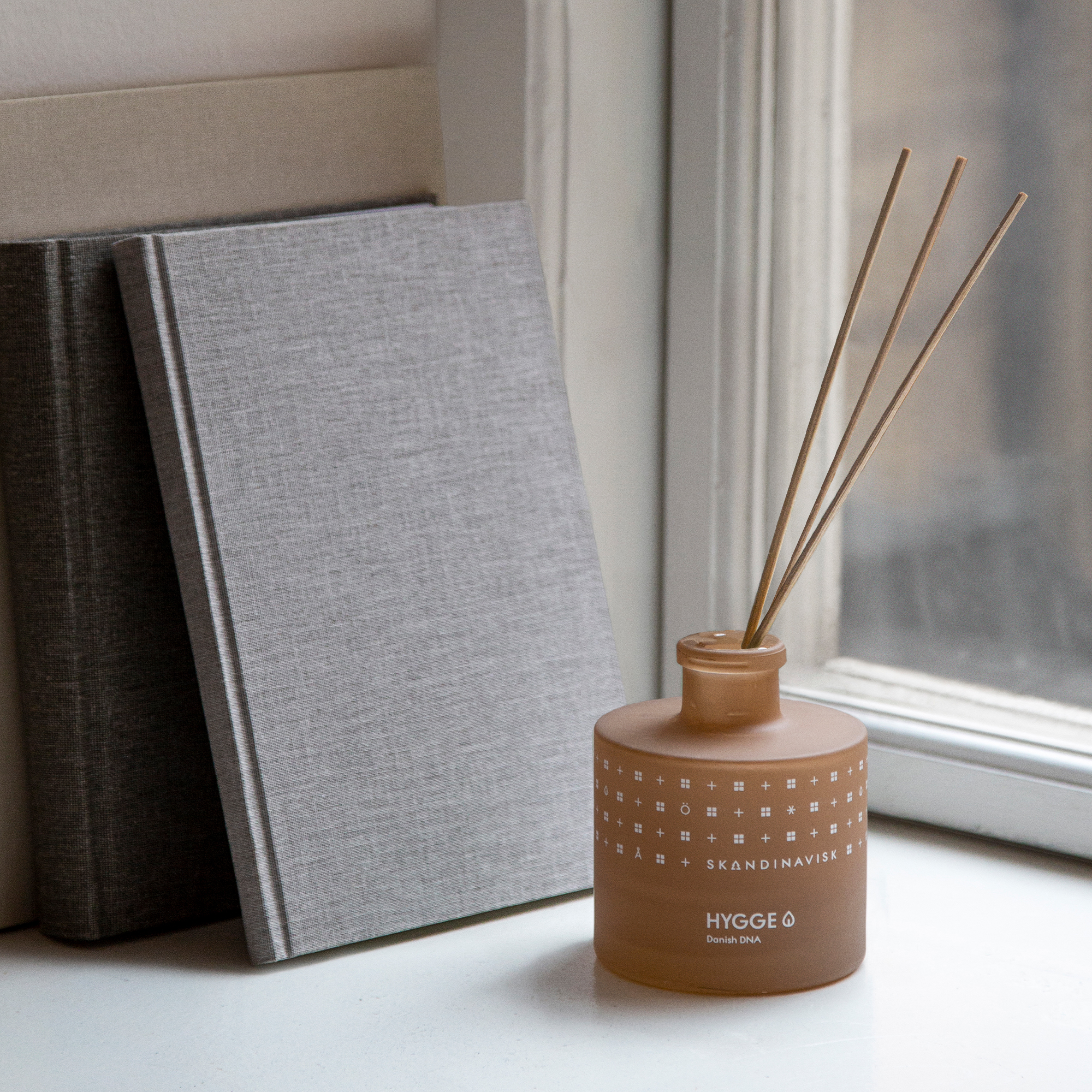 Skandinavisk
6 Hygge Scent Diffuser
Create cosiness in the smallest everyday moments with this lightly perfumed diffuser with scents of black tea, mint leaves, dried apples, and a dusting of baked cinnamon. The partially-recycled and dishwasher-proof glass can help you keep it sustainable while smelling absolutely heavenly.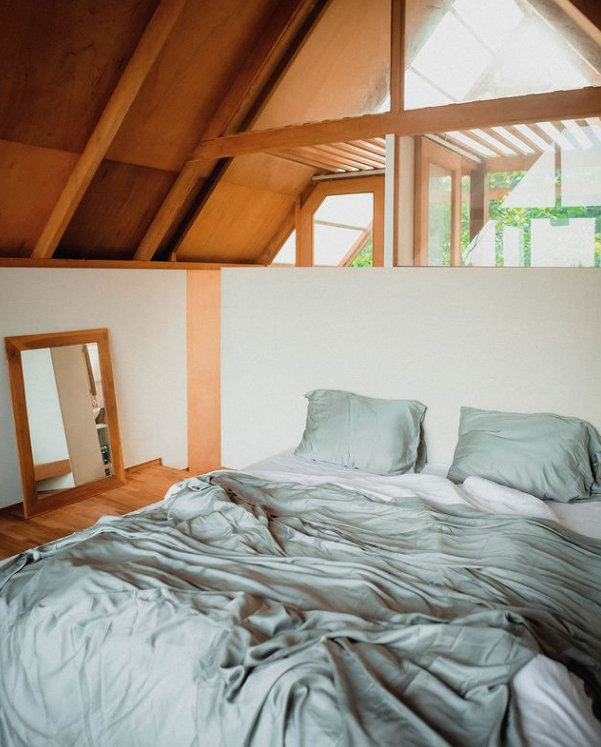 Ettitude
7 Ettitude Sustainable Cooling Bamboo Sheets
Toss out those scratchy, cheap sheets or college-style jersey blends and swap in these 100-percent bamboo, breathable, silky feeling sheets. They feel just like silk (but without the animal cruelty) and will keep you cool anytime of year.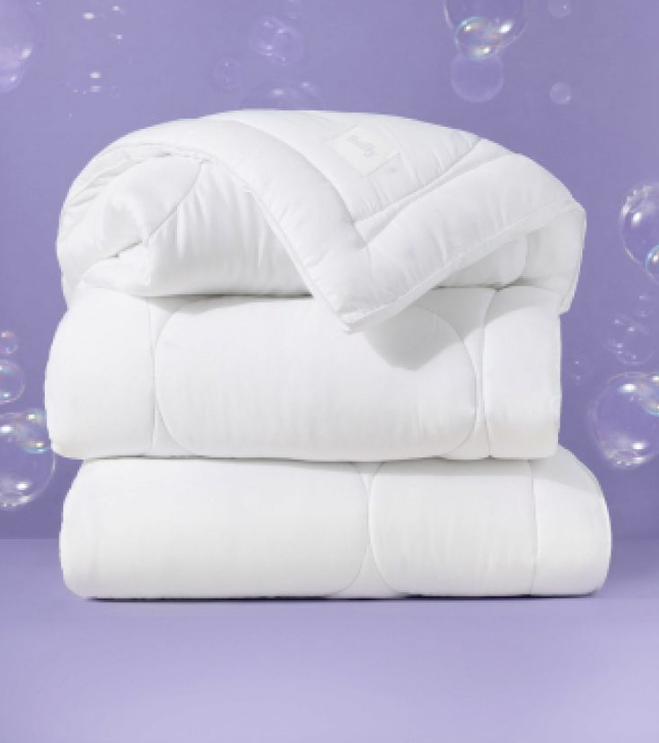 Buffy
8 Buffy Eucalyptus Cloud Comforter
Comforters often contain materials such as down feathers, but this cloud-like comforter is made from super-soft eucalyptus fabric and filled with layers of 100% recycled fiber. Even better? Each comforter recycles approximately 50 plastic bottles. Your bedtime routine has never been this sustainable.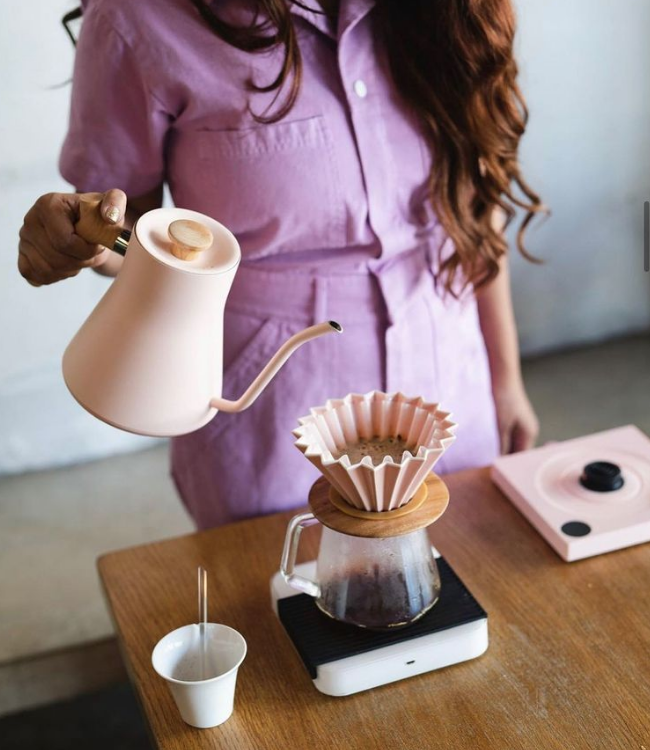 @jonagalindo/Instagram
9 Fellow Products EKG Kettle
This ultra-glam, temperature-regulated kettle has a delicate spout and bamboo handle to make your kitchen counter more aesthetic than ever. Whether you're perfecting your coffee pour-over game or settling down for a hot cup of tea, this kettle will make you feel super cozy and cool.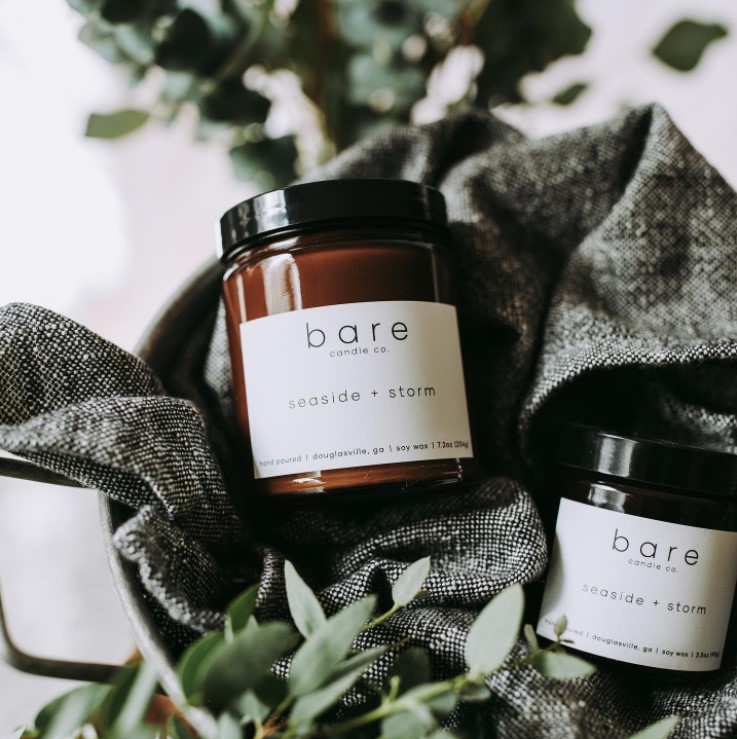 Bare Candle Company
10Bare Candle Company
Made using soy wax, natural ingredients, and premium fragrance oils, these non-toxic candles are made entirely from soybeans grown in the United States. The local sourcing means these delicately scented candles have a lower carbon footprint.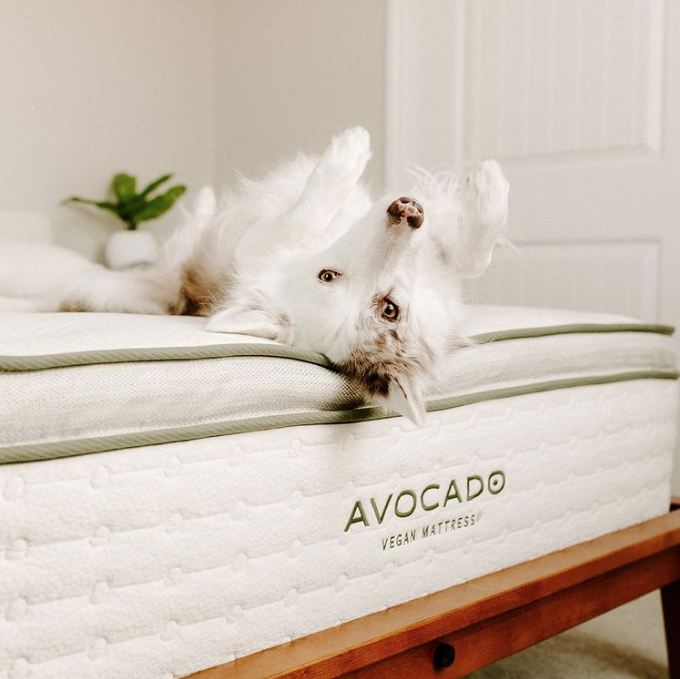 Avocado Mattress
11 Avocado Green Vegan Mattress
Did you know that most mattresses are generally not vegan? This is due to the inclusion of wool and/or feathers. But the vegan mattress from Avocado Green Mattress is made from organic certified latex and organic certified cotton for one cruelty-free place to rest your head.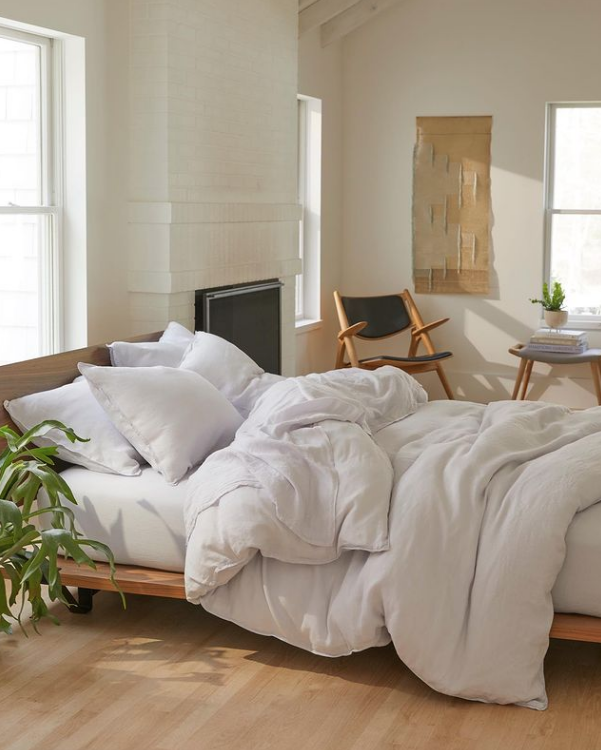 Brooklinen
12 Brooklinen Down Alternative Pillows
Made from shaved microfibers specifically created to mimic the exact feel of down (but without any harm done to duck and geese), these plushy pillows are super soft and fluffy and offer a great place to rest your head at the end of a long day.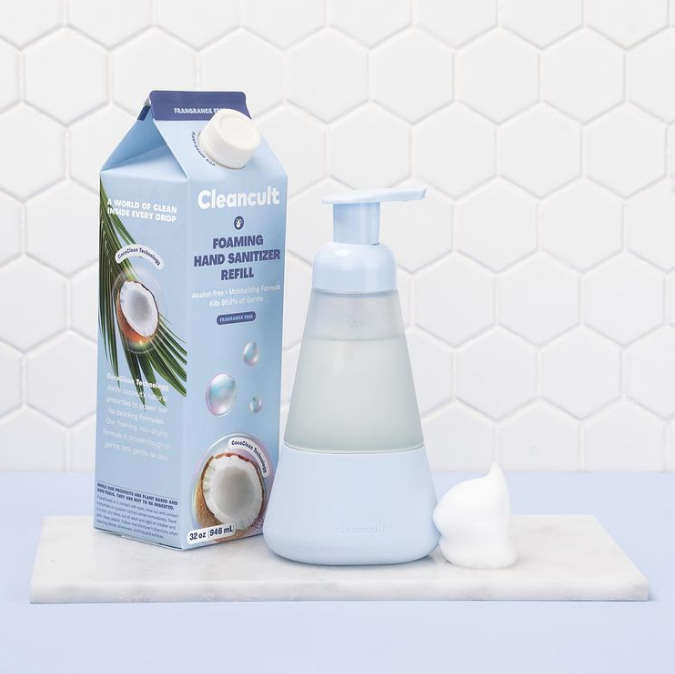 Cleancult
13 Cleancult Vegan Home Cleaners
Cleaning your home is almost as important as furnishing it, and we're making our sanitizing game completely cruelty-free. These green cleaners also come with refillable glass bottles, so you can really green up your cleaning routine.
Almond Cow
14 Almond Cow's Plant-Based Milk Maker
Dreaming of being a domestic genius who makes their own vegan milks fresh each day? This device makes it as simple as can be. No need to strain through cheesecloth or deal with messy clean-up, and fresh nut milk is just one button click away.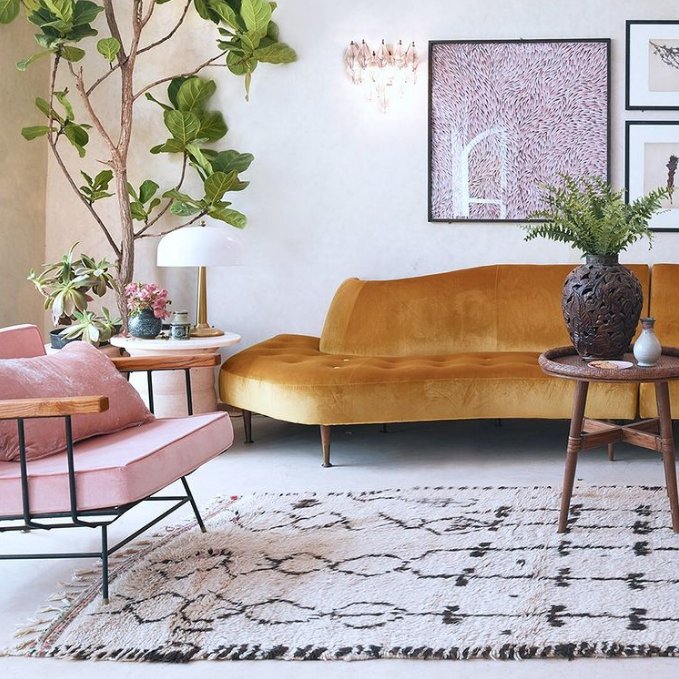 LOOMY
15 LOOMY Vegan Rugs
Make an eco statement with one of these luxe vegan rugs made from recycled plastic water bottles that use less energy to produce. Ethically handmade in India by certified artisans, and with a soft, wool-like feel these gorgeous rugs will really help you pull a room together.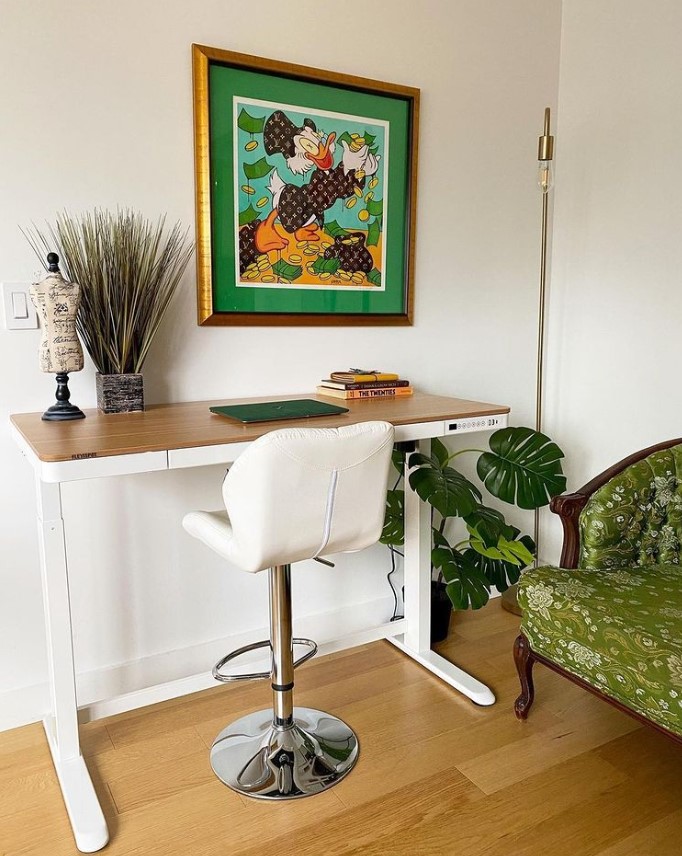 @evitascoccia/Instagram
16FlexiSpot Standing Desks
Sitting is out. Standing is in. Not only can standing desks help lower blood sugar levels, reduce back pain, and raise energy levels, but they can also look super sleek and stylish in your home office. This electric version is even programmed with stand reminders and offers a stable work space for everyday use.
Find it here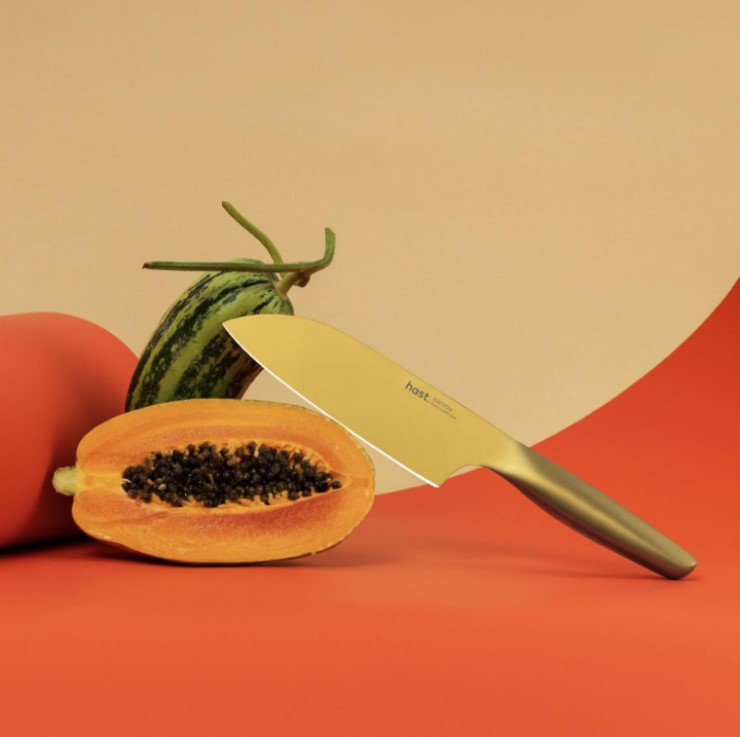 @hastkitchen/Instagram
17Hast Kitchen Knives
These knives made from ultra-hard matrix powder steel and precision-engineered Japanese-style blades means these knives are built to last. A single piece of steel from handle to blade crafts these expertly engineered knives.
Find it here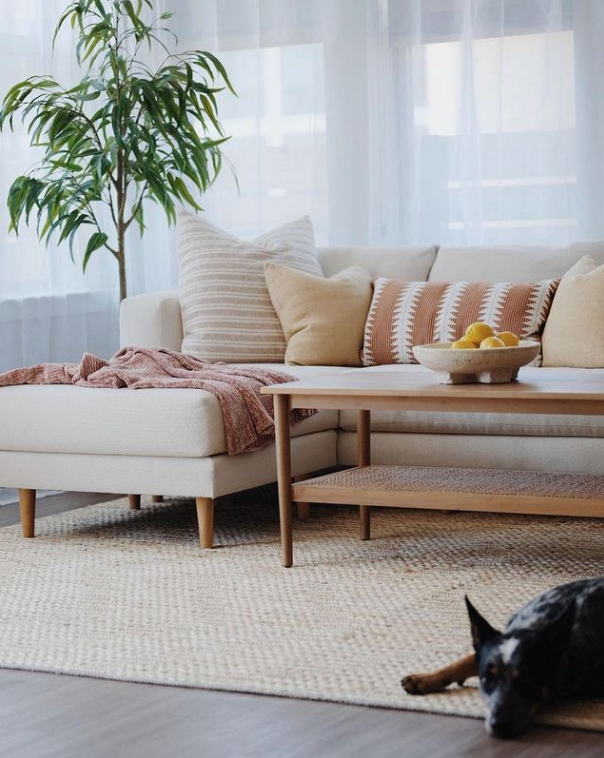 Sabai Design
18 Sabai Sofas
Totally vegan materials and a chic, modern, modular design make these customizable sofas a no-brainer when designing your home space. With 90-percent of materials sourced within 100 miles of production and recycled and upcycled fabrics these key furniture pieces will make you feel extra good as you lounge.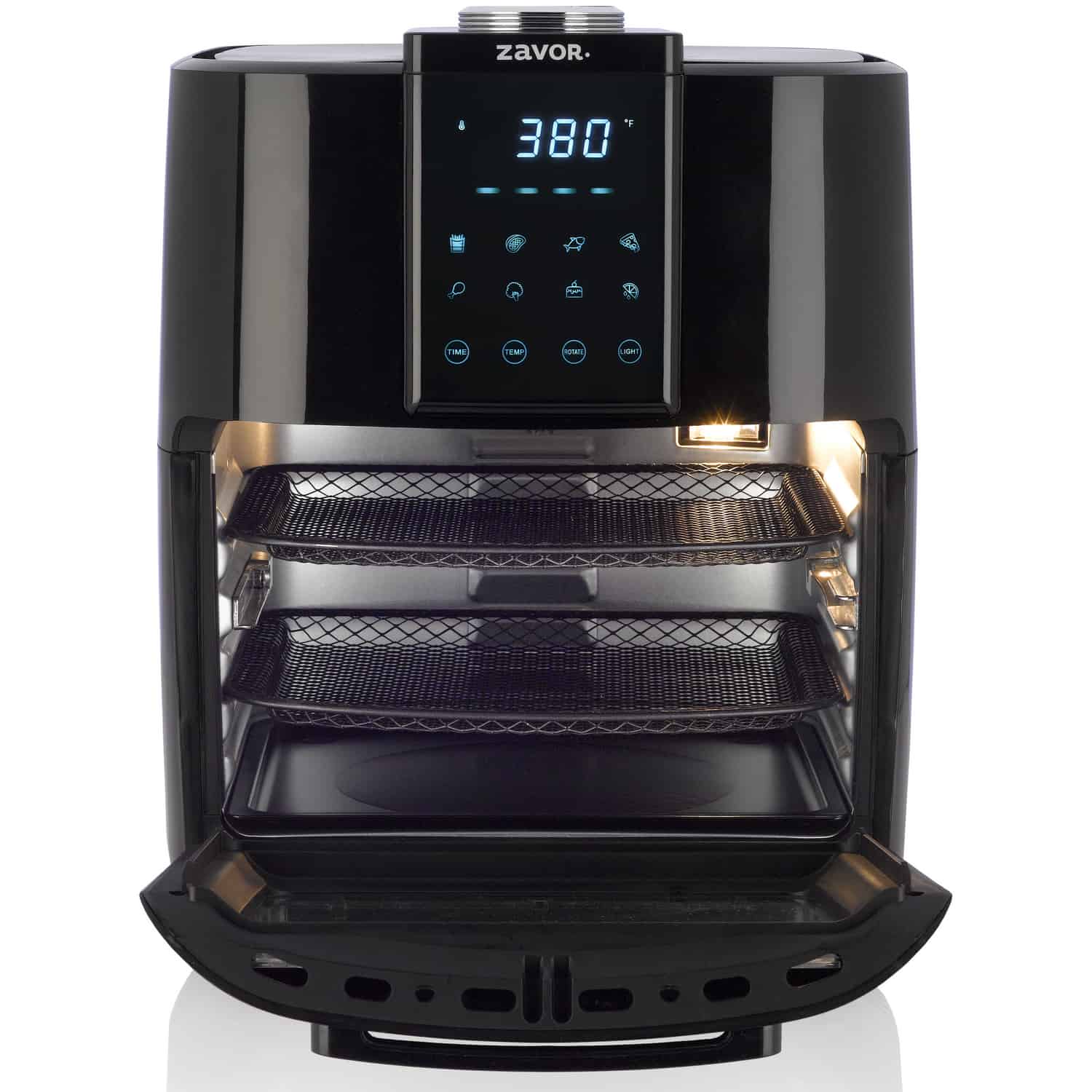 19 Zavor Air Fryer
Absolutely essential for the home? An air fryer. This kitchen staple has transformed our tofu, cauliflower wings, sweet potato fries, samosas, and so much more. Plus the sleek and modern design of this version makes our kitchen counter look extra good.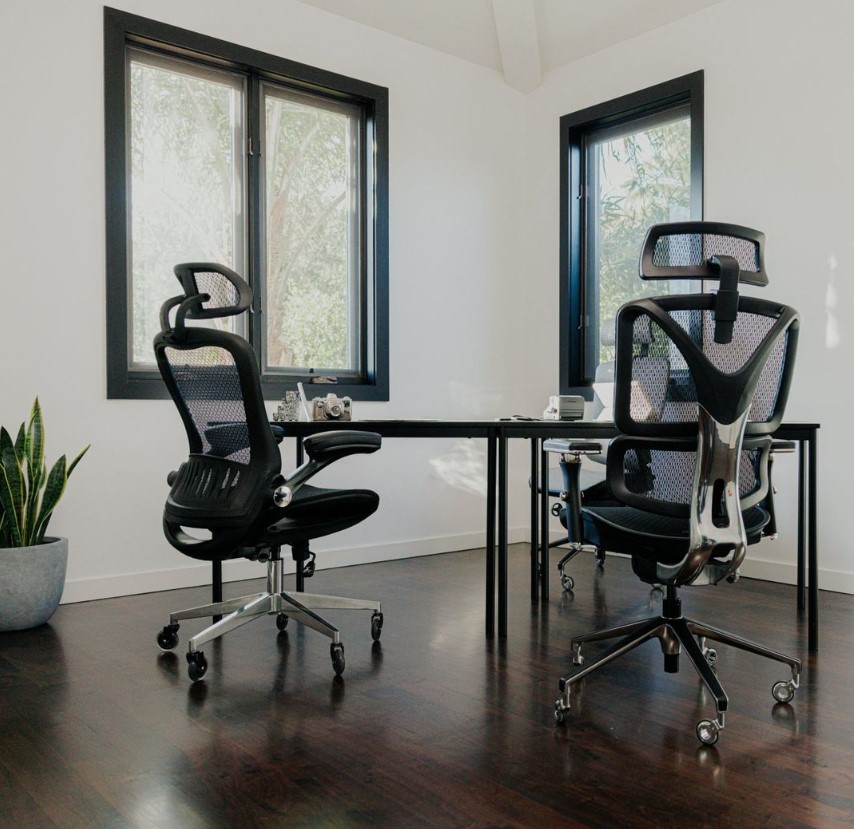 @nouhaus/Instagram
20 Nouhaus Ergonomic Office Chair
More of us than ever before are working from home. And those hours at a desk mean we absolutley need a comfortable desk chair. This one takes it a step further through an effective lumbar support system and breathable soft elastomesh material, which keeps our backs cool throughout the day.
For more vegan home goods, read:
14 Vegan Candles for Your Home
The Best Cooking Tools for Your Vegan Staples
10 Essential Vegan Products for a Good Night's Sleep