Why would a successful finance expert with Wall Street experience leave everything to flip burgers? Moreso, why make this risky move right after having a kid? Long-term thinking. Honeybee Burger founder Adam Weiss left finance for fast food to create a more sustainable future for his child, and the switch is paying off. Now with three LA locations and another slated to open in New York City this winter, Weiss' risk turned out to be anything but. Like a good financier, Honeybee was well-timed, meticulously planned, and strategically executed. Plus, it makes truly exceptional vegan burgers, sandwiches, and Frots (we'll get to those later). Here's how one person's decision to live more sustainably is changing attitudes toward the vegan lifestyle, one juicy bite at a time.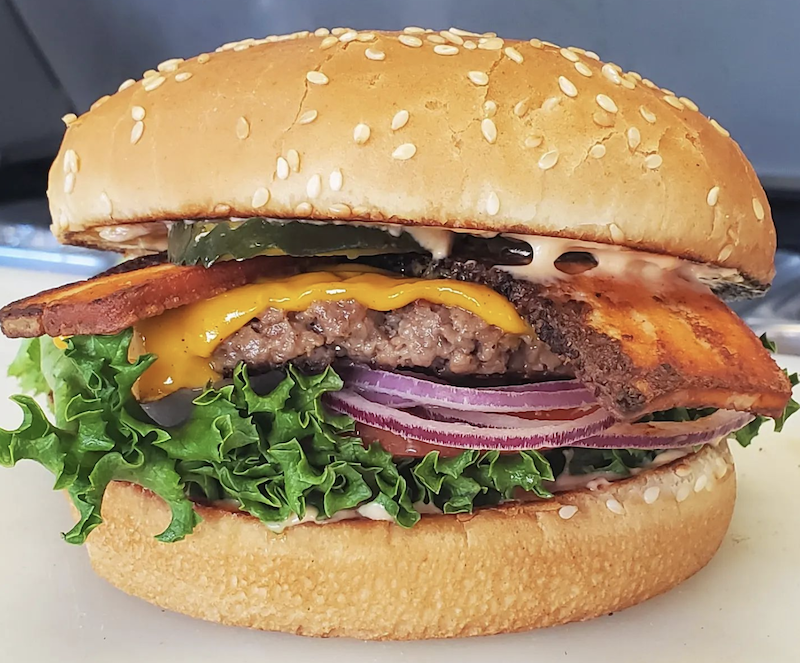 Honeybee Burger
Honeybee: What's in a name?
True, this vegan microchain has an adorable animal mascot, but it's not trying to sell its own flesh or market the meat of other animals (ahem, Chick-fil-A). The pixelated honeybee came to Weiss when he made the connection between bees and farming. He came across a field that regularly swarmed with bees and thought to himself, "[Bees] are nature's oldest farmers." They harvest nectar or pollen from flowers and turn it into food—it's farming 101. In a roundabout way, naming the restaurant Honeybee is making a "farm-to-table" statement. Everything is made from plants.
Weiss wasn't always so in tune with nature and his impact on the earth. He had worked in finance—from hedge funds to investment consulting—for over 20 years. He told us that being on Wall Street had left him feeling "empty" and the birth of his child 12 years ago triggered him from "thinking short term to long term about life, the planet, and the future. I wanted to think more seriously about the impact I'd have and leave on the world."
Starting in the early 2010s, Weiss began investing in and advising start-ups and emerging businesses that he felt could make a difference. His projects ranged from cutting-edge vegan restaurants such as Café Gratitude to innovative food-tech companies and clean-label consumer packaged goods brands. In 2018, he leaped into the world of plant-based progress by co-founding Plantible—a food-tech company working to make animal-free protein from duckweed.
After years of investing and advising other sustainable businesses, Weiss decided to start his own: Honeybee Burger.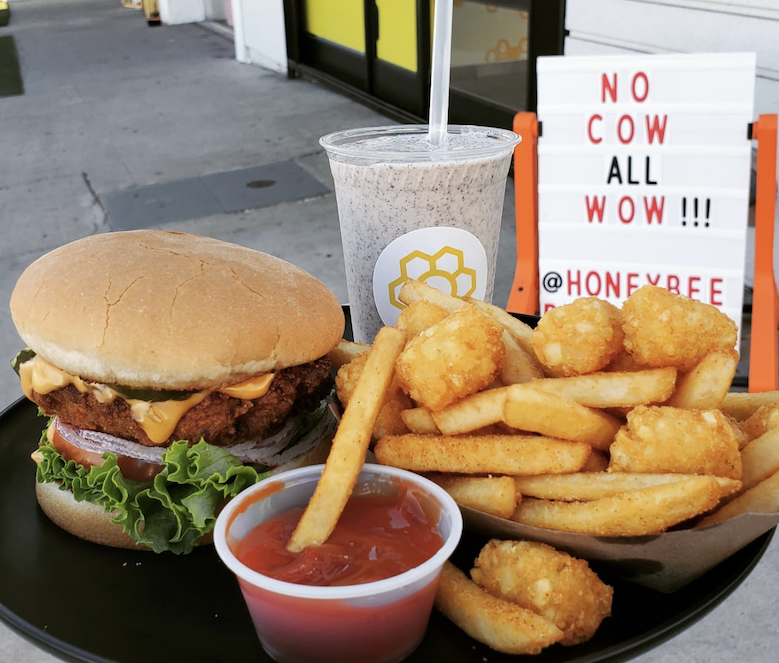 Honeybee Burger
What's on the menu?
Honeybee Burger takes the familiar and makes it plant-based. It's impossible to not recognize the animal-based inspiration of each sandwich based on the tongue-in-cheek names. The menu includes items such as the Chick-a-Bee, Fish-a-Bee, and the Hot Hunny Chick-a-Bee. The selection follows the trends, making it accessible for plant-based skeptics and exciting for vegans who haven't tasted these traditional sandwiches in years. Both Beyond and Impossible burgers are offered, though the kitchen puts its own spin on these patties. This isn't the same basic burger you'll find at the store; Weiss made sure of that. He told us, "[You] have to treat [plant-based burgers] differently than meat. The fat is different, as is the moisture. It's delicate. Also, we season it and don't use pre-formed patties. We add koji to give it a beefy flavor." Each burger is sandwiched between a toasted bun (that's very important, according to Weiss), and topped with melted cheese (squares, not shreds or sauces. Weiss was adamant about that, too), crisp lettuce, some kind of acid, and a creamy sauce. "Texture, temperature, color, and flavor contrast make for the best burger," Weiss concluded.
Beyond vegan burgers and chicken sandwiches, the extensive menu includes Bee-ritos, breakfast sandwiches, milkshakes, and Frots. Honeybee may not be the first to introduce the combination of tots and French fries to the world, but it's certainly the first we've heard of it. Customers can choose between classic frots or sweet potato frots. We say get both and share.
When asked about his personal recommendations, Weiss let us in on a not-so-secret menu item: the Land Sea Air—a monstrous stack of a burger, fish filet, and chicken patty all barely held between two (toasted!) buns. He also highly recommended the Chocolate Oreo Shake that only those in-the-know can ask for as it's not on the menu. As for his go-tos, Weiss relies heavily on the Beerito for its high protein content and convenient portability. An oversized spinach tortilla is stuffed with JUST Egg, cheesy tots, pico de gallo, and roasted pepper sauce for a breakfast-all-day kind of vibe.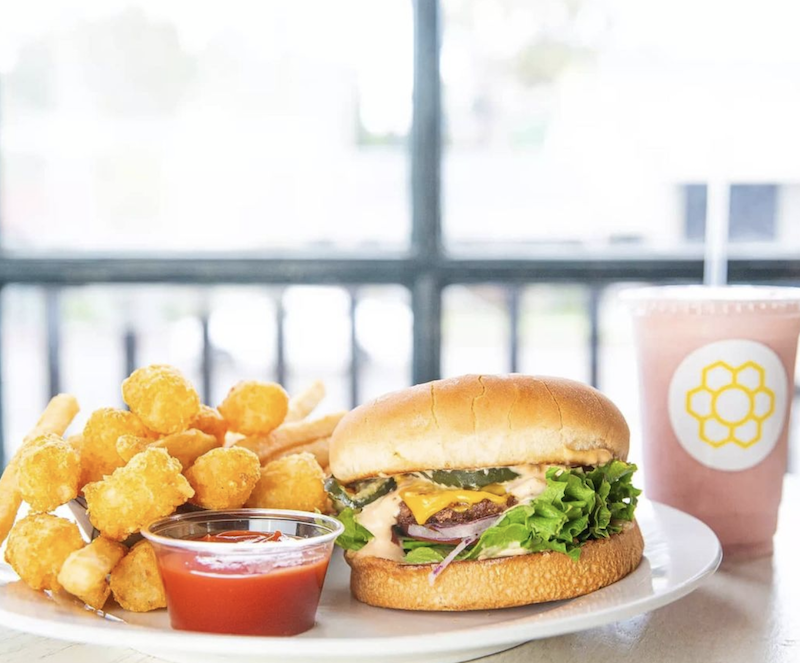 Honeybee Burger
Amplifying other vegan brands
As a dedicated investor of other vegan brands, Weiss was happy to incorporate a handful of other high-quality vegan products when launching Honeybee Burger. In addition to Beyond and Impossible meats, the chain uses JUST Egg, Nowadays nuggets, Good Catch fish filets, OmniPork Luncheon meat, Violife Cheese, and Ripple's new soft-serve. This isn't to say Honeybee is just re-selling others' products—the chefs certainly add their own homemade elements like the roasted red pepper sauce, seasoning to the ground beef, and mix-ins to make Ripple soft-serve shakes."We embrace Vegan 2.0. We're unafraid to offer exciting new products that are more likely to excite and convert meat-eaters than old school, whole-food vegan. These brands also stand for something—from sustainability to animal welfare," Weiss explained. After all, why reinvent the wheel when you could support another vegan entrepreneur?
Weiss raised over $1 million in 2021 to fulfill his goal of expanding Honeybee. He believes the restaurant's mission, distinctive branding, approachable attitude, and perfect timing allowed him to secure this impressive number. Vegan business is on the rise, and Honeybee is just one of many that are fueling this escalating trend. With this backing, Weiss hopes to expand Honeybee with three to six more brick-and-mortars in 2023 and up to four cloud kitchen spaces. While not everyone has access to a Queen Bee with Classic Frots now, that could change in the next few years.
For more on the vegan fast-food revolution, read:
This Vegan Entrepreneur Aims to Put Chick-fil-A Out of Business
22 Vegan Fried Chicken Sandwiches Better Than Popeye's
The 10 Best Vegan Fish Sandwiches You Have to Try