The Millennial and Gen Z generations are often looked down upon for being entitled, lazy, and addicted to social media. One look at Greta Thunberg, Haile Thomas, or Tabay Atkins' accomplishments, and that gross generalization is put to rest. Gen Z is fired up and ready to take action to create a better world for themselves and those who come after them. We had the pleasure of speaking to Tabay Atkins—America's youngest professional yoga instructor—about his path to vegan activism and entrepreneurship. At just 16 years old, Atkins is the face of Nike Yoga and can cite the Kardashians and Deepak Chopra as references. He's also a Reiki Master and certified in plant-based nutrition, teaching yoga and plant-based cooking classes around the world. This summer, Atkins is putting his culinary skills to further use by opening a vegan food truck in his home of Orange County, CA. We chatted with him to discuss his path to the yogi lifestyle and what we can expect from Tabay's Mindful Kitchen.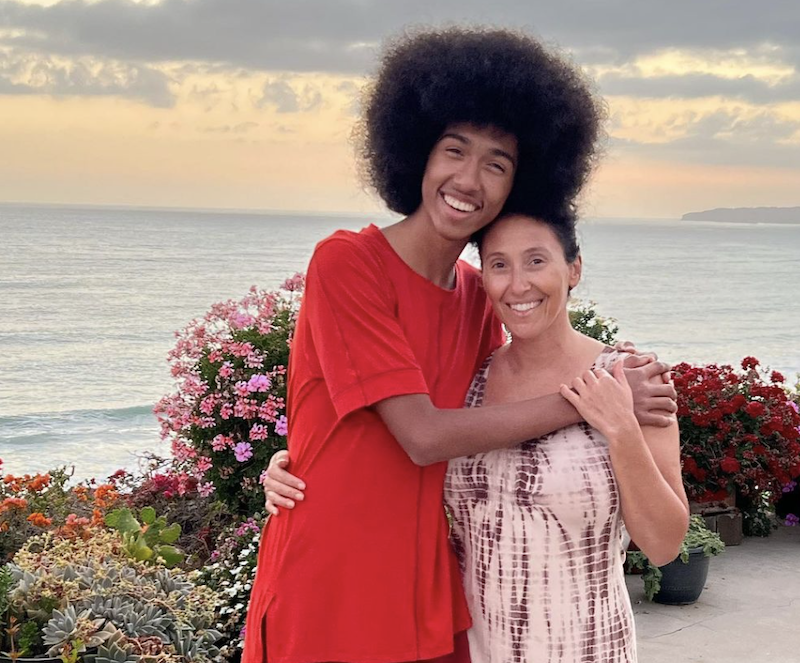 Tabay Atkins
It started with cancer
Atkins' worldview was cemented at an early age when his mother, Sahel, was diagnosed with cancer. She underwent chemotherapy and beat the disease, but the intensive treatment left her weak and severely physically impaired. When Atkins was just six years old and Sahel was two weeks cancer-free, she enrolled in a 200-hour yoga certification course, and Atkins was a keen observer. While just a kid, he saw how the practice helped her heal.
"By seeing her journey through cancer, I learned that health is not just one thing. Health is a lot of things brought together to keep us well. I learned the importance of mental and emotional health as well as physical health when it comes to staying healthy and well. I learned that we must maintain a balanced system and that focusing on one part of the system is not enough and quite ineffective," Atkins said.
Learning from his mother's journey through cancer, Atkins threw himself into yoga training. By the time he was 10, he completed his 200-hour Vinyasa certification. At 14, he not only added a 500-hour Vinyasa training to his resumé but graduated high school with an unblemished 4.0 GPA. During his training, he and Sahel adopted a vegan diet.
"Veganism and yoga have the same values. [Both are] trying to improve health, increase compassion, promote non-violence, decrease environmental damage, and facilitate objective awareness … I think that veganism is a method that allows us to fully and truly live a yoga life, and yoga is a way to amplify the benefits of the vegan lifestyle. You can be a vegan without practicing yoga, but to be a yogi without practicing veganism, something's missing," Atkins explained.
Sahel has been cancer-free for a decade, but Atkins hasn't forgotten that scary time in both of their lives. He donates all of the money he has made to organizations helping youth fight cancer including NEGU, Saving Sophie, and Teen Cancer America.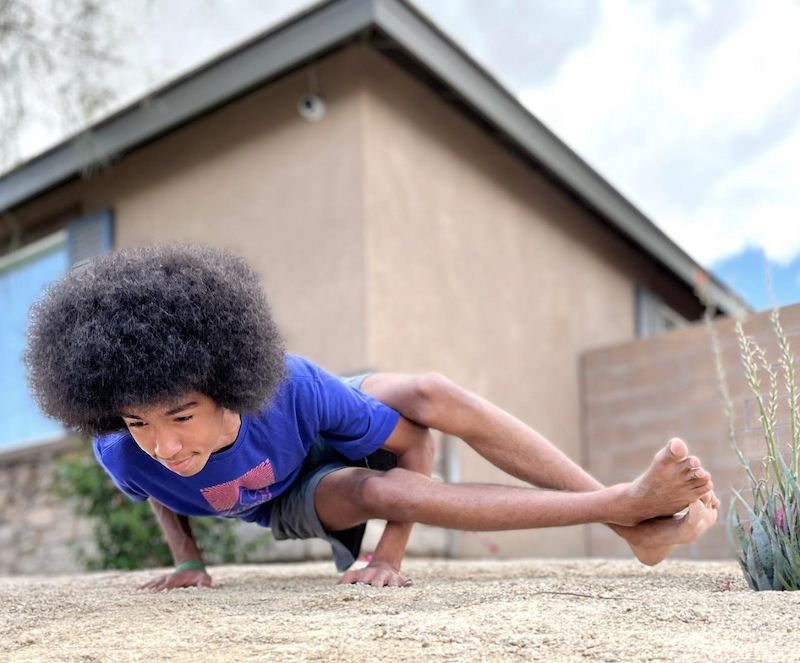 Tabay Atkins
Nutrition as prevention
There's no denying Atkins' devotion to yoga, but he seems to be equally enthralled by nutrition and food. He believes a whole food, plant-based diet is an underutilized form of cancer prevention. "When we are filling ourselves up with processed, animal-based junk food, we are hindering our body's natural ability to combat disease. As Ann Wigmore once said, 'Food can be the greatest form of medicine or the slowest form of poison.'"
With that in mind, Tabay's Mindful Kitchen isn't a completely whole food, plant-based food truck. For his first foray into food service, Atkins wanted to reel customers in with some familiar favortes including Beyond and Impossible burgers and brats. However, the menu does offer a selection of wholesome options for each category. These "mindful" items are free from sugar, oil, and other processed ingredients.
When asked about his personal food preferences, Atkins told us that he loves Iranian cuisine. It's a part of his culture, and he enjoys creating plant-based versions of classic Iranian dishes such as kabobs, khoresht e karafs, ghormeh sabzi, and loobia polo.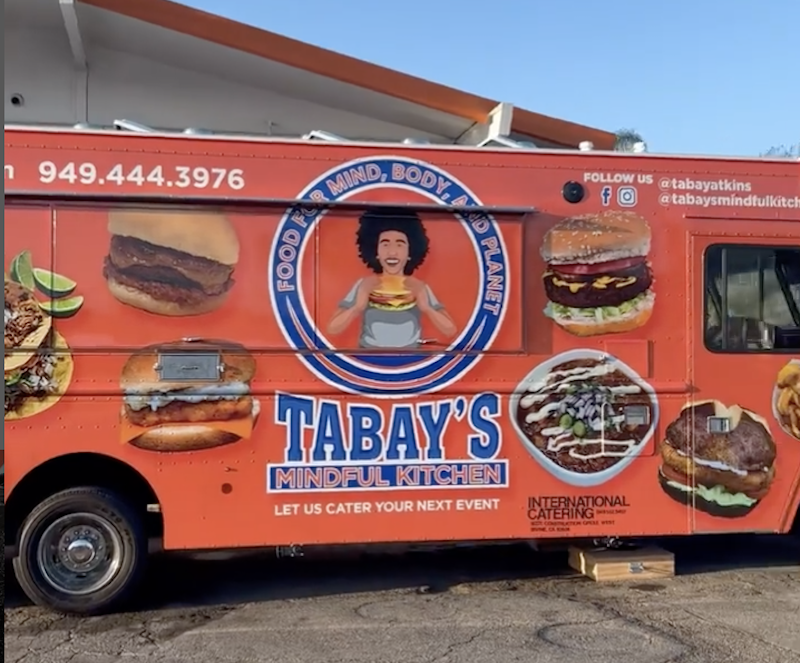 Tabay Atkins
What's on the menu?
Tabay's Mindful Kitchen boasts an extensive selection of handholds, bowls, salads, and sides. We couldn't believe the amount of menu items Atkins plans to produce from a single food truck kitchen, though he explained there's quite a bit of ingredient crossover between the options. First-time customers may experience some decision fatigue, so we asked Atkins to help everyone narrow it down. His top picks for first-timers include the Big Stac, kabob wrap, and pho. He also noted that the tuna wrap is an unsung hero.
"The tuna wrap might seem underrated, because there are a lot of people who don't like tuna, and because 'Really? Vegan tuna?' The great thing about my tuna wrap is that the people who like tuna will love it, because it tastes just like tuna, and the people who don't like it will love it because it is not tuna!" Atkins explained.
We're convinced. The wrap is also whole food and plant-based, which means Atkins can actually eat it. He adheres to a whole food, plant-based diet, so Impossible and Beyond Burgers aren't an option for him. However, he didn't want to force anyone to jump into the deep end right off the bat.
"The menu items are based on classics that everyone loves," Atkins said. "I want people to learn that you can be vegan and still have all the foods that you love and are familiar with. I also offer my homemade burger for those who want to take it to the next level of being whole food, plant-based."
Atkins doesn't have a five-year plan for this particular venture, but he does know that he wants to pursue other culinary opportunities. He's already working on a cookbook, and he has dreams to open a purely whole foods, plant-based concept later down the road. "I'm sure that this is just the first of many new culinary adventures for me … Who knows where this will all lead, though. I'm just going to enjoy the process."
For more on vegan youth activists, read:
Teen Activist Spends 12 Hours in a Bathtub to Protest Seaworld
Greta Thunberg Becomes 'Times' Youngest Person of the Year
Haile Thomas and HipCityVeg Launch Vegan Sandwich to Support Charity