Everyone who knows me knows I'm a die-hard Dolly Parton fan. Years ago, when I was working as the head pastry chef at a restaurant in New York City, I bonded with my coworkers over Parton. One day, one of the prep cooks mentioned that he had found a copy of Parton's long out-of-print cookbook, Dolly's Dixie Fixin's at a flea market. Ever since I had learned about the existence of a Dolly Parton cookbook, I had searched high and low for a secondhand copy of my very own. Unfortunately, they go for about $200 used. Thankfully, boxed cake mix company Duncan Hines has come up with something even better—and far more accessible—for professional and home bakers to enjoy.
Boxed cake mixes are my guilty pleasure. This confession may sound like blasphemy coming from a pastry chef, but these convenient food items have their place. I always keep a stash of boxed cake mixes at home for those moments when I am really craving cake but don't want to bake one from scratch. Many cake mixes can easily be prepared vegan with the right adjustments (applesauce instead of eggs, for example). So, you can imagine my excitement when Parton announced her collaboration with Duncan Hines and released two specialty cake mixes and frostings, which I eagerly sought out as soon as they hit the shelves of my local Walmart.
Parton's iconic recipes are printed on the back of both flavor mixes—Southern Style Coconut and Southern Style Banana—so everyone can bake them just the way the legend intended us to. Granted, her ingredients aren't vegan, but that's where I put my professional skills as a pastry chef to use. Here's the not-so-hidden secret: both of these cakes can be made vegan, and you don't need a culinary background to pull it off.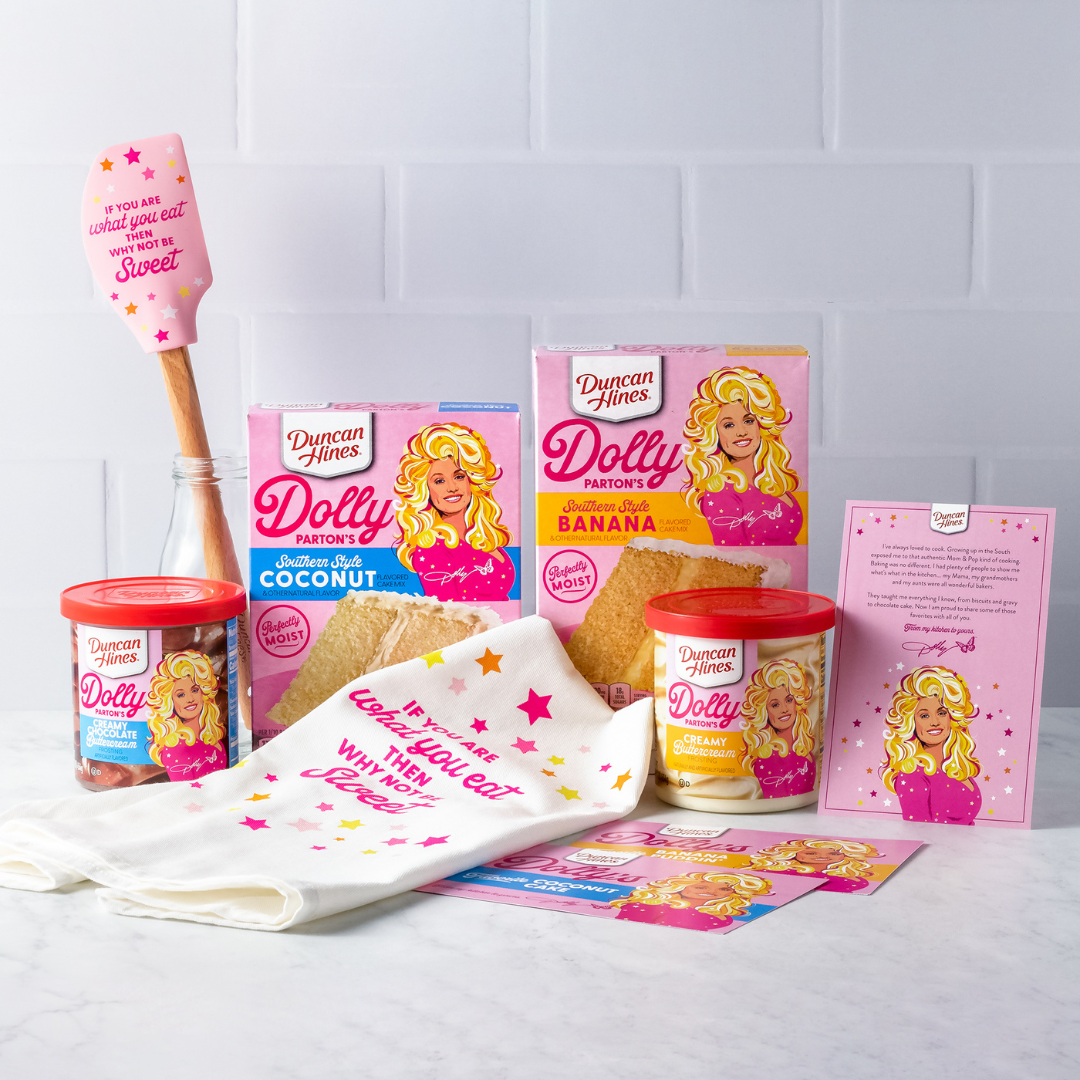 Ducan Hines
Dolly's Favorite Coconut Cake: vegan version
Despite the fact that the American South is nowhere near "tropical," a classic coconut cake is firmly ingrained in Southern baking culture. The beauty about making this particular flavor vegan is that the plant-based substitutions actually enhance the cake's flavor and contribute brilliant moistness. For example, the coconut cake mix recipe called for 1 cup of milk. This can easily be swapped for full-fat coconut milk, which means more coconut flavor and a richer, more tender crumb. The recipe also specifically calls for Country Crock butter, so to stay relatively true to Parton's recipe, use a stick of Country Crock Plant Butter. If you can't find this specific brand, any vegan butter or even coconut oil should work—the latter would bring out even more of that coconutty flavor. To replace the eggs, I wanted to use something with a neutral flavor, so I went with Bob's Red Mill powdered egg replacer.
Per Parton's recipe, I baked the coconut cake layers in two eight-inch round cake pans at 350 degrees for 25-30 minutes, until they passed the toothpick test (if you stick a toothpick into the middle of a cake and it comes out clean, it's done). Note: in the future, I will use six-inch cake pans for a taller cake. Good to know if you prefer thicker cake slices.
Onto the creamy, dreamy frosting. The box recipe suggests pairing the coconut cake layers with Dolly Parton's Creamy Buttercream Frosting, which also happens to be accidentally vegan. After frosting all sides of the cake, you cover the top and sides with sweetened coconut flakes. The shredded coconut adds a perfect finishing touch that ties the vanilla frosting together with the coconut flavor of the cake. If you're feeling fancy, I'd recommend toasting some desiccated coconut flakes in a pan on the stove for a few minutes to add to the coconut flavor's depth. Plus, it makes your kitchen smell incredible.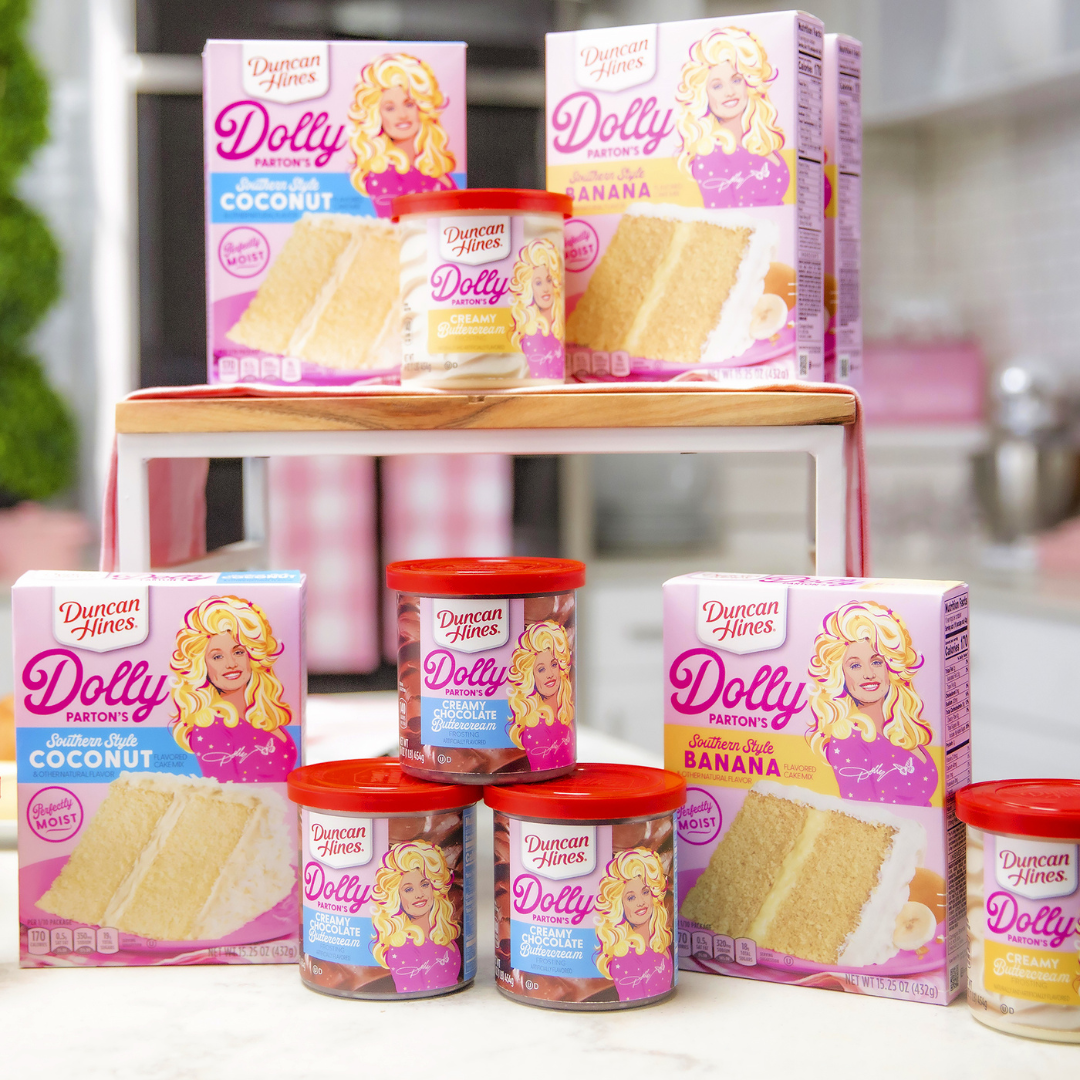 Duncan Hines
Dolly's Southern Style Banana Cake: vegan version
Veganizing Dolly's Southern Style Banana Cake is a little bit more of a process, but it's worth it. The resulting cake is a delicious combination of banana bread and banana cream pie in cake form. It'll surely earn its place on your special occasion baking rotation. Like the coconut cake, the batter calls for 1 cup of milk, ½ cup of cup melted butter, and 4 eggs. Additionally, it needs one package of banana or vanilla-flavored instant pudding mix. Thankfully, both the Jell-O banana creme and vanilla instant pudding mixes are vegan. Instead of a powdered vegan egg replacer, mashed banana stood in for the eggs in this recipe. The general rule of thumb for using bananas as egg replacers is one mashed banana for every egg, but in this case, I found that three bananas worked perfectly. Again, I swapped non-dairy milk for the cow's milk and Country Crock Plant Butter for the melted dairy butter. The two eight-inch cake rounds baked for about the same amount of time as the coconut cake rounds (25-30 minutes).
While the cakes are baking, prepare the instant pudding. Typically, Jell-O instant puddings are made by adding milk and setting aside to thicken for a few minutes. When I tried this with non-dairy milk, it never really thickened on its own, so I warmed the non-dairy milk and powdered pudding mixture in a saucepan over medium heat for five to 10 minutes, stirring regularly, until it thickened into a pudding consistency. Just as you should let your cake layers completely (yes, I mean completely) cool before frosting, you need to let the pudding cool before assembling your cake. Rushing this will certainly lead to a melted, runny mess that would not do Parton justice.
To be clear: the pudding doesn't substitute for the frosting in this cake—it has both. The frosting recipe is absolutely heavenly, even with some major vegan tweaking. Parton's recipe uses 1 cup cold heavy cream and ⅓ cup Dolly Parton's Creamy Buttercream Frosting. The cream gets mixed into a whipped cream until stiff peaks form, and then the buttercream is folded in. For my heavy cream substitute, I used Country Crock's Plant Cream Heavy Whipping Cream Alternative. It was my first time using this cream and I was thrilled with how it came out, but don't be afraid to really whip it, or else your frosting will come out loose. Alternatively, you can try Silk Heavy Whipping Cream, Nature's Charm Coconut Whipping Cream, or make your own coconut whip. Whatever you use, it's worth taking the extra step. The whipped cream cuts the rich sweetness of the frosting making it light and refreshing instead of cloyingly sweet.
Onto the cake assembly, but first, you need one more ingredient. Like this cake's inspiration, the banana cream pie, Parton's recipe calls for Nilla wafers, which are not vegan. I went with animal crackers from Target, but Biscoff cookies or vegan graham crackers would also work nicely. To assemble this decadent dessert, you layer instant pudding, cookie crumbs, and sliced banana between the two cakes, frost the entire cake, and decorate the top with more fresh banana slices and cookie pieces.
If you're less concerned about an aesthetically pleasing presentation, or if you want to easily store leftovers, try assembling the cake into pint-sized or tall deli containers with lids. To do so, place a cut-out layer of cake on the bottom, top with pudding, bananas, and crumbled cookies, sandwich these sweets with another piece of cake, then frost the top and add more banana slices and cookies. Now, you have a super portable and spoonable dessert to take to gatherings or give away at the office.
So there you have it. You can bake a cake just like Dolly Parton, but vegan! I highly recommend the coconut cake if you want a simple and straightforward treat, but the banana cake is absolutely worth the extra steps.
For more vegan baking tips, read:
8 Vegan Egg Replacers (That Actually Work)
5 Vegan Banana Bread Mixes Worth the Hype
Vegan Hummingbird Cake