There's a crowded, two-story strip mall on the corner of Fountain and Vine. Unremarkable in many aspects, this crammed-together collection of shops sits two blocks removed from the bustling foot traffic of Sunset Boulevard in Hollywood. For those in the know, this strip mall is a vegan destination. Sitting catty-corner to Doomie's and Doomie's Next Mex—two popular late-night eateries known for plant-based fast food—is Dear Bella Creamery.
Originally coined Cocobella's, Hollywood's first all-vegan ice cream shop generates an instant sense of whimsy even before the first lick. The happy blue-and-pink accented walls covered with giant sprinkles and pastel-colored ice cream cones (perfect for Instagram shots of double-scooped waffle cones) coupled with the tantalizing display case of vegan ice cream send off electric currents of joy. When at Dear Bella's, you get to escape for just a moment into innocent, ice cream-induced bliss. Still going strong through the pandemic, co-owners Alice Cherng and Belinda Wei sat down with us for a behind-the-scenes look at the making of this popular vegan Hollywood spot (now with a second location in Costa Mesa). It's not all Strawberry Fields and Sunflower Buttercup—running a vegan ice cream shop definitely has its fair share of Rocky Road, too.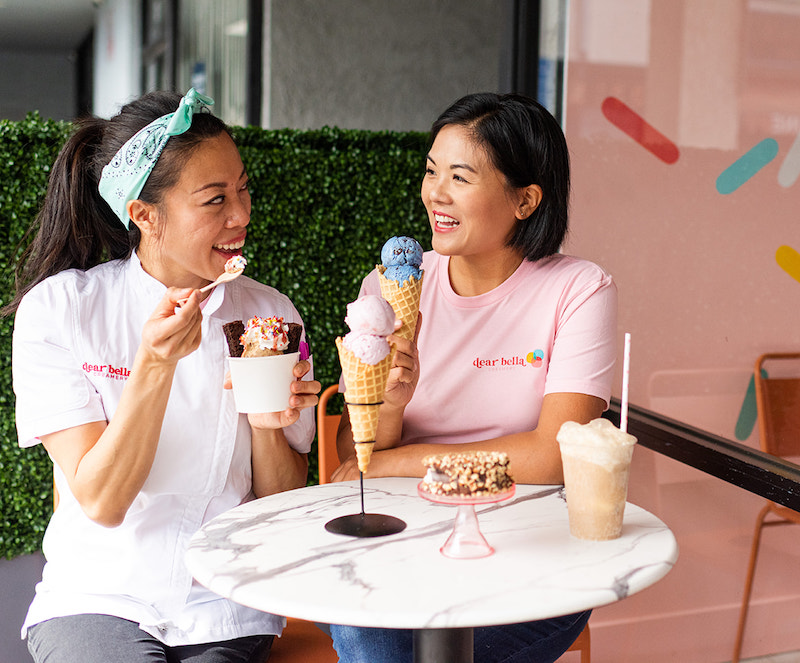 Dear Bella Creamery
Ice cream that bonds
Cherng and Wei are both proud Angelenos of Taiwanese descent—Cherng immigrated from Taiwan when she was eight years old, while Wei has called Los Angeles home since college. The pair bonded over their shared heritage, love of food, and devotion to the vegan lifestyle. Each found their place working in the LA vegan food scene independent of the other. Wei launched herself on a fast track to the kitchen, studying at Le Cordon Bleu and eventually adopting a vegan diet for health reasons. She worked in several plant-based kitchens in the city—including health-forward eatery Cafe Gratitude. While Wei left that job for the role of executive pastry chef at The Springs, Cherng found her place at Cafe Gratitude shortly after. Observing the potential chemistry, mutual co-workers insisted they meet, so Cherng dropped by for lunch at The Springs during Wei's shift. Wei sent out a scoop of black sesame ice cream, and the two hit it off. "We talked about food and our shared Taiwanese background. We've been best friends since," Wei said.
She continued to emphasize her love of ice cream. Growing up, every Friday night was ice cream night, and her family would go out and order the same thing. "It is the most consistent memory of my childhood," Wei explained.
"As my family sat around and shared ice creams, we were one. The love and connection we had for each other in that moment was unspoken but palpable. For 20 minutes, I felt safe, loved, and belonged."
The duo agreed that this is the same feeling they want to recreate with Dear Bella Creamery.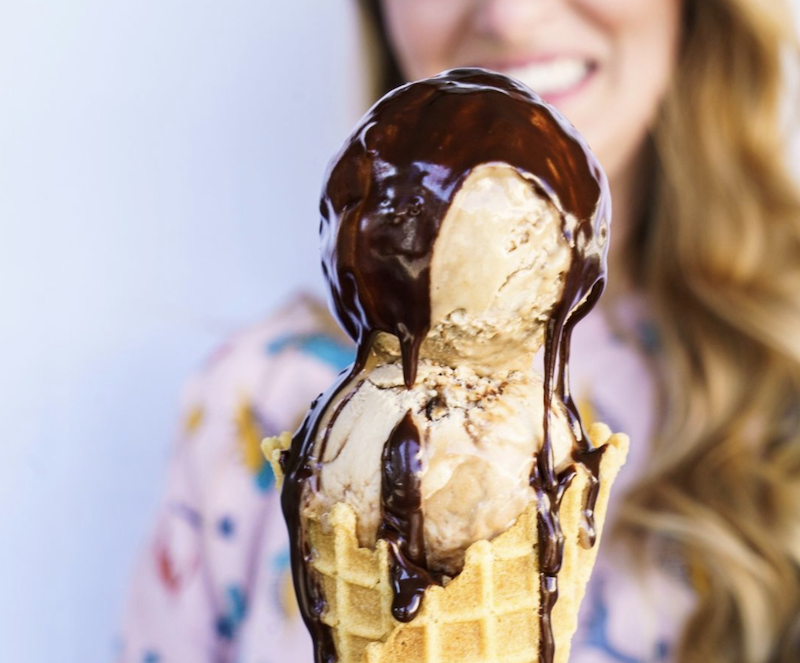 Dear Bella Creamery
Who is Bella?
First, it was Cocobella, and the rebrand has ensured Bella's name lives on. So, who is Bella? The business partners informed us that Bella is a state of mind—she is pure emotion, or the feeling one gets with the first lick of Cookie Monsta or Taiwanese Pineapple Cake. The original name was fairly literal—because the majority of the ice cream was made with coconut milk, the pair simply attached "coco" to Bella and were happy with the sound of it. In the four years of operation, their style has evolved. The ice creams are made with more than just coconut milk—there is now oat milk options and other plant-based bases, which inspired Cherng and Wei to anoint their business with a new name. "Dear Bella is our love letter to our community of ice cream enthusiasts. We handcraft each ice cream, after months of research and development, and all with love, positive energy, and expertise in our field," they said.
"We use ice cream as a canvas to create narratives that are sometimes sentimental and other times unfamiliar but exciting."
—Alice Cherng and Belinda Wei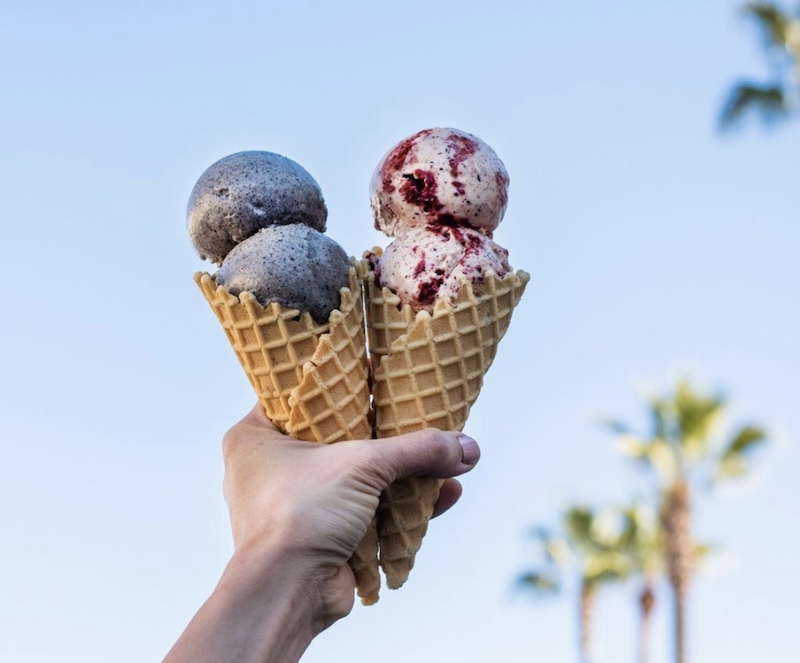 Dear Bella Creamery
A place where Ube Casserole and NY Cheesecake can co-exist
Despite the joy that exudes from the space, there is a bit of decision paralysis when walking into Dear Bella Creamery. First, there's the question of flavor. The selection ranges from nostalgia-inducing classics such as Rocky Road to intriguing tastes like Lychee Raspberry Daiquiri. Sure, you can get a double scoop, but we're not sure if those two flavors would complement each other. Beyond the choice of ice cream, there's the vessel to consider. Why get a basic cup when you could select an edible vessel in the form of a cone or cookie sandwich? Or why not a sundae layered with a warmed fudgy brownie and/or yellow cake pieces? Should you pick up an ice cream cake while you're at it? The only answer is to become a regular customer and find solace in the fact that eventually, you can try it all.
The Dear Bella fandom extends far beyond local vegan Angelenos. Wei and Cherng confirmed that Usher has been a regular since the shop opened, and their staff has positively identified Harley Quinn Smith, Quincy Brown, Joaquin Phoenix, Daniella Monet, Mark Webber, T.I., and Weird Al stopping by for something sweet.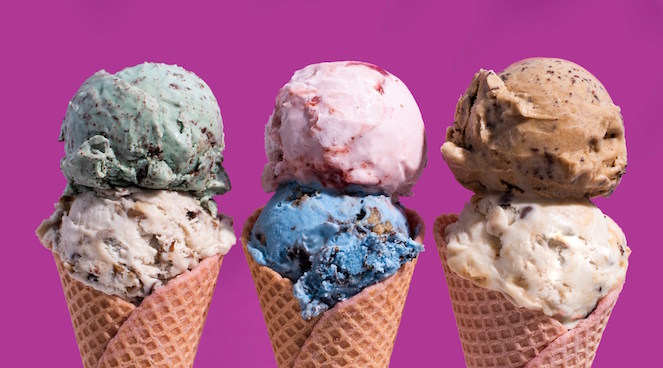 Dear Bella Creamery
For celebrities and commoners alike, it's all about the exceptional quality and the flavors. Speaking to some of the more unique options like the Mango Sticky Rice and Ube Casserole, the pair commented, "We always make sure to offer one or two Asian-inspired flavors as a representation of our heritage." But that doesn't mean they don't share an equal amount of fondness for ice cream loaded with cookie dough and sprinkles.
"Dear Bella is an authentic expression of both of us," they stated. "We intentionally create every flavor with our customers in mind. Having our customers enjoy a family childhood favorite like Cookies 'n Cream is equally important to us as having them try Taiwanese Pineapple Cake for the first time. We use ice cream as a canvas to create narratives that are sometimes sentimental and other times unfamiliar but exciting. Being able to share our cultures through our food is both fun and a blessing."
And for those wondering what vegan Ube Casserole ice cream entails, get this: it's slow-roasted, fresh ube mixed with a velvety ice cream base, candied pecan pieces, and torched mini marshmallows. With hope, this flavor will stick around, because this beats any ice cream scoop we've ever had.
For more on vegan ice cream, read: