Grammy-award winning music artist Jermaine Dupri just launched his own vegan ice cream brand JD's Vegan. Created in collaboration with ice cream expert Malcolm Stogo and Big Innovations Group Inc., the new ice cream is made from a base of coconut cream to deliver a thick texture without animal-derived ingredients. JD's Vegan is initially launching in three decadent flavors: Welcome to Atlanta Peach Cobbler (made with golden peaches and dotted with crumbled cobbler); Apple Butter (a buttery apple base swirled together with toasted cinnamon streusel crumble); and Strawberry Sweetheart (featuring strawberry chunks and swirls).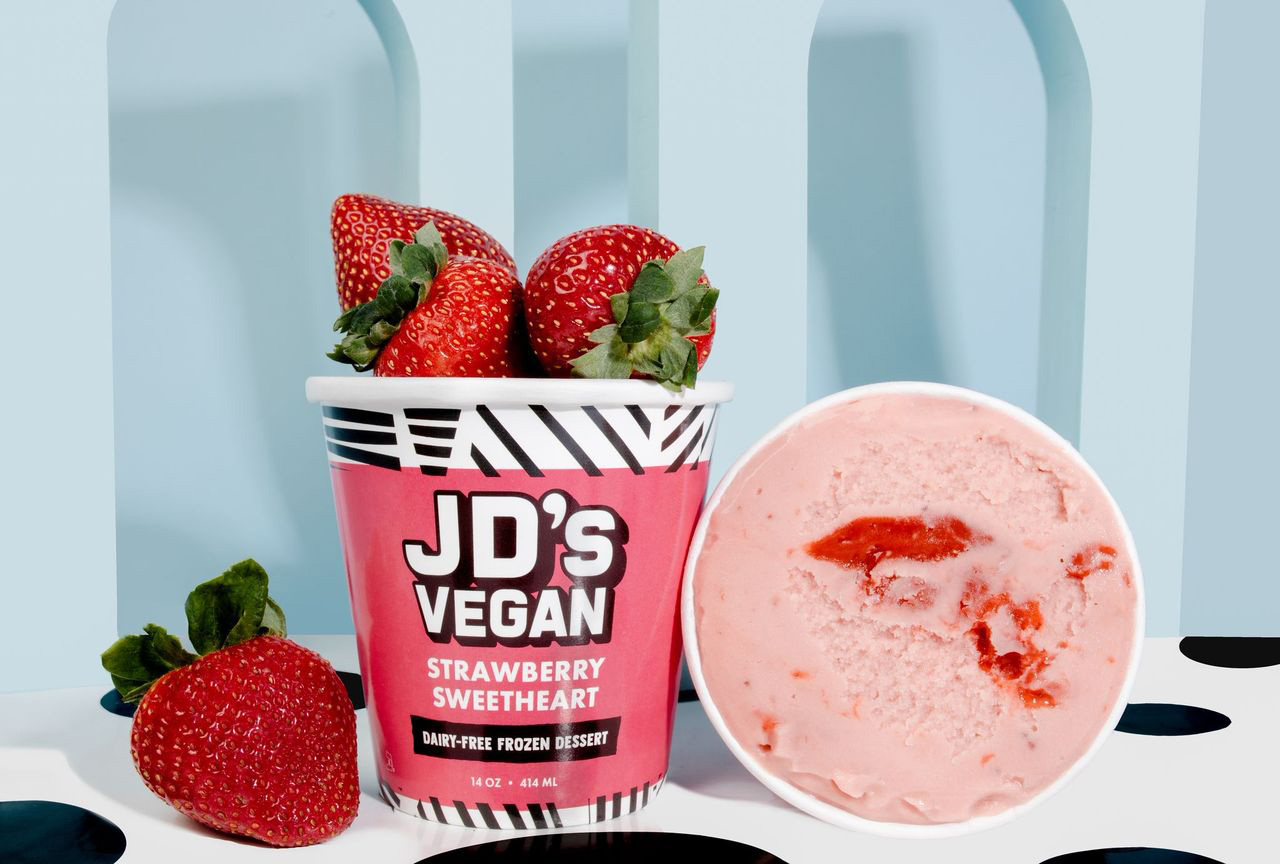 To make his ice cream easily accessible to a large consumer base, Dupri partnered with Walmart, which launched JD's Vegan initial three flavors on its website today, priced at $6.47 per pint. "Walmart and I share the same vision of providing consumers with the best products and making healthy alternatives accessible to everyone," Dupri said in a statement. "JD's Vegan ice creams taste as good as, or better than, the real thing. You don't have to lose anything going vegan. JD's Vegan ice cream proves you can gain nothing but quality foods with out-of-this-world flavor and taste."
Next month, JD's Vegan ice cream will expand to include three additional flavors: Chocolate My Way, Key Lime Pie, and (404) Cookies & Cream. Walmart will roll out the remainder of the line on December 28 both in-store and online. JD's Vegan is also available through the ice cream company's website.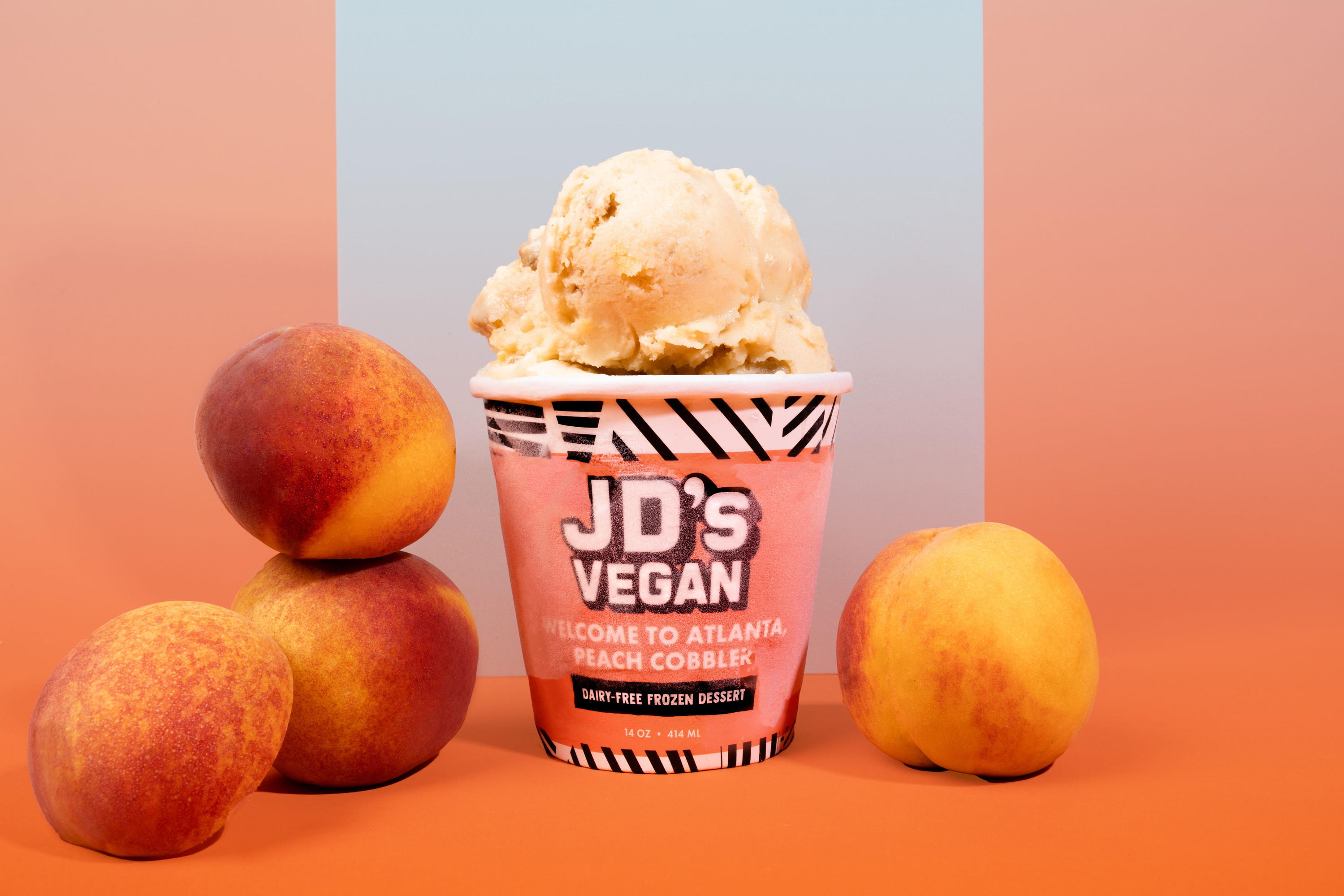 From beats to beets: Jermaine Dupri's a vegan icon
Vegan for more than 15 years, Dupri is known for bringing to life some of the most iconic tracks and albums of the '90s, including Mariah Carey's Daydream, TLC's CrazySexyCool, and Usher's My Way. Dupri also frequently works with animal-rights organizations, including People for the Ethical Treatment of Animals (PETA), to advocate for the vegan lifestyle. In 2018, Dupri appeared in a PETA campaign with the slogan: "Feel the beets. Lose the meats. Go Vegan."
JD's Vegan ice cream flavors are inspired by Atlanta, the music mecca where Dupri was raised. These days, when he's not making music, Dupri spreads the vegan message across Atlanta. In 2019, Dupri hosted a vegan Thanksgiving event at West Hunter Street Baptist Church. There, Dupri and PETA gave out roasted vegan turkey, stuffing, mashed potatoes, mushroom gravy, and pumpkin pie to families in need.
Last summer, Dupri partnered with Slutty Vegan and Impossible Foods to host the year-long Votenik campaign that aimed to feed communities across the country as they exercise their right to vote. Dupri made a personal appearance, alongside Slutty Vegan founder Pinky Cole, at the Atlanta kickoff event where they gave out free Sloppy Toppy burgers.
And when Beyond Fried Chicken launched at one KFC in Atlanta for a limited time in 2019, Dupri was first in line to offer his support. "Alright, I just got to this Kentucky Fried Chicken where they got this Beyond Chicken … vegan chicken. I'm gonna let y'all know what's up," Dupri posted at the time to his Instagram stories, adding, "They've got a little line out here." That "little line" turned into a huge crowd that led to KFC selling out of the vegan fried chicken in less than five hours.
For more about Jermaine Dupri, read:
Jermaine Dupri: "The Best Lifestyle Is the Vegan Lifestyle"
Jermaine Dupri, Slutty Vegan Kick off Year-long Voting Campaign
Jermaine Dupri Is First to Order Vegan KFC